Guide to Aruba...
Best Beaches in Aruba
By: Louise Fayet
Aruba is a 70 square mile Caribbean island just North of South America and next to one of our favorite islands in the Caribbean, Curaçao. This Dutch Caribbean island is known for its beautiful beaches.
After spending just a few days on this island, I still can't stop singing "Aruba, Jamaica, ooh I wanna take ya..." Click the video below to see why I'm humming this iconic tune...
To start, the easiest way to get to Aruba from Anguilla is to fly from Sint Maarten. Airlines like Winair fly to Aruba with a stop in Curaçao. The flight is approximately 2.5 hours in total.
Once you're there, rent a car. It's the best way to get around the island. Roads in Aruba are straight forward, just be mindful of the many roundabouts. With a map app you cannot get lost. But if you can't find your way, ask a local! The island is deemed the "Happy Island", and people here are kind and welcoming.
All set? Let's explore Aruba's best beaches.
Top Beaches in Aruba
Like its sister island, Curaçao, Aruba ranks high in natural beauty.
Aruba has roughly 40 beaches. All are different, some are coves rich in snorkeling, and some beaches are long and sandy, stretching for miles.
Here are my top 8.
Crowned with 1st place, the stunning Mangel Halto...
Welcome to Mangel Halto

Recommended to me by a local, this spot feels like a well kept secret. This beach took me by surprise.
Love at First Sight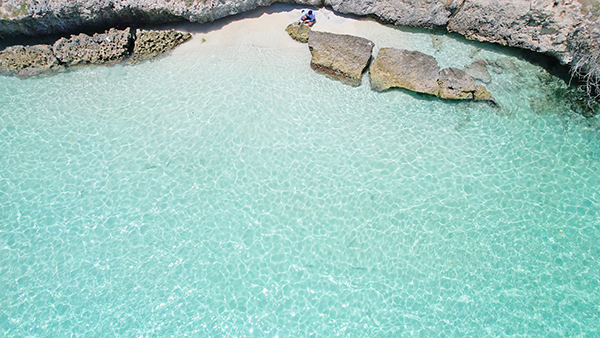 Very shallow with white sand, the water glistens in the hot Aruba sunshine. The color of water is enchanting, similar to the blues of Shoal Bay East.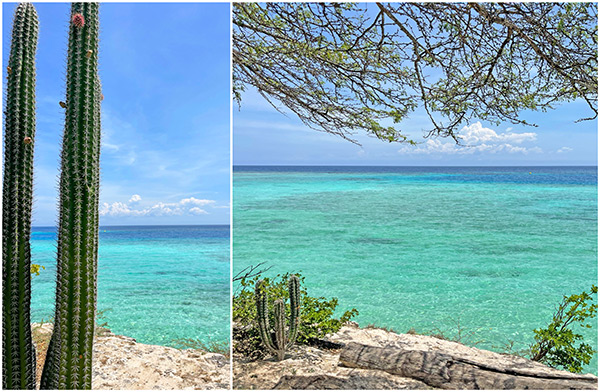 With this clarity, you can even see schools of fish. I could not put my camera down!
Locals of Mangel Halto

A few wooden staircases line the sea-rocks and lead you right into the water. Not in the mood to swim? Benches, lounge chairs and swings line the coast.
Only Smiles in Aruba

The area is surrounded by mangroves which make it a calm nursery for baby fish and turtles, so do not forget your snorkel gear!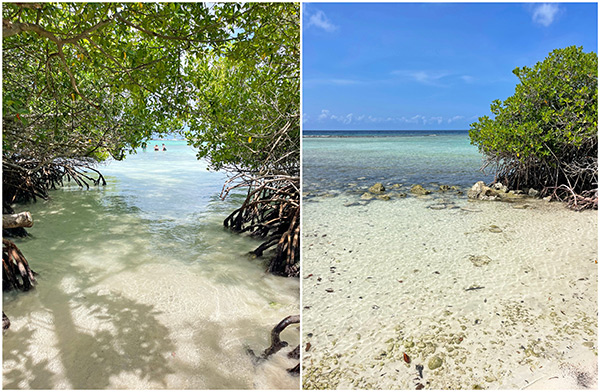 Mangel Halto should be one everyones bucket-list when visiting Aruba.
My 2nd favorite Aruba beach...
Coming in 2nd on my list, this beach is breathtaking!
Hello, Baby Beach!

If you are staying in the touristy areas like Noord or Oranjestad, the drive is around 45 minutes to Baby Beach. It is 100% worth it. You can see why...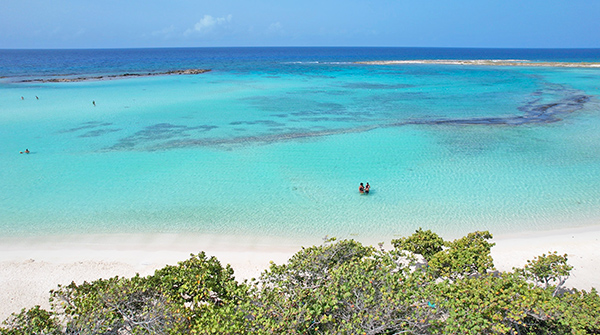 The beach is completely enclosed by reefs, making it calm all year round. Perfect for families and of course, babies. Home to two restaurants, you can easily stay the entire day here.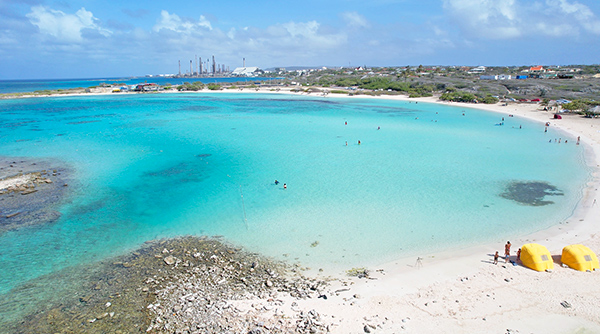 Many locals deem this beach as the best on island.
Get there early, the beach fills up quickly! By 9am, Baby Beach usually has at least two or three families already enjoying the blue waters.
Next up at number 3 on my list...
Eagle Beach, renowned for its length and beauty, secured the top spot in the Caribbean and claimed second place globally in TripAdvisor's 2023 "Travelers' Choice Best of the Best Beaches" rankings.
Eagle Beach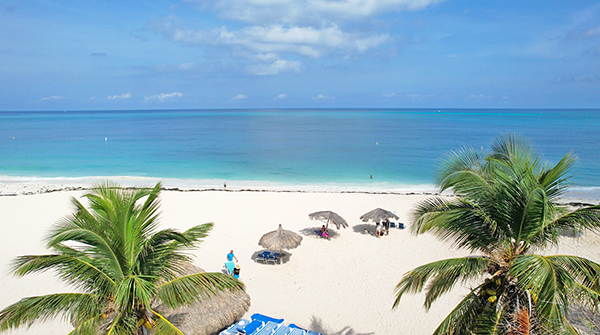 This was by far the busiest beach that I visited as it is lined with resorts, restaurants and water sport facilites.
Don't let that deter you! The beach is 1.2 miles long, so there is plenty of white sand for everyone.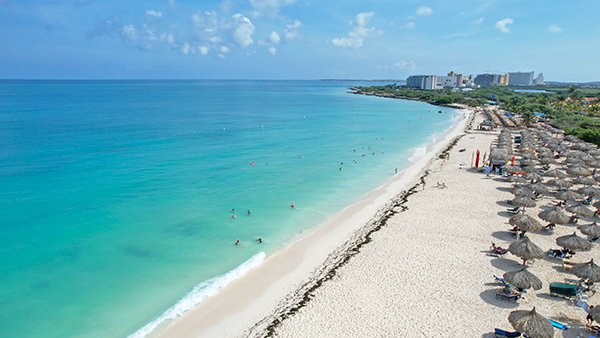 Of course we had to snap some photos of the iconic Fofoti Tree.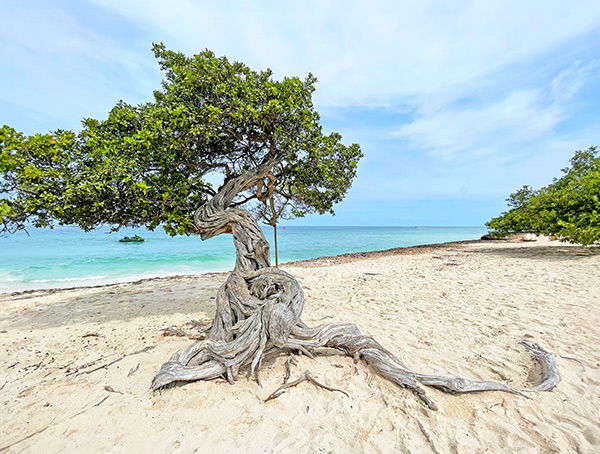 Also known as the Divi Divi tree, this is an iconic symbol of Aruba. The tree is known for its distinctive shape, with its trunk bending in a southwesterly direction due to wind.
This beach is also one of the top spots for a magical sunset on Aruba.
Golden Skies on Eagle Beach

Next, #4 is Manchebo Beach.
To discover this tucked away spot, continue south from Eagle Beach and follow the bend of the coastline.
The Beautiful Manchebo Beach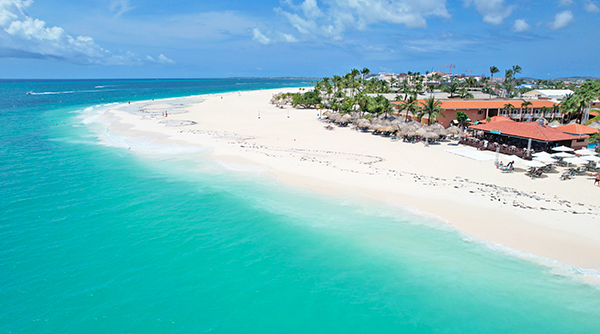 As you venture further south from the bustling Eagle Beach, you'll experience a noticeable shift in ambience. Manchebo offers a quieter and more laid-back atmosphere, perfect for us as we seek a less crowded beach.
The beach is mostly home to the Divi Resort. Get a day pass for $10 for easy access to the beach.
Colorful Manchebo

The Aruba vibes here are strong. The beach is lined by a forest of coconut trees and vibrant orange flamboyant trees. Beach chairs under palapas and sweet Caribbean music create the most tropical atmosphere.
Feeling hungry? Check out Divi's Beach Bar for wonderful service, happy cocktails and tasty burgers. It's the perfect place to refuel and enjoy your time on Manchebo.
Lunch at Divi's Beach Bar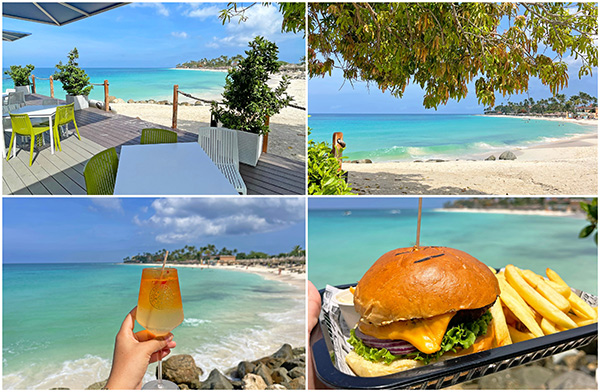 Headed towards the Northern tip of Aruba you will find this gem...
In 5th place, Boca Catalina!
Postcard Perfect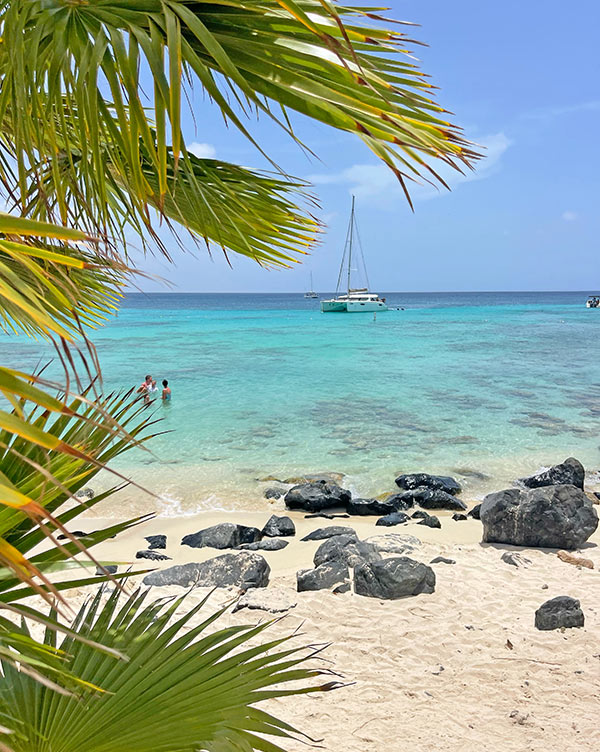 This white sandy beach is a hot spot for snorkeling and day trip charters, also home to a few very large pelicans.
Boca Catalina has got you covered with two public parking spots, so parking is a breeze. And if you're looking for some shade to escape the sun, there are plenty of palapas to chill under.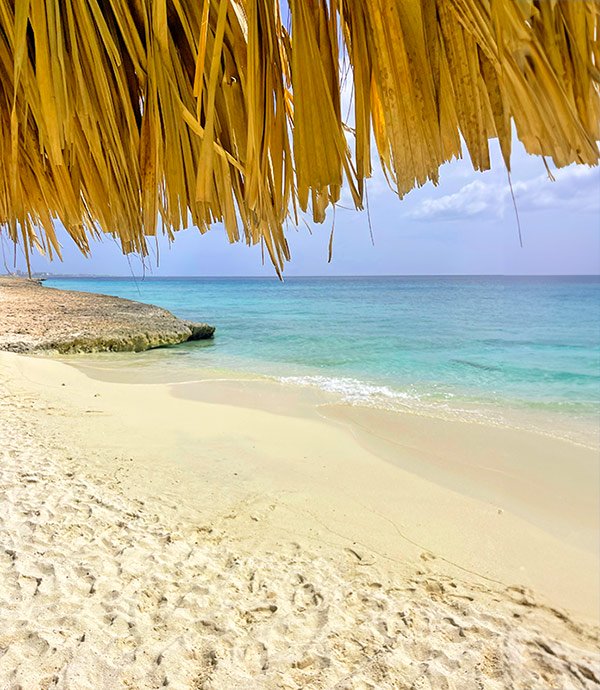 Boca Catalina also has a perfect sunset view. This was by far my favorite sunset moment on the island.
Golden Hour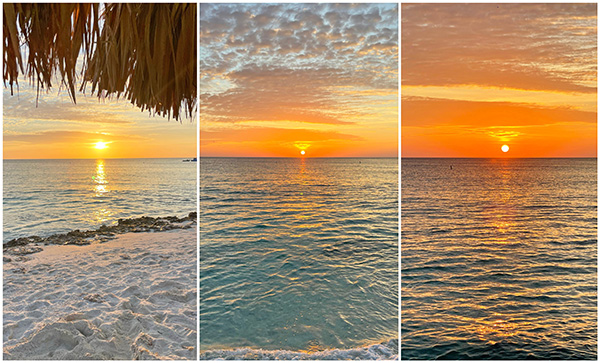 Continuing North, towards Aruba's point is Arashi.
6th on the list, Arashi Beach.
There are no hotels on Arashi. It is one of the least developed beaches on Aruba.
As a result, the beach has a pristine, unspoiled feel and is surrounded by nature.
There is one restaurant here that attracts beach goers, but pure tranquility and quiet can be found on the the beach's north end.
On good days, the water at Arashi Beach is crystal clear. When the waves pick up, it becomes the spot to surf!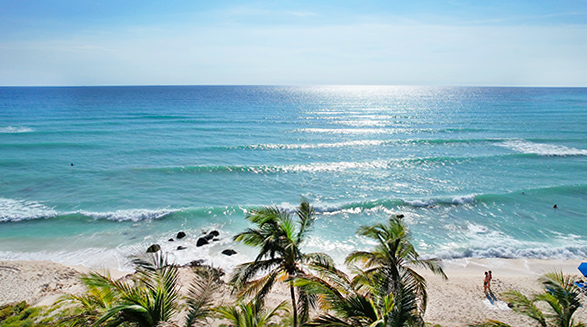 For epic island views and a bit of history, visit the lighthouse, a one minute drive from Arashi...
Heading Towards the California Light House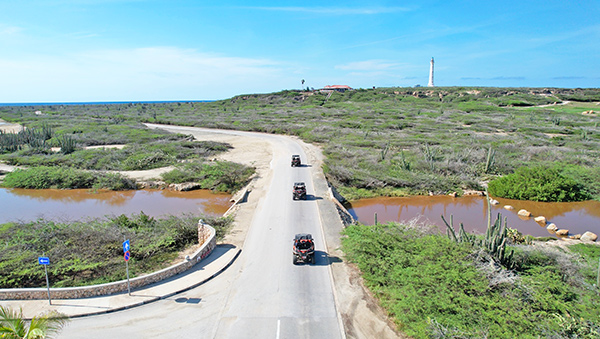 Named after the steamship "California," which sank off the coast of Aruba in 1891, the lighthouse was built in 1910 to help ships sail safely around the island.
Shining Bright at the California Lighthouse!

It stands at a height of about 100 feet and offers panoramic views of the island. You can climb to the top for a small fee.
There is also a small gift shop, restaurant and food truck on site. I do recommend you visit this historic attraction!
On to #7...
Rodgers Beach is pelican picturesque and the quietest beach I visited. This shocked me as it is a 1 minute drive from the popular Baby Beach.
Rodgers Beach

Rodgers is a great option for those looking for a more serene and uncrowded beach experience. There is minimal development here other than a pier for local fishermen. For shade from the sunshine, there are plenty of sea-grape trees.
If you visit, snap some photos from the staircases that run to the beach.
Last but not least, #8...
Palm Beach is visited by thousands every year. This is one of Aruba most popular beaches, home to high end resorts that shoulder each other for around 2 kilometers.
Palm Beach

These hotels have restaurants, bars, and water sports facilities right on the shore. Palm Beach gets busy, from morning walkers to night life party goers, the beach is active all day long.
It is hard not to love this tropical beauty.
After hitting the beach, it's time to shop!...
Where to Shop
Exploring the capital, Oranjestad, is a must-do during your visit to Aruba...
It is almost impossible to leave this country without a souvenir. Shops and boutiques are everywhere, especially in the capital. Colorful, pastel-painted buildings line the streets with everything from luxury brands to locally made souvenir shops.
Local Souvenir Market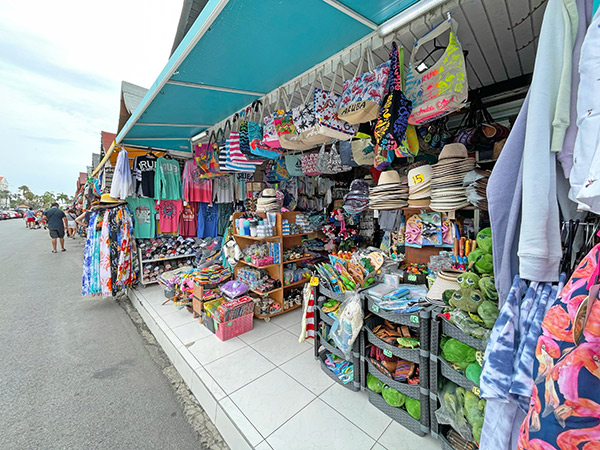 Popular for its duty-free shopping, cruise ship passengers hit the capital. Thousands of visitors shop here daily. The capital is also not short of dining options, with restaurants serving a mix of local and international cuisines.
Orangestad is busy and bustling!
Where to Eat & Nightlife
Aruba is a cuisine hub. Even the pickest of eaters are satisfied here. From fresh seafood dishes, to traditional Aruban dishes, the island offers a variety of flavors to please every palate.
For the ultimate dinner and night life experience head to the Palm Beach area. The J.E. Irausquin Blvd lights up at night with plenty of restaurants lining the street.
Markets set up in this area, selling local art work, home-made alcohol, treats and jewelry.
An all time Aruba favorite and must try? Texas de Brazil!
Family Night out at Texas de Brazil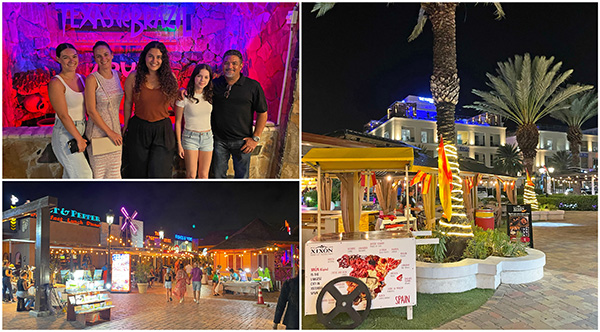 The staff is friendly and the food is flavorful and filling. Do not skip dessert here!
Craving Italian cuisine? Check out...
Patrizia's of New York

Want a romantic night out on the sea-shore? Visit...
Waters Edge Restaurant & Bar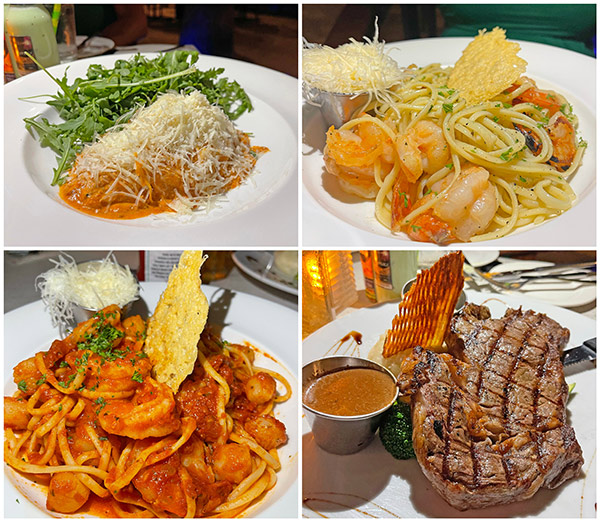 There is so much to do in Aruba at night. Live entertainment, karaoke, shopping, and of course, partying!
From delectable dishes to the island's stunning shores and the warmth of the locals, this Caribbean island has it all.
I will be swinging back again, Aruba!