Fun, Fresh & Vibrant...
Brunch at
The Mill House Café
By: Kirmani Honoré
Anguilla's West End is known for its beautiful beaches, high end resorts and special vantage points with breathtaking vistas.
Right in the middle of the action is the buzz-worthy brunch hot spot...
The Mill House Café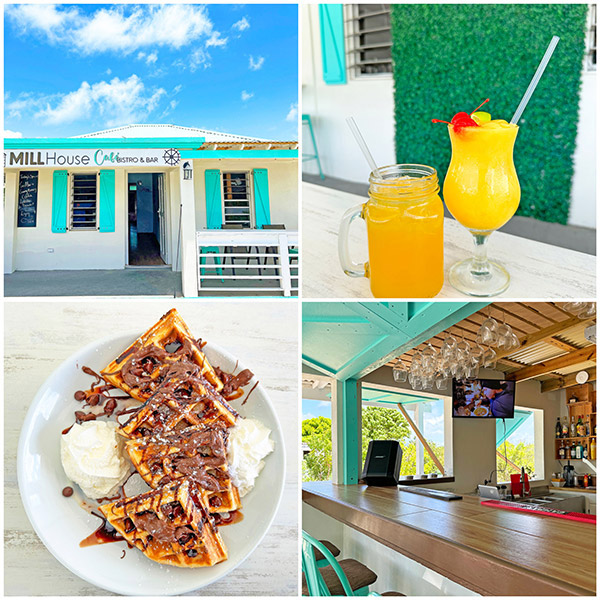 Fun, pretty and bursting with personality, this lovely addition to the excellent restaurants in West End is one of our top spots for a lively brunch!
Welcome to The Mill House Café & Bistro
When you first arrive, the Mill House's charming building invites you in with its teal hues.
Fun & Fresh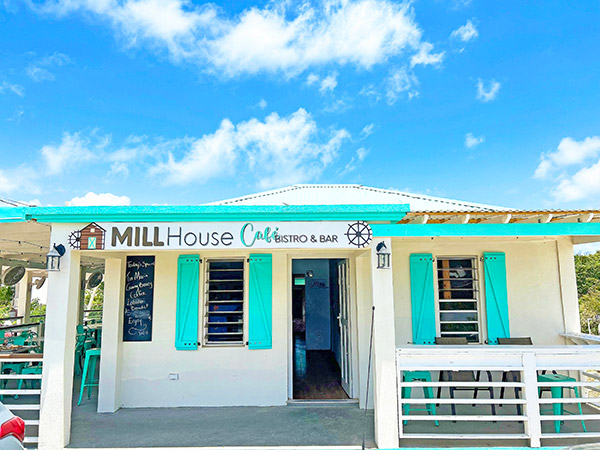 Painted with bright, stark white walls and accented with vibrant turquoise detailing, a few words come to mind...
Eye-catching, electrifying, and edible (this is a bistro after all)!
Expansive, Bright and Breezy!

The Mill House maximizes its space, with a big dining deck and outdoor bar.
Ample Seating
The deck is breezy, chic and comfortably sits about 30 people. Word of Warning: On weekends, this dining room will be packed. Come early to get a seat!
The striking blue dining chairs and picnic tables match the restaurant's colorful, punchy theme.
Chic and Modern Wooden Detailing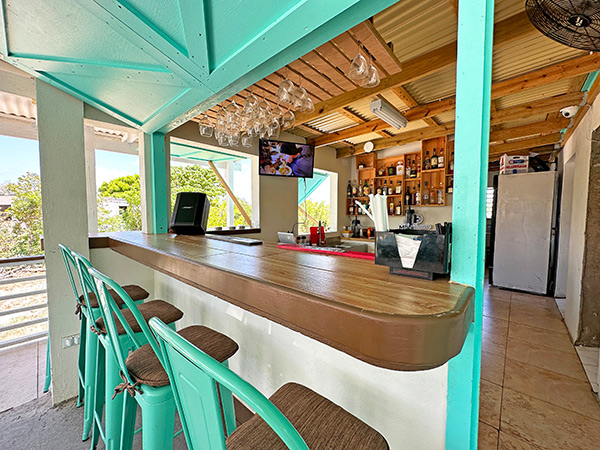 At the end of the deck is The Mill House Café's bar, the source of all of your brunch-time mimosa cravings!
Pretty Down to the Last Detail
Stylish, photogenic and just overall visually appealing, the Mill House is a modern day café that tickles your imagination right at first glance.
Its greenwall has quickly become a go-to for punctuating your personal Mill House postcards. Of course, we could not miss out on the fun. We had to get our very own Mill House selfie, too.
Brunch Pals Say Yum!
After scouting the premises, we hunkered down inside the restaurant. A cozy space, it features their baked goods and it is where all of the magic happens coffee-wise!
Mouthwatering and Straight From the Oven


The display shows a wide variety of baked-that-morning, flaky deliciousness. There is also a display full of chia seed puddings, overnight oats and other healthy fresh treats.
A neat hot-and-cold beverage menu, handwritten with chalk hangs in the corner. It is in perfect keeping with the charming, chic, cottage-like atmosphere of the building.
Warm Smiles & Classic Anguillian Charm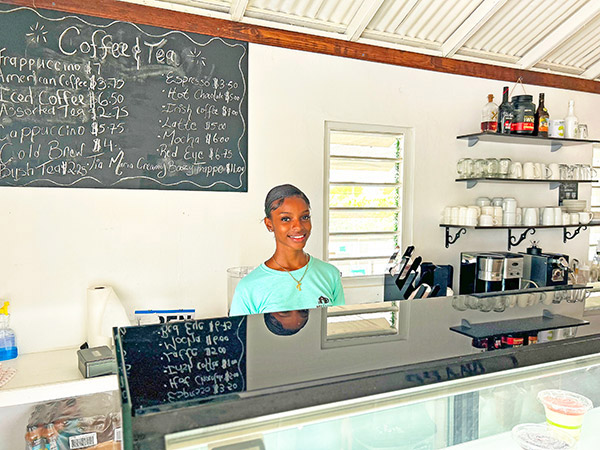 Now it was time for our biggest task... figuring out what to order. The Mill House's menu has plenty of variety.
After doing a thrice over on the menu, we placed our very large order. Our eyes were certainly bigger than our stomachs!
Let's take a brunchy bite at the Mill House Café...
The Menu
To start, we had a cold, caramel frappuccino topped with sweet, milky whipped cream.
Cold Brew Lovers Everywhere, Rejoice!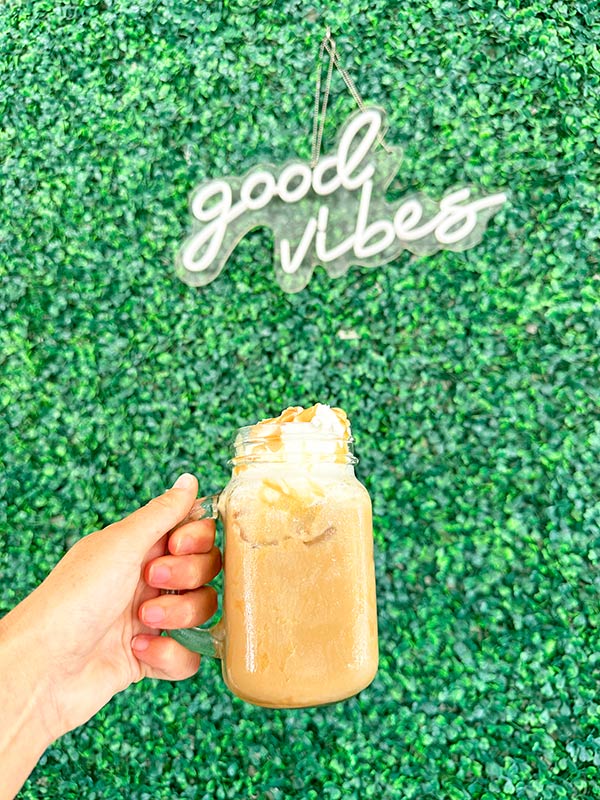 Recommended by Mill House's gracious barista, this is a cool treat on a warm Anguilla day.
An iced, frothy frappe made with caramel syrup, cream and a perfect shot of caffeine, it is topped with a double serving of thick caramel drizzle. Between the sugar and the coffee, this will energize you!
First up from the food menu? Avocado toast with sunny side up eggs. Fresh and creamy avocado is spread on multi-grain toast.
Avocado Toast, Sunny Side Up!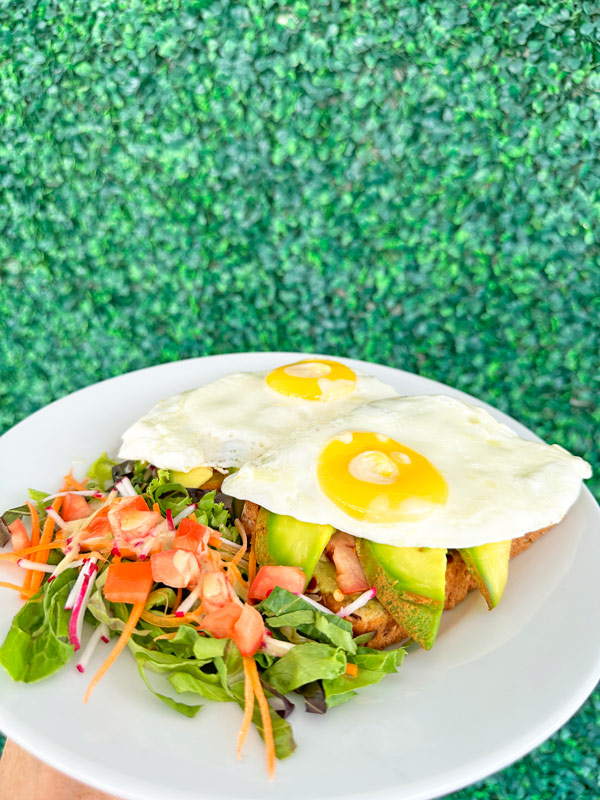 Served with a refreshing garden salad of shredded carrots, greens and diced tomatoes, this was tasty down to the very last crumb of toast.
Packed with nutrients, it is not only visually appealing and tasty, it is super healthy, too! The eggs are optional and you can have them in a variety of ways from poached, to well done, to just like us... sunny side up!
Next, you can't visit the Mill House Café without sampling one of their Eggs Benedict. We went with the Salmon Benedict. Fresh farm eggs are poached and served with slices of rich, red salmon.
Did we mention that you can have your Eggs Benedict served on a piping hot Johnny cake? We can't think of a more satisfying way to start the day.
The Salmon Benedict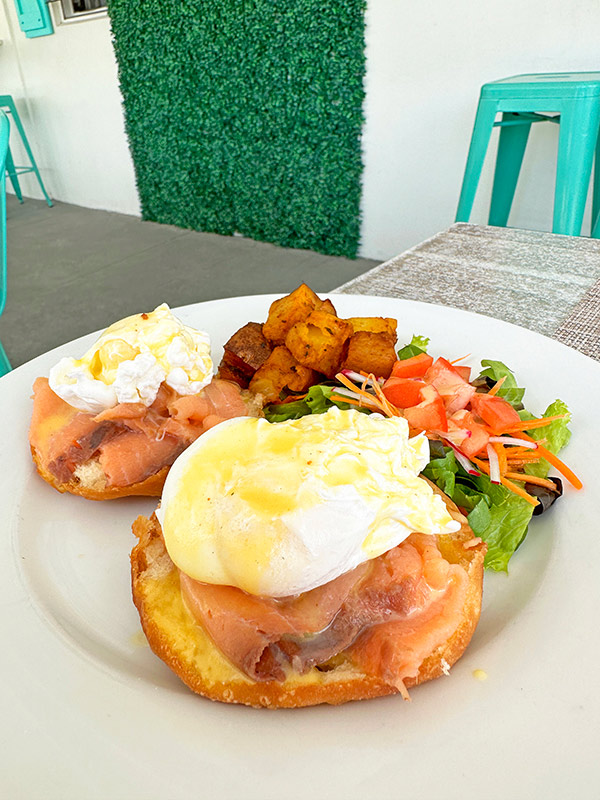 The eggs are light, the Johnny cakes soft with a perfect amount of "crunch." The rich juices of the freshly sliced salmon and the gentle hollandaise sauce round out the dish.
Four simple ingredients manage to detonate one of the most exciting flavor explosions in your mouth. Something I had never tried before has become one of my top favorite items ever!
A sophisticated dish, it is a definite choice for anyone looking for a more complex flavor profile. All Eggs Benedict dishes come with a side of pillowy hashbrowns and a garden salad.
It was time for a "chow down break" when we realized we hadn't ordered any drinks to wash all this goodness down. After a quick chat with our gracious server we were recommended the Very Berry Juice and the Mango Tropical Breeze...
Freshly Made All Natural Juices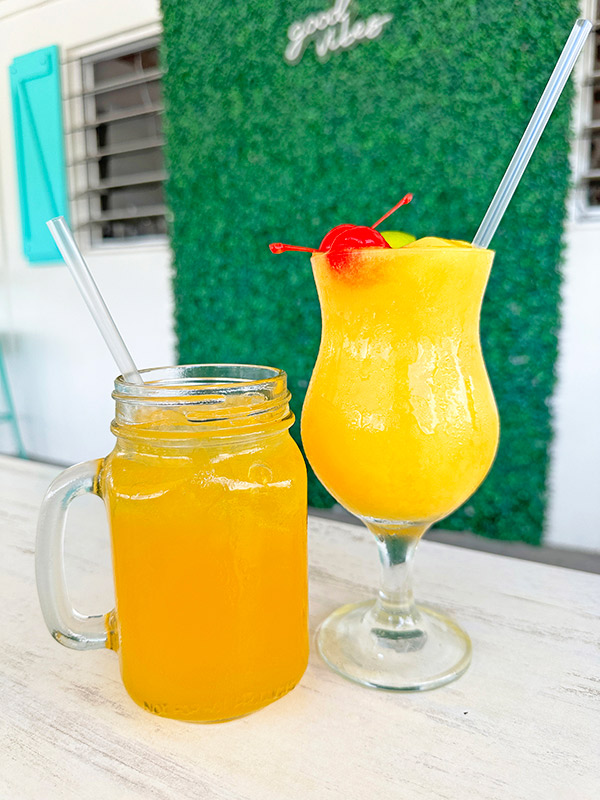 Chilled, frozen and bursting with yummy, fresh, fruity flavors, the Very Berry Juice is a succulent mix of passionfruit and mango.
As for the frozen Tropical Breeze? Every sip is fun and tangy, delivering a spine tingling rush! For best results, and to avoid a sudden brain freeze, sip slowly. ;-)
These cool refreshing drinks were exactly what we needed before getting back to our foodie quest...
What happened next can be summed up with three little letters: DBC.
The DBC Waffles

"What is DBC?" I asked our host. "Death. By. Chocolate," she replied with a wide, menacing smile.
She was not kidding. These waffles are decadent, coated in chocolate Nutella, chocolate syrup and chocolate chips.
Do We Dare Dig In?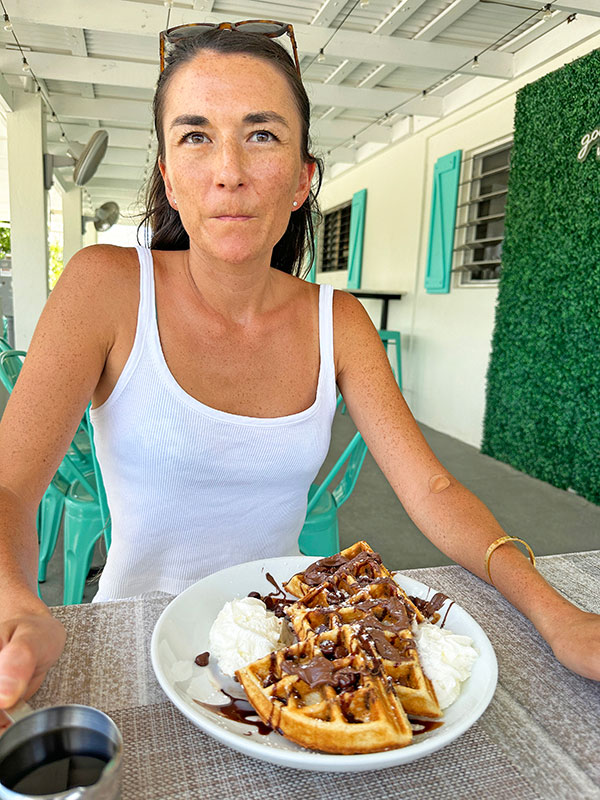 Topped even further with whipped cream and powdered sugar, it is definitely the sweetest item on the menu.
A no-nonsense plate of chocolate heaven, this was worth every moment of sugar coma that followed shortly thereafter. ;-)
In addition to their breakfast items, The Mill House Café serves up a whole variety of lunch eats. Burgers, pizzas and a number of sandwiches grace the menu. We had to go with The Mill House BLT.
Layers of Juicy Goodness

Juicy layers of turkey, fresh lettuce and tomato, eggs and crispy slices of bacon are stuffed in between slices of golden, multi-grain toast.
Soft, manageable and with a satisfyingly crunchy finish, this classic club is served with a tower of fries. It's everything you would expect from a bistro club.
The day was just hitting noon, but our brunch hour at The Mill House was already over. "Can we do it again?" we pined!
A Full Spread

What fun it was! Hip, delicious and with the warmest of service, dining at the Mill House is an experience.
Their food will wow your tastebuds and their fun-loving team of staff will have you coming back time and time and time again...
Toasting to The Mill House Café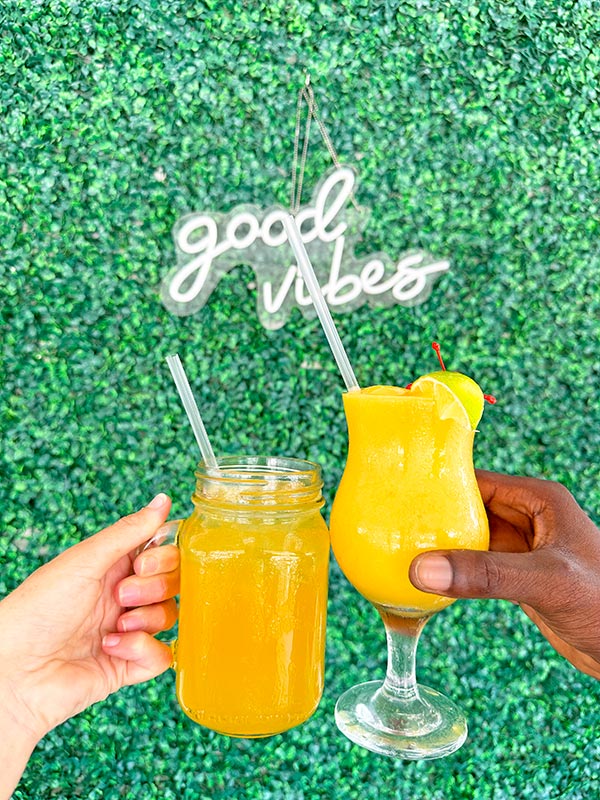 See you at The Mill House!
Location, Hours & Contact
Directions: The Mill House is located just 5 minutes from the Belmond Cap Juluca, Four Seasons and Malliouhana. Located just off the intersection that leads down to Cap Juluca and Sheriva.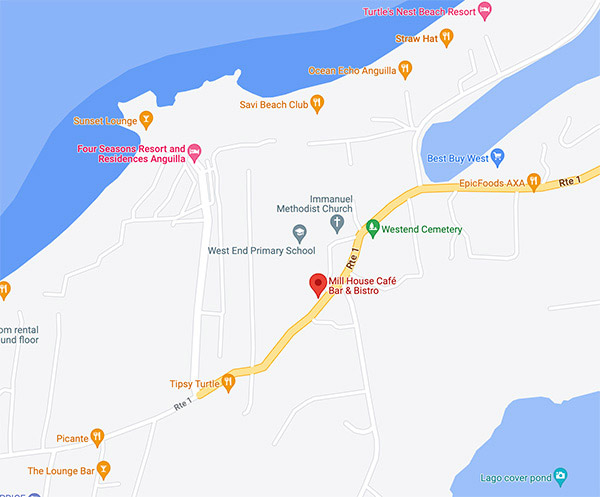 Open: Wednesday-Sunday 7am-3pm (till 6pm on the weekend)
Contact: +1-264-235-6544