Combing Anguilla's Beaches for the Best
Anguilla Beach Lovers brings you the latest additions to one family's experiences of the "best of all things Anguillian."

If you like this e-zine,, please do a friend a favor and "pay it forward."

If a friend did forward this to you and if you like what you read, please subscribe by visiting...
---
Issue #104, February 28, 2017
With February winding down, Anguilla is heating up for an exciting spring!
Jam-packed months of fun and festivities lie ahead, with Elvis' 10th anniversary bash, Bankie Banx's famed Moonsplash and the colorful Festival del Mar in April.
Before we plunge in, let's indulge in a little Tranquility Wrapped in Blue...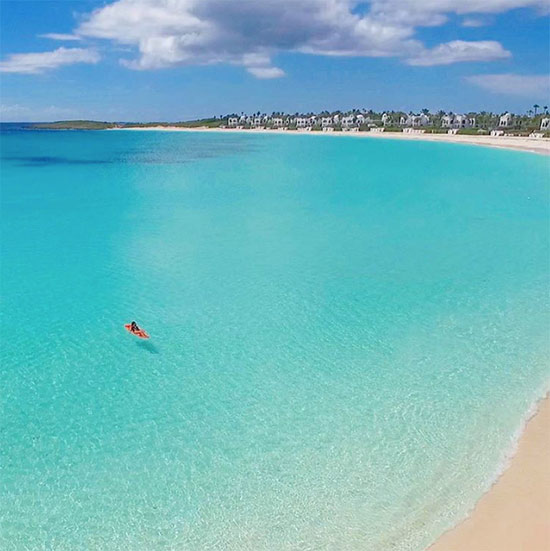 From above Meads Bay's sparkling-clear seas...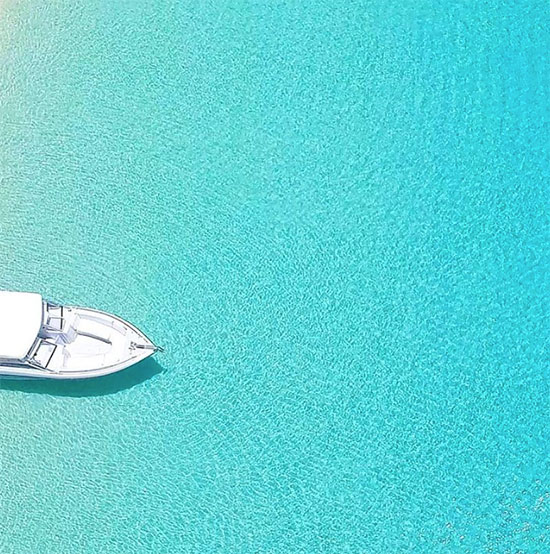 And between Rendezvous' swaying palms...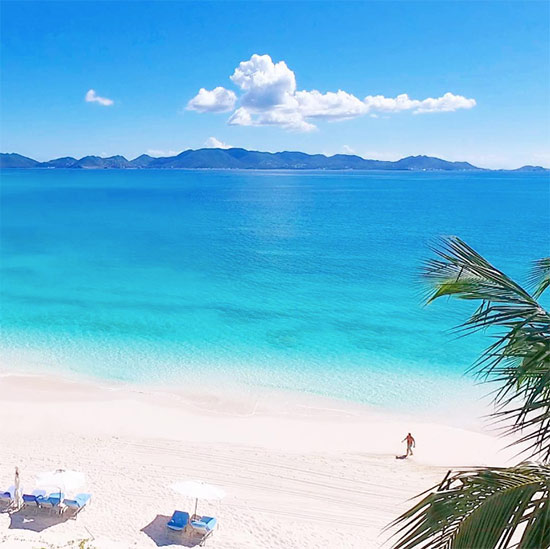 To below the tranquil tides of Merrywing Bay...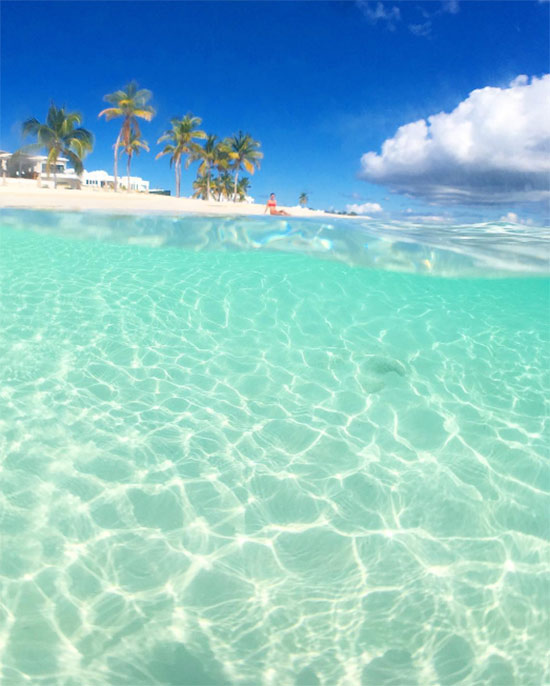 And one of our favorite secret snorkeling coves (can you guess where the photo below was taken? :-))...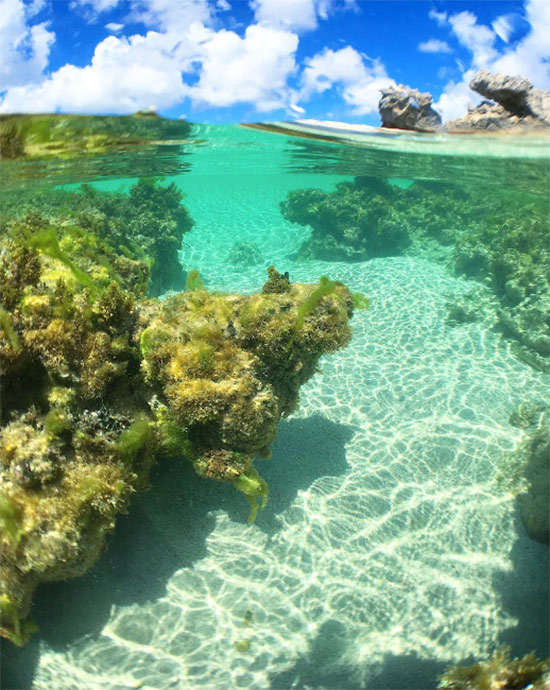 Nothing compares to Anguilla's translucent tides.
For a daily dose of Anguilla blue, click here and follow me on Instagram!
What's new since last time?
---
Bijoux Boutique Joins The Anguilla Card
Right in the heart of Sandy Ground village lies one of Anguilla's most charming shops, Bijoux Boutique. You may recognize this adorable boutique by its swirly black and off-white pebble stonework sidewalk and the twinkling lights that adorn its windowfronts come nightfall. The whimsical exterior hints at the creative souvenirs and clothing that await inside.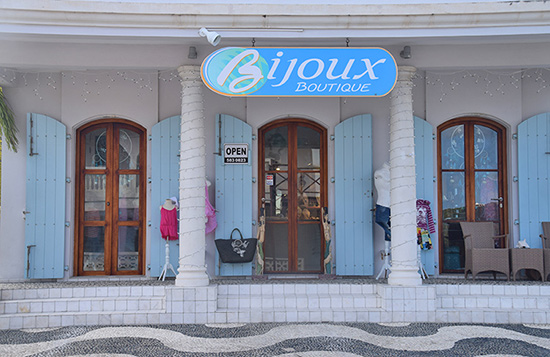 As you enter, the sweet soothing smell of vanilla bean wafts through the air. Turquoise tissue honeycomb balls hang from the ceiling among colorful pompoms and aluminum stars. The welcoming sales clerk warmly greets you while your attention is lured to the U-shaped table that surrounds her.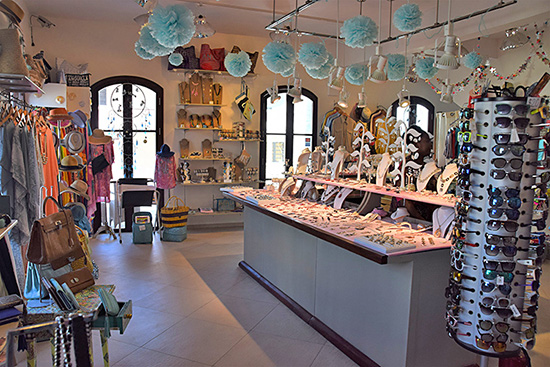 This table bears a wide variety of chic jewelry including bracelets, necklaces, earrings and toe rings, charm-filled anklets and...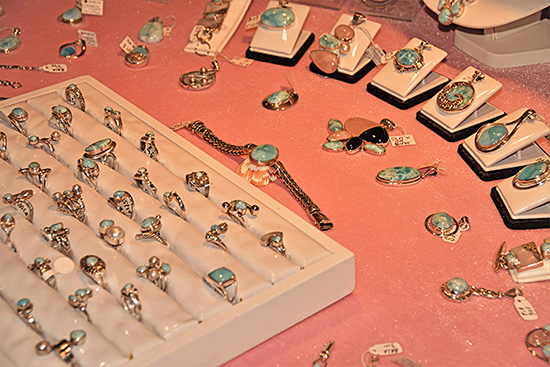 Beautiful "bijoux" of the Caribbean Larimar semi-precious stone, which is the only Caribbean stone. This water stone is unique to the Dominican Republic.
Bijoux also carries a wide variety of fashionable beachwear for children, men and women. Anguilla t-shirts, swim shorts, long sleeves, breezy coverups and hats (sun hats, caps and Fedoras) are all available.
In addition to clothing and accessories, Bijoux's hand bags are some of their most popular items.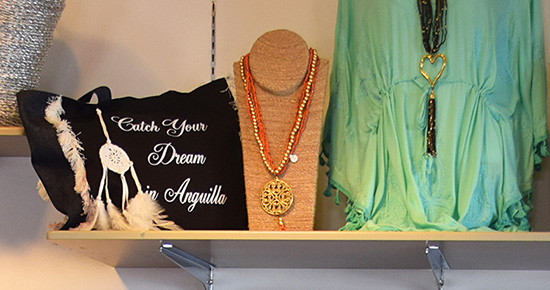 My personal favorites are the ones that are "all Anguilla." From the loud and bold...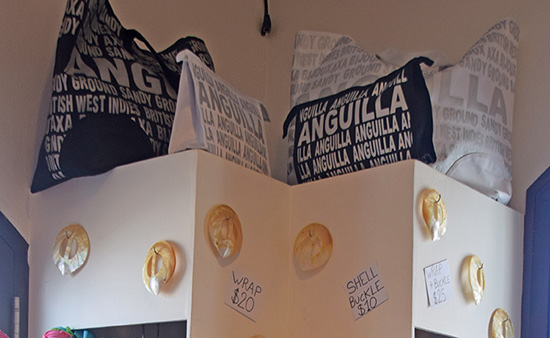 To the subtle, with a sweet message...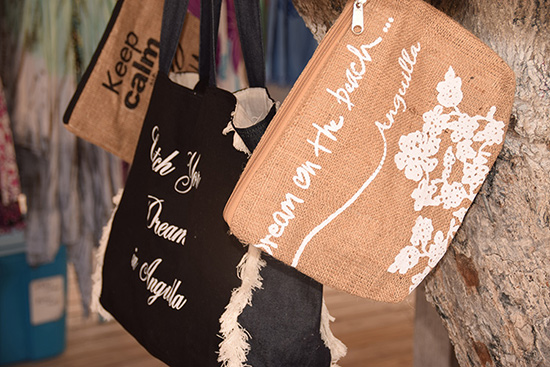 They make for a terrific Anguilla souvenir.
Today, Bijoux continues to grow and expand. You can also find Bijoux Boutique on Shoal Bay East.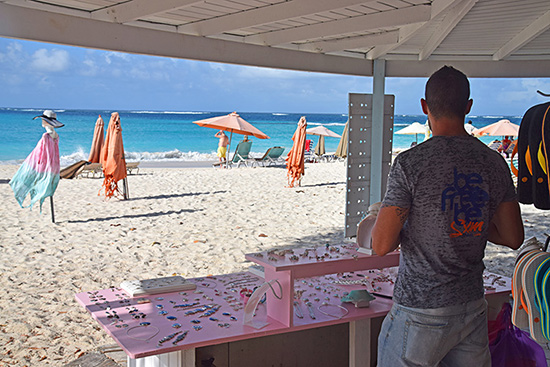 Just to the left of Madeariman restaurant lies the shaded pop-up shop among the seagrape trees. From swimsuits and shawls, to flip-flops, hats, bags, t-shirts and even jewelry, Bijoux meets your beachwear and souvenir needs!
Bijoux Boutique in Sandy Ground: opens from 9:30am until 10pm on Mondays through Fridays, and 11:30am until 7pm on Sundays.
Bijoux Boutique in Shoal Bay East: opens in high season only (mid-December to mid-April) during the day.
Bijoux Boutique is now an Anguilla Card Partner! Click here to get your Anguilla Card and save 10% at Bijoux Boutique.
---
Moondance Villa The Anguilla Card
A gem of a villa, Moondance Villa is a special find.
Set in a peaceful neighborhood, amidst flora and fauna, Moondance Villa sits high on a ridge that gazes out to the Caribbean Sea, St. Barth and St. Martin.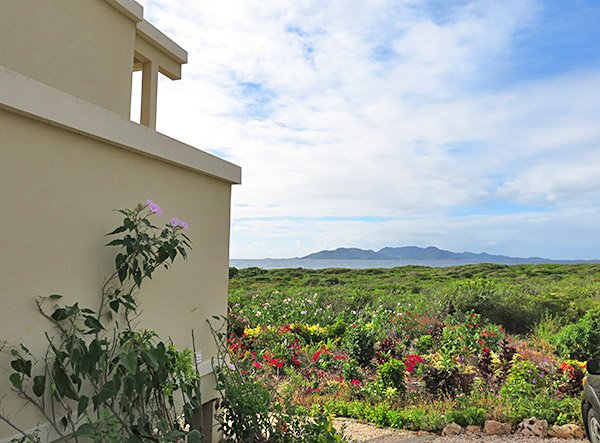 Step inside and you find a fresh, contemporary villa with pops of color and warm, Caribbean accents. A spirited villa, the decor makes you feel right at home. When it comes to the villa's touches, owners Tim and Nancy have thought of every last detail to make your trip perfectly comfortable.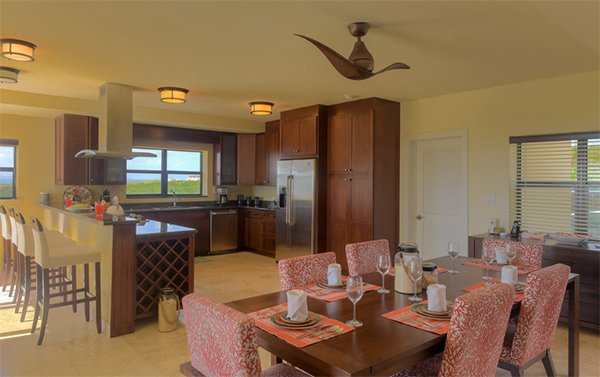 The first floor features a spacious kitchen, complete with all modern appliances, large indoor dining area and two living spaces, including a home theater (with Apple TV). There is even a desktop computer with printer, which comes in handy when you need to print your boarding passes.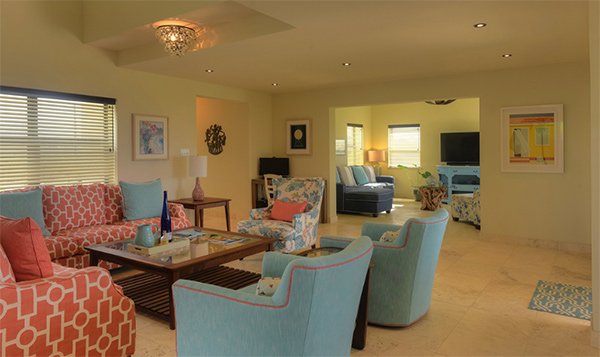 A bathroom and laundry facilities are also set on this floor.
The living and dining areas open onto a spacious outdoor deck that provides vivid views of the Caribbean Sea and St. Martin. Complete with plunge pool, sun loungers and outdoor dining and lounging furniture, you settle into a state of total relaxation on Moondance Villa's terrace.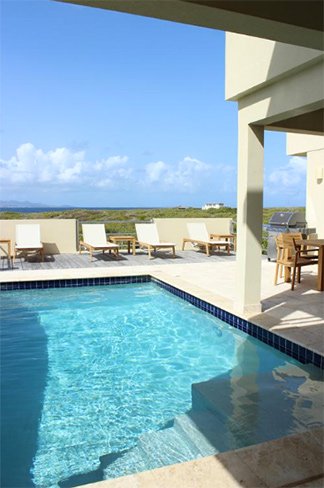 Upstairs, the villa offers two master bedrooms. Each bedroom has a view of the Caribbean, its own ensuite bathroom and balconies that capture the cooling Caribbean tradewinds.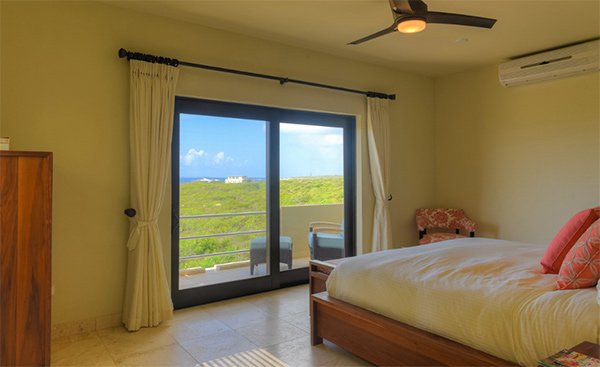 With a host of amenities (including welcome refreshments and meet & greet at Anguilla's airport or ferry), the spirited and charming Moondance Villa is an excellent and affordable rental choice.
For more on Moondance Villa, click here.
Moondance Villa is now an Anguilla Card Partner! Click here to get your Anguilla Card and save 10% with Moondance Villa.
---
Anguilla's First Beach Lounge: Breezes at The Reef
On a sandy cove of its own, at Breezes "beach" and "lounge" make an indulgent match. Quickly becoming one of Anguilla's most popular spots, this is the island's first beach lounge.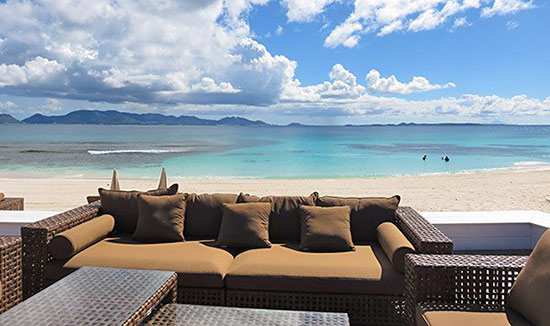 It is set on a little-known slice of paradise called Merrywing Bay. A palm-tree lined spit of smooth sand, Merrywing curves to Cove Bay on one side and Rendevous on the other.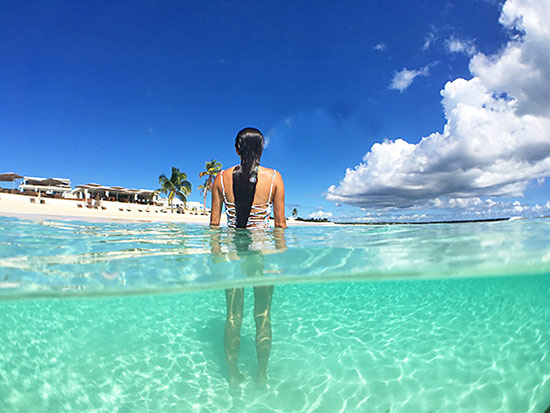 The Reef's beachfront restaurant, Breezes is just one step up from this secret beach. Accessible only by boat or if you are a hotel or restaurant guest, Merrywing Bay breathes a distinctly peaceful and private air.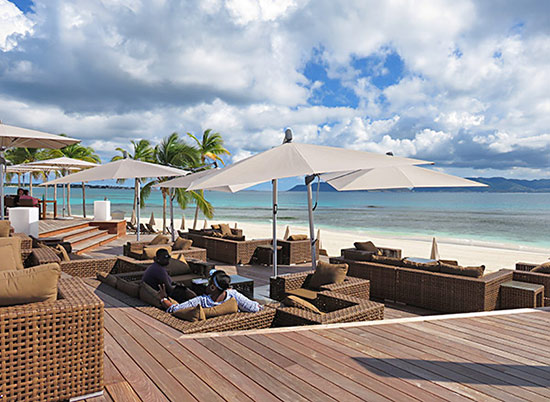 Sister property to CuisinArt Golf Resort & Spa, Breezes at The Reef delivers that familiar five-star level of cuisine and service.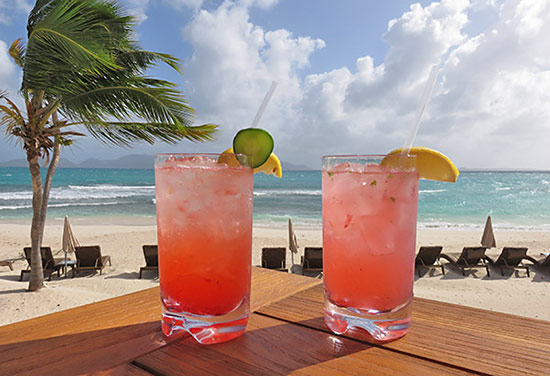 Presiding over the kitchens at both CuisinArt Golf Resort & Spa and The Reef, you won't find a chef more passionate than the resorts' Executive Chef Jasper Schneider. Fueled by a passion for creating cutting edge and fun cuisine, a meal by Chef Jasper always excites your tastebuds.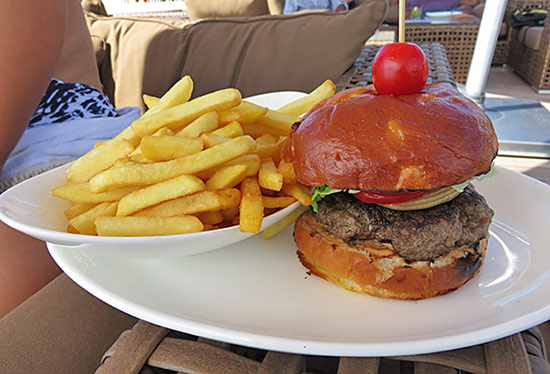 Read the full report on Breezes here.
---
Experience Anguilla's Offshore Cays With Tequila Sunrise Villa's NEW Special
This spring, Tequila Sunrise Villa is celebrating Anguilla's offshore cays!
For all new bookings made direct, experience your choice of offshore cay for free!...
Sandy Island
Prickly Pear
Scilly Cay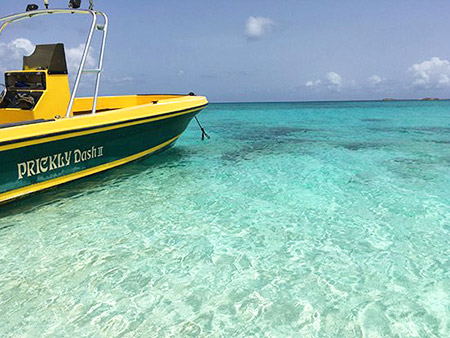 ... the choice is yours! Jet off to one of Anguilla's three most widely-loved offshore cays and enjoy a day under the sun and below the sea, complete with snorkeling and falling-off-the-bone BBQ eats.
A heavenly way to spend a day in Anguilla, Tequila Sunrise Villa's specials never cease to amaze!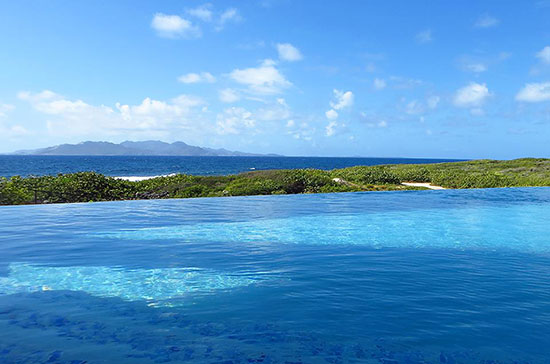 The luxury villa that offers it all, Tequila Sunrise Villa's value just keeps getting better and better.
More on Tequila Sunrise Villa.
To book, email owner Joel Globus direct at...
iwant2b@tequilasunrisevilla.com
---
The Ever-Popular B&D's BBQ
One of Anguilla's longest standing BBQ joints, B&D's has delighted palates for decades.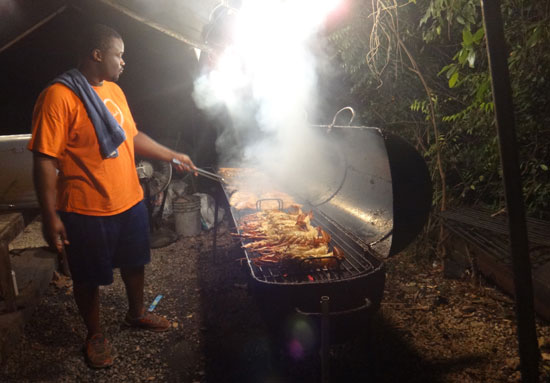 Open weekends only, B&D's is always hustling and bustling. Why? The reason is simple. Warm hospitality, fair prices and tasty grilled seafood and meats and a plethora of sides (including Johnny cakes!).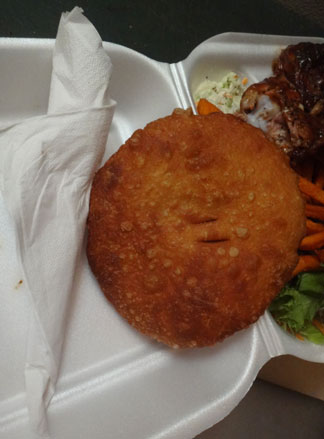 TIP: In addition to ribs, chicken and fish, B&D's also grills up lobster for just $30! One of the most competitively priced lobster dinners, it's a steal of a sumptuous deal.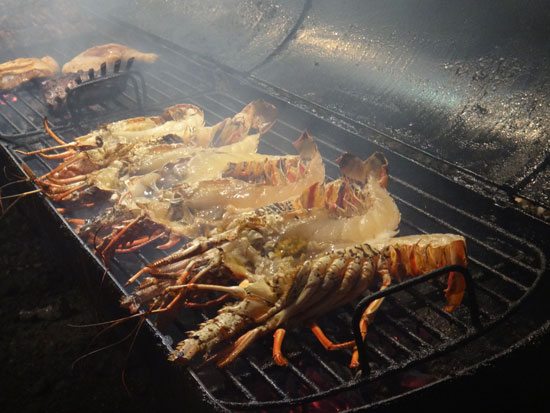 ---
Carimar's Spring Availability
Good news from Carimar Beach Club on breathtaking Meads Bay...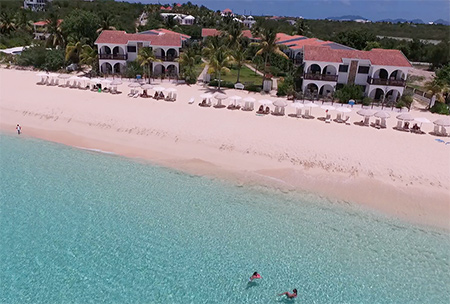 They still have availability during the second half of March!
A wonderful time to be in Anguilla, and with low airfares via JetBlue (ex., JFK to SXM at $461 - subject to change), the time is right to escape winter.
And what a delightful "escape" Carimar makes...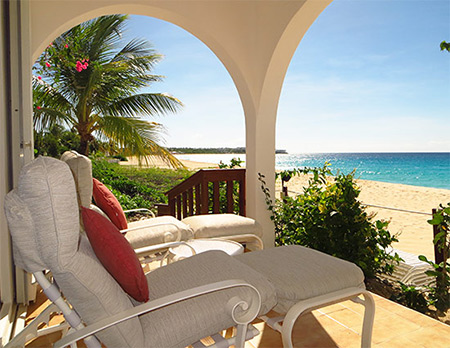 ---
SandBar Opens For Lunch
Beloved tapas restaurant on Sandy Ground's beach, SandBar has recently opened their doors for lunch.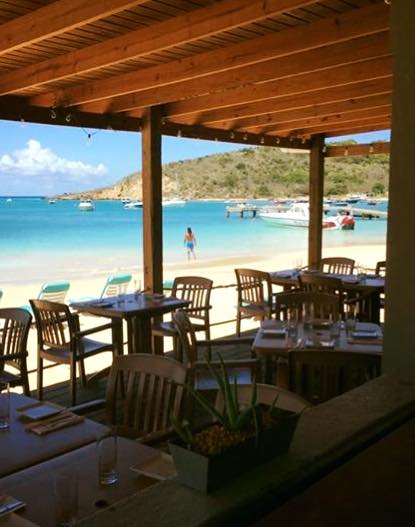 Photo: SandBar
Open Tuesday to Friday 11:30 to 2:30 and Saturday 11:30 to 4:00, what's on the menu?
Gourmet Sandwiches: Tempura-battered mahi, pulled pork, bacon chicken ranch, BLT, pastrami, reuben
Artisan Pizzas: Cheese, Margherita, pepperoni, vegetarian, BBQ chicken
Salads: Wedge, Caesar, caprese, Thai shrimp
Specials: Mussels, white bean dip with pita bread, SandBar fries, spicy edamame, zucchini carpaccio, tropical sweet & savory wings
Stay tuned for the full report coming soon!
---
What Do You Love Most About Meads Bay?
Is it the sheer, clear waters that reflect in a million different shades of blue?...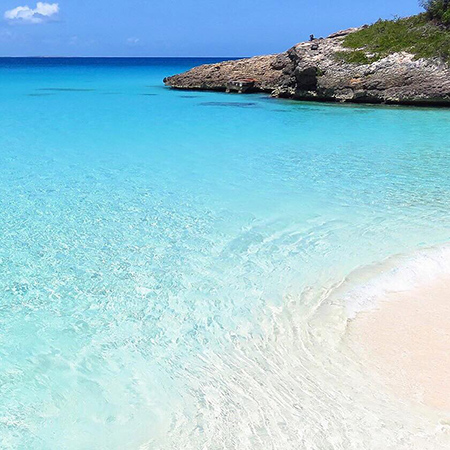 The regular mega yacht sightings?...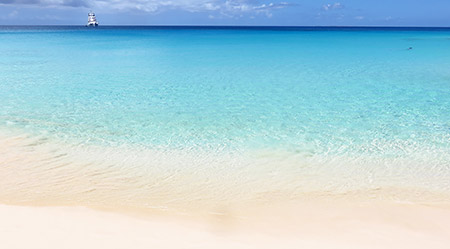 The beautiful big wave shows that rise from time to time?...
Or could it be its five-star dining options, including Jacala...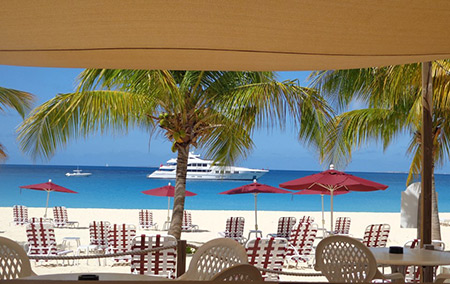 Blanchards...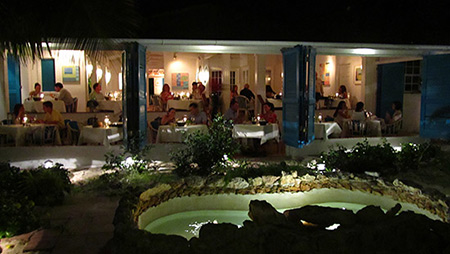 And Straw Hat?...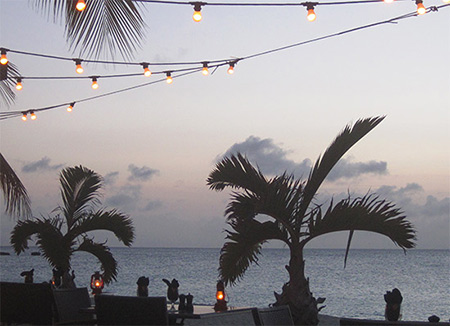 Perhaps it is all of the above! ;-)
One thing is for certain, living is peacefully beautiful and luxuriously calm at Anguilla's big and bold beauty, Meads Bay.
For more on living on Meads Bay, the beach's luxury condo development, Tranquility Beach is offering 5% discounts on deposits made before Mar. 31, 2017.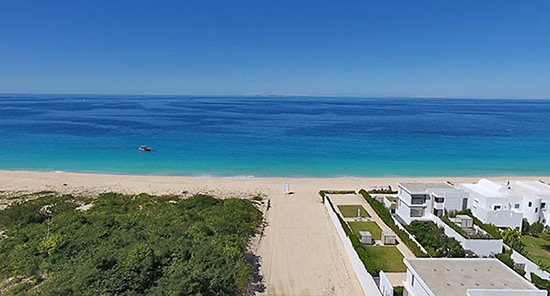 For more on Tranquility Beach, click here.
---
Happy 10 Year Anniversary, Elvis'!
Excitement is in the air down on Sandy Ground...
This week, Elvis' is celebrating 10 years of good times and mellow vibes on the beach. Time sure flies when you're having fun!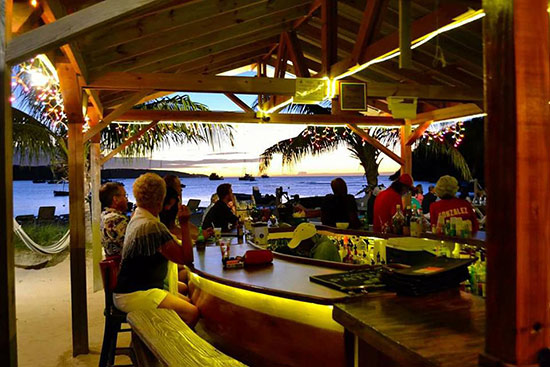 A widely-loved, toes-in-the-sand hang out by the sea, a huge congratulations to Elvis and Brett!
The dynamic duo will be celebrating this Friday & Saturday night, Mar. 3rd and 4th with live music by St Croix's, Kurt Briggs Schindler. Party starts at 9pm on both nights.
Brett and Elvis, here's to many more years of happiness to come! See ya this weekend!
---
Step Inside The Reef
Anguilla's newest luxury hotel, The Reef by CuisinArt has been hot on everyone's tongues this month. A featured property in Sports Illustrated's Swimsuit 2017 issue (more on Sports Illustrated at The Reef here), The Reef has been gaining momentum.
This past week, they launched their brand new, photo-rich and interactive website...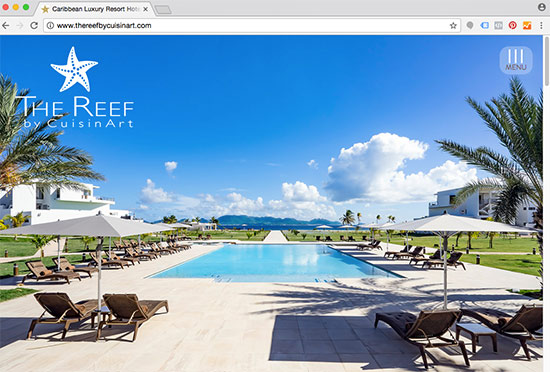 Showcasing their modern-luxury rooms, gourmet dining and water-centric beach activities, step inside The Reef here.
---
Moonsplash: 2017
Last, but certainly not least...
One of the Caribbean's greatest reggae music festivals, Bankie Banx's famous Moonsplash is quickly approaching. Who is playing this year? See the lineup below.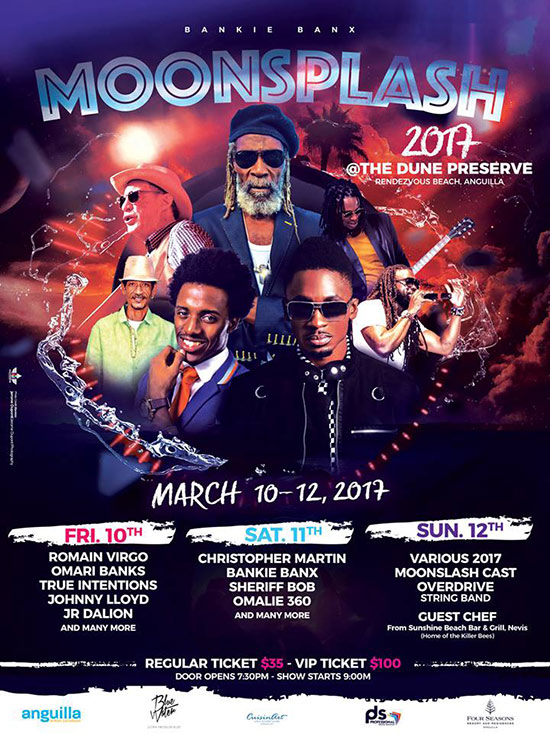 With the full moon overhead, the open Caribbean Sea at the foot of The Dune and feel-good vibes all around, Moonsplash is a "must-do."
Over the years, its reputation for excellent music has even attracted the likes of Jimmy Buffet, John Mayer and Bob Dylan.
To reserve tickets ahead, click here.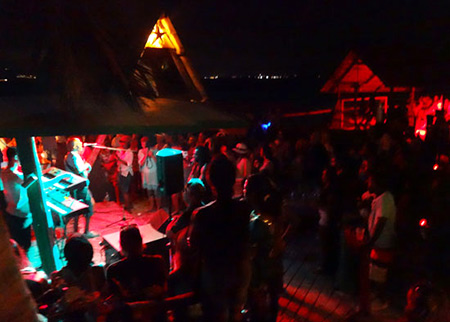 That's all for this month. Here's wishing you a happy start to March, and if you will be in Anguilla, a magical Moonsplash weekend!
Talk to you soon,
Nori
Do you have your Anguilla Card yet? Save 10% at 80 Partners!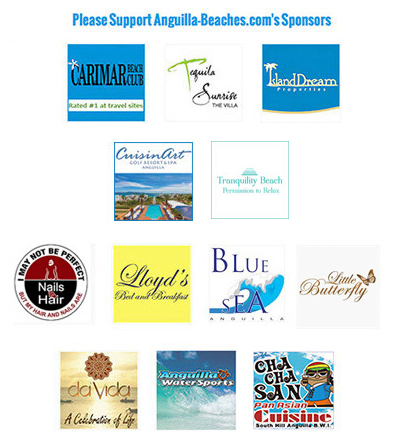 Anguilla-Beaches.com
---