Moondance Villa...
Where Every Night is a Marvelous Night
For a Moondance
Update 2018: Moondance Villa is no longer available for rent.
On a peaceful ridge overlooking the Caribbean Sea, Moondance Villa has long held a special place in our family's hearts.
Welcome to Moondance Villa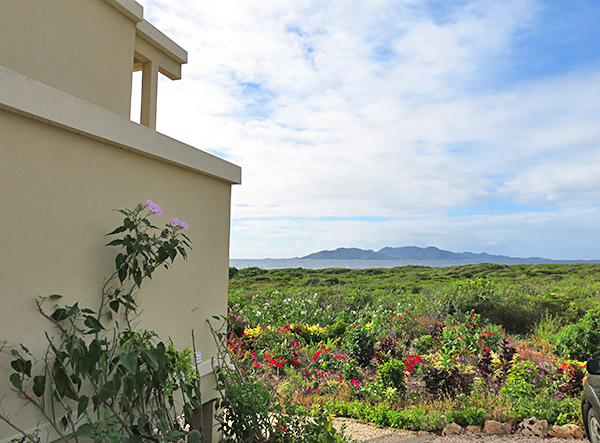 Near our own home, you may remember Moondance Villa as the villa my Dad and dear friend, builder Mike Vallinis constructed a few years ago. Durably built to capture the Caribbean tradewinds and to take in the sweeping vistas of St. Martin...
St. Martin (Grand Case and Marigot) to the West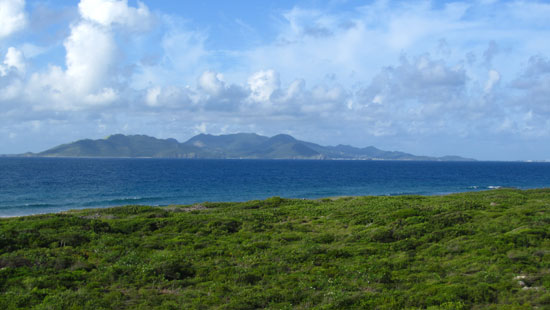 St. Barths...
St. Barths Straight Ahead
(Flat Island In Right Foreground)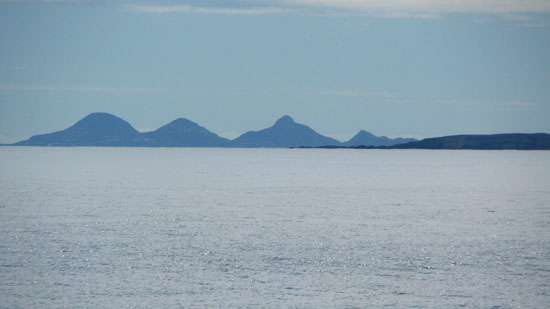 And the open Caribbean Sea...
Open Caribbean to the East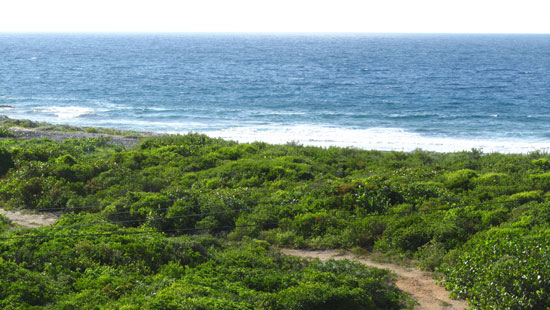 ... today, this gem of a villa is known as Moondance.
Moondance Villa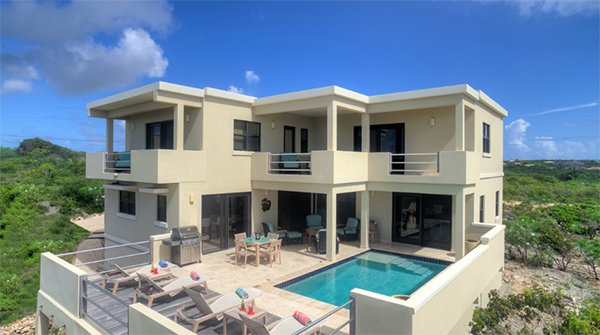 A charming villa that blends a cozy beach cottage feel with Caribbean flair, Moondance is an excellent and affordable addition to Anguilla's villa rentals.
Let's step inside...
Comfortable Indoor Living

Two steps inside Moondance Villa and the entire downstairs area opens up before you.
Spacious and bright, the villa is fresh and modern.
The owners, Tim and Nancy have complemented the villa's contemporary feel with retro-cool furniture and warm pops of color.
Spacious Kitchen & Indoor Dining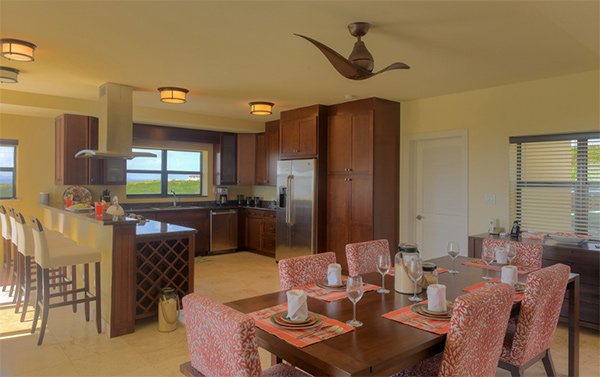 The kitchen is outfitted with KraftMaid cabinetry, Kohler fixtures and modern appliances. Complete with a long, granite bar, Moondance's kitchen is idyllic for preparing meals in.
The ample dining room with large dining table opens into a plush seating area, dressed in tropical hues.
Interior Living Room at Moondance Villa

With an atrium overhead, the area is extra-spacious, boasting high ceilings. Portraits of Caribbean scenes adorn the walls, and tucked to the corner of the room is a desktop computer.
No need to bring your laptop to check email and printing your boarding passes is a breeze thanks to this attention to detail. Naturally, the house is completely outfitted with WiFi in case you choose to bring your laptop and iPad.
On that note, Nancy and Tim have thought of everything to make your stay 100% stress-free.
Interior Living Room & Home Theater

The main living room opens into the villa's home theater. My personal favorite room in the house, here "cozy beach cottage" meets "charming Caribbean home." You sink right into the soft, blue couch as you unwind into a state of total relaxation.
Moondance Villa's Cozy Home Theater

Another smart touch? Moondance Villa's home theater boasts an Apple TV for all of your streaming needs.
A spacious bathroom is also set just down the hall from the home theater.
Interior Living at Moondance Villa

The entire first floor opens onto a spacious deck that overlooks the Caribbean Sea...
Outdoor Caribbean Living
Outdoor Living

Positioned to soak up the sun, Moondance's terrace catches Anguilla's warm rays all day.
It also catches the consistent easterly tradewinds, which help keep you a comfortably-warm temperature.
If you get too warm?
Moondance's sparkling pool has you covered.
Larger than a plunge pool, the pool at Moondance Villa is perfect for lounging and doing laps.
The terrace expands out from the pool, jetting into the villa's surrounding green valley, rich with flora and fauna.
Complete with sun loungers for taking in the Caribbean rays, cushioned chairs and couches for reading and relaxing, and space for dining under the stars, outdoor living is easy at Moondance Villa.
Best of all, the terrace gazes out to the imposing mountains of St. Martin in the distance...
Caribbean Sea View From Moondance Villa

Sleeping By The Caribbean Sea
Back inside and up the stairs are the villa's two master bedrooms.
King Size Bedroom

The first bedroom features a king size bed, vanity and walk-in closet. True to the Moondance theme, the bedrooms are complete with Sonos systems. Your favorite tunes are just a click away.
Adjacent to the king bed is the bedroom's oversized bathroom with walk-in shower. Bathrooms are complete with hair dryers and Malie Organics, a luxurious and organic line of body care products.
Room With A View

Straight ahead, the bedroom opens onto a balcony that looks out to that same enchanting Caribbean Sea view. Catching the gentle Caribbean Sea breeze, there is no need for air conditioning.
Leave your window opens to sleep to the sound of the sea. Both bedrooms do have air conditioning, though, should you wish to use it.
Second Floor Balcony at Moondance Villa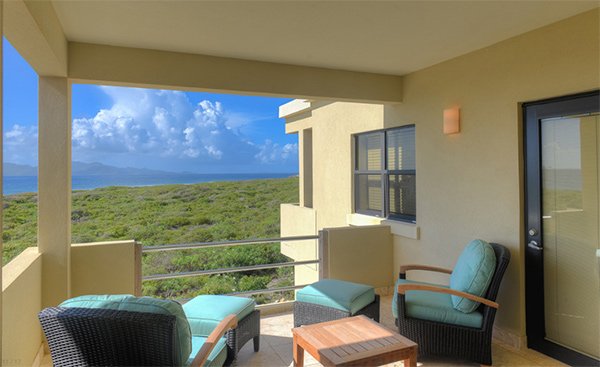 This balcony also opens into the villa's second bedroom...
Second Bedroom at Moondance Villa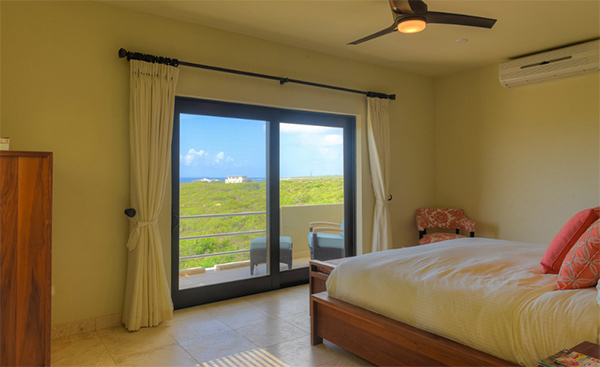 Similar in layout to the first bedroom, the bedroom features walk-in closet and a spacious bathroom with double sink and rain shower.
Second Bedroom Closet Space & Bathroom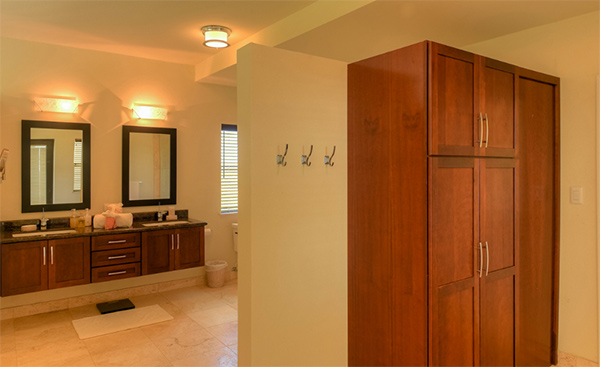 The extra-special touch? This bedroom also has a second and private balcony with a vivid view of St. Martin.
In addition to a comfortable and luxurious villa, extra-special amenities round out the Moondance experience...
Use of villa cell phone
Beach towels, chairs, coolers
Snorkeling equipment
Meet and greet at Anguilla's ferry or airport
Welcome refreshments
Housekeeping six days/week
And, your villa manager is just a phone call away!
At $450-550/night ($450 in low season and $550 in high season), the price for the villa, its amenities and location cannot be beat. A spirited and charming villa that boasts more than all of the comforts of home, Moondance Villa offers exceptional value.
... and, on a full moon you have a front row seat to the moon over the Caribbean Sea. There is no better place for a Moondance ;-)
More on Moondance Villa
Official Website: Click here
To book, contact Moondance Villa's villa manager, Catherine of Anguilla Villa Company:

Email: catherine@anguillavillacompany.com
Tel.: 264-498-2741
Location