Combing Anguilla's Beaches for the Best
Anguilla Beach Lovers brings you the latest additions to one family's experiences of the "best of all things Anguillian."

If you like this e-zine,, please do a friend a favor and "pay it forward."

If a friend did forward this to you and if you like what you read, please subscribe by visiting...
---
Issue #106, April 20, 2017
It's sure been a busy and exciting April in Anguilla!
From vibrant Festival Del Mar to an evening of non-stop fun at eleMENTAL, Anguilla has been hopping.
With Anguilla Day (May 30th) just around the corner, and boat racing season quickly approaching, many more festivities await!
Until then? Let's bask in some Anguilla blue...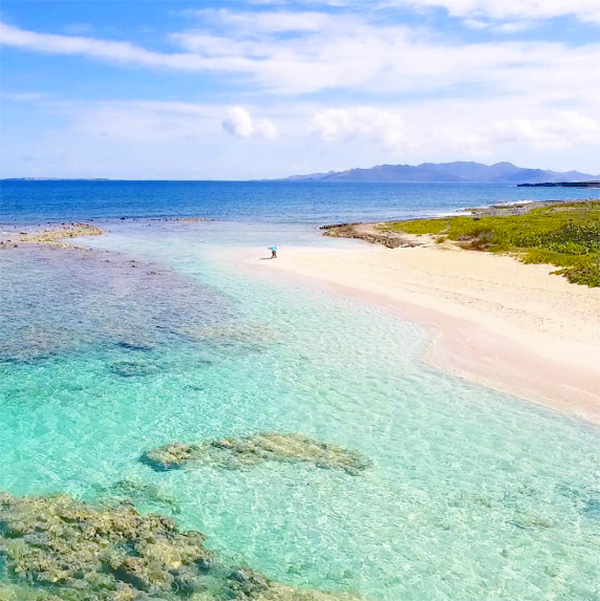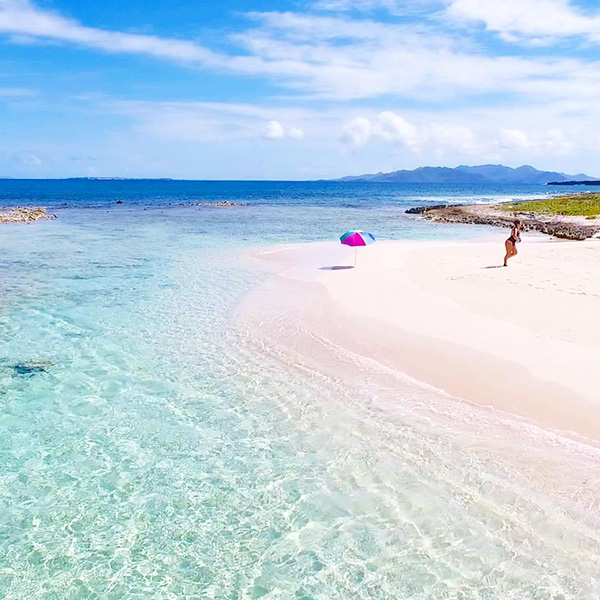 From Sandy Hill to Shoal Bay East, there are few "points" of blue as sweet and serene as these two!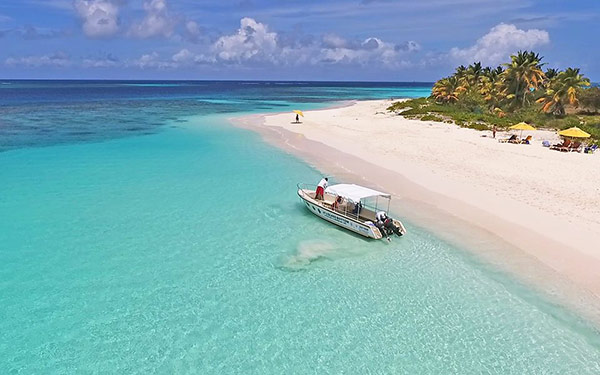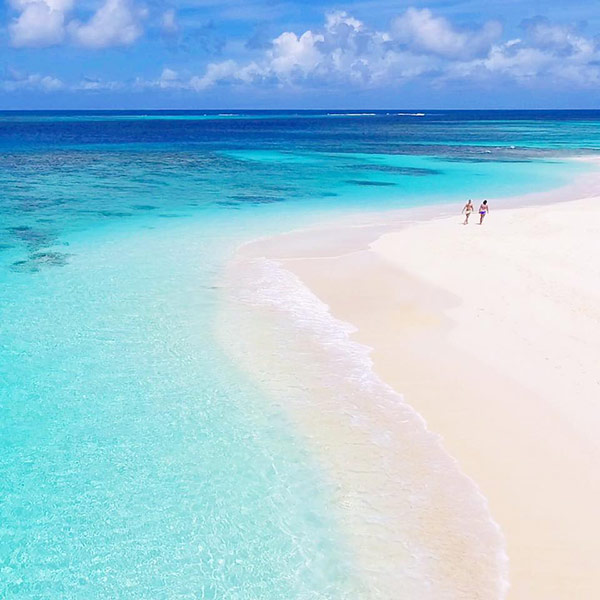 For a daily dose of Anguilla blue, click here and follow me on Instagram!
What's new in Anguilla?
---
Breezes Restaurant Joins The Anguilla Card
On a sandy cove of its own, at Breezes "beach" and "lounge" make an indulgent match. Quickly becoming one of Anguilla's most popular spots, this is the island's first beach lounge.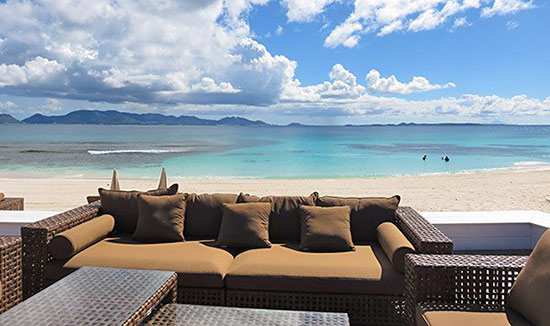 It is set on a little-known slice of paradise called Merrywing Bay. A palm-tree lined spit of smooth sand, Merrywing curves to Cove Bay on one side and Rendevous on the other.
St. Martin's high mountains divide endless azure sea from sky. In the foreground, the beach's clear-blue lagoon is ripe with active reefs. Plunge under the sea and you realize why they named this luxury Anguilla hotel The Reef.
The resort's beachfront restaurant, Breezes is just one step up from this beach.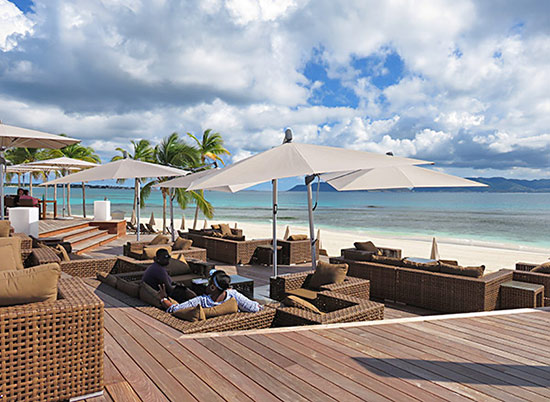 Sister property to CuisinArt Golf Resort & Spa, Breezes at The Reef delivers that familiar five-star level of cuisine and service.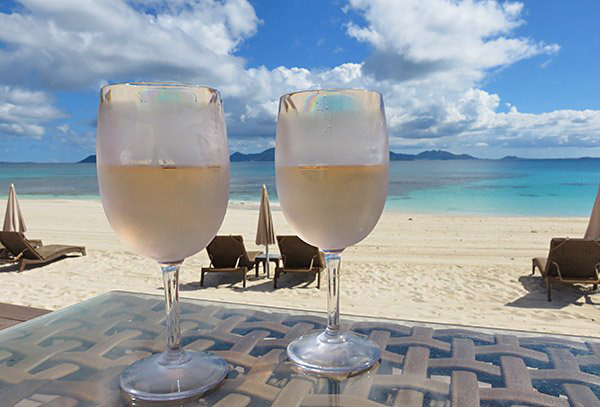 A varied drink list includes Miraval rosé and a number of syrupy cocktails whipped up with ingredients straight from CuisinArt's hydroponic gardens.
Pairing perfectly with a crisp cocktail are Breezes' "table snacks." A selection of gourmet plates to share, the garlic rosemary pita with house-made tzatziki makes for a refreshing pre-meal bite.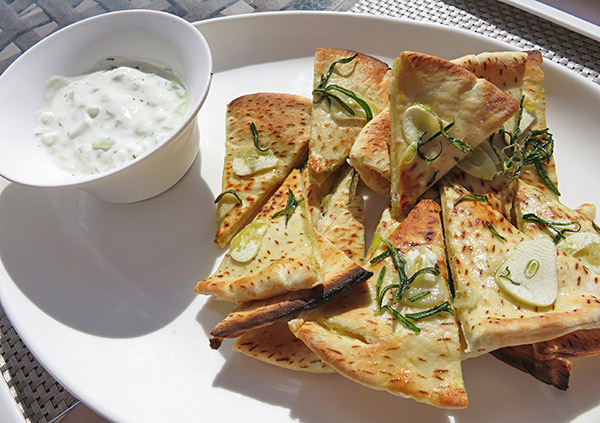 Presiding over the kitchens at both CuisinArt Golf Resort & Spa and The Reef, you won't find a chef more passionate than the resorts' Executive Chef Jasper Schneider. Fueled by a passion for creating cutting edge and fun cuisine, a chat with Chef Jasper always excites your tastebuds.
"We are growing many different types of bok choy, lettuce, herbs, melons and now we've just started papaya," Chef Jasper enthused as he explained the hydroponic offerings at Breezes. The resort's hydroponic gardens supply their menu of salads including baby tomatoes with mozzarella, little gem caesar and...
Chopped Salad - little gem is tossed with tomato, cucumber, feta, olives and a touch of oregano before being doused in a light red wine vinaigrette.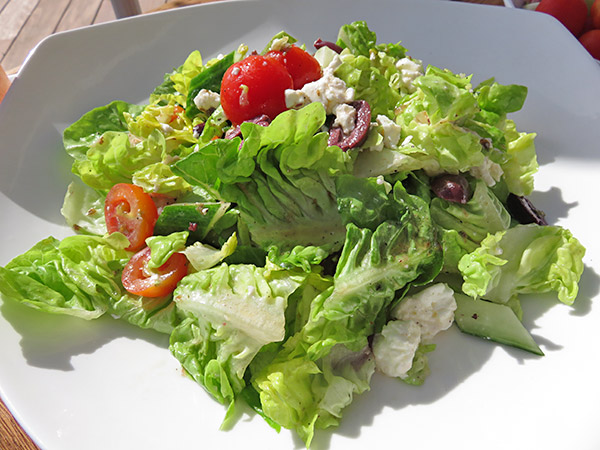 Next on the menu are a number of artisan pizzas baked in a 900° wood oven. The "stracciatella" with melted onions, ricotta and mozzarella is next on our "to devour" list.
My sister opted for the burger that has been called "Anguilla's new #1"...
The Short Rib Burger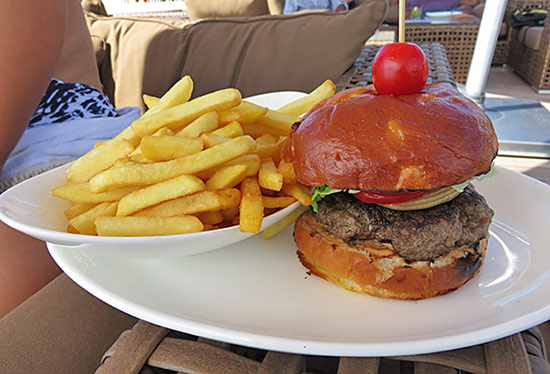 My personal favorite? The tuna poke is the best "classic style" tuna poke I have found yet in Anguilla!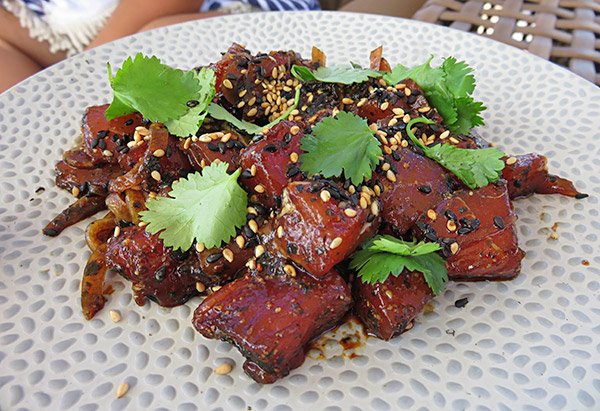 Thick chunks of fresh tuna are lathered in a spicy sesame oil with shaved onion, chili and pieces of nori seaweed (perhaps this is why I am so partial to this dish ;-)). A classic tuna poke with a kick, "I up the heat factor," Chef explained, "it's designed to go with a cool beer."
For more on the blissful beach lounge experience at Breezes, click here.
Breezes is now an Anguilla Card Partner! Click here to get your Anguilla Card and save 10% at Breezes.
---
The Yacht Club Joins The Anguilla Card
As you descend The Reef's spiral staircase to the Yacht Club, a wave of awe washes over you.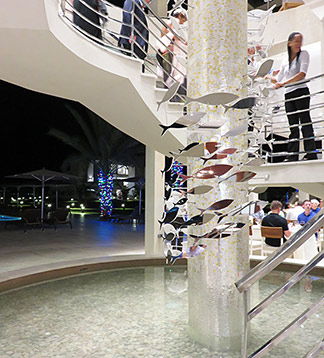 The Yacht Club is the Restaurant of Dreams.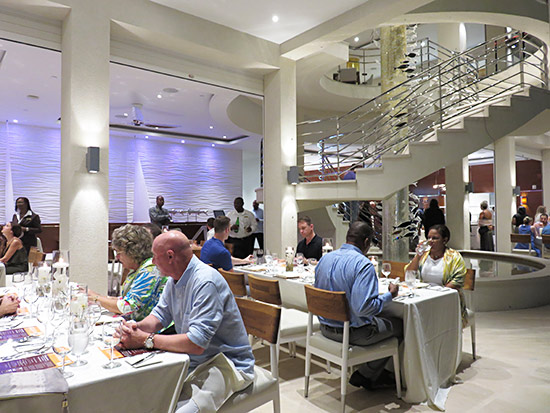 White is balanced by warm wood. Textured walls are complemented by sailing murals. Beautifully lit and with a sparkling central staircase and fountain, the Yacht Club is nothing short of magnificent.
What's on the menu?
Executive Chef Jasper Schneider has crafted an haute-cuisine menu that brings the best in fine seafood dining right to your plate.
The menu includes a raw bar with seasonal east & west coast oysters. Chef serves these with cucumber ginger soy mignonette, tomato water cocktail sauce and pickled apple scallion gochujang.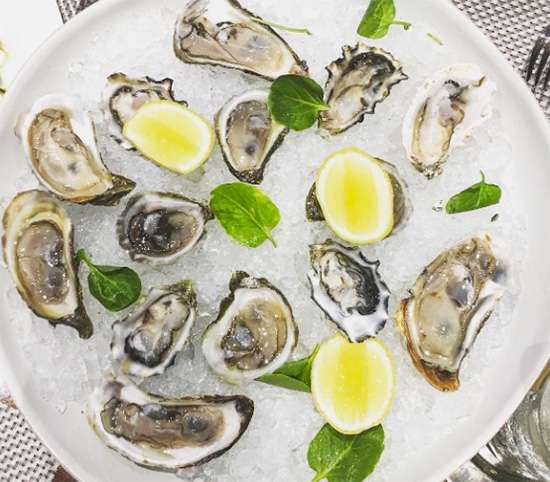 (Photo: The Reef)
Next on the menu is a section labeled "Raw." Creations include tuna carpaccio, salmon with radish, mint, serrano chili and ginger, hamachi with apple yuzu, tograshi and micro herbs and an option of an all-vegetable dish of pickled greens with banyuls soy shallot dressing.
"Lightly Cooked" dishes are up next.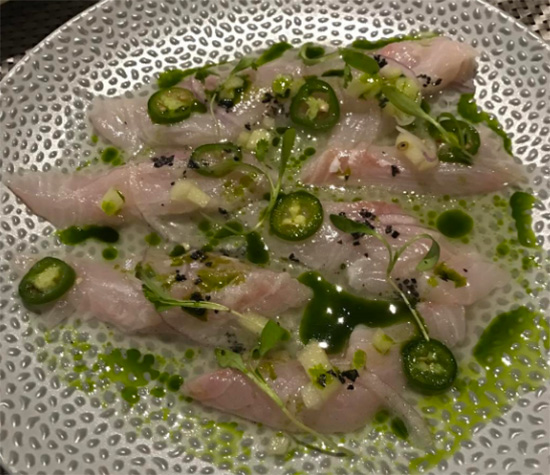 (Photo: FineEatsNYC)
Particularly enticing, the Peekytoe crab on funnel cake with old bay spice and lemon aioli has been getting rave reviews. The fluke with shiso, lemon, cyprus salt and puffed rice is another top pick along with red snapper ceviche with Serrano, pickled apple, red onion, and espellette (photo above)
Last, but certainly not least, the star of the show... the main dishes.
Roasted grouper with chorizo vinaigrette, poached red snapper with espellete piquillo pepper jus, tuna with chantarelles, New York strip with potato cheddar bacon fondue, and of course...
THE lobster. The Reef serves up some of the biggest lobsters you will find in Anguilla. Executive Chef Jasper makes it a creation all his own with ginger cauliflower puree, lemongrass, ginger, and basil.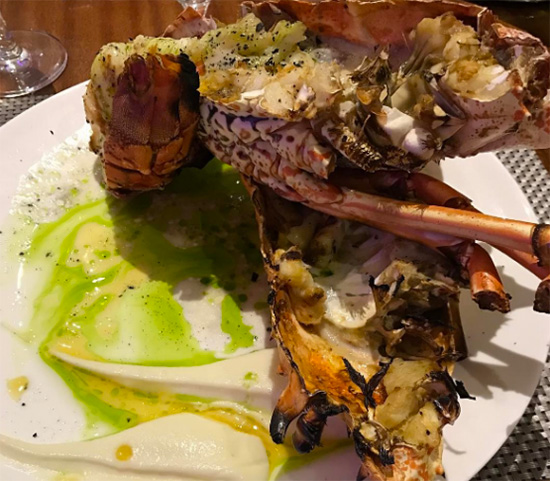 (Photo: FineEatsNYC)
Executive Chef Jasper never fails to wow with his intricate dishes, fueled by his passion to impress palates. His talents are on full display at the magnificent Yacht Club.
Full report coming soon.
The Yacht Club is now an Anguilla Card Partner! Click here to get your Anguilla Card and save 10% at The Yacht Club.
---
Happy Easter From Ruff Training Sessions
For those who love vacations, good news from Ruff Training Sessions' latest fundraiser...
Buy one & get one free!
In the holiday spirit, we're helping you increase your chances of winning a 5-day luxurious vacation in Anguilla when you BOGO! From today - April 22nd 2017, buy one raffle ticket and get a second ticket FREE with you order!

Many thanks for all of your support! We couldn't do it without you!
-Hilroy
Click here to take advantage of this special.
(NOTE: Free ticket must also be in the name of the original ticket purchaser.)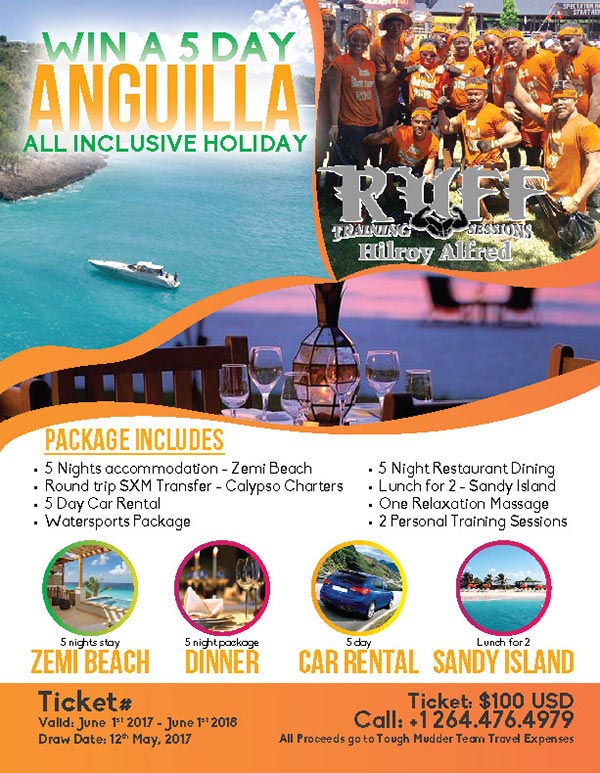 A community fundraiser to bring Hilroy and his Ruff Training crew to Tough Mudder in Philadelphia this year, click here for more on Ruff Training Sessions.
What does the fundraiser prize include?
5 Nights at Zemi Beach House
Dinner for 2 at Straw Hat
Dinner for 2 at Dolce Vita
Dinner for 2 at Blanchards Beach Shack
Dinner for 2 at SandBar
Dinner for 2 at Picante
Lunch for 2 at Sandy Island
5 Day Car Rental at A&D
Round Trip Boat Charter to/from SXM Aboard Calypso Charters
SeaPro Water Sports Package
Two 1 Hour Relaxation Massages
Two Private Beach Training Sessions
Blackout Dates: Dec. 15, 2017 - Mar. 31, 2018
Valued at over $5,000, it's a high-value fundraiser for a great community cause!
Details
Raffle Ticket Price: $100 USD
Deadline to Enter: May 11th, 2017
Winner Announced: May 12th, 2017
Hilroy is selling a total of 200 tickets at $100 per ticket.
The winning ticket will be drawn on May 12th on Radio Anguilla. We, Anguilla-Beaches.com, will also be attending the drawing and will be broadcasting live via YouTube. All who purchase tickets will be sent an e-vite to attend the broadcast.
To take advantage of the 2-for-1 special, click here.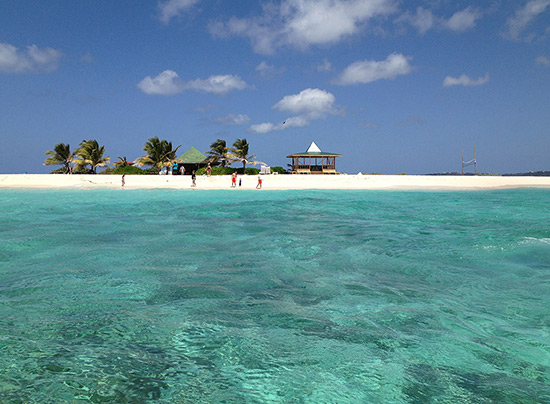 ---
Hibernia's Annual Fundraiser
The lovely Hibernia Restaurant overlooking idyllic Island Harbour will be hosting their annual fundraiser again tonight.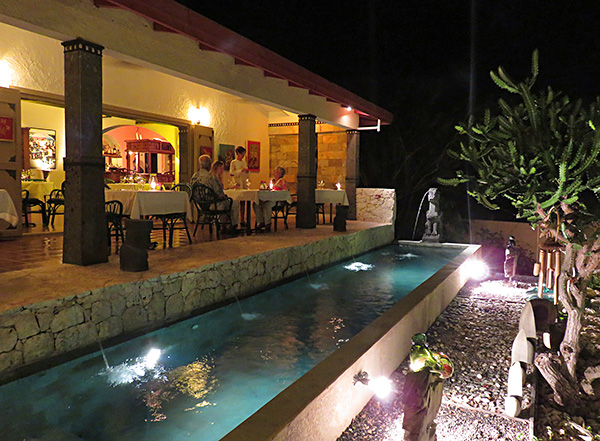 In aid of the orphanage and primary school Mary Pat and Raoul take care of in Myanmar, it is always a wonderful evening of fabulous food and wine.
Here is the menu for this year's fundraiser, taking place tonight (April 20th) at Hibernia...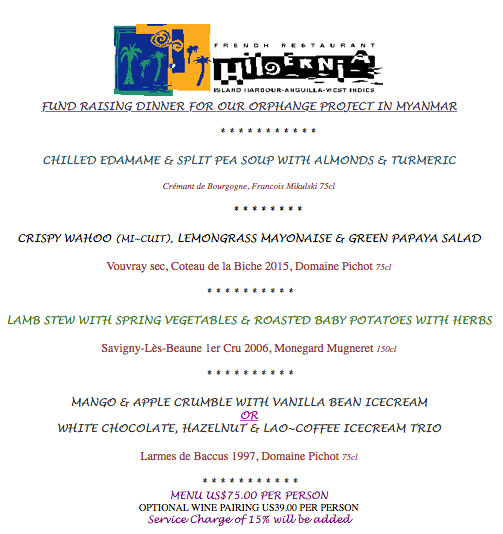 For more information, call: 264 497 4290
---
Lloyd's B&B, Your Home Away From Home During Anguilla's Lit Fest
The ever-charming Lloyd's B&B, just a 30 second drive from Crocus Bay, is offering a terrific special this May in celebration of Anguilla's Lit Fest!...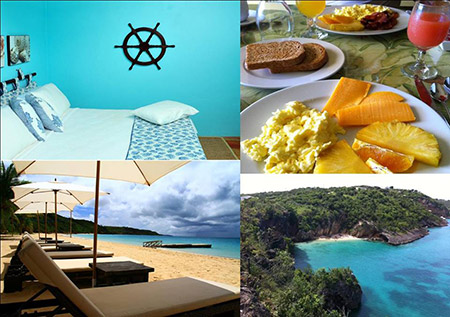 The Lit Fest package includes...
4 nights/5 days accommodation
Car Rental
All access 2 day passes at Anguilla Lit Fest
da'Vida Tapas Lounge Gift Voucher
Singles - US$ 816.00
Doubles - US$ 1,146.00
A high-value special for a wonderful event! For reservations, please email lloydsbedandbreakfast@gmail.com.
And on that note...
What's in store for this year's Anguilla Lit Fest?
Taking place at Paradise Cove May 18th-21st, this year's theme is "Revolution."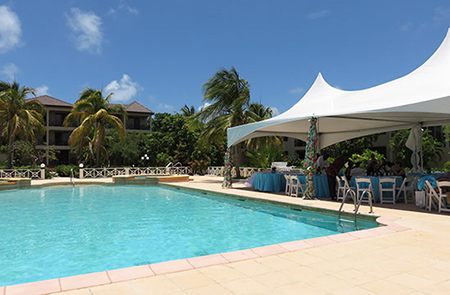 Events include a poetry master class by Tiphanie Yanique, award winning author and poet; a writing workshop by Colin Channer, charismatic Jamaican author, poet and co-founder of the Calabash Festival and the opportunity to enjoy a "Speed Date" with Literary Agent Allison Hunter, of Janklow & Nesbit.
There will also be a "Stranger than Fiction" panel discussion featuring critically acclaimed writers Nicole Dennis-Benn, author of New York Times Notable Book of the Year "Here comes the Sun," and Kaitlyn Greenidge author of "We Love You, Charlie Freeman" winner of a Whiting Award for Fiction.
That's just the beginning! For the full Lit Fest line up, click here.
---
Anguilla Through The Lens of Uncommon Caribbean
Photographers, writers and Caribbean adventurers, brothers Patrick and Steve Bennett inspire Caribbean wanderlust through their blog, Uncommon Caribbean. If you haven't checked it out, it's a beautiful resource for Caribbean secrets and one-of-a-kind finds. See Uncommon Caribbean here.
A few weeks back, Patrick and his family hit the shores of Anguilla. Here is a little look at their trip and the villa they called "home," Tequila Sunrise Villa...
Welcome "Home"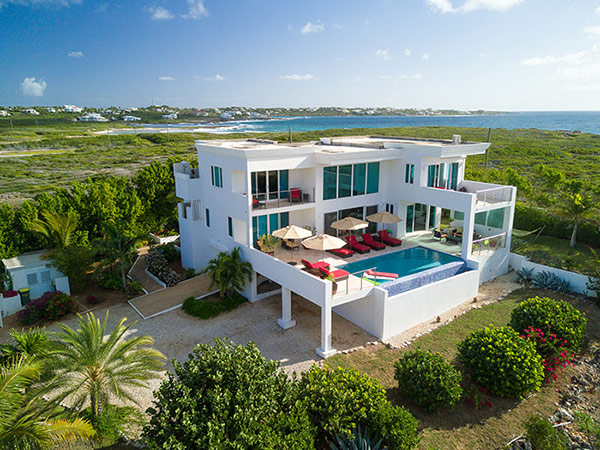 Beachcombing at Tequila Sunrise's Cove, Dropsey Bay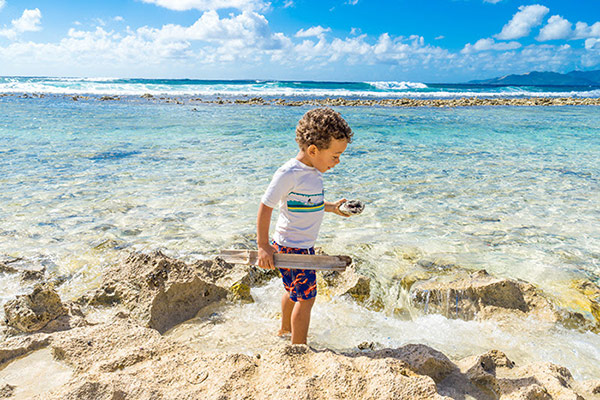 Pool Daze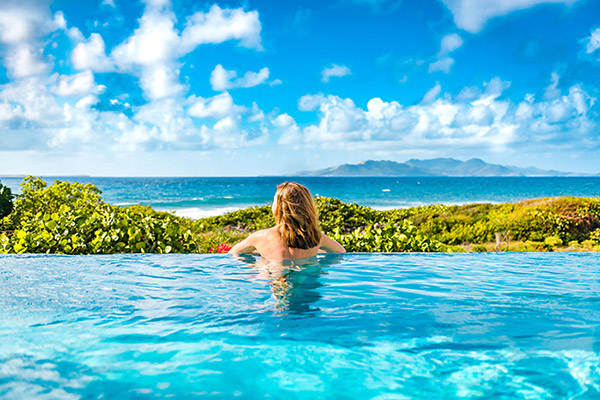 Anguilla's Arch: Found!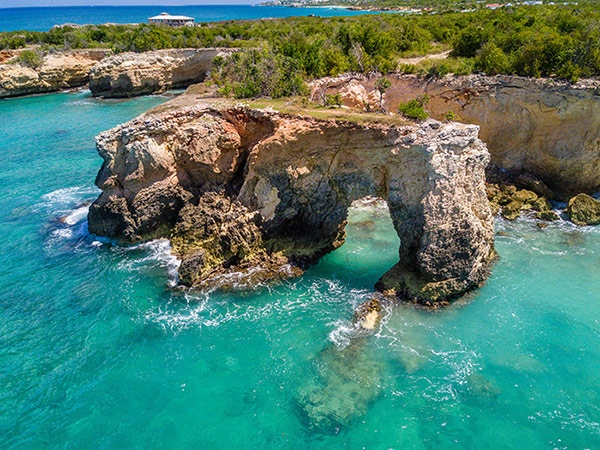 Sweet Sandy Island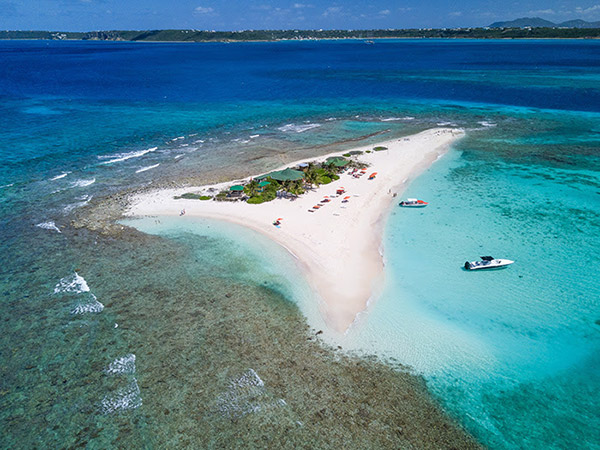 Jumping Into Anguilla Blue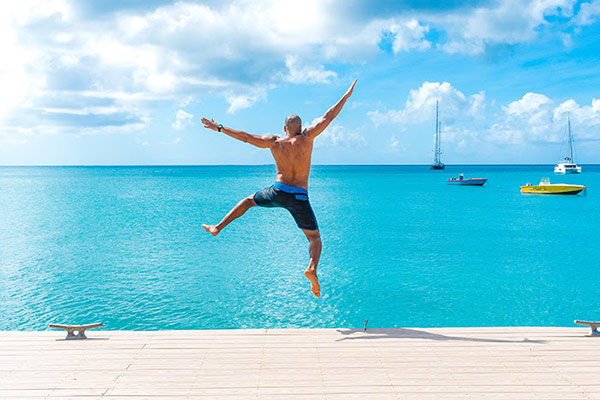 Such vivid and rich photography, thank you for sharing these images, Patrick!
For more of Patrick's trip to Anguilla at Tequila Sunrise Villa, click here.
---
Upcoming: The Anguilla Open
Take a world-class golf course with a Caribbean backdrop, add a chance at a national title and what do you get? The Open... Anguilla-style!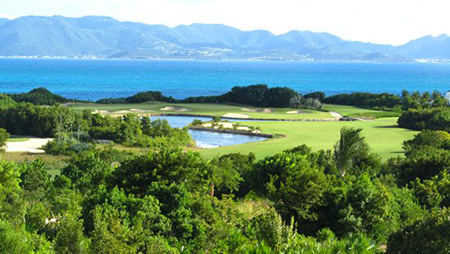 Established in 2012 (when it attracted just 22 players) and held at CuisinArt Golf Club, "The Open" has grown dramatically over the years. Its reputation has spread quickly throughout the region. Today, it is known as one of the toughest tournaments in the Caribbean and pulls in close to 100 players from around the islands and the United States.
What makes golf at CuisinArt Golf Club such a good challenge? Greg Norman has laid out one mean but beautiful golf course, 7,000+ yards. With ample water and sand, and plenty of tradewinds, the course has developed a "must-play" reputation.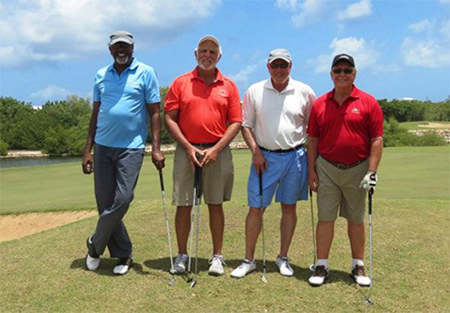 This year's Anguilla Open will be held Jun. 23rd - 25th. CuisinArt is offering terrific Anguilla Open specials! More details below.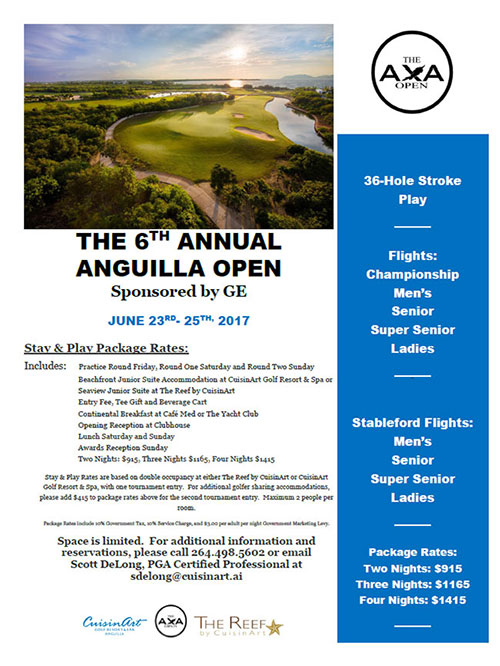 Click here to enlarge photo above.
---
Anguilla Named One of The Best Places to Retire in the Caribbean
This month, 6ABC released an article naming Anguilla one of the best places places to retire in the Caribbean.
In their words: There's no tax on capital gains and no income tax for individuals or companies. Due partly to its money-friendly tax laws, you'll find a global community of expats here. And while development is tightly controlled, there are plenty of restaurants and nightlife. Plus, immigration is fairly straightforward: if you're retired and have purchased property on the island, it should be simple to get residency.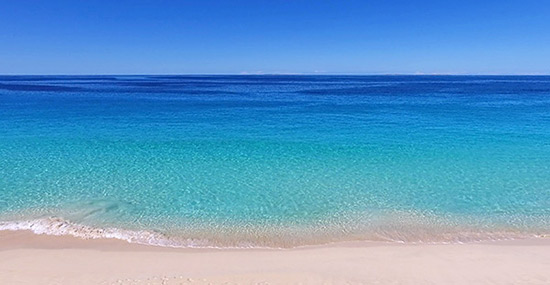 Immigration has become easier and will be even more streamlined in coming months. As of January 1st, 2017, the cost of purchasing real estate in Anguilla has been greatly reduced. Previously 17.5%, stamp duty and transfer taxes have been lowered to 10% for existing structures and 11.25% for raw land. And, an economic residency program is in the works! The time is right to buy in Anguilla.
The article points out that "your home probably won't be on a sandy beach: On the whole, private buyers are restricted from buying on the sandy coastlines reserved for resorts and hotels -- which means your coastline will be a rockier one."
That is generally true. One NEW exception? Ian "Sugar George" Edwards' real estate development right on Meads Bay beach... Tranquility Beach.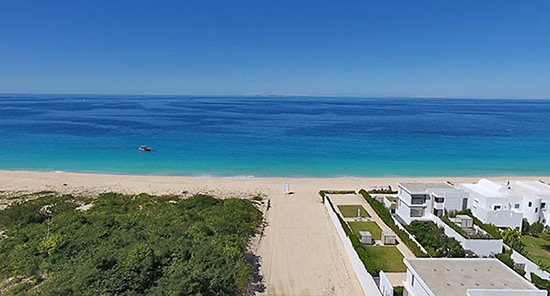 The development's first phase, Signature Suites, includes 18 one and two bedroom modern and luxurious residences set in three modern beach villas. Residences come complete with all of the amenities of an upscale boutique resort.
Tranquility Beach's property management takes care of all maintenance. And, the boutique property's residences are part of a rental pool, which are professionally managed and marketed for you.
No need to furnish, no need to worry about upkeep, no need to handle your own rentals.
Retirement is blissfully sweet at Tranquility Beach!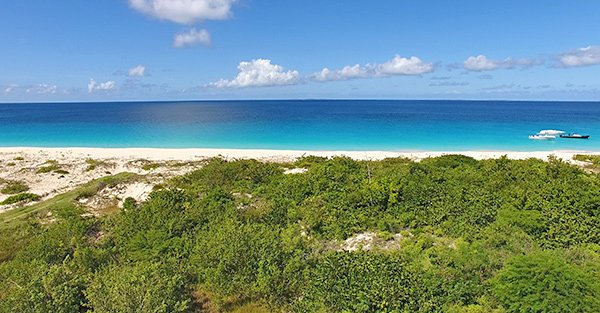 More on Tranquility Beach here.
---
Winding Down: A Cocktail Must-Try
Last, but certainly not least, one of the best new cocktails to touch our lips...
The Lotus Frozé at Four Seasons' Sunset Lounge has quickly become a "must have." Rosé granita is mixed with strawberry infused cointreau, fresh lychee and Zonin Prosecco. A beautiful combination of light and complementary flavors!
All garnished with a strawberry and edible flower, it gets an A+ for presentation, too.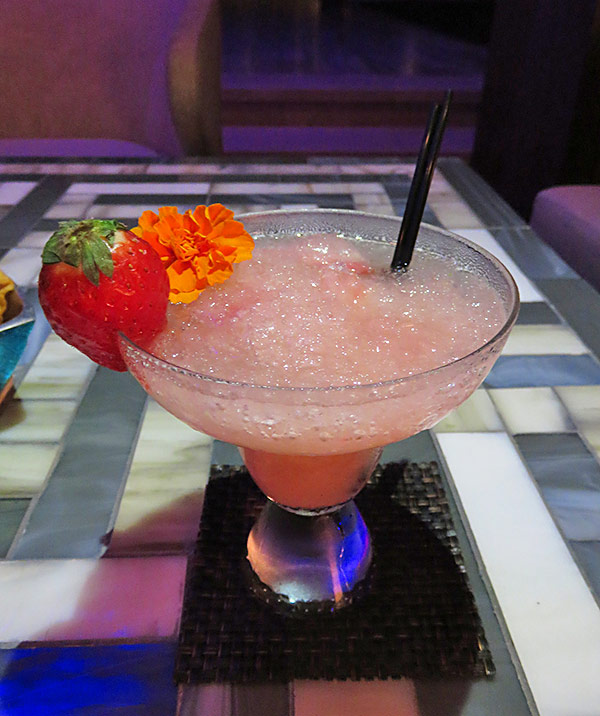 AND... it even matches the color of your sunset view! ;-)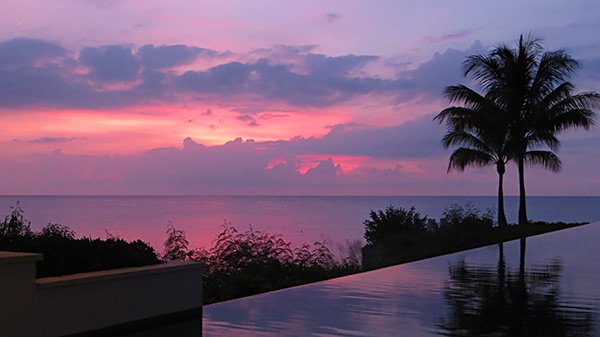 Here's to many more evenings with awe-inspiring Anguilla sunsets!
Until next time,
Nori
Do you have your Anguilla Card yet? Save 10% at 83 Partners!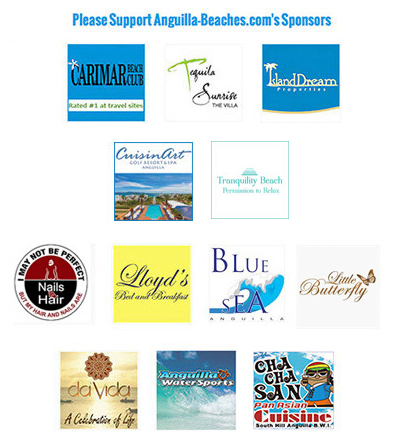 Anguilla-Beaches.com
---