Combing Anguilla's Beaches for the Best
Anguilla Beach Lovers brings you the latest additions to one family's experiences of the "best of all things Anguillian."

If you like this e-zine, please do a friend and me a big favor and "pay it forward."

If a friend did forward this to you and if you like what you read, please subscribe by visiting...
---
Issue #065, October 7th 2012
It's October!
In Anguilla, that means we are turning over a new page, rounding the corner to high-season. September is the height of the low-season, and is one of the quietest months on the island.
This was my first September in Anguilla. Previous Septembers were spent in school in NYC. What a great trade! ;-)
September is one of the best months on the island.
Why? Anguilla is noticeably more peaceful and calm (I didn't even think that was possible!). If you love the island at its most tranquil, September is prime vacation time.
Though many of the big hotels and restaurants close for all of September, a handfull of tasty local restaurants and luxury villas, and modest inns and guest houses remain open. Accommodations are a fraction of their high-season prices. And, depending on when, flights are more affordable, too.
Here's what's new...
---
Some of The Best Low-Season Accommodation Options
---
Top Spots to Grab a Quick Bite in The Low-Season...
---
Getting to Anguilla in the Low (and High) Season
The #1 rule when flying to Anguilla?
Don't fly to AXA (Anguilla's airport code), without pricing the route to SXM (St. Maarten's airport code).
Many major airports (New York's JFK, Boston's BOS, North Carolina's CLT, Miami's MIA, Paris' CDG, Amsterdam's AMS) fly direct to St. Maarten. St. Maarten is Anguilla's neighboring island that is just a 20 minute boat ride away.
Traveling to Anguilla via SXM is not only more affordable, it's faster too. Once you're in SXM, getting to Anguilla is a breeze.
Note: Getting from SXM to AXA is about to get easier with a new Anguilla pier located right outside of Princess Juliana International Airport. The pier is scheduled to open this month. Stay tuned for updates!
In the off-season months, airlines fly direct to St. Maarten a few times per week. The flights can be quite cheap, too. Daily flights will be added back as we get closer to the high-season.
Click for more info on how to get to Anguilla.
---
Meeting New People
Over the summer we had the chance to meet an interesting man, Mr. Bob Conrich.
Originally from San Francisco, Bob Conrich has lived in Anguilla for decades. He's extremely insightful and knowledgeable about Anguilla, and the entire region. He's an arbitrator here in Anguilla. Arbitration is a much less expensive, more timely and private way of settling legal matters.
You can read up about Bob Conrich and arbitration in Anguilla here...
---
Looking Back... Special Summer & September Memories
The highlight of the off-season is having beaches like Shoal Bay and Meads Bay entirely to yourself.
There were days when we were the only ones on shore!...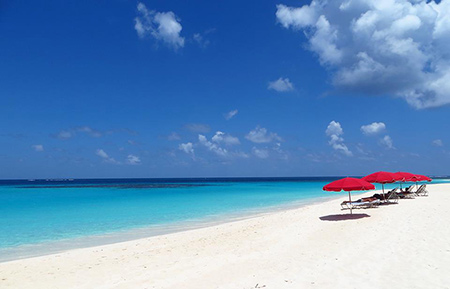 We even found a special sea treasure on an early morning Rendezvous Bay swim...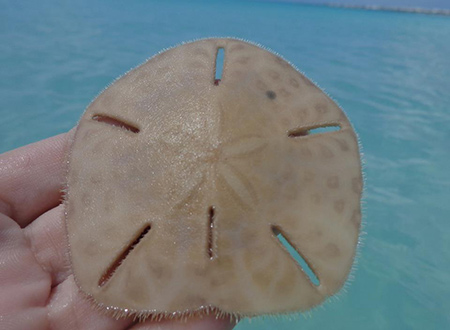 As for the evenings in the off-season? The sky never fails to amaze...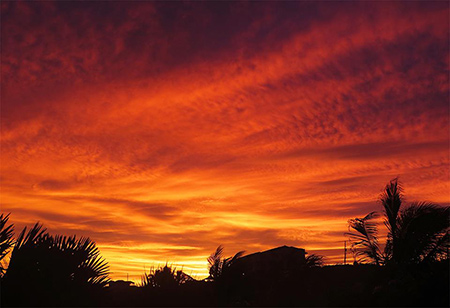 Lastly, foul weather. It's true that the off-season, specifically September and October, are high-risk months for hurricanes. Luckily, they have stayed at bay so far this year.
We only received a few "ripples" from Tropical Storm Isaac that passed to the South in late August...

---
An Exciting Month Ahead!
We are now onto October, which promises a little more action!
Favorites like Roy's, SandBar and Viceroy have re-opened. Dolce Vita opens tomorrow (Monday). CuisinArt opens next week (mid-October), and Cap Juluca opens next month (mid-November).
Elite and Ocean Echo are two new restaurants to the scene. Ocean Echo will fully open later in October. Reviews coming soon.
And, of course, at the very end of this month, we won't miss Pumphouse's famous Halloween party and the pre-Halloween party, dinner and festive fun with Jacquie Ruan at Ripples. Click for more on Halloween in Anguilla.
Happy Halloween From Jacquie Ruan!...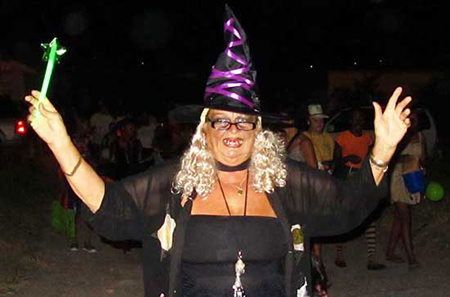 Until next time,
Nori
Anguilla Beaches Home Page
---