Arbitration in Anguilla
Bob Conrich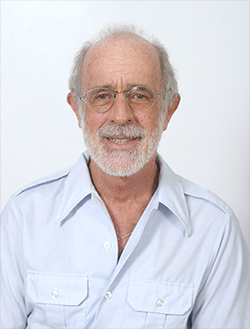 A resident of Anguilla for over 25 years, Bob Conrich is a retired American and a former member of the National Panel of Arbitrators of the American Arbitration Association, where he specialized in hearing contract law and major construction disputes.
How Does Arbitration Arise In Anguilla?
Two men setting the hands ("labor")
of a clock ("business"), as Puck,
standing on the book ("Common sense"),
holds up pendulum ("arbitration").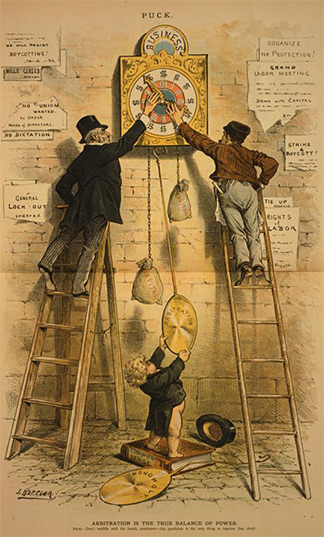 Joseph Kepler, 1886
Arbitration usually arises from an arbitration clause in some written agreement that had previously been entered into by the parties.
It can also arise from an agreement of two or more parties who have encountered a disagreement that they cannot settle between themselves.
They agree that they would rather submit their dispute to an arbitrator than go to court. But this is unusual.
Once a dispute arises between parties to an agreement, they are often unable to agree even on the time of day. Therefore, when entering into a written agreement, add an arbitration clause.
The Arbitration Clause
An arbitration clause is a section of a written contract requiring the parties to resolve any future contract disputes through arbitration. There is no "standard clause", and poorly-drafted ones can cause all manner of unnecessary grief between those involved.
Here is the text of a typical arbitration clause...
Any dispute or difference arising out of or in connection with this agreement shall be determined by the appointment of a single arbitrator to be agreed between the parties, or failing agreement within fourteen days, after either party has given to the other a written request to concur in the appointment of an arbitrator, by an arbitrator to be appointed in accordance with the Arbitration Act of Anguilla. Arbitration shall be held in Anguilla.
The Arbitration Act of Anguilla
Section 1 of the Anguilla Arbitration Act provides:
"The Arbitration Act (14 Geo.6 c. 27) (UK) as amended from time to time shall be, and the same is hereby declared to be henceforth, in force in Anguilla, and all the provisions of the Act, so far as the same are applicable, shall mutatis mutandis apply to all proceedings relating to arbitration within Anguilla."
Mutatis mutandis is (literally) Latin for "with those things having been changed which need to be changed." However, it is more often translated or understood to mean "the necessary changes having been made".
It essentially indicates that new terms have been substituted or that the reader should note any differences from the original and take them into consideration.
A large body of law and precedents have been amassed over the years to interpret and support this progressive UK legislation.
Matters Subject To Arbitration In Anguilla
Just about any disagreement can be resolved by arbitration except the dissolution of a marriage.
And while an arbitrator cannot grant a divorce, he or she may hear and resolve marital property agreement disputes, property agreement disputes between business partners, disputes between neighbors, or between parties to an auto accident, for that matter.
Who Can Be An Arbitrator?
Under the Arbitration Act any person can be an arbitrator. Sometimes they're chosen for being experts in some technical field relevant to the dispute, but unless they also understand the law, bizarre results can ensue.
The technicalities involved in the dispute often include such things as contract law or arbitration law, so it sometimes gets complicated. Accordingly, just because a person knows boats or neurology or agriculture doesn't necessarily make him or her qualified to arbitrate matters involving those fields.
Selection Of An Anguillian Arbitrator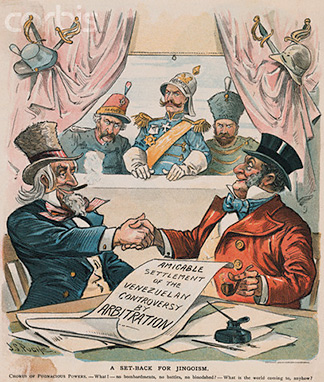 J.S. Pughe, 1896
The parties to an arbitration jointly choose the arbitrator. In litigation, parties have little to say about which judge is appointed, although they will usually have the option of having the case heard by a jury. Juries are not used in arbitration.
The Powers Of An Anguillian Arbitrator
Arbitrators are not government or other officials in whom certain powers are vested. Any powers they have arise from the agreement between the parties -- usually an arbitration clause in a written contract. They don't have a "jurisdiction", in the sense of a geographic area within which they have some special powers not shared by others.
Once appointed, the law (subject to the arbitration clause) grants them certain limited powers, but these are mostly intended to create an orderly process in which progress can be made toward an equitable resolution in which all parties can be assured of equal rights.
An arbitrator's decision may be entered as a judgement in any relevant court in any country for the purposes of enforcement, should that become necessary or advisable. Hearings may bring everyone together in Anguilla, or may be by electronic means.
Contact Bob Conrich