Anguilla's Tropical Treats Fun House...
Fun For The Whole Family!
Update 2018: Tropical Treats Fun House is currently closed, but the great Tropical Treats flavor can be found in stores and via their ice cream truck. It is at the People's Market in The Valley Monday to Thursday 11:30am - 8:30pm, Friday 11:30am - 6:30pm, Saturday 5 - 9pm, Sunday 2:30 - 9pm.
Jahvade Martin is Anguilla-Beaches.com's 16 year-old intern from Albena Lake Hodge Comprehensive school.
Here, Jahvade reports on our experience at Tropical Treats' Fun House!
Tropical Treats is known island-wide for its homemade ice cream. You may already be familiar with Tropical Treats' ice cream trucks that visit different neighborhoods on the island, serving their refreshing flavors.
Today, Tropical Treats' ice cream can be enjoyed at their shop, the Fun House, in George Hill.
Tropical Treats At A Glance
Family-friendly, this locally owned ice cream parlour is a fun spot to spend a few hours in the afternoon, especially if you have young kids. All of the ice cream is homemade.
More on Tropical Treats, below...
"Turn left!" I exclaimed with a smile to Nori's Dad, Ken as we approached the colorful Tropical Treats Fun House sign. Tropical Treats' Caribbean-type cottage is colorful too, and so cute. I couldn't resist taking some pictures...
Nori, Romaro and Me at Tropical Treats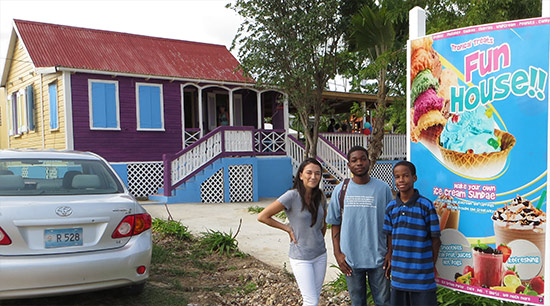 Did you know that this building was actually once an ice-cream factory?
Today, it is home to Tropical Treats Fun House.
Tropical Treats makes their ice cream at their facility in Stoney Ground in Anguilla. This is their dessert bar and ice-cream parlor.
Kyle Hodge... The Man Behind Tropical Treats Fun House

Tropical Treats is the brainchild of Mr. Kyle Hodge, a good friend of our family.
Kyle Hodge started Tropical Treats several years ago.
He opened his factory in The Quarter, and started producing flavors like tamarind, vanilla and soon expanded to other favorites like cookies n' cream.
Nori and Kyle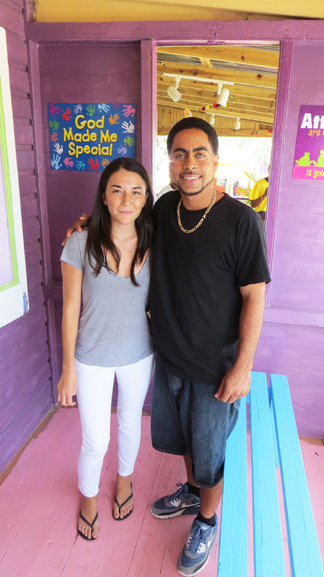 Kyle distributed his ice cream through the grocery stores, and through his ice cream trucks that circle the island.
Tropical Treats is known island-wide!
Kyle's vision didn't end at the ice cream trucks. He had more ideas.
He has long had a dream of opening his own ice cream place and dessert bar on the island.
That dream is now a reality. Tropical Treats Fun House serves ice cream (with all of the toppings and even ice cream sundaes!), milk shakes/smoothies, coffee, sorbet and hot dogs.
What's next for Kyle? He will expand the menu to offer shawarmas and more lunch options.
After that? A breakfast menu!
It is clear that Kyle Hodge has a passion for ice cream, for food, and for Anguilla. Tropical Treats gives back to the children of Anguilla in so many ways.
Anguilla's Tropical Treats Is Kid Friendly
It just so happened that the day we visited Tropical Treats a good friend of mine was celebrating his third birthday. It was a spectacular party!
The ice cream shop is a perfect place for a kid's birthday party.
The Candy Table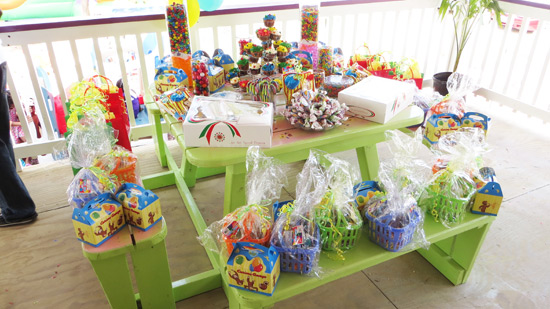 Inside, the birthday boy's bright decorations were nicely complemented by the building's colors.
Outside, the setting was right for a kid's birthday party too.
There is a large playground (with jungle gyms, slides and swings) just down a few steps from Tropical Treats' shaded deck.
The outside play zone has many picnic tables with large umbrellas.
Parents can watch over their kids closely here.
Since the birthday party I have seen many travelers to Anguilla enjoying the space with their kids.
If you are on an Anguilla vacation with young children, they will love Tropical Treats Fun House.
This establishment in Anguilla is kid friendly!
Play Area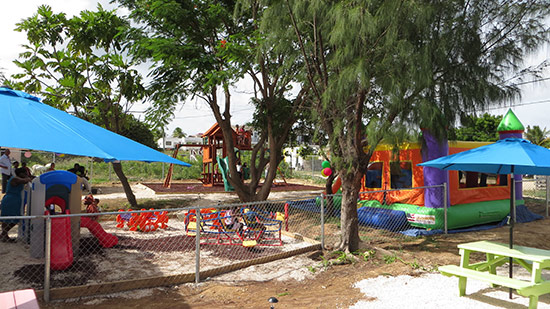 After singing my friend Happy Birthday, we headed inside. It was time to taste these tropical treats...
The Ice Cream!
We looked through the large windows at the variety of flavors offered.
The staff is so friendly and inviting. They offered us a sample of the "Smurf" flavor. Nori was amazed by it! Blueberry ice cream with marshmallows!
Inside Tropical Treats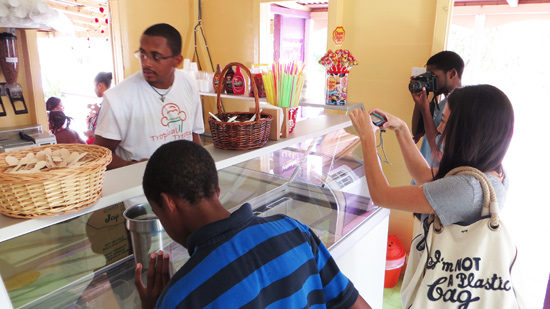 I ordered a "Double-Scoop" of chocolate ice cream, which is my favorite! My other favorites include: Coffee, and Cookies n' Cream.
If you are not a fan of ice cream, you should try the tropical sorbets. They have many flavors including guava, pineapple, tamarind, mango and lime. Two scoops of mango on a hot summer day sure is refreshing.
You can always go for a milk-shake, too!
The Ice Cream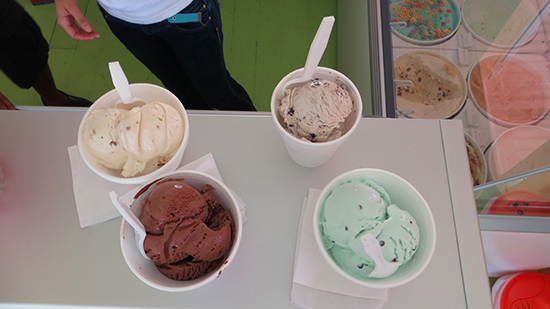 We got all our favorite flavors (at a very reasonable price), and went onto the open-air deck to enjoy the party. It was a wonderful afternoon.
In fact, I have been back several times already since my first visit.
Why do I come back so often?
Every two weeks they release a new flavor!
The most recent flavors released were Bounty ice cream and Carrot sorbet. I tried the Bounty flavor. There was actually Bounty chocolate infused into the ice cream!
It was pretty awesome to say the least. :-)
The taste and the quality of the ice cream (in a cup or cone!) can't be found anywhere else in Anguilla... Thumbs up all the way to Kyle for starting this kid-friendly establishment in Anguilla.
Directions, Hours & Contact
Directions: Tropical Treats' Fun House is located in George Hill, just west of the Valley on the main road.
Tropical Treats
Good for kids and families, with a large playground and plenty of ice cream options.
Hours: Monday-Thursday 12-9pm, Friday 12-7pm, Saturday 6-9:30pm, Sunday 2-9:30pm.
Tel: 264-729-5437
Coming soon: Lunch and breakfast.