Tropical Treats Fun House in Anguilla
Ice Cream Parlor, Cafe and More
Romaro Richardson, Anguilla-Beaches.com's 18 year old intern and recent-grad of Anguilla's "Albena Lake Hodge Comprehensive School" shares his views on the newly established food outlet, Tropical Treats Fun House.
Romaro Richardson, The Aspiring Photographer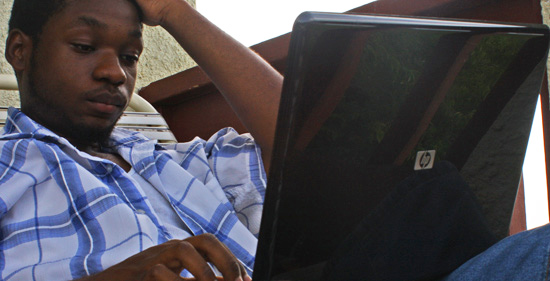 With all the expected heat waves of Summer still in high anticipation, I began mapping out the coolest locations on the island to hang in a hammock (or somewhere with a seat), with a decent view, loads of breeze, with food of course, and within a reasonable walking distance from my home.
The library was my first thought. Here, I could get into good books while being blasted by airco'. And, there are also numerous food outlets if I ever needed to grab a bite. But the thought of walking over a mile into The Valley in 85+ degree heat made me reconsider.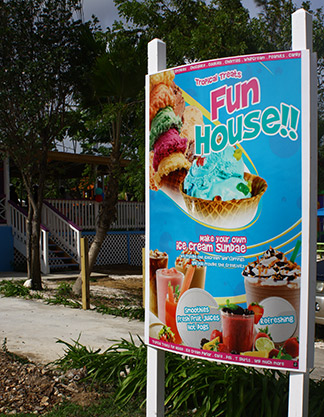 How about settling for somewhere between the villages of George Hill and North Hill?
I sought out all of my options, pulling up every possible location I may have overlooked.
This led to a Christopher Nolan Inception-esque mode of thinking that placed me into a deep paralyzing dream state (OK, I just decided to take a nap).
Snapped out of a good nap, I found myself in the middle of the week, a tuesday to be exact.
Seeing that it was the heat of summer and us youth folk were all on holiday, the gang and I decided to spend a night out on the town.
We all agreed to meeting at Tropical Treats Fun House.
Tropical Treats Fun House is the ice cream parlor and cafe of the well known frozen treats distributor, Tropical Treats. It also happens to be just a 5-7 minute walk from my house!
I arrived a bit earlier than the rest of the guys to contemplate what would make for great exposures. Being a few feet yet safely away from the highway gave me the perfect slap of serendipity and I took several long exposure shots. Here is one of my favorites from the evening...
Long Exposure Shot on George Hill Road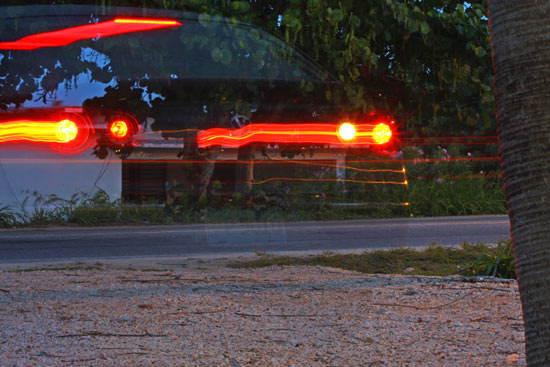 Classic yet always cool.
Inside Tropical Treats
The Cafe itself is pretty cool. Rarely do I take architectural photographs but I have never seen such a colorful-wooden building as this.
The dark-purple painted walls of the southern side, the light yellow walls to the East and West, the bright blue foundation, with white and purple trim was a eye warming sight to see, both in the day and at night.
The Tropical Treats Fun House At Night

Just a Few of the Ice Cream Flavors Available

With shutters swung open and some latched shut, the place had a real authentic caribbean cottage feel.
Shortly everyone arrived and we spent time just cracking jokes, and filling in each other on various aspects of our daily lives.
All the while we enjoyed a broad assortment of treats:
Ice cream (from Cookies n' Cream to Smurf), sundaes, smoothies (fruity and addicting), coffee drinks (hot or iced), frozen yogurts, and soft drinks.
Sandwiches, wraps, shawarmas and other meals will be coming soon.
Did I mention the hotspot?
The Tropical Treats Fun House has Free Wifi! Yes, free! That's the part that hooked me.
After chowing down on some hot dogs we lingered and enjoyed the atmosphere.
Hot Dogs From the Tropical Treats Fun House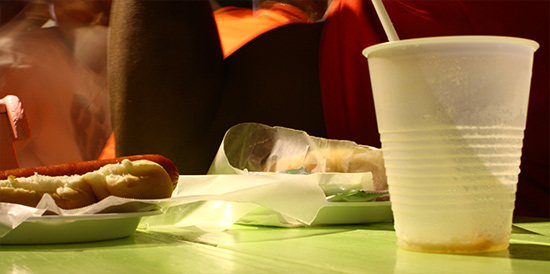 The Tropical Treats Fun House has such a wide range of goods for the eating. I can see myself becoming a regular customer here!
This is also a great spot for families to spend the afternoon. The playground is kid friendly, allowing parents to chit-chat together while children can have their own fun.
Tropical Treats Fun House Playing Area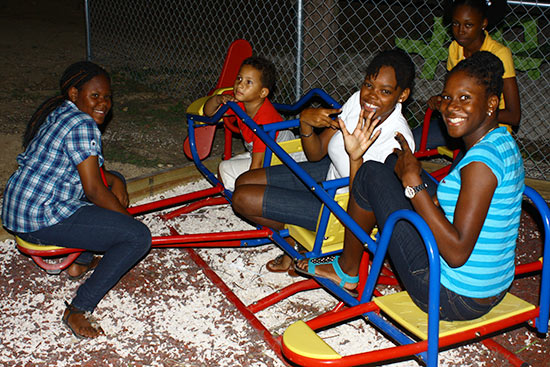 If you fall in love with the place as much as I have, I'm sure Tropical Treats will be willing to cater any family events.
Reflection
I would have to say that I can see Tropical Treats Fun House becoming a prime spot for families with kids and young adults. Whether young or you have some years of life-living experience under your belt, the Tropical Treats Fun House will offer something to your liking.
Snapshot of the Gang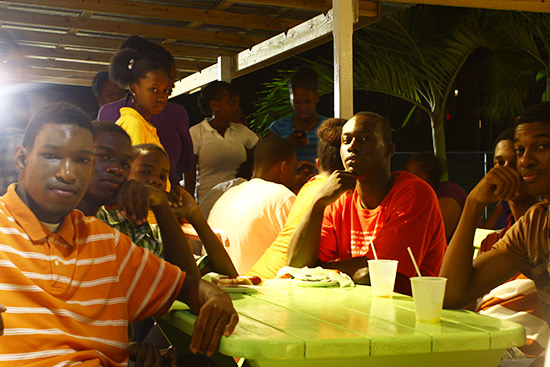 With its great assortment of treats, its centralized location (and good distance from the passing-by traffic), and exceptional view of aircrafts ascending and descending, it makes for a great shooting spot for this photo/video-enthusiast.