---
Carimar Beach Club,
with da'Vida, Tasty's, Straw Hat, Blanchards,
Mango's, Palm Grove and Anguilla Air Services,
Presents an Anguilla-Beaches.com Contest:

Picture Anguilla!
Warm breezes, beaches all your own, reservations not required.
These are the signs that summer has arrived in Anguilla. And it feels good.
While all is slowing down island-wide, things are heating up here at Anguilla-Beaches.com. We are just about ready to launch our latest contest, and boy, is it big!...
---
A Prize Valued at $3,000!
6 nights/7 days at our favorite hotel, Carimar Beach Club
Connecting airfare to or from St. Maarten via Anguilla Air Services (the coolest way to get to/from St. Maarten)
6 dinners at the island's top five-star restaurants
---
How to Play & Win Picture Anguilla?
Everyone who has been to Anguilla, who has fallen in love with Anguilla, has that photo of Anguilla. The one that encapsulates that feeling of being on those sandy shores, the one that defines what Anguilla means to you... Your all-time favorite Anguilla photo.
To enter Picture Anguilla, find your most special Anguilla photo, the one that captures the essence of Anguilla. Then, caption the photo and provide a short description explaining the photo.
Here is an example...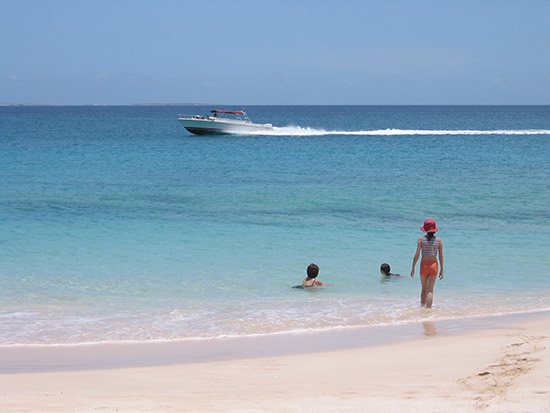 Caption: So Far From Home, So Far From Now... Sandy, Summer Memories
Description: This photo was taken on our second trip to Anguilla when we spent the whole month of August. It was at that time we truly fell in love with the island. The photo reminds me of the feeling of that month, so warm and tropical. Coming from Canada, Anguilla felt like a dream, exotic, the summer air so still. It's a summer memory that surpasses the rest, and will never fade.
My Dad and I enjoyed reminiscing on our Anguilla photos over the years, as we looked for our would-be Picture Anguilla photos. We aren't allowed to enter of course, but it was still fun.
---
What next? Stand by for the official announcement that the contest has started. Head over to our Facebook page and, if you haven't already, Like the page to keep up to date on Picture Anguilla!
Good luck!
Nori
Anguilla Beaches Home Page
---
New!

Comments Have your say about what you just read! Leave me a comment in the box below.