---
Combing Anguilla's Beaches for the Best
Anguilla Beach Lovers brings you a fresh dose of "Tranquility Wrapped in Blue" every month.
If you like this newsletter,, please do a friend a favor and "pay it forward."
If a friend did forward this to you and if you like what you read, please subscribe by visiting...
---
Issue #143, December 24, 2021
Sea-Sun's Greetings 🤗💗🏝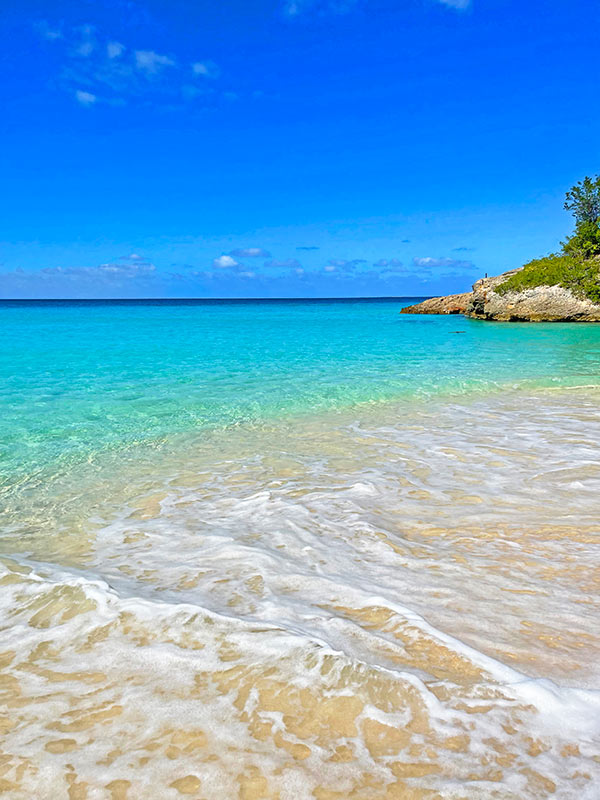 It's beginning to look a lot like Christmas in Anguilla...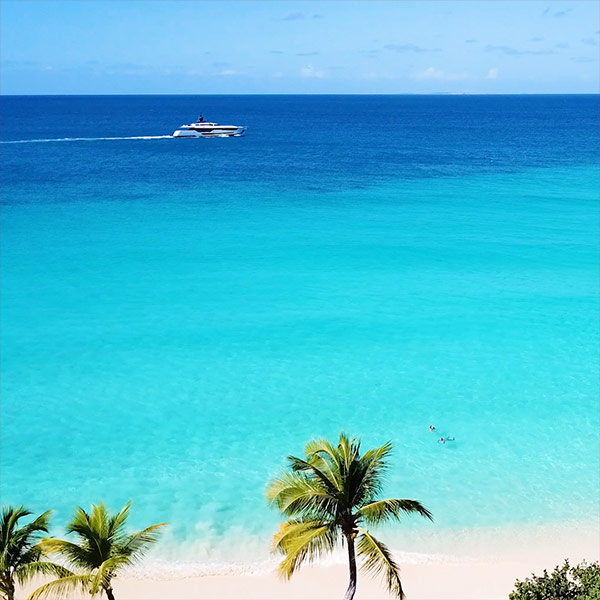 Jets overhead, yachts in Meads Bay...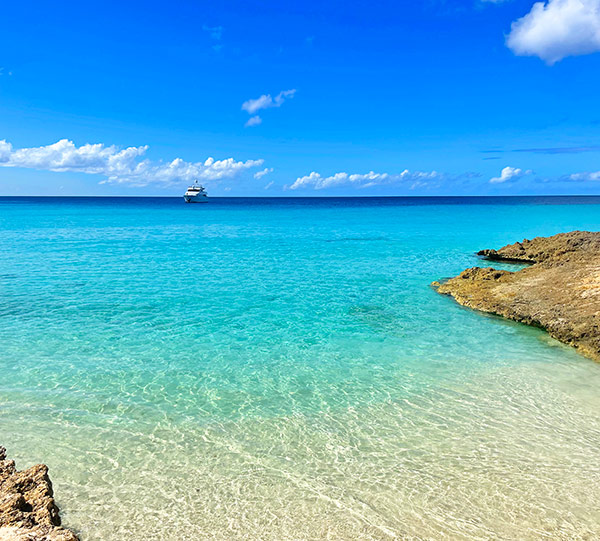 It's safe to say the holiday season is here!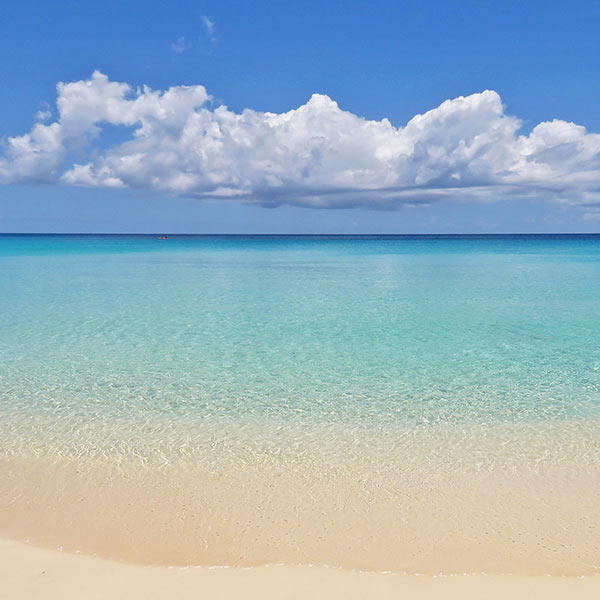 Over the next several days, Meads Bay will be the place to be!
Book-ended by Four Seasons and Malliouhana, and home to top restaurants including Blanchards and Jacala, Meads Bay bubbles with excitement during the holiday week.
Smack-dab in the middle of the action? Tranquility Beach...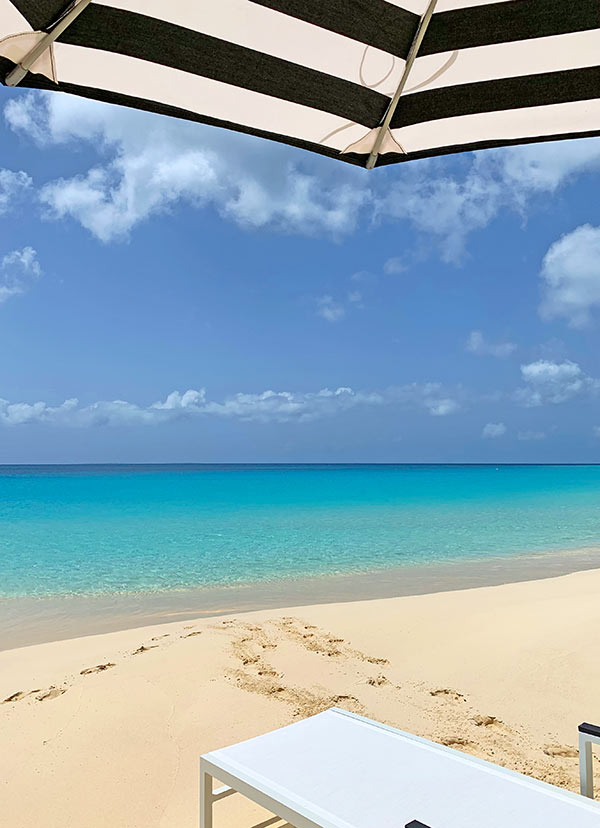 If you are staying at Tranquility Beach this season, you are in for a treat.
Right next door to Jacala, and gazing out to beautiful Meads Bay, the sights will be plenty during the holidays!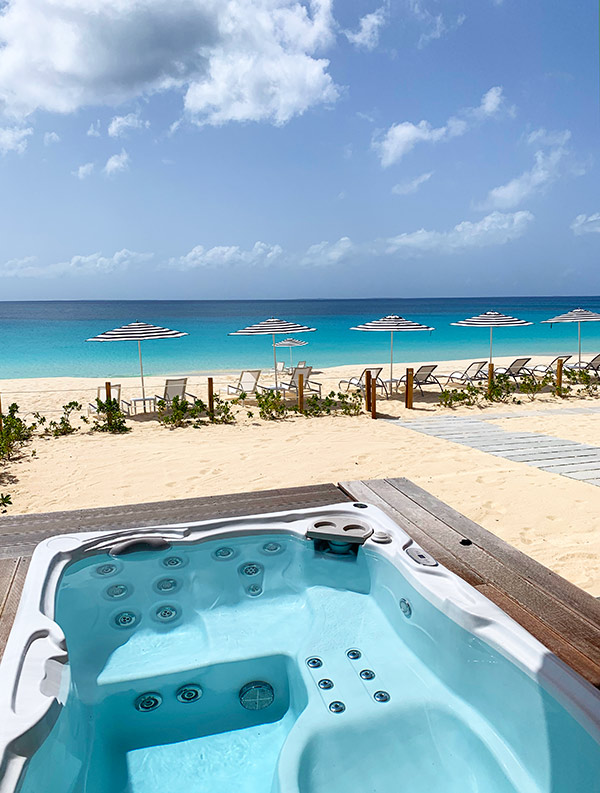 Developers, Neil Freeman and Ian "Sugar George" Edwards sure knocked it out the park when they built Tranquility Beach Anguilla. The property wins for its coveted location alone. Add in its modern design and excellent hospitality, and you have a property that's in a class of its own.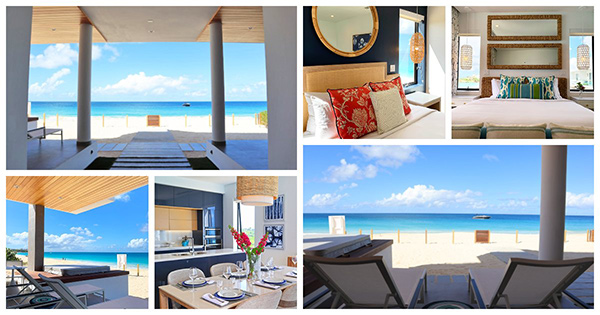 More on Tranquility Beach Anguilla
---
Now, before we jump into "what's new," let's zone out with a little Tranquility Wrapped in Blue...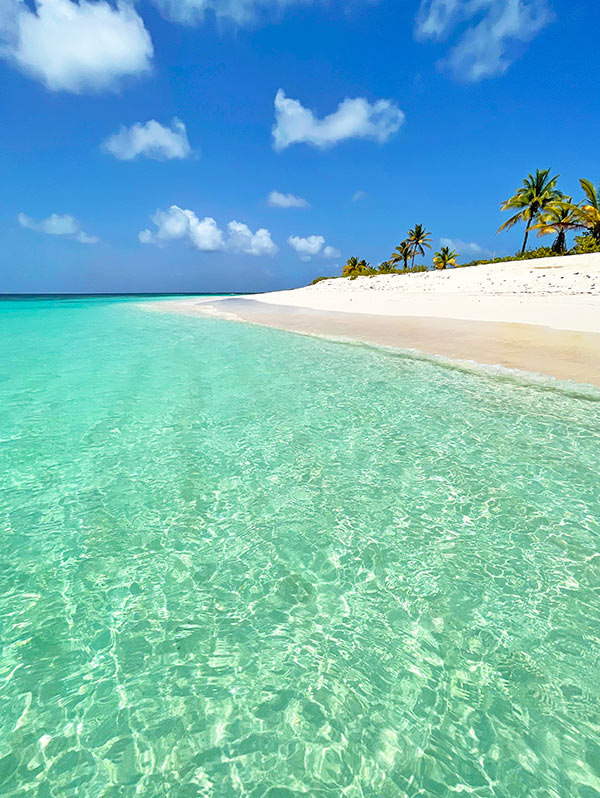 ---
Stream Anguilla Calm All Holiday Season Long
SHELL-ebrate the holiday season with two new beautiful and relaxing Anguilla drone videos!
First up? Soar along the shores of Shoal Bay West, Rendezvous Bay and Cove, too...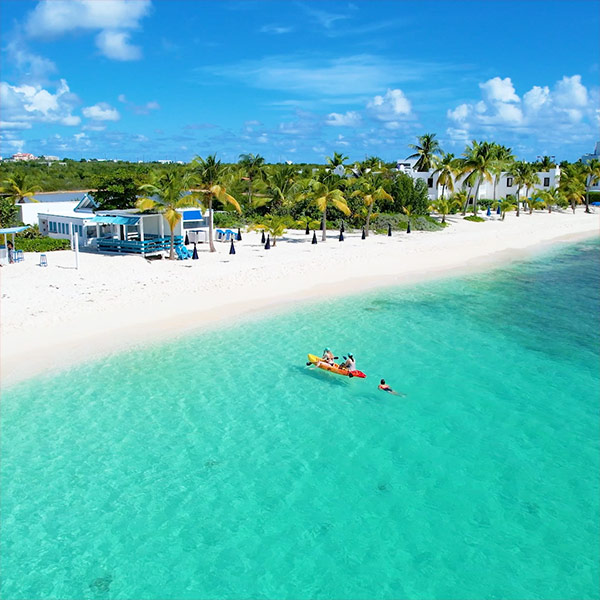 Click here for this bird's eye view of blue.
Next up? Let's glide over to Shoal Bay and laze away the day below palm tree shade...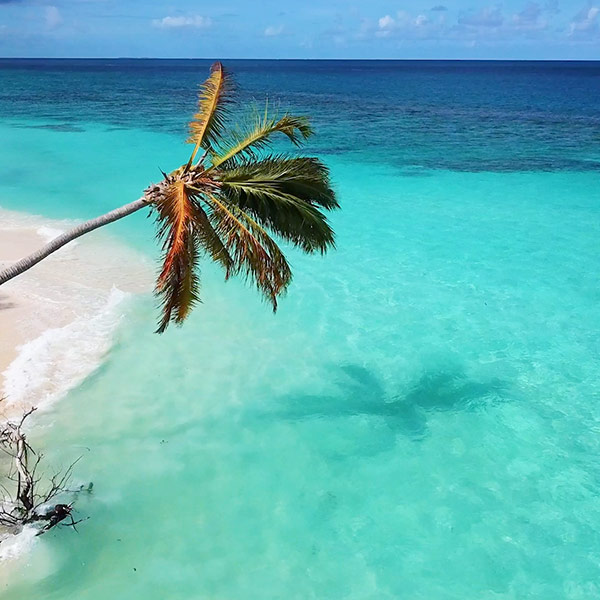 Click here for a dose of palm calm from Shoal Bay.
To never miss a dose of calm, click here to subscribe to our sister YouTube channel, MyTranquilitee.
---
More Anguilla Calm
Speaking of streaming the calm, there are two brand NEW webcams courtesy of our friends Arawak Beach Club and Elvis' Beach Bar.
To feel the sunshiney vibes, visit...
A huge thank you to Arawak Beach Club and Elvis' for bringing us Anguilla sunshine 24x7x365!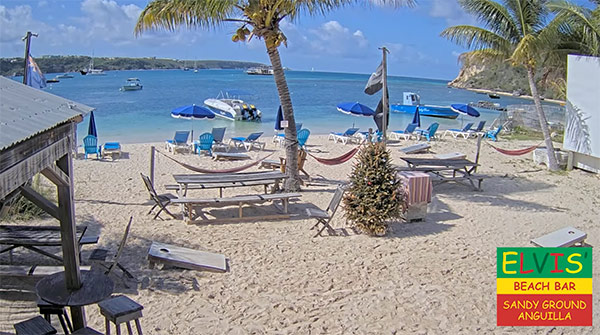 ---
Set Sail with Tradition This Season
One of our favorite Anguilla "must do's?" Experience the Caribbean Sea by climbing aboard Tradition!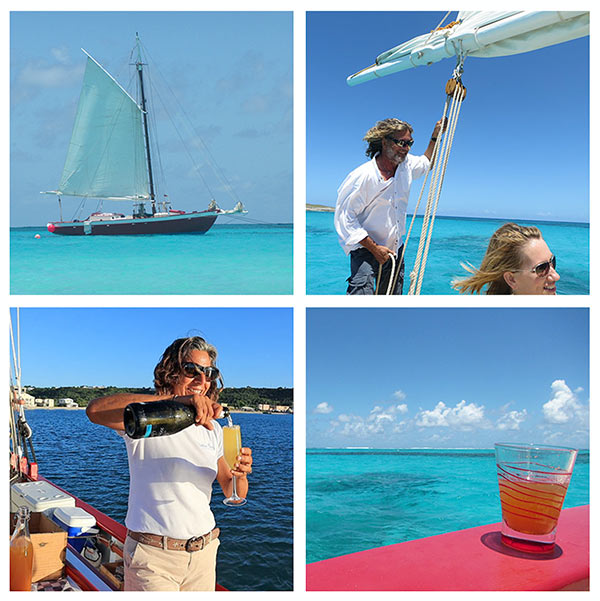 Anchored in Road Bay in Sandy Ground, Tradition is a historic beauty. A Carriacou sloop built in 1978, Tradition has seen the entire Caribbean through her days as a cargo boat. Decades later, today, she calls Anguilla home.
Tradition is owned and operated by Laurie and Deb. There is no beating this duo! Laurie and Deb always deliver a first-class and gourmet day at sea.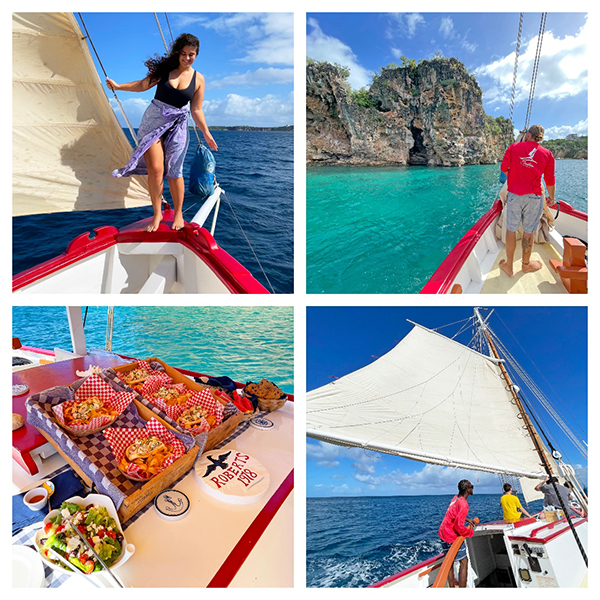 Their popular sailing trips include...
Prickly Pear Lobster Lunch Full Day Sails on Wednesdays, Fridays and Saturdays
Half Day Little Bay Sails on Tuesdays and Thursdays
Sunset Sails on Tuesdays and Thursdays
Any of their private charters are always available on any day that they have availability, too.
To book, contact Tradition at: traditionsailing@gmail.com
Tradition is an Anguilla Card Partner. Save 10% when you book your trip with your Anguilla Card.
---
Staying Connected in Anguilla
"How am I going to use my cell phone?" is a question that comes to my mind every time I travel.
There is no better way to explore a destination than with handy dandy Google Maps. And then there's checking restaurant hours, accessing Instagram, posting photos to Facebook, calling family on FaceTime. The benefits of having data abroad are many!
But how do you do it without spending an arm and a leg in roaming charges?
When it comes to visiting Anguilla, the cheapest and easiest way to stay connected while visiting the island starts with one little word... Digicel.
One of the island's top internet service providers, Digicel's prepaid Anguilla SIM cards offer excellent value.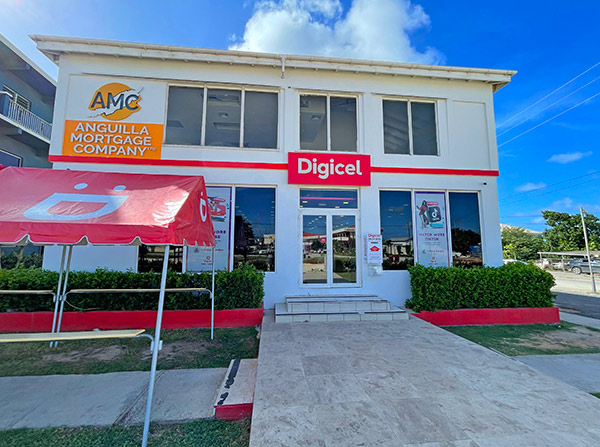 If you have an unlocked mobile device, there is no need to think about roaming costs, or adding an international plan to your regular plan. Instead, get a prepaid Digicel SIM chip.
The prepaid SIM chip delivers mobile data without the obligation and commitment of a yearly plan. You simply pay for what you use.
Digicel's prepaid SIM cards get even better for Anguilla Card Holders...
All Anguilla Card Holders get a 3 day Digicel SIM chip 100% free!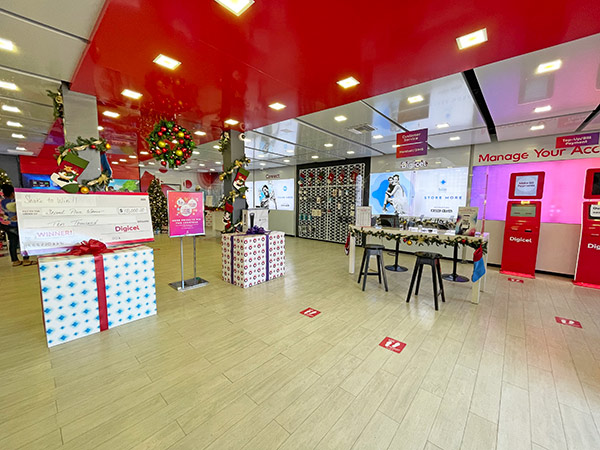 For more on Digicel's high value SIM cards, click here.
To get your Anguilla Card to get your free 3 day SIM, click here.
---
Divine Dinners at da'Vida
One of our family's all-time favorite restaurants, da'Vida holds a special place in our hearts. Set right on the shores of Crocus Bay, da'Vida boasts one of Anguilla's most relaxing dinner locations.
The lapping of the waves... the swaying palm trees... the cooling sea breeze... it immediately puts you at ease!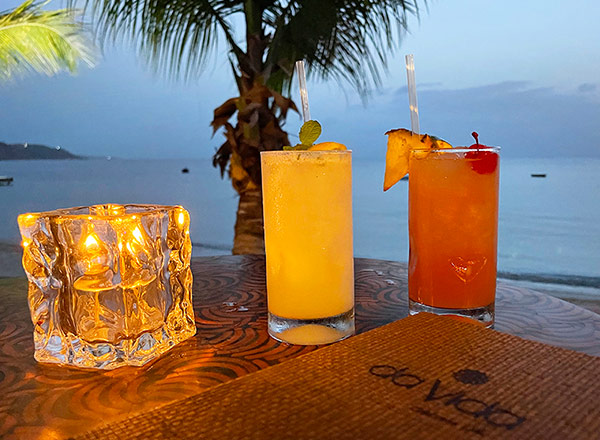 Begin the evening with a classic rum punch or a house specialty, the refreshing lemongrass Mojito. They are the perfect complement to Crocus Bay's soothing setting.
What's for dinner?
First up, the Lobster Spring Roll. This appetizer goes down as one of our all-time favorites on-island.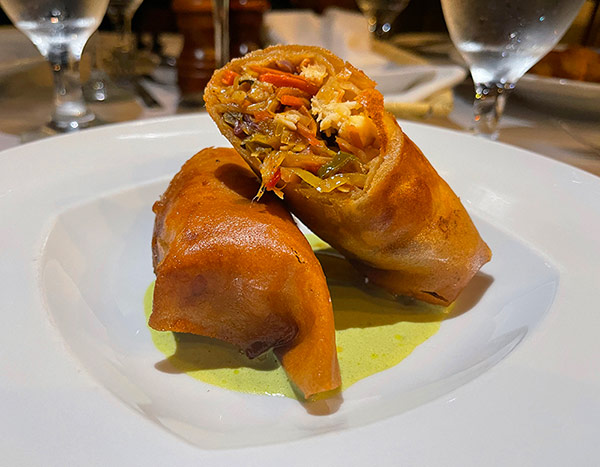 This large, crispy spring roll is stuffed with huge chunks of sumptuous lobster! The generous pieces of lobster are reason enough to fall in love with this dish. The dish's sauce makes you fall in love all over again. The crispy spring roll comes in a basil sauce so good it will have you licking the plate!
Moving onto da'Vida's exquisite entrées...
First up, the Pan Seared Miso Grouper. Fresh-caught, flakey and moist, the grouper is pan seared and bathed in a lemongrass sauce that makes your tastebuds sing. It is served on a bed of savory Asian fried rice with a side of sautéed bok choy.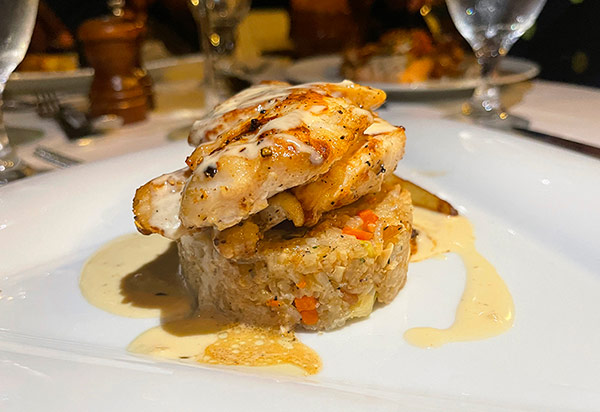 The Mandarin-Glazed Grilled Salmon is another top seafood pick. A beautiful fillet, the salmon is served over roasted potatoes in a pink peppercorn reduction and finished with julienned vegetables.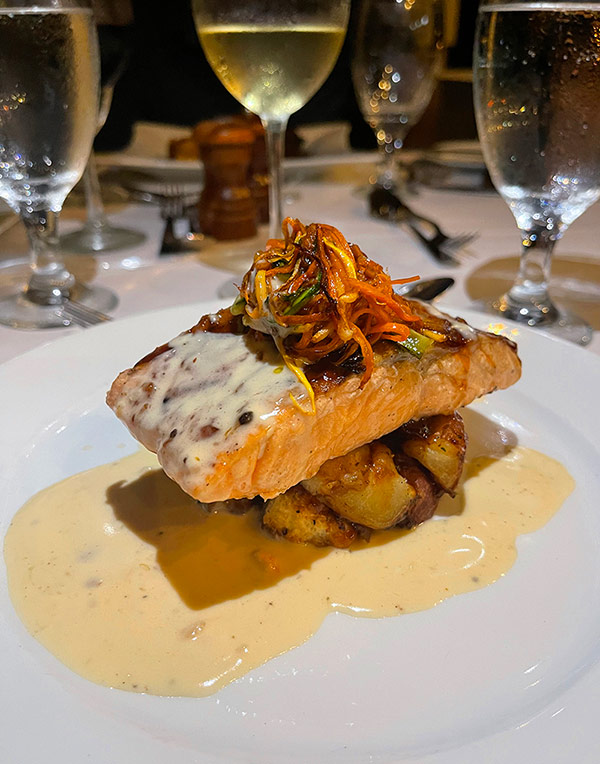 Prefer a steak? da'Vida has long been home to my Dad's #1 favorite steak on-island. Thick, juicy and full of flavor, this beef tenderloin is served in a plum wine reduction with sides of Hoisin-roasted red potatoes and sautéed baby vegetables.
Sumptuous and rich in flavor, there is no beating da'Vida's cut of beef!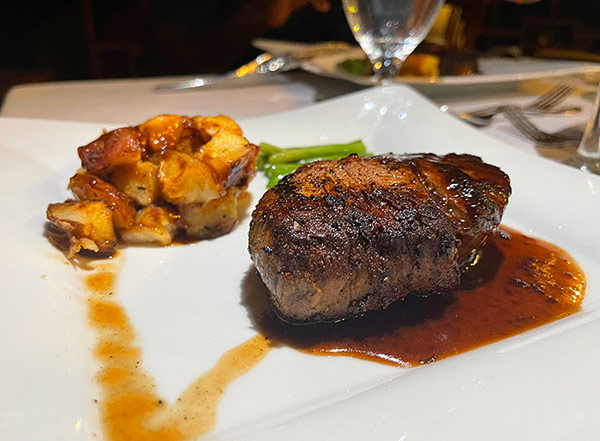 Finally, endings are always sweet at da'Vida with their rich and warm chocolate lava cake.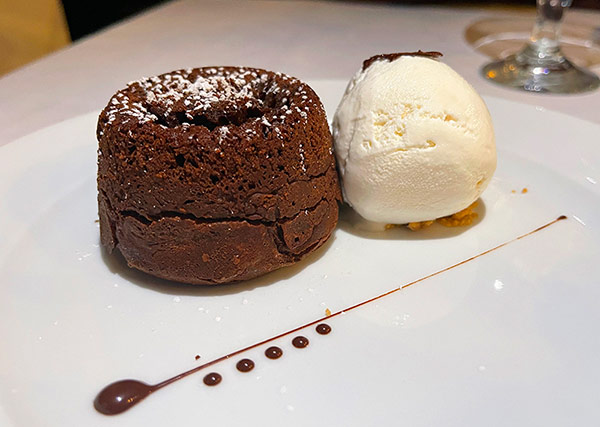 If you are on-island, be sure to head down for an exceptional meal!
For reservations, call: 264-584-5433/498-5433.
da'Vida is an Anguilla Card Partner. Save 10% at da'Vida when you use your Anguilla Card.
---
NEW Dining Review: Four Seasons' SALT Restaurant
Overlooking the sparkling Caribbean Sea, SALT's location sets a majestic tone...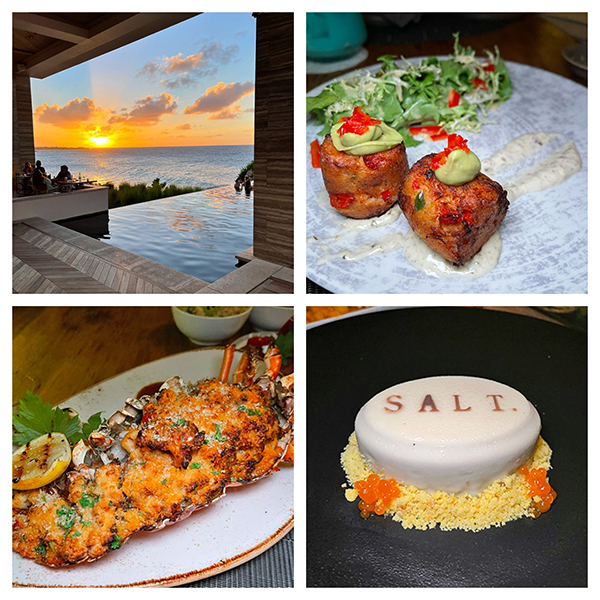 Four Seasons delivers on the promise of its signature restaurant's magnificent setting with an experience that exceeds expectations at every turn, while paying homage to Anguilla's rich history.
Click here for our full review of SALT.
---
Flights to Anguilla This Winter
Excellent news from premier airline, Tradewind Aviation! Their scheduled flights from San Juan have resumed.
Scheduled flights from San Juan depart from the Luis Muñoz Marín International Airport are operating now through April 18th, 2022.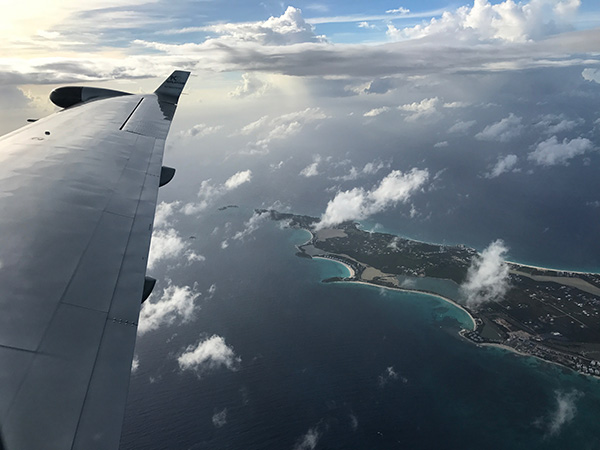 Schedules are designed for convenient connections with airline flights to and from the United States and beyond! The flight schedule is as follows:
San Juan (SJU) to Anguilla (AXA) Fridays, Saturdays, and Sundays departing at 4:00pm
Starting January 6th, departing at 3:25pm Starting January 24th, departing at 3:30pm
Starting February 1st, departing at 3:35pm Starting February 8th, departing at 3:40pm
Anguilla (AXA) to San Juan (SJU) Mondays, Saturdays, and Sundays departing at 8:20am
Starting January 6th, departing at 9:25am
Starting January 11th, departing at 9:40am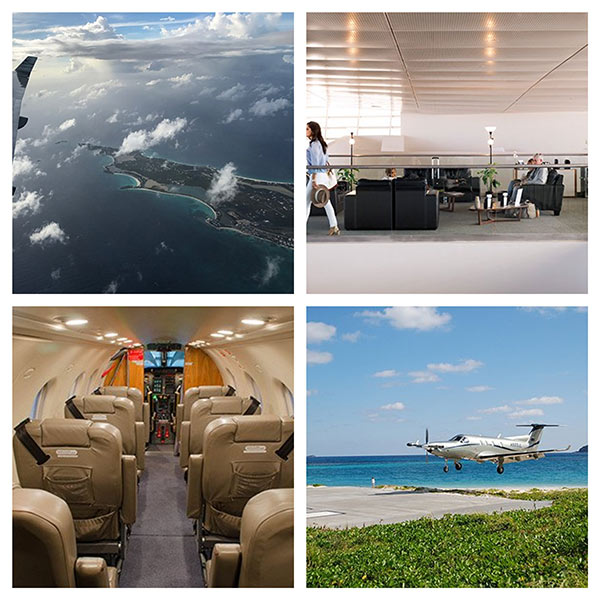 Tickets to Anguilla from San Juan are as low as $195 plus taxes and fees.
To book your flight, click here.
Tradewind is an Anguilla Card Partner. Save 10% when you use your Anguilla Card to book your flight.
---
Where To Stay This Winter?...
A Winter Beach Escape
At Beach Escape Villa, tranquility is a shore thing.
Our family fell in love with Beach Escape Villa many moons ago, based on its location alone. A villa with chic beach house charm, Beach Escape is true to its name.
Set on secluded Sandy Point beach, at Beach Escape you are directly on sandy beachfront.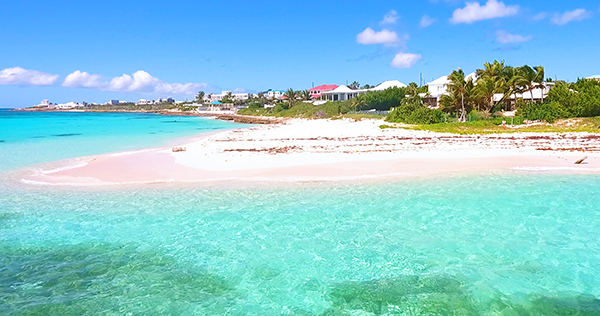 Beyond location, Beach Escape is one of the most comfortable and user-friendly villas in Anguilla.
Five bedrooms, plush media room, modern kitchen with outdoor cooking options and indoor and outdoor dining and lounging spaces span the villa's property.
Two heavenly master suites are in the villa's main house, while two additional master suites and a twin room are in the guest house.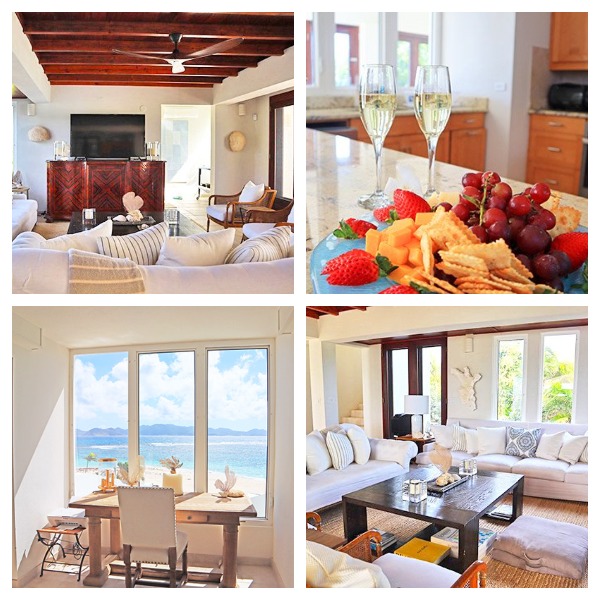 With direct beach access, grassy lawn, sandy front, Apple TV, SONOS, EVO grill, tropical landscaping, solarium-eque showers, oversized screened-in patios, luxurious outdoor couches…
Beach Escape is an ideal choice for a winter beach escape!
More on Beach Escape Villa
---
Save 10% at Arawak Beach Club
Arawak Beach Club is now an Anguilla Card Partner!
Save 10% when you use your Anguilla Card to book your stay at Arawak Beach Club.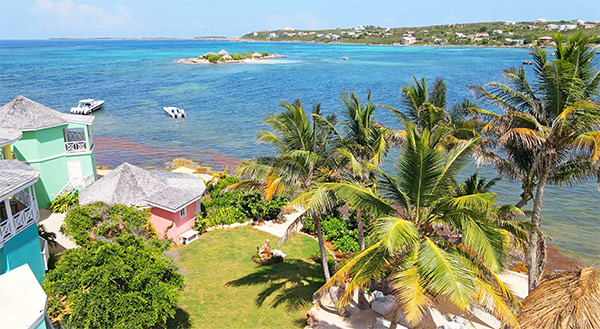 Set at the water's edge in scenic Island Harbour, Arawak Beach Club is one of Anguilla's most iconic hotels.
Painted tropical colors that catch the eye, the hotel's cheerful atmosphere has always been one of our family's favorites. The hotel is famous for its spacious suites, tropical grounds and excellent rates.
New owners, Judd & Mindie Burdon have restored the historic property and are pushing it levels higher.
From top-to-bottom room renovations, adding a brand new restaurant and pool, and with a host of excellent amenities...
Arawak is back and better than ever!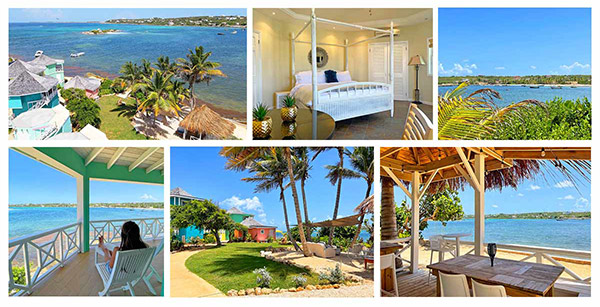 For a full video look at Arawak Beach Club, click here.
For our in-depth article on Arawak Beach Club, click here.
To Book at Arawak Beach Club, Visit...
Website: Click here
Rooms & Suites: Click here
Contact Arawak Beach Club: Click here
Arawak is an Anguilla Card Partner. Save 10% when you use your Anguilla Card to book your stay.
---
Soothing Getaway to Santosha Villa Estate
A 37,000 square foot West Indian-style estate, Santosha is of a bygone era. It is Anguilla's most grand ultra-luxury villa.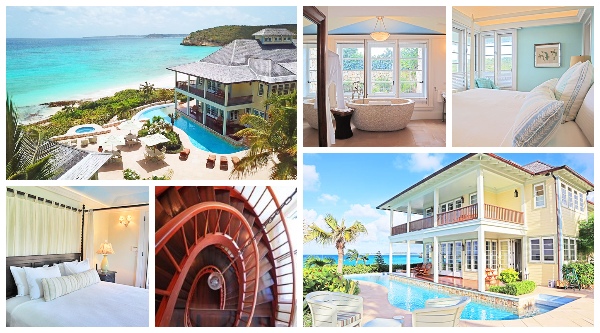 Santosha Villa Estate sprawls across 4.5 lush acres. Its design is classic Caribbean, immaculately executed. A marked sense of relaxed sophistication washes over you as you walk through the nine bedroom property.
From regal crown moldings, to mahogany four poster beds, to antique sconces, louvre doors and double-paned windows, to the grand spiral staircase and wrap around verandas, each and every piece has been carefully designed.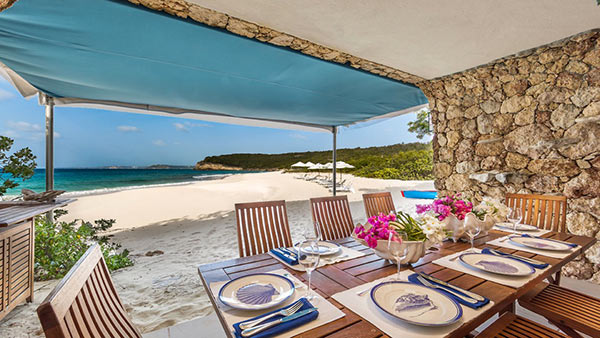 Beyond its sheer beauty and elegance, the property is renowned for its excellent service.
Property manager, Patricia Bygrave and her staff go above and beyond to deliver the most blissful escapes.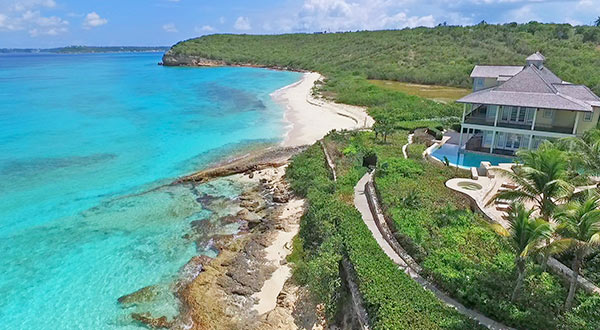 From setting up offices with printers and high-speed & dedicated WiFi for guests working remotely, to organizing private chef services and children's swimming, basketball and kayaking lessons, Santosha Villa Estate always deliver the most seamless Anguilla getaways.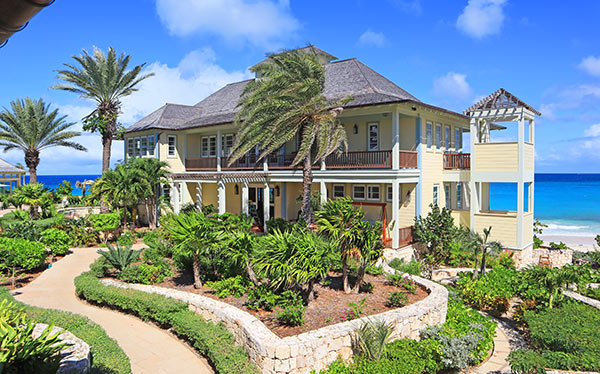 With discounts for long-term stays, Santosha Villa Estate makes for the ultimate winter getaway.
More on Santosha Villa Estate
---
Longing For Long Bay Villas
Next door to Santosha, its sister property, Long Bay Villas takes your breath away in three distinct ways: Sky Villa, Sea Villa and Sand Villa.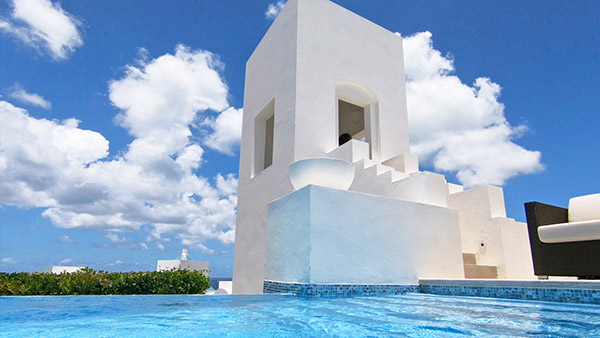 The estate's three stark-white villas tier down the lush hillside that slopes up from pristine and exclusive Long Bay beach. Each villa's unique setting emphasizes a different perspective of "Long Bay Blue."
Inside, the grand villas combine to boast 16 bedrooms with over 19,000 square feet of indoor/outdoor living space that can accommodate 33 guests.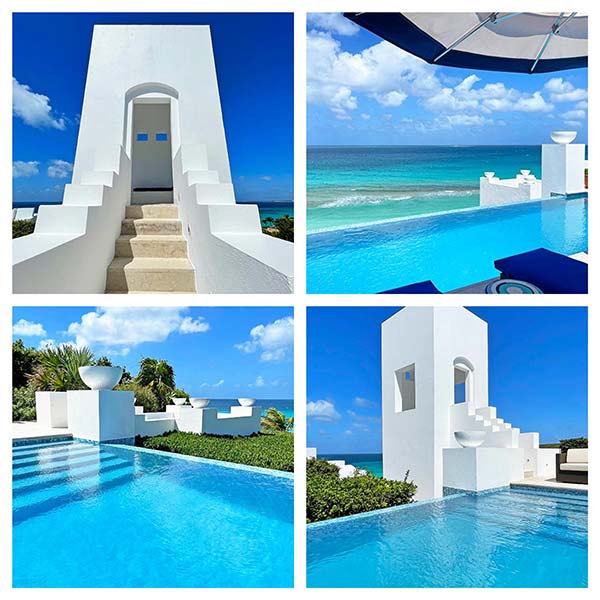 There is no spot more private or luxurious than Long Bay Villas!
More on Long Bay Villas
---
NEW Rental From Island Dream Properties
Our good friend, Jackie Pascher of Island Dream Properties has a brand new, high-value rental listing!
Introducing: Turtle Dove Villa...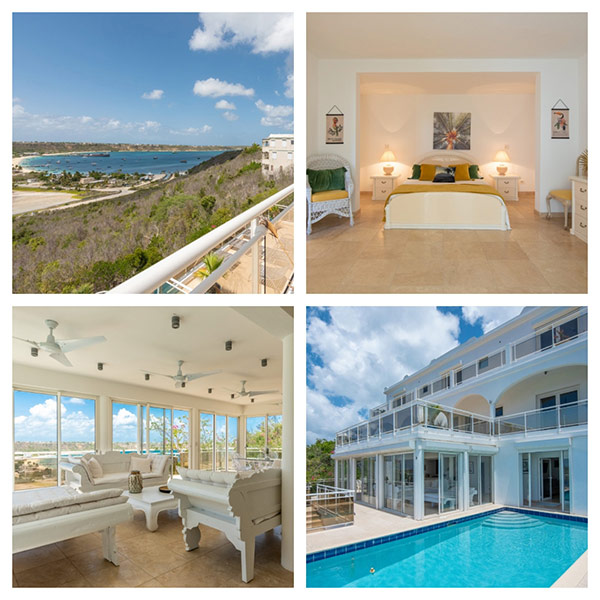 This modern villa is perched on North Hill with a wonderful view of the Sandy Ground beach and the Caribbean Sea.
Spacious and grand, with 4 luxurious bedrooms, a sparkling pool, gourmet kitchen and plenty of outdoor and indoor dining and living areas, Turtle Dove ticks every box.
Rates start at ~$700/night.
Step inside Turtle Dove Villa here.
---
Thinking of a Much Longer-Term Getaway?
Jackie has two fantastic condo listings!
First, at Sandy Hill Club...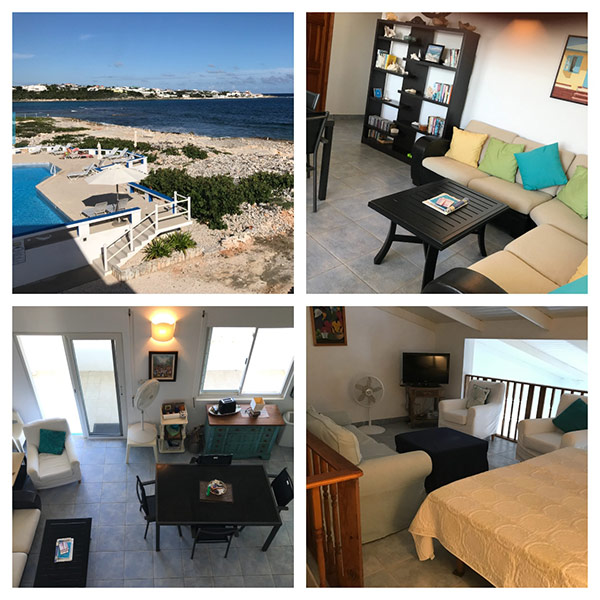 A 2 bedroom condo overlooking the breathtaking Caribbean Sea, with views of St. Martin and St. Barths, too.
This one is a steal at $349,000. Click here for full details.
Second, at Fountain Residences...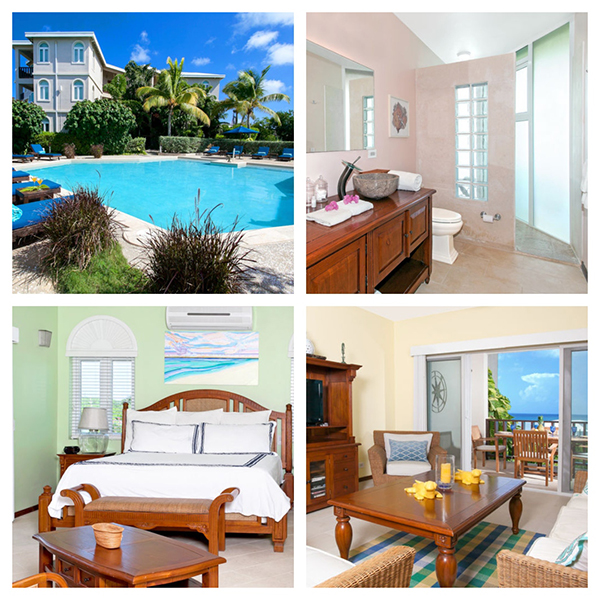 Just a 5 minute stroll from Shoal Bay East, this condo's location cannot be beat. The Bamboo Unit features 2 bedrooms and 2 bathrooms on the 2nd floor with ocean views.
At $650,000, it is a high value listing. More here.
---
---
That's all for 2021!
If you are visiting Anguilla this winter, get your Anguilla Card here!
Until we SEA you again on-island, here's sending you and your loved ones peace & calm this holiday season 💗🏝
With lots of warming Anguilla sunshine,
Nori & Louise
---
Anguilla-Beaches.com
---