---
Combing Anguilla's Beaches for the Best
Anguilla Beach Lovers brings you a fresh dose of "Tranquility Wrapped in Blue" every month.
If you like this newsletter,, please do a friend a favor and "pay it forward."
If a friend did forward this to you and if you like what you read, please subscribe by visiting...
---
Issue #154, January 30, 2023
New Year, same beach 🏖️☀️🤗
Our New Year's resolution?
Beach more for shore!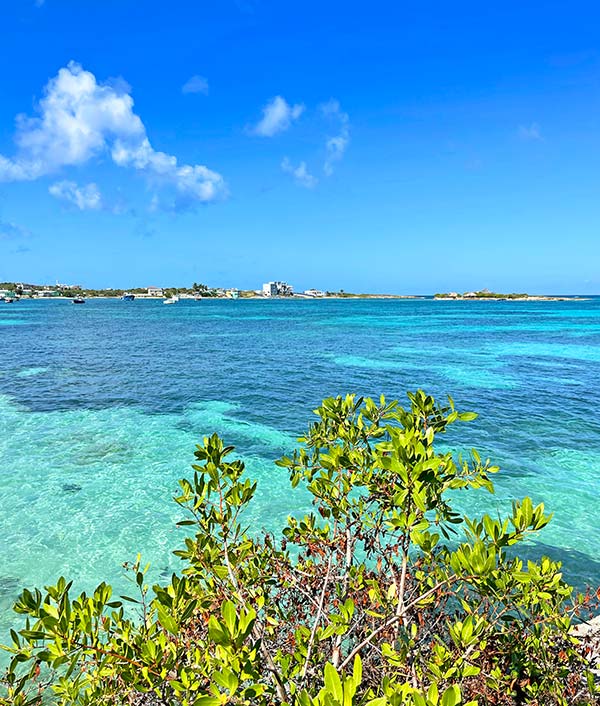 Happy New Year from Anguilla AKA beach heaven!
We hope your year is off to a bluuuuetiful start 🌊😌✨💙
Before we jump into what's new let's bask in some Anguilla blue...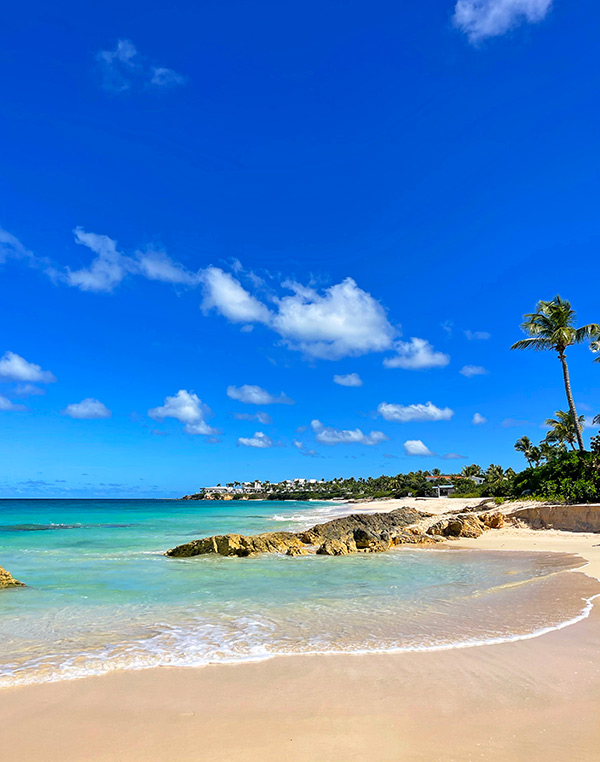 To really feel the calm, grab an extra-heavenly dose of Tranquility Wrapped in Blue right here.
To never miss a dose of calm, click here to subscribe to our sister YouTube channel, MyTranquilitee.
Relaxed, rejuvenated and utterly restored...
Let's see what's new this month!
---
Sumptuous Spa Day at Aurora Anguilla
Anguilla is synonymous with relaxation, people escaping to its pristine, white-sand beaches for a dose of Tranquility Wrapped in Blue. What if you want transcendental Tranquility Wrapped in Blue?
The island's leading spa, one of the world's best, remedies all.
Re-opened under the helm of Aurora Anguilla, this spa has been the recipient of Condé Nast Johansens' prestigious and highly-coveted "Most Excellent Spa Hotel" award on more than one occasion. Formerly part of CuisinArt Golf Resort & Spa, it sets standards for elite spas down the Atlantic coast, through the Caribbean and even the Pacific Islands.
Today, this world-class spa is owned by Aurora Anguilla. The sumptuous three storey building sits on the western corner of the resort's lush property.
Plush locker rooms, relaxation lounges, a "Thalasso" pool and sixteen treatment rooms offering a plethora of scrubs, facials and massages await you.
Welcome to Salamander Spa at Aurora Anguilla, your oasis of calm.
For a fresh look inside Aurora's spa...
To book your spa experience...
---
Easy, Breezy, Bluuuetiful Breezes Restaurant
What goes hand-in-hand with a day at the spa? Lunch at one of Aurora's top restaurants!
On an island known and loved for "beach lounging," Breezes is a winning concept.
True to its name, a cooling sea breeze almost always graces this chic eatery. In the distance, St. Martin's high mountains divide endless azure sea from sky. In the foreground, the beach's blue lagoon is ripe with active reefs.
The setting invites you to "beach on" all day long.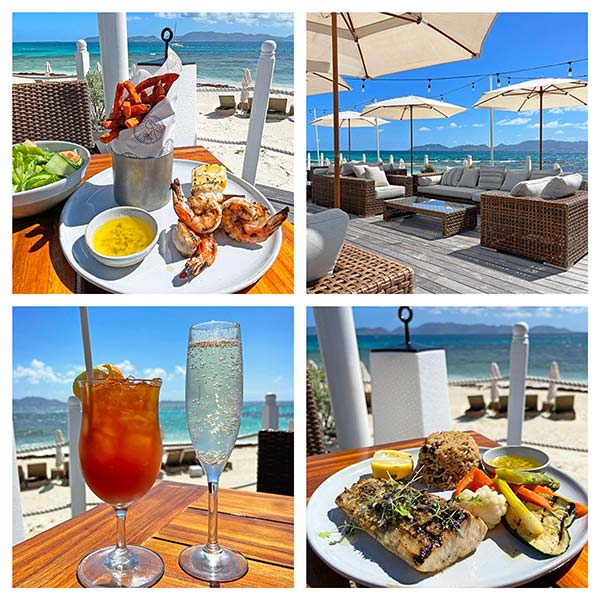 For a full "taste" of Breezes' delicious cuisine...
---
The whole team at Aurora Anguilla deserves a round of applause.
From the spa, to the golf course, to the exquisite dining options, to live entertainment and the Aurora jet, they are pushing this five-star resort levels higher.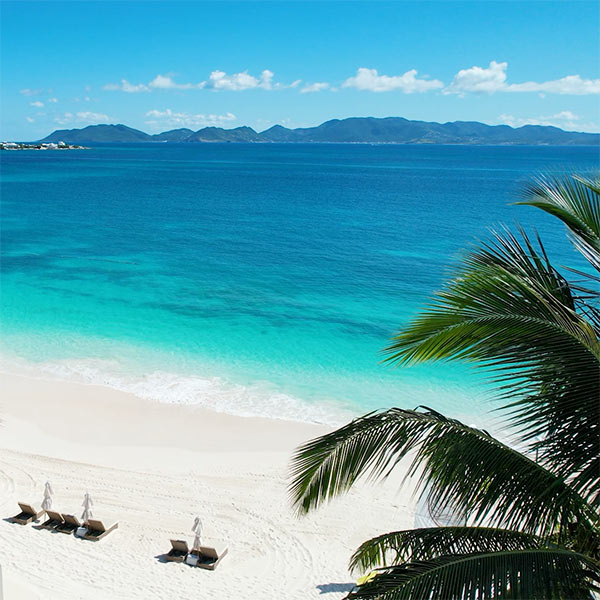 Stay tuned for more updates on Aurora Anguilla. Until then...
For more on Aurora Anguilla, visit...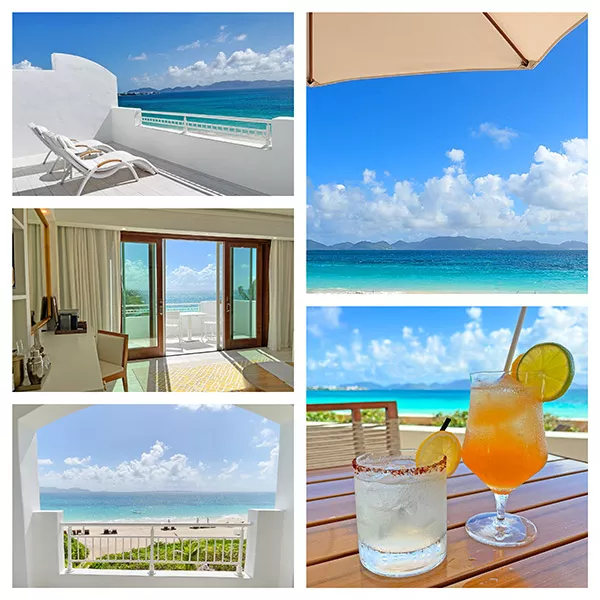 ---
Jimmy Buffett Plays Bankie Banx's Dune Preserve
Just next door to Aurora Anguilla, Bankie Banx's Dune Preserve had an incredible musical treat earlier this month!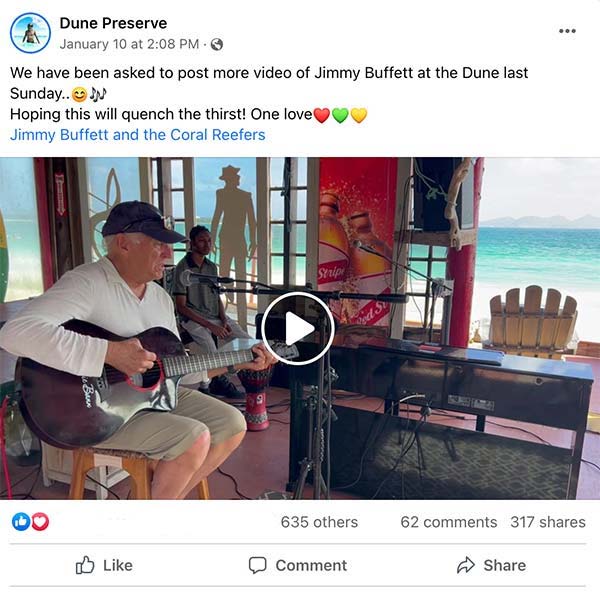 Yep, that's right Jimmy Buffett returned to Anguilla and played an impromptu set at Bankie Banx's beloved musical joint.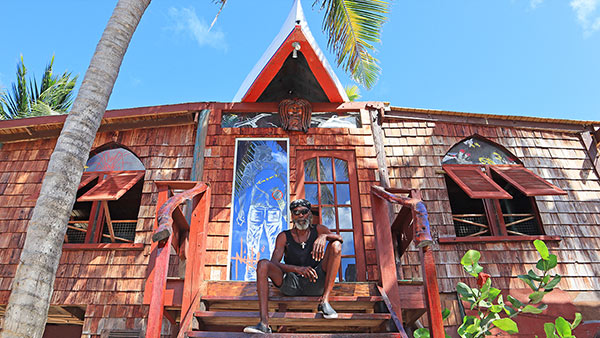 World renowned, Anguillian born singer and icon Bankie Banx is a pillar in the music scene. Bankie's Moonsplash music festival is the largest in the Caribbean and his beach bar has been rated #1 in the Caribbean.
With such cache, it is no surprise that you will often catch musicians from across the globe hanging with Bankie at The Dune.
From Jimmy Buffett, to John Mayer, no one can get enough of Bankie Banx and his beloved Dune Preserve!
Click here to catch the magical performance.
---
Happiness Comes in Waves
Beachy, fun with a prime spot in the sun, we all love Waves!
Previously located on Meads Bay, the Waves team has transplanted the entire beach bar and deck to the south side of Sandy Ground.
We are over the moon happy to have their good vibes and mouthwatering beach food right at our finger tips once again. Not only that, they've kicked it up a notch with new, fresh and delectable menu items.
Hang by the bar, grab a table with a view, relax in their comfy couches or lounge on a chaise on the sand. Once you've settled in, the only question is...
What's for lunch?
Waves' menu features a terrific line up of beachy finger food. One of the most popular dishes? The "Loaded Fries"...
A heaping bowl of homemade, hand-cut fries are topped with just about anything you can imagine. We love the "Classic" with sour cream, bacon, cheddar cheese and spring onions.
Another Waves favorite? The steak sandwich. It is earth-shakingly divine.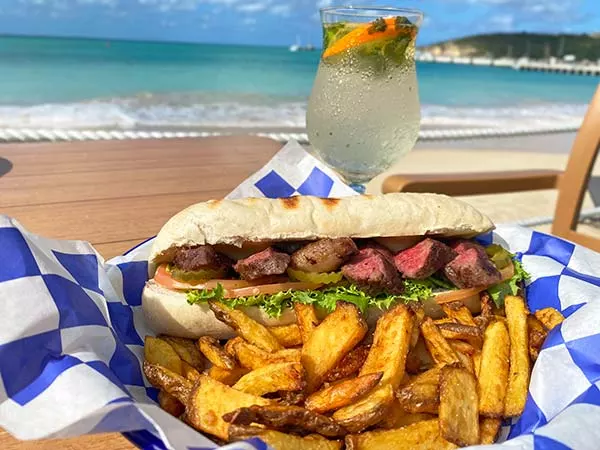 The steak is succulent and soft. Each piece melts in your mouth. Chef Olivia enhances the expertly-cooked steak with lettuce, tomato and a flavorful mix of melted Swiss cheese and fried onions. All served on a grilled baguette with a side of their signature house-made fries, you could not ask for more.
For the full update on Waves, click here.
Waves is an Anguilla Card Partner. Save 10% at Waves when you use your Anguilla Card.
---
NEW at Arawak Beach Club
Arawak Beach Club takes full advantage of its picture-perfect setting, with multiple areas for lounging and soaking up the Caribbean scenery.
Lush, aromatic gardens weave between the hotel's communal areas. Aloe plants, papaya trees, orchids, sea grape trees and swaying palms all please the eye as you move from the comfortable lounge area in the sand to the waterfront terrace with outdoor dining tables.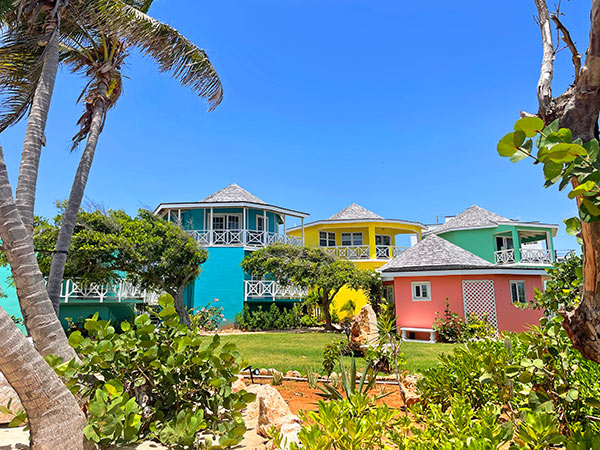 Tucked into Island Harbour's scenic water's edge, this spot is iconic!
When it's time to quench your thirst? The hotel's breezy beach bar with a view of Island Harbour blue calls.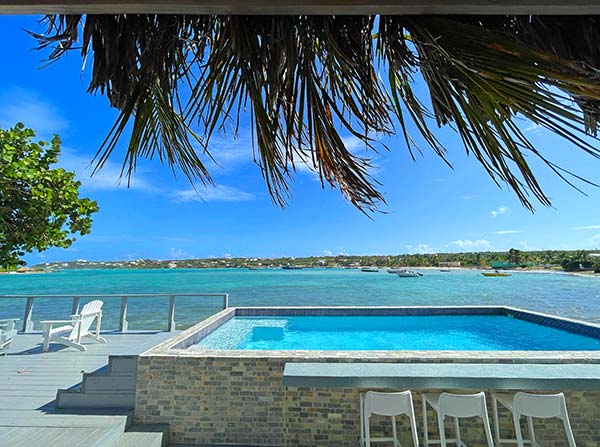 Arawak's bar, Overboard Bar is now officially open 4-9pm and closed on Mondays.
DJ Deany plays at the bar every Sunday from 6pm to 9pm!
Pop in for an ice cold beverage, good times and amazing vibes 🎶✨🥳✨🎶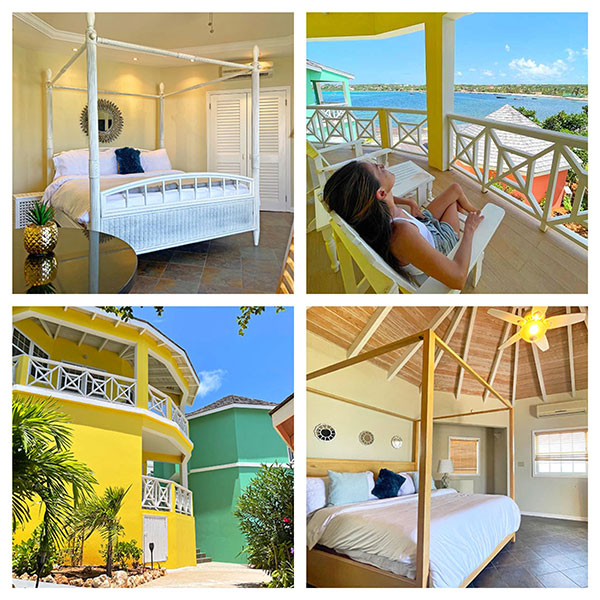 For more on Arawak Beach Club...
Arawak Beach Club is an Anguilla Card Partner. Save 10% at Arawak Beach Club when you use your Anguilla Card.
---
Top 5 Anguilla Beaches
What are your top 5 Anguilla beaches?
Shoal Bay's miles of pristine snow white sands?
The gentle lappings of Rendezvous Bay?
How about the sheer beauty of Meads?
It is hard to pick just 5 when the island is home to 33 unique beauties!
NEW Video: Join us for a look at our top 5 favorites island-wide.
Let us know your favorite beaches, too, and we will feature them in part 2!
---
Make it a Meads Bay Winter
Speaking of best beaches, how can you top Tranquility Beach Anguilla's location on Meads Bay?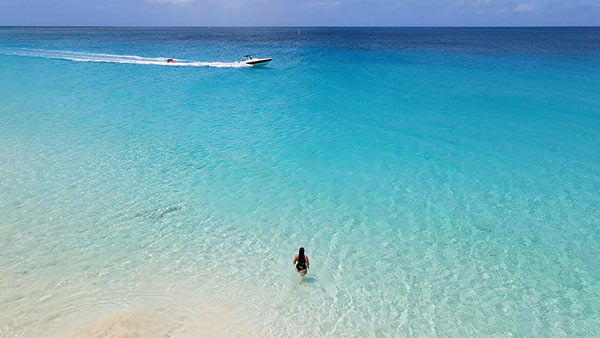 When it comes to beaches in Anguilla, few compare to Meads Bay.
Home to the top restaurants and the clearest waters in the Caribbean, it is the spot to see and be seen, especially in the winter months when the jetset descend on the beach's shores.
Set smack dab in the middle of all of the action is Tranquility Beach Anguilla.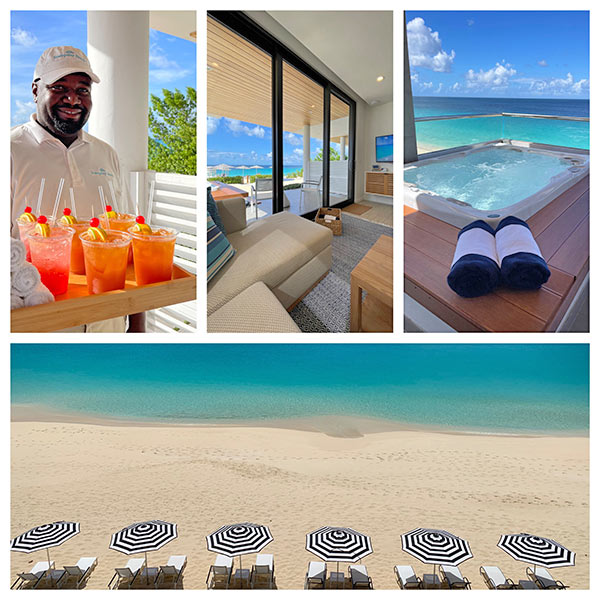 Tranquility Beach Anguilla has you at hello!
Property developers, Ian "Sugar George" Edwards and Neil Freeman knocked it out of the park when they built this chic, contemporary boutique hotel.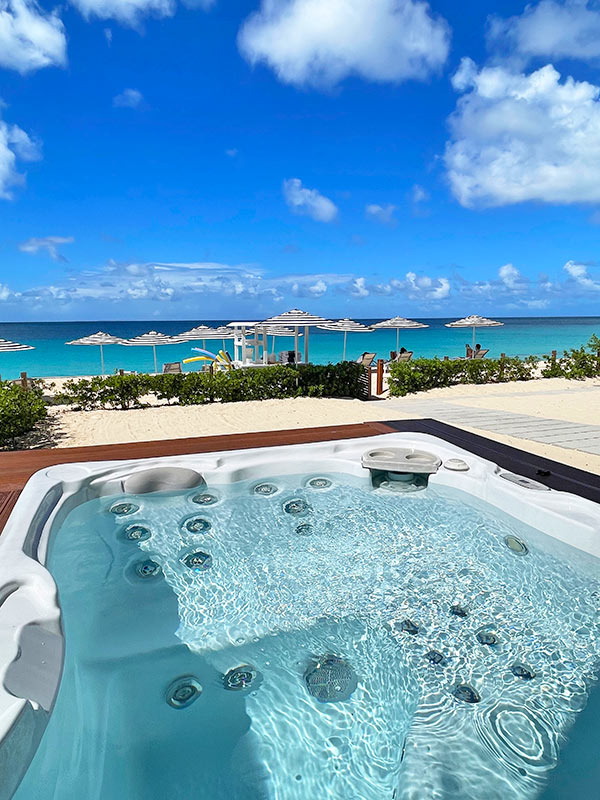 Opening right onto Meads Bay and a mere stone's throw from some of the island's top restaurants, the property's location is unmatched.
Inside, Tranquility offers gorgeous 1-2 bedroom units and 3-bedroom penthouse suites. Enjoy Meads Bay's awe-inspiring views in style from your very own terrace complete with hot tub.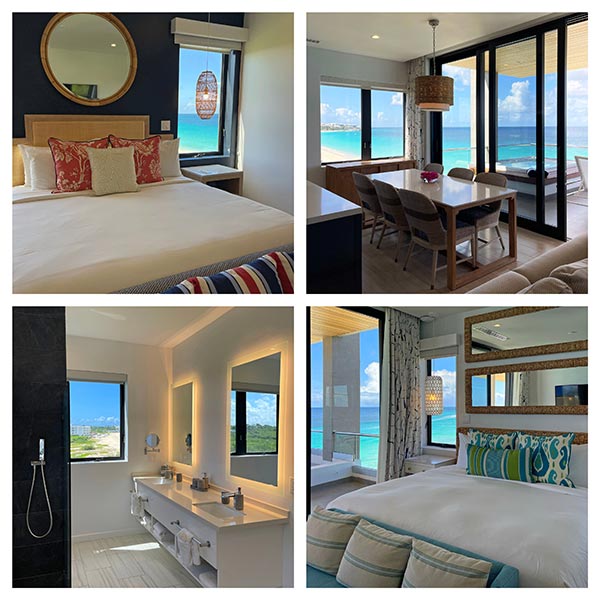 At Tranquility Beach, life is blissfully sweet.
For a full look inside Tranquility Beach Anguilla, click here.
To book your stay...
---
Foodie Spotlight: Julian's at Quintessence
Anguilla's first and only Relais & Châteaux, Quintessence Hotel is equal part elegant boutique hotel and refined high-end restaurant. Since its opening, its restaurant, JULIAN'S... A Tropical French Bistro, has steadily built a strong reputation for its cuisine.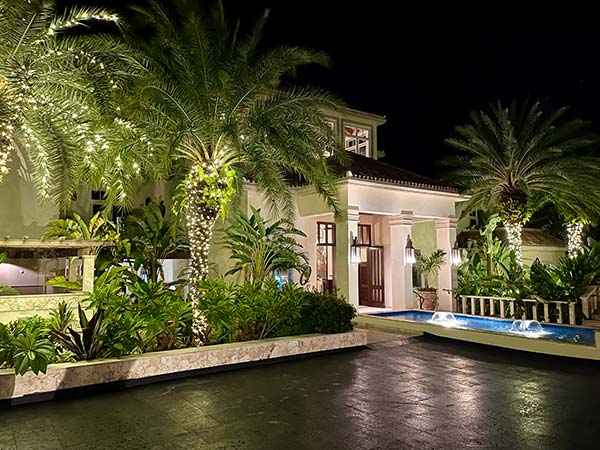 That reputation is credit to Chef Dominque Thevenet. He is one of Anguilla's most recognized chefs who quickly rose to fame when he began his career at Covecastles in the 90's. Today, he brings inspired dishes that blend Caribbean and French influences to JULIAN'S at Quintessence.
Quintessence sets an impressive scene come evening time. Outside, fountains flow, bubbling with lights. Inside, the eclectic lobby is adorned with hand-selected Brazilian and Haitian artwork.
Upon your arrival, Quintessence's staff invites you to explore the property. We highly recommend arriving in time for a sunset drink. Walk the lush gardens with a cocktail in-hand to fully soak up "magic hour," Quintessence-style!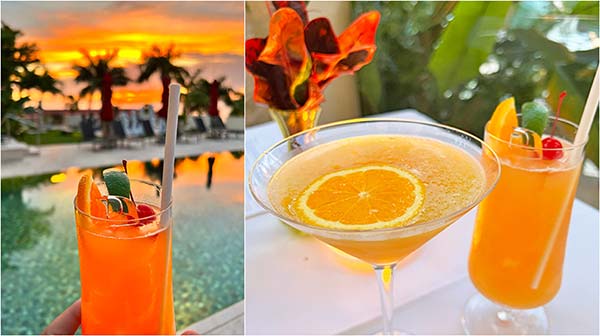 JULIAN'S restaurant flanks the western side of the lobby. Its outer terrace overlooks the hotel's tranquil pool. Open-air, its tall, strong pillars provide a distinctly grand feeling.
Now, what's for dinner?
Dinner begins with a basket of Johnny cake-style beignets. Light and crisp on the outside, warm and fluffy on the inside, they are a savory nod to the restaurant's Caribbean surroundings.
Then of course, an amuse-bouche. Chef's selection always delights. One of our favorites? A mini truffle sandwich. Crispy and rich in flavor, this dish had us excited for the night ahead!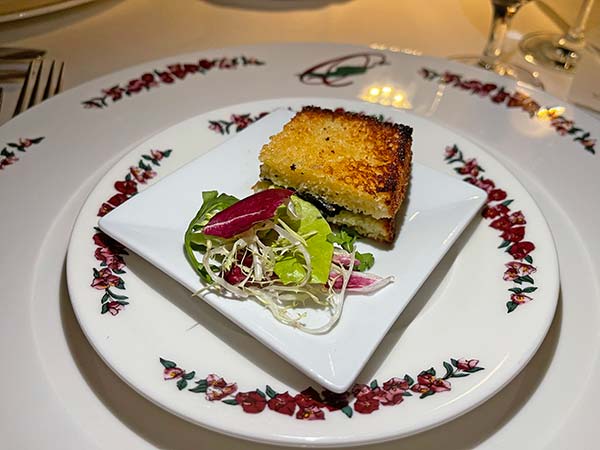 The menu starts with a selection of soups and salads. Choices include a French onion soup, coconut lobster bisque with puff pastry and gazpacho. Salads include the lobster salad, the warm goat cheese salad, tuna carpaccio and the Garden Terrace salad...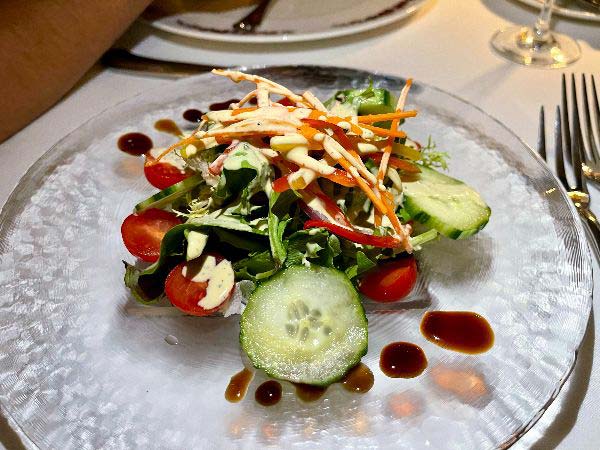 The salad is packed with fresh vegetables, tomatoes and assorted baby greens. The dish is finished with a raspberry vinaigrette.
Chef Dominique's creativity is on full display when it comes to entrées. The menu includes a variety of fine meats such as French rack of lamb, tuna steak, the rich prosciutto-stuffed chicken breast and the pan seared 10-ounce rib eye steak...
A thick center-cut of rib eye is cooked to absolute perfection, laced with a dark Saint James rum sauce. Each bite is heavenly. The beef simply melts in your mouth. Chef pairs his steak with roasted potatoes and grilled vegetables. This rib eye is a must try when dining at JULIAN'S!
Another enticing creation and favorite on the menu is Chef's lobster fettuccini pasta...
Fresh pasta is tossed in a tomato and basil pesto with chunks of lobster and spinach. This dish is easily one of the best pastas on island! Filling and savory, you will want to lick the plate clean.
Dinner at JULIAN'S is never complete without dessert. Chef Dominique's desserts are imaginative. Their inspired names and descriptions call for ordering more than just one. For example, the "Java Lava"...
A warm molten chocolate cake is crowned with a scoop of raspberry sorbet. A timeless combination. Finished with a signature Q chocolate, berries and drizzled with chocolate sauce - "magnifique" is the only word that comes to mind here!
From amuse bouche, to soups, entrées and desserts, Chef Dominique has crafted a menu where each course builds in creativity and concept.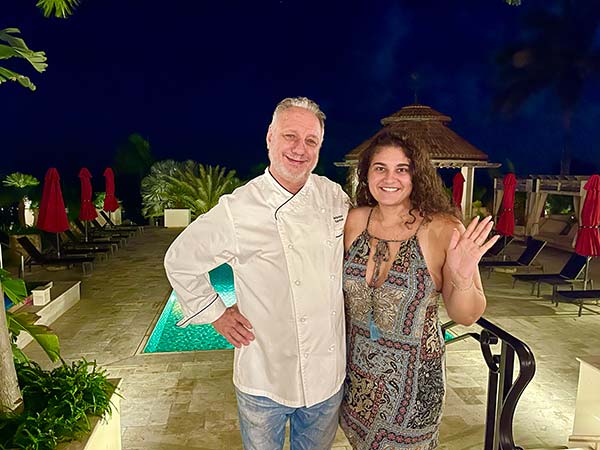 JULIAN'S - A French Tropical Bistro at Quintessence hotel is the perfect setting for Chef's inspired menu. It is a Relais & Châteaux experience through and through.
Julian's is an Anguilla Card Partner. Save 10% at Julian's when you use your Anguilla Card.
---
7 Reasons To Take a Winter Beach Escape
Goodbye, winter 👋🥶❄️ Helloooo, Anguilla 🤩💗🏝
Anguilla's most aptly named luxury villa, Beach Escape Villa has been doing upgrades and overhauls!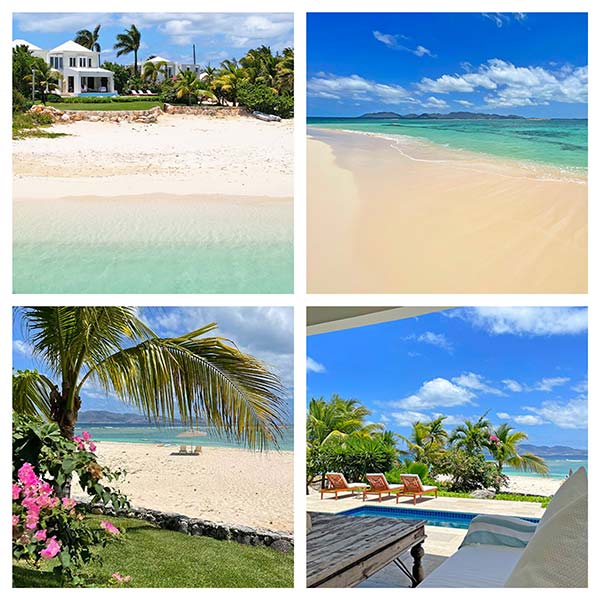 From its plush beachy suites, to its sparkling pool, to its lush gardens and beachfront setting, the reasons are many to jump on a plane and take a soothing Beach Escape!
NEW Video: Click here for a fresh look inside Beach Escape Villa.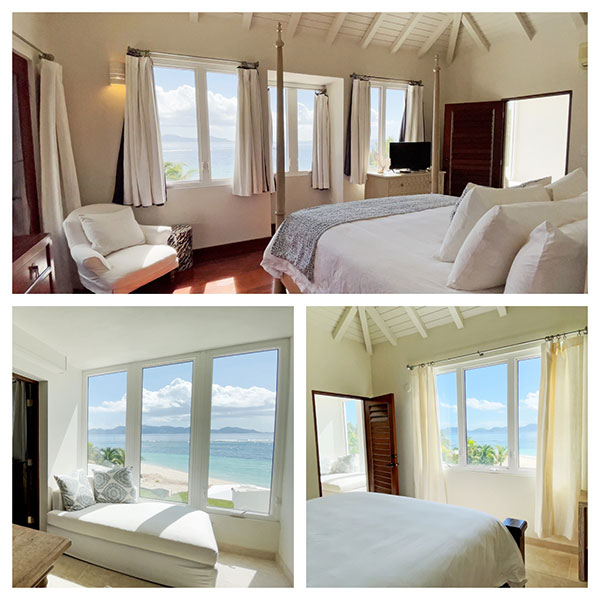 To book your Beach Escape...
---
Celebrate Love in Anguilla 💕💕
If you are on-island this Valentine's Day, be sure to treat your special someone to a romantic evening out on the town.
Who is celebrating this special day of love?
Aurora Anguilla
Aurora is celebrating with four decadent dining experiences that are sure to capture your heart.
Chef's Table
Enjoy a gourmet spread of delicacies, including seared foie gras, crispy lemongrass chicken and so much more!
D'Richards
Did somebody say Dover Sole? D'Richards is serving up a 5 course meal in a most romantic atmosphere, overlooking the golf course and the twinkling lights of St. Martin in the distance.
Tokyo Bay
Craving sushi? Tokyo Bay is the top spot on the island. Executive Chef Joe Richardson is bringing the flavor with 6 sensational courses.
Marella
Italian is the flavor of the day at Marella. Is it Tagliolini Al Ragu Di Manzo with wagyu beef or Spaghetti Chiatarra Ai Gamberi with tiger prawns that you prefer? This menu will have your heart singing it's amore!
Tipsy Turtle
Tipsy Turtle brings a slice of British pub life to Anguilla's West End. This open-air bar and eatery has quickly become a nightlife hotspot, loved for its unpretentious ambience, friendly service and tasty eats.
Celebrate LOVE with their special menu (below)...
To make your reservations, call: 264-582-2181 or email: tipsyturtleAXA@gmail.com
Julian's at Quintessence
Chef Dominique is serving up a special menu on February 14th that you won't want to miss! Bring your sweetie and fall in love at Julian's.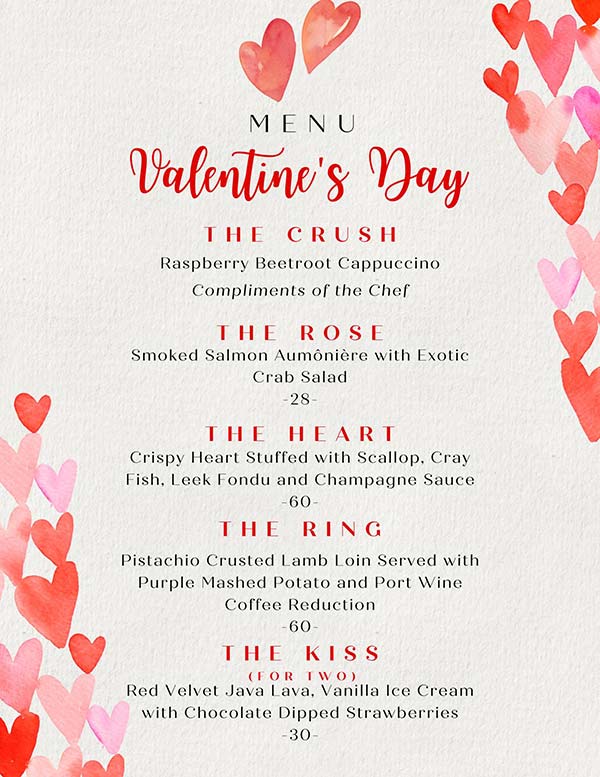 In addition to the V-day special, guests may also order from the standard dinner menu.
For reservations or further inquiry, please contact concierge by calling 264-498-8106 or email concierge@qhotelanguilla.com.
---
Thinking of a Much Longer Anguilla Getaway?
Our good friend, Jackie Pascher of Island Dream Properties has terrific, high-value real estate listings!
Step Inside: Gayle Winds
Walk to the beach from this lovely, spacious and comfortable home on the southern coast of Anguilla with views of St. Martin and the ocean. Situated on a 0.5 acre parcel, this villa boasts great views and an easy walk to Elsie Bay beach.
Enter into the Great Room with sliding doors. It opens to an 800′ veranda with stunning ocean views. Two bedrooms with ensuite are to the left. To the right is the third bedroom with ensuite.
The kitchen with eat-in area and bar is to the right also, outfitted with modern appliances, tiled countertops, and lots of cabinet and counter space.
Down a flight of steps is a basement/work area with outside door leading to the villa's garden complete with a lovely rock wall that goes down to the water.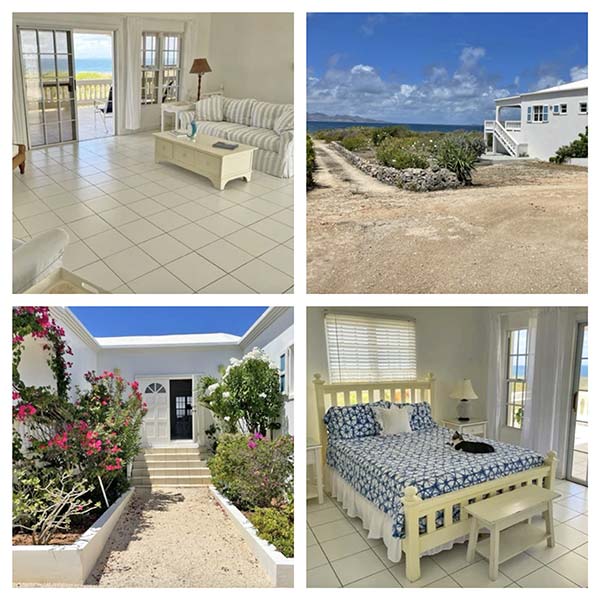 Gayle Winds is listed at $895,000.
Click here for full details on the property.
---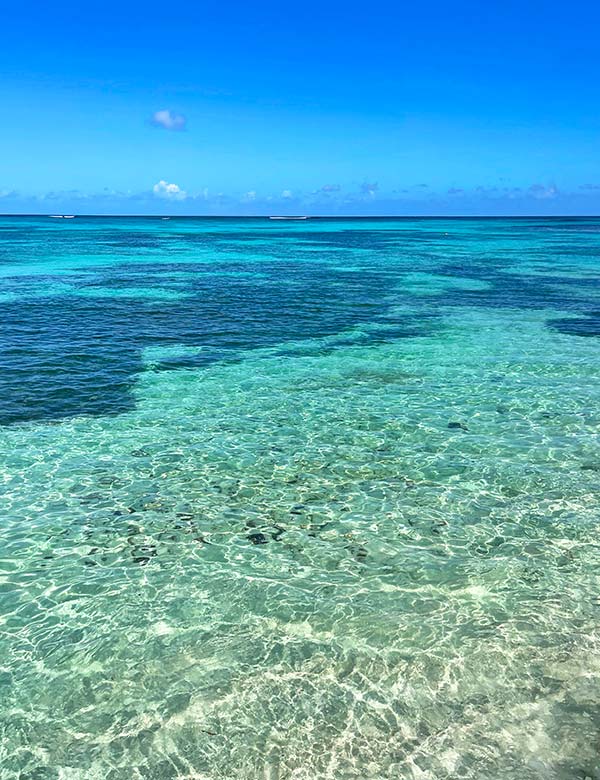 ---
If you enjoy this newsletter and our Anguilla videos, please spread the word about us on TripAdvisor.
If you are planning a trip to Anguilla, get your Anguilla Card here!
We can't wait to SEA you on the beach this winter 💗🏝
With lots of warming Anguilla sunshine,
Nori & Louise
---
Anguilla-Beaches.com
---