Combing Anguilla's Beaches for the Best
Anguilla Beach Lovers brings you the latest additions to one family's experiences of the "best of all things Anguillian."

If you like this e-zine, please do a friend and me a big favor and "pay it forward."

If a friend did forward this to you and if you like what you read, please subscribe by visiting...
---
Issue #076, December 8th, 2013
It's that time of the year again... the holiday season is here!
Private jets at the Clayton J. Lloyd Airport, hotels booked solid, new restaurants and old favorites launching new menus and concepts, a buzz is certainly in the air.
From da'Vida's Asian-inspired menu, to Trattoria Tramonto's "Snack Shack," to CuisinArt's new master chef, to Abbi's (of Dolce Vita) second restaurant, there's so much NEW to sample, too. Lucky us ;-)
Before jumping into it all, let's take a look back on the past few weeks...
---
Not-Too-Distant Memories
We took in the sensational sea view from Nat's newly renovated Palm Grove...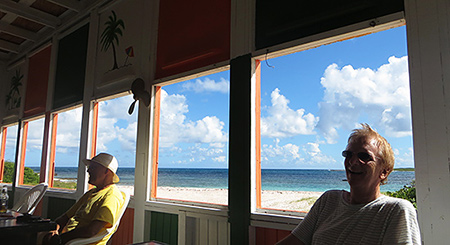 We sampled wanton soup, dim sum and spring rolls from da'Vida's new and re-vamped tapas and dinner menu (review coming soon)...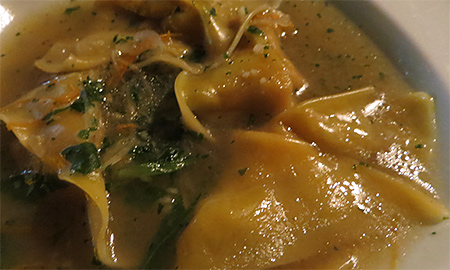 We caught a few fun waves nextdoor in St. Martin...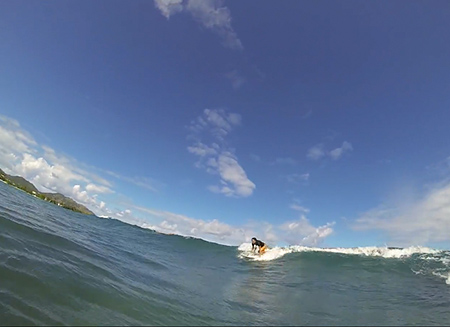 And marveled at some bigger ones here in Anguilla...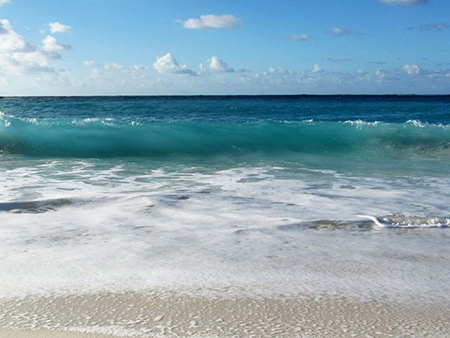 Lucky guests at Tequila Sunrise Villa got to hang out with popular Anguillian musician, Omari Banks who happened to drop by...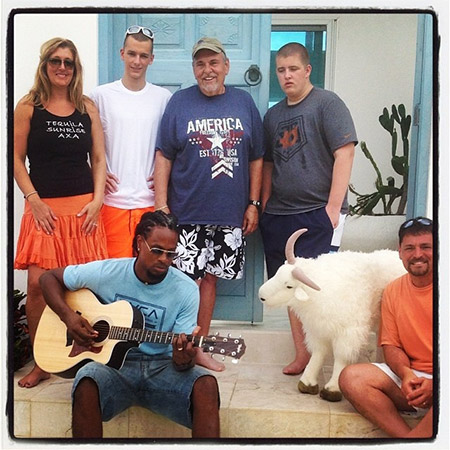 And, they got to sit spectator to this colorful sunset, too!...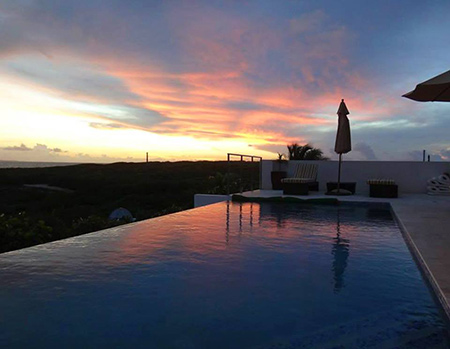 We were reminded why Anguilla is called "Rainbow City"...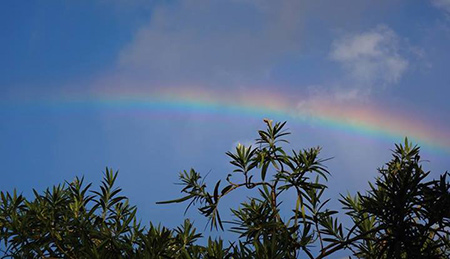 And, we basked in the tropical moonlight...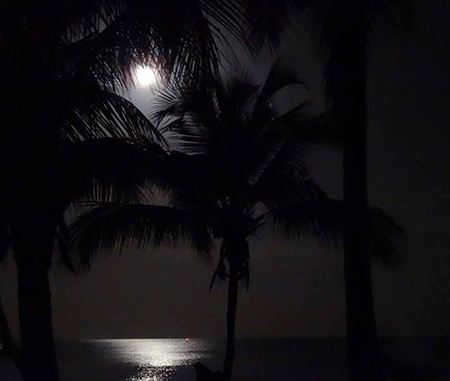 ---
What else is new?
Carimar Winter Specials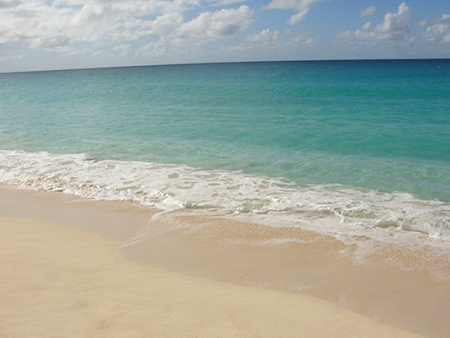 Right on Meads Bay, Carimar Beach Club is offering some pretty hard-to-beat winter specials. Book 6 nights and get your 7th free!
Rates boil down to (taxes included)...
Beachview one-bedroom $3,116.50
Beachfront one-bedroom $3,737.00
Beachview two-bedroom $4,152.50
Beachfront two-bedroom $4,736.50
Valid from January 4-24, 2014
It's not too late to take advantage of their fall special either, if you need to make a quick getaway from the ice and cold ;-)
Their fall package offers 2 nights free when you book 5! Rates for 7 nights are (including taxes)...
Beachview one-bedroom $1,595.00
Beachfront one-bedroom $2,029.00
Beachview two-bedroom $2,322.00
Beachfront two-bedroom $2,725.00
Valid until December 18th, 2013
---
The Omololu International School
A non-profit private school here in Anguilla, the Omololu International School is holding a new, exciting fundraiser, "Give and Get." All funds raised go to a fund that supports local children, giving them access to programs the school offers.
The fundraiser? Win a trip to the Caribbean, including airfare, dinner, accommodations and various activities. Each ticket costs $39 and each month a different Caribbean vacation package will be raffled off. Click here for more on the raffle.
It's all for a terrific cause!
---
St. Martin For Lunch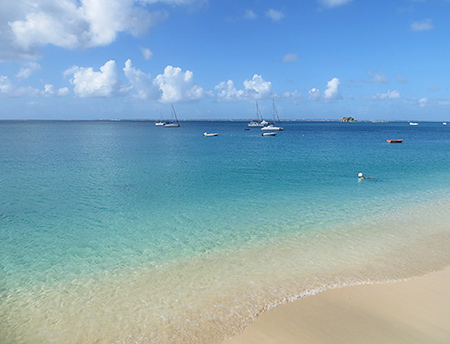 Planning a little day trip to St. Martin on your next trip to Anguilla?
On a recent trip over, we discovered an excellent, tucked away lunch spot for elegant yet laidback French fine dining in Grand Case. With a spectacular view of Anguilla (it's always fun to look at our favorite island!) and Grand Case beach, the setting sure is easy on the eyes. As for the food and service? Five-star. The French wouldn't have it any other way ;-)
---
Sandy Island Joins The Anguilla Card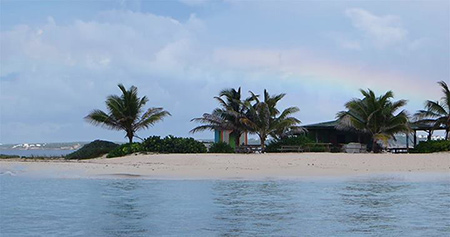 Sandy Island has joined our Anguilla Card!
Days at Sandy Island are always idyllic. A little sliver of paradise, set just offshore of Sandy Ground, Sandy Island serves mouthwatering appetizers, entrees and desserts (think coconut shrimp, mahi mahi and chocolate moon cake!). Zero electricity. Zero noise. Zero distractions. Pure bliss.
Now, you can save 10% off on all food orders on this terrific all-day activity. Click here for more on the Anguilla Card.
Special Note: For the next week, The Anguilla Card is only $39. Saving you 10% at villas, hotels, restaurants and off of various things to do and transport to/from and around the island, it saves money, makes a great souvenir and gift for the holiday season, too! :-)
---
More News...
It's hard to believe that it's a wrap for the year. It went by so fast, didn't it?
Here's wishing you and your loved ones the happiest holiday season :-)
Talk to you again in the New Year!
Nori
---