Lunching & Beaching at Roy's Bayside Grill
With so many terrific restaurants right on the beach, it's no surprise that "lunching and beaching" is a favorite passtime in Anguilla. Roy's Bayside Grill, on Sandy Ground beach, is one spot that does it so deliciously.
Roy's Bayside Grill Seen From The Sea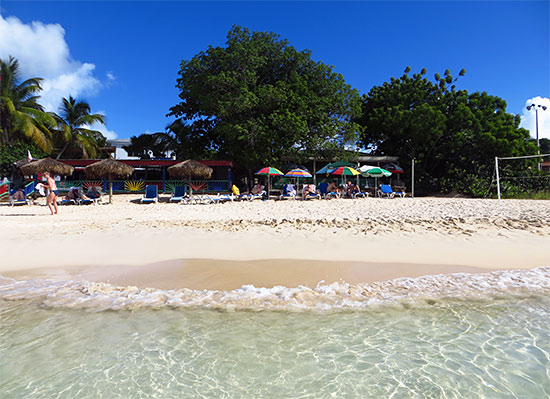 Inside Roy's
Open-air and breezy, Roy's dining room is comfortable and relaxed, with a large roof protecting you from the hot sun. If you want to get working on your tan early though, Roy's expanded bar area is open to the sky above.
Dining Room & Bar Area in the Distance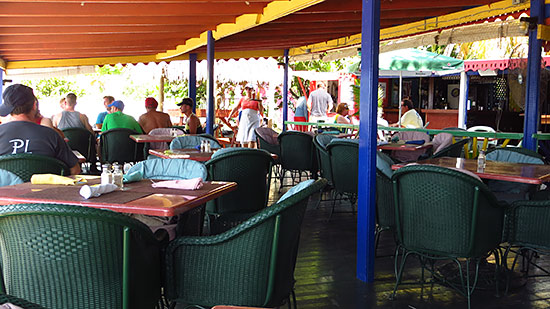 Seeking unobstructed views of the sea and sand, we always choose a table right at the railing in the dining room. The rhythmic waves, the beach-goers, Sandy Island in the distance, the boats in the harbor, Sandy Ground's vibe is laid-back and cool, with a little more punch and action than other beaches in Anguilla.
View From Roy's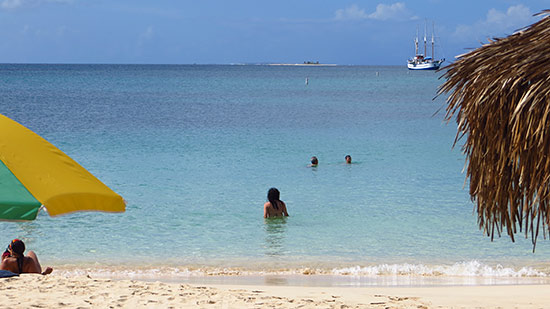 Step 1... Lunching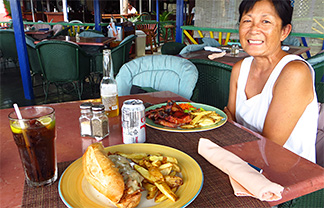 Roy's is top of mind whenever it comes to hearty comfort food done right.
Breaded chicken breast, pork chops, steaks, fish and chips, Sunday roasts, chicken pot pies, mashed potatoes...
These dishes make me feel right at home!
Their lunch menu features a selection of those options, in addition to a very affordable daily special. Recent specials have included double decker BLTs, reubens, meatball subs and prime rib sandwiches. Made fresh everyday, their specials are so enticing.
On a recent visit, my parents dropped in to find a particularly mouthwatering special on the menu. A BBQ pulled chicken sandwich with fries. From the moment he read it, my Dad knew it. He was sticking with this special. My Mom on the other hand was up for sampling a classic, the ribs with fries and a side salad.
BBQ Pulled Chicken Sandwich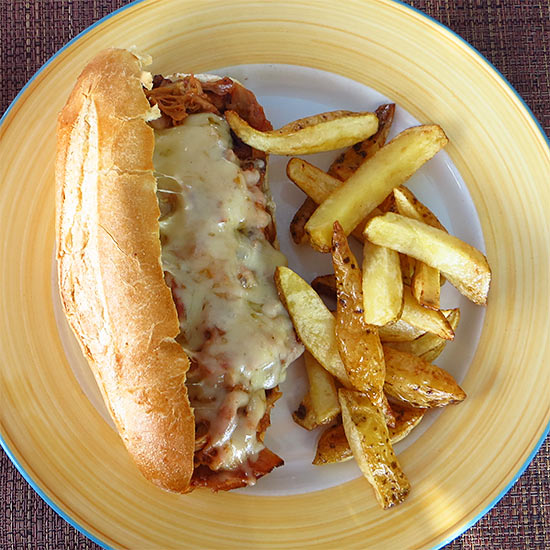 Everything was excellent, and served so quickly and efficiently!
The pulled chicken sandwich was served on a fresh, crusty long roll, topped with melted cheese. My Dad finished it in no time flat. And the fries? The photos do not them justice. Homemade, they were simply perfect, not oily or overly crispy or under cooked.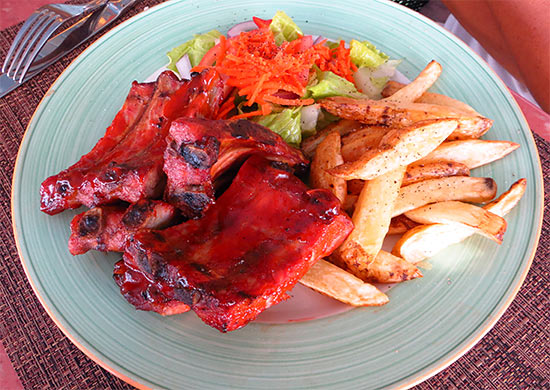 My Mom raved about her BBQ ribs, with just enough tangy sauce. The side salad was nicely varied and oh-so-fresh.
With generously sized portions, my parents were set for the rest of the day!
Step 2... Beaching
Lunching over, it was time to move onto phase 2... beaching.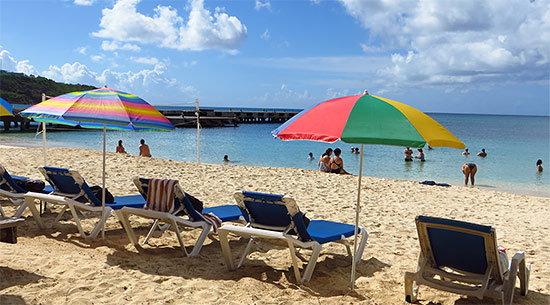 Sandy Ground's community is cool and local, being a working port and harbor. An afternoon here in the tranquil, clear seas, is never without a dull moment... Anguillian children run up and down the beach, fishermen pull in their catch, sailors from around the world dine at the beachside eateries.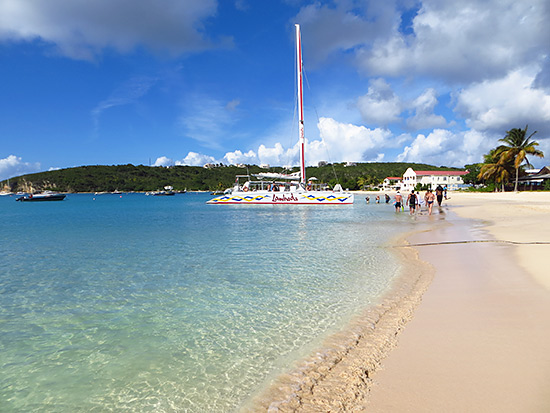 After a walk along Sandy Ground, it was into the sea and then onto Roy's lounge chairs (complimentary if you're dining there) for a post-lunch snooze.
How can it get better than that? :-)
10/10, Roy's!