Combing Anguilla's Beaches for the Best
Anguilla Beach Lovers brings you the latest additions to one family's experiences of the "best of all things Anguillian."

If you like this e-zine,, please do a friend and me a big favor and "pay it forward."

If a friend did forward this to you and if you like what you read, please subscribe by visiting...
---
Issue #086, March 31, 2015
Wow! What a month it's been!
The news on everyone's minds is, of course, Moonsplash's 25th Anniversary show at Bankie Banx's famous Dune Preserve.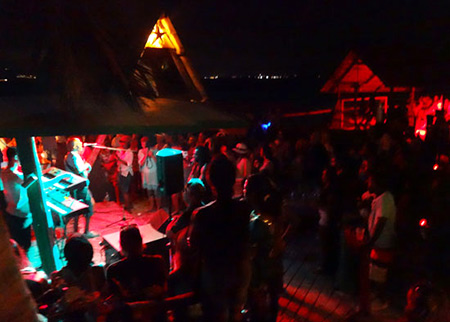 The all-star line up included talented local musicians, including Omari Banks and visiting musicians Freddie McGregor, Mighty Mystic, Junior Jazz, Jah Cure and even Third World!
Under a bright moon, with a cool breeze, shooting stars across Anguilla's night sky and Bankie Banx as host, the 25th was one for the books.
You can read all about Moonsplash's 25th right here.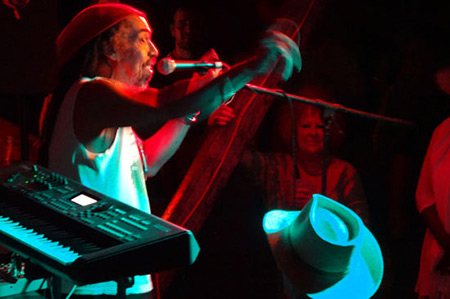 ---
What else is new?...
Fine Wines, Liquors & Cocktails on the Anguilla Card
1. Malliouhana's Fine Wine & Rum Tastings

Malliouhana has added a brand new activity to the Anguilla Card... their fine wine and rum tastings!
Synonymous with true haute-cuisine, and with a caliber of wines and liquors to match, Malliouhana has long set the standard for levels of fine drink and dining in the Caribbean. And, many five-star dinners at Malliouhana begin in their timeless bar, "Sunset Bar."
Painted light tangarines, with white-washed shutters opening up to vistas of Meads Bay and the open ocean ahead, the setting is breathtaking.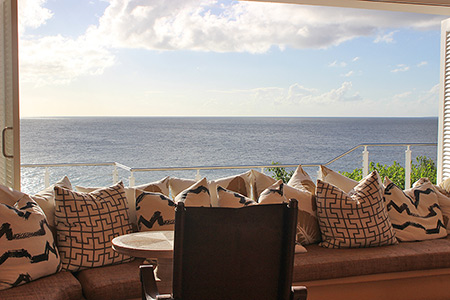 It is here where Malliouhana holds its fine wine and aged rum tastings with Mr. Albert Lake as your host. Albert Lake has long been known as the only man to talk with in Anguilla if you are serious about wine and fine liquors. With 20+ years of experience behind him, he has walked many a vineyard and tasted just about every type of wine under the sun.
During our visit, he guided us through an interesting selection of Rose Brut, Sauvignon Blanc, Chardonnay, Pinot Noir. We moved through each wine, Albert teaching a true process for identifying the different flavors and feels to each type of wine... the citrus scents and crisp flavors of the Sauvignon Blanc, the richer, thicker consistency to the Chardonnay.
After a brief repose, Albert offered us a taste of the aged rums. The rums were well varied. White, dark, some aged 20+ years and others created special for celebrations. The favorite was a 15 year old Haitian rum, the Barbancourt. Brewed in oak barrels, it is defined by a sweet hint of butterscotch. With Albert guiding us, it was a true country-by-country tour of some of the finest, most interesting rums.
At $55 per person per tasting ($55 for rum and $55 for wine), and $49.50 after you apply your Anguilla Card discount, it is a high-value way to experience a variety of rums or wines, expertly curated and shared with pure passion, all thanks to Albert.
More on Malliouhana's wine and rum tastings.
2. CuisinArt's Modern, Refreshing Lobby Bar Cocktails

CuisinArt Golf Resort & Spa has added drinks at the Lobby Bar to the Anguilla Card!
Their cocktail menu has been re-invigorated with a focus on freshly-available ingredients and modern twists. The result? Utterly refreshing creations...
The "Thymeless 10," for example, features Tanqueray 10 mixed with freshly squeezed lemon juice, thyme syrup, all topped with a splash of ginger ale. The thyme syrup is even made in-house using thyme grown on-site! Prefer something a little more robust?
The Johnnie Walker Apple Cooler tastes as good as it looks! Prepared with Johnnie Walker Gold Label Reserve, it is mixed with apple juice, citrus and honey syrup, garnished with fresh apple slices and a cinnamon stick.
CuisinArt's rums are not to be missed, either, thanks to one lady, Gloria Leverett. Castillo rum forms the base of a variety of Gloria's rums, including her pineapple, banana and ginger rums. Each type of rum is carefully tasted and mixed with other spices to strike just the right balance of complementary flavors.
Whether for a mid-day drink by CuisinArt's pool, with vistas out to St. Martin, or to wind-down the evening (Sprocka sets an elegant mood on Thursday nights), the Lobby Bar is a must for a cool cocktail! More on CuisinArt's Lobby Bar cocktails here.
More on the Anguilla Card here.
---
Le Bar Is Back!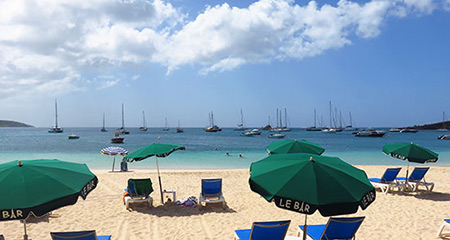 One of our very favorite restaurants from back in the day, Le Bar has re-opened, this time on Sandy Ground!
A French, beach-side bistro with arguably the best burger on the island, owners Didier and Veronique Van are back and better than ever.
Their French joie-de-vivre, a menu chock-full of French classics, and of course that burger, the "Veriunic Burger"... it's all here.
The burger? Exactly how we remembered it!...
Seasoned with secret herbs from Veronique's hometown in Provence, she guards her recipe closely and never reveals exactly what goes inside. Is it rosemary? Thyme? A combination? Whatever it is, it lends a subtle, flavorful kick to each bite.
It sure feels good to have Didier, Veronique and the "Veriunic Burger" in Anguilla once again!
---
More News!
Meze Jamon, manchego, Marcona almonds, home-made tzatziki and sweet Johnny cakes for dessert, Meze wows in quality, presentation and dish pairings. With a love for Mediterranean cuisine, Jerry and Carrie, owners of Veya, have done it again, this time with Meze!
West Indies Cafe One of Anguilla's most charming cafes has a brand new location and name. Convenient and sharp, the former Bonjour Cafe has become the new West Indies Cafe & French Bakery.
NEW Musical Group, AIM Cee-Will, Evan Brooks and Ruel Richardson are taking the island by storm with their new band, AIM! With a unique energy and flow, mixing smooth jazz with funky reggae beats, their sounds will have your head-bopping.
Johnno's at Prickly Pear Sea, sun, great food, music, cold drinks and good times are all to be had at Johnno's secluded location on Anguilla's offshore cay, pristine Prickly Pear!
Malakh Day Spa Set by the sea on Shoal Bay East, Malakh Day Spa offers natural and therapeutic relaxation right by the beach.
Anguilla Watersports There's no doubt about it! Anguilla Watersports has indeed defined themselves as the premier watersports business on the island, offering kitesurfing lessons and rentals and stand up paddleboarding lessons, rentals and tours. From the caliber of instruction, to the quality of equipment, to the service itself (door-to-door!), Anguilla Watersports is five-star in every way.

They recently completed a fun, 4-5 minute video, explaining the ins and outs of Anguilla Watersports. Beautifully done, it's hard to not want to get out on the sea after taking a look at the video clip. Watch the video here.
---
What's to Come?
Carimar's Summer Special
Now's the time to plan a summer stay on Meads Bay's soothing shores at Carimar Beach Club, the best value hotel on the island, rated #2 on TripAdvisor and whose General Manager was awarded Hotelier of the Year in late 2014 by the Anguilla Hotel & Tourism Association!
Take a look at the special they're holding below.
And, to get the full Carimar experience, check out their latest video right here.
Visit Carimar here for details on the special.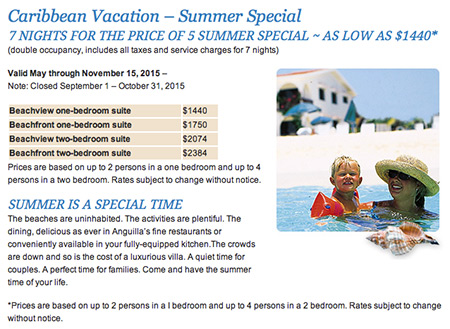 Little Butterfly Availability
Modern and luxurious, Little Butterfly is an excellent option, especially if you're seeking privacy, solitude and all of the conveniences and comforts of "home."
Housekeeping twice per week and a starter breakfast are both included at their rate of $242 per night, and they still have availability for spring and summer!
Click here to visit their official website.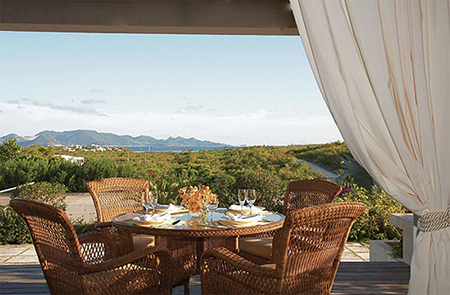 Festival Del Mar

If you're in town this weekend, you are in for a treat!... One of Anguilla's very best festivals, Festival Del Mar will be taking place this Easter weekend, Apr. 4-5th in picture-perfect Island Harbour.
Swimming contests, boat races, fishing tournaments and outstanding fresh seafood are all on tap!
Highly anticipated, it is sure to be a Happy Easter weekend full of fun in the sun out on the island's East End.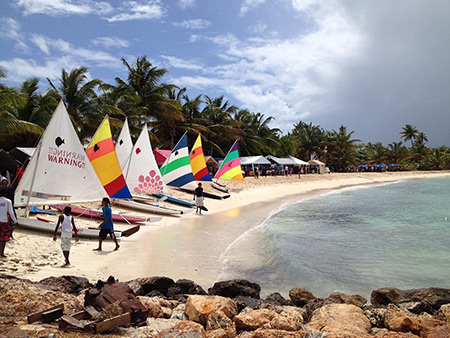 Anguilla Red Cross' Second Annual 5K, Running For Red
Finally, Anguilla Red Cross and Saint James School of Medicine is holding their annual 5k marathon April 11th, Running For Red.
All funds raised go directly to creating a solar-powered mobile First Aid Center. A tremendous benefit for Anguilla's community, come out and support Anguilla's Red Cross! Details here.
That's all for this month!
See you in Island Harbour this weekend,
Nori
Anguilla Beaches Home Page
---