Anguilla's Moonsplash Music Festival in its 25th Year
By: Kristin Bourne
Bankie Banx's Moonsplash 25 proved to be a celebration of a quarter of a century of good vibes, good sounds and talented, collaborative musicians coming together in a dreamy setting - the Dune Preserve on Anguilla's Rendezvous Bay.
Bankie Banx appears on stage with his son Omari

The 25th Moonsplash was held the weekend of March 27 - 29, 2015 and brought to Anguilla the respected reggae music artists Freddie McGregor, Mighty Mystic, Junior Jazz, Jah Cure and the group Third World.
Moonsplash nightly music events took place late Friday and Saturday night, ending in the early morning.
Many find it an excellent opportunity to carry on the fun of the night and make it an all-nighter. I've been guilty of that in years past.
It's not easy to stay up so late/early for three nights in a row (if you count Sunday) but somehow the magic of Moonsplash and in some cases a nap during the day help you make it, which in turn, makes for special Anguilla memories.
Friday Night
During this year's Friday night show, the crowd was warmed up with local Anguilla musicians and delighted by Moonsplash newcomer, Mighty Mystic out of Boston.
Mighty Mystic made a lovely impression on the crowd and those who met him. I have a feeling he'll be back in the future!
Giving the crowd a local treat prior to the headliner of the night was Bankie's musical son, singer-songwriter Omari Banks.
In a warm father-son moment, Bankie joined his son on stage for a couple of songs, including one of his own.
Omari Banks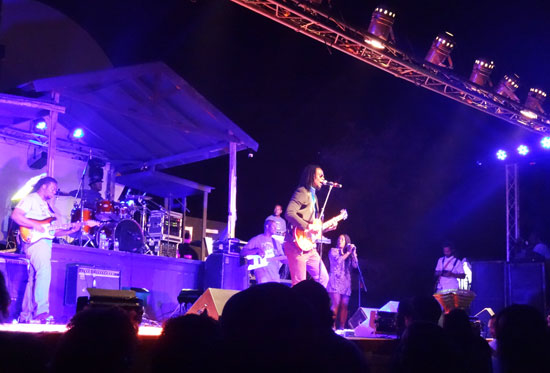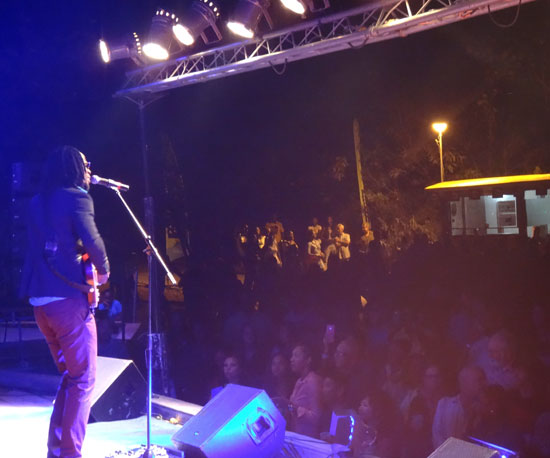 The headliner of Friday night was the valued return of Jamaica's Jah Cure, traveling to Anguilla for his second Moonsplash appearance.
Once again, he brought ease, energy and smooth sounds. He was a crowd pleaser and vividly so, especially to the ladies close to the stage front who were nearly swooning and full of smiles.
Jah Cure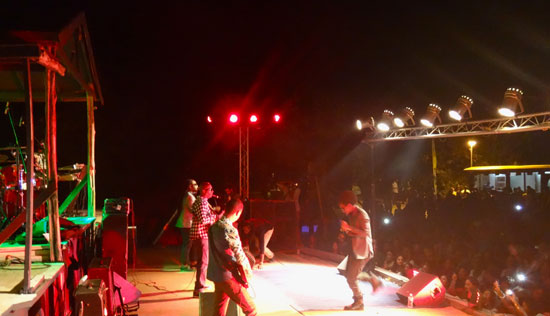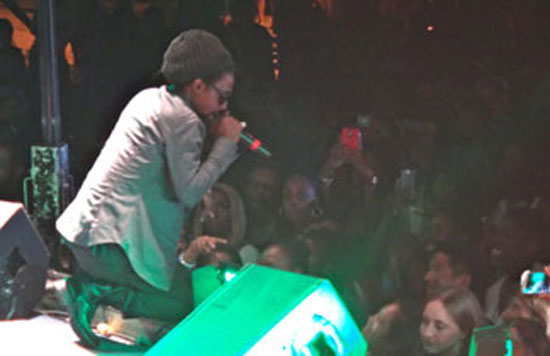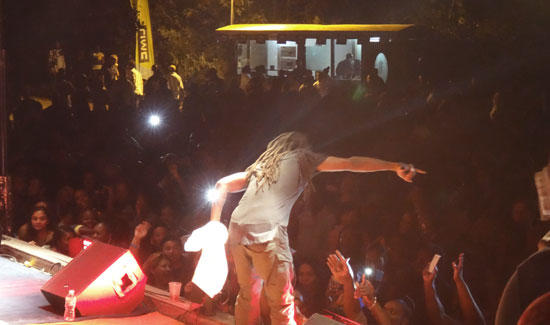 The Friday night show was a success.
The weather was perfect... not hot, not chilly with a comfortable breeze and the bright moon could be seen from the show. Perfect! It is Moonsplash, afterall.
Moonsplash Backstage
I must express my appreciation for being able to witness all of the Friday evening talent thanks to friend and founder of Anguilla's band British Dependency, Davon Carty.
Ishmael Levi and Davon Carty of British Dependency and Cat Coore of Third World

Backstage, in front of the wall of photos
of many years of Moonsplash musicians

He brought me back stage where the performing musicians, their crews and family were exuding excitement and gratitude, matching the intensity of the crowd out front.
Smiles were seen in every direction, hugs were chosen over hand shakes. Backstage was abuzz with general happiness to be together in the collaborative spirit.
The anticipation of what was happening was seen and felt.
For many of the musicians who originate from Jamaica, Moonsplash serves as a makeshift reunion too.
Photos were being taken, conversations had, pats on the back and kudos all around.
Laughs and good vibes... the backstage of Moonsplash in its 25th year was indeed good vibrations.
The Magic of Moonsplash
As much as I was enjoying the night, to beat the crowd and make it to my home before 2:30am, I left the Dune Preserve and began the walk to my jeep and was still able to hear the sweet voice of Jah Cure.
Star Dune decor has a shooting star pass overhead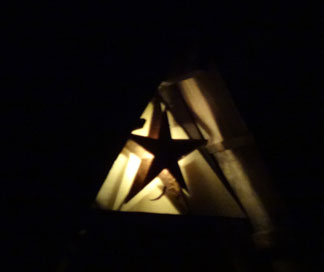 As part of the charm of Anguilla, there is not a lot of light pollution, even with the Moonsplash stage being well-lit...
As I walked down the road I saw the brightest, longest lasting shooting star I've ever seen. I almost couldn't believe what I was seeing.
I learned after speaking with my friend who was not as concerned about the lack of sleep or exit traffic and was still squarely centered at the stage, that she and many others at Moonsplash also saw the very long-burning shooting star as it burned in the direction of the Dune's own Rendezvous Bay.
Remarkable given the Moonsplash stage is likely the brightest spot on the island that particular night and it burned in an arc high above, framing the stage and Jah Cure.
What a moment that must have been… fresh Anguilla air, the moon bright in the sky, a brilliant shooting star and what turned out to be Jah Cure's final song of the night. Magic!
Saturday Night at Moonsplash - Legends Night
Canadians, Africans, Americans, Europeans, those from neighboring Caribbean islands and Anguillians alike - everyone had overwhelming words to share about the talent brought in for the Saturday night show: Sheriff Bob, Junior Jazz, Freddie McGregor and Third World.
Of course, the host and Anguillian Dune man himself, Bankie Banx is a showman on Saturday night, also known as "Legends Night".
He lit up the stage alongside his musical friends and his talented son Omari made another entrance as well.
Much of the audience was moved to (happy) tears during a collaborative song performance of Freddie McGregor and Third World.
Those who regularly attend Moonsplash were downright jazzed up about the Saturday night this year.
After all of the nice words, the most moving of all was Third World. Yes, the best news of the 2015 Moonsplash event was the return of the band Third World - the reggae ambassadors!
As major Moonsplash contributors in the more recent decade, Third World breathed a little extra life in to the Moonsplash crowd as they debuted their new lead singer after last year's passing of their former lead, Bunny Ruggs and after having scheduling conflicts the previous two years.
They were back...!
Moonsplash Sunday
What else is wonderful about that?
They tend to stick around for the Sunday afternoon and evening beach party on the sandy side of The Dune. It's a thrilling part of the weekend with impromptu jam sessions by local musicians and visiting Moonsplash regulars. This is always a treat!
Junior Jazz's special and soulful take on classic songs, Third World's Tony "Ruption" Williams explosiveness on the drums and founding Third World member, Cat Coore always blow the crowd away when he brings out his cello. It's a musical fantasy.
Junior Jazz and Sherrif Bob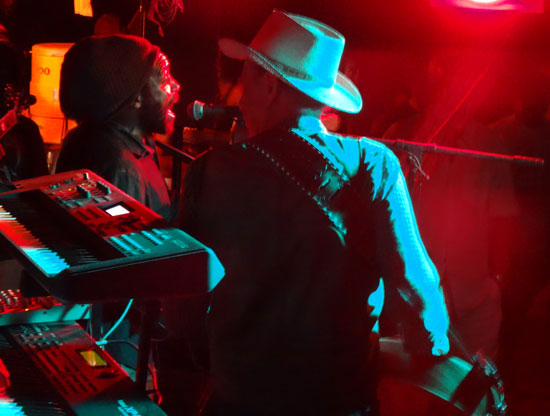 Cat Coore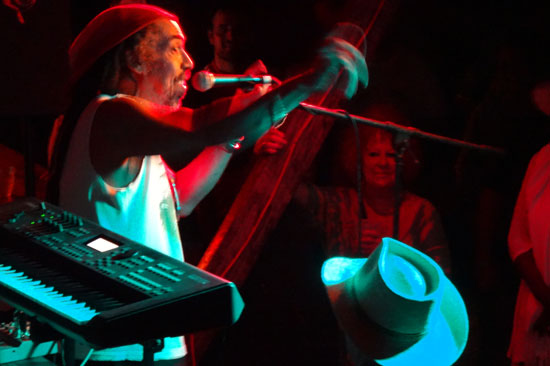 Connis Vanterpool, Junior Jazz and Mighty Mystic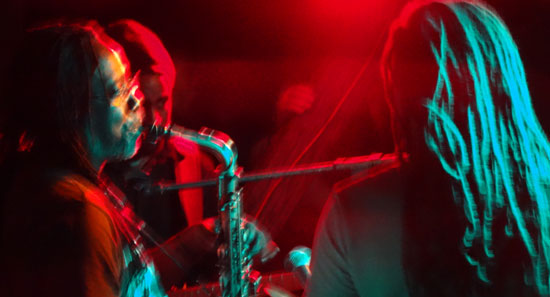 Bankie Banx

The Sunday night beachside crowd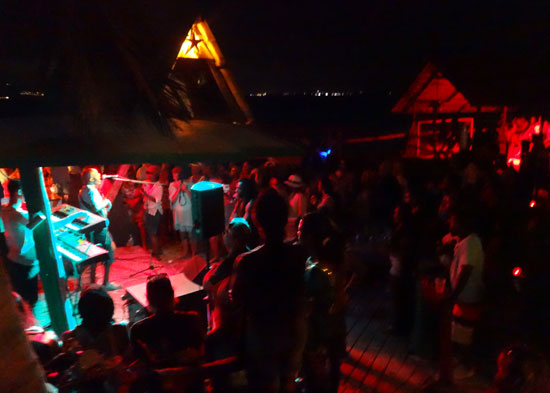 Blend this in with the one of a kind voice and style of your Moonsplash host, Bankie Banx jumping on and off stage, with and without his harmonica.
Known for his unique voice, Omari Banks jammed a bit more this year on his guitar and Mighty Mystic who was new to many at The Dune, brought comments galore.
The Dune people were irie!
This was a weekend of talented musicians, smoothly run operations, dancing people and happy, smiling faces. These skilled musicians bring it all to Moonsplash in Anguilla and leave those fortunate enough to take it in charmed, with lasting good feelings.
Moonsplash 25 was one to remember!