Combing Anguilla's Beaches for the Best
Anguilla Beach Lovers brings you the latest additions to one family's experiences of the "best of all things Anguillian."

If you like this e-zine,, please do a friend and me a big favor and "pay it forward."

If a friend did forward this to you and if you like what you read, please subscribe by visiting...
---
Issue #088, May 20, 2015
We may be about one month early, but it's sure starting to feel a lot like summer here in Anguilla.
Those crystal-clear seas...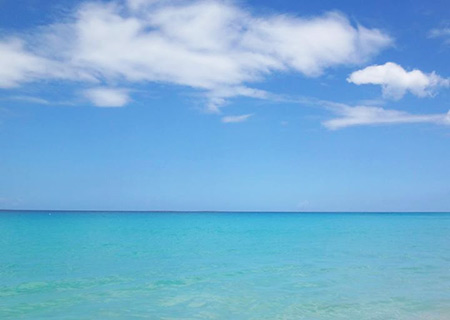 Beaches all to yourself...
Restaurants, too, in many cases!...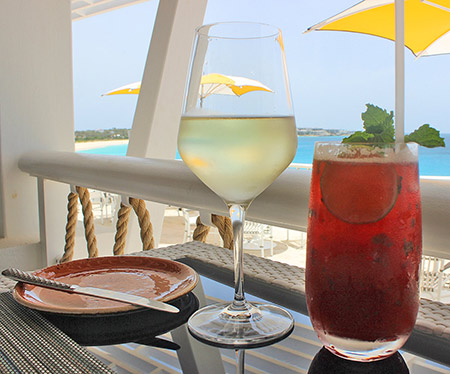 Ah, yes... the reasons we love summer in Anguilla are many.
And, so, I'm excited to share a new article we have put together...
---
20 Reasons to Take a Summer Vacation in Anguilla
Reason #1? The glassy-calm of the sea, of course :-)
Bump-free, it shines something special in summer and makes for excellent under water visibility and ideal SUP conditions...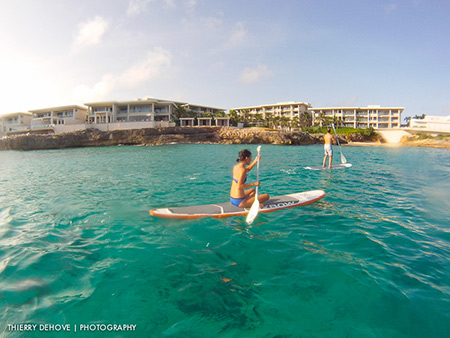 With Anguilla Watersports as your guide and the ocean as calm as a pond, navigating the normally rough waters that surround the likes of Viceroy is easy and effortless.
Water shimmering underneath your board, it's a beautiful time of the year to get up close with Anguilla's waters and shorelines.
Reason #2? Most restaurants and shops stay open through the off-season, unlike in other seasonal destinations (ex., Cape Cod).
Temperatures are moderate (rarely going above 90F), the vibe is ultra-relaxed and there are plenty of exciting events including the Anguilla Open and the event of the year... Carnival!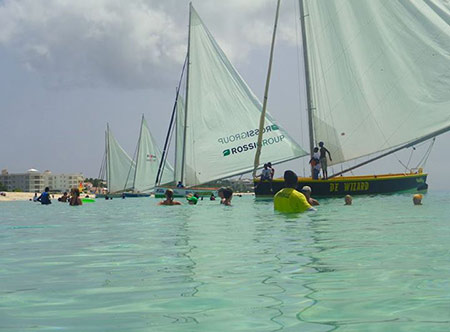 For the full list on why summer is our favorite time of the year in Anguilla, visit...
https://www.anguilla-beaches.com/summer-anguilla-vacations.html
On that note...
---
Summer Specials
There are many tremendous specials to be had come summer in Anguilla!
It is the most affordable time of the year to visit.
Most hotels and villas cut their rates (even by half!) starting in late April, and many more offer high-value deals throughout the season...
Tequila Sunrise Villa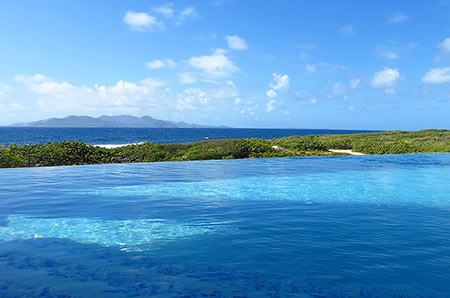 Spacious and modern, with 3 bedrooms and an infinity edge pool that drops off to the view of the sea and St. Martin in the distance, Tequila Sunrise Villa offers it all...
3 luxurious bedrooms, each complete with an ensuite bathroom, balcony/private terrace and flat-screen TV
Spacious kitchen/dining with a lofty living space that opens onto the outdoor living area and infinity edge pool
An undiscovered cove with ideal beginner snorkeling a short walk away and all of the beach toys and equipment you need
Unlimited Patron Silver on tap
Daily breakfast, laundry and turn-down service
And now, until Oct. 31, they are offering even more...
10% off of your Tequila Sunrise Villa stay
10% off of your rental car
A FREE round trip speed boat between SXM and AXA
A FREE gym membership at Styler's Gym
They have covered it all at Tequila Sunrise Villa!
For more information, visit Tequila Sunrise Villa here...
http://www.tequilasunrisevilla.com/
Carimar Beach Club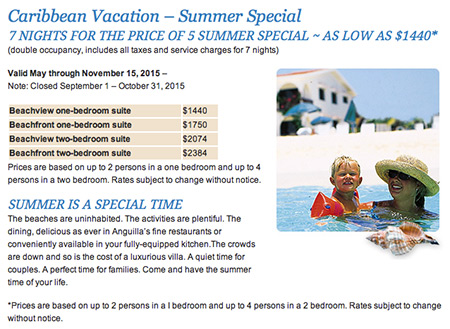 For more information, visit...
http://www.carimar.com/reservations/packages/
CéBlue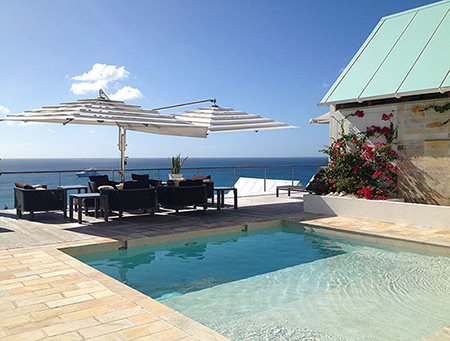 With a modern-zen design and aesthetic, stepping into CéBlue is utterly refreshing, relaxing and indulgent.
Their warm staff takes care of your every wish, whether it may be...
Setting you up at Crocus Bay's beach below (a 1 minute drive down the hill) for an afternoon at da'Vida
Arranging boat trips on their private speed boat
Organizing spa treatments or gym classes at their on-site facilities
... they are there to handle it all.
When hunger strikes? Their restaurant, Blue Bar serves up the finest pizza on the island and is known for their excellent nightly dinner specials, too.
This summer, now-June 30th (with arrivals now-November 15th, 2015), stay for 5 nights and only pay for 4! Daily breakfast is also included.
A big congratulations to CéBlue, too, who was just awarded their 2015 Certificate of Excellence by TripAdvisor!
For more, visit...
http://www.ceblueanguilla.com/
Little Butterfly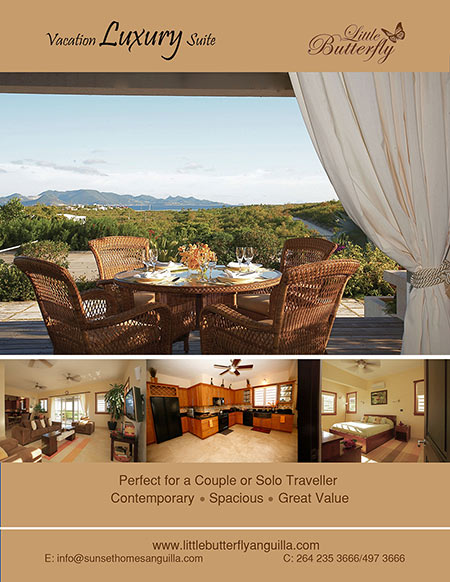 For more on Little Butterfly (at $242/night!), visit...
http://littlebutterflyanguilla.com/
More Summer Specials
For more summer specials, including...
25% off at Sheriva for Anguilla Card Holders only
A romantic package at Spyglass Hill Villa
An adventurous all-inclusive with Nature Explorers Anguilla
Big reduction in rates at Topaz Villa (with an extra 10% off for Card Holders)
A beautiful summer special at Paradise Cove
And, Ocean Terrace Condos for just $208/night
... visit...
http://www.anguilla- beaches.com/summer-anguilla-vacations.html#SUMMERSPECIALS
---
A "Road-Side" Bite
This year, two new restaurants receiving high ratings opened up on Anguilla's "road-side."
Both in unexpected locations, De Cuisine and Sarjai's have been on the tip of just about everyone's tongue as must-try's...
De Cuisine
Denise Carr and Joash Proctor, of the former SandBar, have created a modern-chic oasis just next to Geraud's in the strip mall.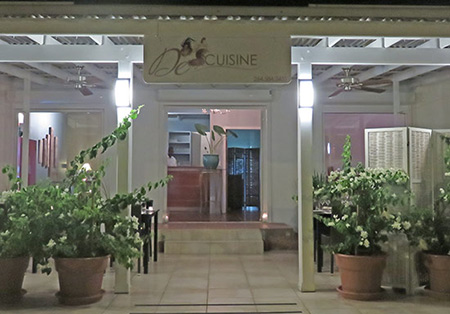 In a beautiful setting, the real reason for their accolades is Chef Denise's innovative cuisine!
A true culinary journey, the tight menu features a select number of items, all prepared with careful attention to detail.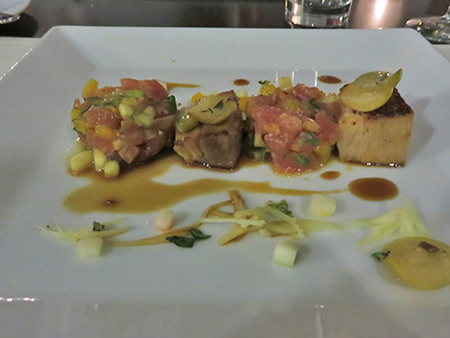 Think: Red Cooked Pork Belly and Tuna Tartare, Foie Gras Mousse, Rillette of lamb with honey glazed eggplant, brunoised roasted carrots, onions and garlic with fresh mint yogurt.
Sarjai's
At a more moderate price-point, Sarjai's has become a favorite for simpler cuisine prepared perfectly.
The 10 oz. NY Steak Au Poivre with Aunty Joan's homemade curried fries...
The Warm Coconut Pie with vanilla ice cream and ginger caramel sauce...
... are two of our favorites!
It is owned and operated by Chef Darren Connor. Famous here in Anguilla, he is known for "bringing home the gold" from all of the regional culinary competitions, including the most prestigious, "Taste of the Caribbean Culinary Competition" in Miami.
His true passion has long been to open an excellent spot of his own and he has done just that!
---
More News!
---
Summer Beach Fun
Last, but certainly not least, we have been having a lot of "on" Anguilla's beaches this month at Anguilla-Beaches.com.
First, Shoal Bay East has taken the lead as Anguilla's #1 beach as voted by you!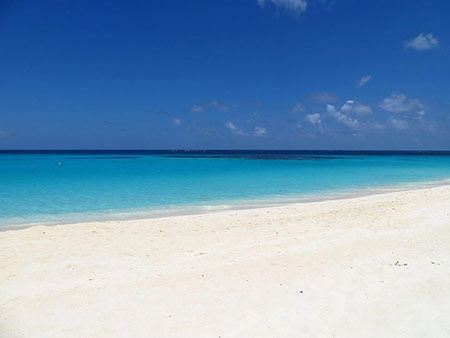 Anguilla is known far and wide for being home to the best Caribbean beaches. From CNTraveler to ISLANDS Magazine, Anguilla's specks of pristine sand have graced the likes of high-profile magazines for decades.
And so, earlier this month, we asked you...
Out of the island's 33 beaches, which one is the best?
To cast your vote, visit...
https://www.anguilla-beaches.com/best-caribbean-beaches.html
Second, we are putting your Anguilla beach IQ to the test over on Facebook!...
Only 4 of the beaches in the photo collage above are Anguilla beaches.
Can you spot them? :-)
ID the 4 beaches and, if you can, name the beach, too.
The first person to correctly ID all Anguilla beaches wins a free Anguilla Card, too!
To take the challenge, visit...
That's all for this month!
Stay tuned this summer for more news, drone videos and contest fun :-)
Wishing you a great week,
Nori
Anguilla Beaches Home Page
---