Anguilla's Little Curry House...
It May Be Little But It Has Big Taste!
Update 2017: Little Curry House has closed.
By: Kristin Bourne
Enter here for curry!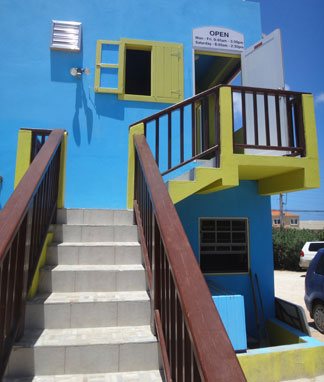 Occupying the top portion of a colorful building in The Valley (and upstairs neighbor to West Indies Cafe and French Bakery), that is where you will find Little Curry House, a new restaurant and concept on this beautiful island known for its food.
If you are already a fan of curry, you know that it varies from region to region, just as Indian curry varies within its own borders.
Methodologies vary from family to family too, just as you find with a 'Sunday gravy' in Italian cooking.
As those who are skilled at making a good curry migrate from their origins, they bring their method with them and make it their way, so long as the ingredients to do so are available.
The Little Curry House owner and staff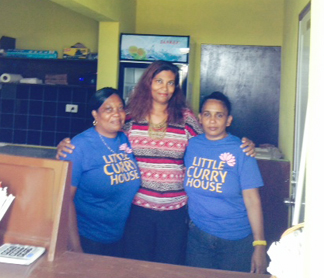 While Anguilla is not known for curry, the island is home to people who come from other areas where curry is more common such as England, Trinidad and Guyana.
The Little Curry House brings Guyanese curry style to Anguilla. The cook, Radha, is a Guyanese curry expert who seeks out the proper ingredients to make her curries on a regular basis.
To ensure she always has exactly what she needs, Radha is in fact growing her own garden to source from at the Little Curry House.
Talented Guyanese cook Radha and I

There's more good news - fish served at the Little Curry House is local, freshly caught fish.
This means the type of fish may vary based on what's available but you generally can't go wrong with fresh, local fish whether it's mahi mahi, grouper or red snapper.
Order your food to go or to stay!
While plenty of the Little Curry House's customers are take-out customers, there is seating available to eat-in. Few restaurants on the island offer an elevated lunch view. It's nice and breezy up there!
Rare second storey view from the Little Curry House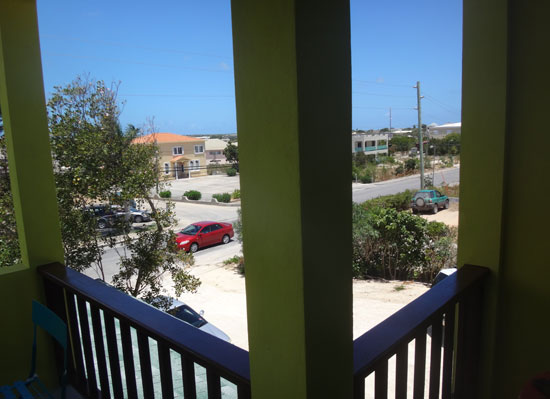 What's on the menu?
Recently opened, their menu is small (for now) but ideal. As time passes and customers come and go, their menu will cater to customer's preferences.
Here's how their menu is set up:
Every day curry menu items include a vegetable roti ($5 US) chicken roti ($7 US) doubles ($4 US) and a special plate such as curry lamb ($15 US), curry goat, curry eggplant, etc. The specials come with steamed veggies, rice and peas and plantains.
The small fried fish plate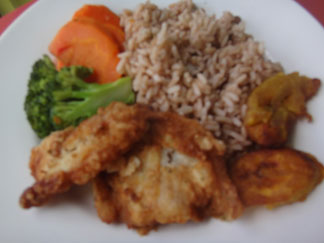 Another curry special that will pop up from time to time is a shrimp roti.
Other regular menu items are the fried fish and fried wings.
The small fish plate is $8 US and the larger size is $12 US. Fried wings are $7 US and $10 US. They come with sides too!
Cold beverages are also on hand: water, juice and sodas.
Radha "clapping" the roti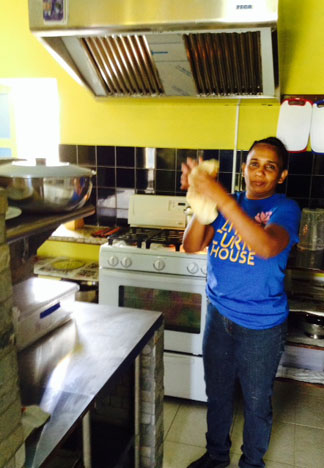 The day I stopped in to see the owner Suzanne and her staff, the special was curry lamb. I ordered some food to go and was pleased with everything I ordered…
(When I arrived at home, all of the items were easy to identify, too, as the staff had written on the wrapping. I appreciated their attention to detail.)
The small fried fish plate was a good size for a light lunch. The vegetable roti satisfied my curry craving and my love for plenty of chickpeas.
Especially thrilled that they offer doubles, I sampled one double in hopes I'd love it and return for more. I will be back for more!
For those unfamiliar with these offerings, here's a brief and unofficial glossary.
Doubles come from Trinidad and Tobago and are seen commonly as "street food". Two pieces of bara cradle a helping of channa (curried chickpeas). The bara are round and are handmade generally with flour, turmeric, baking powder and salt. They are sized to be handheld.
Doubles!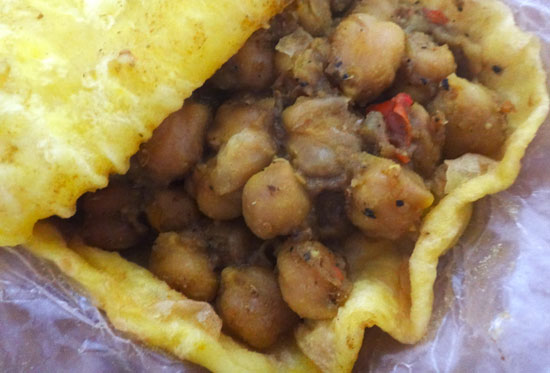 Roti is a flatbread stemming from India and most commonly found where there's a larger Indo-Caribbean population such as in Trinidad and Tobago, Guyana and Jamaica. Roti fillings vary from curried chicken, goat, shrimp, conch and vegetables. Other curried fillings that accompany the proteins are potatoes and chickpeas.
Vegetable roti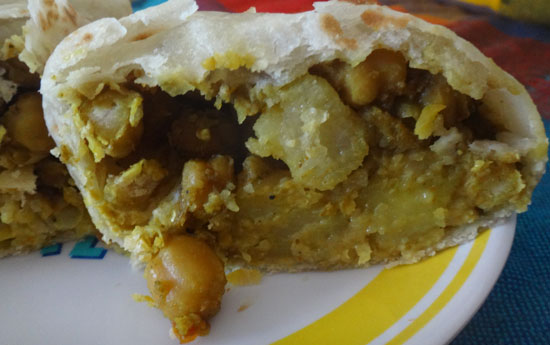 Set in a bright new building. Affordable, delicious and flavorful. What's not to love about the Little Curry House?
Directions, Hours & Contact
Directions: Just upstairs from West Indies Cafe.
Hours: Daily from 9:45am to 3:30pm. Closed Sundays.
Tel: 264-581-2060