De Cuisine...
Haute Cuisine in an Unexpected Setting
Update 2016: Sadly, De Cuisine has closed their doors.
By: Janice, Nori's Mom
Set on the Lower South Hill road in a strip mall, you would have thought that it might not be the most likely place to enjoy fine dining.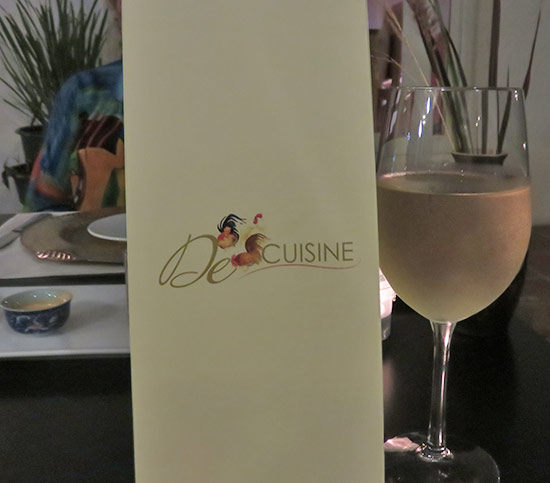 However, Denise Carr and Joash Proctor, previous owners of the popular tapas SandBar Restaurant in Sandy Ground have reinvented themselves and brought Denise's fine and unique culinary abilities to this small and charmingly decorated restaurant.
Joash Proctor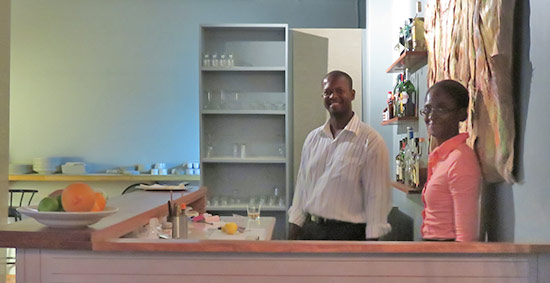 The Setting
De Cuisine seats 16 persons, eight on the terrace and eight indoors.
The Entrance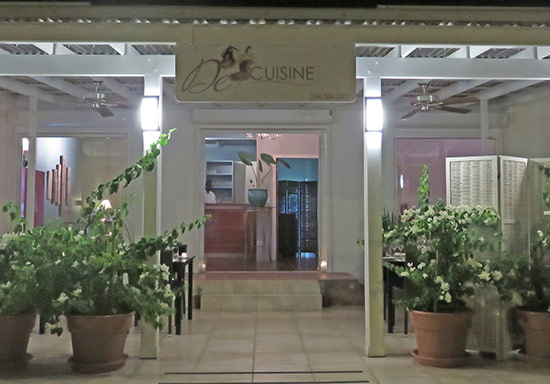 The white walls, white screens and white bougainvillea on the terrace are all well arranged to soak up the surrounding noises and they disguise the sense that the terrace is on a main road in Anguilla. Tip: If you sit on the most westerly seating on the terrace your eye will catch the twinkling lights of St. Martin in the distance.
Interior Dining at De Cuisine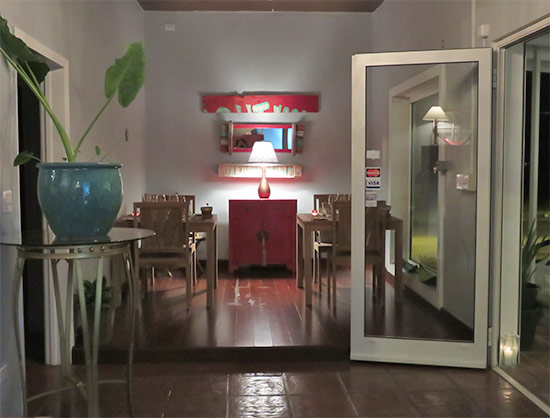 This night we sat outside on the terrace where a cool and gentle breeze made for a comfortable experience. You won't hear the sea at De Cuisine but you will be treated to flavors that will keep your taste buds lively and looking forward to the next course.
Terrace at De Cuisine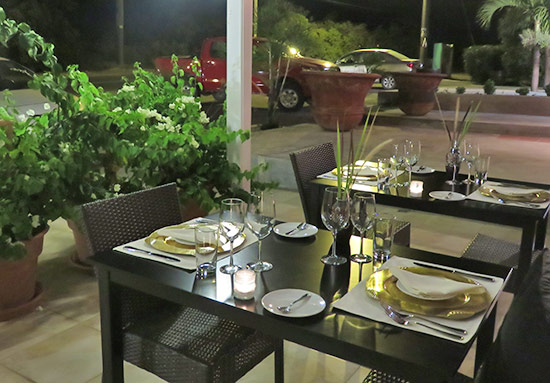 "De" Cuisine
Denise had just changed her menu, it does change depending on the local market availability, and we were in for an exquisite dining experience.
Joash was quick to take our drink orders and before we knew it we were treated to a crudité plate with eggplant aioli and cornbread.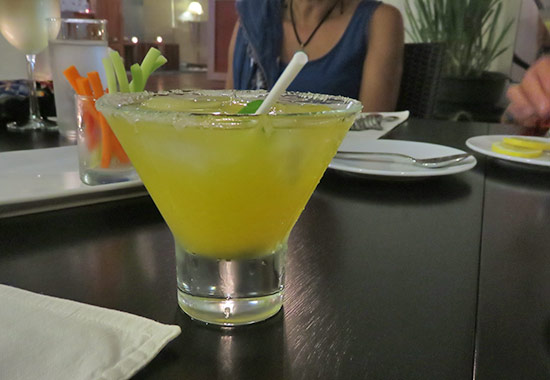 While we waited for our first course, our waitress brought us an amuse-bouche of purée parsnips and lobster. Parsnips are not my favorite vegetable but this was delightful. Light and flavorful, something I would definitely order if it was on the menu.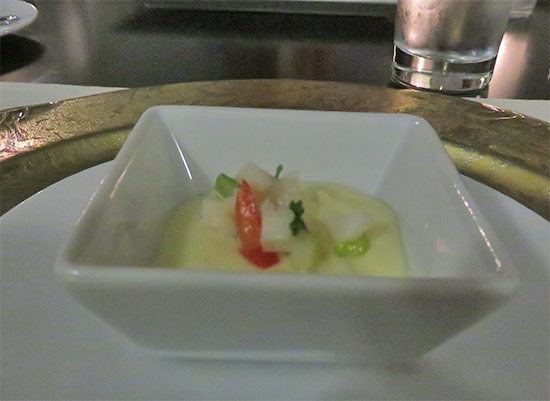 Starters
As a starter I chose the Red Cooked Pork Belly and Tuna Tartare with mango, cucumber, sweet soy, ginger and poached pomme surette. The pork belly and tuna tartare blended well together making for a flavorful and delightful first course.
Tuna Tartare and Pork Belly Appetizer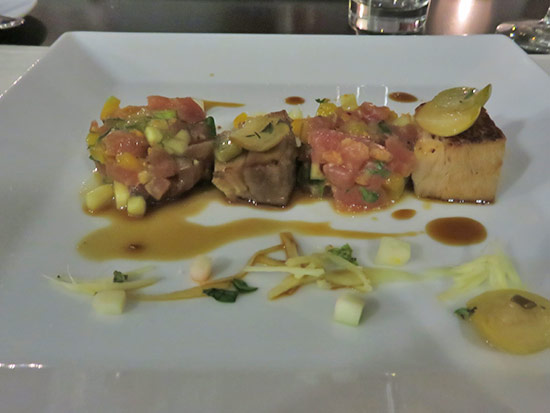 Small green pomme surettes, locally picked, were placed on top of the pork belly adding an ever so slightly fruity texture to the sweet soy sauce. My friends chose the foie gras mousse, spiced mango preserve with hibiscus reduction which they could barely bring themselves to offer a taste.
Foie Gras Mousse

Mains
For the main course I chose lamb loin, rillette of lamb, honey glazed eggplant, brunoised roasted carrots, onions and garlic with fresh mint yogurt. The lamb loin was done to perfection, exactly as requested, medium rare.
The Lamb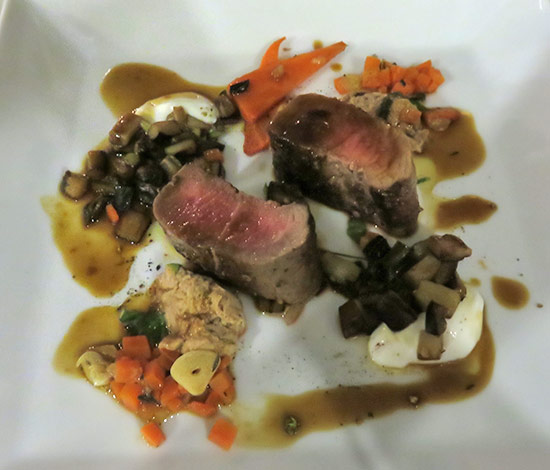 The combination of all these items made the meal enjoyable and I looked forward to different tastes as the rillette of lamb was served with the brunoised roasted carrots on the side, while the honey glazed eggplant and fresh mint yogurt also offered a separate taste experience.
Dessert
Finally dessert, Chocolate Decadence, a flourless chocolate cake with orange cream, coffee syrup and little semifreddo made for a tasty finale to this meal.
Chocolate Decadence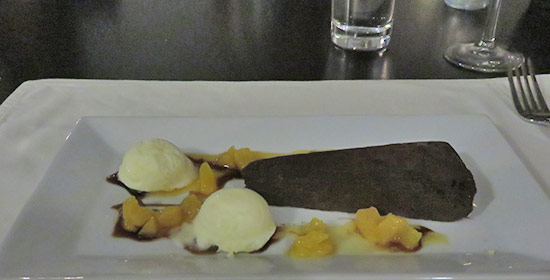 My friends ordered the Goat Cheese Cake accented with pomegranate which I was told was a definite repeat.
De Cuisine offers a 3 course prix fixe with 1 starter, 1 fish or meat and 1 dessert. As well there is a 4 course prix fixe with 1 starter, 1 fish, 1 meat and 1 dessert. This night a three course prix fix was 69.00 and 4 course 85.00
An Excellent Culinary Experience with Good Friends


Call ahead for reservations and be prepared for a fresh culinary experience.
Map, Hours & Contact
Hours: Nightly for dinner. Closed Wednesdays, Thursdays & Sundays.
Tel: 264-584-3431