Combing Anguilla's Beaches for the Best
Anguilla Beach Lovers brings you the latest additions to one family's experiences of the "best of all things Anguillian."

If you like this e-zine,, please do a friend and me a big favor and "pay it forward."

If a friend did forward this to you and if you like what you read, please subscribe by visiting...
---
Issue #092, November 23, 2015
From "the bend" at Shoal Bay East...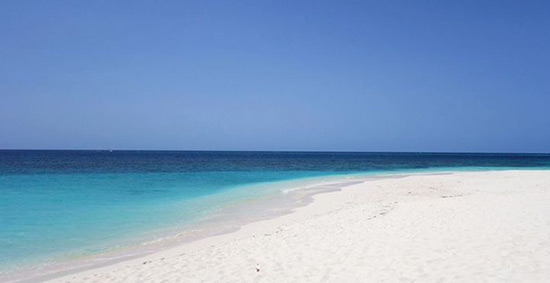 ... to the curves of Shoal Bay West...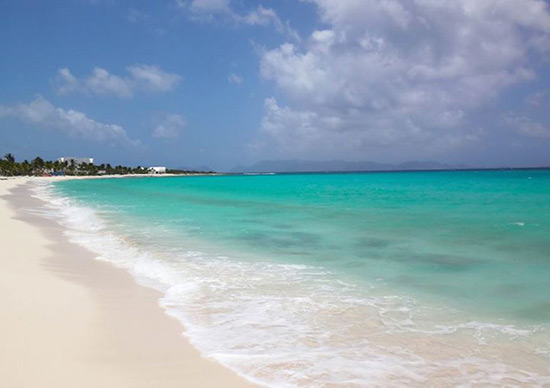 ... there is no doubt about it, high season is upon us!
That familiar spirit of excitement is in the air, with lots of new changes on-island. Zemi Beach is ready to open for February 2016, The Restaurant at Malliouhana has welcomed a brand new Executive Chef, Chef Ortiz, and even the late night ferry from SXM to Anguilla has been re-instated.
Before we jump into all of Anguilla's latest news, let's take a moment to marvel one aspect of Anguilla that never changes... its tranquil beaches.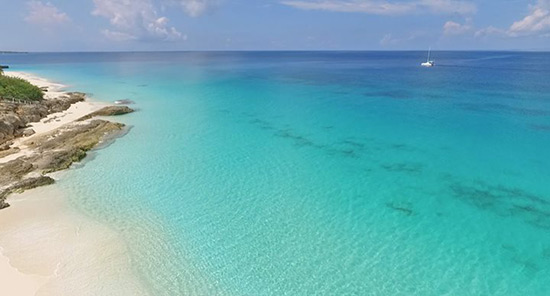 We recently ventured down to one of Anguilla's most magnificent yet rarely visited beaches, Long Bay. Located on the island's Northwestern shore, this beach is true to its name. Long and wide, it is more hidden and is often overlooked for its more popular neighbor, Meads Bay.
It is the perfect "escape" for a picnic and a quiet day at the beach. Click here to "fly over" Long Bay!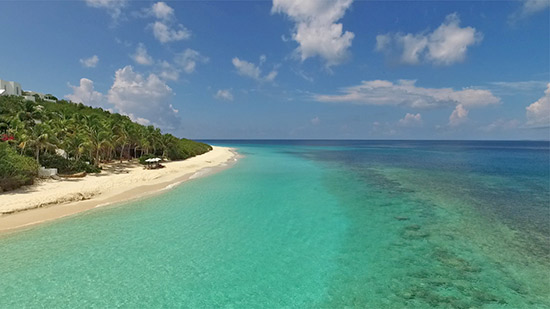 ---
The Anguilla Card 2016:
Enjoy 13 Months of Savings For the Price of 12!
It is hard to believe that we are already going into Year 3 of the Anguilla Card. It has been an exciting journey, growing the Card year on year, adding value, and bringing you more savings!
Recently, Card Holder, Beth sent in this kind note...
"We are able to extend our trip to 2 weeks from the prior 10 ten days' visit due to the savings from using the Anguilla card. We frequent the places where the card is accepted, so it is a WIN-WIN situation. You have given quite a boost to tourism which benefits the kind and welcoming people of this beautiful island."
... knowing that the Anguilla Card makes that kind of difference means everything! Thank you, Beth for your email :-)
And, thank you for all of your support and kind words over the past 2 years. To celebrate Year 3, we're offering 13 months of the Card for the price of 12…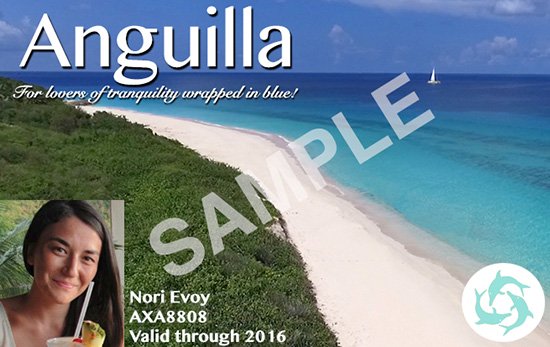 Normally valid for 1 year, purchase your 2016 Anguilla Card (new design in the photo above) before December 1st and enjoy 13 months of savings!
Stay tuned for our big re-launch on December 1st, including new Card Partners, contests and NEW exclusive Card Holder features. I couldn't be more excited to share what we have in store :-)
In the meantime, to get 1 month free, click here to place your order.
---
Glass Bottom Kayaking With Anguilla Watersports
New for the 2016 season, premier watersports business, Anguilla Watersports has introduced glass bottom kayaks to Anguilla!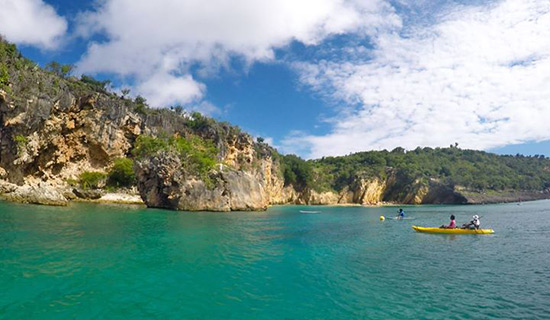 Forever curious about life under the sea, we met up with Judd, Angela and the rest of the Anguilla Watersports team to take a glimpse at ocean life in Crocus Bay and Little Bay.
Sturdy and strong, their Anguilla kayak rentals make for an easy, effortless paddle to Little Bay, complete with cushioned seating.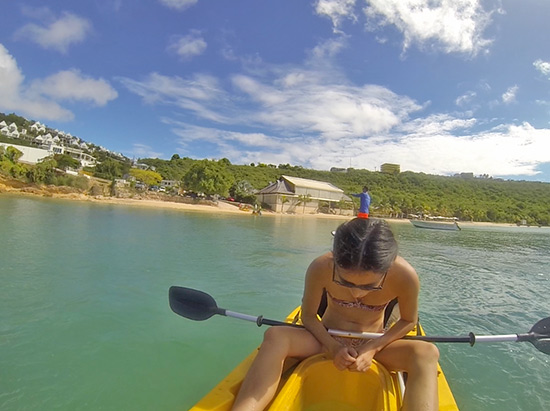 On our journey, Judd pointed out areas where Crocus Bay's waters touch its sloping hillside. Many sea turtles and colorful, tropical fish call these calm, shallow waters home. Sure enough, we spotted all kinds of sea creatures through the kayak's observation decks.
Starfish...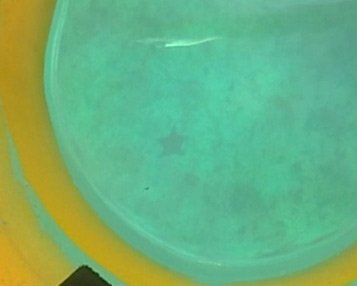 Is That Anguilla Watersports' Owner, Judd? ;-)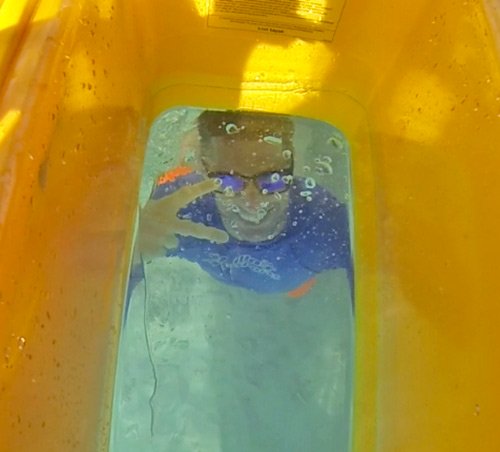 Nothing but Little Bay's cliffs ahead and to your right, and clear, blue sea and the horizon to your left, the scenery below and above their kayaks takes your breath away.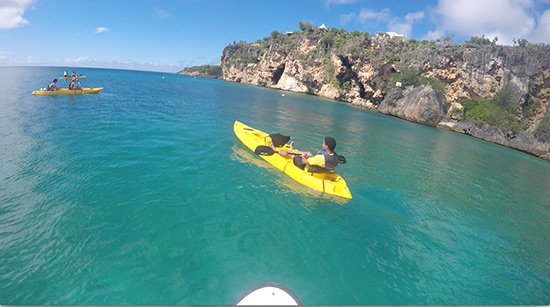 Click here to get a feel for days spent ocean exploring with Anguilla Watersports.
For the full story on kayaking with Anguilla Watersports, click here.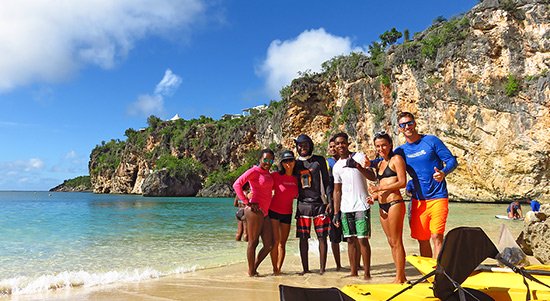 ---
A Pre-Opening Look at
Zemi Beach House Resort & Spa
Started in 2012, I am excited to announce that Zemi Beach House Resort & Spa's "finish line" is in sight. They have started taking reservations for their opening in February, 2016.
To get a feel for Zemi Beach House and what lies ahead, I met up with General Manager, Markus Laahanen and Director of Sales & Marketing, Sakari Malinen.
Set on Shoal Bay East, the property has 1,000 feet of oceanfront. Its lines begin at BeachCourt Villa and end where Anguilla heritage site and the Fountain Cave begins.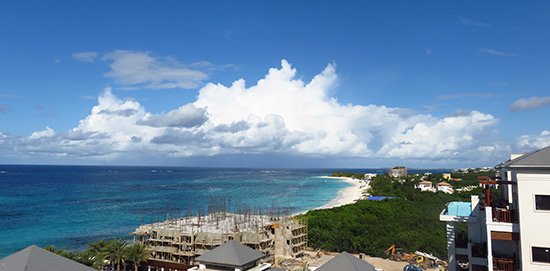 With buildings both directly on the sand and up in the hills, when the resort is fully complete it will be the second largest in Anguilla with 116 rooms.
Inside the property, modern design is mixed with touches reminiscent of exotic locales and historic times. The door to the resort's elegant "welcome area" itself is noteworthy, having been hand-carved in Bali and inspired by the owners' travels throughout Indonesia.
Adjacent to the welcome area, and well-suited to the decor established in the welcome area, is the spa.
A one of a kind spa in the Caribbean, this was originally the site of "the old Thai house," owned by a well-known man in Anguilla, the late Nick Douglas. His property was a collection of Thai buildings that were first built in Thailand in the 1800s and shipped to Anguilla.
Full of mystery, mysticism and intrigue, that spirit carries through to Zemi Beach's Thai House Spa.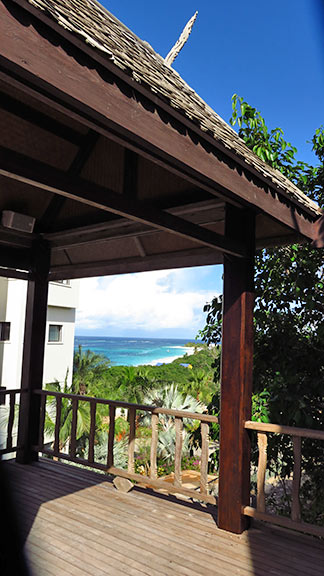 Further down from the promontory on which the Thai House Spa and welcome area sit are the remaining resort grounds. Zemi Beach House's rooms, suites, restaurants, pools and other social areas all tier down the hillside, right to the beach.
We ventured into the far western building to view their Deluxe Rooms...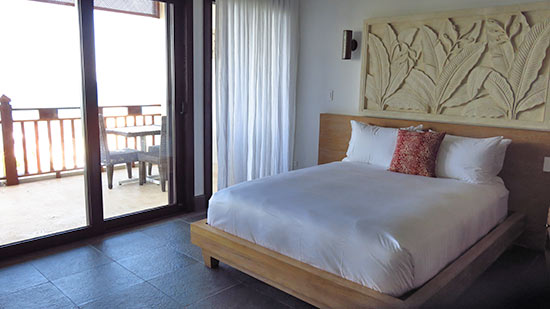 Superior Corner King Rooms...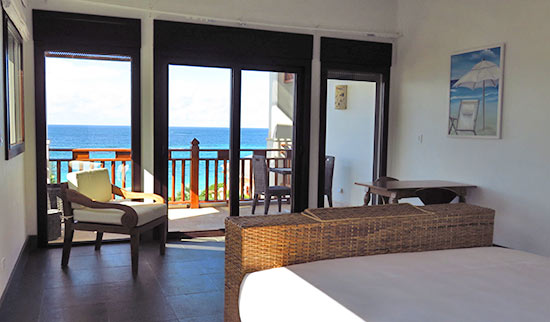 And Penthouse Suites...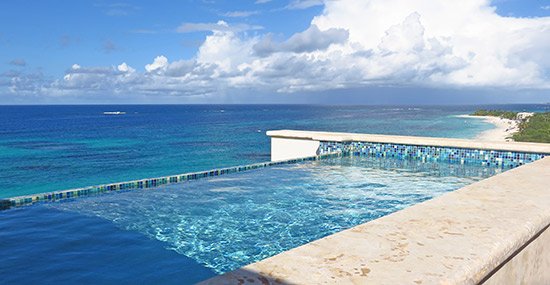 For the complete tour of these rooms and suites, and the rest of the property, click here.
---
An Affordable & Modern Villa Rental...
Little Butterfly
If you are thinking of visiting Anguilla this winter without breaking the bank, Little Butterfly is one option to surely consider.
Through rich, wooden gates, Little Butterfly Villa offers all of the comforts of "home" in a tropical setting and at a competitive rate of $242 per night ($352 for Holiday Season - Dec. 20-Jan. 5).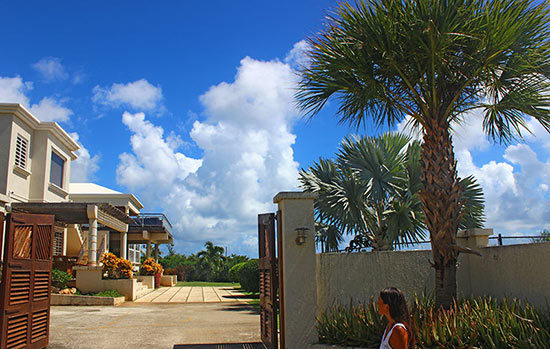 Set in a peaceful and private garden, Little Butterfly features a spacious deck overlooking St. Martin and the Caribbean Sea. Breezy and surrounded by lush gardens, the setting is relaxing and calm.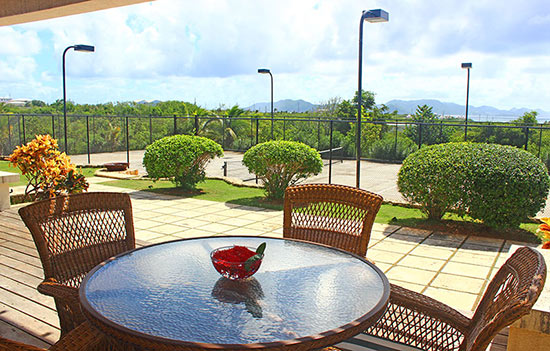 Inside, the villa is spacious and clean, with contemporary and high-end finishings. The kitchen and dining area has all of the appliances you need and the plush living room features a flatscreen TV (70+ channels).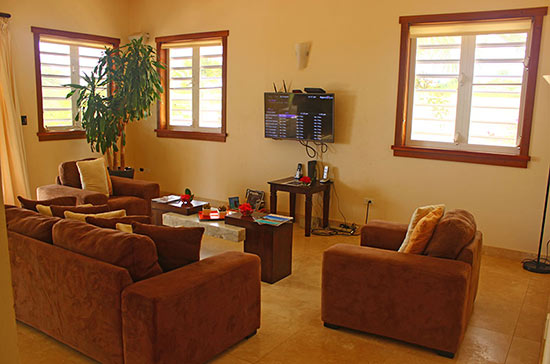 Click here to continue the tour of Little Butterfly.
---
Cha Cha San Introduces Crispy Duck Pancakes
Always innovating, Chef Ken has really outdone himself this time! NEW to the Cha Cha San menu is crispy duck pancakes.
Fried duck is served with slices of fresh cucumber, scallion and warm pancake wraps. Rolled together with Hoisin sauce, it's an exceptional dish, and the first of its kind in Anguilla.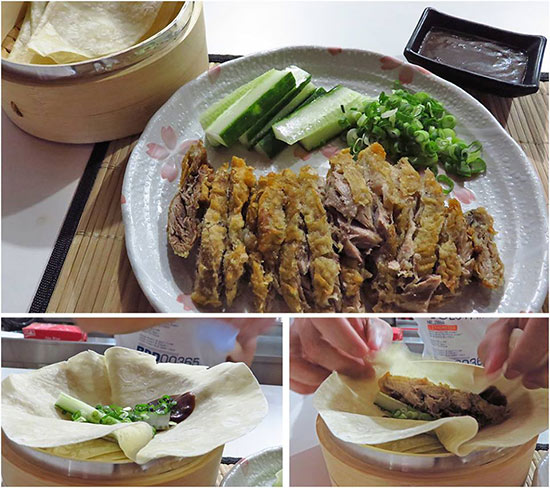 One of our family's very favorites when dining in London and New York City, we were overjoyed to see these savory duck pancakes on the menu during a recent visit to Cha Cha San. The flavors are simply sublime.
Thank you, Chef Ken!
---
The Restaurant at Malliouhana
Introduces Executive Chef Cupertino Ortiz
Known as the hotel and restaurant that set Caribbean luxury standards in the 1980s and 1990s, since Malliouhana's re-opening in 2014, the same careful attention to detail has continued.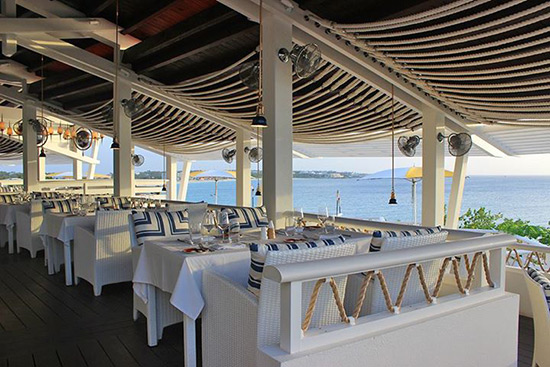 It's on that note that I'm delighted to announce that Malliouhana has introduced new Executive Chef Cupertino Ortiz.
Originally from Acapulco, Mexico, Chef Ortiz has brought new flavors and creations to five-star dining rooms in the most exclusive Caribbean resorts and hotels for years.
Down to earth and a pleasure to chat with, Chef Ortiz cares deeply about the final result of his dishes: the guest's dining experience. "A big part of that is having the best ingredients," Chef Ortiz explained. "We are emphasizing farm-to-table in every way, and at the same time, re-inventing classic dishes."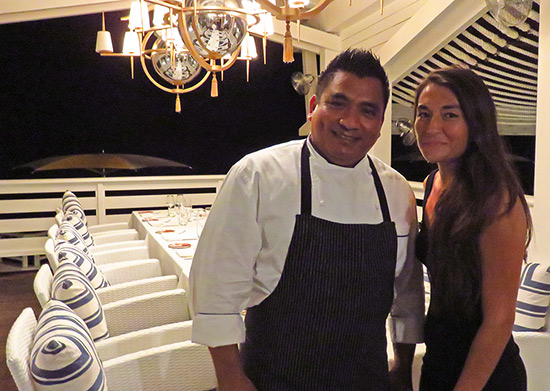 What does Chef Ortiz have in store for The Restaurant at Malliouhana? Here are just a few of Chef Ortiz's new dishes...
A new favorite dish of ours in Anguilla, Chef Ortiz's lobster salad is not to be missed. Thin slices of local lobster sit on a bed of turmeric remoulade. Local tomato salsa with black truffle vinaigrette top the lobster, with slices of cucumber forming its base. The flavors suit each other well.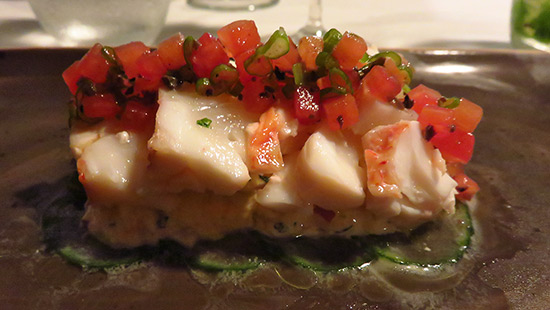 Grilled octopus with a chickpea ragu on puréed cauliflower. A curious combination, the flavors and textures impress yet again. Chef Ortiz combines corn, local tomatoes and chickpeas atop puréed cauliflower. The octopus? Grilled to perfection.
Special note: this dish pairs beautifully with a wine selected by expert Sommelier, Albert Lake. A Saint-Péray "Les Sauvagères" from Tain L'Hermitage, France.
Cauliflower gnocchi with lemon zest and pecorino cheese. House-made, the gnocchi melts in your mouth. The salty pecorino and cauliflower warm the soul as the lemon zest adds a refreshing touch. An indulgent dish, it is especially divine.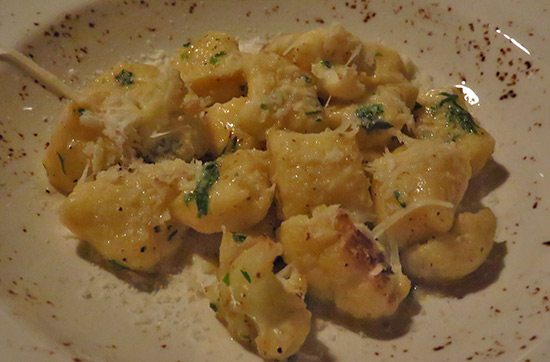 Roasted snapper with rice and peas, this dish is far from a standard snapper with rice and peas. A fresh take on a classic dish, the snapper is perfectly roasted. As your fork penetrates the exterior of crisp skin, soft, white flakes of snapper gently pull apart inside. The rice and peas almost steals the show, enriched with sizable pieces of conch and squid ink.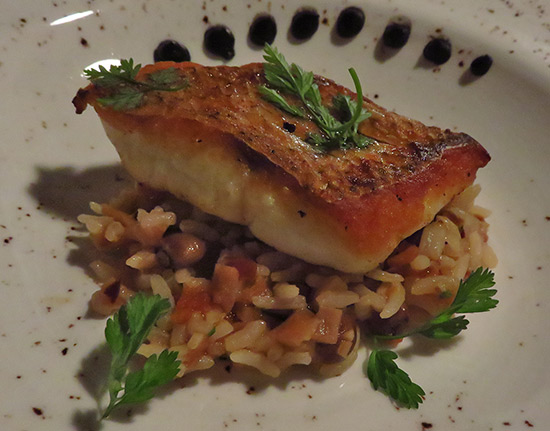 Chef Ortiz is bringing classic dishes back to the fine dining atmosphere at Malliouhana. Refined, with modern touches and taking innovative risks that more than pay off, Chef Ortiz's specials complement the original spirit of Malliouhana.
NOTE: These dishes are not on Malliouhana's regular menu. They are part of Chef Ortiz's "special menu." Just ask your waitress for the special menu.
More on Executive Chef Ortiz here
---
What Else is New?
Carimar Beach Club Welcomes New General Manager, Rolf Masshardt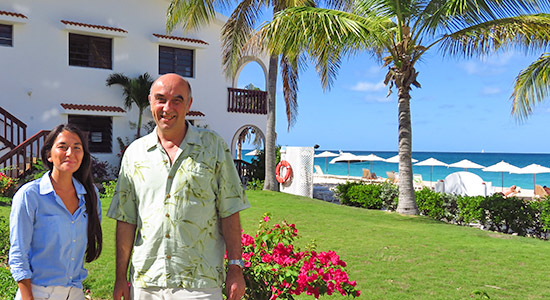 No stranger to Anguilla, Mr. Rolf Masshardt has returned to Meads Bay as Carimar Beach Club's new General Manager!
You may remember Rolf Masshardt as he and his wife owned the original La Sirena and lived in Anguilla for nearly 20 years. In recent times, he has managed boutique hotels in his home country, Switzerland.
An interesting man with a world of experience behind him, join me in welcoming Rolf Masshardt!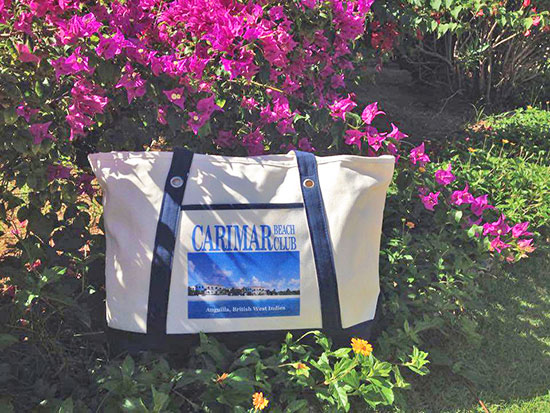 Also new to Carimar for the 2016 season are beautiful, beachy tote bags!
Durable, spacious and with a design reminiscent of the beach, now you can bring the warm memories of Carimar home, and with you wherever you go :-)
They can be purchased at Carimar for $30.
More on Carimar's signature tote bags.
---
More News:
---
Golf in Paradise For FREE with Tequila Sunrise Villa's Winter Special
I am excited to announce that for all new bookings this January, February and March Tequila Sunrise Villa is including a FREE round of golf at leading Caribbean course, CuisinArt Golf Course!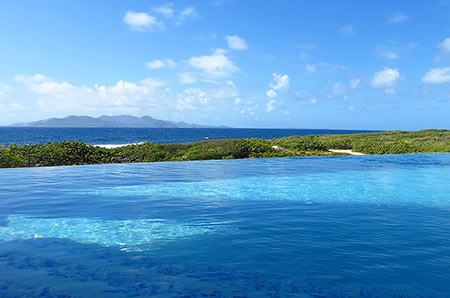 The luxury villa that truly offers it all, Tequila Sunrise Villa never ceases to impress!
Beat the cold and snow, and golf in paradise instead :-)
More on Tequila Sunrise Villa here.
---
That's all for now! We will be hard at work, putting the finishing touches on the 2016 Anguilla Card this week.
Until the big release on December 1st, here's wishing you a lovely end of November and a very Happy Thanksgiving,
Nori
Anguilla Beaches Home Page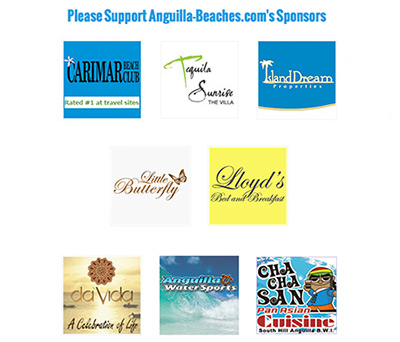 ---