The Restaurant at Malliouhana Welcomes
New Executive Chef Cupertino Ortiz
Update 2019: The Restaurant at Malliouhana is now Cafe Celeste with award-winning Chef Jusman So. More on Cafe Celeste and Chef Jusman here.

Update 2016: Executive Chef Cupertino Ortiz presents his full, signature menu.
There is no other way to say it. The Restaurant at Malliouhana simply takes your breath away.
The Restaurant at Malliouhana's Elegant Dining Room

A combination of elegant setting, excellent cuisine and wines and well-timed service, Malliouhana more than lives up to its reputation.
Known as the hotel and restaurant that set Caribbean luxury standards in the 1980s and 1990s, since its re-opening in 2014, the same careful attention to detail has continued.
It's on that note that Malliouhana has introduced new Executive Chef Cupertino Ortiz.
Meet Executive Chef Cupertino Ortiz
Originally from Acapulco, Mexico, Chef Ortiz has brought new flavors and creations to five-star dining rooms in the most exclusive Caribbean resorts and hotels for years.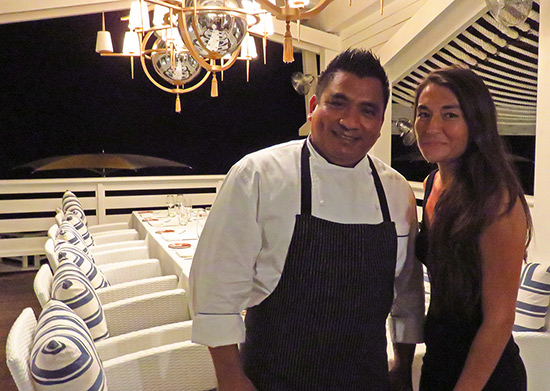 Viceroy's Sugar Beach in St. Lucia and the Rosewood at Baha Mar in the Bahamas are just two of the prestigious kitchens over which he has presided. From high-end resorts in the Caribbean, to elite properties in Nicaragua and Cabo San Lucas, he has a reputation for delighting discerning guests.
It is no surprise to see such an accomplished chef step into Malliouhana's gourmet kitchen. Down to earth and a pleasure to chat with, Chef Ortiz cares deeply about the final result of his dishes: the guest's dining experience.
"A big part of that is having the best ingredients," Chef Ortiz explained. "We are emphasizing farm-to-table in every way, and at the same time, re-inventing classic dishes."
It was time to find out what Chef Ortiz has in store for The Restaurant at Malliouhana...
Delightful Beginnings
First? Pre-dinner Malliouhana cocktails.
The Old Havana & The Coconut-Passion Martini
Malliouhana has one of the island's most varied and interesting collections of rums and wines, the rums beautifully showcased in their rum cocktails. The Old Havana is a particularly light cocktail, the prosecco and floral bitters gently contrasting the 7 year old Havana rum. Mint and lime juice complete the drink.
(More on Malliouhana's rums here.)
Another favorite is the Coconut-Passion martini, made with Stoli vanilla, coconut water and passion fruit puree.
In such a timeless setting, and overlooking Meads Bay, there is no better way to begin a meal.
Warm, house-made sourdough and focaccia, with lightly salted butter, paired nicely with the aperitifs.
And then, an amuse bouche of locally sourced mango wrapped with prosciutto in a light mint sauce.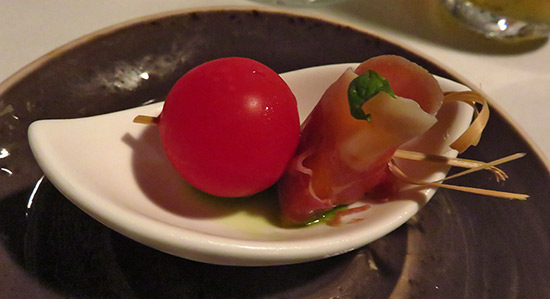 The First Course
Now Chef Ortiz's skills are truly on display!
Grilled Kale Salad with Crispy Corn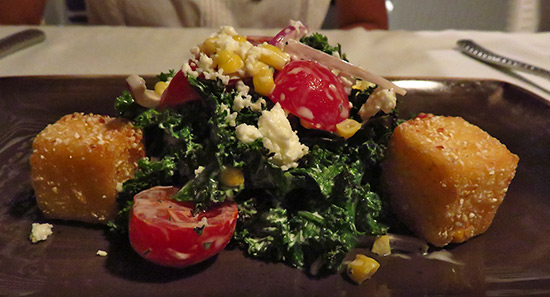 Charcoal grilled kale, dotted with cherry tomatoes served with crispy corn fritters and topped with aged cheddar.
Chef Ortiz prepares kale in a novel and most appealing way. Each bite is full of smoky, charcoal flavor. The light crispy corn adds a pleasant extra crunch to the savory salad.
Lobster Salad with Turmeric Remoulade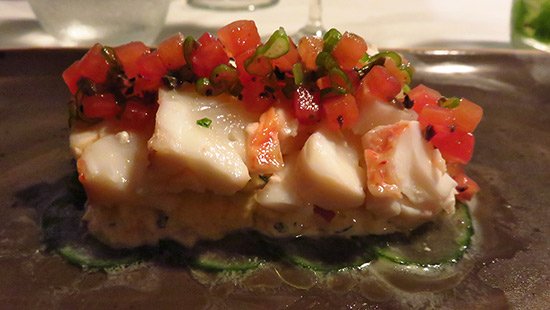 A new favorite dish of ours in Anguilla, Chef Ortiz's lobster salad is not to be missed. Thin slices of local lobster sit on a bed of turmeric remoulade. Local tomato salsa with black truffle vinaigrette top the lobster, with slices of cucumber forming its base. The flavors suit each other well.
Light and more delicate, like the appetizers themselves, these dishes go nicely with accompanying wine, a Willm Pinot Gris from Alsace, France. Near the German border, the Pinot Gris ever so slightly resembles a Riesling.
Second Course
Appetizers finished, the second, and more robust, course follows.
Grilled octopus with a chickpea ragu on puréed cauliflower.
Octopus with a Chickpea Ragu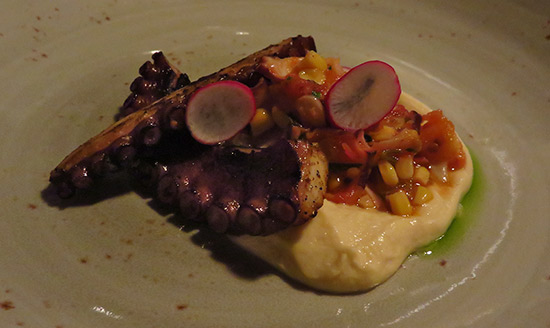 A curious combination, the flavors and textures impress yet again.
Chef Ortiz combines corn, local tomatoes and chickpeas atop puréed cauliflower. The octopus? Grilled to perfection.
When it comes to the grilled pork belly, Chef Ortiz offsets its rich essence with light, compressed watermelon and an arugula salad, all locally-sourced.
Grilled Pork Belly and Compressed Watermelon

These dishes pair beautifully with a wine selected by expert Sommelier, Albert Lake. A Saint-Péray "Les Sauvagères" from Tain L'Hermitage, France. Drier than the Pinot Gris, this was the favorite of the evening.
Third Course
Two of the most interesting dishes followed the second course.
First, cauliflower gnocchi with lemon zest and pecorino cheese.
Cauliflower Gnocchi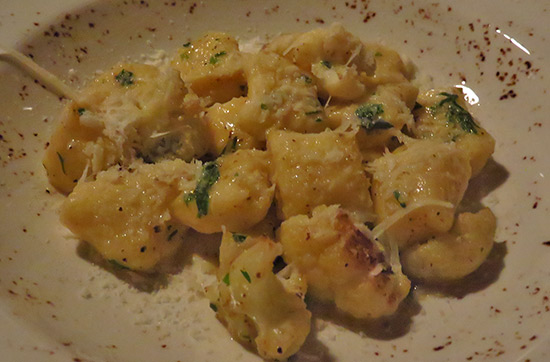 House-made, the gnocchi melts in your mouth. The salty pecorino and cauliflower warm the soul as the lemon zest adds a refreshing touch.
An indulgent dish, it is especially divine.
A lighter option is Chef Ortiz's roasted snapper with rice and peas. It is far from a standard snapper with rice and peas.
Grilled Snapper with Rice & Peas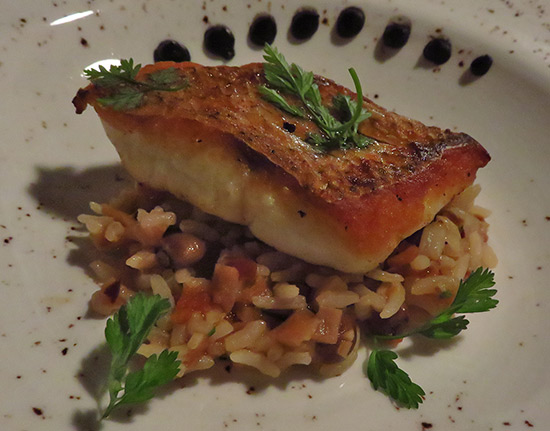 A fresh take on a classic dish, the snapper is perfectly roasted. As your fork penetrates the exterior of crisp skin, soft, white flakes of snapper gently pull apart inside.
The rice and peas almost steals the show, enriched with sizable pieces of conch and squid ink.
Sommelier Albert Lake suggests a De Loach Chardonnay from the Russian River Valley to go with the snapper and gnocchi. Flavorful and rich, like these main courses, they are expertly matched.
Sweet Endings & Special Notes
Finally, the evening ended with a classic Malliouhana dessert, "S'Mores." A creative take on a favorite, crispy marshmallow is served with warm chocolate cake and homemade ice cream.
Chef Ortiz is bringing classic dishes back to the fine dining atmosphere at Malliouhana. Refined, with modern touches and taking innovative risks that more than pay off, Chef Ortiz's specials complement the original spirit of Malliouhana.
It has been a pleasure, Chef Ortiz. We look forward to dining with you again!
Insider Tip: These dishes (with the exception of the dessert) are not currently on Malliouhana's regular menu. They are nightly specials and also available upon request. Just ask for "Chef Ortiz's special menu."
Also highly recommended is experienced Sommelier Albert Lake's suggested wine pairings. With a world of experience behind him, Sommelier Albert selects each wine according to the dish. His selections are always spot-on.
To make a reservation at Malliouhana, call: 264-497-6111