The Restaurant at Malliouhana...
Executive Chef Cupertino Ortiz's Signature Menu
Update 2019: Malliouhana has introduced a brand NEW Chef, Chef Jusman So. The restaurant is now called Cafe Celeste. More on Cafe Celeste and Chef Jusman So.

Update 2016: Since this article was written, Malliouhana has introduced Executive Chef Marc Alvarez. More on Chef Marc's menu at Malliouhana here.
The Restaurant at Malliouhana's Executive Chef Cupertino Ortiz is igniting a fire across Anguilla's high-end dining scene.
Chef Ortiz was first introduced to The Restaurant at Malliouhana in late 2015. His dishes were available as a special Chef's menu, which was offered in addition to the restaurant's previous, original menu. Today, his years of experience, precision, skill and drive to impress taste buds can be experienced in-full with his signature menu.
Overlooking the enchanting Meads Bay, Malliouhana's refined setting and soothing scenery is in a league of its own.
Magical Moon & Mega Yacht Seen From The Restaurant at Malliouhana

A sliver of the moon overhead... a mega yacht slowly revolving in the bay... one of the most impressive menus in-hand...
And, I am not just referring to Chef Ortiz's dishes on the menu! The physical menu itself is a brilliant and thoughtful touch.
Malliouhana's Back-Lit LED Menus

Back-lit by LED, Malliouhana's dinner menu glows upon opening. No more straining to read menus in the dark!
Already impressed by the menu, the menu itself is organized in an intriguing manner, as follows...
"Smalls"
Chef Ortiz opens dinner at Malliouhana with a selection of the finest delicacies that you will find on-island. Referred to as "Smalls," the dishes' outstanding quality proves that good things do come in small packages.
Plates meant for sharing include Osetra caviar, grilled sardines (with fleur de sel) and stone crab claws.
One bite of the chilled stone crab claws and their fresh, pure essence takes you to a wind-swept, seaside dock. You can almost hear the seagulls calling. They are best enjoyed with a squeeze of lemon and a dip in the creamy dijon mustard.
Stone Crab Claws

The "Rock Shrimp Pot" is another "Small" dish that is not to be missed.
Rock Shrimp Pot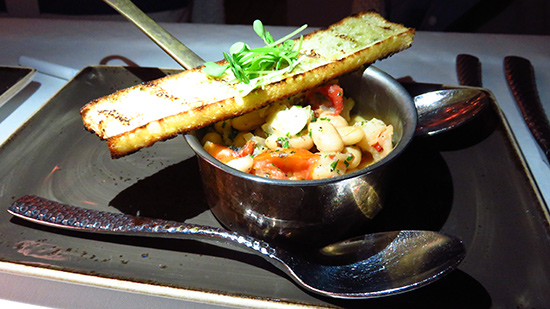 Served in its sauce pan, rock shrimp, white beans, tomatoes and onions are splashed with a seafood broth and garnished with garlic crouton and parsley. With a full-bodied seafood flavor, this dish was one of our favorites of the evening. It warms your soul.
The final "Small" menu item takes the entire menu a level higher... the "Cinco Jotas Ham."
Slicing The Cinco Jotas Ham

80g of the finest Jamón Ibérico de Bellota is sliced thin with great precision before your eyes. "Cinco Jotas," the producer is world-famous for their "100% Ibérico" pigs, acorn-fed.
It is defined by its delicate (less salty) taste, one which many describe as intricate due to the pig's diet. Chef Ortiz serves it atop grilled sourdough bread with sun-dried tomatoes. Simply, heavenly.
The Cinco Jotas Appetizer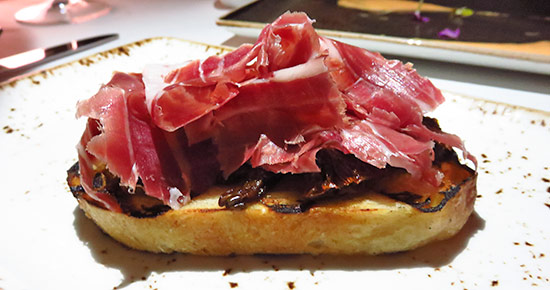 There's nothing like this in Anguilla...
My Dad Biting Into The Cino Jotas Ham

Classic delicacies, all expertly prepared.
Chef Ortiz's menu transitions from "Smalls" to dishes that are more involved, "Starters."
Starters
We began with the impeccably presented foie gras.
Hudson Valley Foie Gras Au Torchon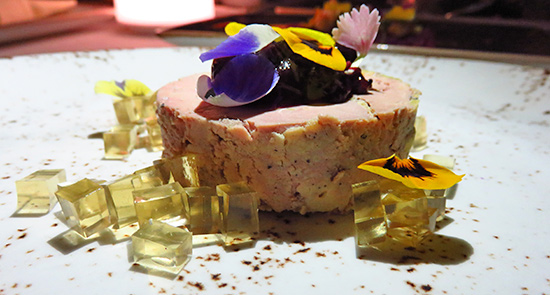 Hailing from the Hudson Valley, this foie gras "au torchon" (marinated in Sauternes wine) goes down smooth. A gentler flavor, it is accompanied by Sauternes jelly and topped with blueberries.
Chef serves it with a side of homemade and fluffy toasted brioche.
The Brioche

Since Malliouhana re-opened in 2014, it has been home to the best octopus on the island. That remains true with this magnificent appetizer, "CO" Octopus and Avocado Tartare.
CO Octopus and Avocado Tartare

The raw octopus is tender, without being chewy, and firm, without being hard. Sitting on a bed of avocado, the dish is flavored with sharp shallot, lemon confit and mint. As you move to the middle of the dish, spicier flavors (Serrano peppers) emerge. A refreshing and exciting appetizer. It was another evening favorite.
For a burst of color and creativity, try Chef's beet-pickled snapper carpaccio.
Beet-Pickled Snapper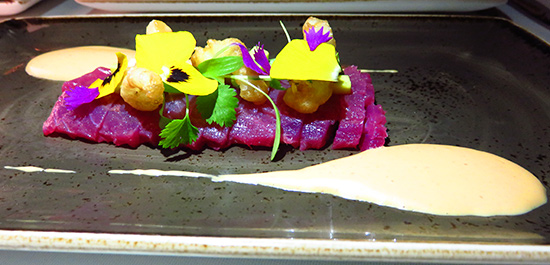 "Home cured," local red snapper is sliced thin and pickled with beets. Crispy calamari gently sits atop the snapper alongside cubes of avocado. Lemon oil and a Sriracha aioli is served on the side, if you want to spice up your snapper.
Green & Clean
For lighter appetizers that emphasize the use of fresh produce, refer to the menu's "Green & Clean" section.
Chef Ortiz dresses up menu staples such as a Niçoise salad with olive oil-poached big eye tuna and organic quail egg, and turns a salad of burrata and tomato into a work of art.
Burrata & Local Tomato

Creamy burrata is placed over local tomatoes and "petit greens." The dish is finished with aged balsamic and a delightful crunch of toasted crostini.
In addition to salads, there are two soups on the menu, one hot (rock lobster and piquillo) and one cold (local mango).
Delicacies and appetizers devoured, it was over to page two of the menu. The main courses are split into three sections. The first...
Pasta/Risotto
Chef Ortiz brings gourmet and innovative touches to classic pasta dishes. For example, Garganelli carbonara is prepared with guanciale (instead of pancetta) and Chef's "Homemade Pappardelle" is a twist on the standard bolognese.
Homemade Pappardelle

Made that day, the thick Pappardelle noodles are velvety-soft and smooth. Sweet, braised short ribs, asparagus and pecorino cheese are folded into the pasta. The rich flavors are further enhanced by a shallot demi glaze.
If you prefer savory to sweet, the artichoke risotto is not to be overlooked.
Artichoke Risotto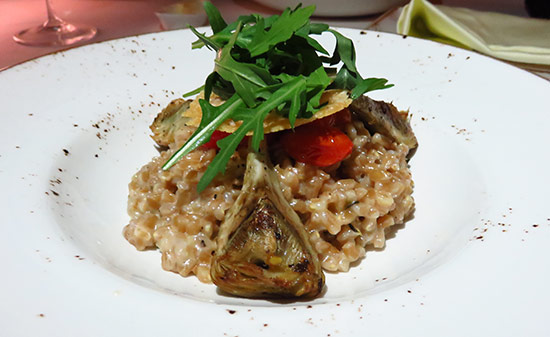 Chef Ortiz combines risotto with artichokes, roasted tomatoes, pecorino cheese and a beet root vinaigrette. The flavors complement the texture of the risotto. Topped with a parmesan crisp, each bite satisfies palates that favor the savory.
Large Plates
Organic chicken "Hainanese Style." Grilled rock lobster gratin. Hudson Valley duck "carnitas." Oven baked Scottish salmon. These are some of the choices on the "Large Plates" section of the menu, which focuses on fowl and seafood.
The sautéed snapper is noteworthy, especially if you love a building heat.
Snapper Bouillabaisse at Malliouhana

A modern and updated take on Bouillabaisse, snapper is served with rock shrimp, mussels, clams and calamari in a Bouillabaisse broth. The snapper itself is moist and flaky on the inside. Its skin, lightly salted and extra-crispy.
Caution: While not overly spicy at the start, the heat builds deliciously throughout the course!
Signature Cuts "To Share"
Just as Chef Ortiz's menu begins with bites fit for discerning gourmands, it ends on an equally gourmet note, this time of grand proportions.
Double lamb chop, prime dry-aged Tomahawk steak, Kurobuta pork chop and double entrecôte prime beef make up the final part of Chef Ortiz's menu. All "Signature Cuts" are served with Yukon gold potato gratin, French beans, wild mushrooms and a spicy Béarnaise sauce.
We went with my Dad's favorite, a Prime Dry-Aged Tomahawk steak.
Prime Dry-Aged Tomahawk Steak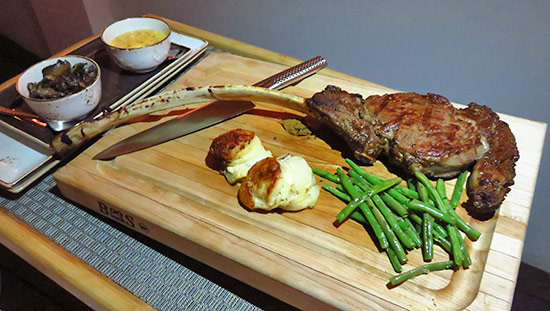 Rib-in, it is a perfect center cut of beef. Our mouths were watering from the moment it was brought to the table. Carved and plated before you, the presentation builds anticipation.
Carving The Tomahawk Steak

First taste? Dry-aged beef at its best.
Dry aged for 28 days, this was the star of our show. We savored each and every extra-tender piece. The garnishes complement well (the wild mushrooms being my favorite), without taking the limelight away from the expertly-grilled, quality beef.
Signature Cut of Tomahawk Steak Plated with Garnishes

Something Sweet
Dinners at Malliouhana always seem to come to a close too quickly. We were soon soaking in the last moments of the evening as we enjoyed the final course, dessert.
Stomachs protesting in fullness, I opted for a light dessert...
Thyme Parfait with Local Honey Ice Cream and Oatmeal Crumble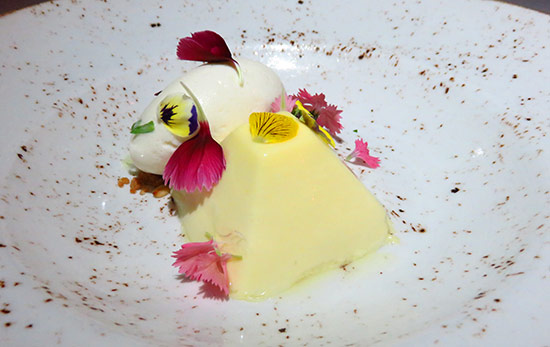 Fluffy and sweet, the thyme introduced an interesting and enjoyable flavor to each spoonful.
My Dad, who goes weak at the knees for a decadent chocolate dessert, went for the "coulant au chocolat," finished with tamarind ganache, chocolate dust, cocoa niblets and chocolate ice cream.
Coulant au Chocolat with Tamarind Ganache

A rich chocolate fondant cake, my Dad's choco-tooth was satisfied.
Desserts polished off, there was one last closing show before saying our good-bye's. The Gods of Serendipity seemed to congratulate Chef Ortiz on a tremendous meal, as the skies erupted with fireworks from neighboring Viceroy...
Fireworks, sounds of gently lapping waves, and a meal for the ages... "This is truly a magical moment," I thought. And, that reminds me...
Malliouhana is the site of our family's original favorite "magic moment". More than a decade later, this iconic hotel's restaurant is once again delivering unforgettable memories.
It is fair to say that Chef Ortiz has brought The Restaurant at Malliouhana close to, if not surpassing, the level of Malliouhana's original restaurant (a Michel Rostang restaurant). It will be interesting to read comparisons from fans of that restaurant of renown.
Anguilla's most luxurious resorts are now throwing down a glove of challenge to the very best of the non-resort restaurants.
The Restaurant at Malliouhana is open nightly for dinner. For reservations, call: 264-497-6111.
Save 10% at The Restaurant at Malliouhana
The Restaurant at Malliouhana is an Anguilla Card Partner. The Anguilla Card saves you 10% at over 65 Partners, including restaurants, hotels/villas, transportation and activities. Click here for more on the Anguilla Card.