Zemi Beach House...

The

Anguilla Resort on Shoal Bay East

Update 2016: Zemi Beach House has opened! We return for a post-opening look at Zemi Beach House.

Started in 2012, I am excited to announce that Zemi Beach House's "finish line" is in sight. A real estate development and luxury resort on a beach that has often been called "the best in the Caribbean," Shoal Bay East, Zemi Beach House will be opening their doors February, 2016.

To get a feel for this Anguilla resort and what lies ahead, I met up with General Manager, Markus Laahanen and Director of Sales & Marketing, Sakari Malinen.
Zemi Beach House's Setting
The View of Shoal Bay East
From Zemi Beach House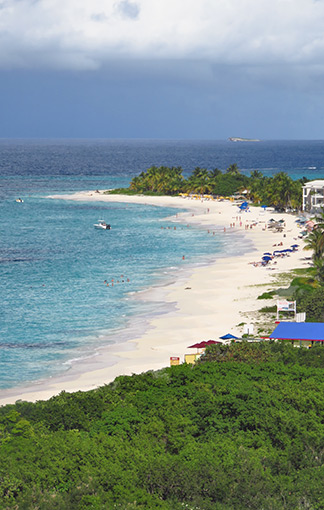 Shoal Bay East is one beach many of us know better than the back of our hands.
In recent years, though, with beach erosion on its far eastern half, and the closing of popular hotel, Ku, Shoal Bay East has changed over the years.
Now, it often goes overlooked, the whole East End less visited than it was in the earlier 2000s.
Zemi Beach House's addition of a luxury Anguilla resort is a promising sign that Shoal Bay East is on the rise once again.
Their resort tiers along the hillside of Shoal Bay's western half.
The property has 1,000 feet of oceanfront and its lines begin at BeachCourt Villa and end where Anguilla heritage site and the Fountain Cave begins.
With buildings both directly on the sand and up in the hills, when the resort is fully complete it will be the second largest in Anguilla with 129 rooms and 5 different dining areas/concepts (2 "official" restaurants).
Looking at Zemi Beach House from a distance and from within the property, there is no denying the commanding presence it will have on Shoal Bay East when its construction is complete. Until then, they will be opening as more of a "boutique resort" with 70 rooms and 2 on-site restaurants.
Let's take a look inside the property.
Zemi Beach House Grounds
When you arrive at Zemi Beach House you are whisked into their elegant yet low-key welcome area. Complimentary cocktail, refreshing face towel, here is where you first get acquainted with the resort. (Full reception is located further inside hotel grounds.)
Welcome Area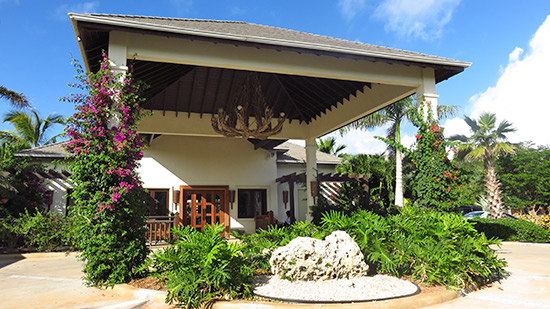 Modern design is mixed with touches reminiscent of exotic locales and historic times. The door to the welcome area itself is noteworthy, having been hand-carved in Bali and inspired by the owners' travels throughout Indonesia.
Hand-Carved, Balinese Door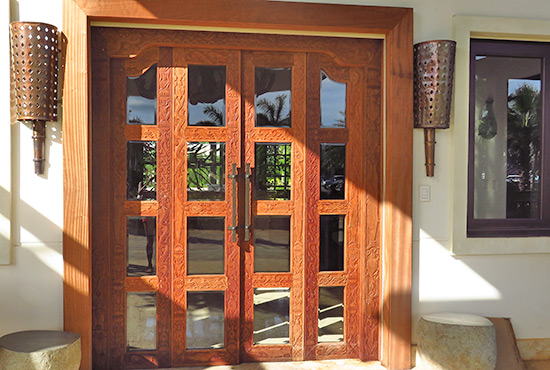 Though made in Bali, this door has a dual effect in that its design also evokes an integral part of Zemi Beach House... its tribute to Anguilla's Arawak heritage.
Zemi Beach House was named after religious stones, called "zemis," that were uncovered in the Fountain Cave. This cave sits just east of the resort and was once a religious site for Arawak Indians. Today, it is a nationally protected park and a significant cultural site.
Zemi Thai House Spa
Adjacent to the welcome area, and well-suited to the decor established in the welcome area, is the spa.
Zemi Thai House Spa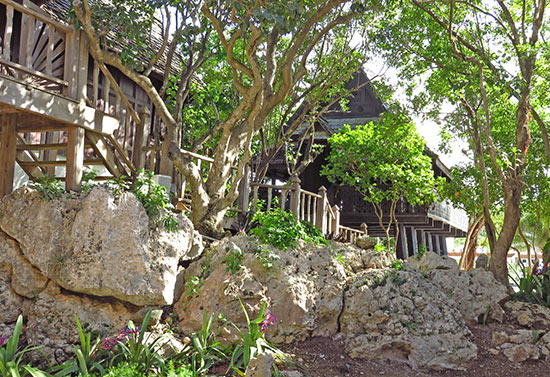 The View from Zemi Thai House Spa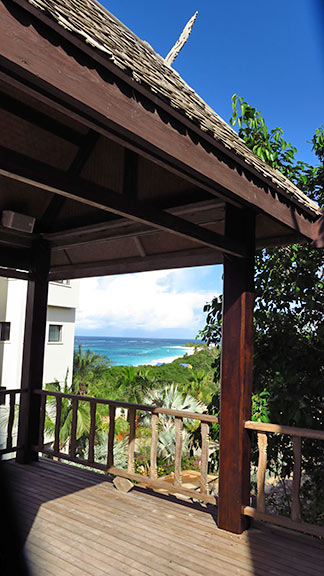 A one of a kind spa in the Caribbean, this was originally the site of "the old Thai house," owned by a well-known man in Anguilla, the late Nick Douglas.
His property was a collection of Thai buildings that were first built in Thailand in the 1800s and shipped to Anguilla.
Full of mystery, mysticism and intrigue, that spirit carries through to the Zemi Thai House Spa.
The frames of the original structures have all been maintained.
Their interiors have been revamped with modern touches and fixtures.
As you meander through the antique buildings, a soothing feeling overcomes you.
And, as you reach the second floor, the view of Shoal Bay East takes your breath away.
With such an interesting history, Zemi Thai House Spa is one of the most interesting parts of the resort. Its offerings are equally unique, complete with a new "House of Wellbeing" (featuring a Taino Bathing Ritual) and a variety of different treatments, including mud baths.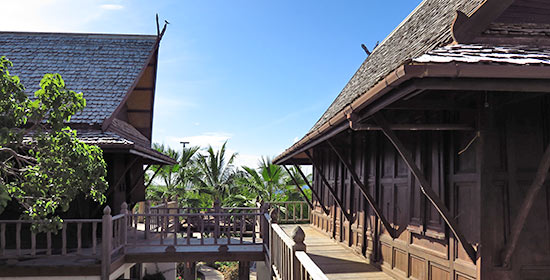 Rooms & Suites
Further down from the promontory on which the Zemi Thai House Spa and welcome area sit are the remaining resort grounds. Zemi Beach House's rooms and penthouse suites tier down the hillside, right to the beach where you find the resort's beachfront suites, restaurants and signature pool.
The first buildings you see as you make your way down the hillside are the 4 story buildings that house the resort's rooms and penthouse suites.
Overlooking Zemi Beach House From the Far-Western Building

We ventured into the far western building that overlooks both the hotel grounds (to the East) and the completed beachfront building (another one is currently under construction). Each building features a number of different types of rooms and suites with varying views (beachfront, oceanview and garden view), including...
Deluxe Rooms (600 square feet)
Superior & Premium Rooms (615-700 square feet) and Luxury Rooms (527 square feet)
Beachfront Suites (1,900-2,900 square feet)
Penthouse Suites (3,000 square feet)
Deluxe Rooms
First, the Deluxe Room.
Deluxe Room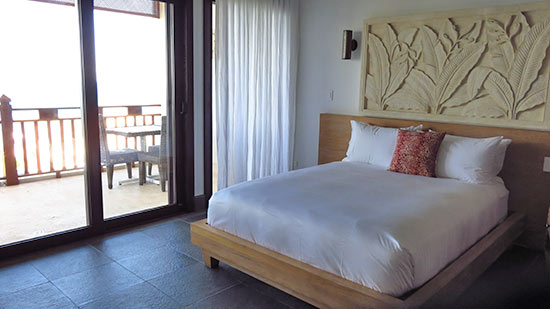 This hotel room has two queen beds (or one king bed) and a private balcony.
Deluxe Room View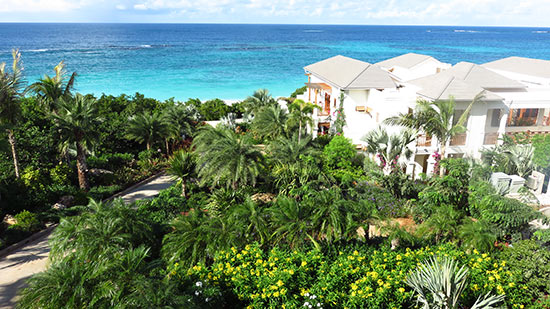 It also features a mini bar, Bluetooth sound system and a slick air conditioning system that is controlled by your body's movements around the room. A spacious bathroom is set behind the main room, complete with a walk-in shower and sink tub.
Deluxe Room Bathroom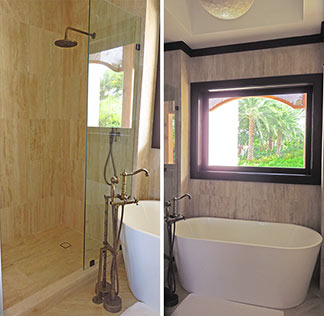 The bathroom's wood vessel sinks are impressive!
Wooden Sinks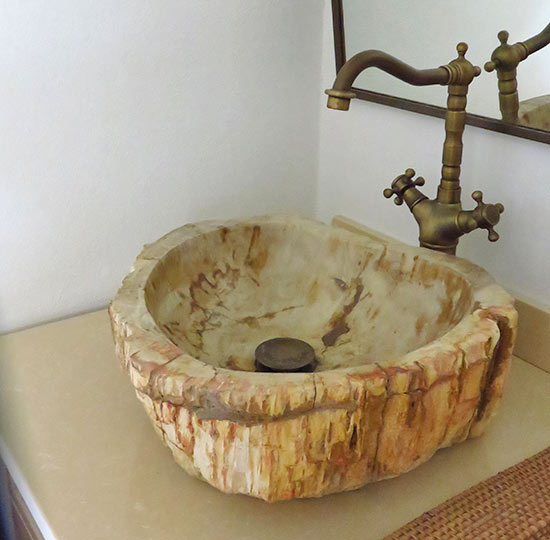 These rooms start at around $700/night in-season. Considering the space and non-guaranteed ocean view, it is a steep price. TIP: Upgrade to a Superior or Premium room. It is well worth the extra cost.
Superior & Premium Rooms and Luxury Rooms
Corner King Room at Zemi Beach House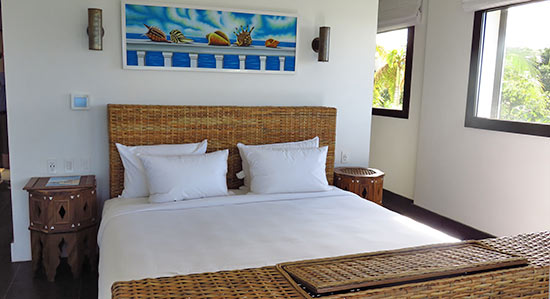 With one king bed, these rooms also guarantee an ocean view. (Upgrade to a "Premium Room" for the best ocean views.) The rooms set on the corner of the buildings have a view ahead and to the side. Far brighter and more spacious, request a corner room!
Corner Room View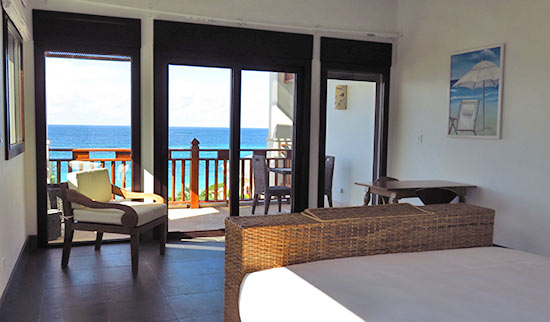 In addition to Superior and Premium rooms, Zemi Beach House also features Luxury Rooms. Smaller (527 square feet), they boast panoramic views of Shoal Bay East. And, there is no floor above your room and balcony.
The Suites
Finally, the suites. Zemi Beach House offers a number of 2-3 bedroom suites, including beachfront suites (your unit opens up right onto the beach if you are on the bottom floor or has unobstructed views if on a top floor) and penthouse suites (set back from the beach, they are on the top floor of Zemi Beach's hillside buildings).
The Penthouse Suites are especially impressive, with plenty of space and a plunge pool.
These can be booked with 2 or 3 bedrooms. One bedroom is set in the back of the suite (non-ocean view) and all others have an ocean view.
Penthouse Bedrooms

They are well-spaced-out, giving each bedroom a fair amount of privacy.
The Penthouse Suites also have a sizable living room and kitchen...
Penthouse Living Space & Kitchen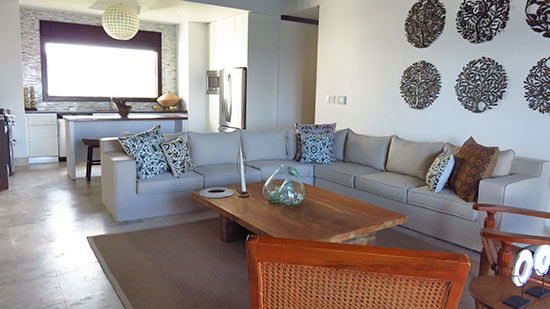 ... as well as ample outdoor dining space.
Outdoor Dining Space

The views are spectacular and open, as you look to the East...
Views Looking East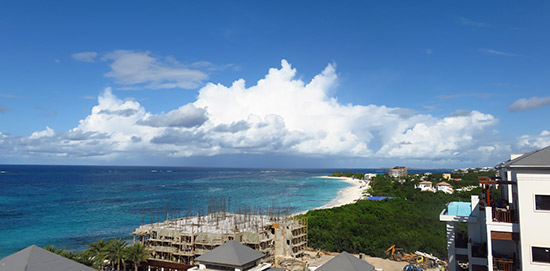 ... and straight ahead.
Views Looking Straight Ahead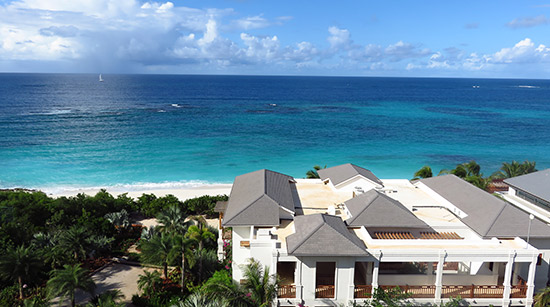 The jewel of the Penthouse Suites is the plunge pool, located on a private roof-top story.
The Penthouse Pool to the East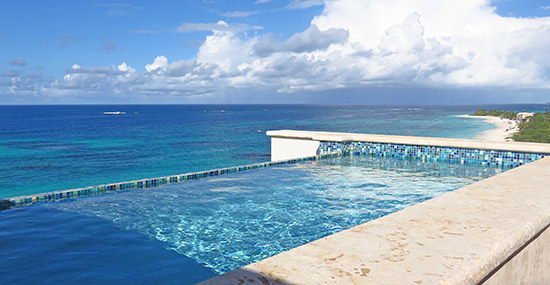 The blues fade into each other as you sit inside the plunge pool. Gazing east you can even see all the way to Little Scrub.
The Penthouse Pool View Ahead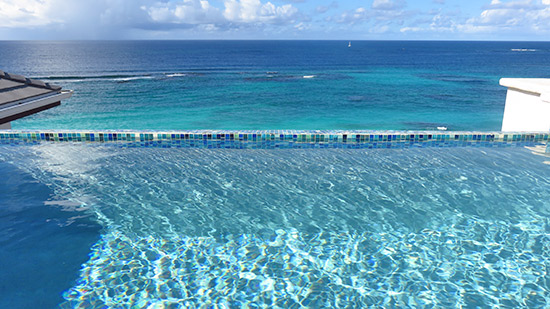 In-season, these suites start at around $1,800/night.
The non-beachfront penthouse suites are priced fairly, given the square footage, private pool and short walk to the beach.
In addition to the "standard" penthouse suites, Zemi Beach House has an extra-plush penthouse suite called the "Zemi Suite." More on the Zemi Suite here.
As for the beachfront suites?
The Intimate View From
a Second Storey Beachfront Suite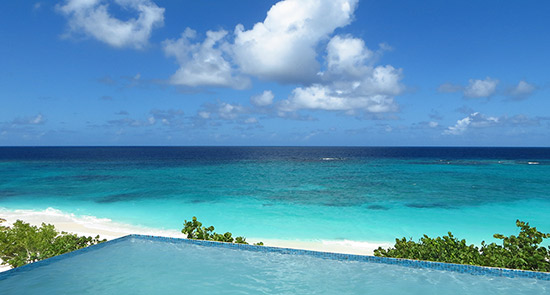 Right on the sands of Shoal Bay East, if it is beachfront you are seeking, the beachfront suites are worth the high price. Their beachfront units are not set back from the sand line, more of a rarity in hotel rooms and villas in Anguilla. The ground level suites let you step directly from your terrace onto sand.
More on Zemi Beach House's beachfront suites here.
Restaurants & Pool
Update 2016: Since this page was written, Zemi Beach House has opened. For more on their completed facilities (pools, restaurants, etc.), click here.
Most of the resort's social areas are currently under construction (NOTE: all construction will cease during their high-season opening and will resume in Summer 2016). For the opening in February 2016 the main pool and their beach restaurant, 20 Knots will be open. Both are on the beach.
The Main Pool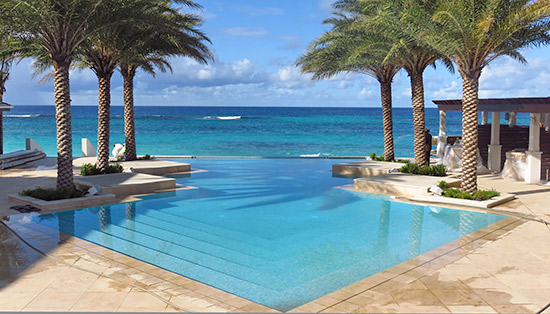 The 20 Knots restaurant will feature breakfast, lunch and dinner, with a focus on blending Caribbean and Mexican/Latin American flavors and styles. Their second, fine dining restaurant with an Asian flare is underway now. There will also be a rhum room to be used for rum tastings, conferences and other gatherings.
20 Knots, Adjacent to The Pool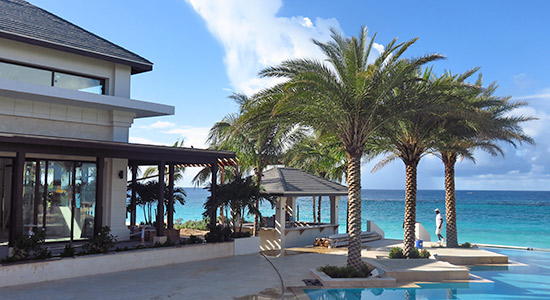 Overall First Impressions of Zemi Beach House
It is too early to say exactly how Zemi Beach House will feel when they have completed all 100+ rooms. There is the risk that the resort might feel too busy, given the number of rooms that are concentrated into a rather compact layout.
There are still many areas to be completed, of course, so it could very well have a more spacious feel than it seems now. Whatever the outcome, it is wonderful to see a new 5-star resort that stands out in 2 ways…
the unique blend of Caribbean and Asian influences
the only 5-star hotel on Shoal Bay East, it has a prime location.
Zemi Beach House started accepting bookings in November 2015, for February 2016 accommodation. TIPS: The Deluxe Rooms are a bit steep for what you get. Book the Superior Corner King rooms for better value. The oceanview suites and Penthouse Suites offer good value, especially when you compare the price to similarly ranked hotels and resorts. If price is no object, their beachfront suites exceed expectations.
When Zemi Beach House gets closer to opening, we will update this page with new photos and updates (subscribe to Anguilla Beach Lovers to receive the news). Congratulations to all who worked so hard to make this happen!
The East End is a fascinating side of Anguilla. I look forward to seeing it get the attention and visitors that it deserves :-)