---
Combing Anguilla's Beaches for the Best
Anguilla Beach Lovers brings you the latest additions to one family's experiences of the "best of all things Anguillian."
If you like this e-zine,, please do a friend a favor and "pay it forward."
If a friend did forward this to you and if you like what you read, please subscribe by visiting...
---
Issue #117, March 31, 2019
Anguilla? We're SHOALmates 🤗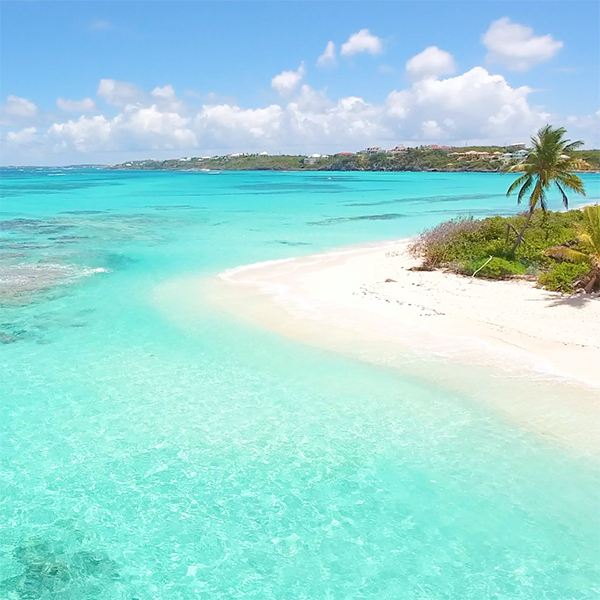 The East End of Anguilla has been taking our breath away this month.
The bobbing fishing boats of Island Harbour...
That tiny speck of Scilly Cay sand...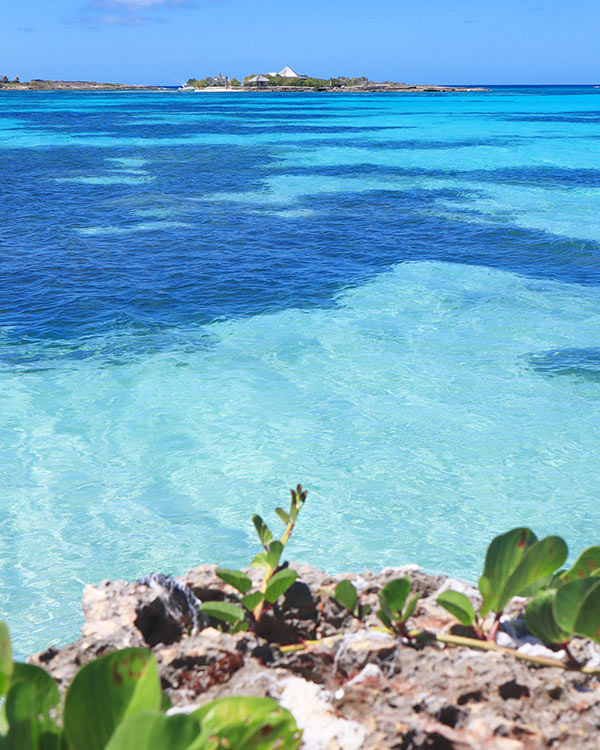 And the far eastern part of Shoal Bay East...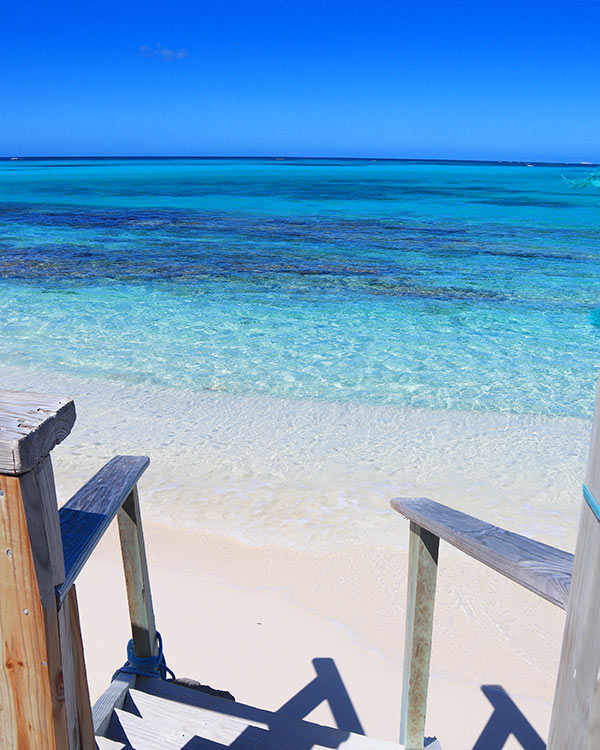 Anguilla SHORE knows how to amaze!
(Click here to purchase canvases and prints of Island Harbour!)
What's new this month?
---
Malliouhana's Cafe Celeste Joins The Anguilla Card
For decades, Malliouhana's restaurant set the pace for high-end cuisine in the Caribbean. The restaurant opened in 1984 under the two-starred Michelin chef, Michel Rostang. Chef Rostang brought an unprecedented level of French-Caribbean fusion to the region. If you wanted the best, you came to Malliouhana.
Today, that superior standard of cuisine has returned to Anguilla's Grand Dame - at Malliouhana's signature restaurant, Cafe Celeste.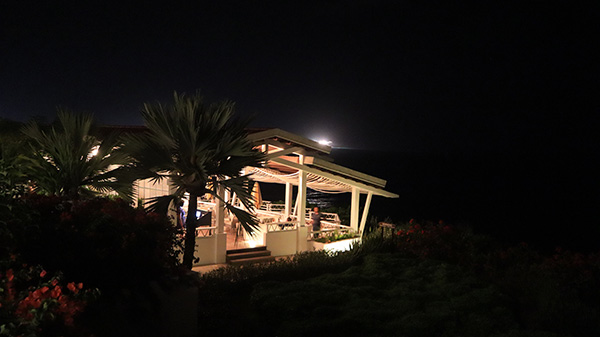 Malliouhana's Chef Jusman So boasts an impressive resume. Prior to arriving in Anguilla, Chef Jusman took Southeast Asia by storm. Named "Best Rising Chef" in Singapore and having established one of the country's most popular restaurants, Sage, Chef Jusman is a famous name in the region.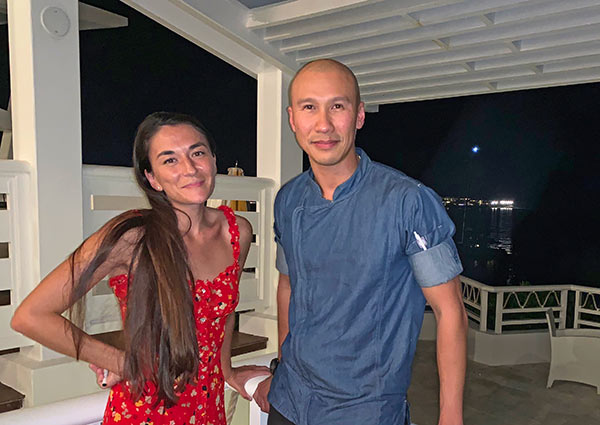 His specialty? Reinventing classic French dishes. Chef Jusman favorites at Malliouhana include...
The Baked Brie Tart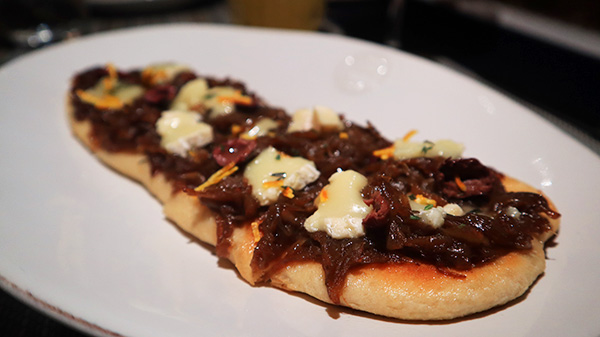 Pastry is topped with confit onion, anchovies, olives, candied orange and melted brie. Almost a marmalade, the savory-sweet confit dissolves in your mouth. Carefully cooked over low heat for several hours, Chef's confit onion shines.
Citrus Rosemary Lamb Chops
Lamb chops are cooked to your preference and bathed in a sauce of lamb demi glaze with essence of cherry tomato and a touch of butter. Ricotta gnocchi deepens the richness of the dish. The robust textures and flavors are contrasted by welcomed bursts of fresh cherry tomato and hints of basil. Brilliantly conceived and executed, this dish goes down as one of my personal top three favorites of all time. Never have I ever eaten with such gusto!
Full report on Cafe Celeste here.
Save 10% with your Anguilla Card at Cafe Celeste. Get your Anguilla Card here.
---
Belmond Cap Juluca's Restaurants Join The Anguilla Card
Anguilla's Crown Jewel resort is back!
Re-opened in late 2018 as Belmond Cap Juluca, the fine eye of Belmond is proof that you can improve on perfection!
A leading luxury brand, Belmond cultivates classic luxury experiences of a bygone era (think: The Orient Express). At a property steeped in rich history and romance, there is no better marriage than Belmond and Cap Juluca. For a look inside the NEW Belmond Cap Juluca...
Restaurant-wise, Belmond Cap Juluca has introduced four brand new and overhauled concepts.
Maunday's Club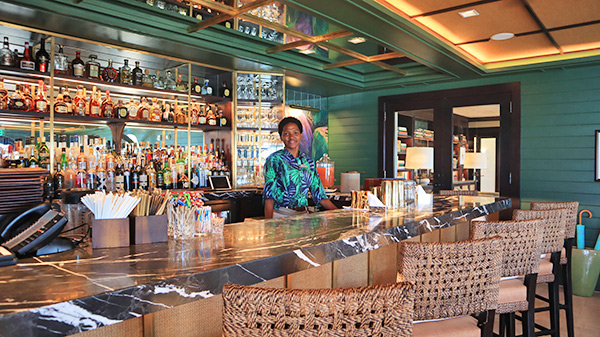 Step inside Maunday's Club and you are whisked into an old fashioned dream.
Out on the terrace, prepare to be blown away. Maunday's Club's emerald pool is a most inspired touch that evokes the most exotic and upscale dreams. So striking, this could be a setting in a James Bond film. It is jaw-dropping.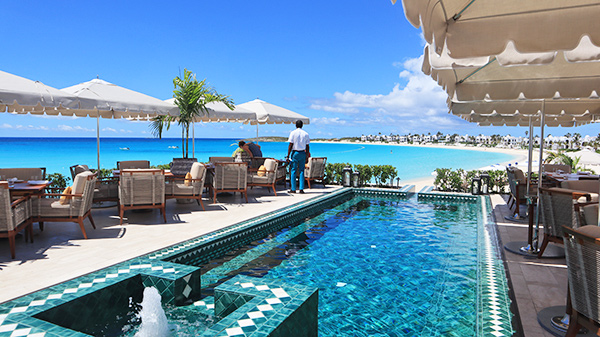 As for the menu? Chef Cesar Landeo brings a world of Peruvian culture to Maunday's Club. The only Peruvian restaurant on the island come sunset hour, Chef creates the ultimate sunset tapas experience.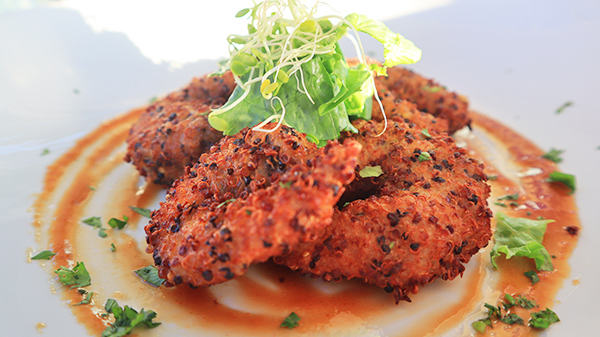 Cap Shack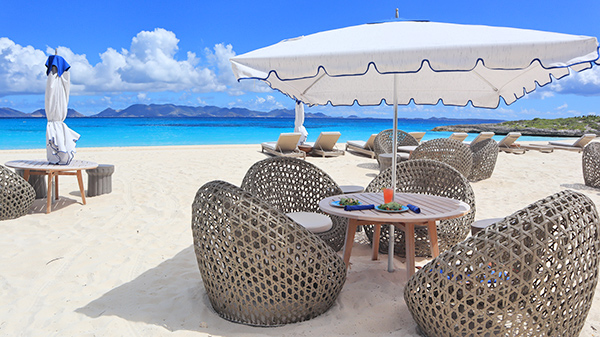 Set on the western edge of the beach, Cap Shack is the only restaurant directly on Maunday's Bay beach. Private and peaceful, Cap Shack is your barefoot, toes-in-the-sand experience on Maunday's.
The Cap Shack is a shady reprieve after a tip-to-tip beach walk on Maunday's, Anguilla's most darling beach.
Lobster wraps, cool cocktails and blue views? Count me in!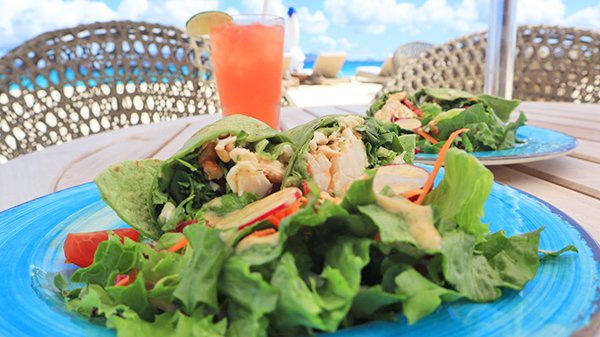 Cip's by Cipriani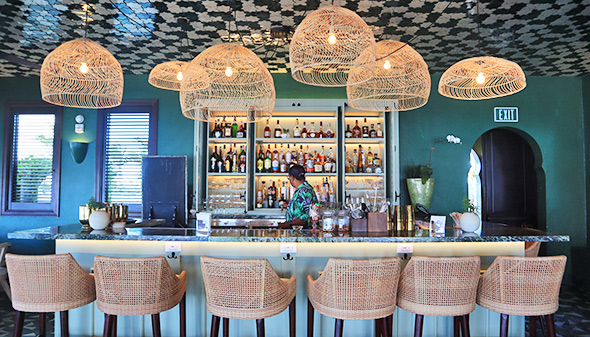 A multi-tiered restaurant with a grand terrace that stretches along Maunday's Bay, this is true waterfront dining. Cip's is open for breakfast, lunch and dinner, serving Italian cuisine by afternoon and nightfall. Inside, a bar area with intricate green-and-white tiled ceiling captures the imagination. Next door?...
Pimms
...the property's most iconic restaurant.
At Pimms, dinner is served in one of the most romantic settings, right at the water's edge. It is the resort's signature restaurant and one of the most magical dining locations in the entire Caribbean.
Full review on Pimms & Cip's coming soon.
To save 10% at Cap Juluca's restaurants, purchase your Anguilla Card here.
---
As Seen on HGTV: Champagne Shores: The Villa
Move to these shores? I'm on board!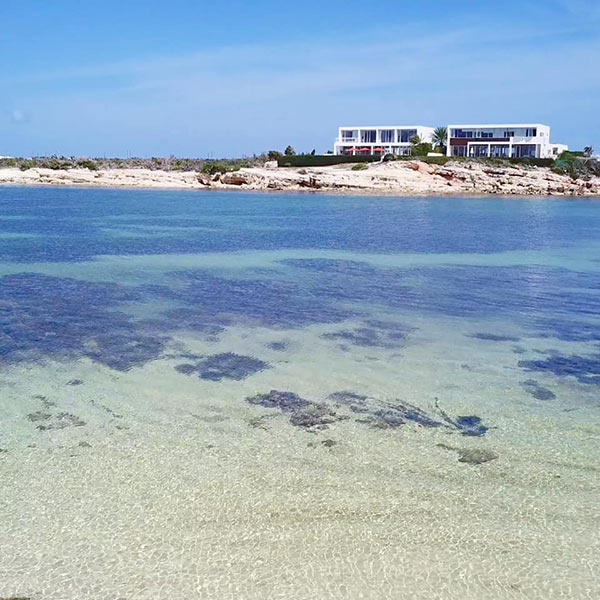 HGTV was all about Anguilla earlier this week!
Chris & Allison from Pennsylvania house hunted through paradise, seeking their Caribbean dream villa. The one that stood out above the rest? The exquisite Champagne Shores: The Villa.
A 7,000 square foot villa right at the water's edge, with vivid views of Caribbean blue, few compare to Champagne Shores. Its interior design blends Caribbean warmth with modern sleekness. Outside? Its oversized pool is the pool of dreams!
Champagne Shores is available for rent. It is one of the most high-value luxury villa rentals in Anguilla, complete with...
5 master suites with ensuite
Chic kitchen with all modern appliances
Oversized living area with media room
19x22' swimming pool
Full gym
Even butler service is included all day, everyday!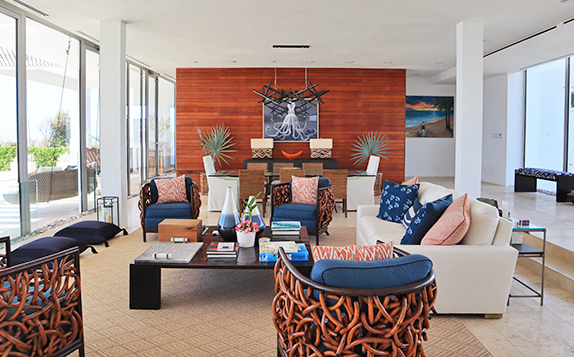 You don't have to look far to see why Chris & Allison chose Champagne Shores!
For more on Champagne Shores, see...
To book, visit...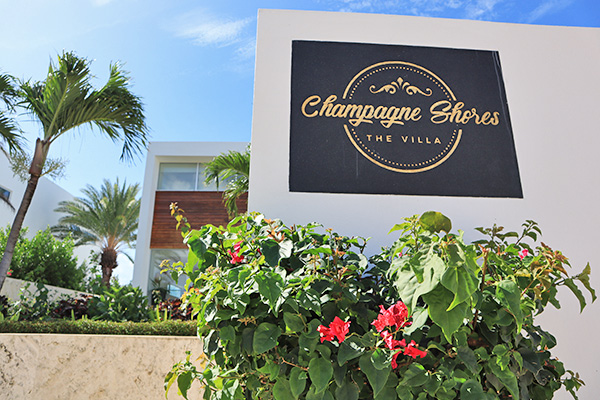 ---
Surfing Anguilla, Ben Gravy-Style
Things got crazy this month when surf legend, Ben Gravy stopped in to find waves in Anguilla!
A big time surf vlogger and "novelty wave hunter," Ben settled in at the chic villa built-for-two in Seafeather's, Almond Tree Villa. His mission? Find surf gems with the very guys who pioneered our spots, Surf AXA.
Prepare for an aerial show! We had no idea Anguilla was so "rippable!"
See the full video of Ben Gravy and Surf AXA surfing Anguilla, here.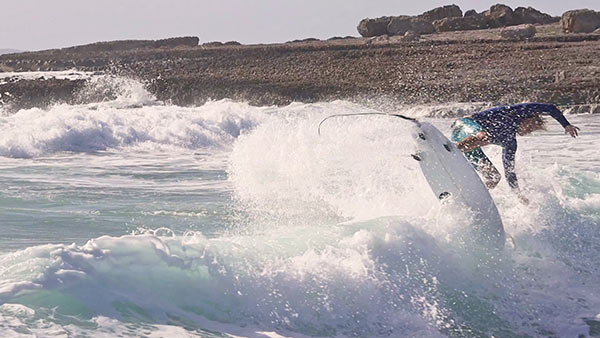 A huge thanks to Ben Gravy for legitimizing the Caribbean surf spots we've been surfing for years!
Be sure to check out Ben's extra-fun surf vlogs of Anguilla by clicking here.
One of the most romantic and reasonably priced villas in Anguilla, see more on Almond Tree Villa, where Ben stayed, here.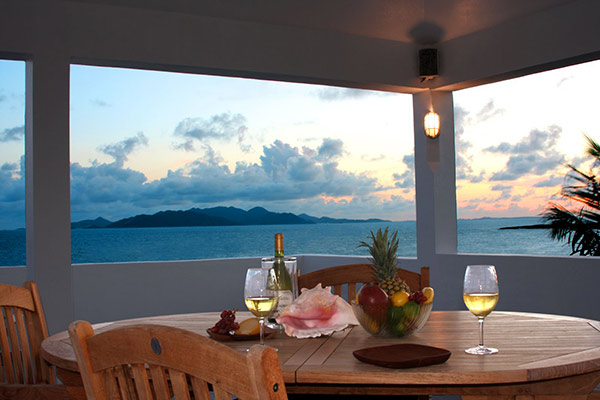 ---
A Gourmet Feast at CuisinArt Golf Resort & Spa and The Reef
True to its name, CuisinArt Golf Resort & Spa is a culinary destination. The resort has been pushing cuisine to new heights with their two signature restaurants!
Santorini at The Clubhouse
For years, CuisinArt was home to Anguilla's only AAA Four Diamond restaurant, Le Bistro at Santorini. It defined modern day high-end dining in Anguilla. Today, the five-star resort's signature restaurant is back and throws down yet another glove.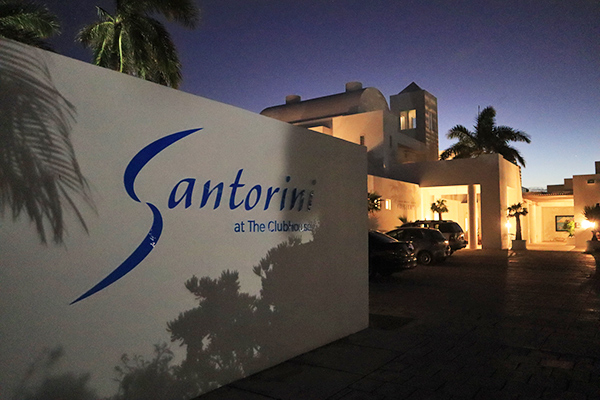 Now called Santorini at The Clubhouse, the Mediterranean-inspired restaurant is set at CuisinArt's impressive Golf Club. The atmosphere reflects the restaurant's cuisine. Elegant and stark-white, Santorini emerges from the night sky evoking Mediterranean dreams.
Chef Francisco Pico heads up the culinary brigade at Santorini at The Clubhouse. Hailing from Portugal, Chef Francisco brings a world of Mediterranean flavor to Anguilla's shores. Think: Hints of dill and fennel, the freshest of seafood and sumptuous cuts of meats.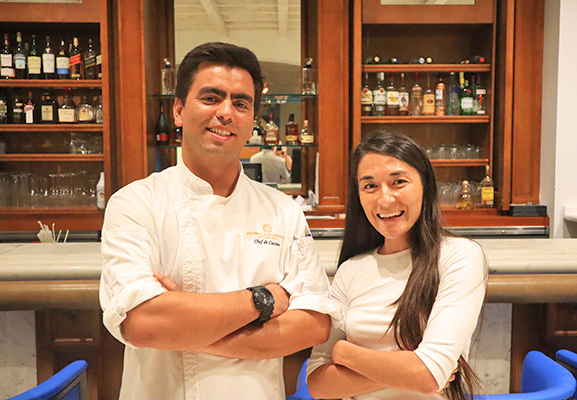 Chef's menu begins with a variety of inspired appetizers. Lovers of seafood are in for a treat at Santorini.
Blue Swimmer Crab Salad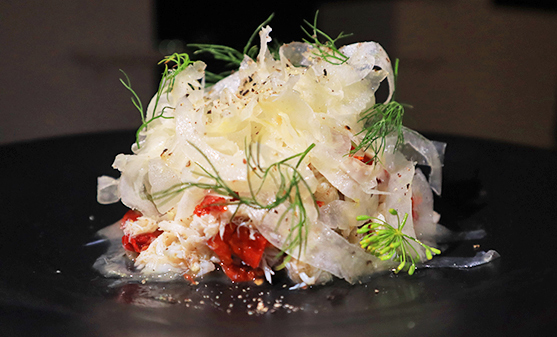 Savory blue swimmer crab is layered with sun-dried tomatoes, samphire, pickled cucumber, balls of avocado and is topped with dill flower and crispy fennel. Subtle, fresh flavors are sharpened by sweet sun-dried tomato while the swimmer crab brings satisfying substance to the dish. A most refreshing way to begin a meal in Anguilla.
Next? A personal favorite, Carpaccio of Octopus...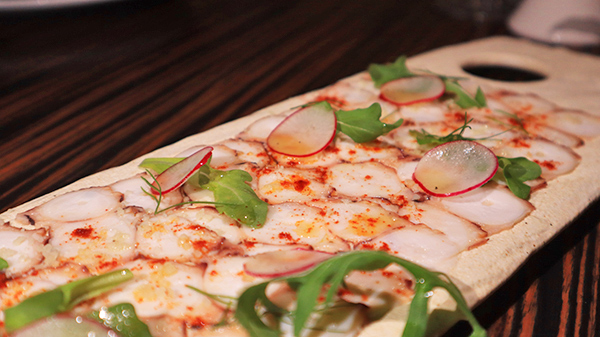 First, octopus is sliced razor thin. It is then layered with fine slices of cherry bomb radish, a dusting of parmesan, arugula and a drizzle of lemon and olive oil. Don't let its appearance fool you. Though served carpaccio-style, the meatiness of the octopus is impressive!
And then there's the Wild Mushroom Linguine.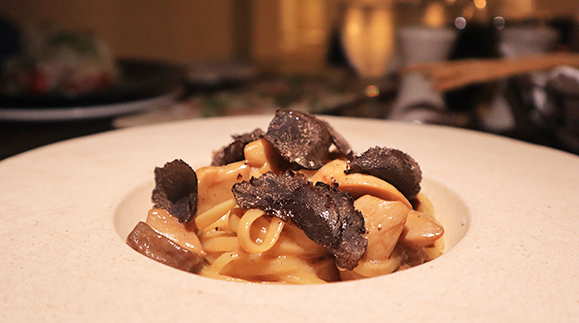 Al dente linguine is tossed in a rich wild mushroom sauce with olive oil and garlic. Artfully presented, the dish is then sprinkled with parmesan and finished with a generous portion of black truffles. Savory, creamy and rich with black truffle tang, it is one of the most exquisite pastas I have had yet.
For more on mains & desserts at Santorini, click here.
The Yacht Club at The Reef
The Yacht Club has been "your seat to a gourmet seafood feast" since the day it opened. Under the helm of Chef Manuel Gonzalez...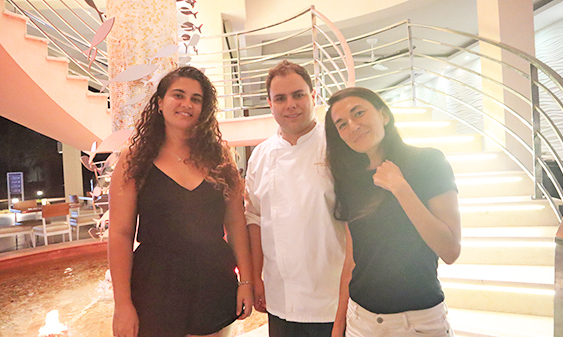 Chef has proved time and time again that he is among the best on-island. This season Chef has introduced brand NEW dishes that dazzle the eye and excite the tastebuds.
NEW favorites include the tuna ceviche...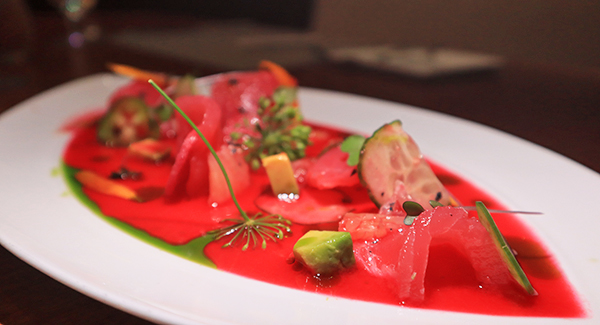 The color jumps right off of the plate! Fine slices of raw tuna are placed in a gentle bath of fuchsia! A smoked blood orange Tigre de Leche infused with beets, it is as good as it looks. The slightly-spicy, slightly-citrusy sauce is drizzled with parsley oil, giving it that electric green. The dish is then finished with slices of hot peppers, grapefruit, chunks of avocado and dill flower.
Crispy Octopus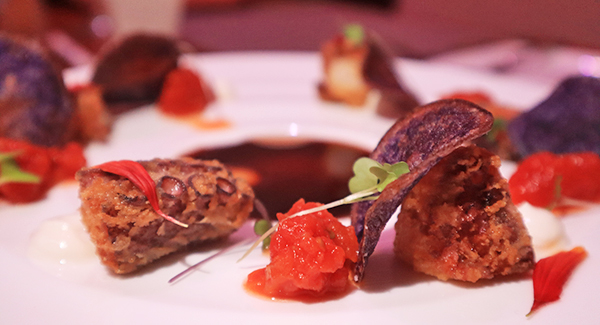 Octopus is cut chunky, lightly breaded and fried. The result? Addictive nuggets that are perfectly complemented by their sauces. A dollop of sour cream, tomato salsa and our favorite - a garlic balsamic vinaigrette. This dish shines in presentation, flavor and texture.
Mahi Mahi & Corn "Risotto"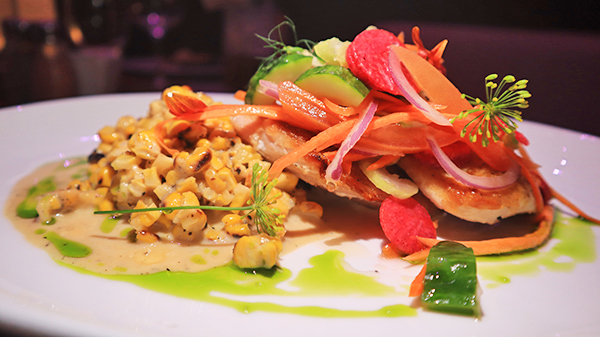 Mahi Mahi is drizzled with lobster oil and garnished with a crudité-style vegetable salad. The dish is served with an impressive side of corn "risotto." Corn is roasted with saffron and mixed with manchego. Risotto-like in inspiration, the combination of corn and manchego, with a hint of saffron results in a savory, silky-smooth flavor. Most addictive and satisfying!
Torrija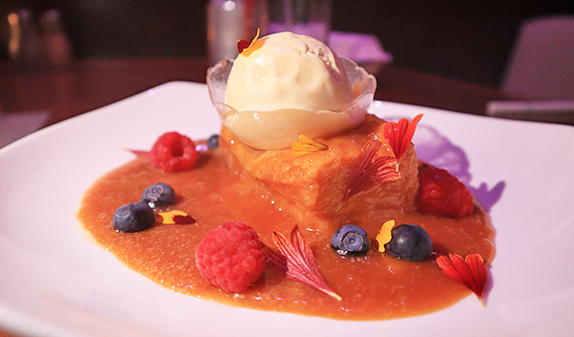 When it comes to sweet endings, Chef Manuel's Torrija takes the cake. A classic Spanish dessert, brioche bread is fried and Chef bathes his in a toffee-caramel syrup. It is served with a scoop of vanilla ice cream inside an edible sugar cup. So rich and full-bodied, this goes down as an all time favorite, ever.
Stay tuned for the full update coming soon.
There is no doubt about it. CuisinArt continues to lead the way!
---
Coming Dec. 2019: Tranquility Beach Anguilla
It is all full steam ahead at Tranquility Beach Anguilla. Anguilla's luxury condo development on Meads Bay is right on schedule for a December 2019 opening.
Tranquility Beach brings 15 luxury condo units right to the highly coveted Meads Bay beach. It is designed by award-winning architectural designer, Ian "Sugar George" Edwards. Sugar George has designed some of the Caribbean's most luxurious and exclusive properties, including the award-winning Beach House.
One of the most exciting projects in Anguilla, to see its progress, see...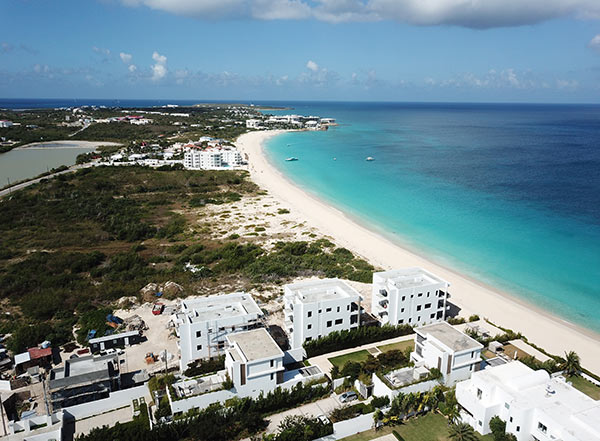 Coming December 2019, each unit is being sold turn-key. Everything is taken care of for you, too. Electricity, water, WiFi and maintenance are all handled! All units are placed into a rental pool and are professionally managed.
For more on Tranquility Beach Anguilla...
For a site tour, contact...
Tel.: 264-729-1879 or 264-476-8488 or 264-235-3666
Email: info@tranquilitybeachanguilla.com
---
Scooting Around Anguilla
Grab your sense of adventure and get ready to hit the road! Scooter rentals have reached the shores of Anguilla.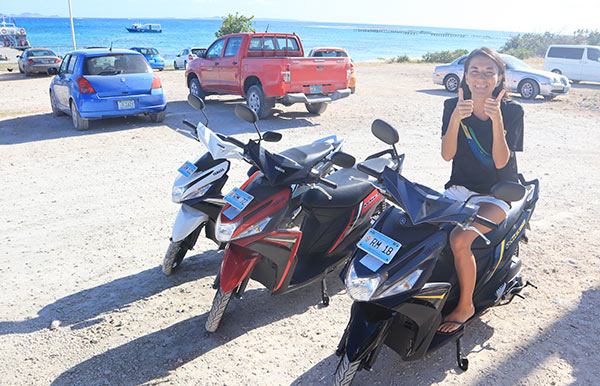 With one of the sunniest climates in the world, scooters make for a perfect mode of transportation in Anguilla. Now available on-island with speedy and stylish models, it is all thanks to one man, Mr. Desmond Mussington.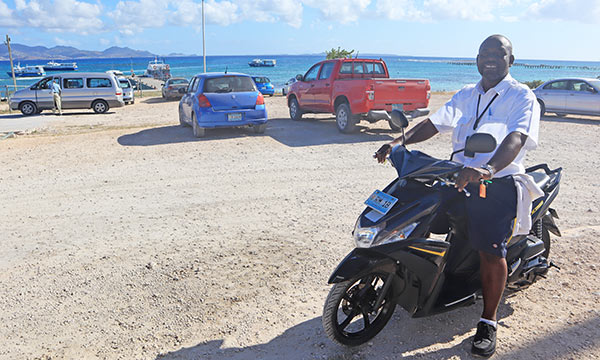 His operation, D&D is conveniently located in Blowing Point, right where the ferry reaches Anguilla's shores. Keep your eyes peeled for the blue-and-white colorful building down by the water. D&D is set right next to Andy's.
D&D carries a number of quality car rentals and scooters. These scooter rentals are exceptionally eye-catching. Yamaha models, Desmond's scooters carry speed! They come in sleek black, fire engine red and ice-cold white. In addition to the Yamaha's, Desmond has chic and stylish mopeds coming soon.
For more on D&D Scooters and renting scooters in Anguilla, click here.
---
Do You Know Long Bay Beach?
An oasis of calm, Long Bay is one of Anguilla's most stunning little-known "big" beaches.
A long stretch of pristine, powdery-fine sand, Long Bay sits next door to its busier sister beach, Meads Bay. Just as beautiful, but more private and tranquil, it's uncommon to share this beach with anyone else.
Here, there are no big hotels or restaurants. It is a true tropical beach escape.
From edge...
To edge!...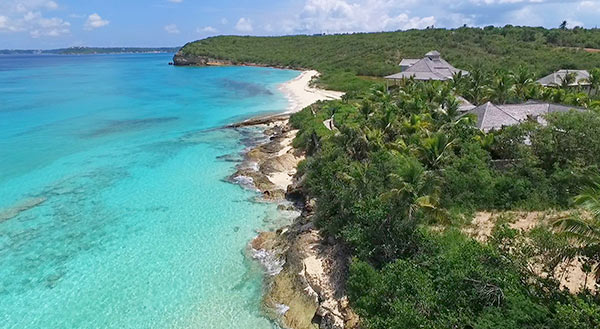 The setting makes for the ultimate escape at two of the beach's premier ultra-luxury villas, Long Bay Villas and Santosha Villa Estate.
These properties offer the utmost in seclusion, service and private events, such as weddings. For more, visit...
---
A Whale of A Good Time!
It's whale season here in Anguilla! March and April mark the humpback whale's migration from colder climates down to the Dominican Republic where mama whales birth and nurse their young ones.
Our friend, Captain Jo in St. Maarten has been getting plenty of REMARKABLE sightings!
Often spotted in the channel between Anguilla and Tintamarre, watching these humpbacks breach is nothing short of magical!
For awe-inspiring VIDEO of humpback whales in Anguilla's waters, follow Captain Jo on Instagram here.
He runs some of the most unique and magical tours in St. Martin and Anguilla!
---
Step Inside Tequila Sunrise Villa
Overlooking that same deep Caribbean Sea, and the majestic mountains of St. Martin, is Tequila Sunrise Villa.
Set a two minute walk from one of Anguilla's most special hidden coves, its setting is most unique. It has captured our imagination for years...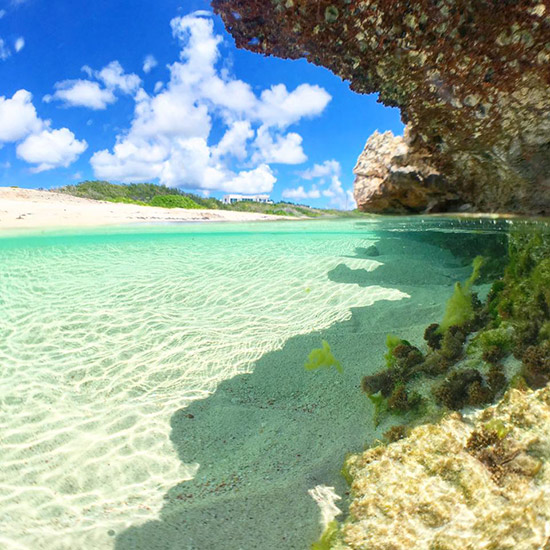 We stepped foot on these shores and inside Tequila Sunrise Villa earlier this month. For a complete video tour, click here.
Designed by international award-winning architect, Ian "Sugar George" Edwards, Tequila Sunrise is stunning! The spacious villa has 3 master bedrooms, a grand and high-ceilinged living area, large outdoor terrace with negative edge pool and a host of amenities including daily breakfast, turn-down service and laundry.
Tequila Sunrise has long been known as the villa that offers it all!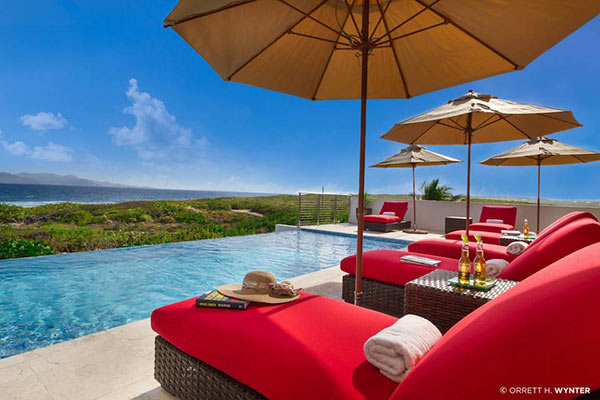 This spring, Tequila Sunrise Villa is holding an exceptional special!
Book your stay between April 20th and May 4th and choose from one of the following complimentary offers...
Roundtrip transfer from SXM/AXA via boat or plane
Private chef dinner at the Villa
A massage for each guest staying at the Villa
A private boat for the day with lunch and snorkeling
To take advantage of this special, and for more on Tequila Sunrise Villa, visit...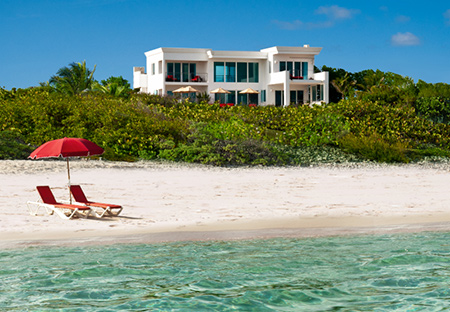 ---
Escape to Anguilla This Spring & Summer
Speaking of high-value deals, Carimar Beach Club has terrific rates this spring and summer!
Carimar is right on the sandy shores of Meads Bay, just next door to the ultra-popular Blanchards Beach Shack. It wins on location alone...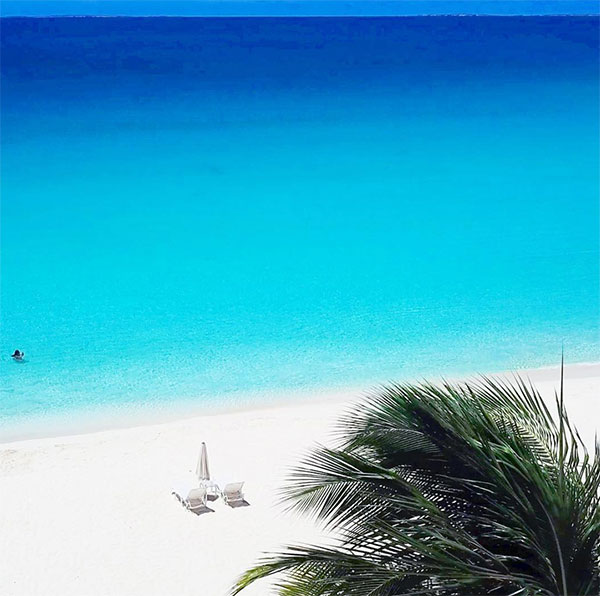 Rounding out its offerings are contemporary and spacious units and a most caring, devoted team of staff. When you are at Carimar, you are right at home - on the beach.
For more on Carimar and their affordable rates, visit...
---
If you are on-island this month, keep your eyes peeled for our prints and canvases of Anguilla! At Frangipani, Carimar, Le Bon Pain, Artisan and Limin' Boutique...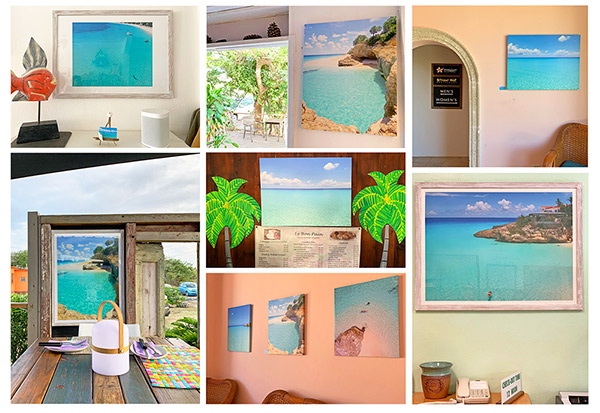 Canvases and framed prints showcasing Meads Bay, Maunday's and more are now on full display around Anguilla. To purchase your prints and canvases of Anguilla, click here!
Last but not least, Mary Pat & Raoul of Hibernia are holding their annual fundraiser for their orphanage in Myanmar Friday, April 12th. Peruse their gourmet menu here. Always a wonderful event, be sure to make reservations ahead.
That's all for March!
Wishing you a happy start to Spring & talk to you soon with more Anguilla news,
Nori
Do you have your Anguilla Card yet? Save 10% at 66 Partners!
---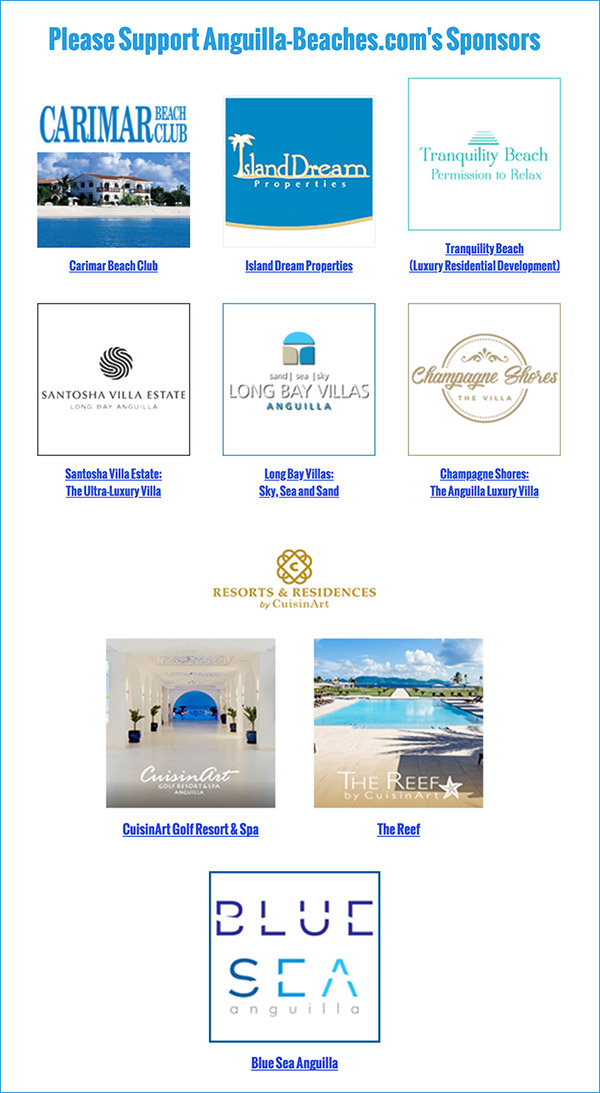 ---
Anguilla-Beaches.com