Santorini at The Clubhouse...
An Haute Cuisine Mediterranean Dream
Update 2023: Santorini is now the fabulous D Richard's steakhouse at Aurora Anguilla. Stay tuned for a full review coming soon. More on Aurora Anguilla here.
By: Louise Fayet & Nori Evoy
True to its name, CuisinArt Golf Resort & Spa is a culinary destination. For years, the resort was home to Anguilla's only AAA Four Diamond restaurant, Le Bistro at Santorini. It defined modern day high-end dining in Anguilla. Today, the five-star resort's signature restaurant is back and throws down yet another glove.
Welcome to Santorini at The Clubhouse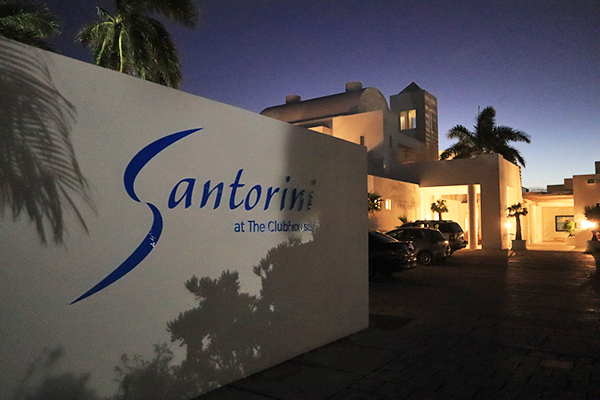 Now called Santorini at The Clubhouse, the Mediterranean-inspired restaurant is set at CuisinArt's impressive Golf Club. The atmosphere reflects the restaurant's cuisine. Elegant and stark-white, Santorini emerges from the night sky evoking Mediterranean dreams.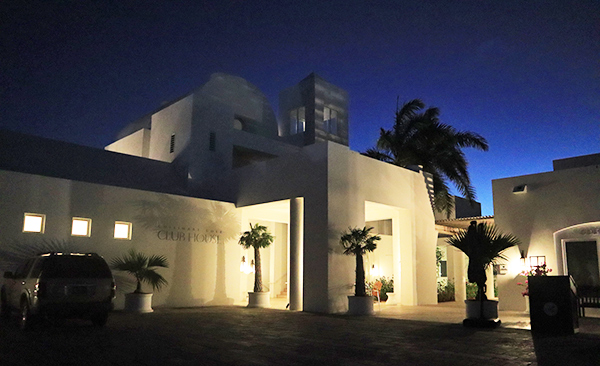 Step Inside Santorini
Inside, strong white pillars and crisp white walls are offset by bold blue seating.
Interior Dining Room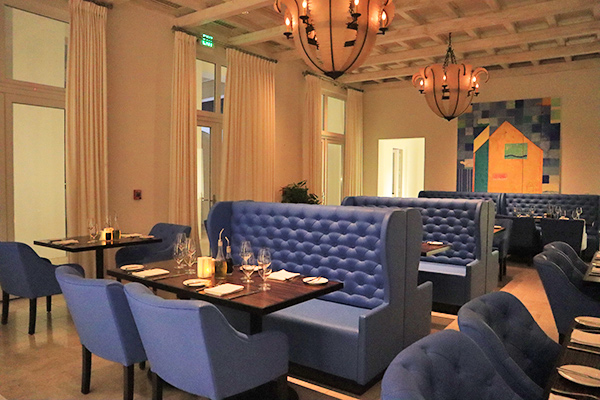 High ceilings, long white drapes and regal-blue seating make up the interior decor. Outside, the lights of St. Martin provide an arresting view as gentle jazz music sets a smooth mood.
Exterior Dining View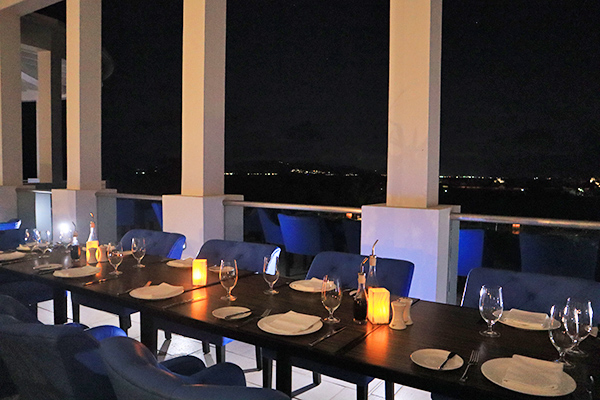 Meet Chef Francisco Pico
Chef Francisco Pico heads up the culinary brigade at Santorini at The Clubhouse. Hailing from Portugal, Chef Francisco brings a world of Mediterranean flavor to Anguilla's shores. Think: Hints of dill and fennel, the freshest of seafood and sumptuous cuts of meats.
Chef Francisco Pico and Nori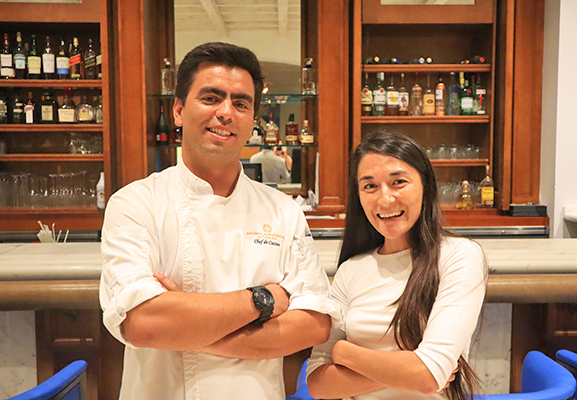 Chef Francisco has led teams at some of the world's most luxurious properties. From the UK to Italy, Chef joins the CuisinArt team from his most recent posting at Canouan's Mandarin Oriental Hotel. CuisinArt's Executive Chef Alan Larch hand-selected Chef Francisco. Chef Alan Larch knew Chef Francisco is the Chef for Santorini at The Clubhouse.
Mediterranean Dream Cuisine
Chef's menu begins with a variety of inspired appetizers. Lovers of seafood are in for a treat at Santorini.
First, Blue Swimmer Crab Salad.
The Blue Swimmer Crab Salad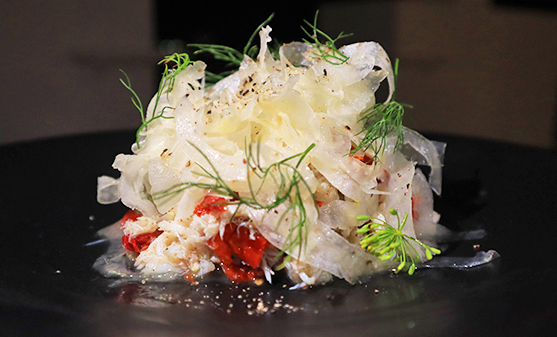 Savory blue swimmer crab is layered with sun-dried tomatoes, samphire, pickled cucumber, balls of avocado and is topped with dill flower and crispy fennel. Subtle, fresh flavors are sharpened by sweet sun-dried tomato while the swimmer crab brings satisfying substance to the dish. A most refreshing way to begin a meal in Anguilla.
Next? Nori's personal favorite...
Carpaccio Of Octopus

First, octopus is sliced razor thin. It is then layered with fine slices of cherry bomb radish, a dusting of parmesan, arugula and a drizzle of lemon and olive oil. Don't let its appearance fool you. Though served carpaccio-style, the meatiness of the octopus is impressive!
The seared scallops and risotto is yet another eye-catching dish.
Seared Scallops & Pea Risotto

Pan seared scallops are placed atop a bed of pea risotto. Laced with pancetta crips and affilla cress, the pancetta pairs perfectly with the risotto and the scallops. The affilla cress brings a slight light bite to the dish.
For vegetarians, Chef has a variety of starters, including a Baked Beet Salad.
Baked Beet Salad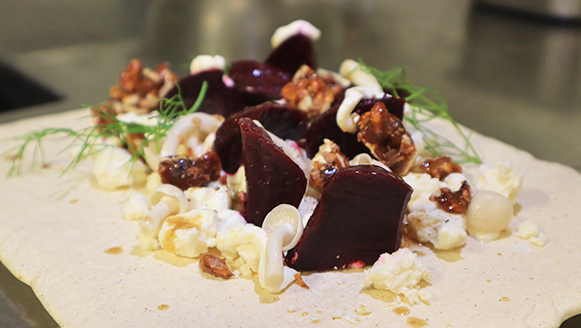 Baked beets are mixed with chunks of feta, a slather of greek yogurt and dots of wild mushrooms and caramelized walnuts.
The Burrata & Marinated Heirloom Tomatoes is another vegetarian-friendly dish.
Burrata & Marinated Heirloom Tomatoes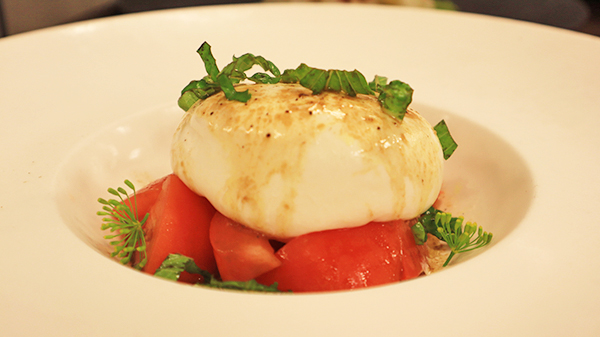 Sizable heirloom tomatoes are almost overshadowed by an equally sizable ball of milky, buttery buratta. The dish is rounded out with charred endive, basil and dill.
Last but not least, my personal favorite at Santorini, the Wild Mushroom Linguine.
Wild Mushroom Linguine

Al dente linguine is tossed in a rich wild mushroom sauce with olive oil and garlic. Artfully presented, the dish is then sprinkled with parmesan and finished with a generous portion of black truffles. Savory, creamy and rich with black truffle tang, it is one of the most exquisite pastas I have had yet.
On to the main dishes of Santorini's menu.
A favorite dish ripe with Mediterranean flavor? The Local Snapper Aqua Pazza.
Local Snapper Aqua Pazza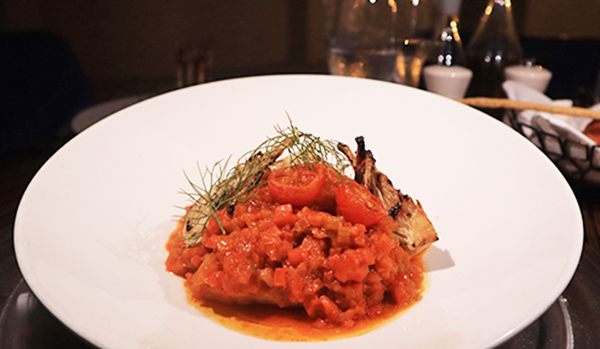 Two filets of locally caught snapper are seared and coated with a chunky sauce of diced baby tomatoes, carrots, fennel and herbs. Once coated, the dish is set to bake. The fish fully absorbs the sauce's sweet undertones. A full flavor dish, it transports you right to the Mediterranean coast.
Finally, one of the most impressive dishes of the evening...
Fennel Spiced Lamb Rack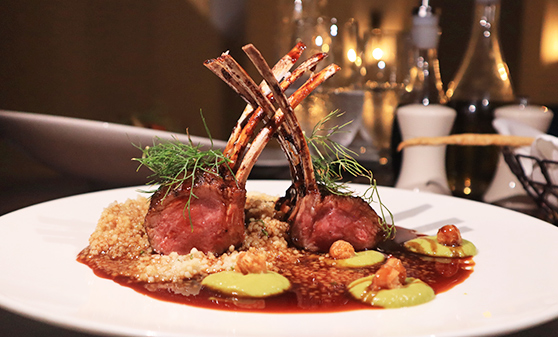 Its presentation takes your breath away! As for the taste? The tender meat simply glides from the bone. Drizzled in a garlic confit, Chef's rack of lamb is served with sides of couscous and pea puree with crispy chickpeas. All elements combine to create a beautiful Moroccan inspired dish. The added chickpea crunch is a welcomed surprise.
Chef closes his menu with a tight selection of desserts. A top choice for a delightfully light ending? The Sweet Minestrone.
Sweet Minestrone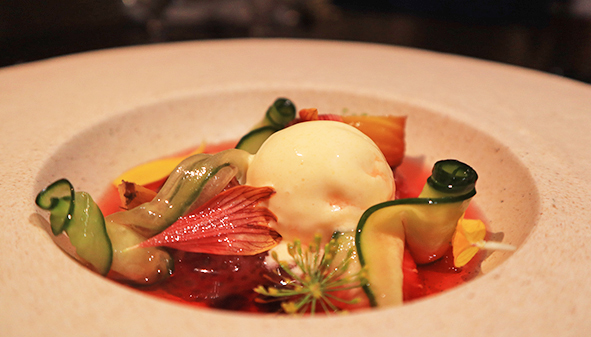 Candied cucumber, beets and strawberries are bathed in a sweet strawberry and celery broth. The sweet, cool syrupy soup is thickened by a scoop of cheese ice cream. Each sip is a palatable step inside a spring garden.
Chef Francisco's inspired and at times playful menu goes hand in hand with impeccable presentation and execution. It is rounded out by CuisinArt's familiar excellent service, and one of the most elegant dinner settings in Anguilla. All elements combine to create a dining experience that redefines "signature restaurant" status.
Directions, Hours & Contact
Tel: 264-498-2000
Hours: Santorini is open for dinner. Closed Monday.
Directions: Santorini is set at CuisinArt's Golf Club.