---
Combing Anguilla's Beaches for the Best
Anguilla Beach Lovers brings you a fresh dose of "Tranquility Wrapped in Blue" every month.
If you like this newsletter,, please do a friend a favor and "pay it forward."
If a friend did forward this to you and if you like what you read, please subscribe by visiting...
---
Issue #145, March 11, 2022
Tranquility is a SHOAL thing 🤗💗🏝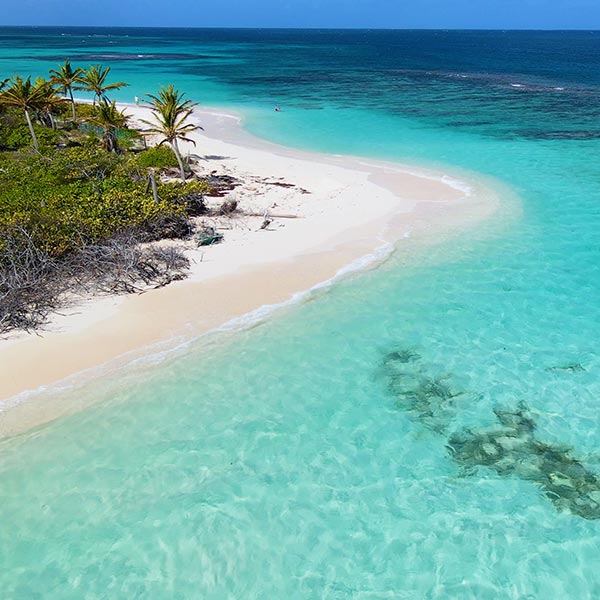 Those powdery-fine sands...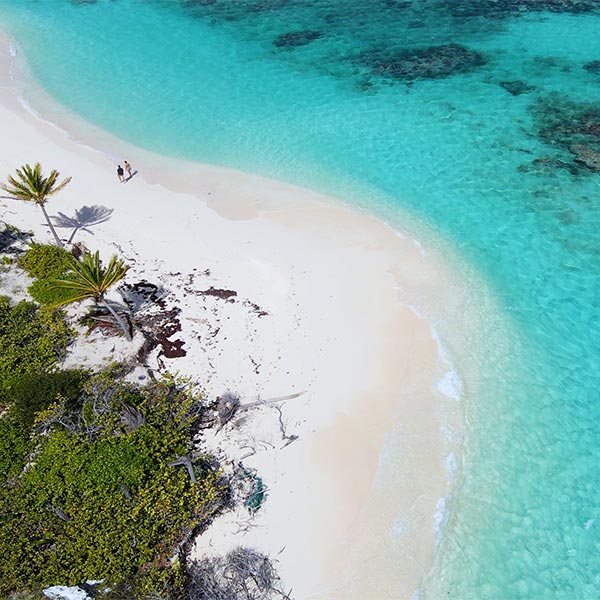 Those waters of blue...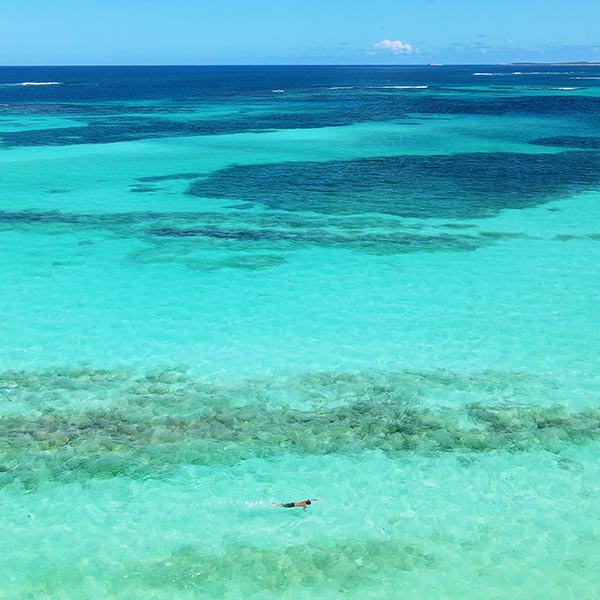 Shoal Bay, we are forever in love with you 🥰💗🏝
Take a virtual Shoal Bay beach day with 6 hours of Shoal Bay relaxation.
To never miss a dose of Anguilla calm, click here to subscribe to our sister YouTube channel, MyTranquilitee.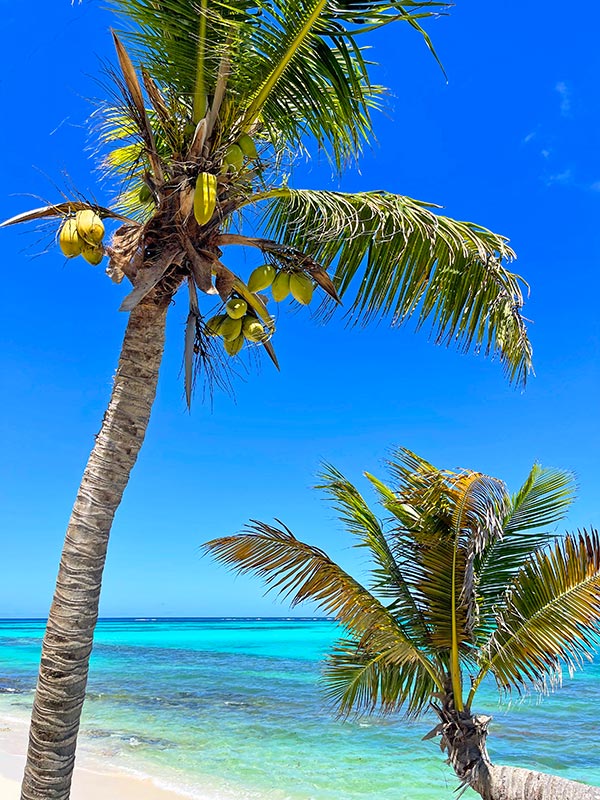 What's new since last time?
---
Olas: Making Waves on Shoal Bay
Speaking of bluuuetiful Shoal Bay, let's taco 'bout Olas Bar & Grill.
Situated in the middle of Shoal Bay, near Madeariman, Olas is perfectly placed. It is within a few steps of the bay's enticing blue water.
This wooden beach shack is owned and operated by Bev and his girlfriend, Eulandy. Some of you may know Bev, who also runs The Fountain Resort on Shoal Bay.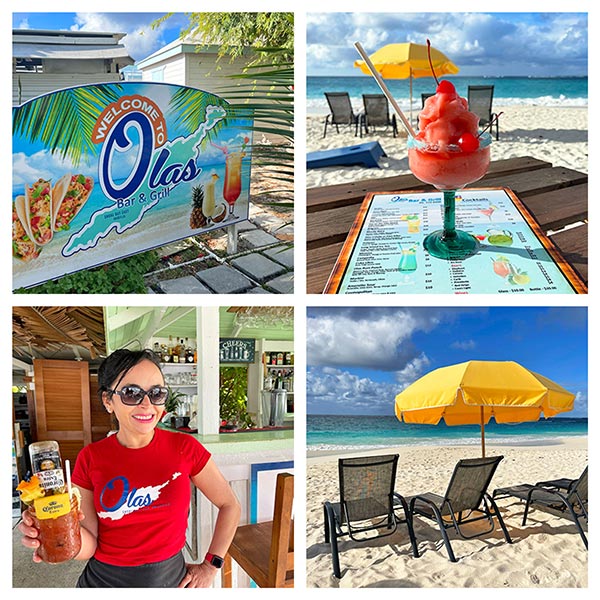 Olas offers an ocean of refreshing drinks to beat the warm Anguilla sun. Eulandy fills her cocktails with passion, love and care. Her margarita is prepared with pride. Made with the freshest ingredients, these are extra-refreshing!
The passionfruit and mojito go down as BEST on-island.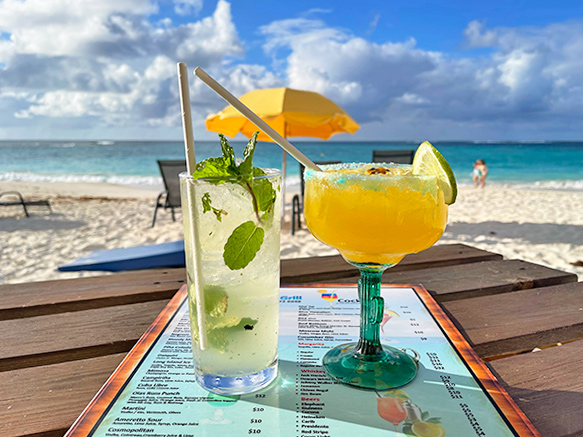 With cocktails in-hand, tacos call!
The menu begins with appetizers of green salad, onion rings, freshly made guacamole, salsa and chips, picaditas and yummy chalupas...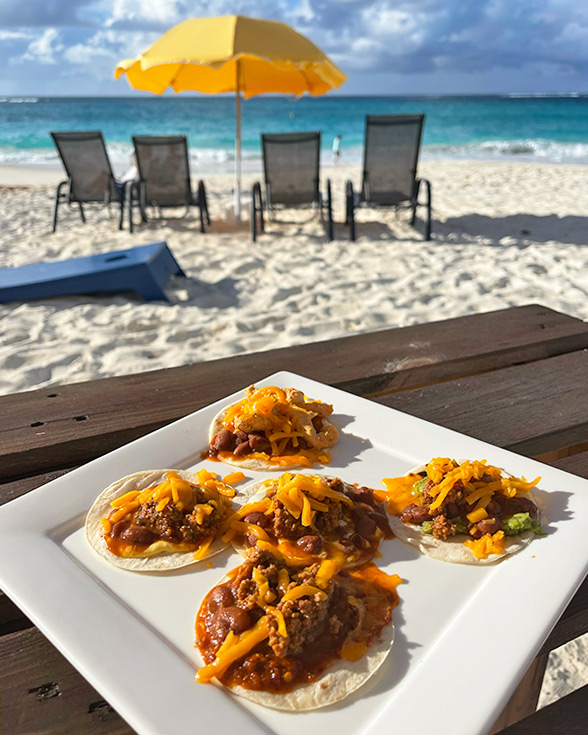 The menu then expands into a variety of kebabs, fajitas and tacos, burritos, tostadas, chimichangas and quesadillas and oh so tasty enchiladas...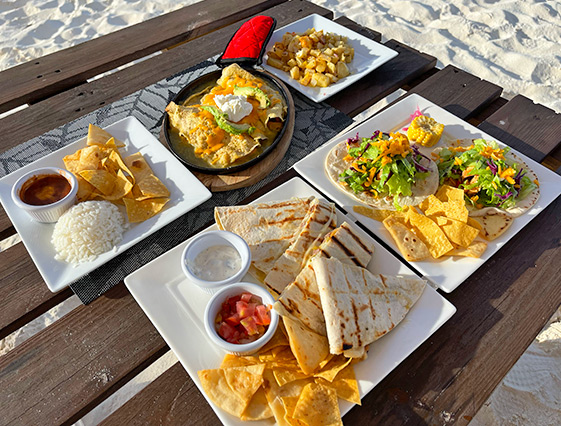 There is no beating the combination of margaritas and Mexican food with Shoal Bay blues!
For a full write up on Olas and for their 2022 menu, click here.
Olas is an Anguilla Card Partner. Save 10% at Olas when you use your Anguilla Card.
---
The NEW Barrel Stay
A well known spot right on the shores of Sandy Ground, the beloved Barrel Stay is BACK with new management and ownership, and a menu rich in flavor.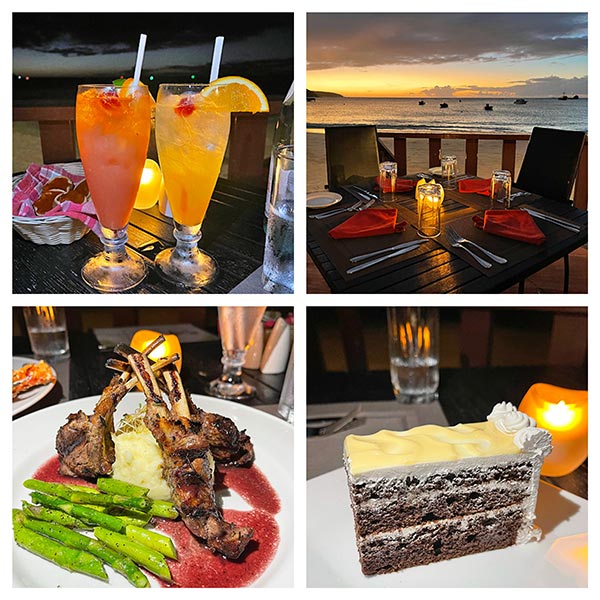 "Barrel Stay" is a famous name in Anguilla thanks to previous owners Graham & Jill. The dynamic duo built one of the most popular restaurants on-island. Graham & Jill have long since retired, but Barrel Stay's name lives on. New owners Anette & Desmond are rekindling the Barrel Stay flame.
You may know Annette. She worked with Chef Carrie Bogar at Veya for years, honing her skills and perfecting her craft. Anette isn't the only familiar face at Barrel Stay. You may also recognize Jerrel...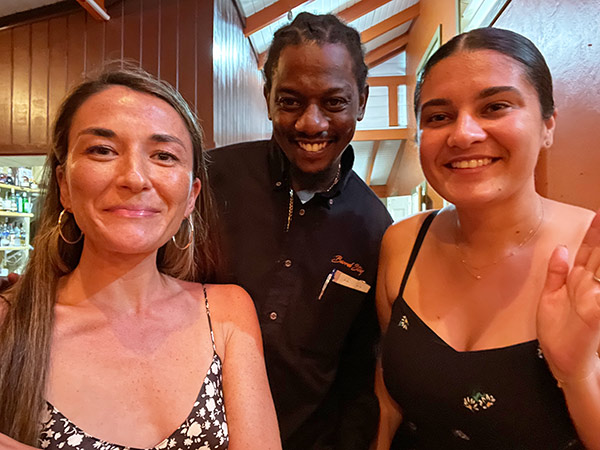 Jerrel worked at Straw Hat for 21 years before joining the team at Barrel Stay! His warm presence immediately makes you feel welcome.
What's for dinner at Barrel Stay?
Chef Anette's menu starts with appetizers of soup de jour, deep fried calamari, scallops, chef's salad, warm seafood salad and "Caribbean Crispy Tuna Cake Patties"...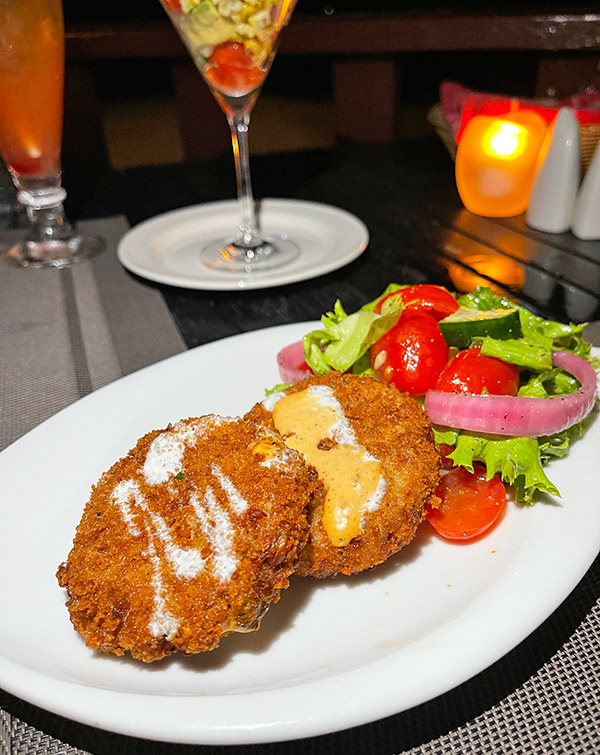 These two picture-perfect tuna cakes are fried to golden-brown perfection. Inside, the fish is moist and flavorful! The extra-special cherry on top? The house yogurt lemon dill sauce.
For mains? We can't get enough of the "Beach Bay Surf n Turf"...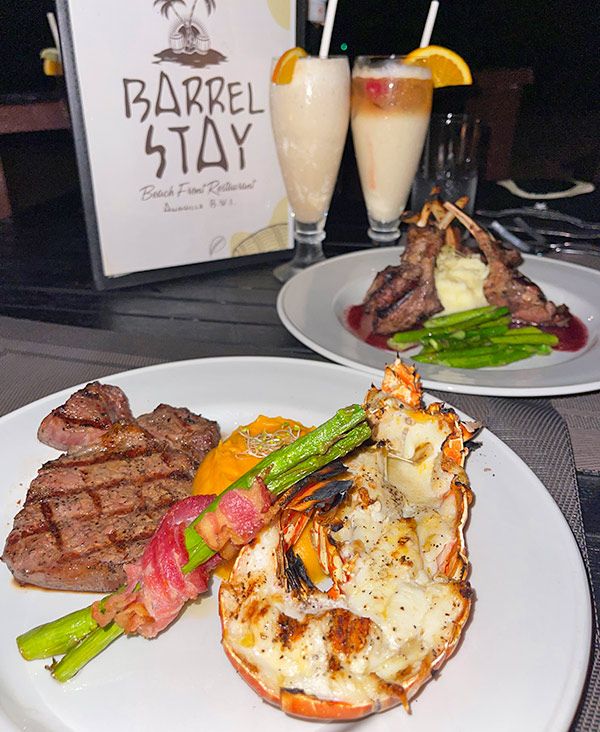 For a full write up on Barrel Stay and for their 2022 menu, click here.
Barrel Stay is an Anguilla Card Partner. Save 10% at Barrel Stay when you use your Anguilla Card.
---
Let's Hear it For Elvis' Beach Bar!
If you know Anguilla, chances are you know Elvis'. A popular, toes-in-the-sand beach bar on Sandy Ground, Elvis' has long been a favorite watering hole, loved by locals and travelers alike.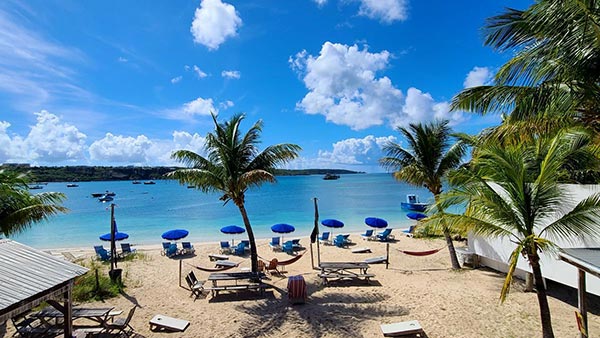 Afternoon cocktails, sunset drinks, nighttime partying in the sand, and the best nachos on the island...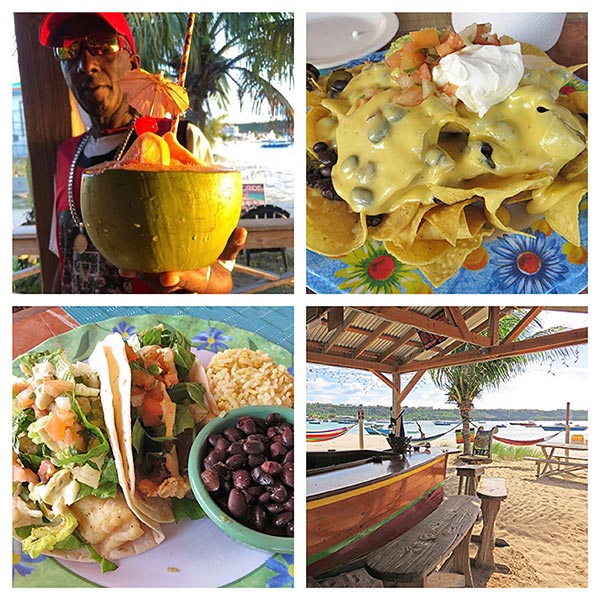 Elvis' has all of the ingredients for the perfect beach bar! We aren't the only ones who think so ;-)
Join me in saying a huge congratulations to Elvis' Beach Bar. As of 2022, it's official...
Elvis' has been rated the #1 Beach Bar in the Caribbean by USA Today's 10Best awards!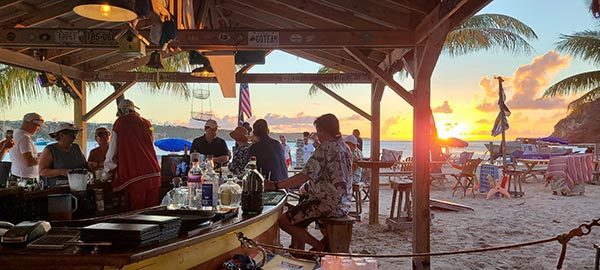 So well-deserved, if you are coming on-island this winter don't miss a visit to Elvis' for a mouthwatering dinner or a long, lazy lunch by the sea!
Elvis' is open daily for lunch, dinner, late night eats and drinks, and live events on...
Thursday - DJ Kue from 9pm
Friday - Gossip & Crew
Saturday - DJ Kue from 9:30pm
Elvis' is an Anguilla Card Partner. Save 10% at Elvis' when you use your Anguilla Card.
---
"Grill Master" Garvey at The Sunshine Shack
There are so many reasons to love Garvey Lake and his beloved Sunshine Shack on Rendezvous Bay!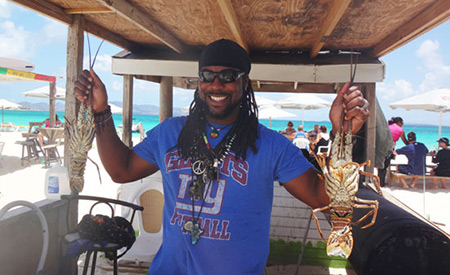 His expertly crafted cocktails, toes-in-the-sand dining, the blues of Rendezvous, the outstanding BBQ ribs...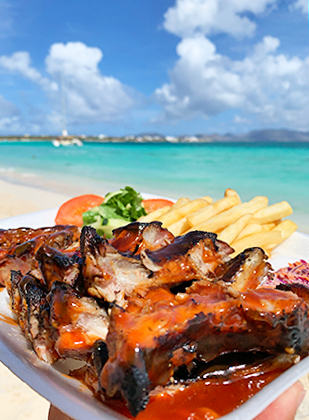 And now, big thanks to Anguilla lover, Andrea D. for giving us two more reasons to love "Grill Master" Garvey!
Our mouths are drooling just looking at Andrea's photos of her Sunshine Shack favorites...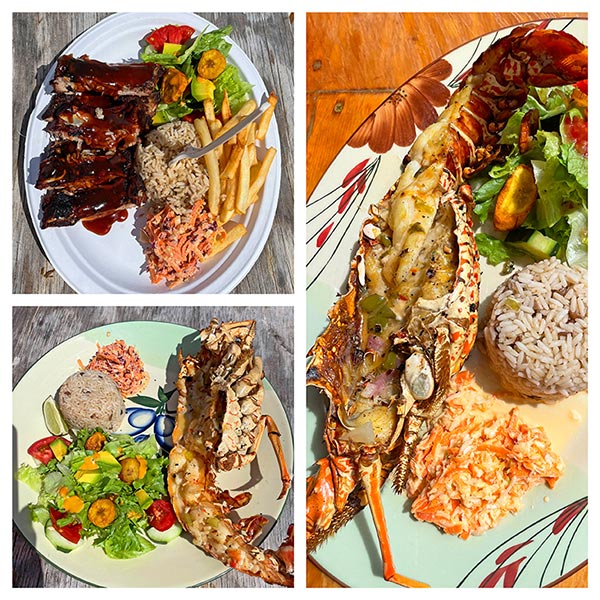 BBQ lobster and crayfish? That looks oh so delish 😋😋😋
Thank you, Andrea for the food tips! Garvey's crayfish is next on our "to try" list.
For BBQ, St. Martin views and those RendezBLUE hues, don't miss Garvey's on your next trip to Anguilla. Garvey is open for lunch daily, closed Tuesday.
The Sunshine Shack is an Anguilla Card Partner. Save 10% when you use your Anguilla Card at The Sunshine Shack.
---
Inside Anguilla's Most Impressive Luxury Villas
On an island known for catering to the jet-set, Anguilla's villas are nothing short of jaw-dropping. Two villas that sit at the top of the "best villas" list? None other than Long Bay Villas and Santosha Villa Estate.
Let's sea why these iconic properties rank as some of the island's best!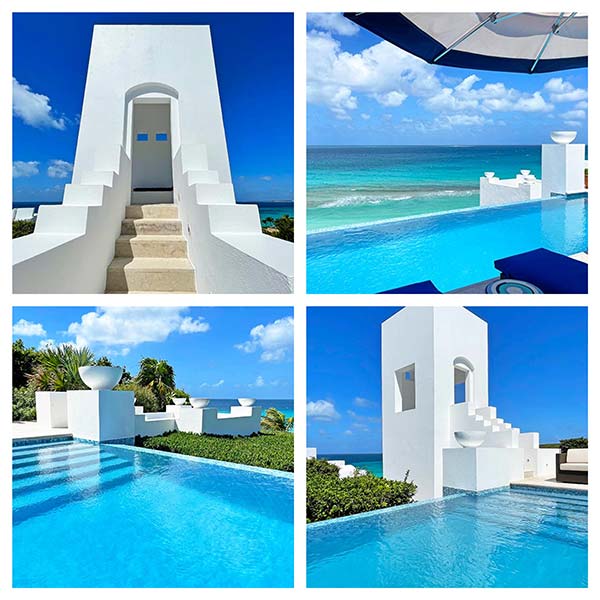 Long Bay Villas takes your breath away in three distinct ways: Sky Villa, Sea Villa and Sand Villa.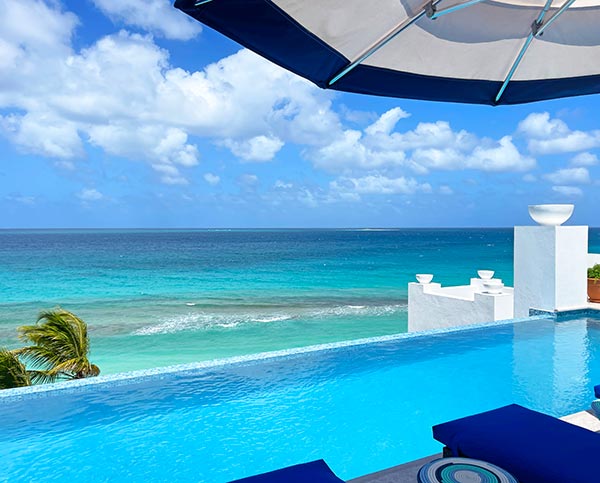 The estate's three stark-white villas tier down the lush hillside that slopes up from pristine and exclusive Long Bay beach.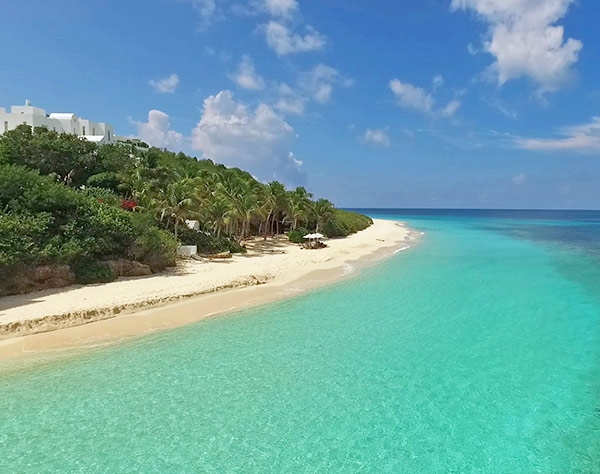 Long Bay beach is a special slice of paradise. True to its name, Long Bay is a long stretch of powdery-fine sand. Here, waters glisten in a cool gradient of blue, capturing every shade imaginable.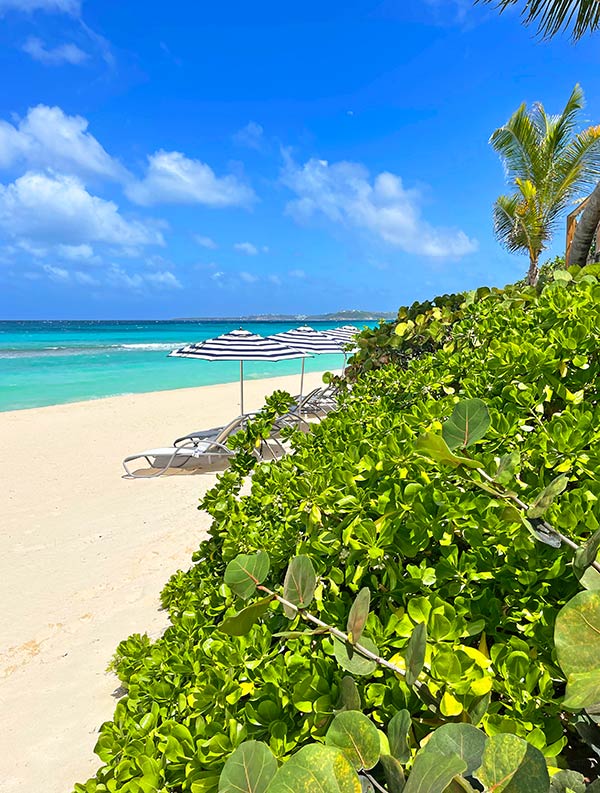 This impressive beach is set just next to famous Meads Bay. Unlike Meads, however, you won't often find another soul on this beach. Long Bay is where to be for total peace and tranquility.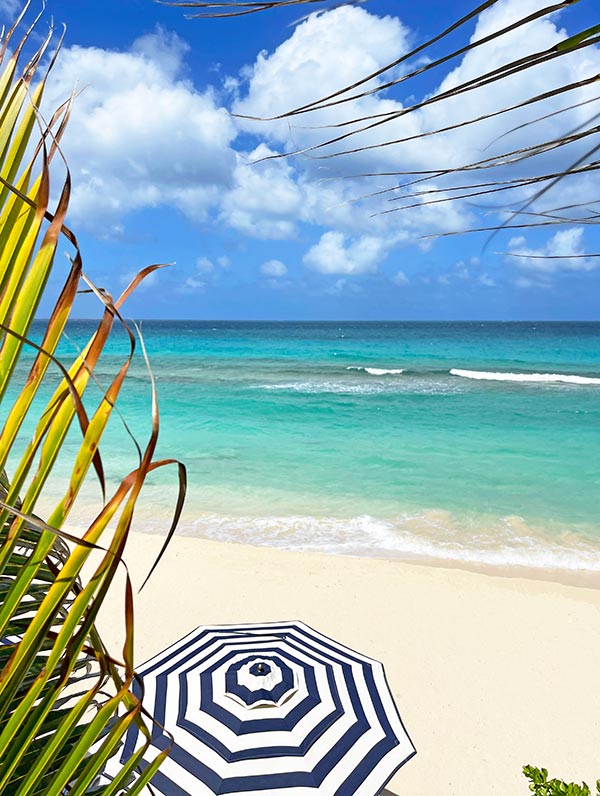 Long Bay Villas takes full advantage of its breathtaking setting. Each villa emphasizes a different perspective of "Long Bay Blue," and each view is more impressive than the next.
From Sand's intimate setting...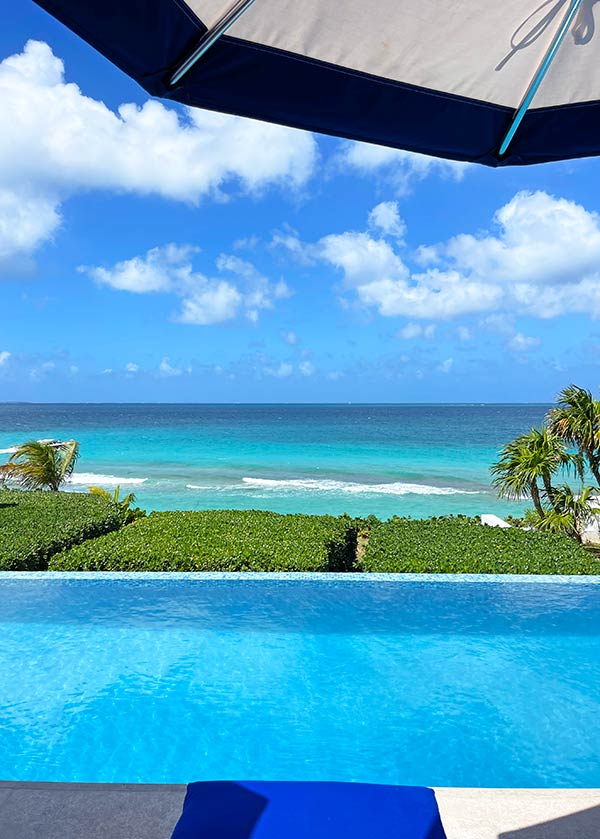 Just steps from Long Bay's shores...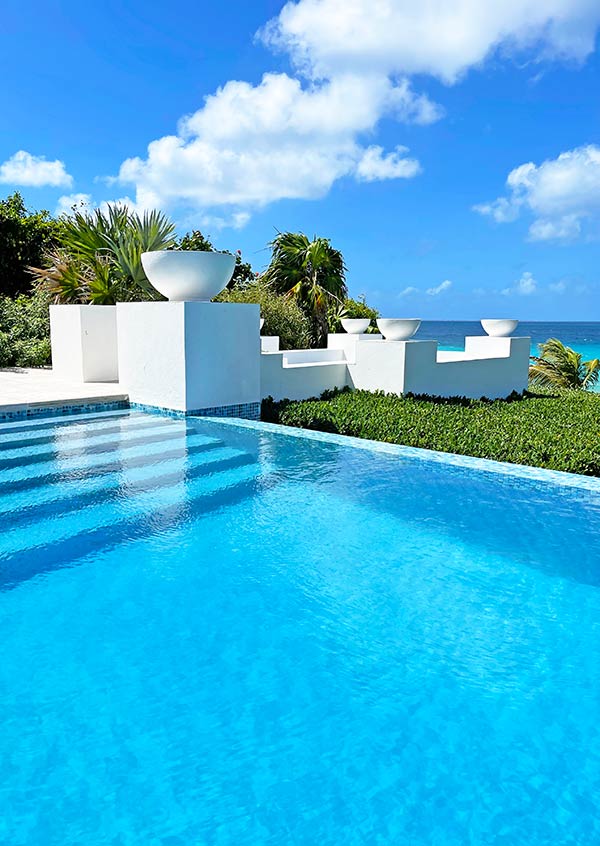 To Sea's perch in the sky, overlooking the ocean blue...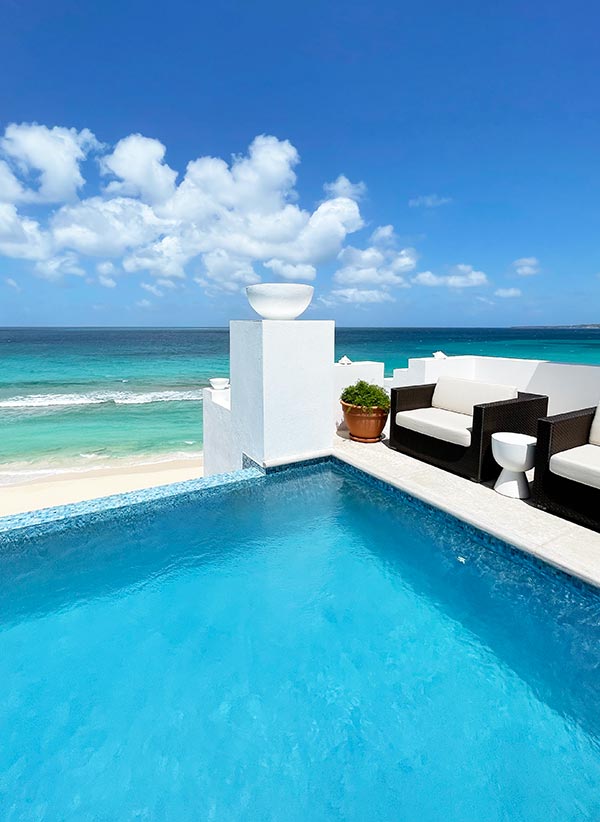 And then there's Sky's tower to the clouds...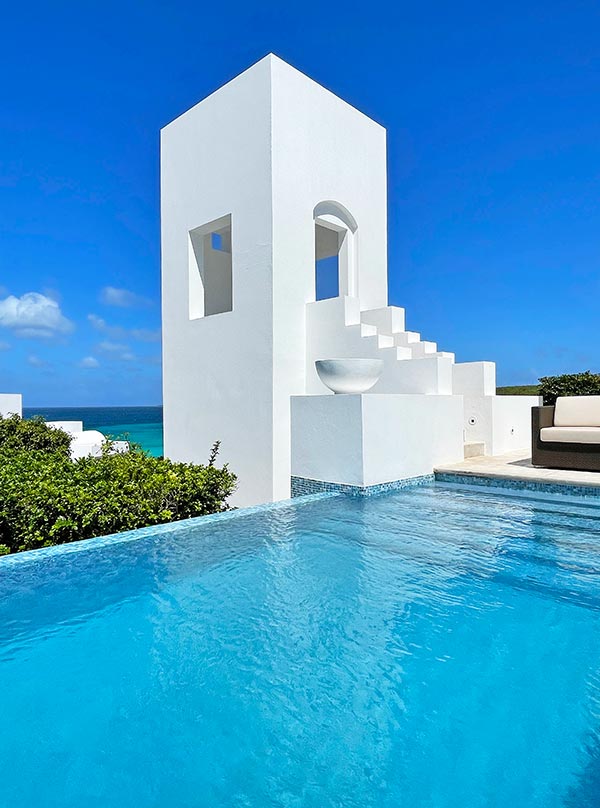 Long Bay Villas is in no short supply of show-stopping architecture that complements the natural beauty of its surroundings!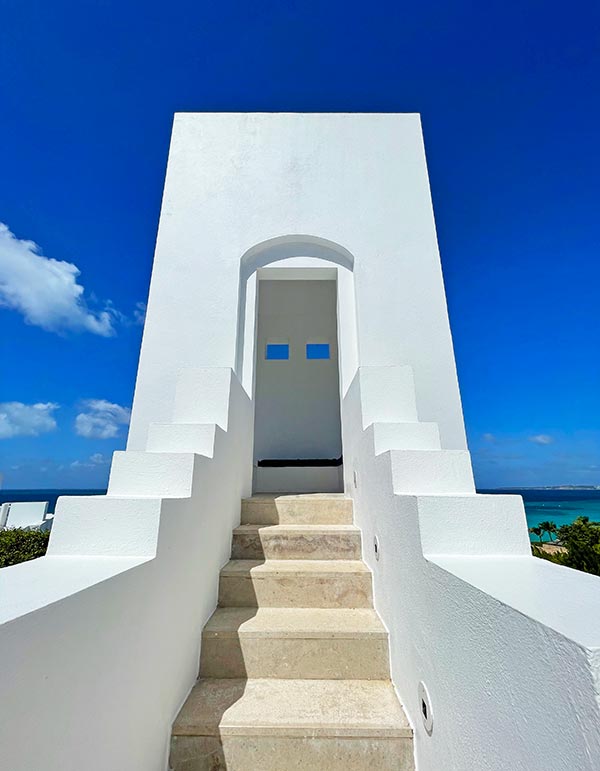 Inside, all 3 villas combine to boast 16 bedrooms with over 19,000 square feet of indoor/outdoor living space that can accommodate 33 guests.
With state of the art furnishings, the villas are a dream!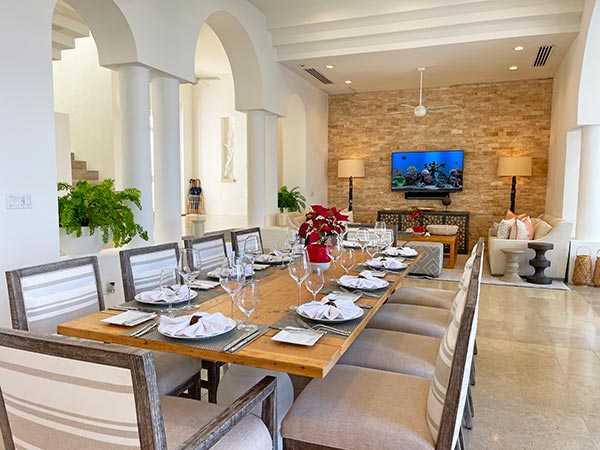 Next door to Long Bay Villas, sister property Santosha Villa Estate reigns as Anguilla's most grand villa.
A 37,000 square foot West Indian-style estate, Santosha is of a bygone era.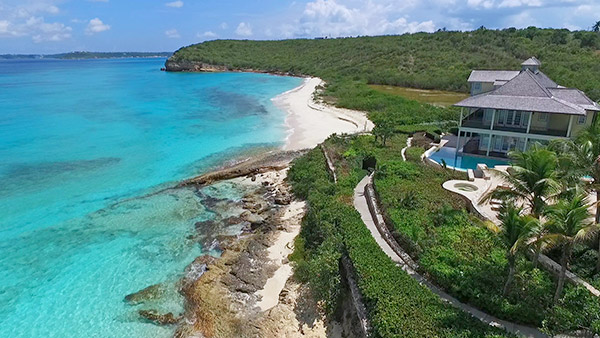 Santosha Villa Estate sprawls across 4.5 lush acres. Its design is classic Caribbean, immaculately executed. A marked sense of relaxed sophistication washes over you as you walk through the nine bedroom property.
From regal crown moldings, to mahogany four poster beds, to antique sconces, louvre doors and double-paned windows, to the grand spiral staircase and wrap around verandas, each and every piece has been carefully designed.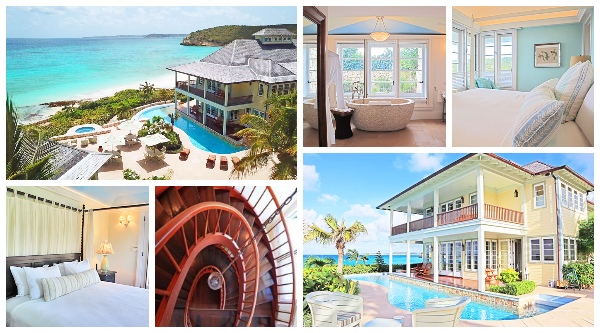 Beyond the properties' sheer beauty and elegance, they are renowned for their excellent service.
Property manager, Patricia Bygrave and her staff go above and beyond to deliver the most blissful escapes.
For a full look at the Long Bay Villas and Santosha Villa Estate experience, click here.
For more on these iconic villas, visit...
---
Anguilla Events & Travel Updates
Visiting Anguilla this month?...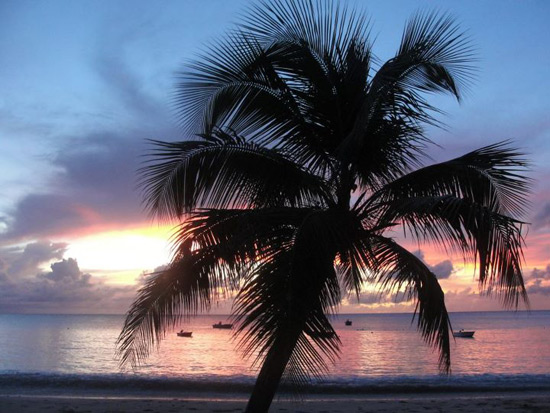 ---
Where to Stay This Winter?
Arawak Beach Club is one of Anguilla's most iconic hotels.
Painted tropical colors that catch the eye, the hotel's cheerful atmosphere has always been one of our family's favorites. The hotel is famous for its spacious suites, tropical grounds and excellent rates.
It is no surprise that Arawak Beach Club has been filling up fast this season!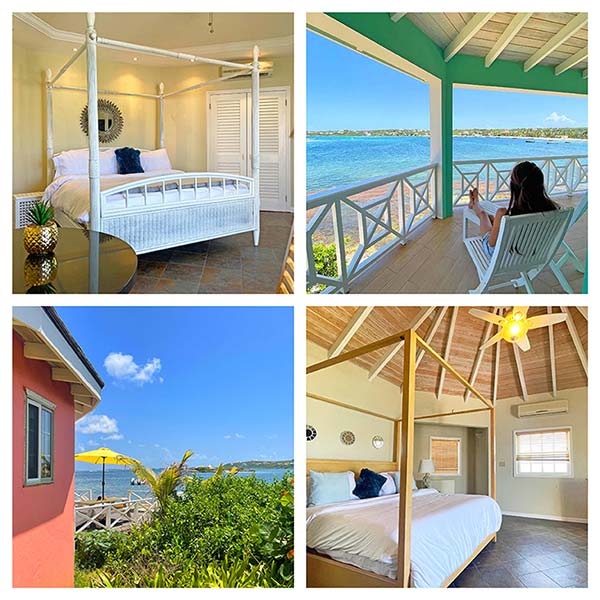 To book your stay at Arawak Beach Club, look inside their 4 beautiful suites here...
Arawak Beach Club is an Anguilla Card Partner. Save 10% at Arawak Beach Club when you use your Anguilla Card.
---
A Refreshing Beach Escape
At Beach Escape Villa, tranquility is a shore thing.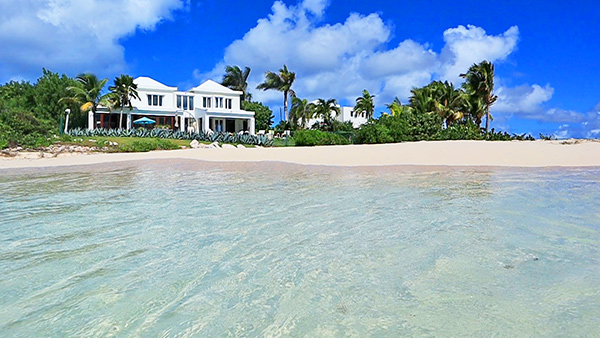 Our family fell in love with Beach Escape Villa many moons ago, based on its location alone. A villa with chic beach house charm, Beach Escape is true to its name.
Set on secluded Sandy Point beach, at Beach Escape you are directly on sandy beachfront.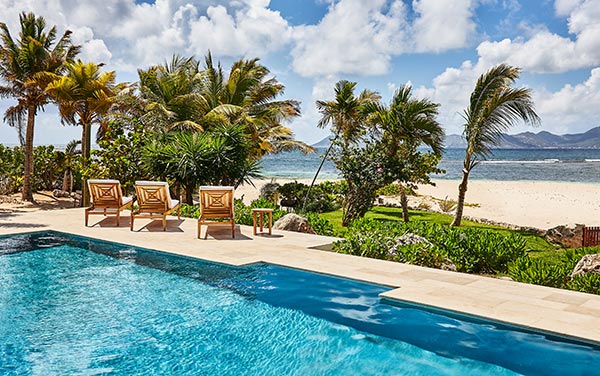 Beyond location, Beach Escape is one of the most comfortable, chic and user-friendly villas in Anguilla.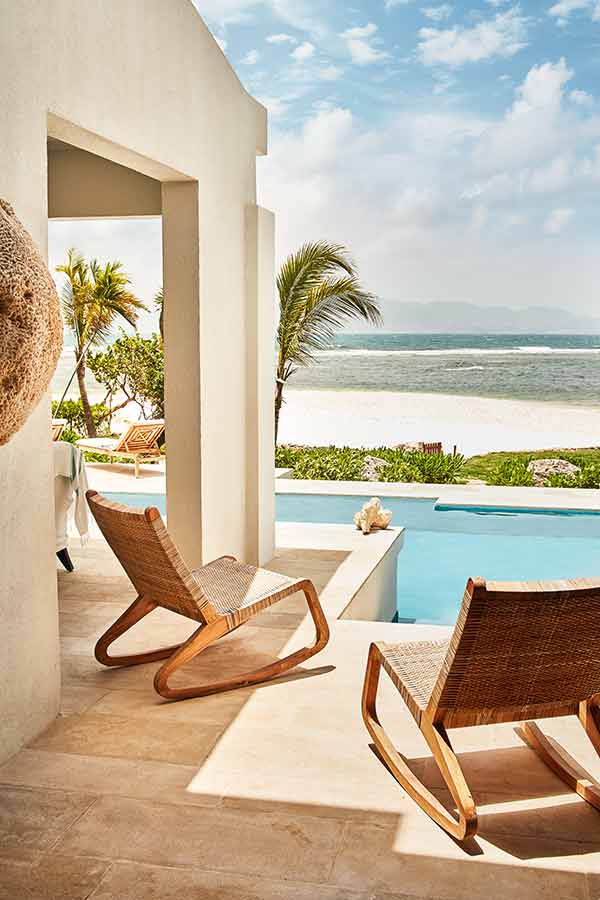 Five bedrooms, plush media room, modern kitchen with outdoor cooking options and indoor and outdoor dining and lounging spaces span the villa's property.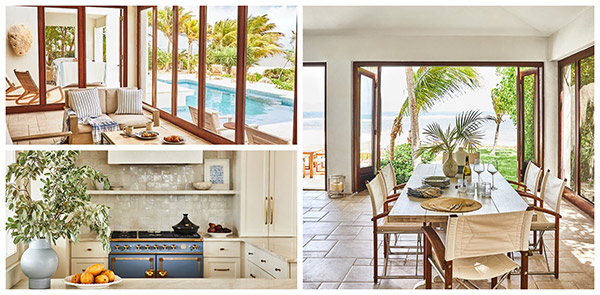 Two heavenly master suites are in the villa's main house, while two additional master suites and a twin room are in the guest house.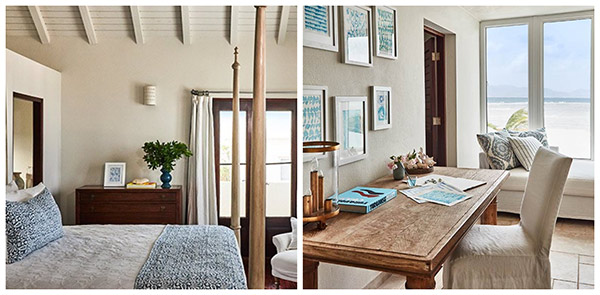 With direct beach access, grassy lawn, sandy front, Apple TV, SONOS, EVO grill, tropical landscaping, solarium-eque showers, luxurious outdoor couches, oversized screened-in patios, and plenty of areas to lounge...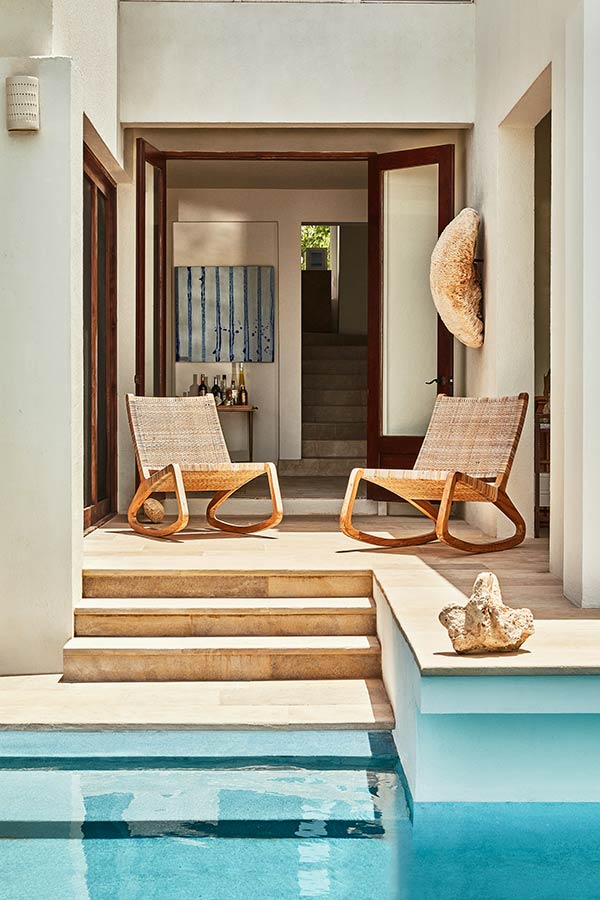 NEWLY renovated Beach Escape is an ideal choice for a winter beach escape!
Book Your Beach Escape
---
A Meads Bay Getaway
Developers, Neil Freeman and Ian "Sugar George" Edwards sure knocked it out the park when they built Tranquility Beach Anguilla.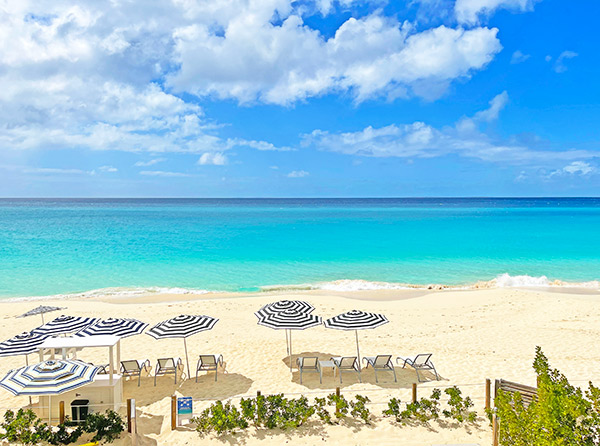 Set smack dab in the middle of Meads Bay, the boutique hotel wins for its coveted location alone. Add in its modern design and excellent hospitality, and you have a property that's in a class of its own.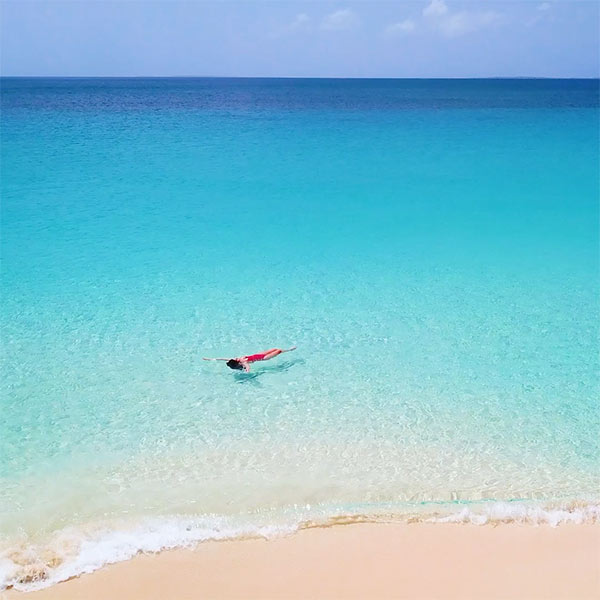 There is no sweeter feeling than "coming home" to Tranquility Beach Anguilla.
Tranquility Beach's large suites offer all of the comforts of home: laundry, dryer, full kitchen for preparing meals in and expansive outdoor terraces.
These suites tick every box!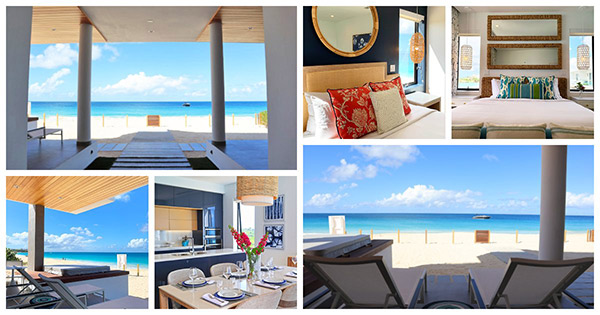 To Book Tranquility Beach Anguilla, Visit...
---
NEW Rental From Island Dream Properties
Our good friend, Jackie Pascher of Island Dream Properties has a brand new, high-value rental listing!
Introducing: Turtle Dove Villa...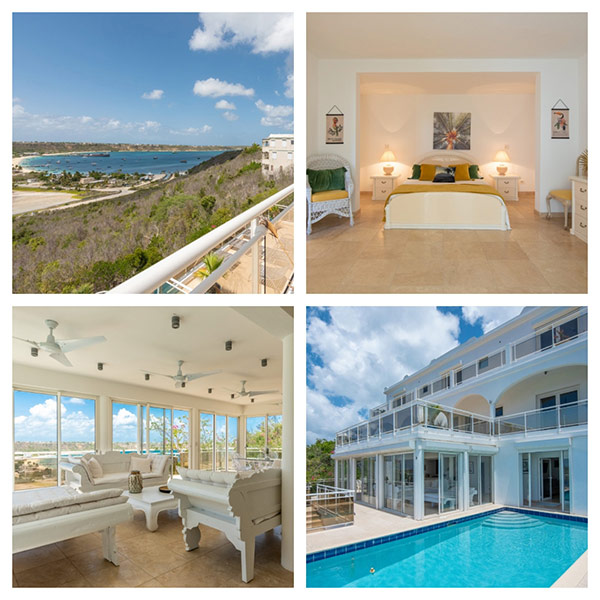 This modern villa is perched on North Hill with a wonderful view of the Sandy Ground beach and the Caribbean Sea.
Spacious and grand, with 4 luxurious bedrooms, a sparkling pool, gourmet kitchen and plenty of outdoor and indoor dining and living areas, Turtle Dove ticks every box.
Rates start at ~$700/night.
Step inside Turtle Dove Villa here.
---
Thinking of a Much Longer-Term Getaway?
Jackie has two fantastic condo listings!
First, at Sandy Hill Club...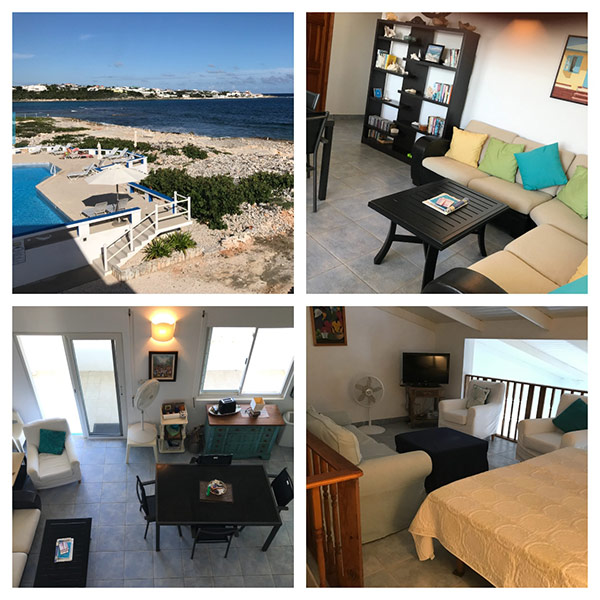 A 2 bedroom condo overlooking the breathtaking Caribbean Sea, with views of St. Martin and St. Barths, too.
This one is a steal at $349,000. Click here for full details.
Second, at Fountain Residences...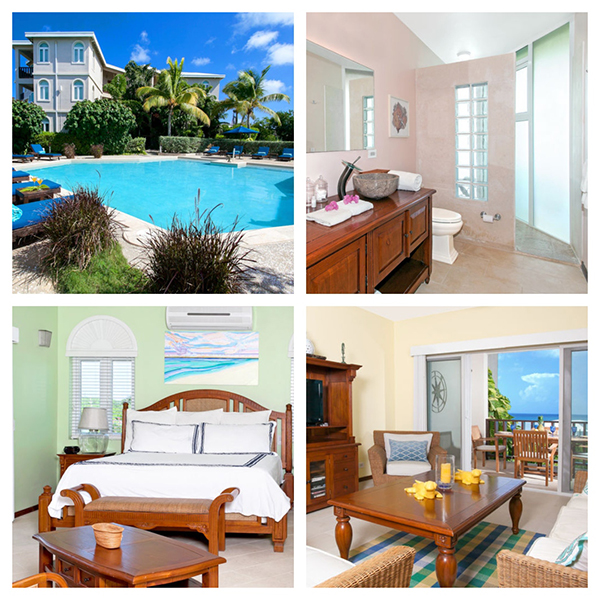 Just a 5 minute stroll from Shoal Bay East, this condo's location cannot be beat. The Bamboo Unit features 2 bedrooms and 2 bathrooms on the 2nd floor with ocean views.
At $650,000, it is a high value listing. More here.
---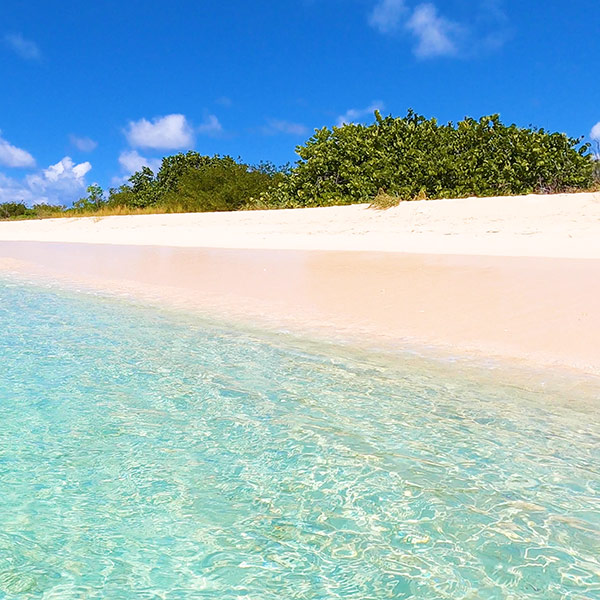 ---
That's all for now.
If you are planning a trip to Anguilla, get your Anguilla Card here!
We can't wait to SEA you on the beach 💗🏝
With lots of warming Anguilla sunshine,
Nori & Louise
---
Anguilla-Beaches.com
---