---
Combing Anguilla's Beaches for the Best
Anguilla Beach Lovers brings you a fresh dose of "Tranquility Wrapped in Blue" every month.
If you like this newsletter,, please do a friend a favor and "pay it forward."
If a friend did forward this to you and if you like what you read, please subscribe by visiting...
---
Issue #149, August 20, 2022
In Anguilla, it's summer vibes 24x7x365 😌💗🏝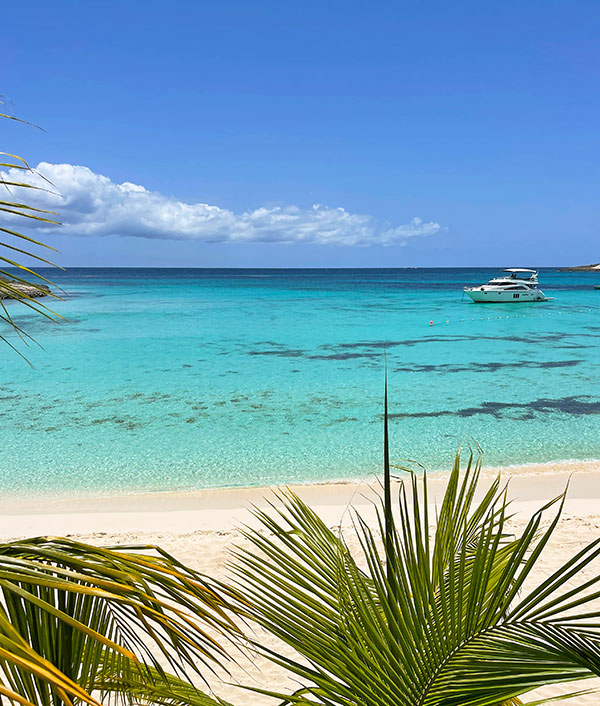 With the end of August quickly approaching, the island is settling into a transcendental state of tranquility wrapped in blue.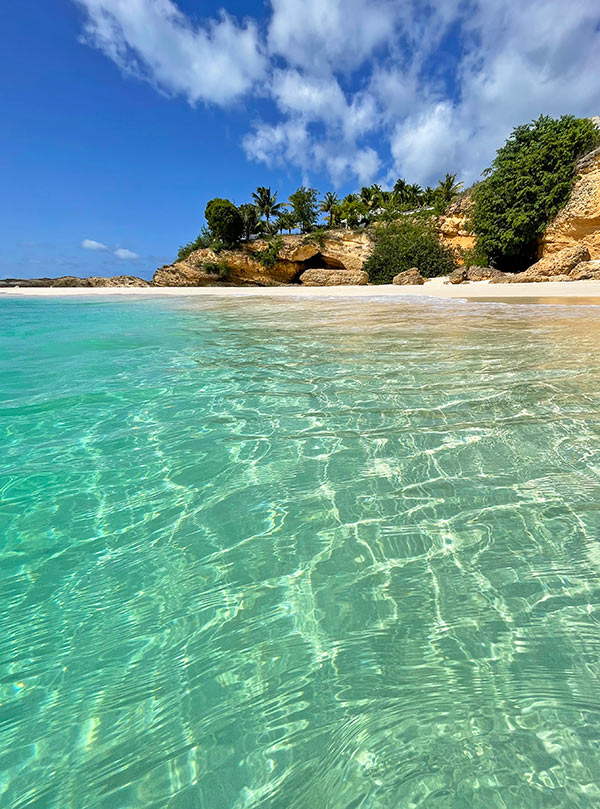 Come the end of August the island slows right down. Many restaurants and hotels close for a month or two to repair and rejuvenate for the coming season.
The result? It's 100% blue and you...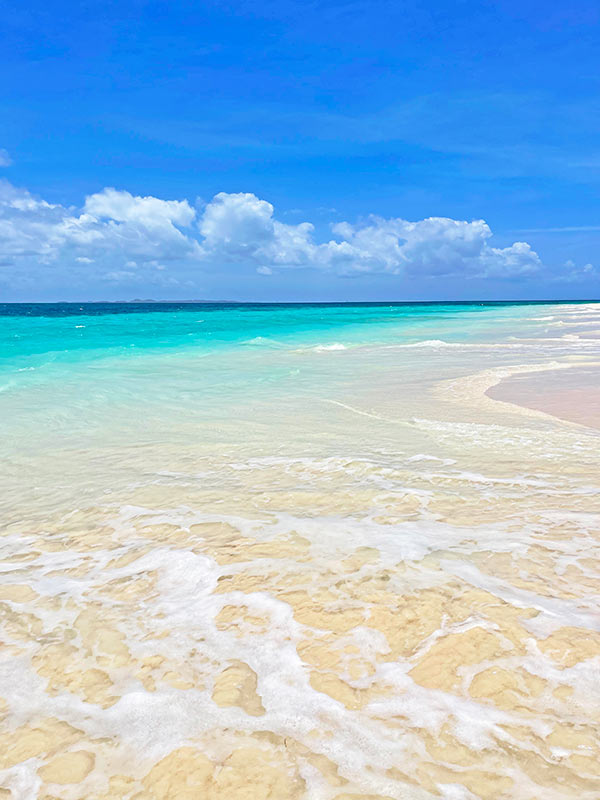 Come the off season, you almost always have these beautiful beaches all to yourself!
That's not all! This off season, traveling to Anguilla just got easier. As of August 8th...
There shall be no pre-arrival testing requirement for vaccinated persons. Evidence of vaccination status must still be presented to the airlines on check-in and on arrival at the ports of entry in St. Maarten and Anguilla.
Unvaccinated visitors will be permitted to enter Anguilla with a negative pre-arrival COVID-19 test result. There shall be no quarantine or further testing.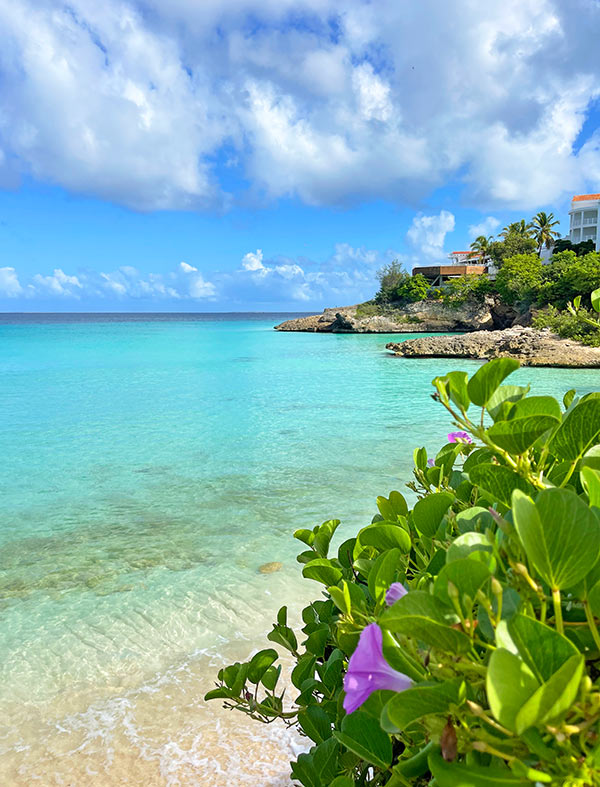 There SHORE is no better time to travel to Anguilla.
If you are thinking of visiting this off-season, here are 5 reasons why you should buy the ticket 🤗✈️💗🏝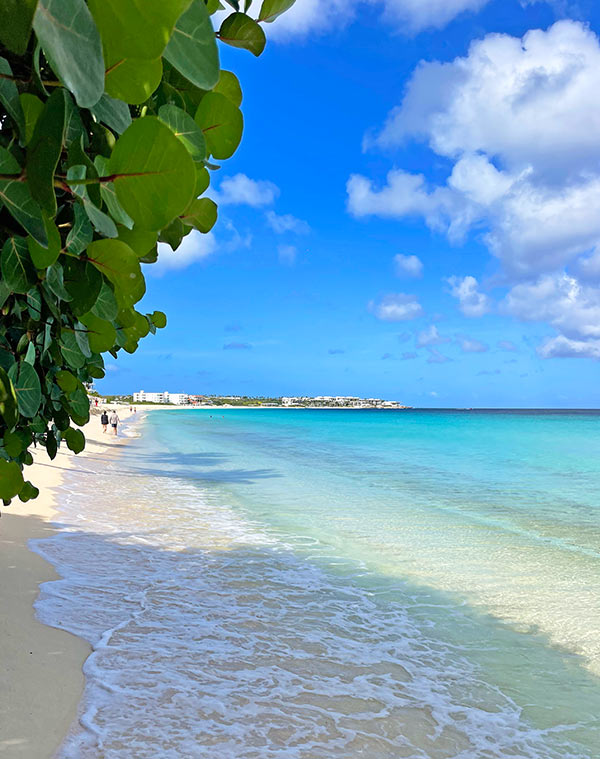 On that note? Let's soak up summer, Anguilla-style!
Here's what's new...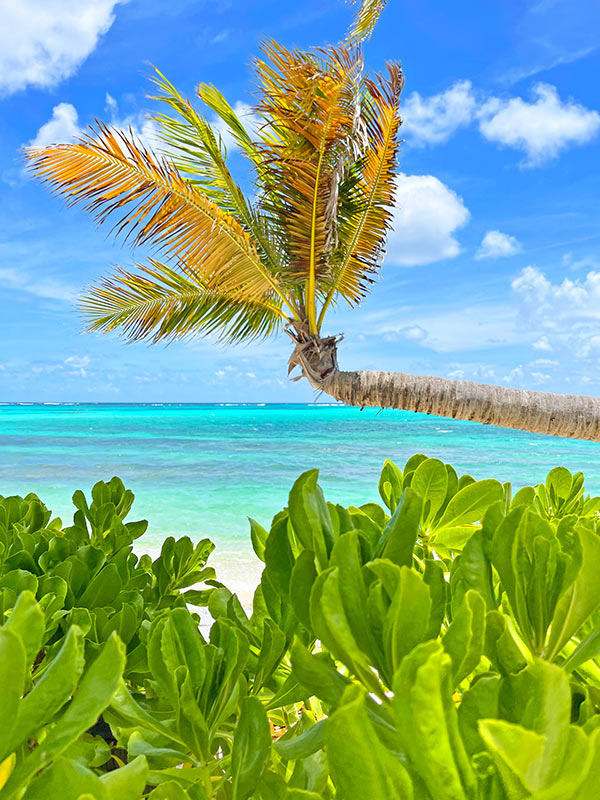 ---
NEW Anguilla Card Partner: Nat's in The Valley
Calling all lovers of Nat's Palm Grove!
Did you know that you can get Nat's signature flavor right in the heart of The Valley?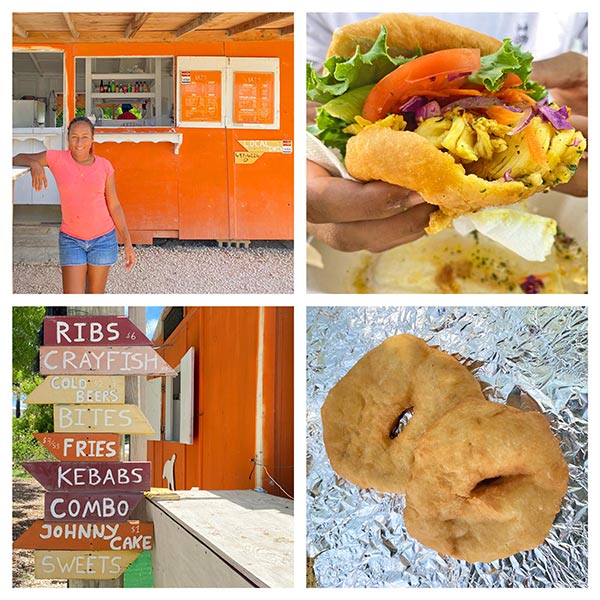 That's right! Nat's daughter, Natalie has opened up shop in the island's capital and boy are we glad! From her bright, breezy and convenient location, Natalie serves up all of your favorites.
Piping hot classic Nat's Johnny cakes? Check!
Local drinks? Check!
Mouthwatering BBQ? Check! Check! Check!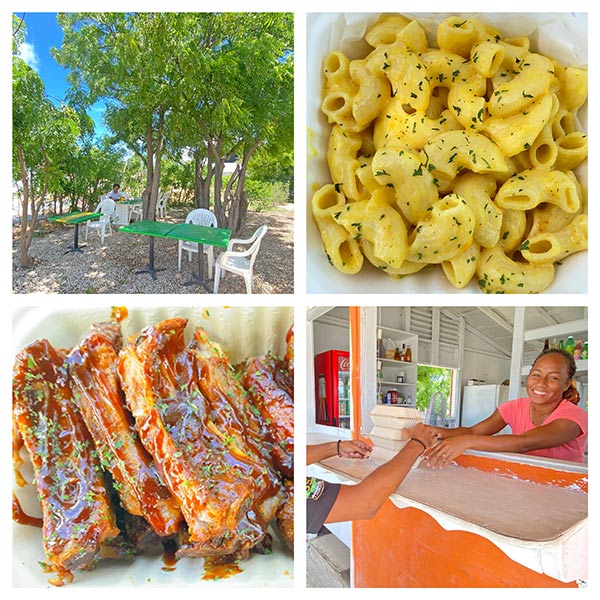 Nat's offerings don't end there.
Her menu features a whole host of creative options, from lobster Johnny cake burgers, to silky, savory mac & cheese, to loaded fries that make you weak at the knees!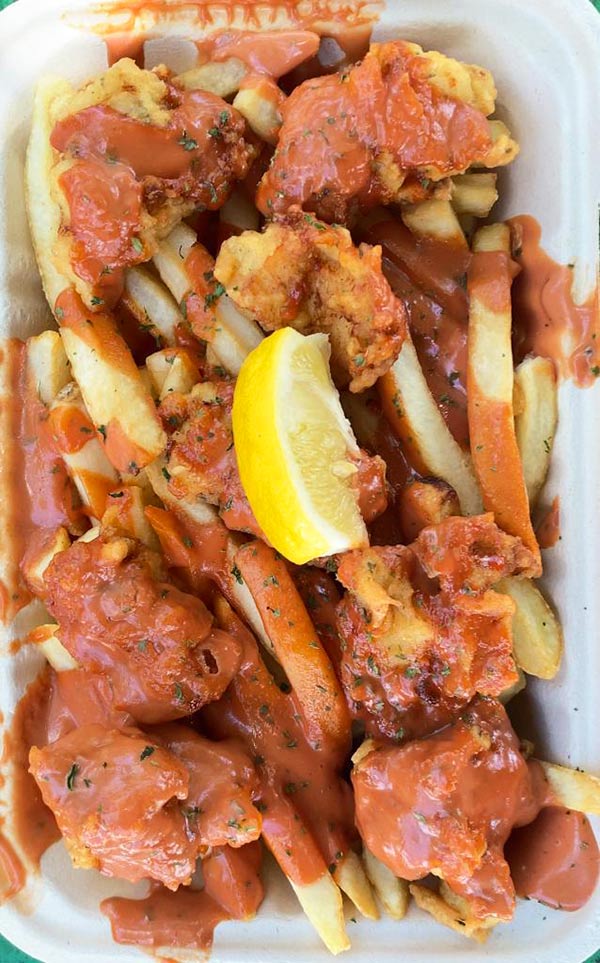 We can't get enough of Nat's!
Nat's is open Monday-Friday 11am-3pm. Nat's is located in The Valley. You can reach her spot by taking the road just opposite Republic Bank.
Nat's is an Anguilla Card Partner. Save 10% at Nat's when you use your Anguilla Card.
---
Have You Seen Tasty's POV?
Chef Dale Carty has done it again! Welcome to Tasty's "POV"...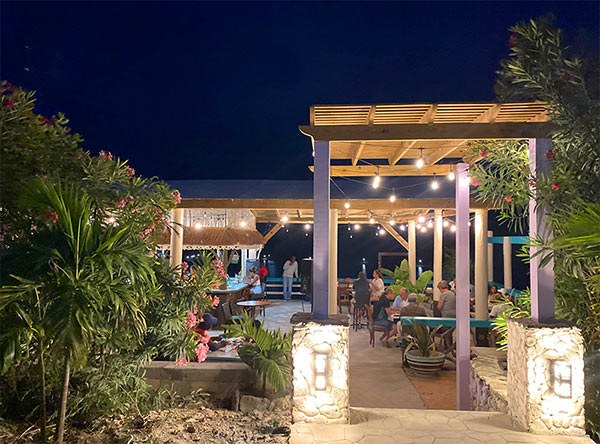 Chef Dale's NEW dining spot right by Tasty's, POV is aptly named. Its view is iconic. POV gazes out to Sandy Ground's famous stunning sunsets by early evening time and the sparkling lights of the harbor come night.
Whether for a sunset drink or a night on the town, there's no better way to begin your POV experience than with a classic POV cocktail!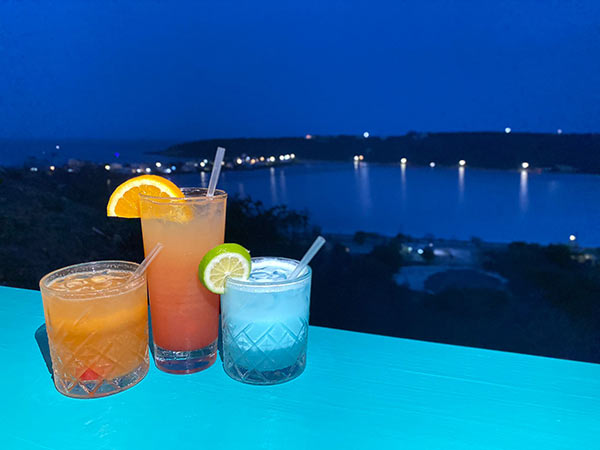 Chef Dale and his mixologists serve up a variety of exquisite drinks.
Some of our favorites include the Anguilla Collins and the Coco Loco Tropical! The former is a must for lovers of gin.
We have to hand it to Chef Dale and his team. These cocktails are something out of a tropical dream!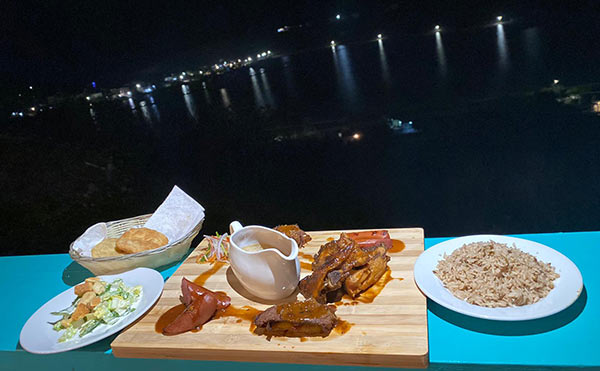 A night at Tasty's would never be complete without mouthwatering eats. Chef Dale brings the goods with a big menu of BBQ and seafood treats.
The Meat Lover's Plate gets our vote as a "menu must!"
This dish leaves no stone unturned. All of your favorites make an appearance. BBQ chicken, BBQ brisket, BBQ ribs and BBQ turkey sausages are served with rice & peas, Caesar salad and Chef's famous Johnny cakes.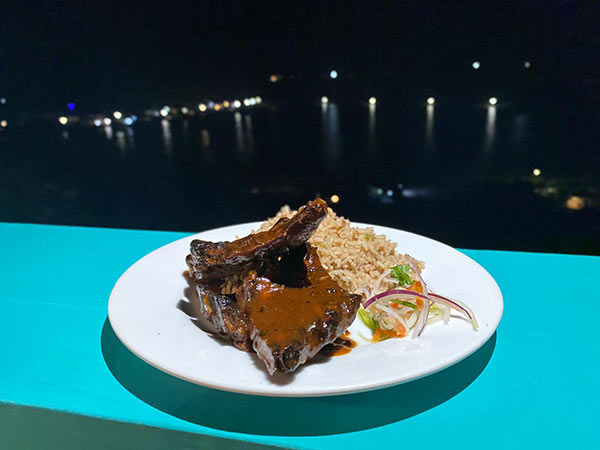 In addition to all things BBQ, Tasty's POV serves up fresh local caught tuna, lobster and so much more.
Our hats go off to Chef Dale! We are in love with your POV 😉💗🏝
Drop into Chef's POV Thursday-Monday from 5:30pm-midnight. Tasty's POV is located at Tasty's Restaurant.
Tasty's POV is an Anguilla Card Partner. Save 10% at Tasty's POV when you use your Anguilla Card.
---
Where To Stay This Summer
Summer rates are ON at our favorite properties!
First up?...
Arawak Beach Club
Set at the water's edge in scenic Island Harbour, Arawak Beach Club is one of Anguilla's most iconic hotels. Painted tropical colors that catch the eye, the hotel's cheerful atmosphere has always been one of our family's favorites.
Let's take a peek at some of our favorite Arawak suites.
Step inside the Sunshine Suite...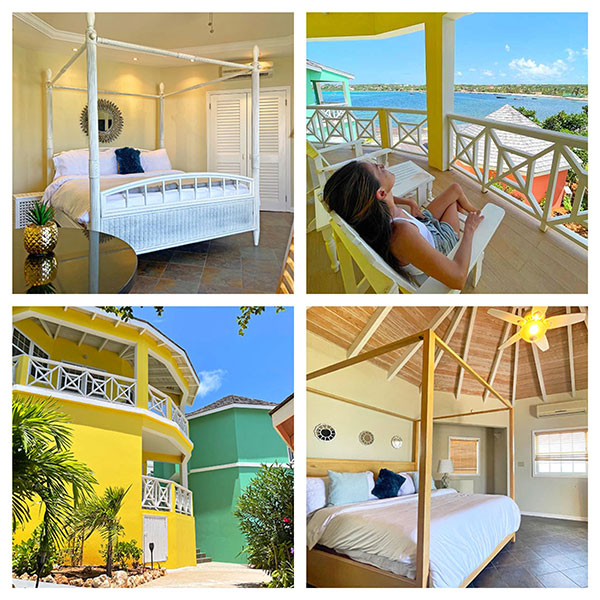 You immediately fall in love with the Sunshine Suite's huge wrap-around terrace. One of the most picturesque settings at Arawak Beach Club, its uninterrupted view of Island Harbour, the fishing boats and the swaying palm trees puts you at ease.
Another favorite? Unit 9...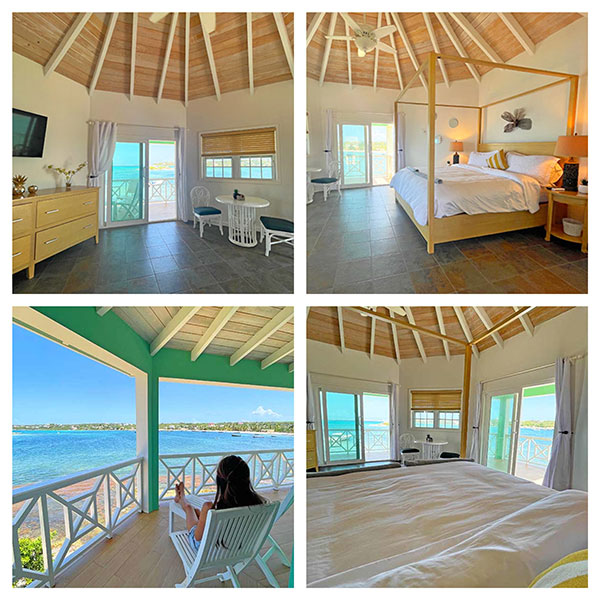 This room is a dream! A perch in the sky, you are surrounded by natural beauty. The suite's extra-spacious wrap around terrace boasts a 210° view of Island Harbour beauty. A gentle, cooling sea breeze always blows through this part of the island. With that tropical breeze and the sound of the waves rolling in, you are in heaven.
One of Anguilla's most high value hotels, the deal gets even sweeter this off-season with their discounted rates!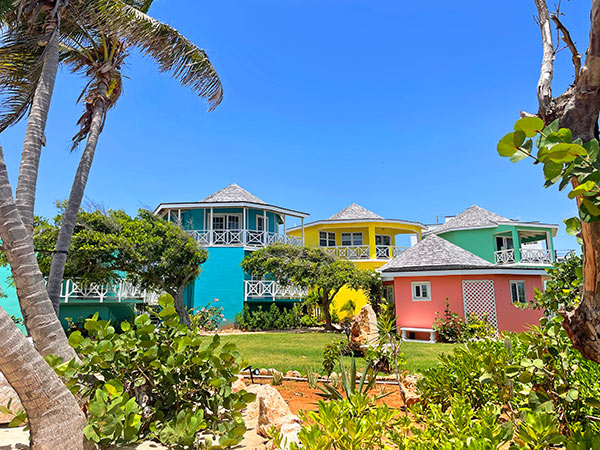 To take advantage of Arawak Beach Club's off-season rates, click here to contact Arawak.
Arawak Beach Club is an Anguilla Card Partner. Save 10% at Arawak when you use your Anguilla Card.
---
A Summer Beach Escape
At Beach Escape Villa, tranquility is a shore thing.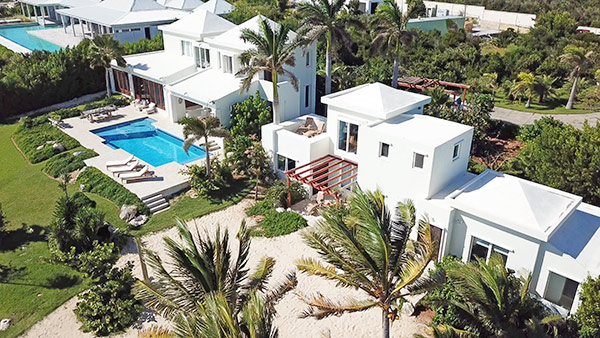 Our family fell in love with Beach Escape Villa many moons ago, based on its location alone. A villa with chic beach house charm, Beach Escape is true to its name.
Set on secluded Sandy Point beach, at Beach Escape you are directly on sandy beachfront.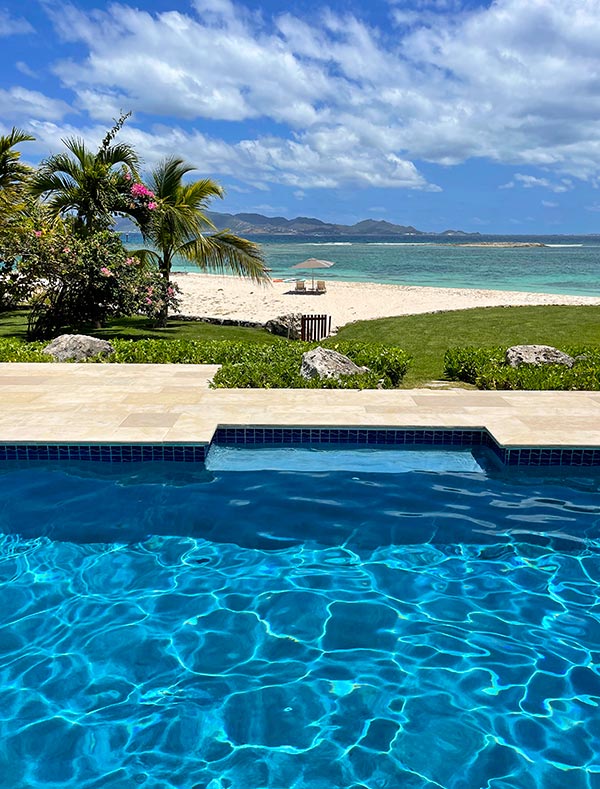 This stretch of sand affectionally called Sandy Point sits on the island's southern side, gazing out to breathtaking St. Martin.
It has long held a special spot in our family's hearts. Back in the day, my Dad and I would spend many afternoons sitting right on the beautiful "point of sand" that jets out towards St. Martin.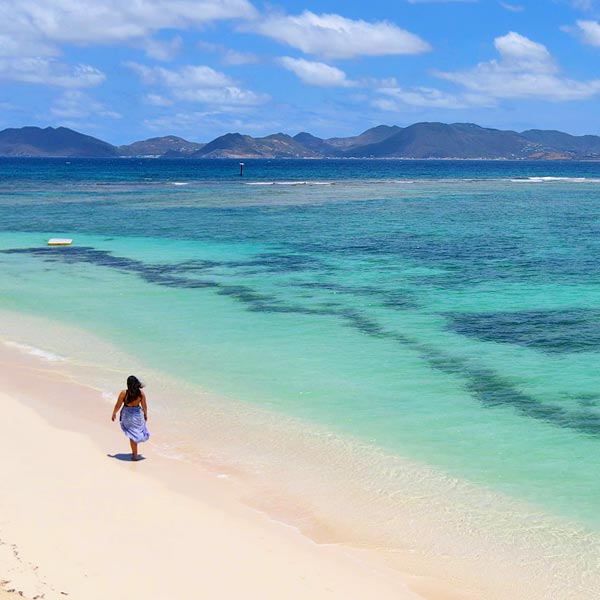 Beach Escape takes full advantage of its setting with beach chairs, umbrellas, a grassy front lawn overlooking the Caribbean Sea and even beach service.
Click here to experience Sandy Point beach.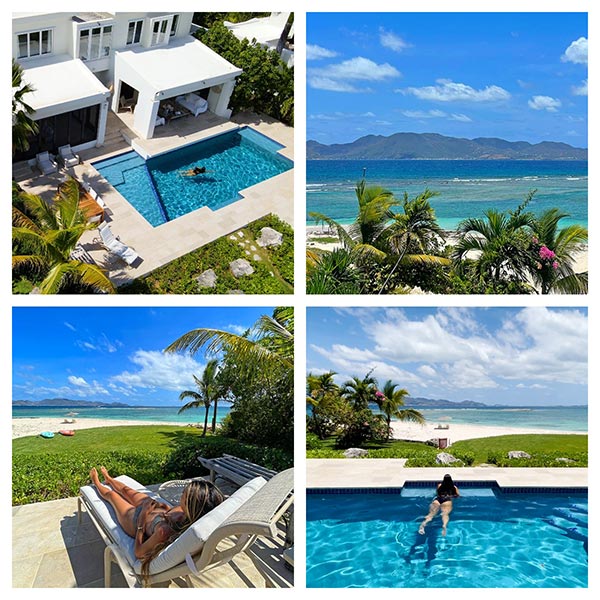 For more on this beachfront villa, click here.
To book your summer beach escape, contact the owner for the best rate.
---
Saving You a Seat at Tranquility Beach Anguilla
Is Meads Bay calling your name?
Stay on Meads Bay for less this off-season with Tranquility Beach Anguilla's summer rates.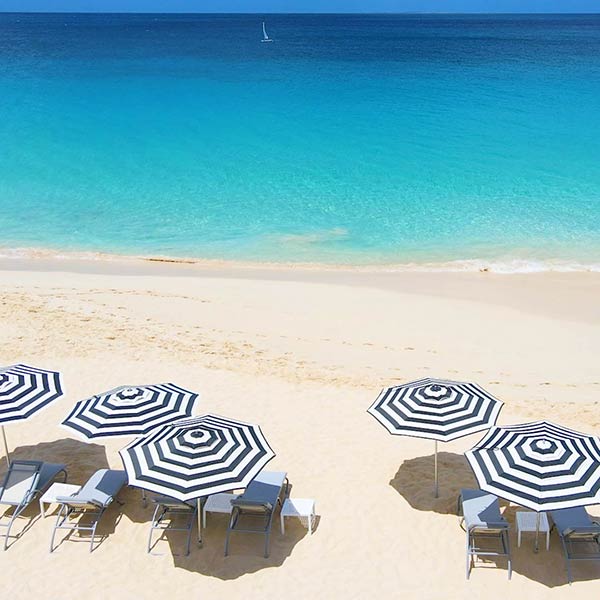 Leisurely strolls on the beach... dips in the clear blue sea... soul-soothing sunsets...
And at the end of a day on Meads Bay? There is no sweeter feeling than "coming home" to your condo at Tranquility Beach Anguilla.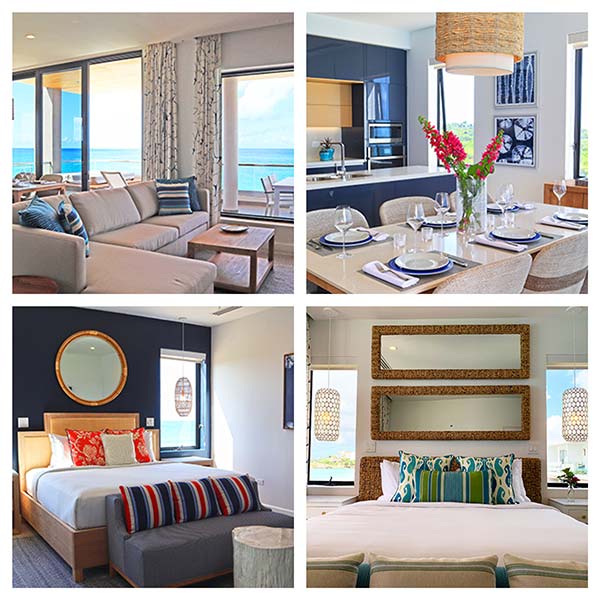 Tranquility Beach's large suites offer all of the comforts of home: laundry, dryer, full kitchen for preparing meals in and expansive outdoor terraces.
These suites tick every box!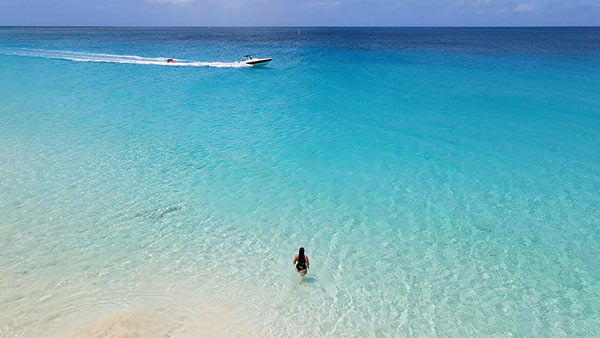 To spend the rest of the summer on Meads Bay, see below...
---
Exclusive Summer Getaway
When it comes to getaways, it doesn't get more exclusive than Long Bay.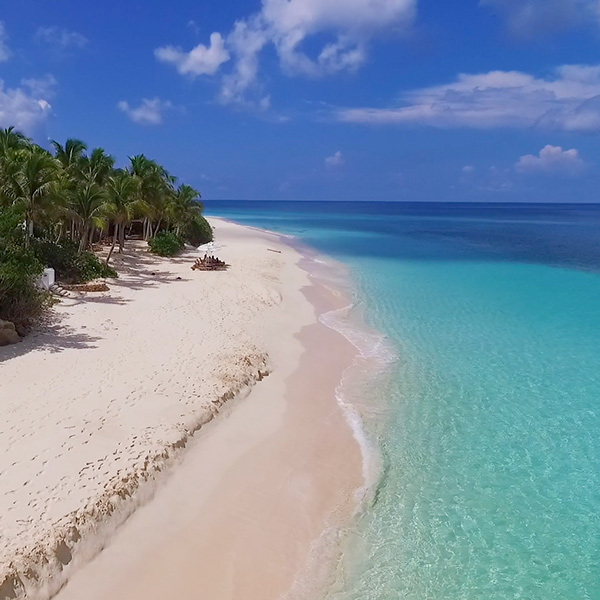 One of Anguilla's least visited "big beauties," Long Bay is a hidden gem.
Nestled right next door to Meads Bay, you often have this beach entirely to yourself.
The beach is home to a long stretch of powdery white sand, crystal clear waters and some of Anguilla's most impressive ultra-luxury villas including, Long Bay Villas and Santosha Villa Estate.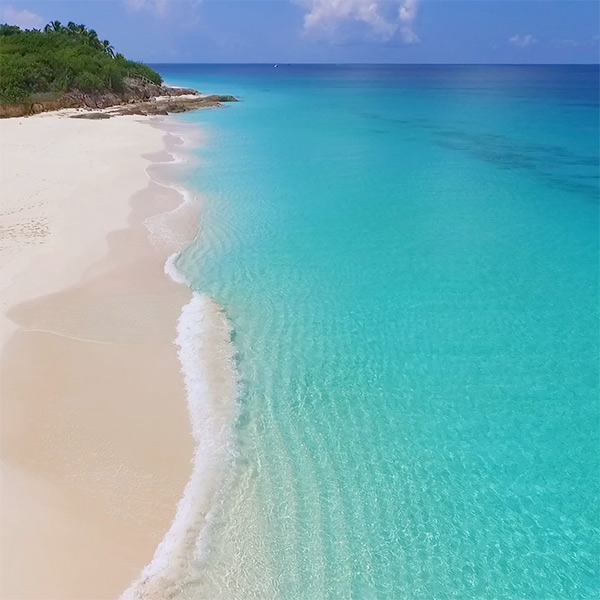 Long Bay Villas is Anguilla's most elegant and iconic ultra-luxury villa! The property takes your breath away in three distinct ways: Sky Villa, Sea Villa and Sand Villa.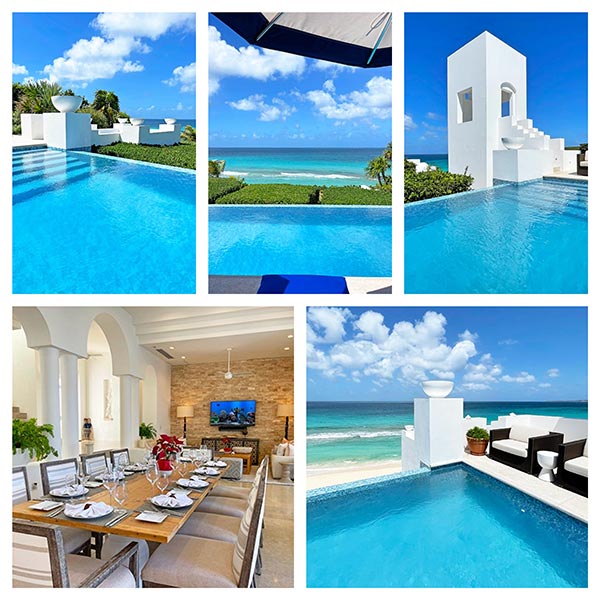 Next door to Long Bay Villas lies the ultra-exclusive Santosha Villa Estate.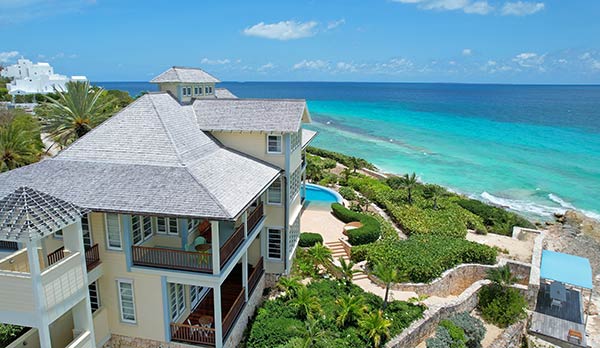 A 37,000 square foot West Indian-style estate, Santosha is of a bygone era. Its design is classic Caribbean, immaculately executed. A marked sense of relaxed sophistication washes over you as you walk through the nine bedroom property.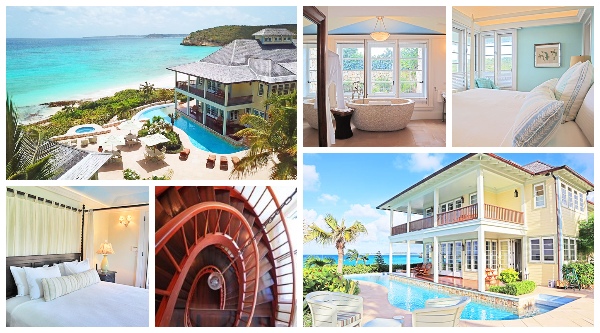 The two properties offer one of the most exclusive villa experiences in the Caribbean!
To book your getaway, visit...
More on Long Bay Villas
More on Santosha Villa Estate
---
Guide To Nightlife in Anguilla
Nightlife in Anguilla?... It exists!
Although Anguilla is famous for its low-key, laid-back vibe, there are plenty of spots for fun when the sun goes down.
Click here for our guide to nightlife in Anguilla.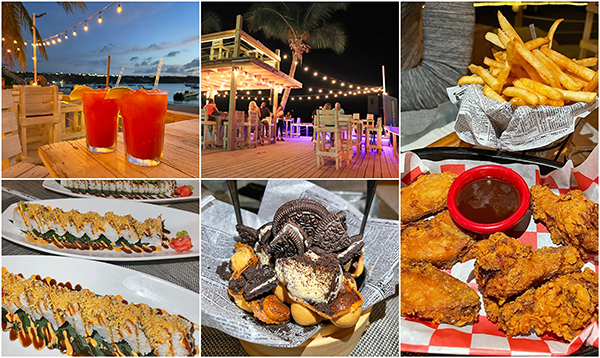 The fun doesn't end there.
Did you know that Back Street is a nightlife hot spot? Click here for the best bars on Back Street.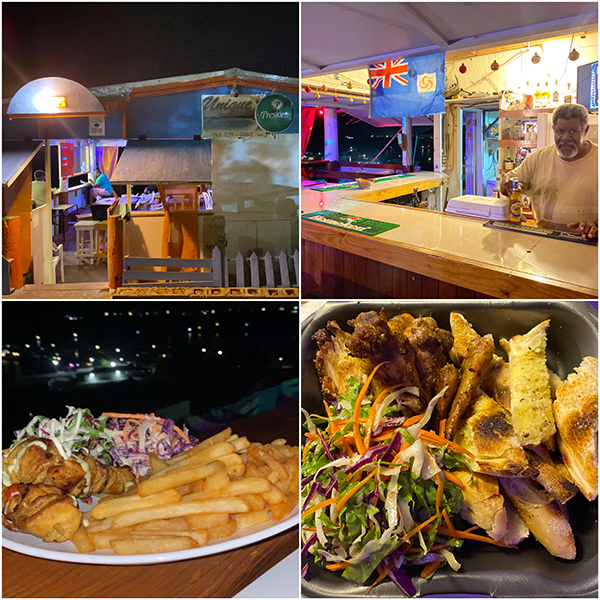 ---
Last Call For Cap Shack!
If you are on-island, Cap Juluca's barefoot, toes-in-the-sand beach bar closes for the season on Sunday.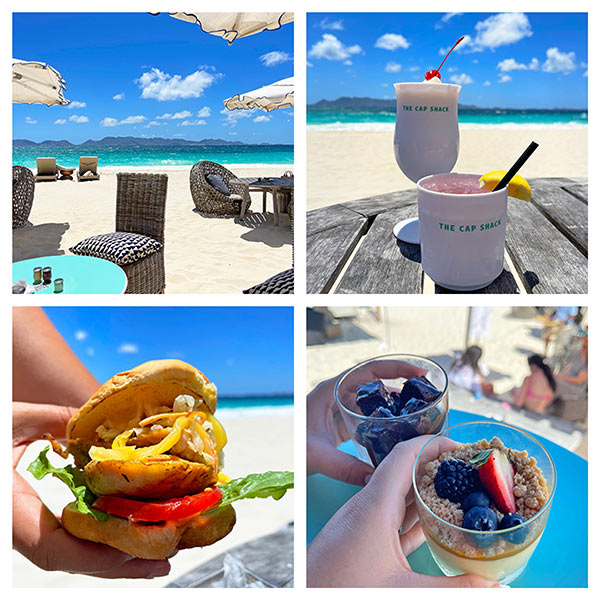 Be sure to drop in for a BBQ bite and beach respite one last time before they close for the summer.
Cap Shack is an Anguilla Card Partner. Save 10% at Cap Shack when you use your Anguilla Card.
---
Where To Eat & Drink This Off Season
With many dining spots preparing to close for the season, it begs the question...
Who is staying open?
First up, did somebody say Shoal Bay? Don't miss Olas and Tropical Sunset. Home to the island's best margaritas and excellent seafood treats, they are a must for a day at the beach.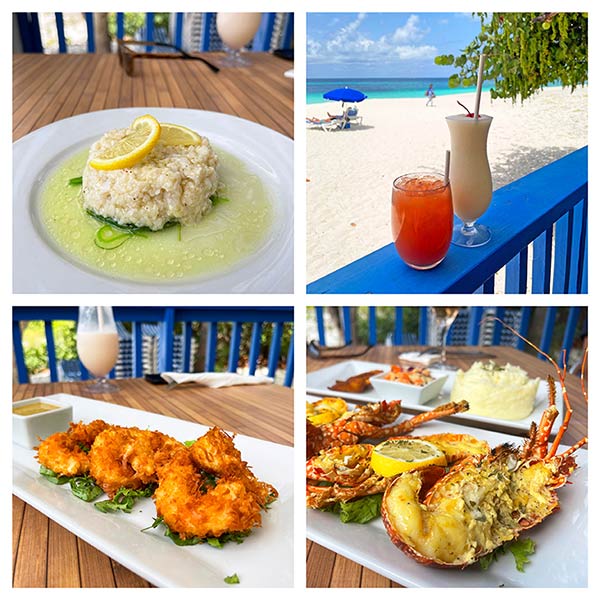 Elvis' Beach Bar and Lit Lounge are keeping the good vibes rolling down on Sandy Ground!
And when you are in the mood for a total island escape? Scilly Cay and Sandy Island will help you take a well deserved beach break 😉💗🏝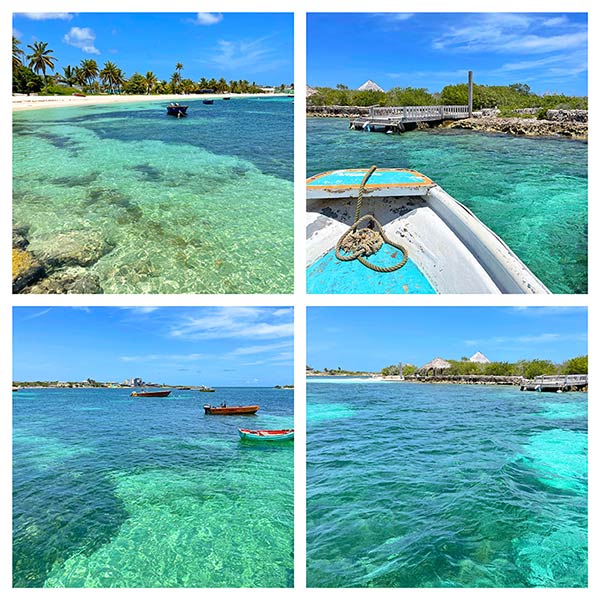 For a full list of who is staying open this season, click here.
---
Thinking of a Much Longer-Term Getaway?
Jackie has a fantastic new listing!
Turtle Dove Hill Villa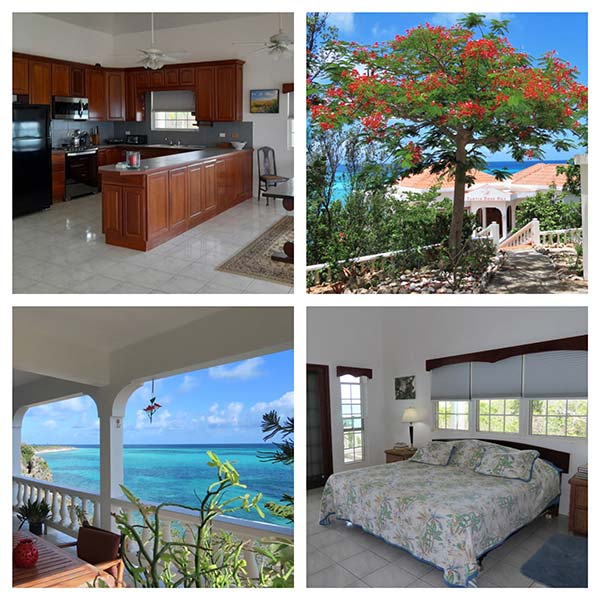 Perched on the cliff overlooking the turquoise water of Shoal Bay, Turtle Dove Hill Villa features 3 bedrooms, 3 baths and a whole lot of stunning views!
The villa has an open concept kitchen and living room with sliding doors that lead to a tiled gallery that runs the full length of the house.
On the lower level is a 1 bedroom apartment with living room and small kitchen. A small office is also located on the lower level.
The house is situated on a .5 acre parcel and there is an additional .5 acre parcel adjoining that is included in the price.
Turtle Dove Hill Villa is listed at $1,850,000. More here.
---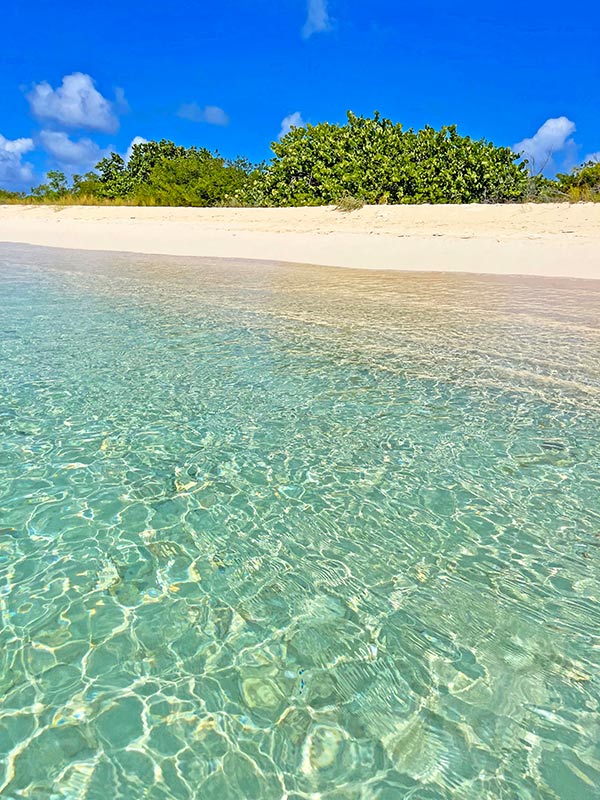 ---
That's all for now.
If you are planning a trip to Anguilla, get your Anguilla Card here!
We can't wait to SEA you on the beach 💗🏝
With lots of warming Anguilla sunshine,
Nori & Louise
---
Anguilla-Beaches.com
---