---
Combing Anguilla's Beaches for the Best
Anguilla Beach Lovers brings you a fresh dose of "Tranquility Wrapped in Blue" every month.
If you like this newsletter,, please do a friend a favor and "pay it forward."
If a friend did forward this to you and if you like what you read, please subscribe by visiting...
---
Issue #162, October 1, 2023
It may officially be autumn but it's summer vibes 24x7x365 in Anguilla 😎💗🏝
Did you know that the off season is one of our favorite times of the year on-island?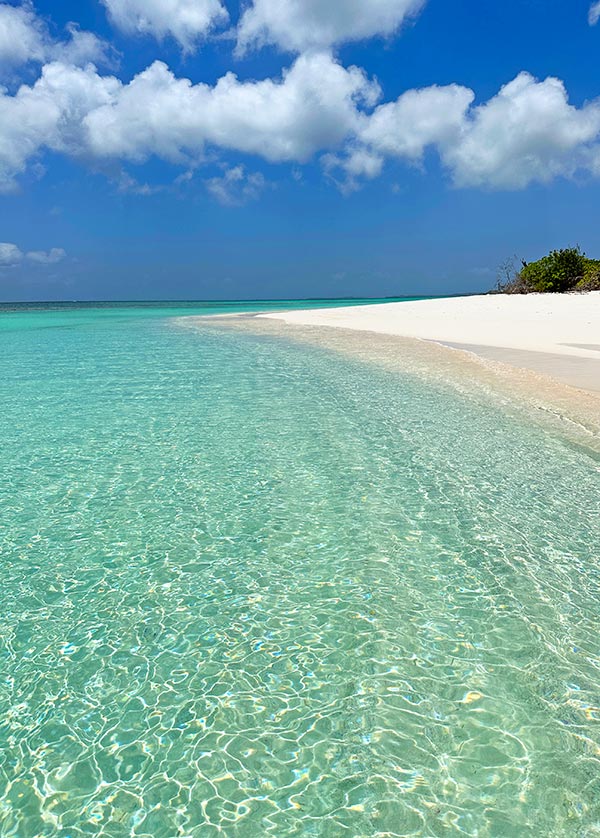 If you love having beaches all to yourself, you already know what we mean 😉💗⛱️
This time of year many businesses close to repair and rejuvenate for the coming season.
As a result, beaches are quiet and waters shimmer clear in a million shades of aquamarine.
Imagine having all of this blue just for you!...
To share the beauty of this special time of year we have a NEW drone video...
---
Anguilla Beaches in The Off Season
Ever wonder what Anguilla's beaches are like in the off season?
Join us in this video for a drone tour of some of our favorite beaches, filmed during the different points of the off season.
The video shows Anguilla's beaches in July, August and September. As you watch, you will notice how our beaches get progressively quieter and quieter as we move into September!
Click here to watch the video.
Are you subscribed to our YouTube channel? Click here to never miss an Anguilla Beaches YouTube video.
We so hope to sea you here this off season!
On that note...
---
Aurora Anguilla's Secret Season Special
Aurora is staying open ALL season long. They have their best rates ever right now, starting at just $299/night.
It doesn't get higher value than this!
Aurora's suites are large and luxurious, perfectly situated right on Rendezvous Bay.
Hotel Room Tip: Book a villa suite for the utmost in privacy, space and direct beach access.
A property that offers it all, Aurora has plenty to do for the whole family.
The hotel is famous for its Greg Norman designed golf course, pristine pool, "Splash Pad" for the kids, and there are lots of beach activities including SUP, kayaking and even sailing.
Last but not least, we can't forget to mention Aurora's award-winning Sorana Spa. It is one of the leading spas in the Caribbean.
For a full look at Aurora Anguilla's Secret Season Special, click here for a video of our stay this summer.
To Book Your Stay...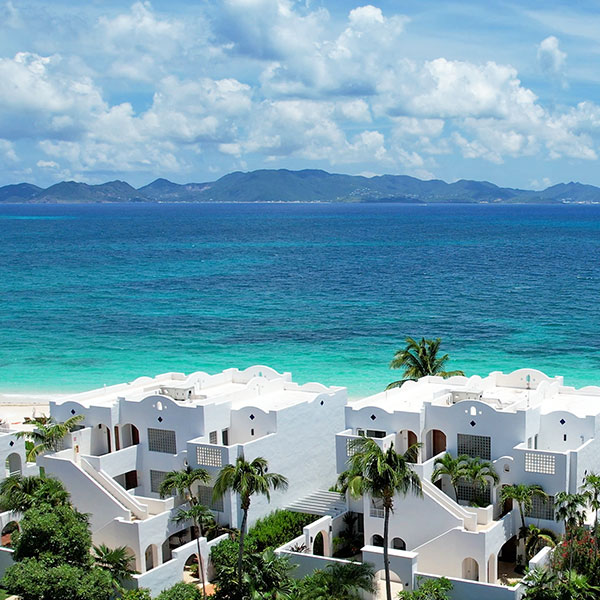 Speaking of Aurora...
---
Foodie Favorite: Chef's Table
Aurora's all-day dining restaurant, Chef's Table is one of our NEW favorites for dinner!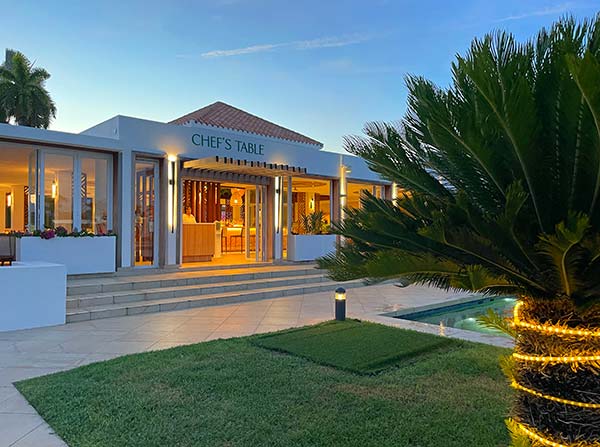 Chef's Table is headed up by a man who holds a special place in our hearts (and our taste buds!), Chef Lester Gumbs.
Chef Lester has a reputation for culinary success. He has led Anguilla's national culinary team to gold and he is the man behind many popular dishes at Aurora (and formerly CuisinArt).
Today, he keeps the bold flavors alive at Chef's Table!
Begin your evening with a cool cocktail and the wood fire-roasted chicken salad...
Then, the short-rib will have your mouth watering...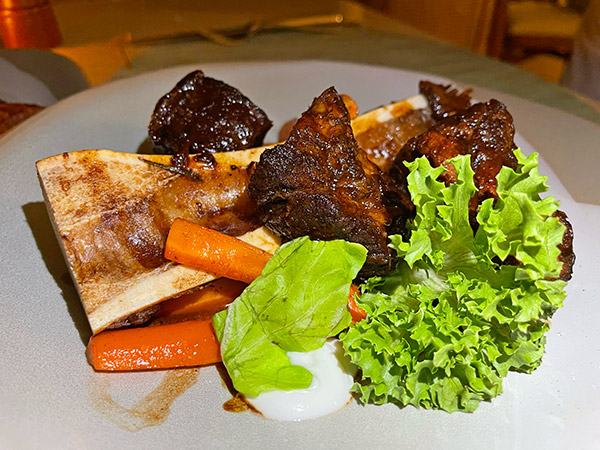 Braised in a tamarind sauce, this short rib is laced with a bone marrow jus and served with a yoghurt tahini.
The meat simply melts in your mouth. This is quality beef. It is perhaps the richest short rib we have had yet.
Another stand out dish?...
Cooked to perfection, the lobster falls right out of its shell. With a drizzle of the homemade scotch bonnet butter, this lobster is decadently mind-blowing. Take each bite to another level with a fresh squeeze of lemon.
Dinner of course is not complete without something sweet...
Chef's roasted pineapple cake hits every high note.
For a full read on Chef's Table, click here.
Chef's Table is open ALL season!
---
Happy Hour at Aurora Anguilla
If you are on-island, Aurora is the place to be come 4pm!
Aurora's swanky Lobby Bar features 2 for 1 drink specials from 4-6pm every night.
Serving up some of our favorite cocktails on-island, the Strawberry Margarita and the Passionfruit Mojito get our "2 for 1" vote!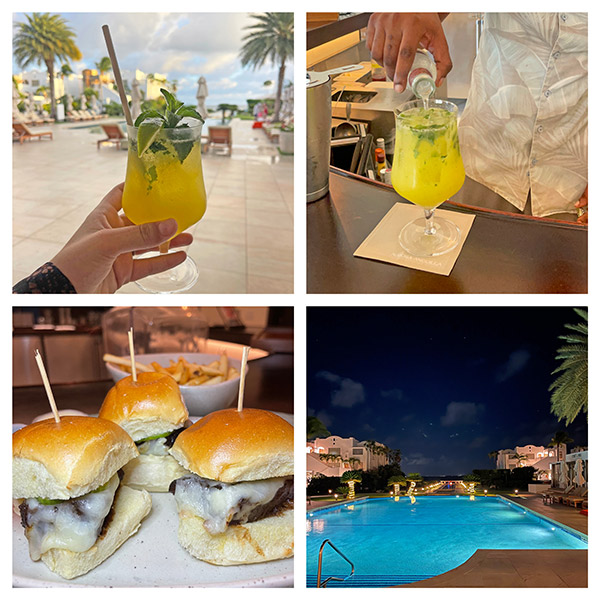 Special Tip: Aurora's Lobby Far features a tasty menu of Bar Snacks. The beef short rib sliders always hit the spot!
If it is live music you seek, mark your weekly calendar for Friday when Aurora has a live DJ and Saturday night for live music.
The fun doesn't end there!
It all continues on Sunday with live entertainment at C Level from 2pm – 4pm.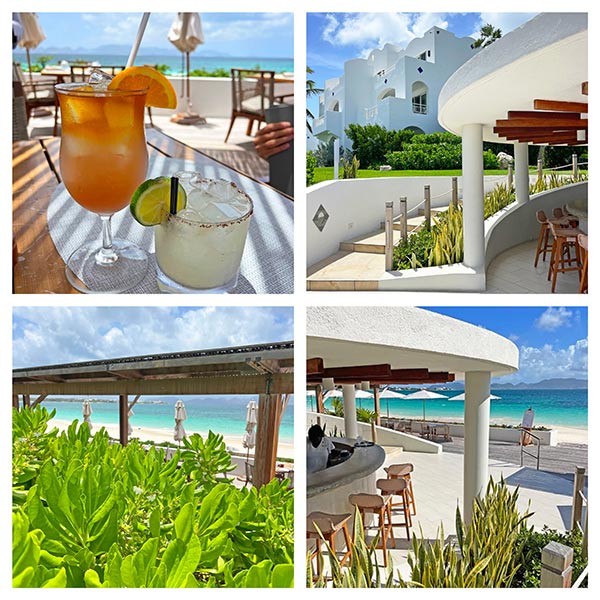 ---
Off Season Resources
If you are visiting this off season, we have two resources for you...
---
Last Call For Meads Bay!
Tranquility Beach Anguilla's super off-season special ends October 15th.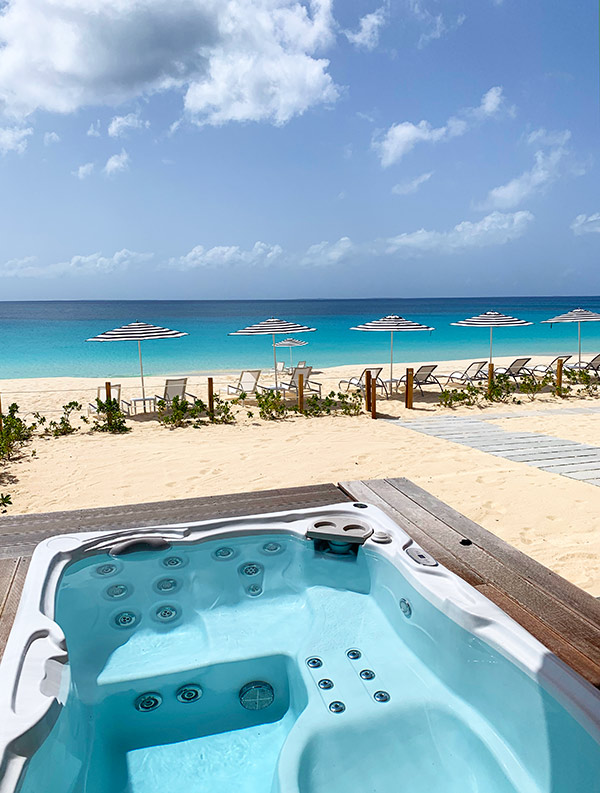 Enjoy 15% off their nightly rates for the next two weeks!
With waters like this right at your door step...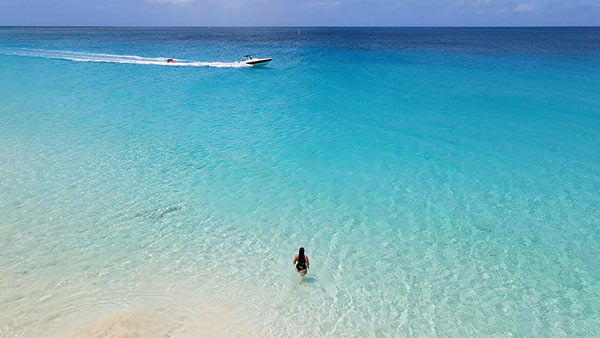 How could you resist? 🥰💗🏝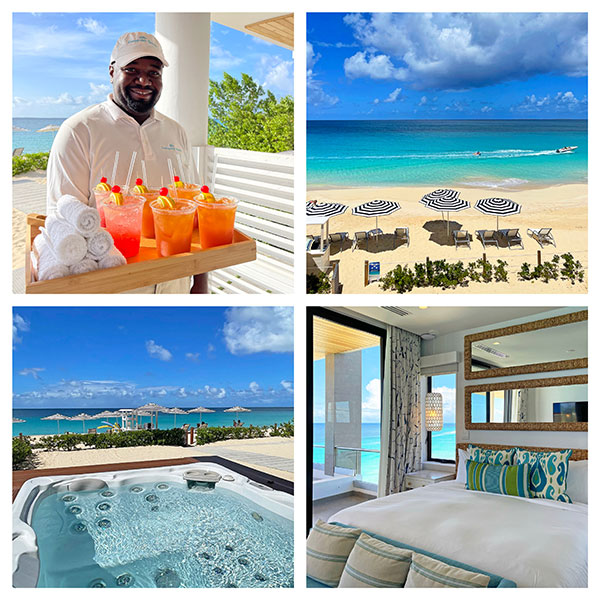 Tranquility Beach Anguilla is one of the island's top boutique hotels with all of the comforts of home.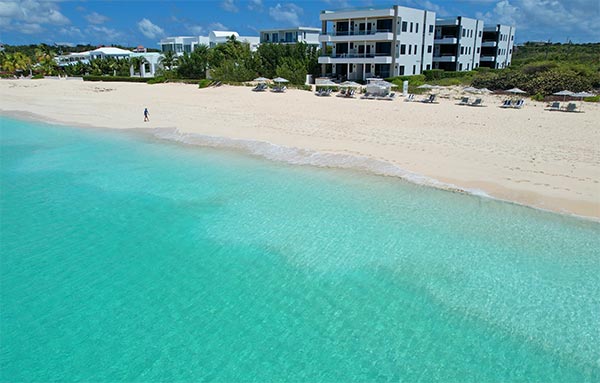 To Book Your Stay, Visit...
---
Open ALL Season: Taverna
A tapas eatery with Mediterranean flair, Taverna at Arawak Beach Club strikes a magical note come night time. Palm trees sway over ahead, the tradewinds blow through keeping you cool, the fishing boats bob in the distance...
Lit up with twinkling lights, the restaurant glows!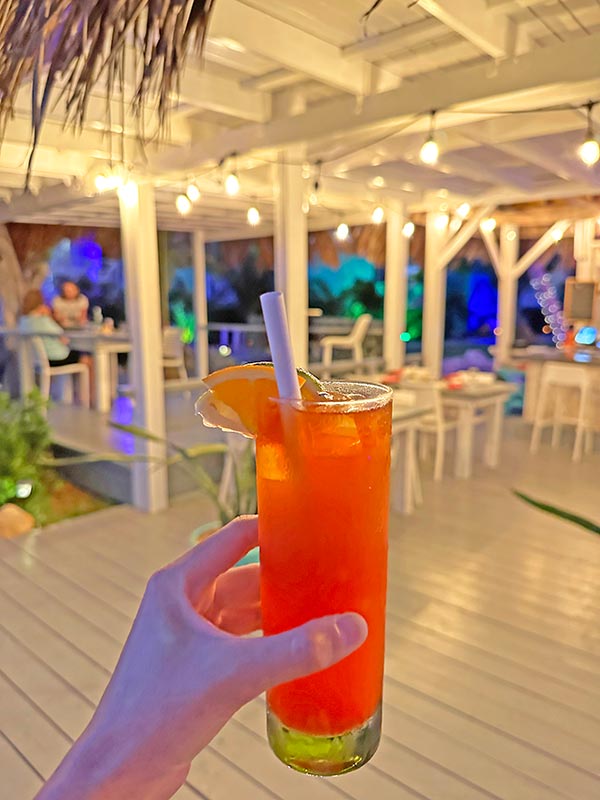 A number of small plates for sharing make up the menu. We recommend starting with the crispy calamari...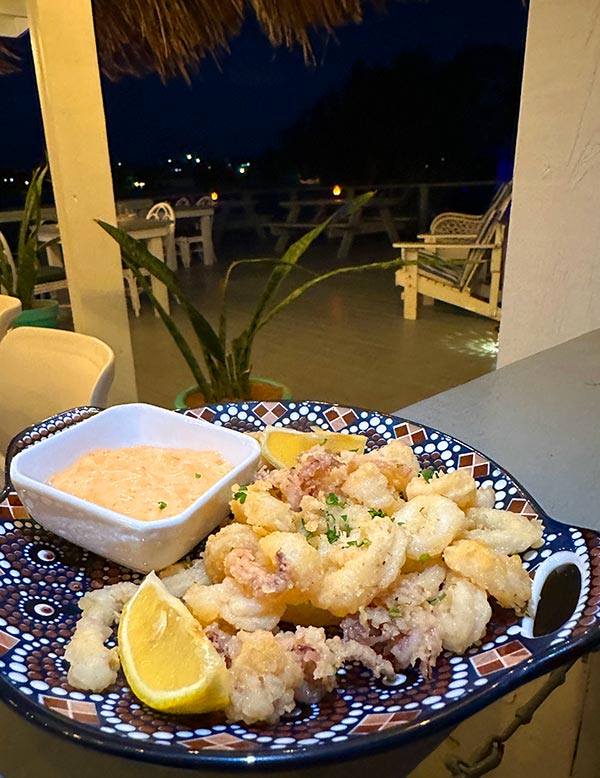 Taverna serves calamari two ways: Crispy or sautéed. Both are a crowd favorite! The crispy calamari is one of our all time favorite appetizers. Taverna's is especially savory with its side of lightly spiced tzatziki.
Also light and tasty is the Hummus and Toastettes & a Trio of Tzatziki...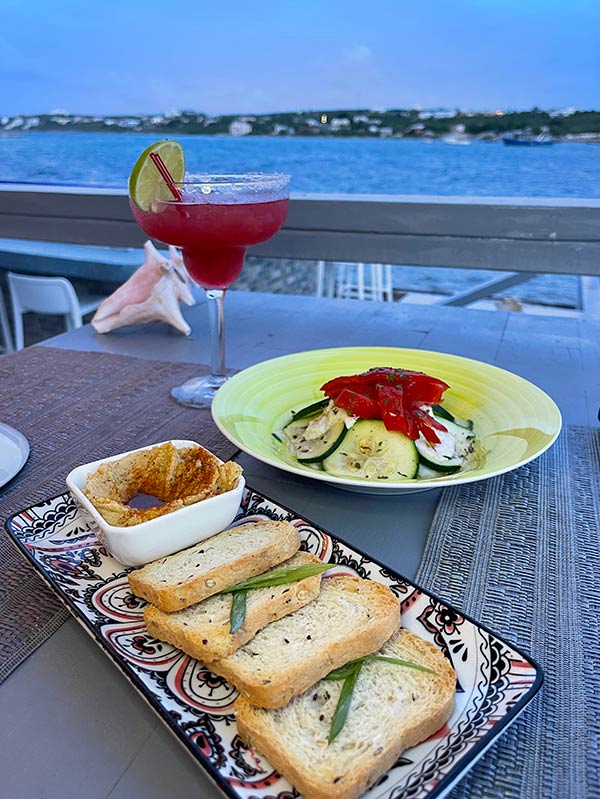 The tzatziki is especially noteworthy. It is laced with smoked red peppers, which lend a burst of richness to each bite.
Arawak has a number of souvlakis including fish, shrimp, chicken and steak.
The mahi mahi souvlaki gets our vote for #1. Juicy and tender, it is a winner.
For best results, drizzle each chunk of mahi with grilled lemon and don't forget to dip it in the refreshing tzatziki!
To end the night, try Chef's crispy, cinnamony churros...
The only thing left to do after a magical Mediterranean meal?...
Round two!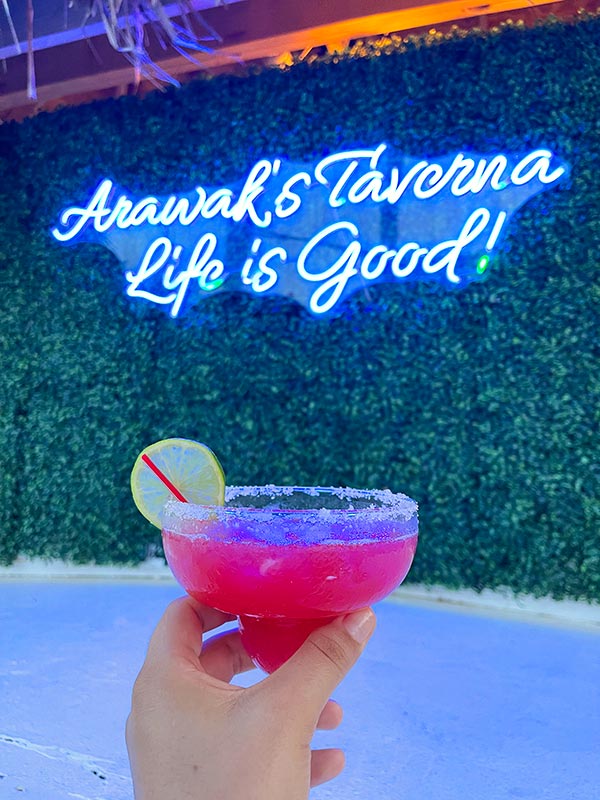 Taverna is staying open ALL season!
Taverna is an Anguilla Card Partner. Save 10% at Taverna when you use your Anguilla Card.
---
Private Beach Escape
If you are looking for a fall beach escape, look no further than the aptly named Beach Escape Villa.
A luxurious villa with chic beach house charm, Beach Escape sits on secluded Sandy Point beach.
Sandy Point glistens in a million hues of Anguilla blue. Shallow calm waters stretch for as far as the eye can see, before dropping off to St. Martin's majestic mountains in the distance. A hidden gem, you feel as though you have stumbled upon a secret beach all your own.
Beach Escape opens right onto this stretch of sand.
Five plush bedrooms, a posh kitchen and several beachy-chic living areas span out over two villas that take full advantage of the sandy beachfront setting.
Rich in upscale beachy-chic charm, Beach Escape Villa is one of a kind.
Click here for a full tour inside.
To Book Your Beach Escape...

Contact the owner for best rates: Click here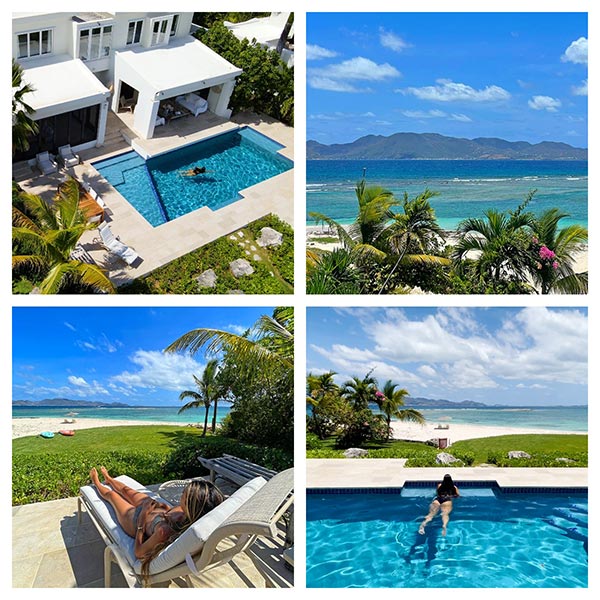 ---
Real Estate Corner: Ocean Terrace Condos
Our good friend Jackie Pascher of Island Dream Properties has a unique NEW listing!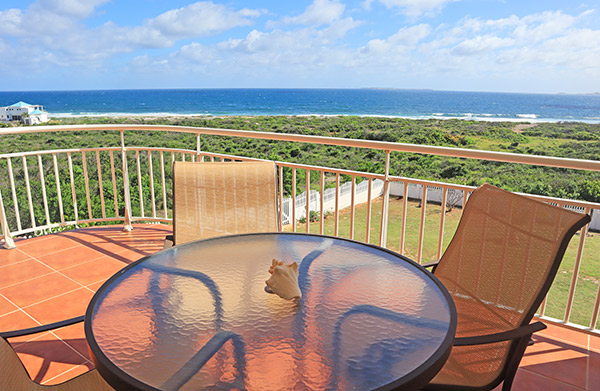 Unit 1 of beloved Ocean Terrace Condos is available for fractional ownership for the months of January, February and March. It is a 99 year lease with 84 years remaining on lease.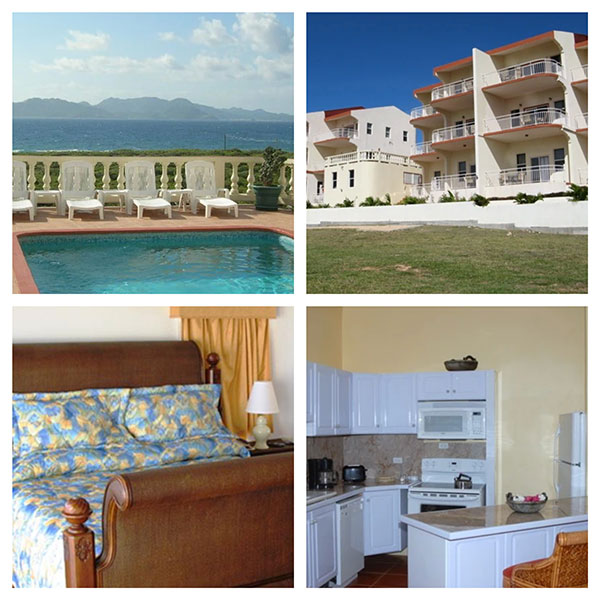 The spacious 2 bedroom condo is 1,500 square feet and beautifully styled and furnished.
The condo comes with a fully equipped kitchen, spacious living and dining area, walk-in closets, full baths, air conditioning, ceiling fans, cable TV and high speed Wi-Fi Internet access.
The condo's two private terraces offer spectacular panoramic views of the Caribbean Sea, St. Martin, St. Barths and even St. Kitts on a clear day!
The perks don't end there. The property features a fresh water pool. Daily maid service is provided and the grounds of Ocean Terrace are maintained by the property's excellent team of staff.
The condo fees are $2,400.00 per month totaling $7,200.00 for the three months. No additional fees!
More on this Ocean Terrace Condos listing...
---
---
If you enjoy this newsletter and our Anguilla videos, please spread the word about us on TripAdvisor.
If you are planning a trip to Anguilla, get your Anguilla Card here!
We can't wait to SEA you on the beach 💗🏝
With lots of warming Anguilla sunshine,
Nori & Louise
---
Anguilla-Beaches.com
---