Combing Anguilla's Beaches for the Best
Anguilla Beach Lovers brings you the latest additions to one family's experiences of the "best of all things Anguillian."

If you like this e-zine,, please do a friend a favor and "pay it forward."

If a friend did forward this to you and if you like what you read, please subscribe by visiting...
---
Issue #105, March 28, 2017
Out like a lamb and in like a lamb... that is Spring in Anguilla! ;-)
It sure has been a beautiful blue start to Spring, from "The Point at Shoal Bay"...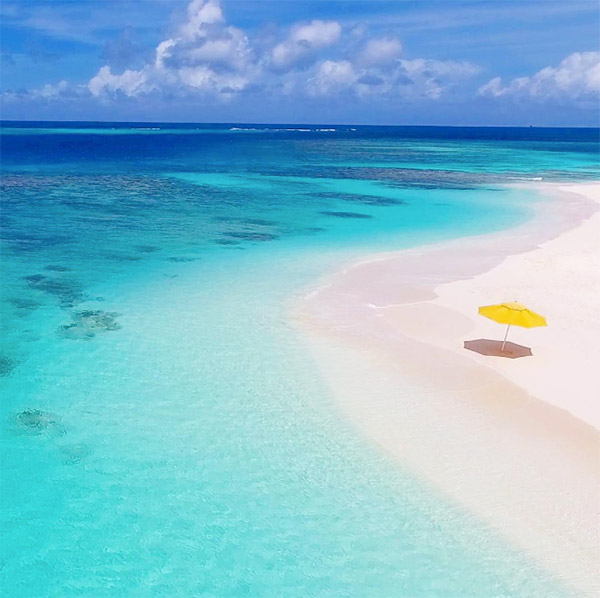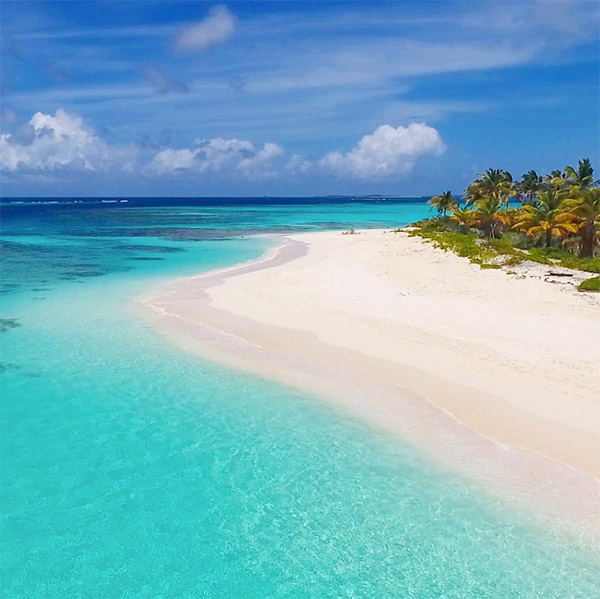 All the way to glistening, crystal seas at The Reef's Merrywing Bay...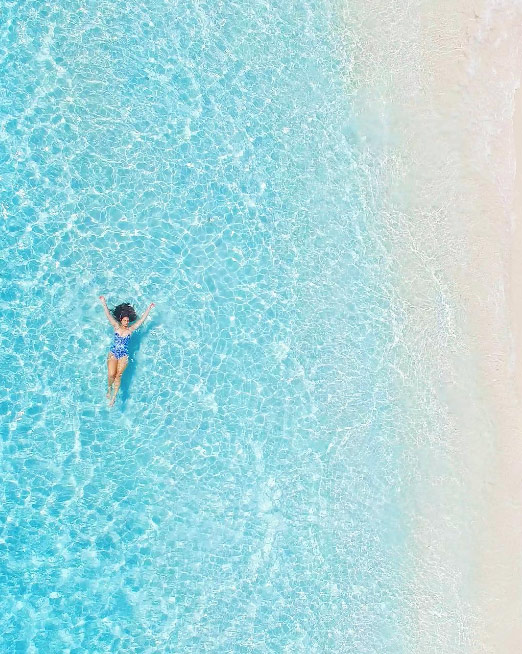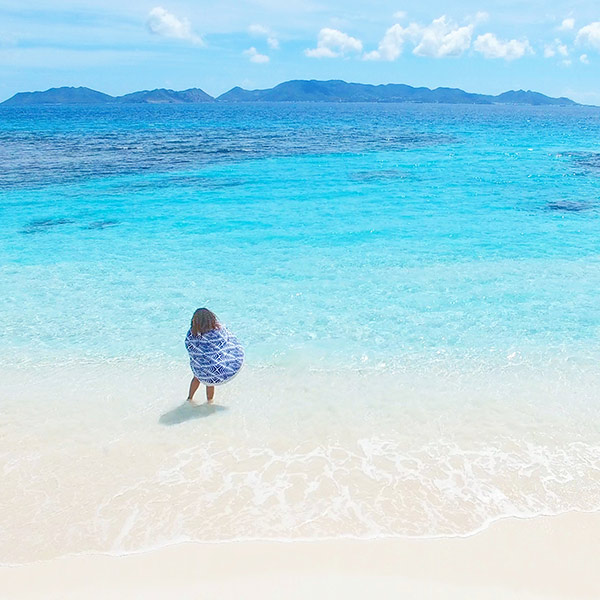 Shimmering in a million different shades of blue, nothing compares to the beauty of Anguilla's pure azure waters.
For a daily dose of Anguilla blue, click here and follow me on Instagram!
What's new in Anguilla this Spring?
---
Pumphouse Restaurant Joins The Anguilla Card
When it comes to dining institutions in Anguilla, look no further than the island's "go to" pub set in the heart of the spirited Sandy Ground village...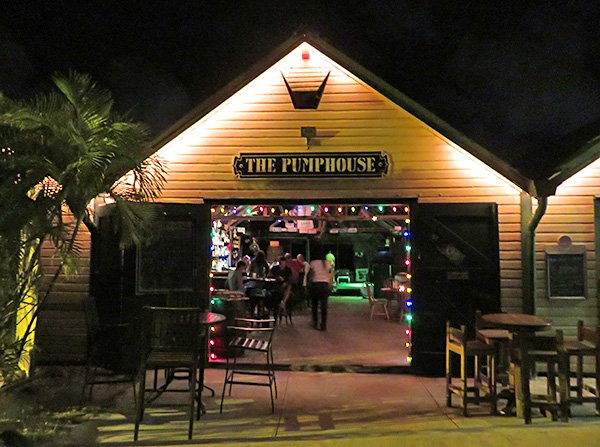 Like all institutions, Pumphouse is steeped in rich history.
Long before it became the Pumphouse known for its nightlife, Pumphouse was precisely that: a pumphouse. In the heyday of Anguilla's salt industry, Pumphouse was its epicenter, refining salt for export. It saw its last days in the mid-80s.
Roughly a decade later, Pumphouse re-opened as the bar and restaurant we love today.
The integrity of the original building has been effortlessly maintained over the years. It breathes classic Caribbean charm with a funky flair. License plates from Pumphouse lovers from all over adorn the walls, as a pirate swoops in over the live music stage.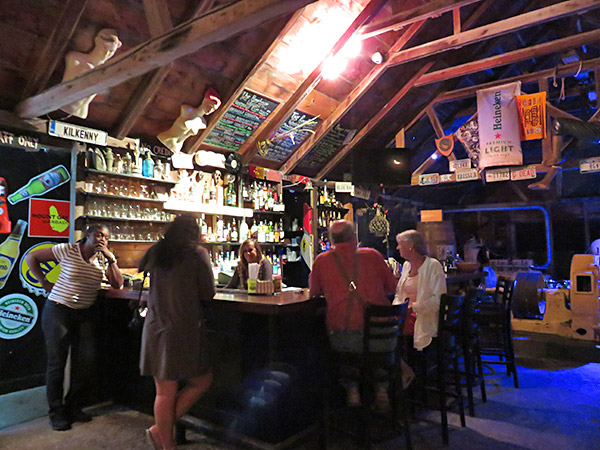 Since the 90's, Pumphouse has been the island's "go to" for drinks, dancing and dining. Even Paris Hilton was spotted hitting the dance floor here.
To great dismay, Pumphouse closed their popular kitchen a few years ago.
The good news? Today, dining is back and better than ever. A once-again favorite for affordable and reliably tasty eats, dinner is served!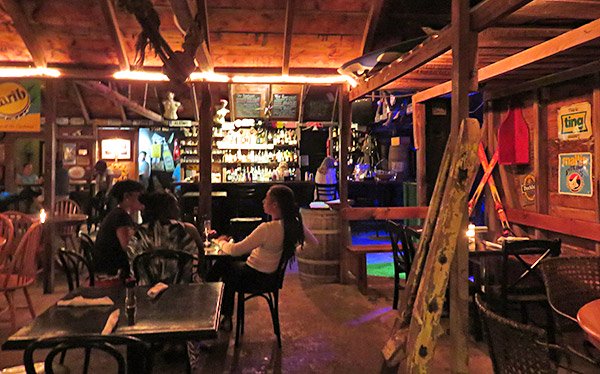 From savory bar snacks to melt-in-your-mouth Mahi mains, this is heartwarming comfort food at its best.
A number of "bar snacks" make up the first part of the menu. Be warned: Everything sounds outstanding. Choosing is extremely difficult. Proceed with caution or you might end up ordering the entire menu!
The infamous, towering chili cheese nachos, potato skins, Anguillian lobster mac & cheese, tuna poke with a crunch of fried wontons. We agreed on the...
Spinach & Artichoke Dip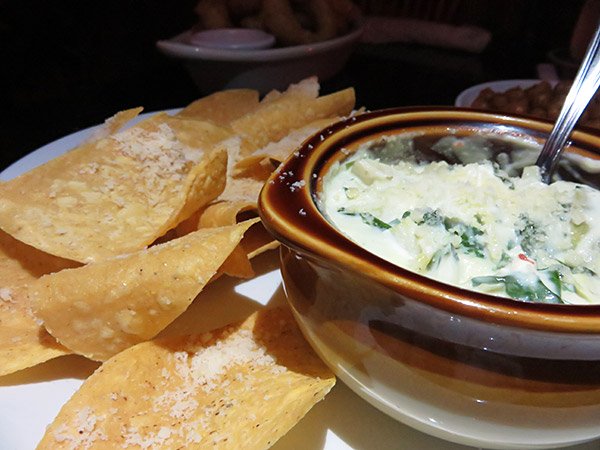 Straight out of the oven in a charming French onion soup bowl, we were about to enter dip heaven. Spinach and artichoke are mixed into a smooth and rich concoction. Cheesy and garlicky, the creation is served with Parmesan-dusted tortilla chips. A perfect pair. It cannot be beat.
We couldn't agree on just one appetizer, though. Next on our list?...
The Onion Rings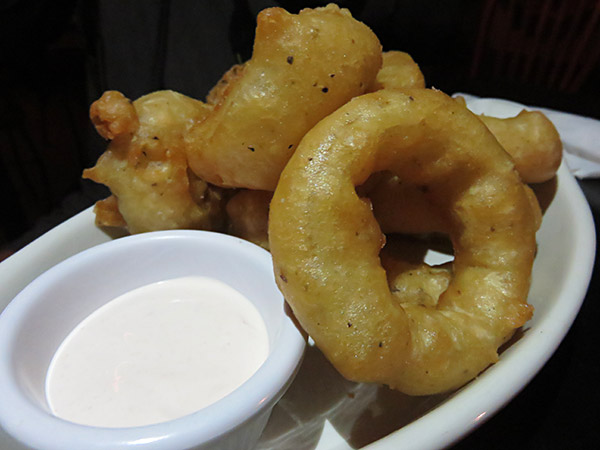 Fluffy and light, and made with big cuts of juicy onion, each bite has you wanting more. Served piping hot, plunge them into the creamy-cool and slightly spicy side sauce before digging in.
A variety of soups and salads round out the starters. Creamy fish chowder, beef chili, Caesar salad and a dish after my own heart...
Nori Tuna with Salad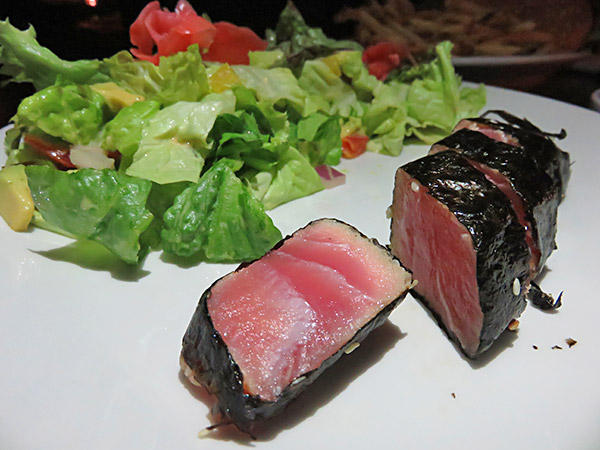 For more on the Nori Tuna and Pumphouse's burgers, sandwiches and succulent entrées, click here.
Pumphouse Restaurant is now an Anguilla Card Partner! Click here to get your Anguilla Card and save 10% at Pumphouse Restaurant.
---
Tradition Sailing Joins The Anguilla Card
A vacation in Anguilla never feels really complete, or extra special, until you've spent an afternoon cruising on its crystal clear seas. One of the most unique ways to experience the Caribbean Sea is by climbing aboard Tradition...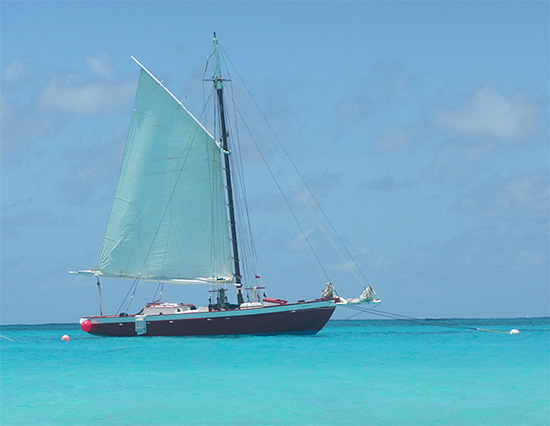 Anchored in Road Bay, Tradition is a dream. True to her name, she is a 50' Carriacou sloop built in 1978, a classic sailboat, a "gaff rigged West Indian sloop" as owner Laurie Gumbs says.
Historic, she is an authentic beauty. Tradition is no stranger to the waters surrounding Anguilla. Back in the day she was used as a cargo boat. Sailing up and down the Leeward and Windward Islands between St. Barths and Grenada (her home), she transported cigarettes, spices, rums and anything else that people needed to have sent between the islands.
You can just imagine the riveting tales told by those those who've sailed her.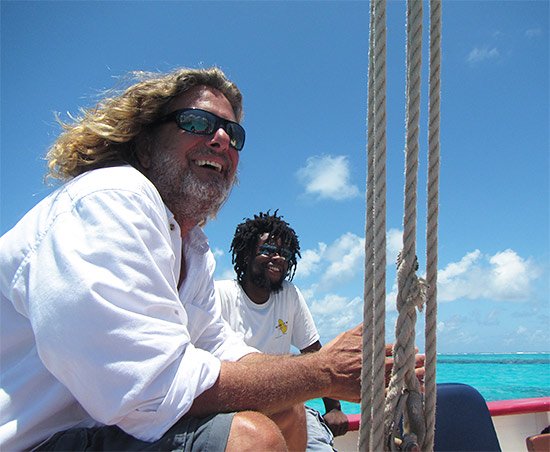 Owners, Laurie Gumbs (photo above) and Deborah Vos (photo below) have several of their own, having sailed her to St. Barths, Antigua, Montserrat, and even down to her home in Carriacou, Grenada. She has seen all corners of the Caribbean, cut through high seas and survived many an adventure.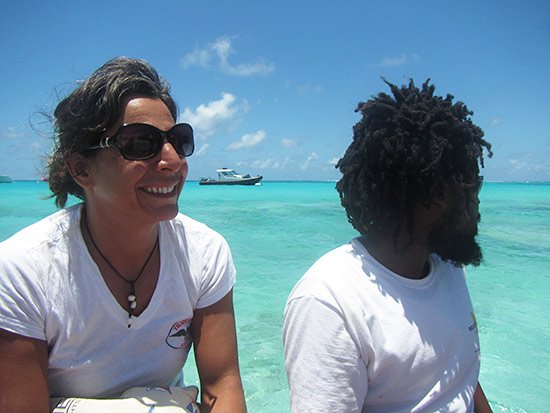 Today, Anguilla is her permanent home. She is rated on TripAdvisor as the "Best Day Sail Experience" thanks to the ever attentive and gracious Deb and Laurie.
Aboard this classic gem, they offer a variety of tours...
Full day to Prickly Pear with lobster lunch
Half day to Little Bay with gourmet Tradition lunch
Sunset and starlit sail
Custom trips
The full day to Anguilla's offshore cay, Prickly Pear is a special adventure, steeped in romance.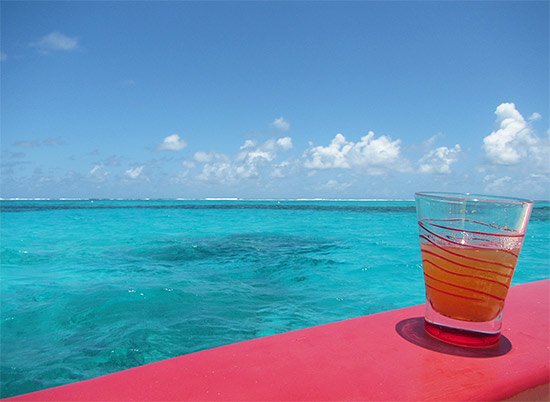 With free-flowing drinks and plenty of snacks, Deb kicks off the morning with Morning Mimosas and fresh-baked Tradition muffins.
As you munch and sip, Deb, Laurie and their crew, hoist the main sail.
The breeze, the sound of the sea, the sails full... it's a liberating feeling skimming along the ocean, powered by nothing other than the wind. For sailing enthusiasts, Captain Laurie will even let you steer!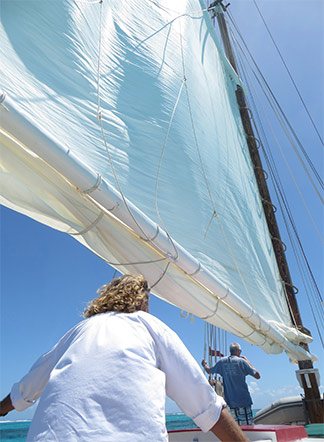 A memorable experience, down to earth and real, Deb and Laurie attend to your every need. It is a beautiful and authentic way to experience Anguilla's waters. Tradition Sailing is five-star in every way.
For more on a day at Prickly Pear aboard Tradition, click here.
Tradition Sailing is now an Anguilla Card Partner! Click here to get your Anguilla Card and save 10% with Tradition Sailing.
---
A Jam-Packed Months of Events
eleMENTAL - April 8th The beach party that is sure to rock Anguilla, eleMENTAL is coming up! The first event of its kind, it will be taking place at Nat's Palm Grove from April 8th at 2pm - April 9th at 4am.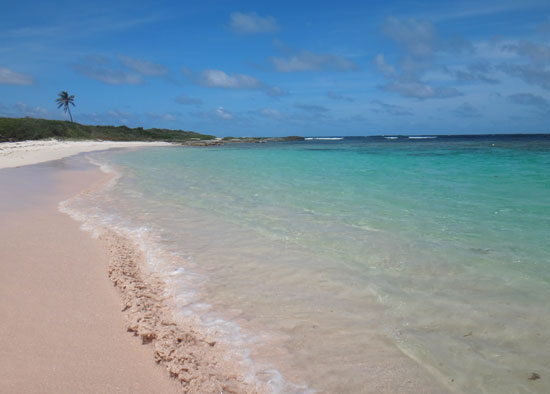 This party has it all, including entertainment by top artistic performers like Americas Got Talent finalist in 2016, Viktor Kee. Saxophone DJ artist, Natty Rico, extreme sports kiteboarding performances as well as sky diving! Full details here.
Award-Winning Author, Dan Brown at da'Vida - April 1st
Tickets for this incredible evening are on sale now at Grands Vins de France, Paradise Cove and the Library Services for $75. Or, call/email: 264-476-8783 or info@anguillalitfest.com for more information.
The 10th Anniversary of Festival del Mar - April 15th & 16th Everyone's favorite community event is coming up quickly!
Bordered by cerulean blue water, smells of frying Johnny cakes and grilling lobsters, sounds of dominoes, music, and laughter, and covered with smiles and good cheer...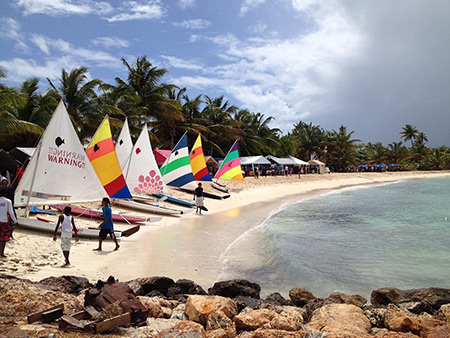 ... that is Festival del Mar! This year's two day celebration (all day and into the night) will be extra special. Happy 10 years, Festival del Mar! Here's to many more to come.
Fresh Food Fest - April 1st Get a taste of Anguilla's natural flavors this April 1st at Anguilla's organic farm and market, Sensational Flavours!
The 1st Annual Fresh Food Fest, the fun begins at 10am. Seafood meals and treats, natural drinks, face painting, jam tastings by Anguilla's Jammin'... it's sure to be a wonderful Saturday morning (location: Mount Fortune, East end). For more information contact: 264-582-0434
Coming Up:
---
Spring Specials
Experience Anguilla's Offshore Cays With Tequila Sunrise Villa's NEW Special
This spring, Tequila Sunrise Villa is celebrating Anguilla's offshore cays!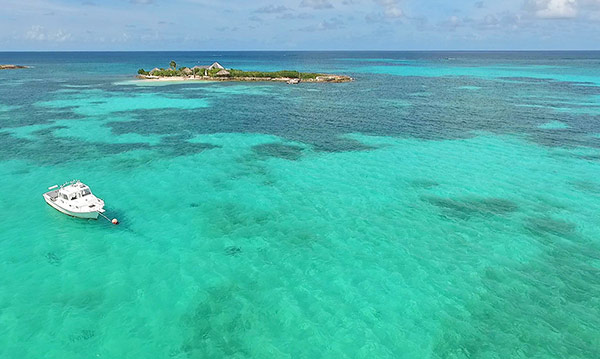 For all new bookings made direct, experience your choice of Prickly Pear or Scilly Cay for free!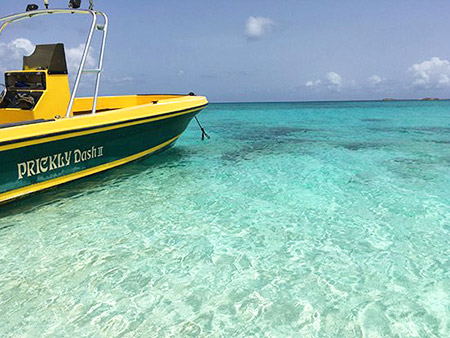 Jet off to one of Anguilla's most widely-loved offshore cays and enjoy a day under the sun and below the sea, complete with snorkeling and falling-off-the-bone BBQ eats.
A heavenly way to spend a day in Anguilla, Tequila Sunrise Villa's specials never cease to amaze!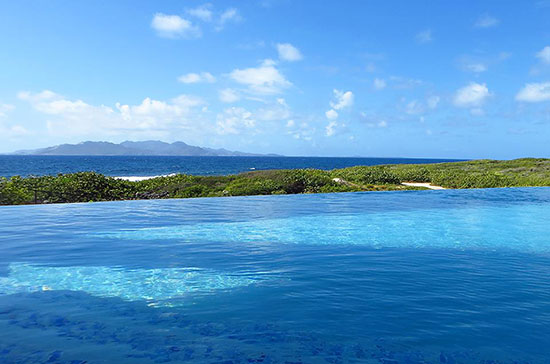 The luxury villa that offers it all, Tequila Sunrise Villa's value just keeps getting better and better.
More on Tequila Sunrise Villa.
To book, email owner Joel Globus direct at...
iwant2b@tequilasunrisevilla.com
Celebrate Anguilla's 50th Anniversary & Save 50% on Your Car Rental with Little Butterfly's Special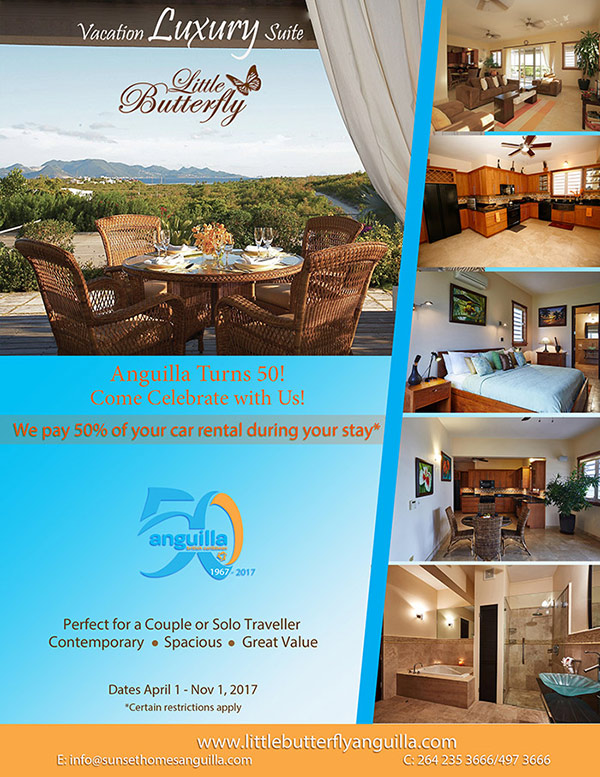 Little Butterfly Villa offers all of the comforts of "home" in a tropical setting and at a competitive rate of $246 per night ($356 for Holiday Season - Dec. 20-Jan. 5).
Inside, the villa is spacious and luxurious, with contemporary and high-end finishings. See inside Little Butterfly here.
For more information, email owner Janine Edwards at info@sunsethomesanguilla.com
---
Sun & Fun on Shoal Bay East
Elodia's Beach Restaurant & Bar
Set far from the concentration of beach bars and big hotels on Shoal Bay East, Elodia's Beach Restaurant & Bar is an idyllic escape on Shoal Bay East.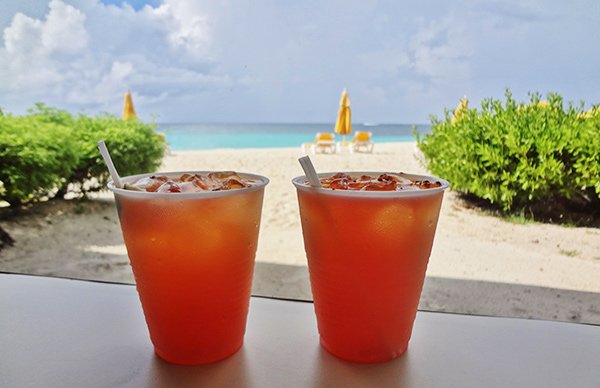 Home to one of Anguilla's most famous rum punches and just a few yards from The Point, this is classic Anguilla dining and beach lounging at its very best.
Updates From Madeariman
It was a sad day in October 2016 when the well-known and established restaurant in the heart of Anguilla's Shoal Bay, Madeariman was ruined by fire. Thankfully, their quick-acting team was able to re-build within a couple of months.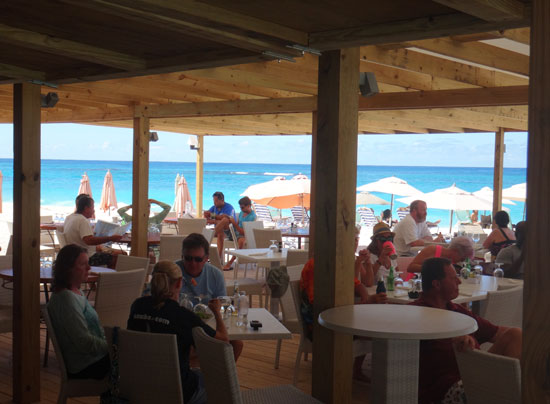 Today? They are at the top of their game!
More on the new Madeariman here.
---
Receive a 5% Discount at Tranquility Beach Until Mar. 31
Just a few days remain to take advantage of luxury real estate development, Tranquility Beach's tremendous deal.
Make a deposit on your condo before Mar. 31, 2017 and receive a 5% discount!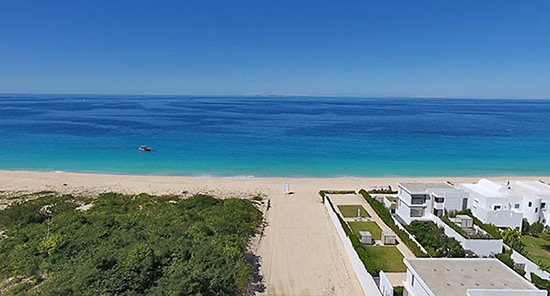 Set on a one of a kind piece of Caribbean beachfront, Tranquility Beach brings chic, modern living to Anguilla's grand jewel... Meads Bay Beach.
For more on Tranquility Beach, click here.
To make an inquiry and/or to schedule a visit at Tranquility Beach's office, call: 264-235-3666, 264-235-7667, 264-497-3666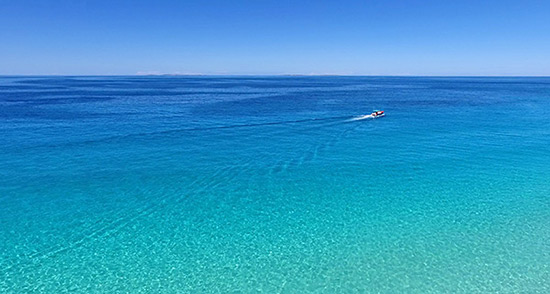 ---
SandBar Opens For Lunch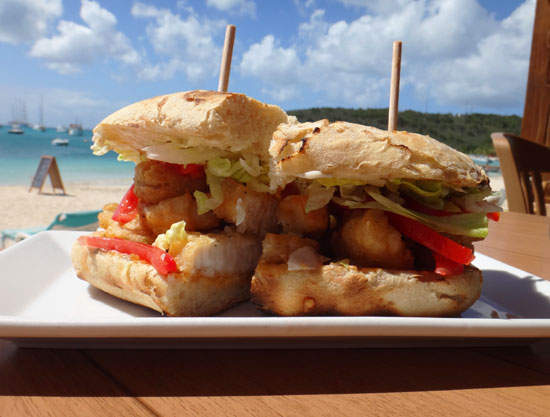 Anguilla's popular tapas dinner restaurant, SandBar is now open for lunch! They offer a regular lunch menu on a seasonal basis, 5 days a week.
Lunch time is a glorious time to be at SandBar. Sandy Ground is beautiful, especially if you like calm water and boats.
What's on the menu? Fresh salads, tasty appetizers and indulgent sandwiches, burgers and pizzas.
Tip: Don't miss their extra-special dessert...
The Johnny Cake Sundae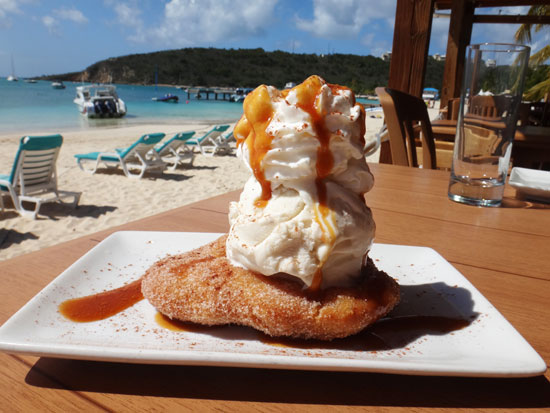 Read the full report on SandBar's lunch here.
---
Win a Luxurious $5,000 Value Anguilla Vacation & Support A Worthwhile Cause!
Last, but certainly not least...
A huge THANK YOU for your support in last year's Ruff Training Fundraiser, which raised over $7,000!
Thanks to your support, Hilroy Alfred and his Ruff Training team were the first to represent the Caribbean at the internationally recognized fitness challenge, Tough Mudder in Atlanta, Georgia in May 2016.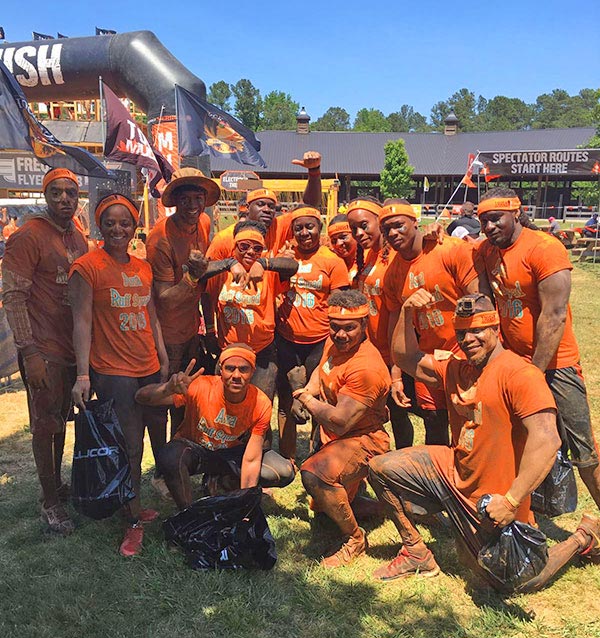 A certified fitness trainer, massage therapist, winner of Dungeon's Gym Personal Trainer of the Year award and a father, too, there is no one more dedicated and passionate than Hilroy.
The dream all started last year, when Hilroy put together a fundraiser to bring the group he trains to Tough Mudder. Tough Mudder's events have been featured in the likes of USA Today, Huffington Post and Sports Illustrated. It is revered for its team building capacity amidst challenging conditions and is a favorite for large, corporate groups.
He organized an excellent prize last year, which was won by Mr. & Mrs. Wade. Watch the contest drawing here and read the Wade's note on their luxurious, all-inclusive Anguilla vacation here.
2016 Winners, Mr. & Mrs. Wade with Hilroy in Anguilla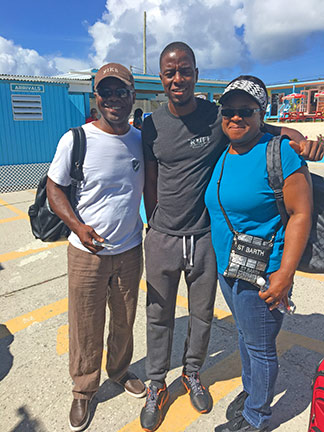 A terrific team-building experience last year, the goal is to return this year to Tough Mudder in Philadelphia on May 21st.
To raise the funds to get his team to Philadelphia in 2017, Hilroy has put together another tremendous vacation package that will be raffled off on May 12th, 2017.
What's the prize?...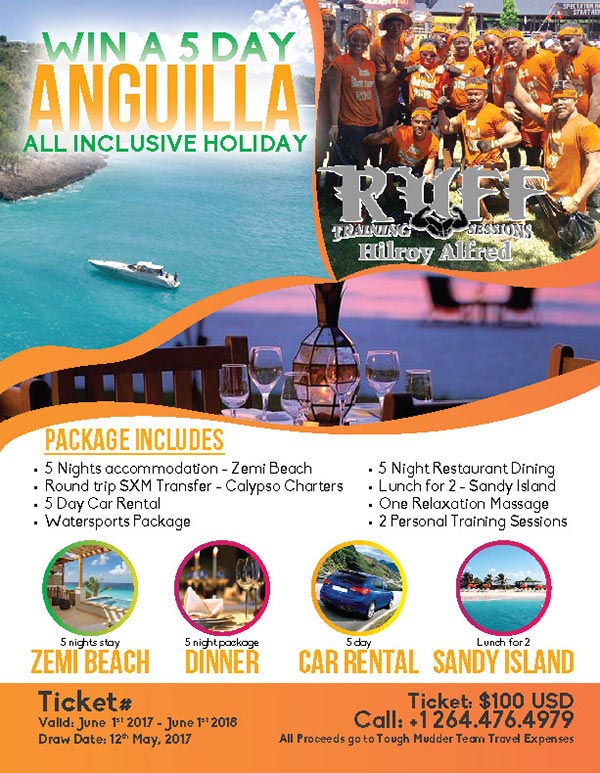 5 Nights at Zemi Beach House
Dinner for 2 at Straw Hat
Dinner for 2 at Dolce Vita
Dinner for 2 at Blanchards Beach Shack
Dinner for 2 at SandBar
Dinner for 2 at Picante
Lunch for 2 at Sandy Island
5 Day Car Rental at A&D
Round Trip Boat Charter to/from SXM Aboard Calypso Charters
SeaPro Water Sports Package
Two 1 Hour Relaxation Massages
Two Private Beach Training Sessions
Blackout Dates: Dec. 15, 2017 - Mar. 31, 2018
Valued at over $5,000, it's a high-value fundraiser for a great community cause!
Details
Raffle Ticket Price: $100 USD
Deadline to Enter: May 11th, 2017
Winner Announced: May 12th, 2017
Hilroy is selling a total of 200 tickets at $100 per ticket.
The winning ticket will be drawn on May 12th on Radio Anguilla. We, Anguilla-Beaches.com, will also be attending the drawing and will be broadcasting live via YouTube. All who purchase tickets will be sent an e-vite to attend the broadcast.
To purchase a ticket, click here.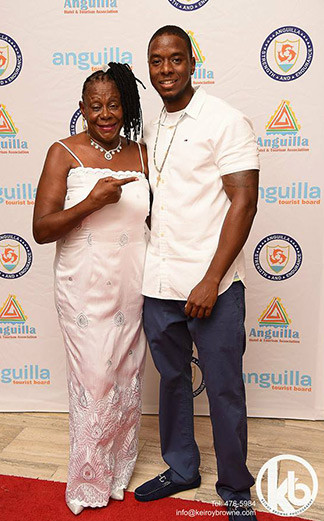 A note from Hilroy:
Words can never explain how thankful I am to be able to put together this amazing package for the second year in a row. I wish I could say it was easy but it truly wasn't. As is true with any project encompassing so many different aspects, there were some ups and downs.
However, teamwork is dream work and our team is amazing! We delivered a top-class package to our 2016 lucky winners, Mr. & Mrs. Wade who had a terrific 6-day vacation.
This year we raised the bar by including the newest addition to top class Anguilla luxury resorts in the last six years... The ZEMI BEACH HOUSE, RESORT & SPA!... a beachfront resort located on one of the world's best beaches, Shoal Bay.
Don't you want to overlook a panoramic ocean view and experience personalized service and dining at 5 of the best restaurants in Anguilla? That's what you call luxury living at its finest. ;-)
So many thanks for supporting us last year & looking forward to a successful 2017!
-Hilroy
More on the Ruff Training Fundraiser here.
To support this worthwhile cause, click here.
Here's wishing Hilroy and team AXA another terrific year at Tough Mudder!
Nori
Do you have your Anguilla Card yet? Save 10% at 80 Partners!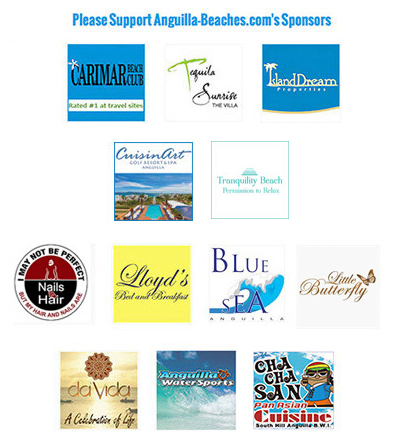 Anguilla-Beaches.com
---