Madeariman At Its Best!
By: Kristin Bourne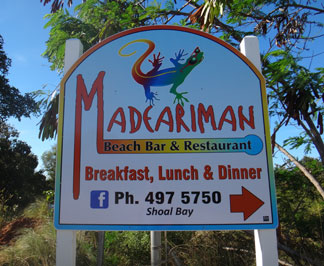 It was a sad day in October 2016 when the well-known and established restaurant in the heart of Anguilla's Shoal Bay, Madeariman was ruined by fire.
Thankfully, their quick-acting team was able to re-build within a couple of months.
I am happy to report, they've bounced back perfectly.
The staff is as charming as ever and the food has not missed a beat either.
Rebuilt and fitting in naturally - the new Madeariman from the beach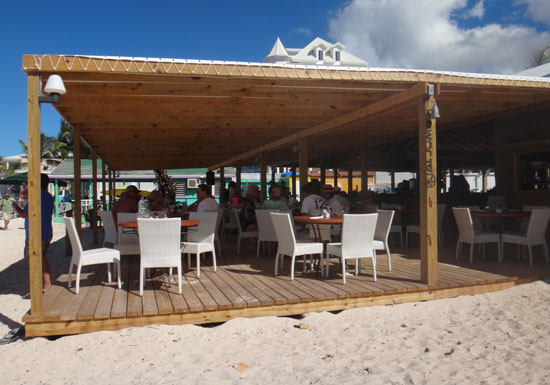 From the road side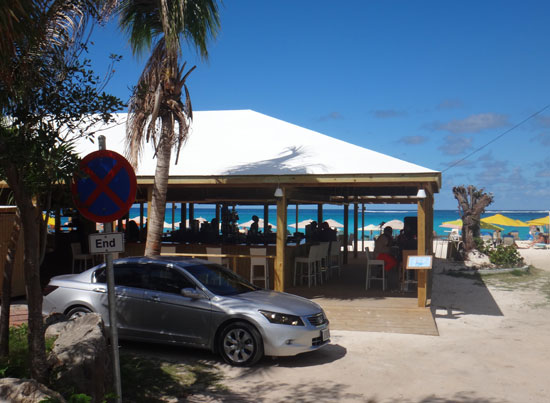 It's almost as if nothing has changed except the new wood structure is fresh and unpainted, giving it a more natural look.
Inside Madeariman
The bar does its best
to not to take away from the tables' beach view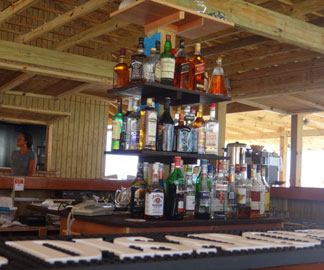 I think the saying, "if it ain't broke, don't fix it" applies here…
The bar is still a central square of activity and the kitchen is still on the western, back side of the restaurant.
The covered seating area is still right next to the soft, white sand and the views to the turquoise blue are still visible from almost everywhere in the restaurant, even from the far backside of the bar (closer to the street than the beach).
All in all? The layout maximizes its beachfront setting, as it always has.
There are some lovely new touches in the way of decor. Wonderful additions, the new art pieces enhance the casual, oceanside theme.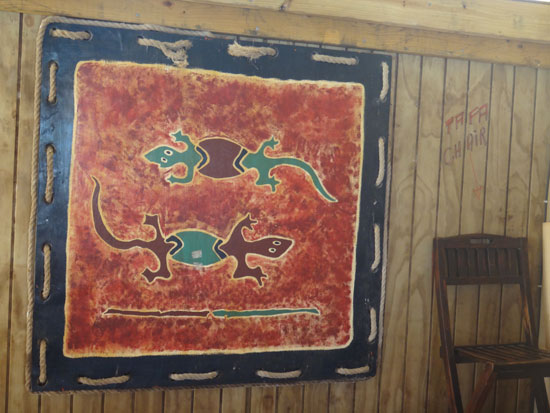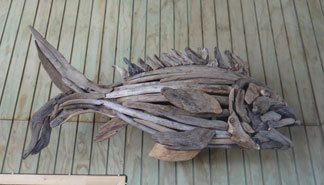 And, one of the bigger changes is the bathroom. Clean and spacious, artful touches can be seen here, too. A beautiful piece of driftwood is used as a paper holder.
"Shoal Bay blue" view from Madeariman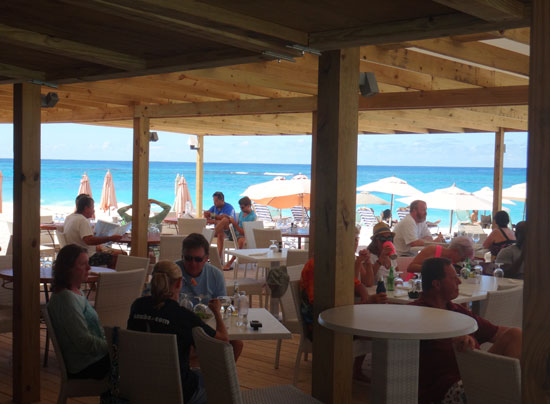 Where is Madeariman?
From the beach, Madeariman does not stand out… you almost have to look for it. The tan, unpainted wood holds up a flat white roof and does not distract at all from the beauty of the beach. It's nothing flashy, just an unpretentious restaurant and bar that blends in nicely with nature.
If you're walking on the beach, you can always find Madeariman when you look for the biggest cluster of beach umbrellas on Shoal Bay. The yellow and cream umbrellas are the ones closest to the restaurant.
If you're walking from the Zemi Beach House end of Shoal Bay, you'll reach it as soon as you pass the Bijoux beach shop location.
If you're walking from the Shoal Bay Villas side and beyond, you'll find it just past Uncle Ernie's.
Madeariman next to Manoah Boutique Hotel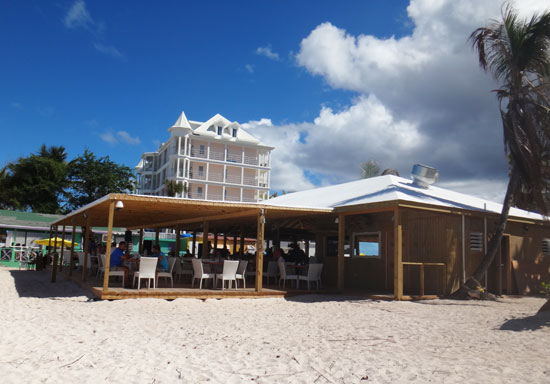 If you are entering the restaurant from the beach, you will see their menu on display where the deck meets the sand. Madeariman is serving up that same great Caribbean-French flavor...
The Menu
There's a nice variety of soups, appetizers, tapas, burgers, salads, pizzas, desserts and entrees including chicken, beef and local seafood. There's a few pasta options too.
My Madeariman lunch - excellent.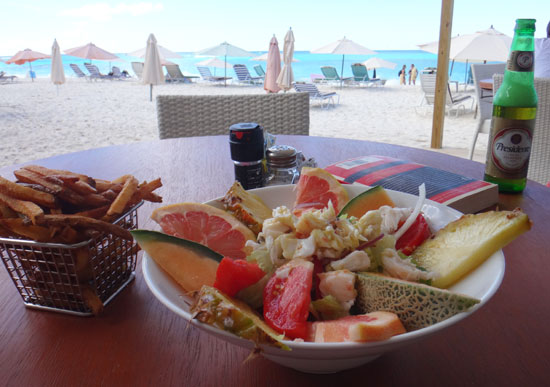 After ordering my food on both recent visits, it arrived so quickly that it literally surprised me! I automatically burst out to one of the servers, "Wow, that was fast."
It's subjective and situational whether or not one's preference is for their food to arrive quickly or not but by comparison to many other restaurants in Anguilla, I must share that my experience of service time at Madeariman was an anomaly. If you're hungry, this is great news because they seem to make an effort to get your food order to you as soon as possible.
Since their re-opening, I've had their Italian pizza, their Exotic Lobster Salad and a side of french fries, which goes down smooth with a couple of cold Presidente beers.
The Italian pizza was light and crisp with juicy tomato, mozzarella, basil, all topped with prosciutto. The size is great for one very hungry person and big enough to share with another. It's cut in to 6 large slices and is priced at $17 US.
The Italian Pizza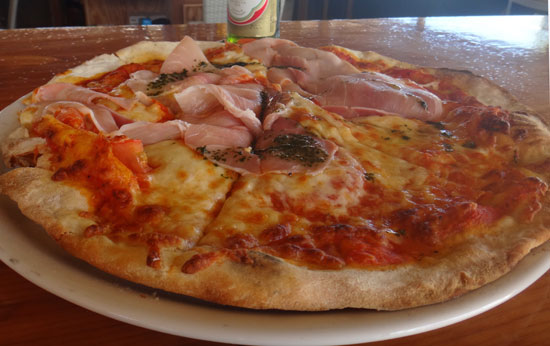 Pizza devoured, everything that passed me looked delicious even on a full belly.
As for the Exotic Salad with lobster and side of french fries? The salad description on the menu reads, "Plantain, pineapple, melon and watermelon." What arrived included pineapple, melon and pink grapefruit. I did not miss what "would have been." The freshest of items are not always available in Anguilla and the grapefruit, melon and pineapple made for a sweet and delicious combination.
The lobster meat was abundant for a salad priced at $24 US. It had been tossed very, very lightly in a dressing with Asian flavors. The lobster meat was prepared perfectly and paired nicely with the fresh fruit and romaine lettuce underneath. A tasty and healthy option!
I should also mention it was beautifully displayed.
The Exotic Salad with Lobster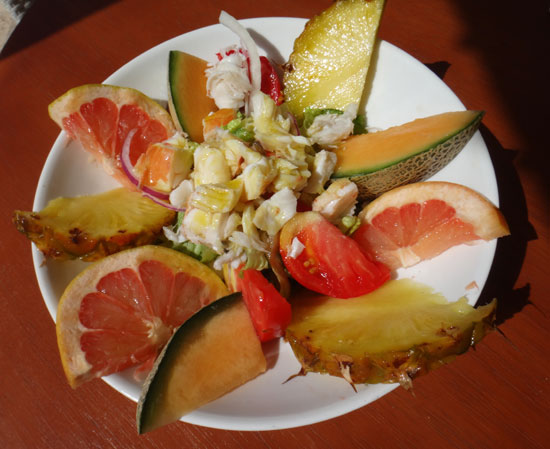 Exotic Salad with Lobster, detail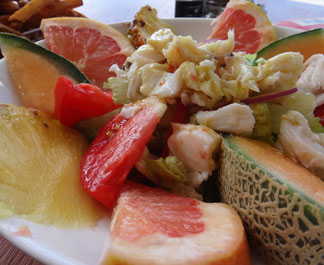 After seeing so many french fry orders pass me by during my first visit, I also ordered a side of fries this time.
Served in a metal-wicker basket, they catch the eye. This alone made me curious of their status since they were being artistically served.
To my surprise and delight, the fries were delicious. So delicious that, as I was paying at the bar I asked if they made their own fries. The answer was, "yes". Homemade french fries come with all sandwiches on the menu.
The rest of the menu does not allow for easy decision making. The menu boasts a lot of variety and it all looks and sounds so good.
There's French Onion Soup and a soup of the week. The salads and appetizers range from $13 to $24 US in price and includes salad varieties like caesar, goat cheese, and caprice. Appetizers include shrimp cocktail, escargot and pan fried duck liver and scallops.
The sandwiches fall under the "Snacks" section of the menu and are served with fries. Hamburgers, chicken burger, fish burger and a tuna club sandwich are priced between $14 and $18 US.
Homemade french fries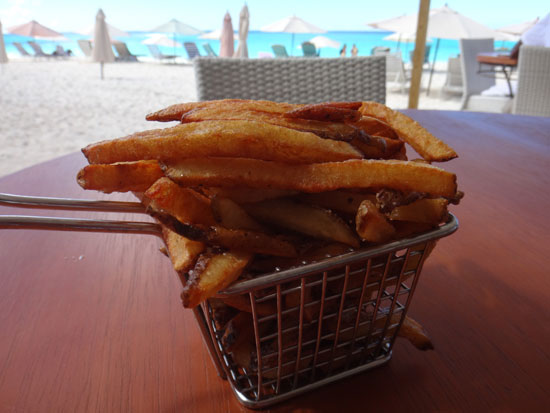 Pastas are from $18 to $26 US and include Tagliatelle Bolognese, Lobster Tagliatelle and Chicken & Shrimp Noodles, Asian style.
Some "Fish" menu items are Mussels, tuna tartare and tataki, Mahi Mahi or shrimp kebabs, grouper filet, grilled lobster or crayfish. Prices go from $25 to $38 US.
"Meat" on the menu comes in the form of kebabs, a ribeye steak, and chicken colombo. The meat entrees are served with mashed potatoes, rice or french fries and a choice of sauces. Their pricing ranges from $26 to $29 US.
Desserts are warm chocolate cake, apple pie, creme brûlée, Belgian chocolate mousse, profiteroles and sherbet or ice cream, all between the prices of $3 and $10 US.
In addition to all of that...
Madeariman has specials that they cleverly display on a mirror. Don't miss it!
The Specials Mirror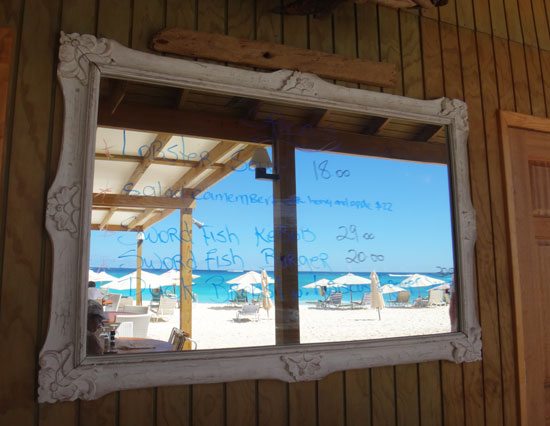 Live Music on Saturday at Lunch!
264 Band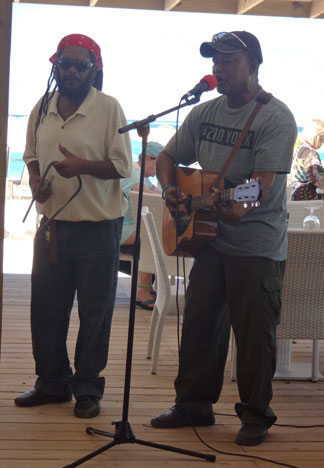 One of the great new changes at Madeariman?...
Live music by Anguilla string band called "264 Band" on Saturday afternoons!
Since their first day at Madeariman, they've garnered quite a following.
Many make Madeariman stop #1 on Saturday to have an afternoon "lime" set to Caribbean music.
It's a lively and happy scene complete with dancing and call-outs on the mic to one of Madeariman's own songbirds.
It is a fun afternoon, all part of the warm spirit of Madeariman.
264 Band

Here's a little peek at the Saturday afternoon action...
The resurrected Madeariman is in tip top shape on all fronts. A happy and conscientious staff, superb food and sublime surroundings, perfect for beach lovers... the rebuilt Madeariman is at its best!
Parking & Hours
Two last notes...
PARKING: Unless you are willing to walk, parking at that area of Shoal Bay is paid parking in a designated lot at the top of the incline above Madeariman. Please note that if you have lunch at Madeariman they will reimburse your parking fee. Should you choose to park in the paid lot, just bring them your receipt.
HOURS: Madeariman is open for breakfast, lunch and dinner daily. Lunch is their busiest time and they tend to wind down around 5pm before they re-open for dinner, depending on how busy they are. It seems they operate as much of the island does with some flexibility to their start and stop times. It's always safe to call ahead, as different days and different times of the year, operations can vary. You can reach Madeariman at: 264-497-5750