Combing Anguilla's Beaches for the Best
Anguilla Beach Lovers brings you the latest additions to one family's experiences of the "best of all things Anguillian."

If you like this e-zine,, please do a friend and me a big favor and "pay it forward."

If a friend did forward this to you and if you like what you read, please subscribe by visiting...
---
The 2016 Anguilla Card Launches!
Yes, it's here! Now entering its third year, the 2016 Anguilla Card brings you even more Partners and savings, new contests and one completely new feature.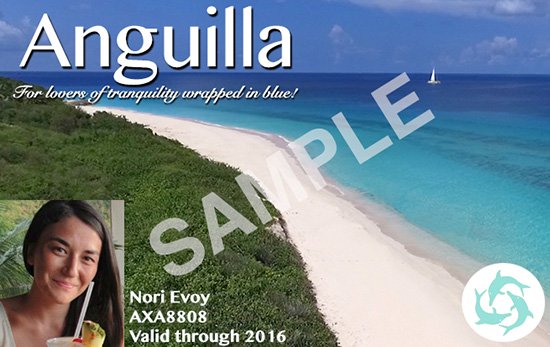 Just in time for Christmas and the holiday season, the range of Partners are guaranteed to save you at least twice the price of the Card (click to see guarantee). And, wait until you see the time-saving, frustration-sparing Menus.ai!...
---
Menus.ai
Menus.ai makes choosing restaurants a snap!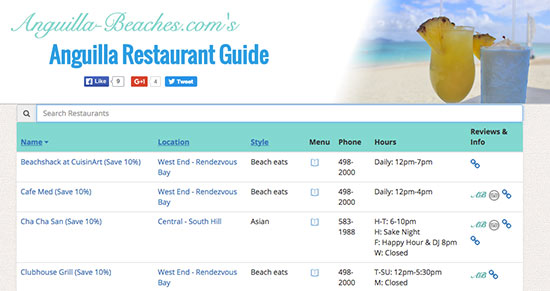 On a single page, access all restaurant menus (actual, up-to-date menus), restaurant opening hours, telephone numbers and even a Google Map of their exact locations. Whether you plan your meals before you arrive or while you're here, this is your ultimate efficient Anguilla restaurant resource.
Tip: If you will be in Anguilla between Dec. 18 and the first week of January, be sure to make reservations at the most popular restaurants ahead of time. It's looking like a big year for Anguilla!
Note: Anguilla Card Holders get exclusive access to all 106 listings. Non-Card Holders get partial access. If you currently own the Anguilla Card, reply to this email to get your login information!
---
New Partners
Since the release of the 2015 Anguilla Card, the following new Partners have come on board: The Restaurant at Malliouhana, Garvey's Sunshine Shack, Le Bar, Anguilla's Jammin'.
And, brand new for 2016 are...
Long-established, Tasty's is an institution in Anguilla.
Owner and Executive Chef Dale Carty is talented and experienced, having spent years in France training under the world renowned Jo and Michel Rostang. Today, his refined skills are showcased at his restaurant, Tasty's.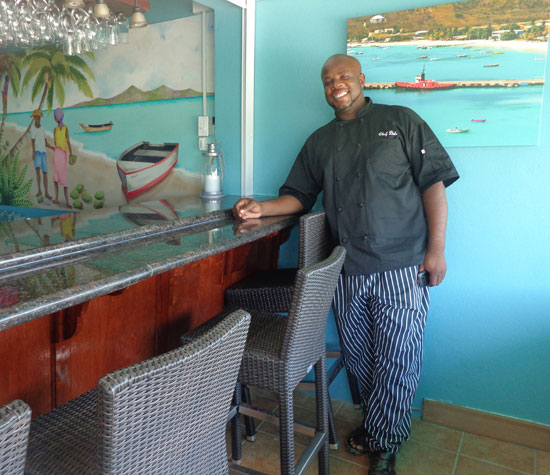 Chef Dale takes classic Caribbean dishes to an haute-cuisine level, blending flavors that are unique to the region. Using the freshest ingredients, one could say that Tasty's is the original "farm to table" restaurant. Chef Dale has been embracing the ethos of "farm to table" long before it was called "farm to table." ;-)
Here is one example of a favorite dish for dinner...
Fresh fish (catch of the day) is encrusted with coconut and served in a spicy banana rum sauce (sautéed vegetables on the side). A curious and winning combination!
That same spicy rum sauce can be sampled, too, with Chef Dale's conch fritters...
Sizable and filled with large pieces of conch, they are fried to perfection.
From appetizers, to tapas (the stewed fish in a Creole sauce served on coconut dumpling is excellent!)...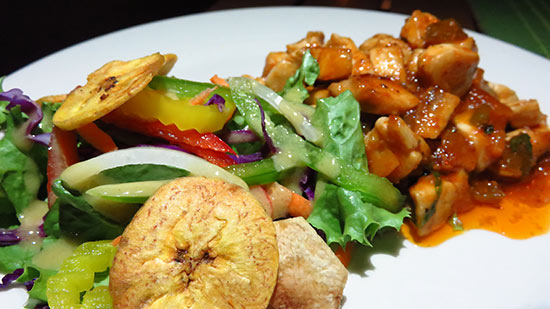 ... to full entrées, Chef Dale's menu offers a five-star taste of Caribbean cuisine.
Lunch and breakfast also impress. "Tasty's Seafood Salad" is one of the restaurant's most famous dishes. Big fresh pieces of snapper, lobster, shrimp and conch are tossed with a caper and garlic dressing.
For breakfast? The best breakfast in Anguilla, the "House Special" is the salted fish and Johnny cakes, served with fried plantains and hard boiled eggs.
Chef Dale also offers in-villa private chef services. For more on that, Contact Chef Dale at 264-584-2737
An enchanting Mediterranean-Moroccan-inspired lounge, Meze's atmosphere is one of a kind.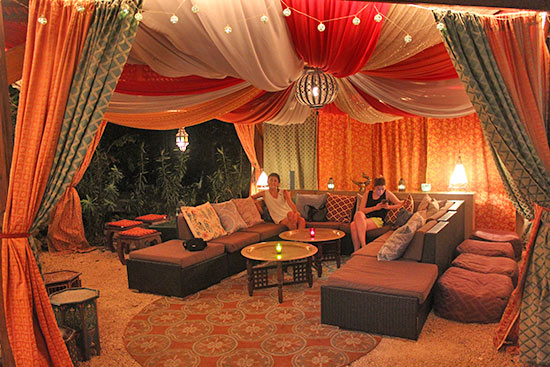 Draped in oranges, reds and purples, with cushiony-comfy couches and live music playing every night of the week, owners Carrie and Jerry Bogar have created a wonderful space, all inspired by their trips and travels.
Meze makes for a wonderful spot for crisp cocktails and a bite of something different.
Its menu features a variety of plates for sharing. Each plate highlights a different country and region, and features specialties specific to that region.
For instance, their Caribbean platter...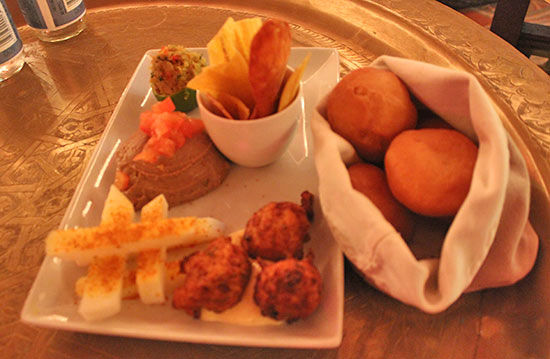 ... features Chef Carrie's famous Johnny cakes and conch fritters, saltfish and pigeon pea dip.
Our very favorite, the Mediterranean plate...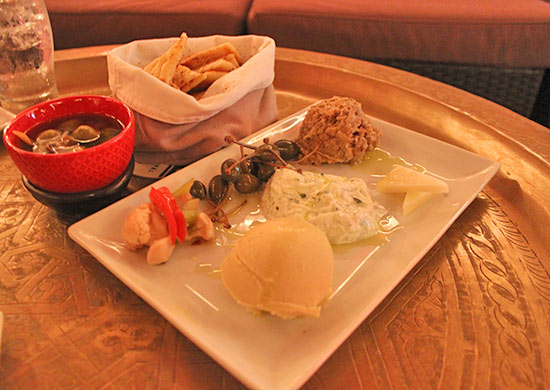 ... takes your taste buds through various cultures, with baba ghanoush, hummus, feta, tzatziki and perfectly grilled flat bread.
Specialty cocktails include "Moroccan Mojito," "Dark and Stormy Night in Bombay" and a variety of Sangrias.
Owned by award-winning sculptor, Mr. Courtney Devonish, he and his art gallery are true originals.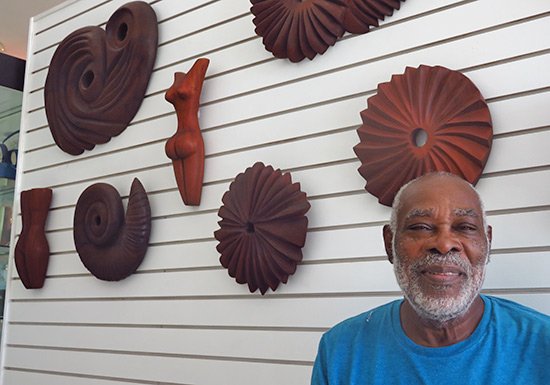 Originally from Barbados, Anguilla has been home to Mr. Courtney Devonish since 1988.
Mr. Devonish's creations have been celebrated and showcased worldwide, from London to Guyana, to Cuba and across Canada. His life experiences, too, have taken him to England and Italy, where he studied arts and crafts, and Canada, where he later taught.
In talking to Mr. Devonish, one thing quickly becomes clear. His own spirit. When you speak with Mr. Devonish, his eyes sparkle, his smile widens, his mind and heart completely devoted to the conversation.
Intelligent, genuine, kind and caring, Mr. Devonish is a warm soul. That personality is deeply conveyed and captured through his rich, signature mahogany sculptures...
Hand-crafted in his off-site studio, great love and labor goes into creating his fine, smooth sculptures, which not only have been shown in exhibits as far back as in the 1960s, they have even been presented to President Ronald Regan, amongst other heads of states and governments.
Each sculpture is inspired by a different feeling or moment.
In addition to art pieces, Mr. Devonish hand carves a variety of objects for day-to-day living, bringing warmth and sunshine to the more routine aspects of life.
He also works with clay and ceramics to create pottery. Playful and colorful, his pottery brightens up a room in a variety of forms, from pelicans and puffer fish, to delicate vases and tableware.
As one might expect, Mr. Devonish's wife, Carrolle Devonish, is equal parts creative and kind. Her art form?
Bead work to adorn the body.
A bead enthusiast who has traveled to and collected beads from all corners of the world, African beads have held a special place in her heart since she visited Kenya in the 90s.
From her vast bead collection, Carrolle creates one of a kind pieces.
In addition to their own creations, Devonish Art Gallery features a number of other unique Anguillian art pieces, ones that cannot be found anywhere else on-island.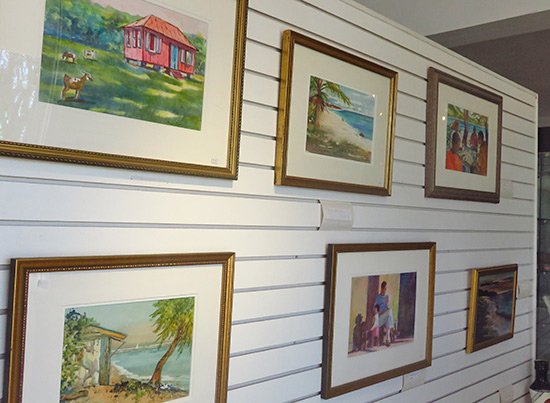 Beyond the scope of Anguilla, Mr. Devonish also encourages burgeoning artists and showcases well-established regional and international artists. A carefully curated selection of pieces can be seen throughout his store, as well as full-blown exhibits.
Through all of the different expressions shared at Devonish Art Gallery, one commonality holds steady. Devonish Art Gallery is a celebration of the arts, and Mr. Devonish is a true original.
Opened in 2013, Dad's Bar & Grill has quickly established itself as one of the spots for nightlife in Anguilla.
Owned by Alex & famous musician, Delbert Mussington, it's no surprise to see Dad's Bar & Grill boasting one of the most exciting and ever-growing music line ups on the island. With reggae nights, soca nights, and even live karaoke nights (where you sing with the band!), Delbert is forever coming up with new musical concepts to keep folks dancing at his spot, right on the sands of Sandy Ground.
In addition to being a go-to for live music, Dad's Bar & Grill has become an excellent choice for laid-back lunches and dinners, right on the beach.
Their specialty? Seafood!
Originally from Sweden, Alex (photographed above with Chef Tola) has been living in Boston for over 20 years, working as an HR consultant, helping start up companies grow and scale. Today, she lives in Anguilla and is applying her business-savvy skills to growing Dad's.
A big part of "getting it right" has been perfecting the menu and building her team of chefs. Two chefs work with Dad's currently, Mitchelle Browne (aka Tola) and Ian Baker (aka Baker or Face). Both have vast experiences as in-villa private chefs. Today, they have swapped the villa scene for life on the beach.
"Our goal is to one day offer every kind of fish caught in Anguilla, from Parrot Fish and Hinds, to Sea Bats and "Shell Fish" (fish that literally have a shell)," Alex smiled as she explained her vision.
One example? Lionfish...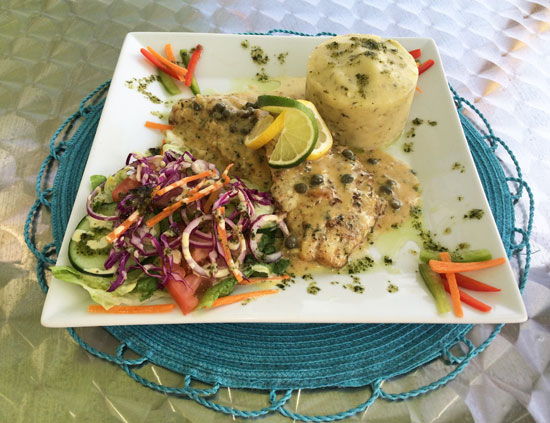 Dad's is one of the few restaurants that serves the exotic and tasty Lionfish nightly.
While they are expanding their offerings of rare and special types of fish, they also currently offer seafood "staples" of snapper, mahi mahi, crayfish, lobster and shrimp. All available and served in a number of ways, including in a panini, mixed with pasta, over a salad or as a full entree. (If seafood isn't to your liking, their BBQ is terrific!)
Ask Alex "What's really good today?" and your taste buds will thank you!
A few of our top picks include...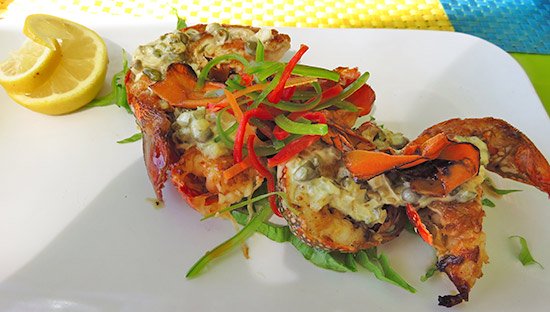 Their crayfish tapas. Grilled perfectly, the crayfish is topped with a sauce that complements it well: a creamy caper and garlic sauce. It is so good, I recommend opting for the full-sized entree. :-)
And, the mahi mahi entree, in a rich yet not overpowering saffron sauce, layered with grilled vegetables and rice.
Rounding out their spectrum of seafood is their "you catch it - we cook it" service. After a long day out fishing on the seas, bring your catch of the day to Dad's and they will de-bone and prepare it for you, exactly to your liking. Brilliant, isn't it?
Alex and Delbert are in no short supply of creativity and passion when it comes to seafood and live music events. With a unique combination of skills and experience, they make the perfect match.
---
Phew! What a line up!
To get your Anguilla Card, click here. For more updates, keep reading.
In addition to Menus.ai and new Anguilla Card Partners...
Postcards From Anguilla
Win a $250-Value Dinner at
The Restaurant at Malliouhana
An Anguilla-phile favorite, we will be doing more contests this year, starting right now!
To celebrate the release of the 2016 Anguilla Card, I am excited to announce a fun, new contest, Postcards From Anguilla.
Over the years, through talking with different residents of and travelers to Anguilla, one truth emerges from all of the stories shared...
"That could only happen in Anguilla."
"Our car was stuck in the sand, and who helped us dig it out? None other than the New York Giants!"

"On a clear day, all alone on one of the most beautiful beaches, he proposed."

"I finally learned to let go and jumped from 'The Rock!'"

"I was walking by myself on Prickly Pear when a man in a yacht invited us to his private beach party. His friends called him 'Leo.'"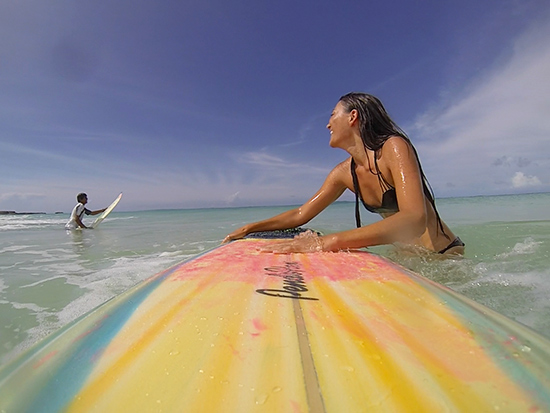 My own personal favorite Anguilla memory? Catching the surf-perfect, aquamarine waves that Hurricane Gonzalo left in its wake, with just one friend in the water, and not another soul out on the beach!
With all of the warm personal memories and second-hand stories out there, Postcards From Anguilla is dedicated to all of your priceless memories, your own snapshots and stories, your own one-of-a-kind postcards from Anguilla!
To join in on this "recollection collection" of sandy, sun-kissed memories from Tranquility Wrapped in Blue...
Select the photo that best tells the story of your most memorable Anguilla moment
Write a brief description of the memory (30 words max.)
The prize?
Dinner for 2: A $250 value, 3 course "Chef's Dinner" prepared by Executive Chef Cupertino Ortiz with wine pairings by Sommelier Albert Lake at The Restaurant at Malliouhana
A free Anguilla Card subscription
Your winning postcard printed and mailed to you straight from AI-2640!
More on The Restaurant at Malliouhana & Executive Chef Cupertino Ortiz
Perched on its promontory overlooking the sparkling lights of Meads Bay, The Restaurant at Malliouhana undoubtedly has one of the island's most refined, elegant and timeless settings.
With an expert team, featuring Executive Chef Cupertino Ortiz, Sommelier Albert Lake and hosts that always put you at ease, dinner at Malliouhana exceeds expectations.
In addition to the regular menu, Executive Chef Cupertino Ortiz offers a special menu. Inspired by farm-to-table dining, he uses the freshest ingredients locally available and adds contemporary touches to classic dishes.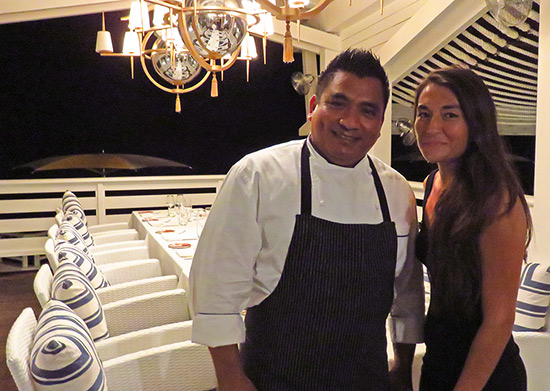 Favorites include Chef Ortiz's local lobster on rémoulade, cauliflower gnocchi and his unique take on "snapper with rice & peas."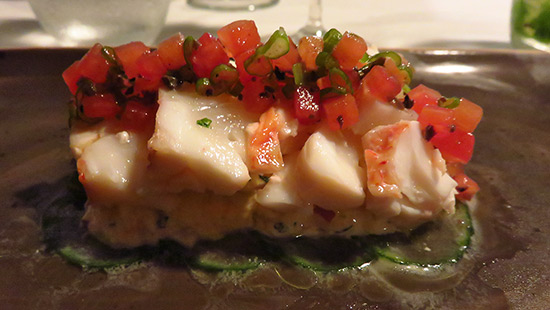 How to Win the Gourmet $250-Value Dinner for 2?
Click here for full contest details!
We are really looking forward to receiving your "Postcards From Anguilla" :-)
---
That's it for now.
Stay tuned as we continue to expand the Anguilla Card!
To purchase your 2016 Anguilla Card, click here.
Here's to a happy 2016, full of great savings!
Nori
Anguilla-Beaches.com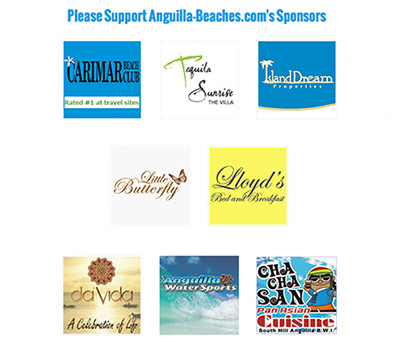 ---