For Lovers of Seafood

...
Dining at Dad's Bar & Grill

Since its opening in 2013, Dad's Bar & Grill has become known as one of the nightlife spots in Sandy Ground.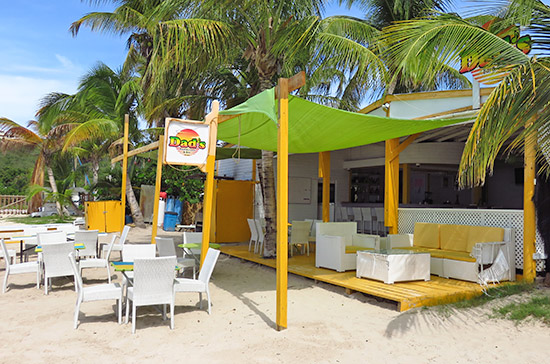 With "Dad" himself being Delbert Mussington, a famous musician, hailing from the musical family, the Mussingtons, it is no surprise. They are constantly perfecting their music line up (now 2-3 times/week and with plans to grow the schedule), and with a prime location on the sands of Sandy Ground, Dad's has become loyally and locally loved.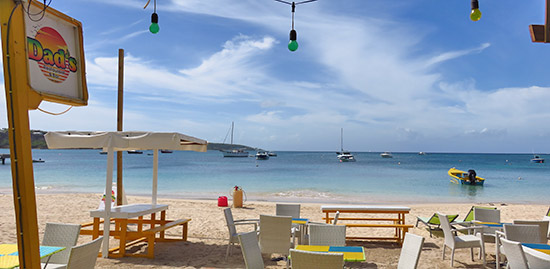 While Dad's has become a regular fixture for live music, this beach bar has come a long way in its "taste" factor, too!
Meet Alex & Chef Tola

Owned by Alex & Delbert, Alex, too, has an interesting and fitting background.
Originally from Sweden, she has been living in Boston for over 20 years, working as an HR consultant, helping start up companies grow and scale.
With Alex & Chef Tola

"I would help businesses grow from 50-100 employees, to over 500," she explained. After visiting Anguila in 2003, she fell in love with the island. Today, she is applying her business-savvy skills to growing her and Delbert's business, Dad's.
A big part of "getting it right" has been perfecting the menu and building her team of chefs. Two chefs work with Dad's currently, Mitchelle Browne (aka Tola) and Ian Baker (aka Baker or Face). Both have vast experiences as in-villa private chefs. Today, they have swapped the villa scene for life on the beach.
Chef Tola Manning the Grill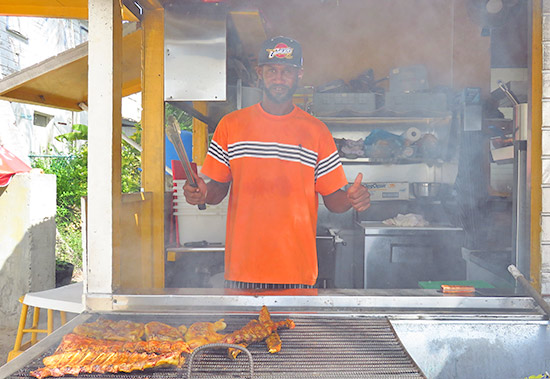 The Setting at Dad's
In a pretty setting on Sandy Ground, amidst docking boats and fishermen hauling in their catches, sits Dad's colorful bar and restaurant on the beach.
Either dine inside at their spacious bar (adjacent to their live music stage)...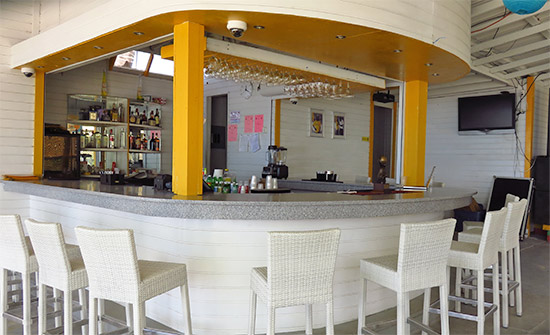 Or dine out on the beach, toes in the sand...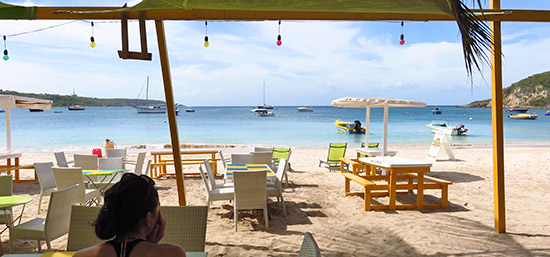 Open and comfortable, the decor is fun and fresh, the vibe, welcoming.
What's on the Menu?
"Our goal is to one day offer every kind of fish caught in Anguilla, from Parrot Fish and Hinds, to Sea Bats and "Shell Fish" (fish that literally have a shell)," Alex smiled as she explained her vision.
Dad's takes their love for seafood a step further than most restaurants by introducing their clients to many rare and different types of fish. They are one of the few restaurants who prepare lionfish on a regular basis, and whenever they have extra-rare catches those get a special place on the menu, too.
Lionfish at Dad's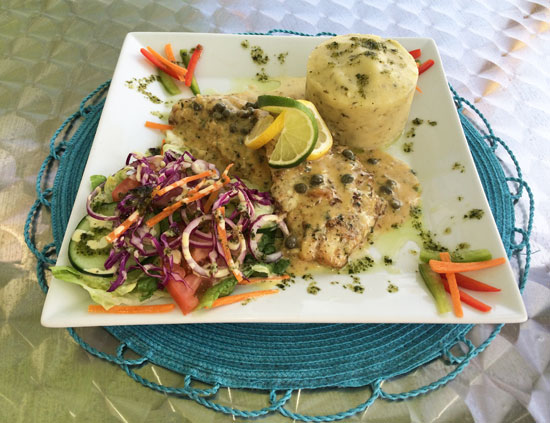 In addition to the rare catches, snapper, crayfish, lobster and shrimp are all available and served in a number of ways, including in a panini, mixed with pasta, over a salad or as a full entree. (If seafood isn't to your liking, their BBQ is terrific!)
Dad's Lobster Salad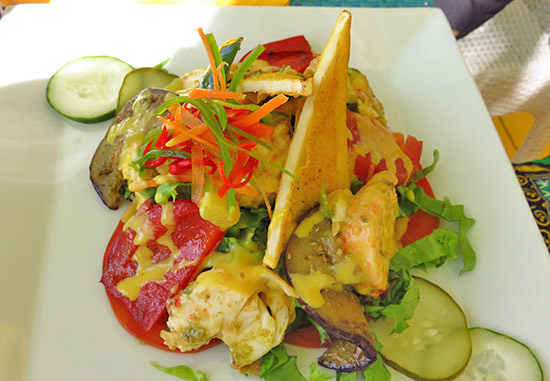 The grilled lobster is especially succulent, with large chunks of lobster served with organic vegetables and with a honey-mustard vinaigrette. For $22, it is fair-value with ample, fresh lobster in each bite. It is also served with zesty garlic bread.
Garlic Bread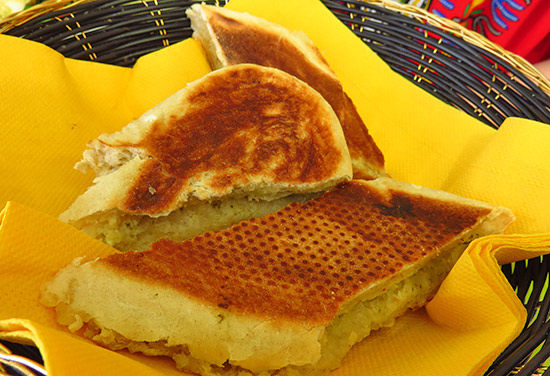 Come night fall, their dinner menu features a wide variety of tapas that range from $3-15. It offers one of the best deals on the island: a $10 crayfish tapas dish, an excellent way to sample this Anguillian delicacy.
Dad's Crayfish Tapas Dish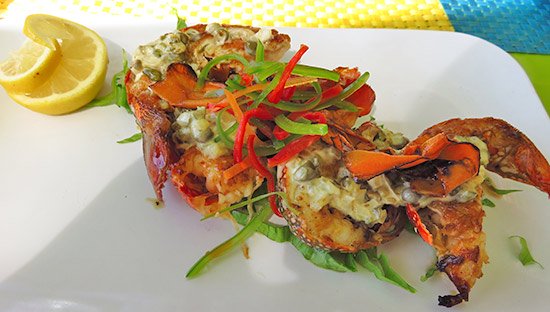 This dish has become one of our favorite crayfish dishes in Anguilla. Simply grilled on a charcoal BBQ, it is perfectly complemented by its sauce made of cream caper and garlic. It is so good that opting for the "full size" version of this meal ($40) is well worth it.
As for their entrées? Ask for what's really special that day. You will not be disappointed.
For example, one late afternoon we were recommended their "special of the day," mahi mahi in a rich yet not overpowering saffron sauce, layered with grilled vegetables and rice.
Saffron Mahi Mahi at Dad's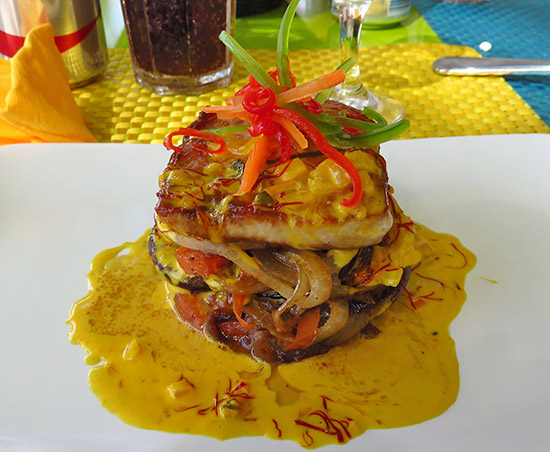 Rounding out their spectrum of seafood is their "you catch it - we cook it" service. After a long day out fishing on the seas, bring your catch of the day to Dad's and they will de-bone and prepare it for you, exactly to your liking. Brilliant, isn't it?
Alex and Delbert are in no short supply of creativity and passion when it comes to seafood and live music events. With a unique combination of skills and experience, they make the perfect match.
A big congratulations to Alex, Delbert and Chefs Tola and Baker on their ever-expanding spot on the beach, Dad's!
Dad's is open daily and nightly, closed Tuesdays. For more information, call: 264-581-3237