Combing Anguilla's Beaches for the Best
Anguilla Beach Lovers brings you the latest additions to one family's experiences of the "best of all things Anguillian."

If you like this e-zine, please do a friend and me a big favor and "pay it forward."

If a friend did forward this to you and if you like what you read, please subscribe by visiting...
---
Issue #066, November 4th 2012
It's officially "that" time of year! Businesses are re-opening in Anguilla, gearing up for the high season.
November 1st marks a turning point in the low-season. Not only are more hotels and restaurants open, but the weather cools down a whole lot, too. These last couple of days in Anguilla have been pure bliss. While never "cold," that hot, hot heat has lifted.
It's an ideal time to visit Anguilla as this is, technically, still considered the off-season. Hotel rooms and villas can be had at off-season prices.
Speaking of weather, we are moving out of the hurricane season, too. Hurricanes are most likely to hit Anguilla in September and October, although it's still possible in November. We have been lucky to dodge the hurricanes that have come our way this year so far, with just a few light touches from passing Tropical Storms.
Anguilla was fortunate to not be in Hurricane Sandy's path. We did feel some residual effects. Meads Bay had some serious wave action...
My thoughts go out to everyone in the Caribbean and in the United States and Canada who have been hit by Sandy. I'm sending you my best and hope this month's newsletter is soothing.
Let's start with some of the most awe-inspiring photos from this month! :-)
---
Memorable October Moments
A special sunrise captured from our balcony...
Tasty tacos at Blanchards Beach Shack...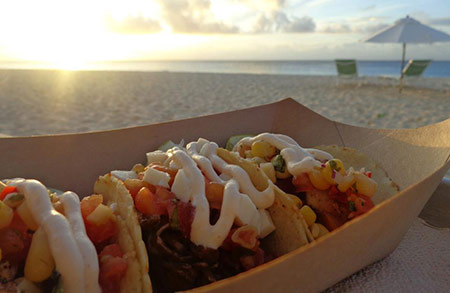 The sea sparkled a special shade of turquoise this October...
That same sea turned dark and scary when severe weather systems moved through...
But once those weather storms passed? We were left with the most spectacular sunsets...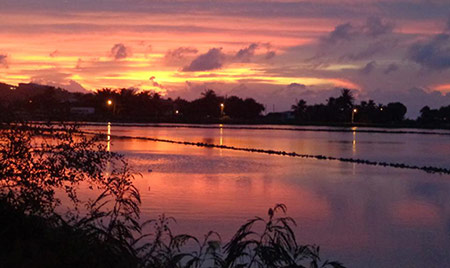 ---
Tasty Spots Found This Month!
Papa Lash's Food Van On a shoestring budget and want to eat good in Anguilla? Papa Lash Food Van in The Valley can supply you with some yummy meals for just a few dollars, and he serves it fast! He has plenty of vegetarian food options, too.
 

Valley's BBQ We may have found THE best Anguilla BBQ chicken. Loved by locals, this chicken is cooked every weekday (except Wednesday), and often sells out before noon. Drum roll, please!...
 
Elite Restaurant From tip to tip, Anguilla has you covered when it comes to beach-side Italian dining. Anguilla restaurant, Elite, is the spot of choice if you're looking for tasty pastas and pizzas in a picturesque setting in the island's East End.
 
---
Accommodations, Simplified
To make this season's vacation planning smoother for you, we have overhauled two of our accommodation guides, the guide to Anguilla hotels and the guide to Anguilla villas.
We've added several hotels and villas, including West End Apartments, Paradise Cove, Ani Villas and Beach Villa Ella. Now, you can search them all by location and price!
---
Updates & Good News From Our Sponsors
da'Vida I am excited to announce that da'Vida's Bayside Grill has opened early! This idyllic beach-side lunch spot opened earlier this week, November 1st.
Their full restaurant will be open for dinner (and evening tapas!) November 15th. Clyde and Vida (two of the owners) have lots of exciting news this upcoming season, so stay tuned!
Carimar Beach Club One of our favorite, best-value Anguilla hotels, Carimar is defined by how much they care about their guests. They have made many recent upgrades. Click here for Carimar's fresh, new look.
One thing that hasn't changed at Carimar? The view...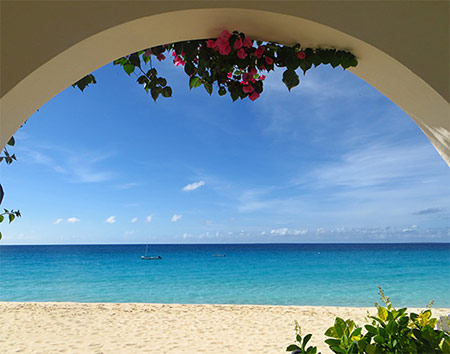 It's hard to believe that at Carimar you are just steps from magnificent Meads Bay. Also, Carimar has a fun New Year's promotion this year. More information on that soon!
---
Lastly, A Good Cause
AARF... it just might be the cutest acronym ever!
AARF, Anguilla's Animal Rescue Foundation, works hard to take care of the island's dogs and cats. Anguilla's animals make the sweetest pets. We know... we have 3! :-)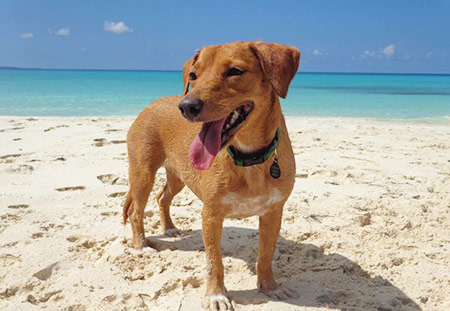 Many who have adopted them and brought them home to the States, UK and Canada, say they are the most special Anguilla souvenirs!
Click for more on AARF and for a few heart-warming adoption stories.
---
A Bustling Month Ahead!
If you are visiting Anguilla in November, you are coming at a perfect time. Everyone has opened, or will be opening this month.
In terms of restaurants, all of our favorites have turned on their grills, including Straw Hat, Mango's, Blanchards, da'Vida, A Burger, Sunset Lounge, Roy's, SandBar and Dolce Vita... the only question is, where to start?!
Hotel-wise, most have re-opened, too. Allamanda, Anacoana, Carimar, CuisinArt, Frangipani, Shoal Bay Villas, Viceroy... we're just waiting on Cap Juluca. They have announced that they will be open mid-November! Yippee!
If you will be in Anguilla later in the month, don't forget about...
Thanksgiving!
Both Viceroy and Jacquie Ruan at Ripples will be holding delicious Thanksgiving dinners. Viceroy's menu is ideal for the foodies looking for something different.
Jacquie delivers a mouth-watering, classic Thanksgiving dinner. Click for more on Thanksgiving with Jacquie
We may not be American, but this year's Thanksgiving will be extra-special for us.
My sister, Yuki will be coming home to Anguilla from NYC for her Thanksgiving holiday. We miss her dearly and can't wait to have her back from the Big Apple!
Until next month,
Nori
Anguilla Beaches Home Page
---