Combing Anguilla's Beaches for the Best
Anguilla Beach Lovers brings you the latest additions to one family's experiences of the "best of all things Anguillian."

If you like this e-zine, please do a friend and me a big favor and "pay it forward."

If a friend did forward this to you and if you like what you read, please subscribe by visiting...
---
Issue #073, August 11th, 2013
How quickly Carnival has come and gone!
August Monday, Calypso Monarch, Miss Anguilla Queens Pageant, Parade of Troupes, now there's just one more event that awaits us... the Champion of Champions boatraces and final party on Sandy Ground. Come tomorrow, Anguilla will really start to quiet down for the season.
Once Carnival wraps, businesses prepare to take a much needed rest to gear up for the coming season. Most hotels, restaurants and shops close for September and October.
Gilda Samuels, the Executive Director of the Anguilla Hotel & Tourism Association (AHTA) has kindly assembled a list of the businesses that will be closed this season. Please join me in saying a big thank you to Gilda for putting this together! Click here for the list.
With Carnival coming to a near close, let's take a look at some photos from this past month, shall we? :-)
---
July & Early August Memories
The biggest day of the year, August Monday!...
Sonic and UFO gliding into the harbor...
August Thursday's boat race was postponed due to rain, but this photo (taken last year) is an all-time favorite...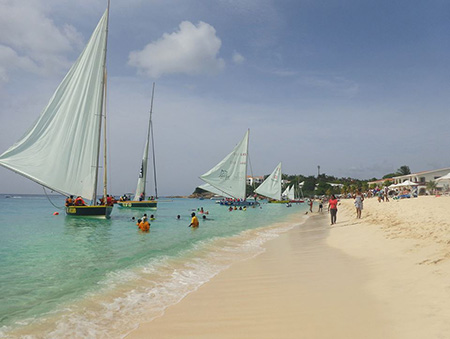 The colorful and vibrant Parade of Troupes...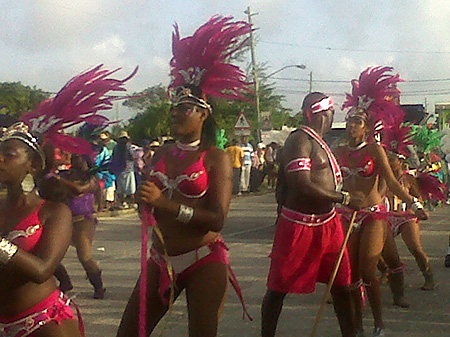 Carnival festivities aside, summer seas in Anguilla shine a special, clear shade of turquoise. Calm and still, they are soooo inviting...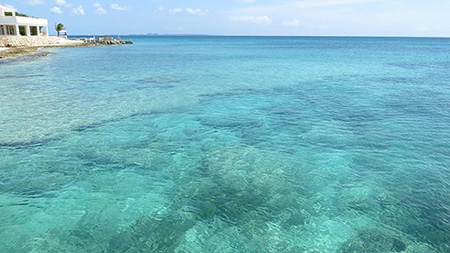 The only thing better than summer seas? Summer sunsets. This photo was snapped outside of my parents' bedroom window. St. Martin's mountains make for a breathtaking backdrop...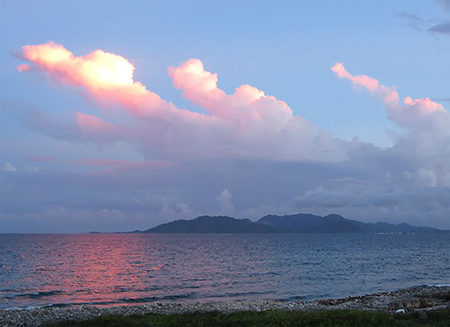 ---
Anguilla-Beaches.com Interns & A Field Trip to Big Spring
Between Carnival fun and afternoons at the beach, we've been getting some hard work done here at Anguilla-Beaches.com. This summer we continued our internship program with Albena Lake Hodge Comprehensive School.
Kirmani Honore and José Vanterpool are this year's interns. Hard working and sharp, they have been a tremendous help in covering events, snapping photos and capturing video, and have been instrumental in helping with a new project we're working on for the site. More on that soon.
To show them about writing for the web, they have written a couple of pages for the website.
A lover of all things tech, José wrote about the new Gadget City shop in The Quarter. More on Gadget City here. While José was checking out electronics, Kirmani covered Anguilla's gym and fitness centers. You can read that page here. Excellent work, Kirmani and José!
Last but not least, we had the special privilege of seeing a historical side of Anguilla, Anguilla's Big Spring. Together with Anguilla's National Trust we visited this ancient setting, a place that was used for celebrating life by the Amerindians as far back as 600AD.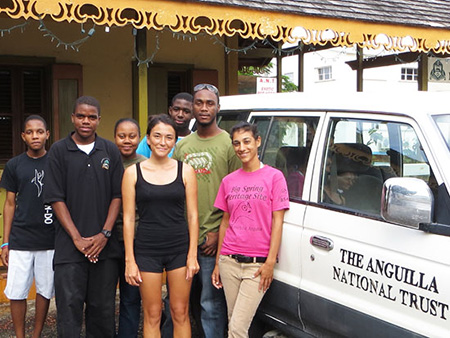 Kirmani arranged the whole trip and covered it beautifully. More on Big Spring here.
Note: The Anguilla National Trust does wonderful work preserving Anguilla's natural and historical sites. The next time you're on island, do contact them and take a tour!
---
A Caribbean Summer
It may not be top of mind for most North Americans and Europeans, but the Caribbean is a super summer destination. Temperatures are comfortably warm (88F on average and hurricanes are low-risk until September/October), beaches and restaurants are quieter, and hotels and villas have terrific deals.
We took advantage of those summer rates, and did a couple of little trips.
First, we hopped on Jet Blue's quick 35 minute flight to San Juan, Puerto Rico (from SXM). In the heart of Old San Juan, we stayed at the charming El Convento Hotel.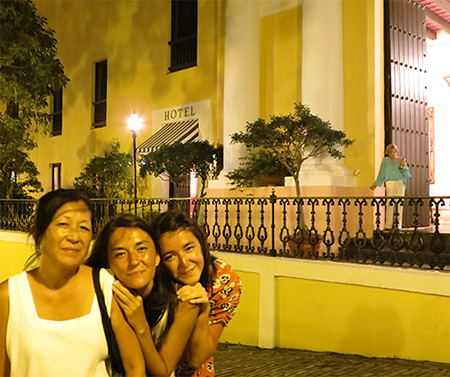 I can't recommend it highly enough! From the Spanish decor, to the five-star service, to the restaurants on site, it's truly a gem of a spot. From there, we took a day trip to the surf capital of the Caribbean, Rincón and did a little bit of surfing ourselves...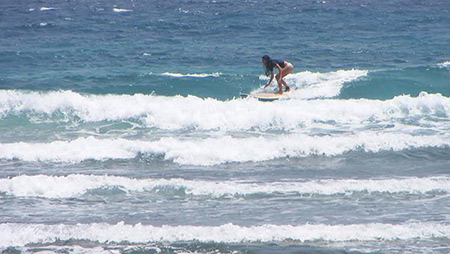 A little closer to home, we did an overnight stay at Hotel L'Esplanade in Grand Case, St. Martin...
With a distinct French air, modern rooms and pretty views, this is THE place to stay if you're considering spending a couple of nights in St. Martin on your next trip to Anguilla.
Fine French food, a little shopping at the boutiques in Marigot, surfing with SXM Surf Explorer, it was a delightful two days...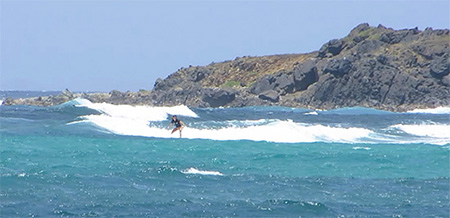 ---
What Else Is New?
The British Invasion Taff Bowen (AKA "Dickiebo"), a member of the British police unit who was sent to Anguilla in 1969, shares a unique and charming slice of Anguilla history.
Topaz Villa With sweeping views of Sandy Ground and modern amenities (including infinity edge pool!), we were more than impressed when we visited Topaz Villa. Affordable, it's a villa option well worth considering.
Phoenix Art Gallery Japanese woodblock prints in Anguilla? Yes! Owned by artist Tanya Clark, Phoenix Gallery offers framing services, displays unique paintings AND these pretty woodblock prints.
---
Meet The Cutest Billy Goat Around
Last but not least, this month we were introduced to a darling Billy Goat. Meet Billy, the house goat at Tequila Sunrise Villa...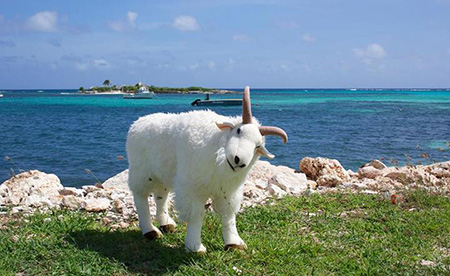 A gift for owners Joel and Robin Globus, Billy couldn't have felt more at home when he stepped "hoof" on the island and was greeted by an abundance of sweet Anguillian goats!
Today, he spends his days at Tequila Sunrise Villa getting into all kinds of adventures with the guests. Helping prepare breakfast, kicking back in the pool, heading to Scilly Cay, he sure gets around the island.
Loved by many, we've received several emails asking for "more Billy!" So, we've created Billy's Corner, a place to see and share Billy stories. Click here for Billy's corner.
What would you like to see Billy do next?
Dine on Johnny cakes and Crayfish at Nat's
SUP on Meads Bay's calm summer seas
Explore the Anguilla Heritage Trail
Hike out to Windward Point
Please cast your vote, or leave another suggestion, here!
That's all for this month.
Wishing you a fun August,
Nori
Anguilla Beaches Home Page
---