Meet the Cutest & Cuddliest Billy Goat of All,
Tequila Sunrise Villa's House Goat, Billy...
Welcome to Billy's Corner!
Meet Billy!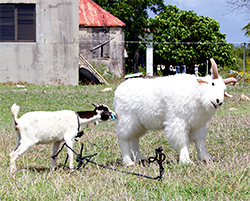 An American goat that now calls Anguilla home, Billy fit right in from the moment he stepped "hoof" in Anguilla.
Anguilla does, after all, have a plentiful population of these darling animals!
Billy, the "house goat" at Tequila Sunrise Villa, has captured the hearts of many guests. We've received email after email in fact, asking for "more Billy!"
So, by popular demand, and without further ado, welcome to Billy's Corner... :-)
A "Billy Break" The fun doesn't end with the life-sized Billy in Anguilla. Kids have been sending their drawings of Billy around the island to Robin and Joel, and they have been sending them a free mini-Billy plush back!

Take a look at the sweet drawings here!

To join in on the fun, simply scan your child's Billy drawing and send to billy@tequilasunrisevilla.com along with your child's first name, age and your mailing address. Or, fill in the form on this page.
When you first take in Anguilla's landscape, there's one thing you notice right away...
The Goats!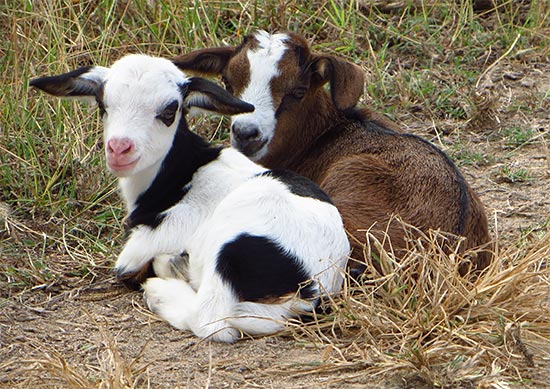 On the side of busy roads, inside round-abouts, frollicking in pastures... these adorable animals are everywhere. You would swear they are the national animal!
So, when Billy, an American-native (plush animal!) goat, was adopted by the Globus family (a gift from Joel Globus' sister Lynn), the owners of the luxurious Tequila Sunrise Villa, and moved to Anguilla in the mid-2000s all the way from New Jersey, he knew he was home.
Billy with Robin and Joel, the owners of Tequila Sunrise Villa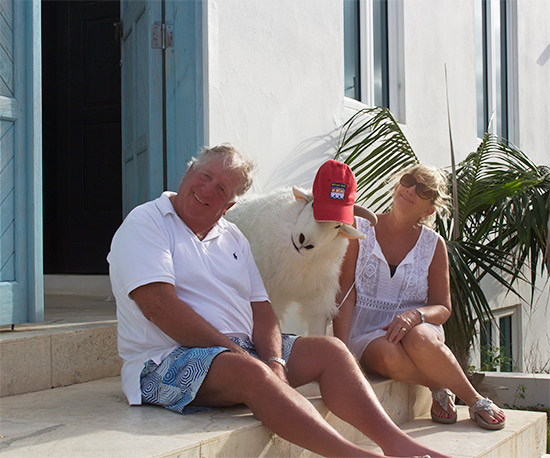 Sunning with Billy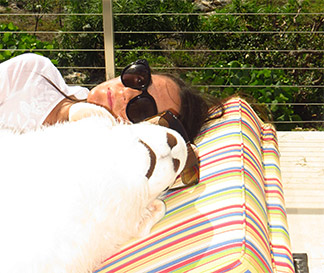 We fell in love with Billy during our stay at Tequila Sunrise Villa.
We walked to the beach together.
We took in the sun together.
He helped Heather, the kind housekeeper, prepare breakfast.
He even gave my Dad a hand with his work!
We aren't the only guests who have taken to Billy...
My Dad and Billy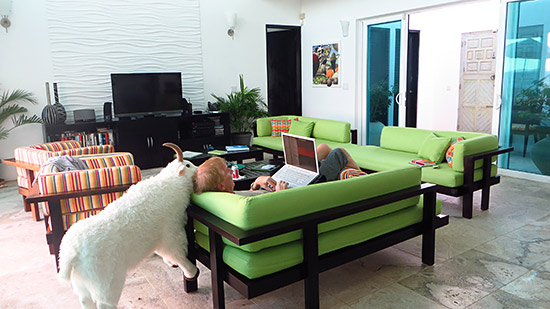 Billy's Adventures
Billy's adventures with the Globus'...
Hanging by the pool with Joel & Robin's Son, Justin, and his wife, Cassie

Relaxing at the beach with Robin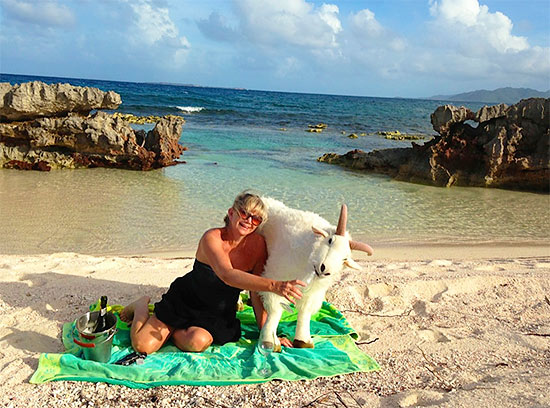 Billy making friends with distant relatives...
Who's this?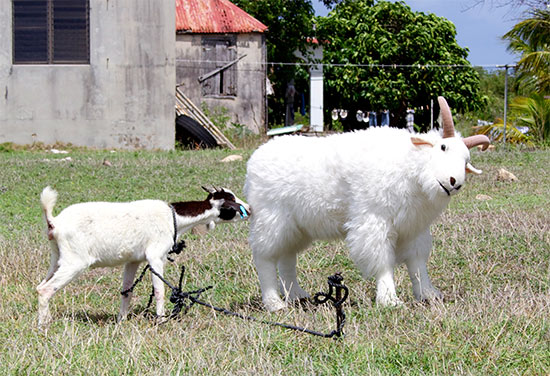 A uniquely Anguillian setting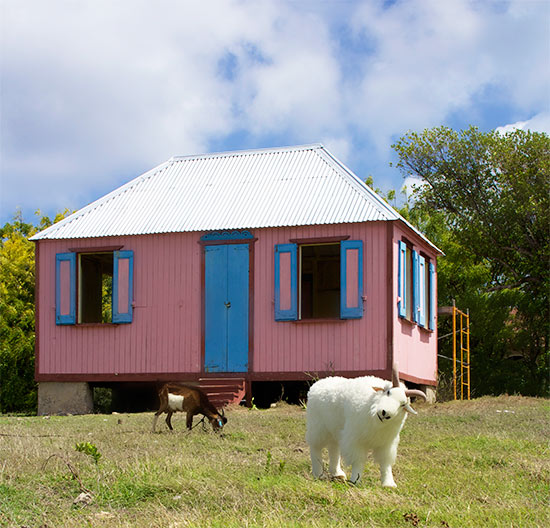 With long-term, repeat guests Jennifer & Lorne...
Taking a sip of Lorne's coooool cocktail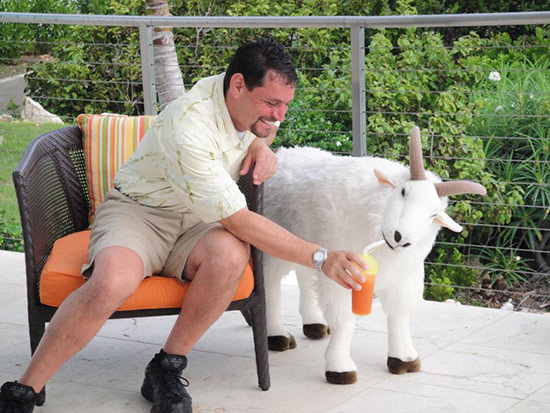 Watching the sunset at Lover's Cove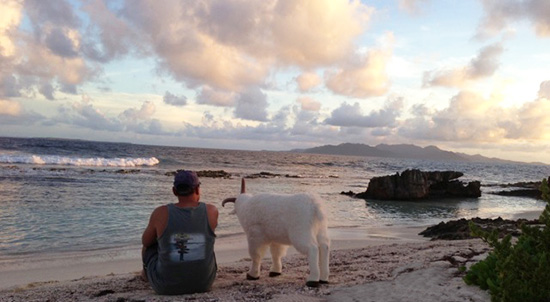 Billy was even best man at Jennifer & Lorne's wedding at Tequila Sunrise Villa!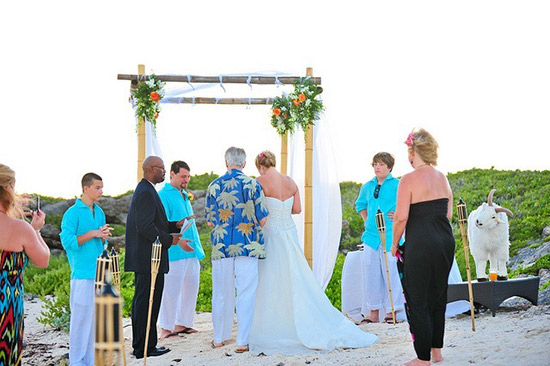 Kids love him, too...
Post-pool cuddles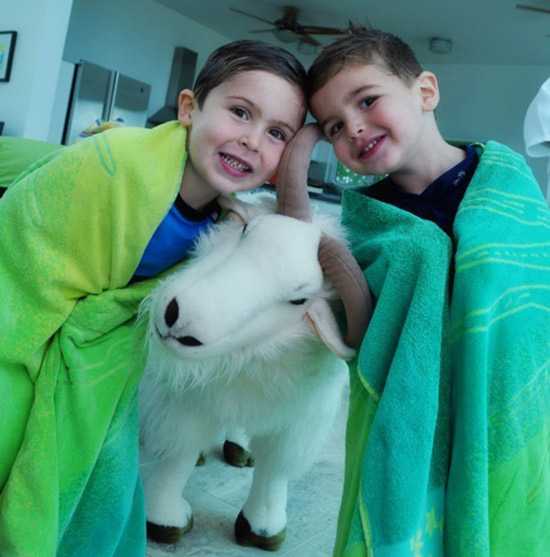 More hugs!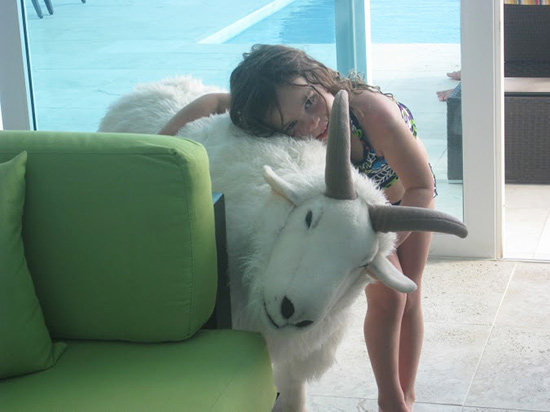 And so do Jill & Graham, owners of the outstanding Barrel Stay restaurant...
Hanging with Jill from Barrel Stay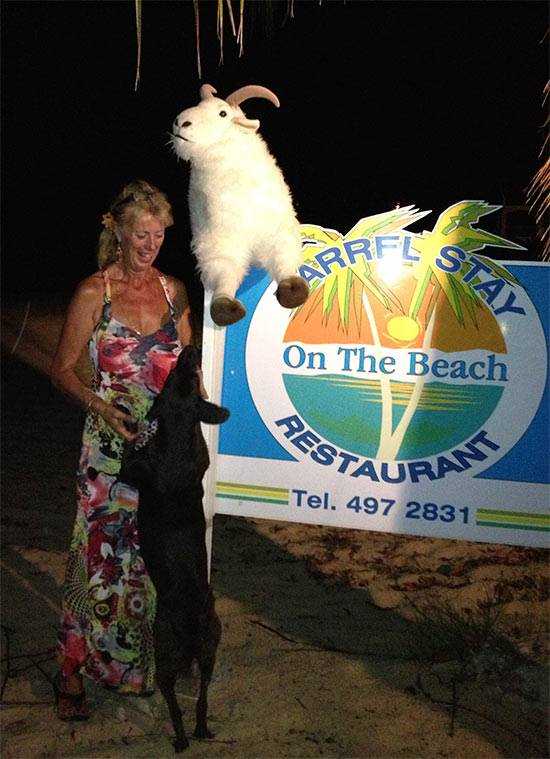 With loving friends and family at his side, Billy gets around in Anguilla! For more special photos, watch the video below.
What's New With Billy?
To keep in touch with Billy, "Like" the Tequila Sunrise Villa Facebook page below, and scroll through his latest updates on Facebook! He sure is one modern goat ;-)
Share Your Billy Favorites
Do you have photos with Billy? Post them to Tequila Sunrise Villa's Facebook page, or our Facebook page, and we will re-post them for everyone to see!
We will publish the ultra-special ones to this webpage, and include them in the next Anguilla Beach Lovers newsletter, too. :-)
Get in Touch With Billy
Want to recommend Billy visit a certain place on the island? Want his advice on fun things to do in Anguilla? Feel free to email him via the form below.
Have fun chatting with your furry island advisor :-)