Gadget City...
The Place Where Shoppers, Gamers &
"Tech-Heads" Rejoice!
Whether you're looking for electronics, games, or simply a WiFi spot, Anguilla's Gadget City is the go-to place.
The Story Behind The Gadget City
Owners Elias and Candis Mkoba are no strangers to Anguilla.
Nori, Kirmani and Me (José Vanterpool), with host and co-owner, Mrs. Candis Mkoba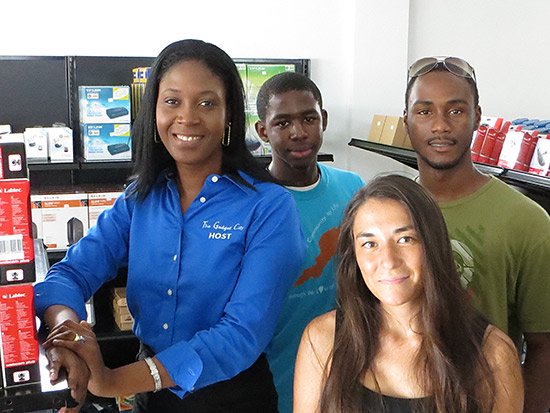 Not only did they own and operate Anguilla's biggest computer store, Computer Superstore before opening The Gadget City, they were also teachers on the island! They've touched the lives of several young men and women, including myself, José Vanterpool.
Physics seemed like a foreign language before Mr. Mkoba taught me how to speak it! They have both given a lot back to the community, and now are pursuing their dream of opening another terrific establishment.
Gadget City recently opened its doors earlier than anticipated simply because the people couldn't wait any longer. Within the first few hours of opening, the ENTIRE ISLAND was talking about it! Nori, Kirmani and I couldn't resist the urge to check it out.
So, we did!
Inside The Gadget City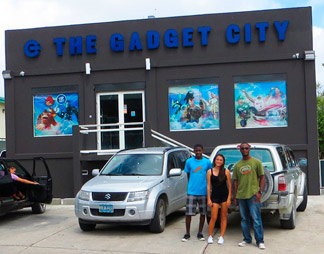 Our reaction as we entered the store?
Mind-blown!
We noticed the friendly customer service right away.
The moment you step through the door, a friendly host is ready and willing to be of service.
Besides customer service, the store also impresses in terms of its modern, nicely merchandised layout, and its vast supply of products.
The selection of electronics, gadgets, and items is wider than any store on island!
A Section of Gadget City's Main Floor

They have virtually anything you could want or need tech-wise. (If they don't have it already, it's on its way.)
From high-def headphones to home entertainment systems, from tablets to laptops and computers, from computer monitors to 3D flatscreens, they have got you covered, and everything is offered at a very reasonable price.
The store was a-buzz with excited customers (myself being one of them!).
Downstairs Gadget City
Artwork Lining the Staircase Walls

As we roamed through Gadget City, bright colors on the wall at the end of the store caught our attention.
We were surrounded by art as we ventured down the stairs to find out what awaited us.
The answer?
A Gamer's Paradise! For a moment, I thought I had glimpsed Heaven!
Downstairs Gadget City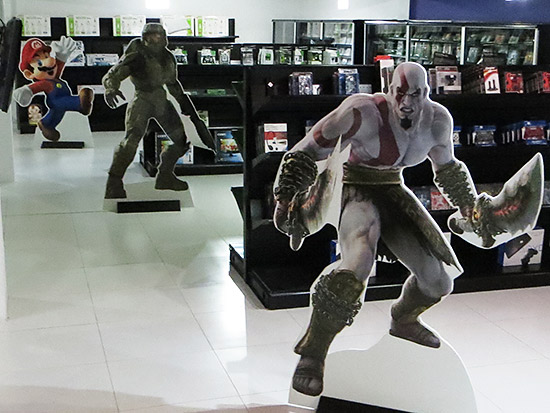 Mastercheif (My all time favorite game character) & I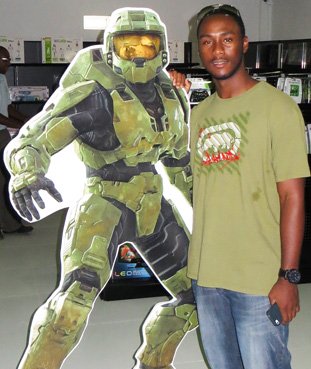 From the life-sized game characters to the wide range of games offered for almost every console, downstairs is the place for gamers of ALL ages.
For the older gamers, there are all the favorites for Xbox, Playstation and Wii.
For the younger gamers, there are games for Nintendo DS and Sony PSP.
For the reallllly young gamers (toddlers), there are several educational leapfrog games and a toy section.
Not yet a gamer? Don't worry, they sell consoles too! Join the club ;-)
The G-SPOT
Nori & Her Mom in the G-Spot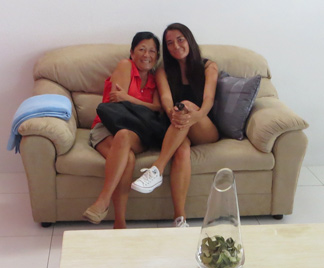 Last but not least, the store has one more surprise that can't go unmentioned...
THE G-SPOT!
The G-Spot is a serene lounge area for those seeking to use WiFi, print documents or simply relax.
A Customer Using the G-Spot

The G-Spot provides the perfect escape for people to surf online, or for people less interested in tech to just to sit back and relax while their children, husbands or wives explore the rest of the store!
But that's not all...
People who pay to use the lounge are served with their choice of complimentary coffee or freshly-made, local bush-tea.
There are also blankets available in case the air conditioning gets a bit too chilly.
The owners of Gadget City really have thought of everything!
Contact & Location
Address: The Quarter, just across the street from St. James Medical School
Tel.: 264-497-2691
Email: sales@thegadgetcityaxa.com
Hours: Monday-Saturday from 9am-7pm