Combing Anguilla's Beaches for the Best
Anguilla Beach Lovers brings you the latest additions to one family's experiences of the "best of all things Anguillian."

If you like this e-zine,, please do a friend and me a big favor and "pay it forward."

If a friend did forward this to you and if you like what you read, please subscribe by visiting...
---
Issue #085, February 26, 2015
With those sub-arctic temperatures sweeping the north, what do you say we jump right into "tranquility wrapped in blue" and "find our shade of blue"? :-)
Is it Shoal Bay?...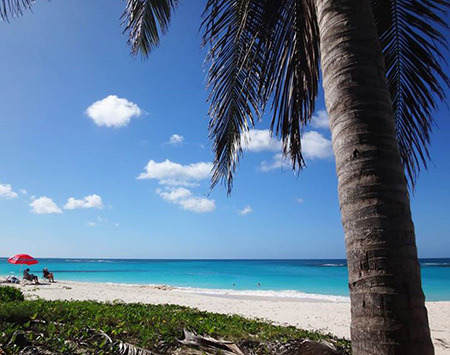 Maybe Meads?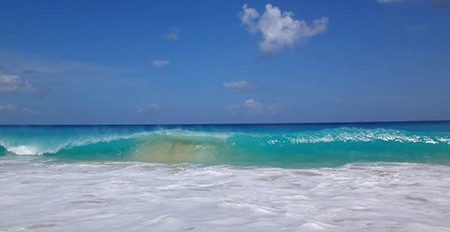 Surely Sandy Ground deserves consideration...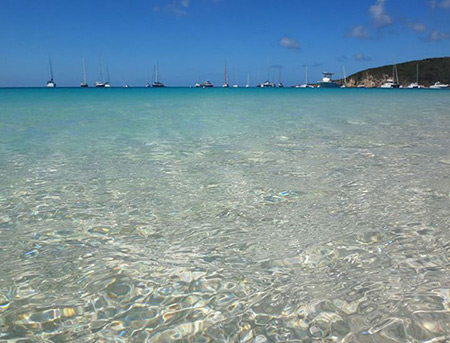 And for that matter, Sandy Island, too!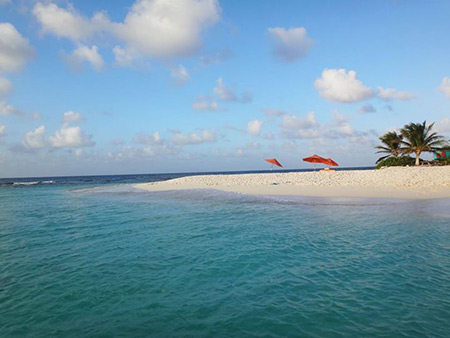 It sure has been a blissfully warm and sunny season here in Anguilla, with plenty of happenings and exciting news!
---
The Restaurant at Malliouhana Joins the Anguilla Card
Perched high on its rocky promontory overlooking the sweep of Meads Bay, The Restaurant at Malliouhana is one of the island's top restaurants for a five-star dining experience.
Classic and timeless, its setting by day and night takes your breath away.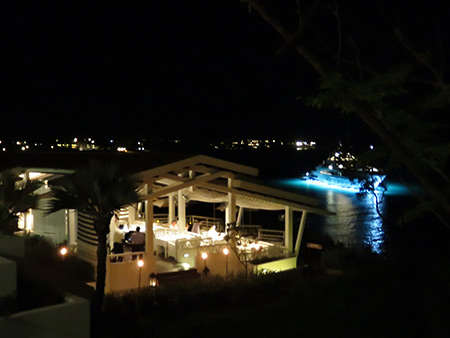 Azure seas meet light blue skies and the sounds of the waves gently lapping at the shore below soothe every tension. By night, lights twinkle something special in the distance along Meads' stretch of sand.
Whether for breakfast, lunch or dinner, the sights and sounds are heavenly.
This week with friends in town from NYC, their trip came to a close after our last dinner together at The Restaurant at Malliouhana. I had tried lunch previously (more on that here), but this was my first dinner at The Restaurant at Malliouhana.
The setting was exceptional. With Meads Bay below, the lights dance in the distance, brightening the night sky, and, that evening, a yacht cast a cool, blue hue against the dark sea.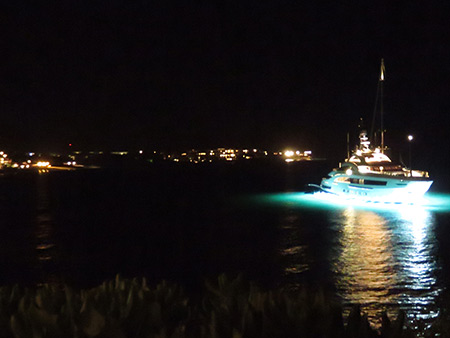 Inside, the ambiance is refined and elegant, with its use of whites, blues and wood throughout.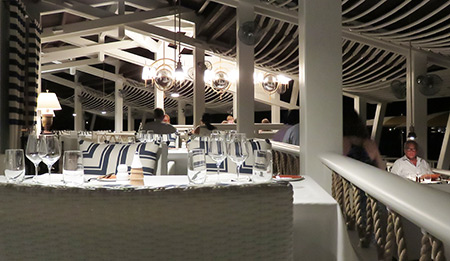 When it came to cuisine, we were blown away.
The attention to detail in each dish is impressive, especially on an island where most special ingredients need to be flown in.
For example, the evening began with a complimentary order of corn muffins (with red and green peppers) and a side of smooth and light coconut-lime butter. The appetizer of West Indian curried goat sausage complete with whipped banana and sweet potato puree, kale, Basmati rice & peas, all with a hint of ginger was even more impressive.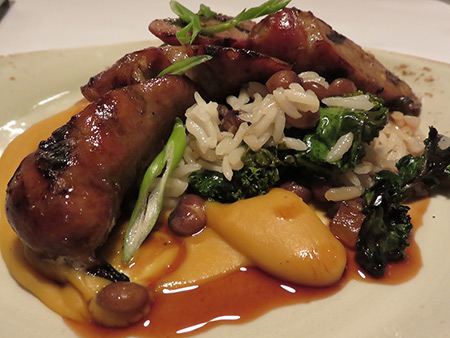 What else was for dinner that night?
Squid ink garganelli tossed with scotch bonnet, sweet corn, tomato, sizable chunks of spiny lobster, all bathed in a sea urchin butter.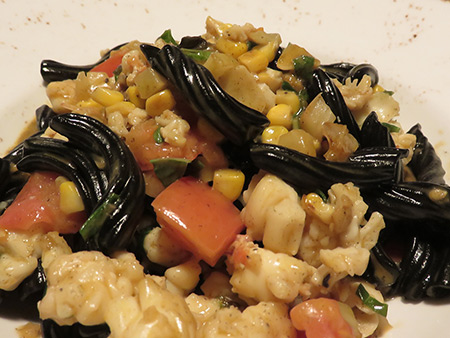 They were also able to prepare this dish gluten-free!
Spaghetti "cacio e pepe" with savory pecorino romano and black pepper, roasted brussel sprouts, topped with freshly grated cheese, and even the spiny Anguillian lobster was a unique creation. Grilled, the shells were filled with a mixture of brussel sprouts, daikon kimchi, apple, celery root and charred scallion.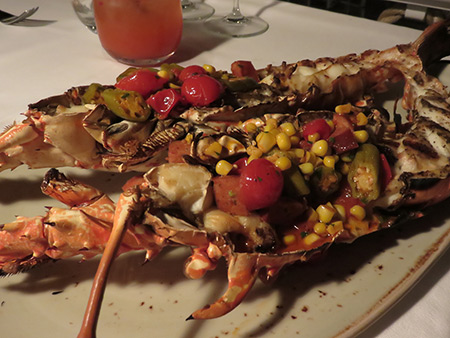 Excellent cuisine in a breathtaking setting, dinner at The Restaurant at Malliouhana is a special way to end a memorable trip... and now you save 10% when you use your Anguilla Card!
---
More Island Happenings
On that note, the Anguilla Card has been growing steadily with Partners sharing fun news weekly via the Anguilla Card Holder Newsletter, including...
Roy's Bayside Grill's NEW live steel pan music every Wednesday evening starting at 6pm.
Nature Explorers Anguilla's sweet spottings of birds of all kinds, including adorable White-cheeked Pintail Ducks and Common Moorhens with their chicks.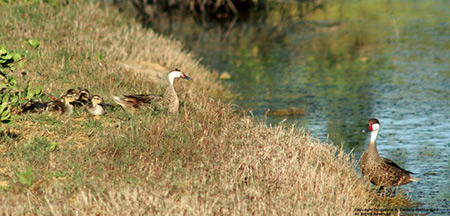 (Photo above courtesy of Nature Explorers Anguilla)
Shoal Bay Scuba's adventures into the deep, marveling at Anguilla's wrecks and watching 10' Spotted Eagle Rays put on spectacular shows!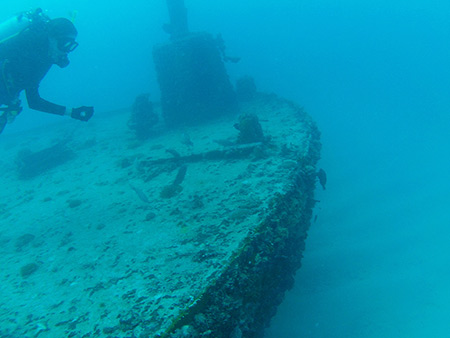 Anguilla Watersports has become one of the most popular activity centers on the island. With door-to-door SUP rentals and kitesurfing lessons, they have been introducing peaceful ways to enjoy Anguilla's natural beauty and they have been expanding their offerings, too.

One of their latest additions is a new kids kitesurfing camp! Kitesurfing is the fastest growing water sport and can be learned as of an early age. Anguilla Watersports has started its first kids kite camp. Fun and safe, with Judd and Miguel, experienced and IKO certified instructors, leading the classes. For more on Anguilla Watersports, click here.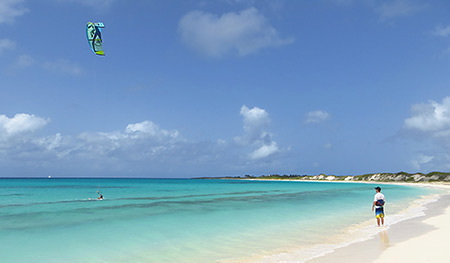 More on the Anguilla Card here.
---
Foodie Spotlight: Blue Bar
Another tasty piece of news? Blue Bar's expanded menu!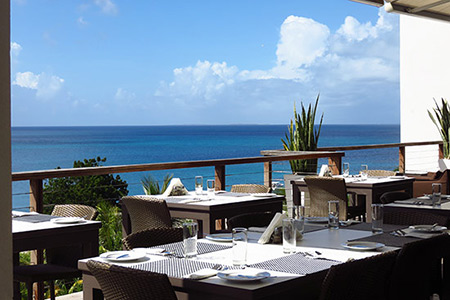 It's OK to be "blue" here at Blue Bar with vistas out to the open turquoise sea and Crocus Bay below ;-)
Blue Bar has expanded its menu, adding exquisite cocktails and classic Italian dishes.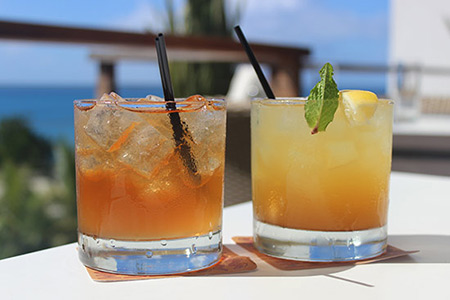 Our picks from their latest additions?
"The Brooklyn" calzone (sausage, peppers, onions), with options of "The Queens" (chicken, fresh mozzarella) and "The Bronx" (ham, ricotta, mozzarella).
The warm, oven-baked meatball parmigiana. Other choices include shrimp, chicken and eggplant.
An ultra-special catch of the day dish, perfectly prepared and served with brick-oven roasted vegetables.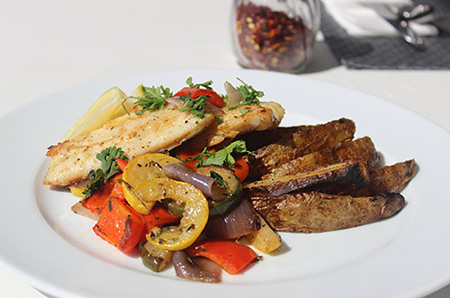 And, a visit to Blue Bar isn't complete without a pizza bite! The "Bellisima," with fontina, pancetta and arugula has become a new favorite.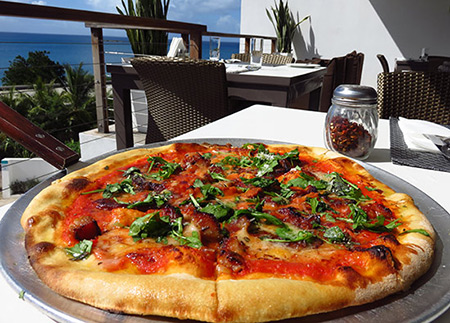 Whether for a leisurely lunch or dinner (accompanied by live steel pan music on Tuesday and classic crooner-Caribbean tunes on Friday nights), it makes for a terrific meal out, and at a reasonable price.
---
A "Billy Break" at Tequila Sunrise Villa
Joel and Robin Globus, owners of Tequila Sunrise Villa, captured our hearts when we first met their house goat, Billy years ago!
A favorite for guests of all ages, Billy sure gets up to fun adventures. From Scilly Cay to Elvis' to weddings and bridal showers!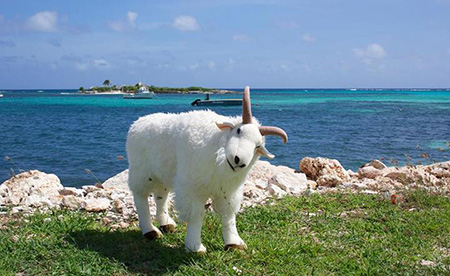 The fun doesn't end with the life-sized Billy in Anguilla. Kids have been sending their drawings of Billy around the island to Robin and Joel, and they have been sending them a free mini-Billy plush back!
Take a look at the sweet drawings here.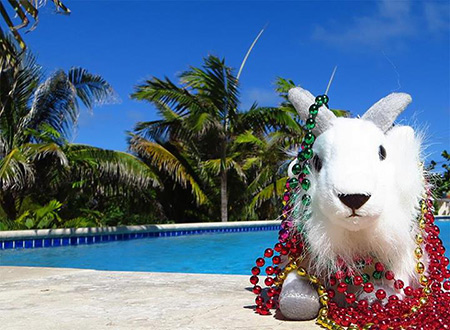 To join in on the fun, simply scan your child's Billy drawing and send to billy@tequilasunrisevilla.com along with your child's first name, age and your mailing address. Or, fill in the form on this page.
Here's to Robin and Joel and the happiness they spread, and to many more days around Anguilla with their mascot, Billy!
---
What Else Is New?
Caribbean Soaps & Sundries What began as a hobby for Caribbean Soaps & Sundries founder, Carrol Shannon, has become a thriving business. Famous for her hand-made and island-crafted soaps, candles and variety of bath products, they are high-quality and beautifully packaged, too.
Pelican Mobile PetCare Originally small animal veterinarians from San Francisco, Drs. Michael and Georgial Paul have brought first-rate medical care to the island for Anguilla's pets.
The Man Behind "THE" Beach Bar, Elvis Fleming You know Elvis' Beach Bar, but do you know the man behind the bar, Elvis? From his beginnings at Mariner's to owning his own popular spot on the sand, this is an inside look at Elvis.
Meze Veya has opened up a brand new tapas spot with an emphasis on Mediterranean dining, all in a Moroccan-style restaurant. And, if you are on-island this weekend, Meze and Veya are hosting a fundraiser for an excellent cause, the Anguilla Youth Sailing Club. Full details here.
De Cuisine Joash and Denise (formerly of Sand Bar) have opened a fine dining restaurant a few doors down from Geraud's. With a focused menu, the reviews have been excellent!
Le Bar One of our favorite restaurants back in the day (more here), Didier Van has re-opened his loyally-loved spot, this time on Sandy Ground. At the top of our to-try list, stay tuned for a review coming soon.
---
As for the months ahead?...
May-November "7 Nights for the Price of 5" at Carimar Beach Club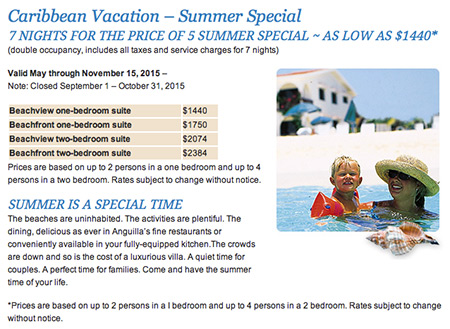 Little Butterfly's Winter & Spring Availability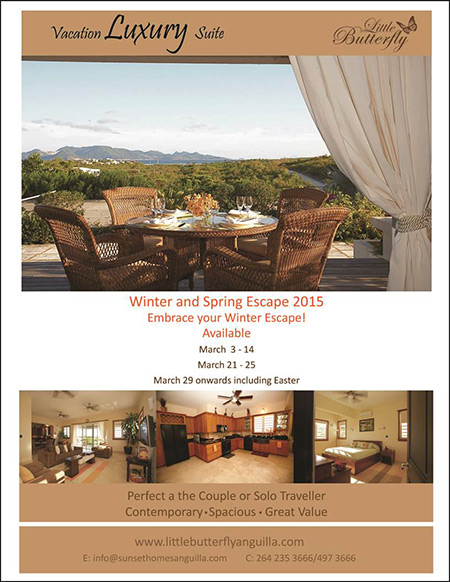 Moonsplash's 25th Anniversary
Just one month away, this year's Moonsplash is sure to be a big one... 25 years big!
Taking place Mar. 27-29 2015 at Bankie Banx's famous and widely loved Dune Preserve, guests will include Freddie McGregor and the legendary Third World band.
It's sure to be a huge party! If you are in-town at the end of March, we'll see you there!
Sending you warm wishes from AXA,
Nori
Anguilla Beaches Home Page
---