Blue Bar...
Tranquil, Trendy Dining With A Bayside View
Blue Bar is currently closed.
Blue Bar At A Glance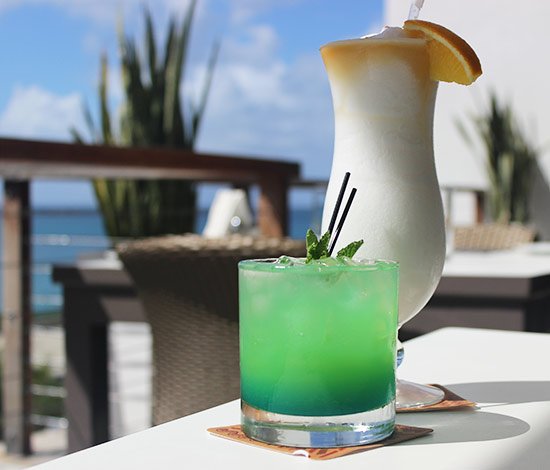 Modern-elegance.
Blue sea views.
Impeccable Italian cuisine (and what is considered the best pizza on the island!).
Friendly and efficient service.
Terrific live music.
It is no wonder why Blue Bar has become a local hot-spot. They have it all!
More on Blue Bar, below...
What do you get when you add a modern-elegant restaurant and excellent Italian cuisine to the cliffside surrounding idyllic Crocus Bay?
The relaxing and luxurious Blue Bar at boutique hotel, CéBlue!...
A Blue-on-Blue View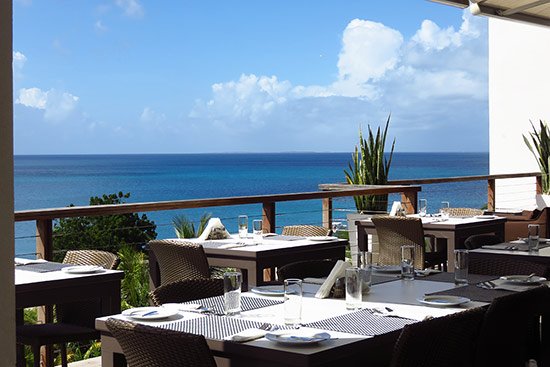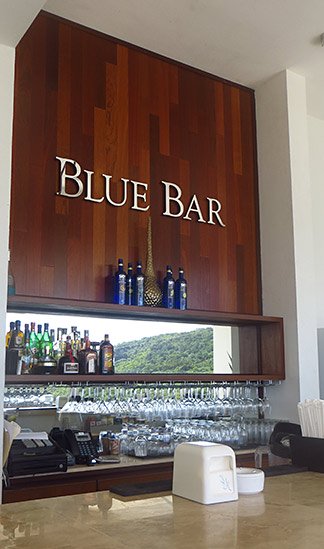 Just steps from CéBlue's open-air front desk, Blue Bar's panoramas draw you in from the moment you step foot onto the property.
Aptly named, you are indeed immersed in "tranquility wrapped in blue" at Blue Bar.
With its white walls, long stone bar with wood accents and potted desert-style plants, the atmosphere at Blue Bar is distinctly modern and high-end, yet unpretentious and inviting.
Locally, it has become a hot-spot, known for having the best pizza on the island.
After all, the owner, of Italian background, imported a brick oven pizza which runs both on gas and wood, to bake pizzas exactly to his discerning palate.
Whether for lunch or dinner, Blue Bar never fails to delight all senses.
A Picture-Perfect Start to the Meal
Overlooking the glassy-turquoise seas of Crocus Bay, the perspective is one of a kind. And, at Crocus Bay, the lapping of the waves against the soft sand produces especially soothing sounds. The area's hills slope in such a way creating a natural amphitheater. The lulling rhythms of the waves echo right up to Blue Bar on bigger-wave days.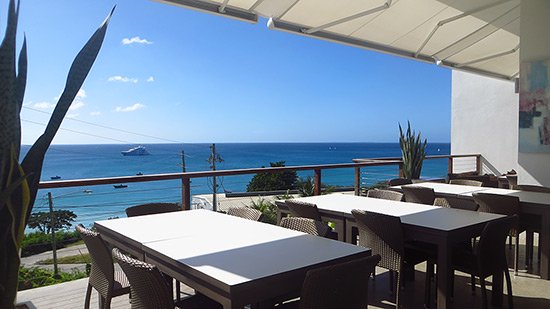 The dining space itself has a relaxed feel with comfy-chic chairs and tables facing the ocean. For larger groups, dining tables are set up in the center of the restaurant. Because Blue Bar is open air, every seat has a view.
And, we all know that taking in that view is best enjoyed with either a glass of Ruffino Chianti or a specialty Blue Bar cocktail! ;-)
A CéBlue Lagoon? Or a Coconut Mama?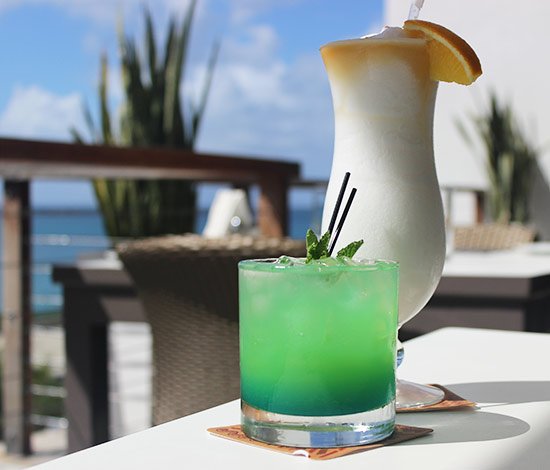 Perhaps a Spice Burn or a Caribbean Breeze?
With a basket of Blue Bar's warm, crispy bread thins, the combination whets your appetite for the meal to come.
Blue Bar is practically synonymous with pizza. The choices rule the menu!
There are two sizes 8" and 12". The 12" pizzas come with all imaginable toppings. Beyond the basic Margherita, there's the Polpettina (ricotta, Neapolitan-style meatballs), the Calamari (grilled calamari and a savory Neapolitan sauce), the Quattro Stagioni (prosciutto, artichokes, Neapolitan sauce), the Quattro Formaggi (ricotta, mozzarella, provolone and goat cheese), and many more.
For the young ones, the creations are especially fun. The "Cluck-Cluck" (a grilled chicken pizza) and the "Ballpark" (with sliced Hebrew National hot dogs!) would be my choices if I were still a "bambina."
The Bellisima Pizza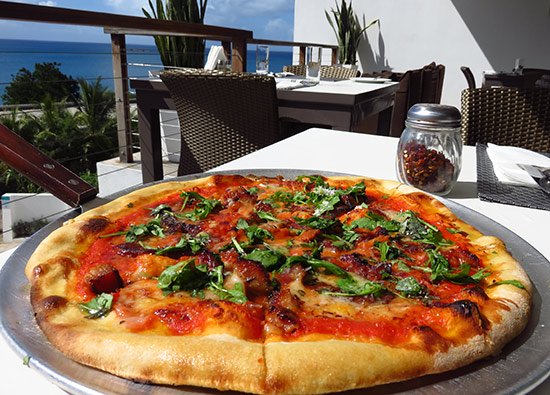 My sister's top pick is the Bellisima. A Neapolitan sauce forms its base and it is topped with fontina, pancetta, arugula and parmigiana shavings. The flavors are a divine blend of slightly-sweet (the pancetta and the sauce) and savory (the cheese), with the arugula balancing it all out.
Prepared in Blue Bar's open kitchen and baked in their large brick oven, pizzas come out hot and ready to eat. Sitting just feet away from the oven, there's no time for them to go cold!
First bite of any Blue Bar pizza pie? Just right, with ultra-fresh toppings and a thin-crust.
The menu doesn't start and end with pizza. There are a variety of special dishes, too.
The only spot serving calzones on the island, Blue Bar has indeed brought something different to Anguilla's shores.
The Brooklyn Calzone

With a nod to New York City, the options include The Queens (chicken and fresh mozzarella), The Bronx (ham, ricotta and mozzarella) and The Brooklyn (sausage, peppers and onions).
Served with a side salad, the warm, soft exterior envelops the flavorful meat and cheese mixed inside.
Meatball Parmigiana

A variety of parmigiana dishes are also available, with shrimp, meatball, chicken and eggplant options. Oven-baked, with Neapolitan sauce and fresh mozzarella, this dish has a familiar, home-cooked feel. My Mom loves their meatball parmigiana, where meatballs are sliced into easy-to-eat pieces.
Snapper Special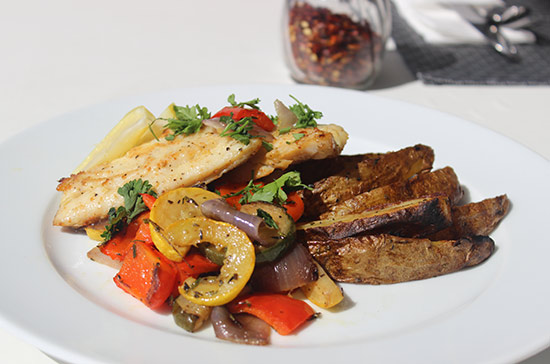 Finally, true to Italian tradition, there is no ignoring the fresh seafood available in Anguilla's waters here at Blue Bar. Red Snapper (or the catch of the day) is perfectly prepared and served with brick-oven roasted vegetables.
There are a variety of salads to choose from as well, including beet & avocado, goat cheese, caprese, and an antipasto salad.
Blue Bar By Night
Crocus Bay is pure magic at dusk, too. As the sun sets and twilight appears, you are treated to a sky filled with a kaleidoscope of colors from flaming oranges to soft magentas to violets. The show isn't over when the sun sets... stars twinkle in the indigo sky only adding to the enchanting ambiance of the evening.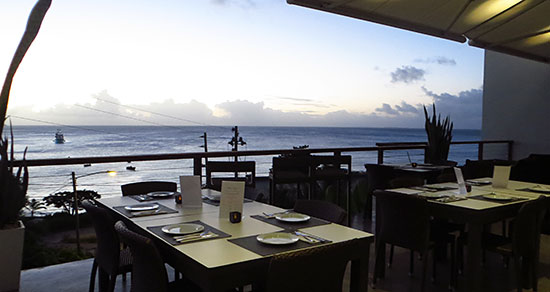 Tip: If you want a table, I recommend booking ahead or arriving early. Blue Bar can get especially busy come night fall!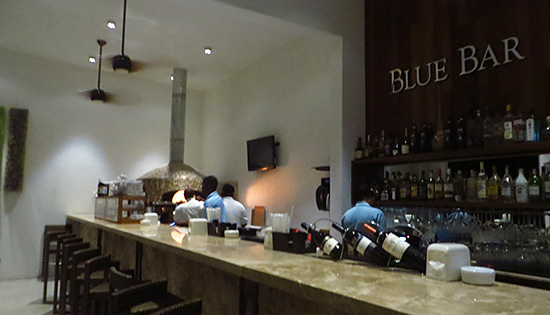 With their elegant ambiance and reasonable prices, it's no wonder why.
Add live music on Tuesday and Friday evenings and you have a winning combination!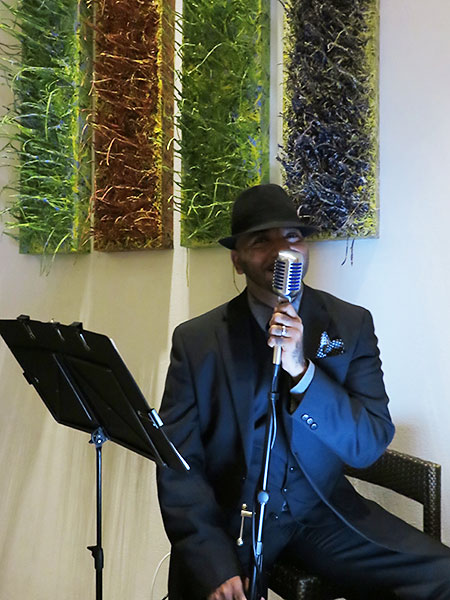 Pizzas are prepared before your eyes...
Rolling Out The Pizza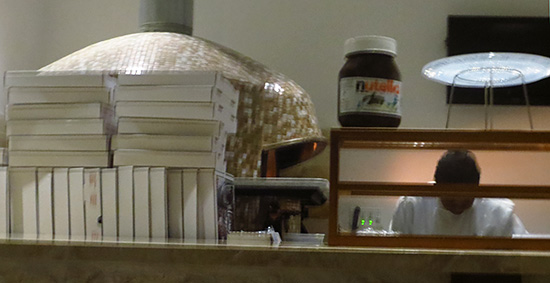 Served in good time...
The Classica Pizza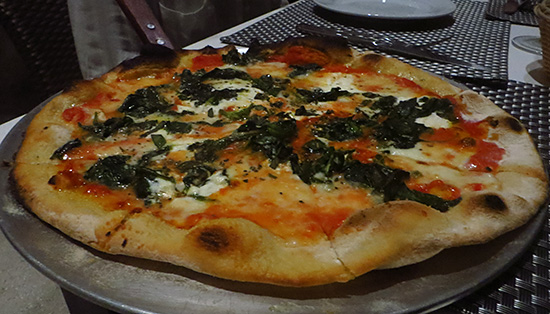 Enjoyed fully...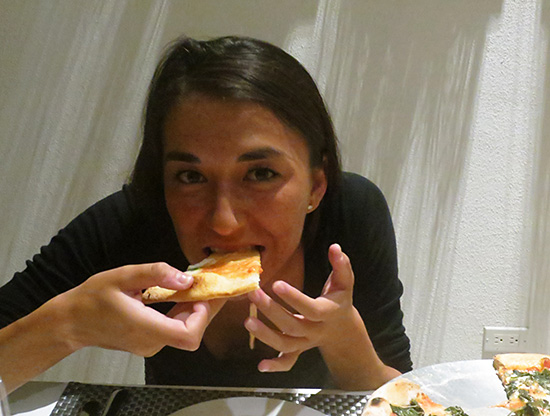 ... and all in a breathtaking setting, with either classic steel pan music (Tuesday) or Italian-crooner tunes with a Caribbean vibe (Friday) filling the air.
To make the evening last a little bit longer? We always order dessert.
The Best Dessert On Island
Let me pre-phase this by saying that we rarely go for the third and final course. Somehow, over the years, I have lost my sweet tooth. My Mom never had one and by the meal's end, my Dad is usually too full to make room for dessert.
Dessert at Blue Bar is the exception...
The Cheesecake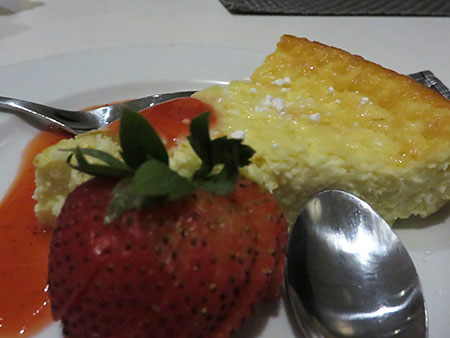 Delightfully light, with a gentle passionfruit flavor, the cheesecake is the go-to option when stomachs are nearly at capacity.
Cannoli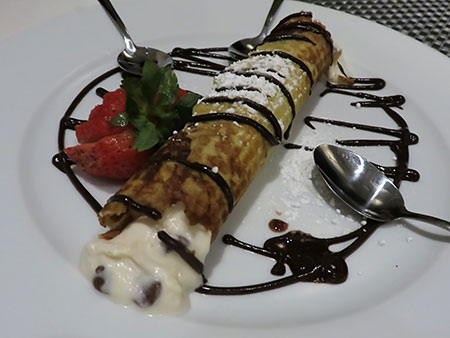 If there's a little more room for dessert, the cannoli is the next up.
And, if we're feeling extra ambitious, the Nutella pizza is the choice!
The Nutella Pizza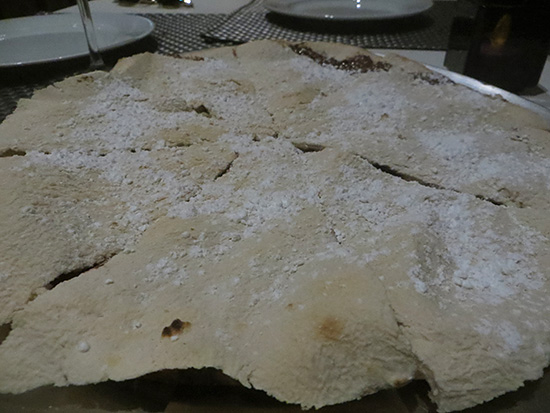 This dish is a stroke of pure sweet-treat genius.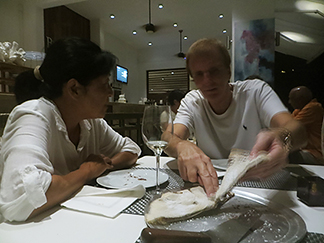 Rich Nutella is spread between two pizza dough rounds. The entire creation is popped into the oven, baked ever so lightly and then topped with powered sugar.
My Dad and I fight over the last slice.
My Mom, not a chocolate addict by any means, even pushes for more than one bite.
From the savory to the sweet, do not miss this trendy, pizza bar!
Directions, Hours & Contact
Directions: Located on the hill road going down to Crocus Bay, just before you reach the very bottom of the hill. Keep your eyes open for the "BLUE BAR" sign.
Hours: Daily for breakfast, lunch and dinner. Closed Wednesday. Live music Tuesday and Friday.
Tel: 264-462-1000