Combing Anguilla's Beaches for the Best
Anguilla Beach Lovers brings you the latest additions to one family's experiences of the "best of all things Anguillian."
If you like this e-zine,, please do a friend a favor and "pay it forward."
If a friend did forward this to you and if you like what you read, please subscribe by visiting...
---
Year 5 of The Anguilla Card is HERE!
We have been hard at work gearing up for Year 5 of the Anguilla Card! The 2019 Anguilla Card brings 11 NEW terrific partners who offer tremendous value. This year's Card also features one of the most beautiful Anguilla beach scenes... :-)
Before diving into "who's new" on the Anguilla Card this year, a huge thank you to all Card Holders for your support. You, along with our Site Sponsors, provide the budget that allows us to keep this newsletter and website going, and to keep bringing more Tranquility Wrapped in Blue to you on social media. It sure isn't cheap losing drones to palm tree fronds ;-)
NEW to the 2019 Anguilla Card is...
Restaurants
The Place
Waves
Julian's - A French Tropical Bistro at Quintessence
Sharky's
Mosaic Restaurant at CuisinArt Golf Resort & Spa
The Lime Keel House
Flavours
Beachfront Hotel & Villas
To skip the news and purchase your Anguilla Card, click here.
Who is brand new to the Anguilla Card this year?...
---
The Place
Set on the tranquil eastern side of Rendezvous Bay, the restaurant, "The Place" is most aptly named. It is the place for total relaxation. It is the place you fall in love with.
The Place combines picture-perfect scenery with excellent eats and comfy chaises right on the beach. The menu at The Place is loaded with a large variety of Caribbean eats. The Place's famous Chef Smoke grills up some of the best eats you will find on any of Anguilla's beaches. His cuisine is consistently excellent.
Two favorite dishes? First, the coconut shrimp.
After coconut shrimp? The Place's famous fish sandwich.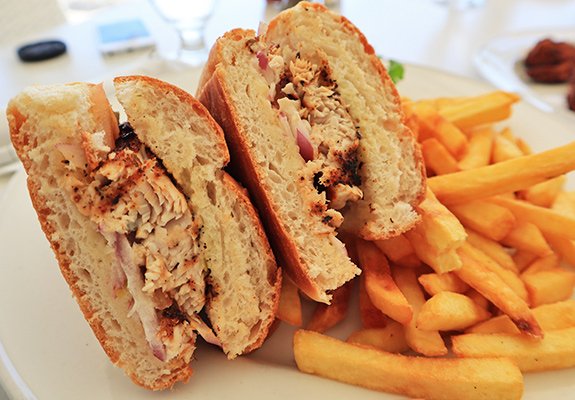 For years, The Place has been known for its outstanding fish sandwich. A sumptuous fillet of fish, it is grilled to juicy perfection. (TIP: Order your fish "blackened" for the most flavorful experience.)
From there, it is topped with a savory pickle and lemon aioli that brings out the natural flavors of the fish. It is then all popped on a homemade bun. Soft on the inside, crisp on the outside, it is the ideal packaging for such a heavenly sandwich.
From food to view, The Place marries the two perfectly. It is THE place for a tasty, relaxed beach afternoon.
The Place is open for breakfast, lunch and dinner daily. Closed Monday.
Tel.: 264-584-6501
Instagram: Click here
To purchase your Anguilla Card, click here.
---
Waves
Wood-clad and painted blue and white, Waves blends right into the colors that define its home, Meads Bay.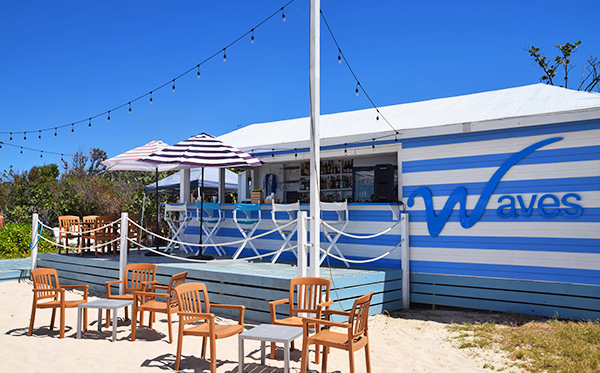 Shady striped umbrellas, twinkling lights, and a built up bar area complete with nautical ropes and tall folding chairs all lend a beachy-chic vibe to this sweet spot.
There is no better way to kick off a picture-perfect afternoon at Waves than with their rum punch.
They have re-invented this classic Anguilla cocktail! Shining bright green, this rum punch is made with homemade blueberry syrup.
For beachy bites? Their loaded fries and an order of wings with a sweet barbecue dip...
The fried wings from Waves are quite possibly the largest wings we've ever seen! Equal part crisp and light :-)
From there? It's back to the beach chair...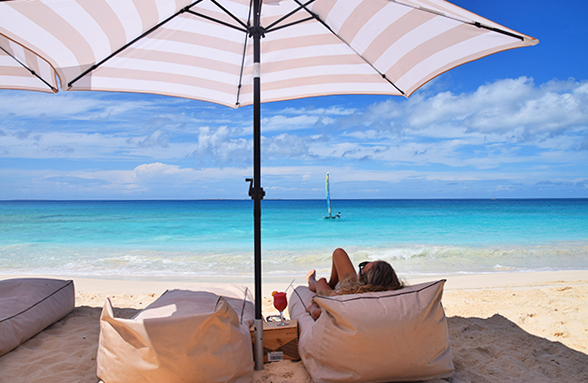 Or, if you're visiting in the evening, Waves has a terrific music line up. Mystic Vybz 5-7pm on Wednesday, Decent Ones from 6pm on Friday.
Waves is open daily for lunch and dinner.
Tel.: 264-729-3185
Facebook: Click here
---
Julian's - A French Tropical Bistro at Quintessence
A grand tropical mansion, Quintessence Hotel blends sophistication and elegance with Anguilla warmth and exquisite cuisine. Quintessence is home to one of Anguilla's finest high-end restaurants, Julian's - A French Tropical Bistro.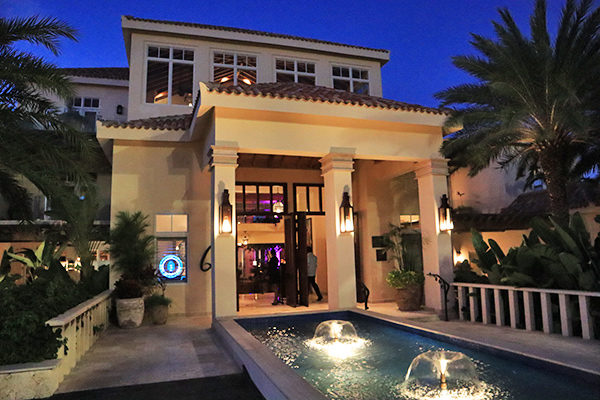 Named after the owner's eldest son, Julian's defines Quintessence as a Relais & Châteaux property. Chef Dominique Thevenet is a famous name in Anguilla. He rose to fame in the 1990's when he raised Covecastles' level of cuisine to new heights. Quintessence is the perfect match to Chef's haute-cuisine.
Dishes that highlight Chef Dominique's background include...
Goat Cheese & Fig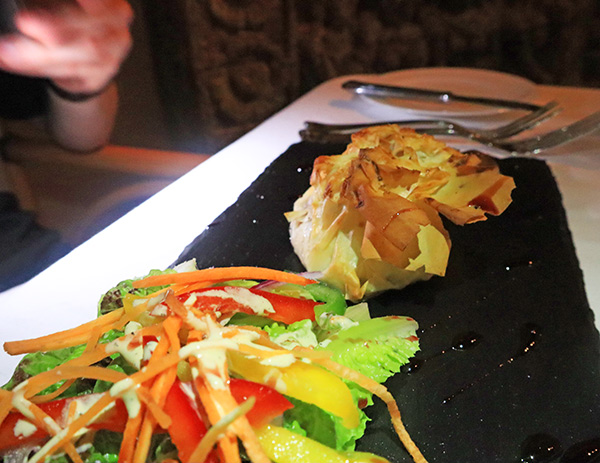 Warmed goat cheese is wrapped in phyllo and layered with lavender, honey, almond and poached fig. A balance of savory and sweet, it is served with a small salad doused in a sweet port wine dressing.
Champagne Scallops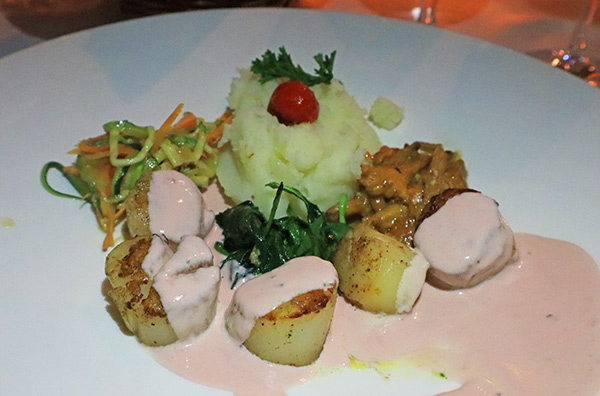 The name simply dazzles the imagination. Pan seared scallops are tossed in a hibiscus blossom champagne cream sauce. The combination is both heavenly and rich, with an ever-so-subtly sweet taste. It is served with mashed potatoes.
Another unusual and enticing creation is Chef's Bourbon Vanilla Mahi Mahi.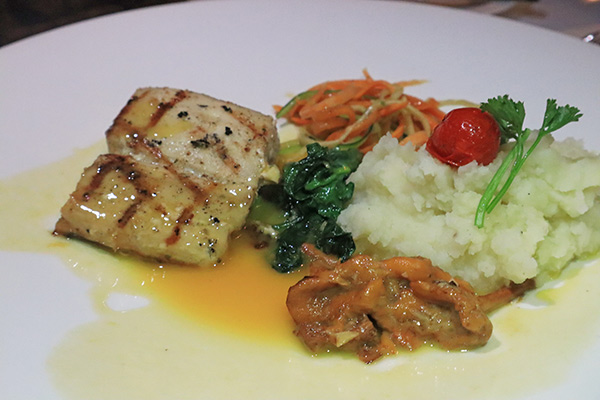 Filet of fresh, flakey mahi mahi is rubbed with coconut. Its perfect compliment is its bourbon-vanilla sauce.
Dinner at JULIANS is not complete without dessert. Chef Dominique's desserts are imaginative. Their inspired names and descriptions call for ordering more than just one...
For the complete dining experience at Julian's - A Tropical French Bistro, click here.
Julian's - A French Tropical Bistro is open 12-3pm for lunch, 6:30-9pm for dinner. Closed Sundays when there are no in-house guests..
Tel.: 264-498-8106
Website: Click here
Click here to purchase your Anguilla Card.
---
Mosaic Restaurant at CuisinArt Golf Resort & Spa
NEW to CuisinArt Golf Resort & Spa is the beautiful and blue, Mosaic Restaurant!
Its menu boasts a wide variety of dishes, with plenty of flair! Mosaic's appetizer menu makes choosing "just one" nearly impossible. For example...
Jumbo Shrimp & Crayfish Cocktail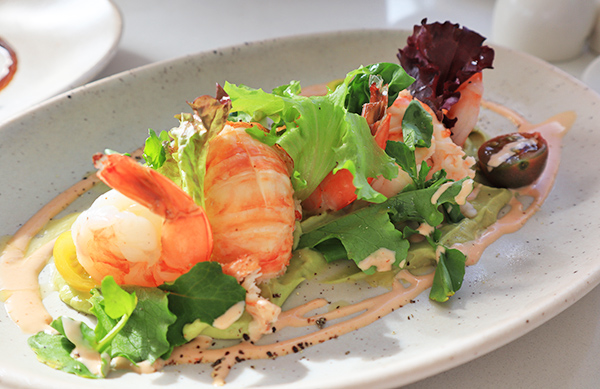 Sizable pieces of fresh crayfish and jumbo shrimp are served between baby lettuce and on a bed of avocado crema. It is accompanied by a delightfully sweet Cruzan rum maryrose sauce. All elements work to create an especially refreshing dish, the avocado crema enhancing its light flavors.
Also on the appetizer menu is the lobster mac n' cheese. This dish is a show-stopper.
Lobster Mac N' Cheese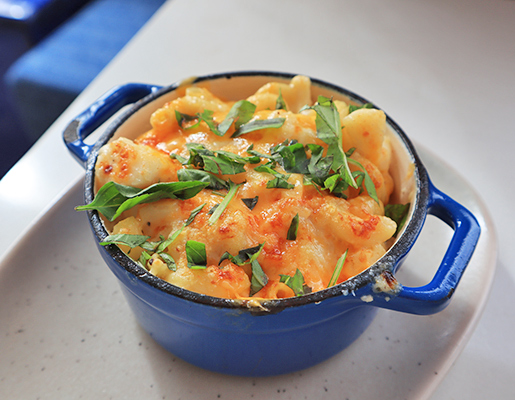 Large chunks of local rock lobster are mixed in with the oh-so rich and creamy mac n' cheese. Baked to perfection, the combination of cheese with lobster is decadently mind-blowing. Cheesy, seafoody flavors is a combination that works on every level. If there is any dish to try in Anguilla, this is it!
When it comes to mains? The 10oz dry aged angus prime striploin goes down as a favorite on this menu.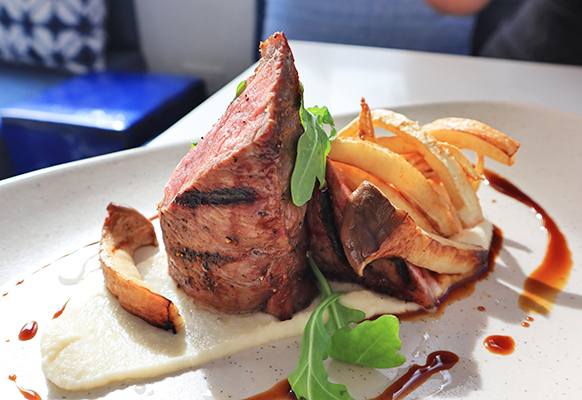 A robust menu, where each dish is done well, it is almost hard to believe that such variety can be had all day. This menu is available for lunch and dinner. With a most elegant-modern atmosphere, yes, CuisinArt's Mosaic Restaurant impresses on every level.
Mosaic is open daily for lunch and dinner.
Tel.: 264-498-2000
Menu: Click here
---
Sharky's
Always armed with a warm smile and surrounded by an aura of calm, it is hard to find a man more gracious and kind than Chef Lowell.
If you know Blanchards and if you read A Trip To The Beach, you have already fallen in love with Lowell. With his rich background in hospitality and as a Chef at Blanchards, it has only been a matter of time for Lowell to strike out on his own, showing off his skills in a venue all his own. That venue is Sharky's.
Sharky's opened in 2018 to rave reviews. The food, the price, the vibe. Each and every TripAdvisor review has been 5/5. One bite of Chef Lowell's cuisine and it's not hard to see why.
Appetizers like his Lobster Cakes are a personal favorite. Loaded with chunks of spiny lobster and laced with red peppers, the dish's perfect complement is its tomato tartar sauce!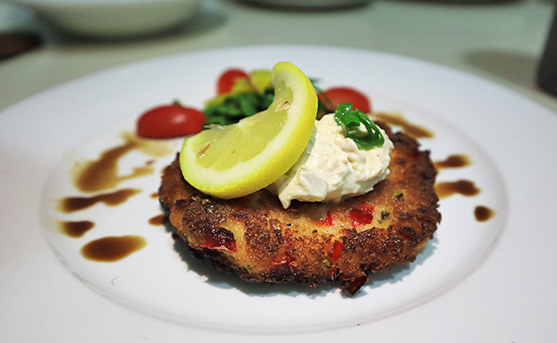 It goes down as a BEST all time dish in Anguilla.
Another favorite is Chef's Jerk Shrimp & Mashed potatoes...
The shrimp is five-alarm hot and served with fluffy mashed potatoes. A genius touch, the creaminess of the potatoes offsets each bite of spicy goodness!
All at a reasonable price, we always leave SHARKY'S completely blown away.
This is Blanchards level food at a fraction of the price. It is hard not to see why this little, homestyle spot has quickly become an Anguilla dining favorite.
Sharky's is open daily for dinner. Closed Sunday.
Tel.: 264-729-0059
Facebook: Click here
---
The Lime Keel House
NEW to Island Harbour is John Lloyd and his son's Akio and Ravi's beautiful Lime Keel House!...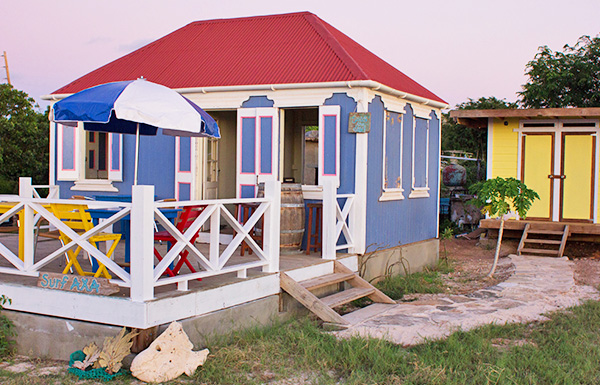 A historic chattel house, the Lime Keel is a beauty and a "home base" for John's eco tours and Ravi and Akio's Surf AXA. The Lime Keel has been many, many months in the making.
It all began before Hurricane Irma. Amazingly, she survived Irma's wrath without any damage. John reinforced every millimeter of this historic gem with nails and screws. When you ask him, he'll tell you, "If you ran a metal detector over the walls, you would hear a constant beep." Bolted into concrete, "I don't want her to go anywhere," John says with a smile. She is a labor of love.
She will soon be open for tours during the day. Right now? Come nightfall on the weekends, she is the neighborhood spot to be...
Drinks flow and live music plays out on the patio, as John, Ravi and Akio make you feel right at home.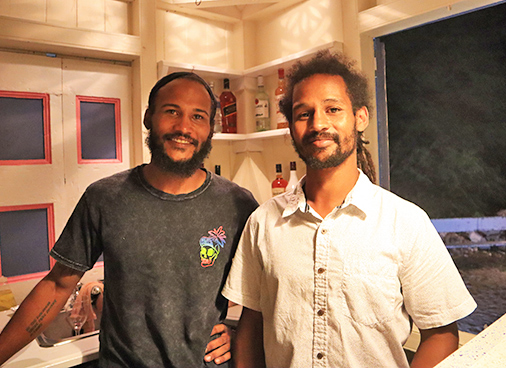 What's for dinner? BBQ and fried fish!
"Caught that day" by Akio, the fried fish is highly recommended.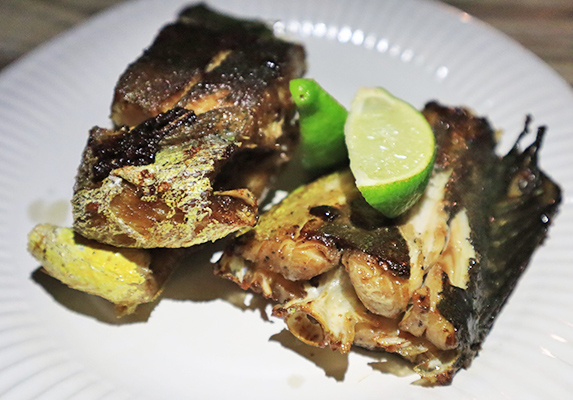 "This way of cooking is how we would do it back in the day," John explained. Simply fried, the mahi is cooked to perfection. Tender and flaky, a slice of lime is all it needs.
A beautiful and tasty way to keep the history of Anguilla alive.
More on the Lime Keel House here.
The Lime Keel House is currently open weekends only from 5pm. Updates to come as the operation expands.
Tel.: 264-583-4613
Facebook: Click here
---
Flavours
A favorite for its breathtaking view of Sandy Ground blue, the delightfully breezy restaurant is owned and operated by Chef Kevin Paul. He is a household name here in Anguilla, best known for creating some of Straw Hat's most popular menu items back in the day.
Today Chef Kevin Paul's creations can be tasted at Flavours.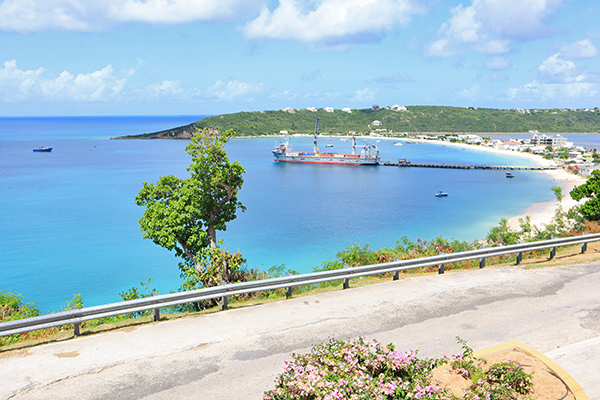 What comes highly recommended? Chef's tomato pie!
Layers of tomato are mixed with mozarella and popped into a flaky pastry shell. The sizable creation is baked and finished off with a balsamic drizzle. It is one of THE best dishes in Anguilla.
Flavours is open daily for breakfast, lunch and dinner. Closed Sunday.
Tel.: 264-581-0017
---
Bella Blu Hotel
Set overlooking majestic Meads Bay, Bella Blu takes your breath away...
Formerly part of Turtle's Nest, Bella Blu boasts 9 spacious and bright condo-style units right on the beach. There are four 2 bedroom condos, four 1 bedroom condos and one studio suite housed in the two buildings that make up the property.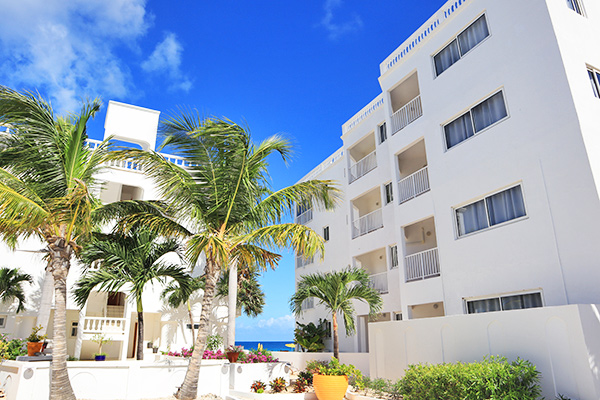 Inside, the two and one bedroom suites are complete with a full kitchen, dining and living room area with views that make you gasp!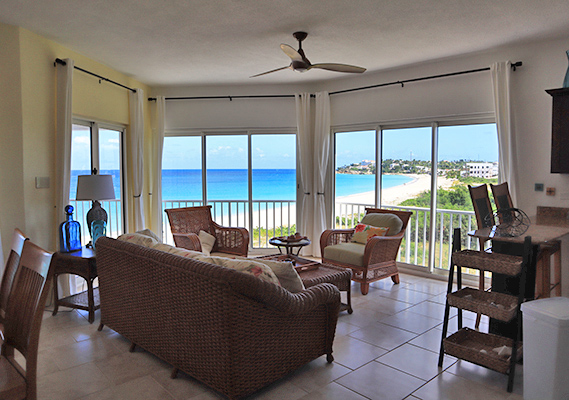 The property features a large pool, right on the beach and Straw Hat lunch is served right to your beach chair, too.
At an affordable price, the benefits are many at Bella Blu :-)
Bella Blu still has availability this winter. For details...
Tel.: 1-264-235-2355
Email: booking@bellabluanguilla.com
NOTE: Discounts cannot be applied to reservations made prior to date of purchase of Card (no circumventing by canceling-and-re-booking). All bookings must be made directly with the property. See booking information above.
To purchase your Anguilla Card, click here.
---
Beach Escape Villa
Set on the sandy shores of Sandy Point in Cul-de-Sac, Beach Escape Villa is true to its name. It is a luxurious, private escape right on the beach.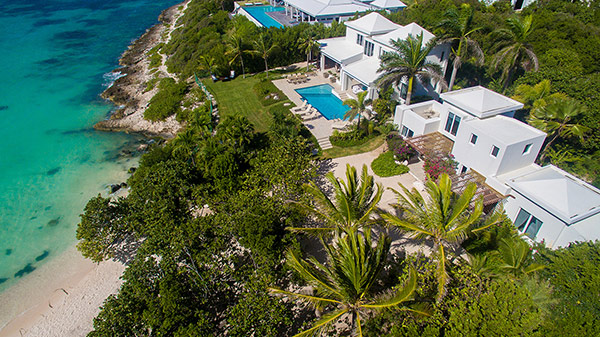 Beach Escape Villa boasts five bedrooms that blend modern elegance with classic beach house charm.
Two bedrooms are set in the villa's main house, with modern kitchen, living room, dining room and plenty of outdoor living space, including a screened-in outdoor living and dining area. The outdoor living area also includes an oversized terrace with 14x35' pool.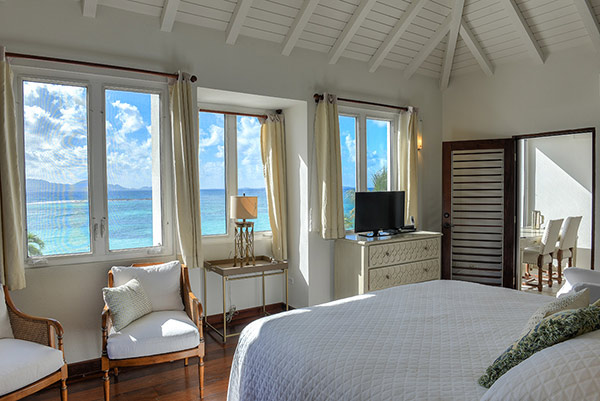 Three more bedrooms are set in the villa's second house. The second house features a games room and opens right onto the beach, complete with a beach lounge area.
Both houses are fully air conditioned with state of the art appliances, tropical landscaping and direct beach access.
As for the beach itself? It is one of Anguilla's most picturesque. Gazing out to St. Martin, this special spit of sand has long been a favorite for tranquil beach days.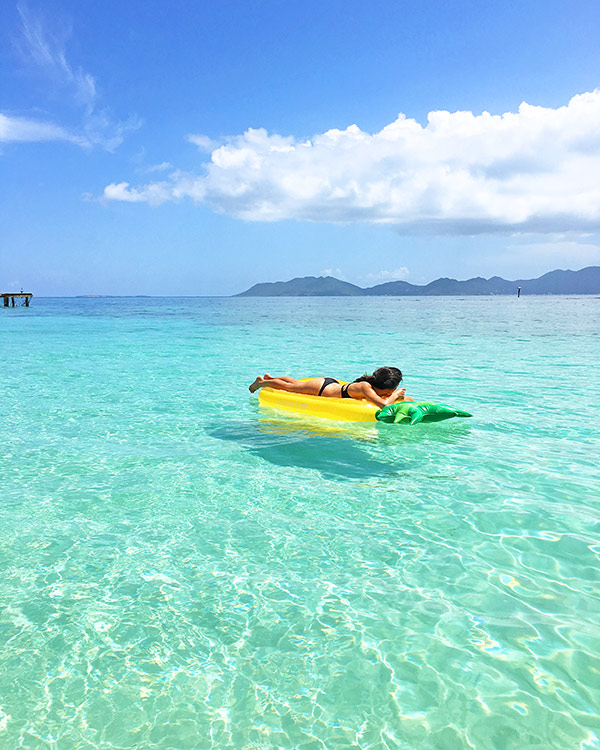 Beach Escape Villa is a beach house dream!
Beach Escape Villa still has availability this winter. For details...
Tel.: 1-264-498-2741
Email: catherine@anguillavillacompany.com
---
Sandcastle Villa
On the tucked away, little-known white sand beach of Limestone Bay and with opulent rooms and luxurious furnishings, Sandcastle Villa offers grand Anguilla villa living.
Sandcastle Villa is a castle on the sand... Limestone Bay's treasured sands to be exact. The beachfront villa boasts 10,000 square feet of outdoor and indoor living space. Inside, the kitchen, living and four bedroom suites are all oversized, spacious and bright, complete with the most luxurious finishings and touches.
Think: Baby grand piano, private balconies off of the master suites, romantic outdoor showers, full gym, flatscreen TV's with Apple TV's!
Every personalized touch has been thought through.
Outside, Sandcastle Villa impresses all over again. Their terrace overlooks Limestone Bay's deep hues of blue. The outdoor living area is complete with large pool, gazebo and gas BBQ, plenty of play areas for kids (swing set, rock climbing wall, clubhouse hideout and playground area), and perhaps most unique of all, the Zen Den...
Set in a lush and landscaped garden, this escape is right on the beach. The area is complete with a dining table for 8-10, a swinging daybed full of pillows for a nap to the waves crashing in the background, Sonos speakers and WiFi, and fans to keep you cool. It is pure heaven... pure zen.
The complete package for a lavish getaway, Sandcastle Villa has availability this winter. See below for details.
Tel.: 264-476-2981 /// 702-353-0278
---
Sandcastle Villa: The Beach House
Welcome to what just may be the coolest villa in Anguilla!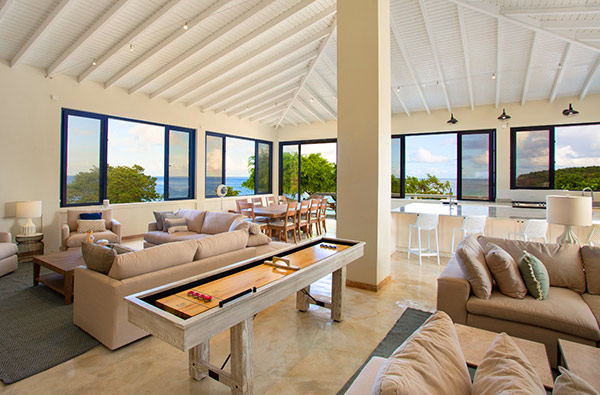 Modern and sleek, with activities of all kind included, this villa's history is as cool as its look and feel.
Do you remember the old Limstone Bay Cafe? A concrete building in the middle of Limestone Bay's sands, it was built around 2005. It had gone unused for many years until its rebirth began just five months ago.
Today? She is an Anguilla beachfront villa beauty!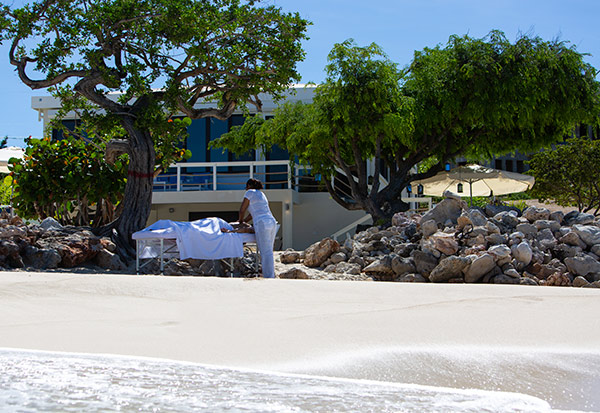 A two floor villa, the villa lays out over the second floor, providing sweet views of Limestone Bay's rich blues.
The outdoor living area is complete with balcony with BBQ, jacuzzi hottub, beach chairs on the sand, as well as solar lights that twinkle in the trees come night fall. Swinging day beds, kayaks, paddleboards, electric bikes, fishing rods and even a 14' dingy are all included in Sandcastle Villa: The Beach House.
It is the getaway for enjoying Anguilla's natural beauty!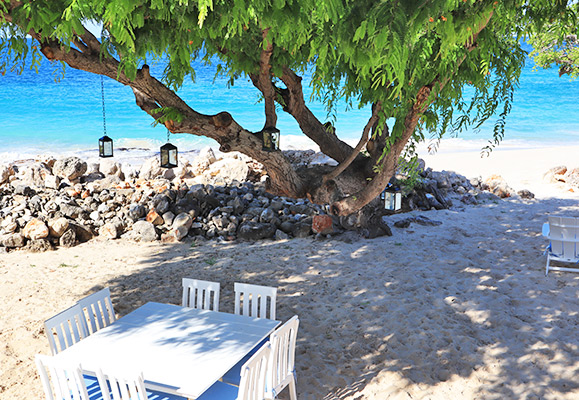 Inside, the villa opens into a 2,400 square foot great room with vaulted-ceiling.
Wrap around, sliding windows provide panoramic views of Limestone Bay ahead. Those windows transport you to the sea. It feels like you are sitting on the ocean. Simply, a breathtaking effect.
The great room features a fully equipped kitchen, eat-in bar and enormous kitchen island, living area with 65" TV with high speed WiFi (50 MB up/down) and shuffleboard table.
The villa's three plush bedroom suites are set behind the great room. Each is complete with ensuite bathroom and walk-in shower, Amazon Echo, air conditioning and 42" flatscreen TV.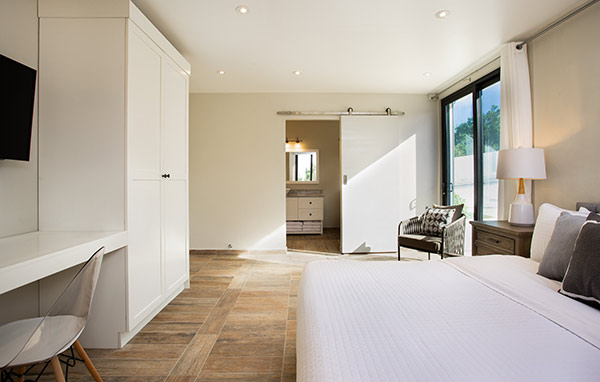 That's not all! A 4 door Jeep Wrangler Convertible is included in your stay.
Truly one of the coolest villas to grace Anguilla's shores, it's a "must-do" for those who want to venture out into Anguilla blue!
Brand NEW to the Anguilla villa market, Sandcastle Villa: The Beach House is available at competitive rates. It can also be rented together with its sister property, Sandcastle Villa.
For more on The Beach House, see...
Tel.: 264-476-2981 /// 702-353-0278
To purchase your Anguilla Card, click here.
---
Good-Bye To...
I am sad to announce that we bid adieu to Veya this year. You may still use your Anguilla Card at Veya's lounge downstairs, Meze.
---
More Anguilla Card Partner News
Anguilla Great House: Soft Re-Opening Dec. 15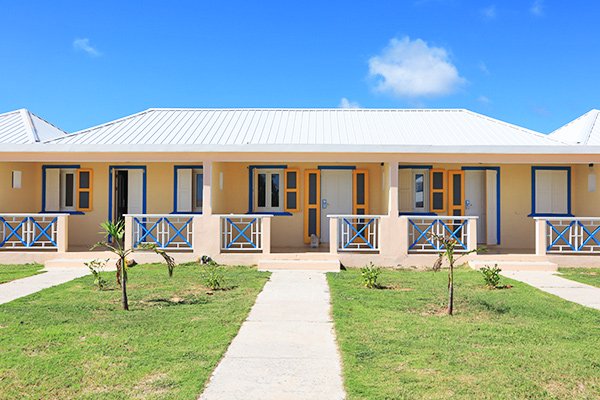 Will Fleming and his team are hard at work putting the finishing touches on Anguilla Great House!
One of Anguilla's most beloved hotels whose design captures the spirit of the Caribbean, Anguilla Great House is BACK! December 15th will mark the family-owned hotel's soft re-opening.
They will open with 15 rooms just a few feet from Rendezvous Bay beach. On-site restaurant, Coconuts will also be open for breakfast and lunch when the hotel re-opens.
Join me in saying a huge congratulations to Will and his team!
Anguilla Great House is a high-value beachfront hotel with affordable rates (around $200-300/night). Click here for more on Anguilla Great House's official website.
Click here to purchase your Anguilla Card.
Spa & Scuba Specials
Spa By CuisinArt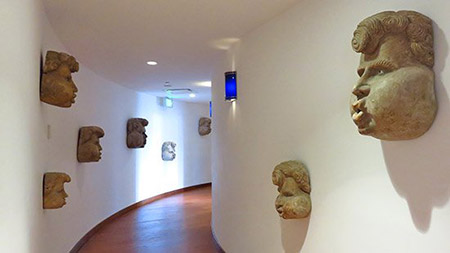 An oasis of calm, the Spa by CuisinArt is offering terrific specials now through December 31st!
50 minute Thermal Mineral Body Wrap - $110 (regularly $130)
80 minute Organic Ultimate Age Corrective Facial - $165 (regularly $195)
They are also holding their 2nd annual Open House Spa event Friday, Dec. 14 from 5-7pm. With complimentary bamboo massages, skincare consultations and special discounts at their spa boutique, don't miss this festive event!
To book a treatment, email: spa@cuisinart.ai
Shoal Bay Scuba
Thinking about getting certified? Has the price been too steep? Shoal Bay Scuba has an amazing special for you!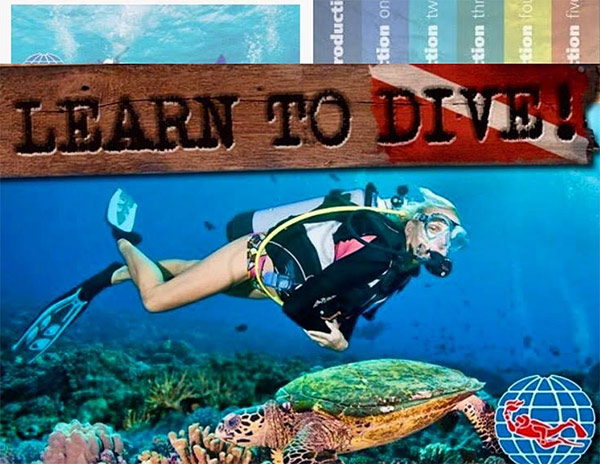 Book, pay and complete your open water certification before December 20th and be eligible for a whopping 20% discount on the original price.
Here's what you get...
- THREE TO FOUR 3 hour sessions
- ALL equipment
- ALL PADI materials
- Certification Card
Close off 2018 with the certification you've always wanted!
To book, email Shoal Bay Scuba at: scubashackaxa@gmail.com
Please note, divers MUST complete their certification before or on 20th December and no later.
How To Book Your Trip to Anguilla & Save 10%
Booking your trip to Anguilla and saving 10% is easier than ever, whether you are coming to Anguilla via St. Maarten or San Juan.
Tradewind Aviation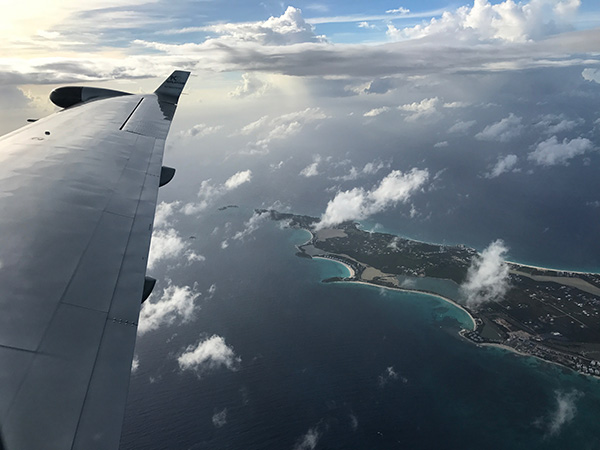 Tradewind is now flying...
San Juan (SJU) - Anguilla (AXA)
Fridays, Saturdays and Sundays departing SJU at 4:00pm
Adjusts to 4:15pm on January 4th, 2019
Adjusts again to 4:30pm on February 1st, 2019
Anguilla (AXA) - San Juan (SJU)
Mondays, Saturdays and Sundays departing AXA at 11:00am
Tradewind flies a modern Pilatus PC-12 aircraft with two pilots. It is pressurized and completely air conditioned. Flights include complimentary drinks (including wine and beer) and snacks. The cherry on top? You even have access to their private lounge in San Juan!
Book direct via Tradewind's website here. Apply your Anguilla Card code in their booking engine at the time of booking and save 10% on all flights.
Calypso Charters
If you are coming to Anguilla via St. Maarten, booking your transfer to Anguilla with Calypso Charters is a breeze!
Click here to book directly via their website. Apply your Anguilla Card discount code in their booking engine at the time of booking and save 10% on your boat transfer.
Happy travels to Anguilla this winter!
Click here to purchase your Anguilla Card.
Four Seasons Sunsets
Last but not least, is there a better way to end the day than with a sunset from Anguilla Card Partner, Four Seasons' Sunset Lounge?...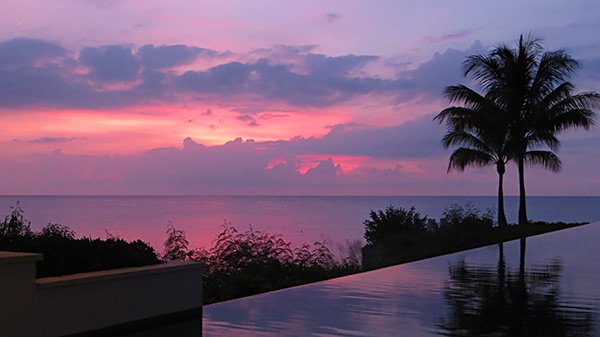 There is no beating sweet endings like these :-)
---
That's all for now!
If you are holiday shopping for the Anguilla lover in your family, don't forget that you save 10% on all of our prints of Anguilla when you use your Anguilla Card code. Click here to see our gallery of prints.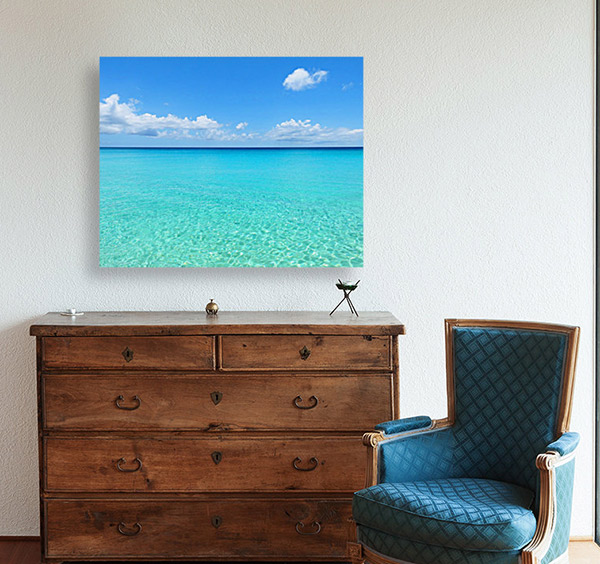 Thank you so much to all Card Holders and Sponsors for all of your support. We wouldn't be able to do it without you :-)
Here's wishing you many happy savings & happy travels to Anguilla this season!
To purchase the Anguilla Card and save 10% on your trip to Anguilla, click here.
Talk to you soon with more Anguilla news & blue,
Nori
---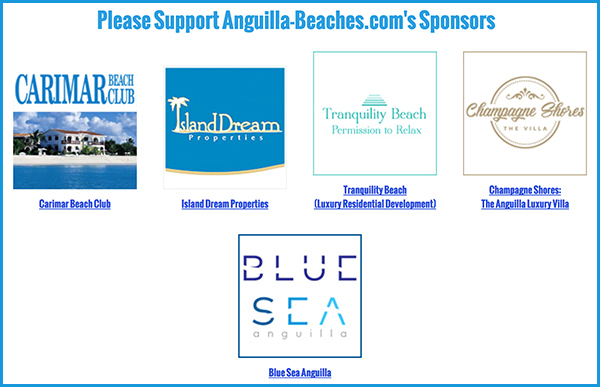 Anguilla-Beaches.com
---