Mosaic Restaurant...
All-Day-Dining That Dazzles
Update 2023: Mosaic is now Chef's Table at Aurora Anguilla. More on Aurora Anguilla here.
CuisinArt Golf Resort & Spa is a destination for excellent cuisine in Anguilla. One of the resort's most beloved restaurants has long been its pool-side eatery.
Over the years, it has gone through many transformations. From Famiglia by Chef Daniel Orr, to Café Med under the helm of Chef Jasper Schneider, each iteration of Mosaic has improved upon the next. Today's Mosaic may be its best incarnation yet.
Sweet Caribbean Sea & St. Martin Views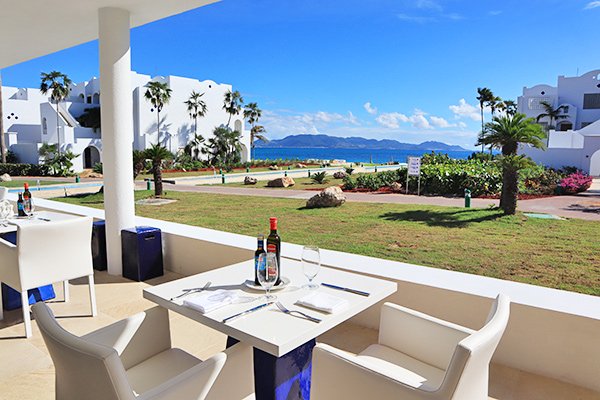 Welcome to Mosaic
Mosaic is modern, chic and open air. The restaurant's white walls, dining tables and chairs contrast so elegantly against its bold blue accents.
Welcome to Mosaic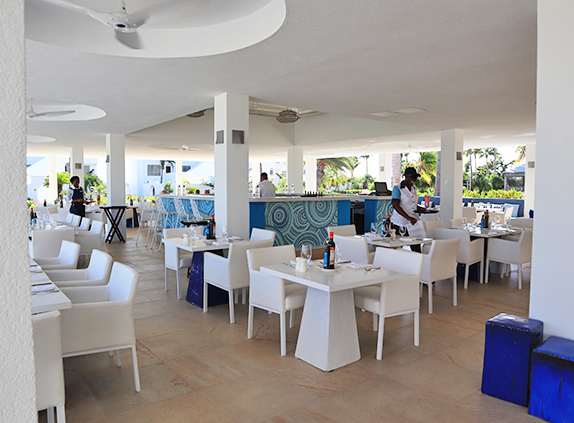 The restaurant's focal point, its central bar, immediately catches the eye.
The "Mosaic" Bar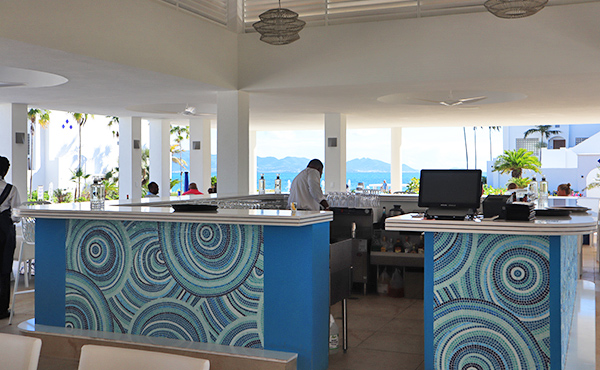 The bar dazzles, with an intricate mosaic of a thousand different shades of blue. Tall chaises surround the bar, with inspired branch-style backings. Each piece boasts such fine detail.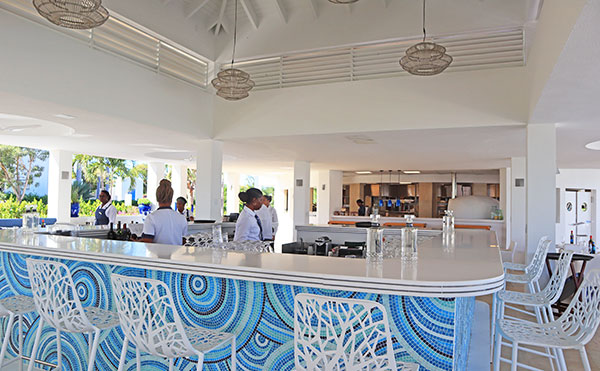 The restaurant's dining areas layout around the bar on four sides. Invitingly breezy, each seat is comfortably cool. Whether you choose to gaze out to St. Martin or CuisinArt's glistening pool...
Pool View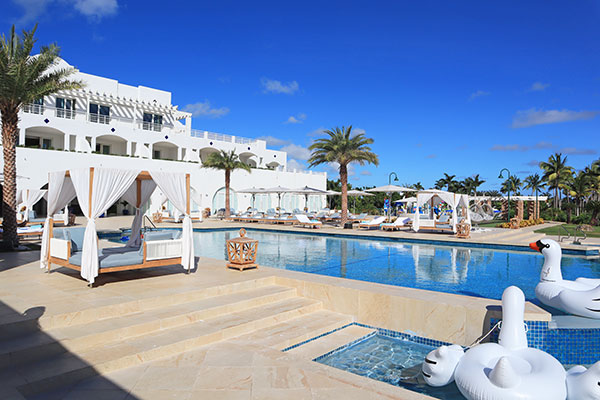 Or settle into the cushioned benches...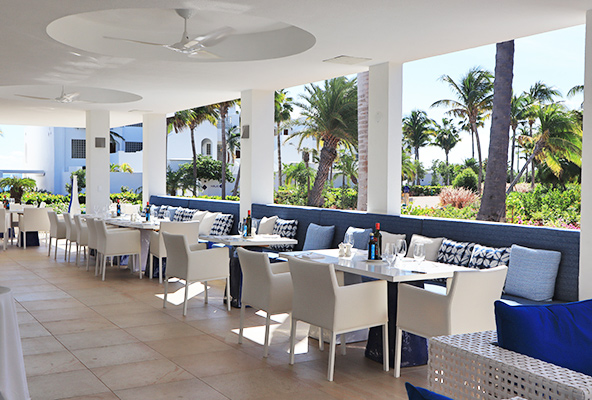 Each table is total dining relaxation.
The bench seating is especially recommended for peaking in on Mosaic's kitchen. An open kitchen concept, it is complete with an oak wood fire oven. The aromas that flow from the kitchen through the restaurant whet your appetite.
Open Kitchen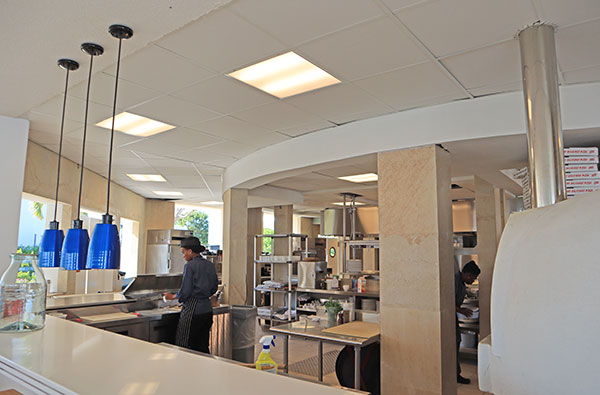 Naturally, those aromas beg the question, what's on the menu?
Meet Chef Damian Brown
Mosaic's menu begins with one man, Chef de Cuisine, Chef Damian Brown. Half Jamaican, half American and born and raised in London, Chef knows fine dining.
Mosaic's Chef Damien Brown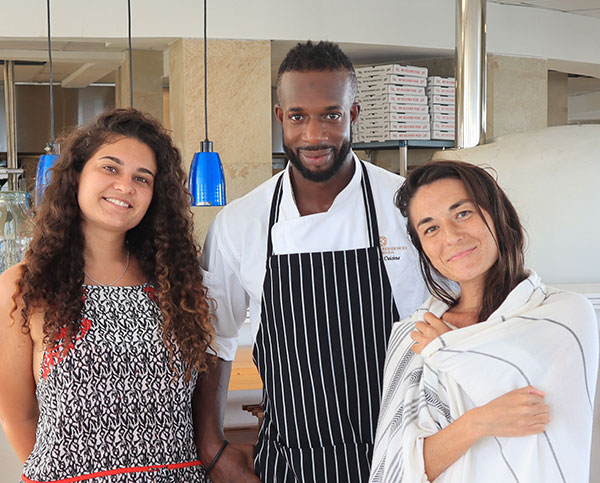 His resume boasts some of the most luxurious names in hospitality, including the Waldorf, Peter Island Resort, Le Meridien and the exclusive Fregate Island Private in the Seychelles. Today, he brings his world of experience and passion for cuisine to Anguilla.
Equal part skilled chef and genuinely kind-hearted, warm-spirited soul, chatting with Chef Damian is always a delight.
What's on Mosaic's Menu?
Chef's menu boasts a wide variety of dishes, with plenty of flair. Its first section, "To Start", makes choosing "just one" appetizer nearly impossible.
Choices include roasted bone marrow with toasted sourdough, panko-breaded asparagus, east coast oysters and a deconstructed shrimp cocktail done Anguilla-style.
Jumbo Shrimp & Crayfish Cocktail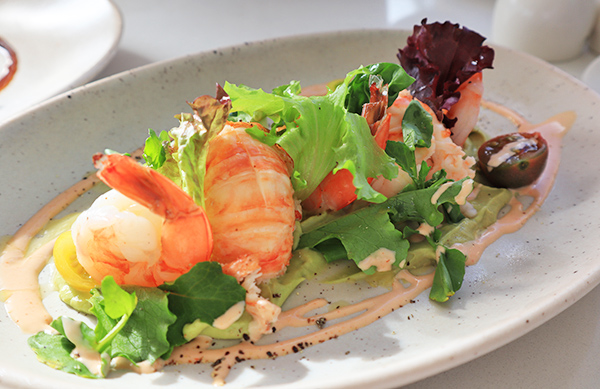 Sizable pieces of fresh crayfish and jumbo shrimp are served between baby lettuce and on a bed of avocado crema. It is accompanied by a delightfully sweet Cruzan rum maryrose sauce. All elements work to create an especially refreshing dish, the avocado crema enhancing its light flavors.
Also on the "To Start" part of the menu is the lobster mac n' cheese. This dish is a show-stopper.
Lobster Mac N' Cheese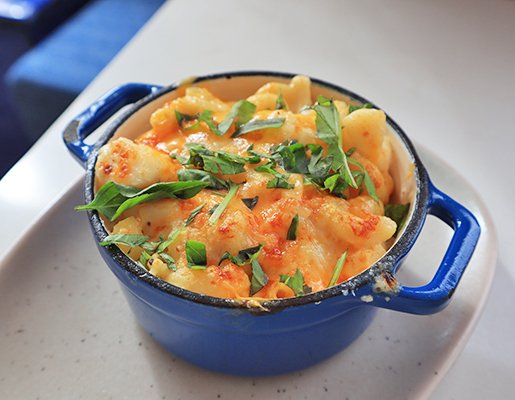 Large chunks of local rock lobster are mixed in with the oh-so rich and creamy mac n' cheese. Baked to perfection, the combination of cheese with lobster is decadently mind-blowing. Cheesy, seafoody flavors is a combination that works on every level. If there is any dish to try in Anguilla, this is it!
Rounding out the appetizer menu is a series of salads, including an ahi tuna nicoise, a baby gem, shrimp & feta and...
Mosaic Cobb Salad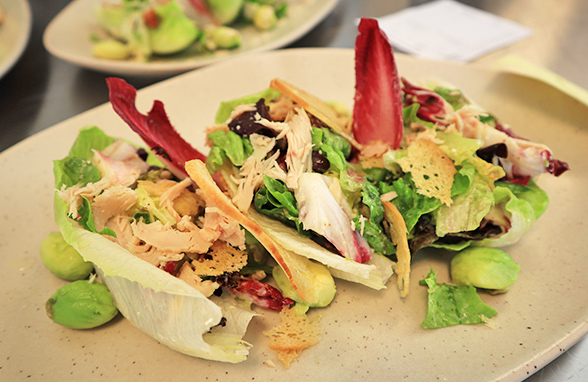 Smoked chicken breast is laced with greens, blue cheese, bacon, avocado, quail egg and croutons. It is perhaps the most elegant cobb salad we have seen yet.
Following "To Start" is Mosaic's "Al Forno" section of the menu, a variety of flatbread pizzas. Choices include the Caprino with baby spinach, creamy goat cheese, mozzarella and pine nuts.
Caprino Flatbread Pizza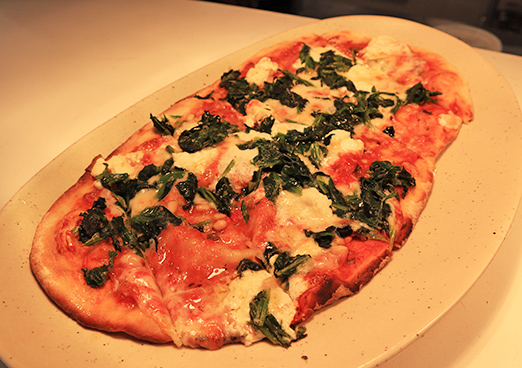 The classic margarita with tomato & oregano ragu, buffalo mozzarella, cherry tomatoes and fresh basil.
Classic Margarita Flatbread Pizza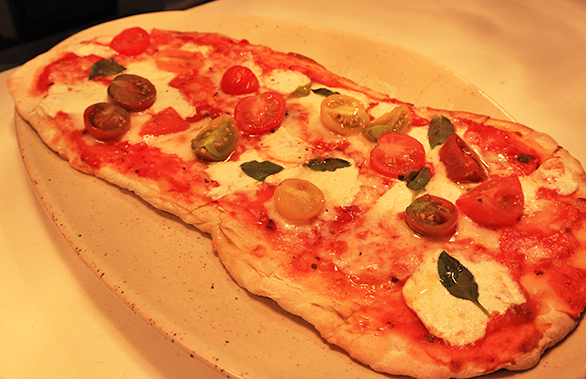 And the Half & Half, half garlic butter and half tomato ragu with basil and tiny flakes of sea salt.
Half & Half Flatbread Pizza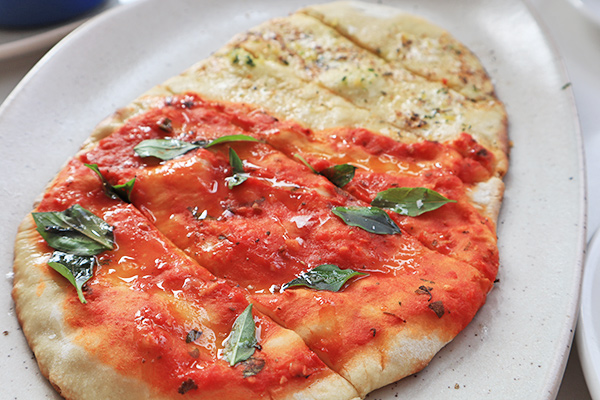 The flatbread pizza is thin with an addictive crunch and just enough "chew." The Half & Half is highly recommended as a starter to share.
Moving on are the "Wood Oven Specialties." These dishes let the power of the oak wood oven truly shine. Choices include lasagna al carne, chicken breast mattone, eggplant parmesan, garlic & chili shrimp bruschetta and the cedar plank baked salmon...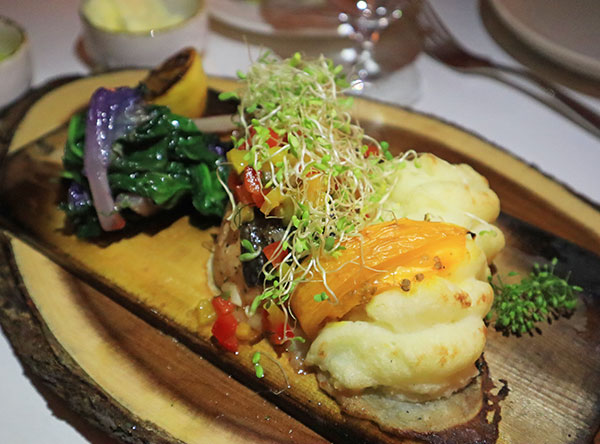 Salmon is baked on cedar plank served with garlic potato puree and wilted greens.
Finally, the "Main Courses." Just when you think the menu cannot offer more variety, here, it goes notches wider with fine cuts of meat (think: Kurobuta pork belly) and exquisite seafood.
When it comes to "surf," the seafood platter for two is one of Mosaic's most popular dishes.
Seafood Platter For Two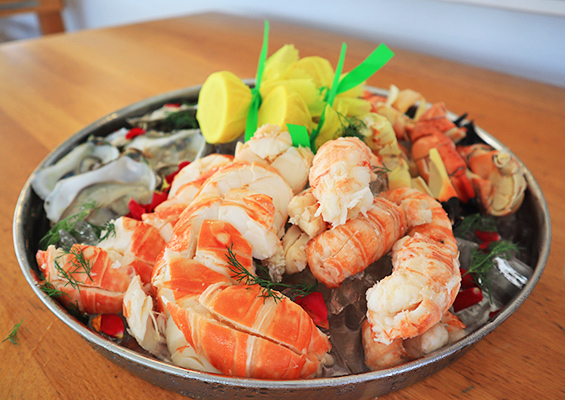 Chef does not skimp on size. Generous portions of fresh lobster, langoustine, oysters, shrimp and Alaskan crab claws are all served on ice with a variety of dips and sauces.
If it is "turf" that you are craving, the 10oz dry aged angus prime striploin goes down as a favorite on this menu.
10oz. Dry Aged Angus Prime Striploin Steak & Parsnip Fries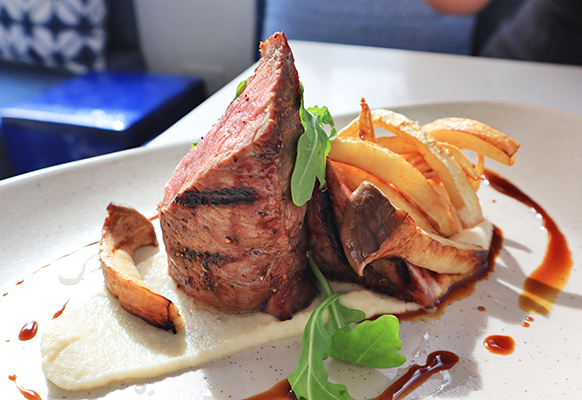 This steak is ten ounces of perfection. Dry aged, this is quality beef, rich in buttery texture. Chef serves this prime cut on a bed of cauliflower puree laced with truffle oil. It is the beef's perfect complement.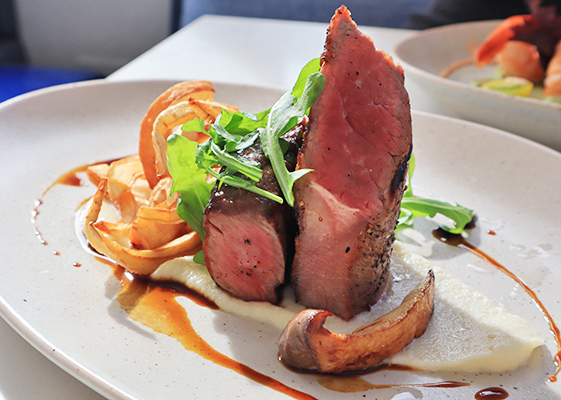 The dish is rounded out by parsnip fries and grilled king oyster mushroom.
A robust menu, where each dish is done well, it is almost hard to believe that such variety can be had all day. This menu is available for lunch and dinner. Yes, CuisinArt's Mosaic Restaurant and Chef Damian Brown impress on every level.
Directions, Hours & Contact
Hours: Open daily for lunch and dinner. Closed Tuesday and Friday for dinner.
Tel.: 264-498-2000
Directions: At CuisinArt Golf Resort & Spa.