---
Combing Anguilla's Beaches for the Best
Anguilla Beach Lovers brings you a fresh dose of "Tranquility Wrapped in Blue" every month.
If you like this newsletter,, please do a friend a favor and "pay it forward."
If a friend did forward this to you and if you like what you read, please subscribe by visiting...
---
Welcome Aurora Anguilla 🤗💗🏝
A warm welcome to Aurora Anguilla who has joined Anguilla-Beaches.com as a Site Sponsor!
Our love affair with Aurora Anguilla began many moons ago.
Back when the property was CuisinArt Golf Resort & Spa, we fell in love with the hotel's warm team of staff, the five-star restaurants and the sumptuous suites.
Falling asleep to the sound of the sea, waking up to the views of Caribbean blue... it stole all of our hearts.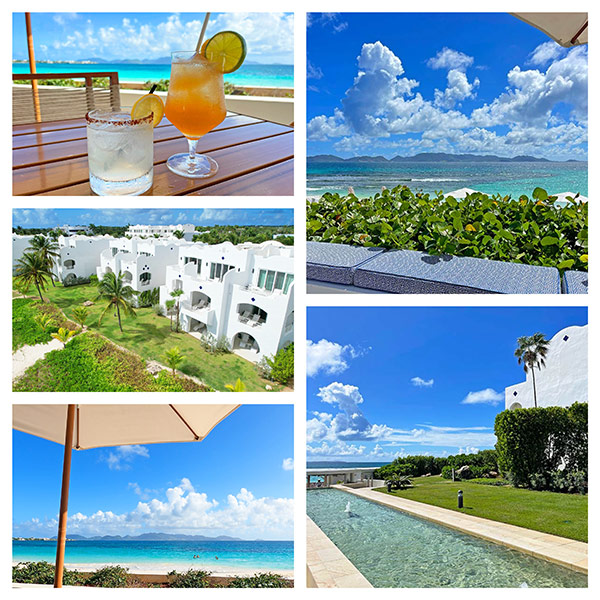 Aurora took over CuisinArt Golf Resort & Spa in 2020-2021. Over the next fourteen months, big-scale renovations ensued. The whole Aurora team deserves a round of applause.
Today, re-imagined, re-vamped and re-opened as Aurora Anguilla, this luxury resort stands the test of time.
Before we jump into what's new at Aurora let's soak up their RendezVIEWS...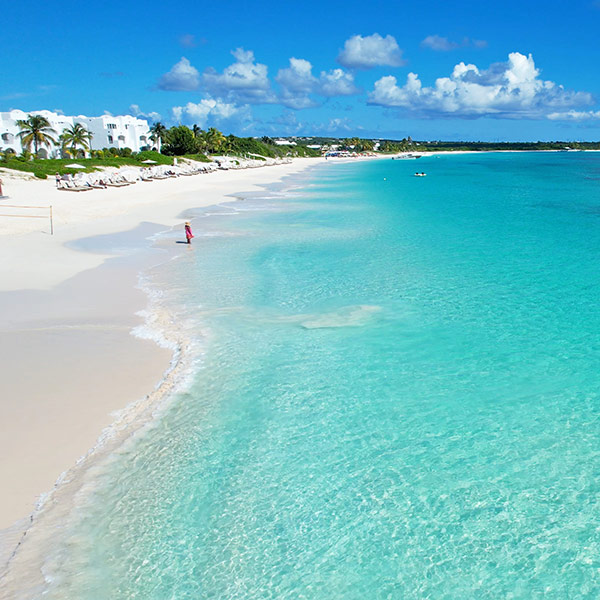 ---
Inside Aurora Anguilla
As you approach Aurora Anguilla Resort & Golf Club's familiar domes, a sense of calm washes over you.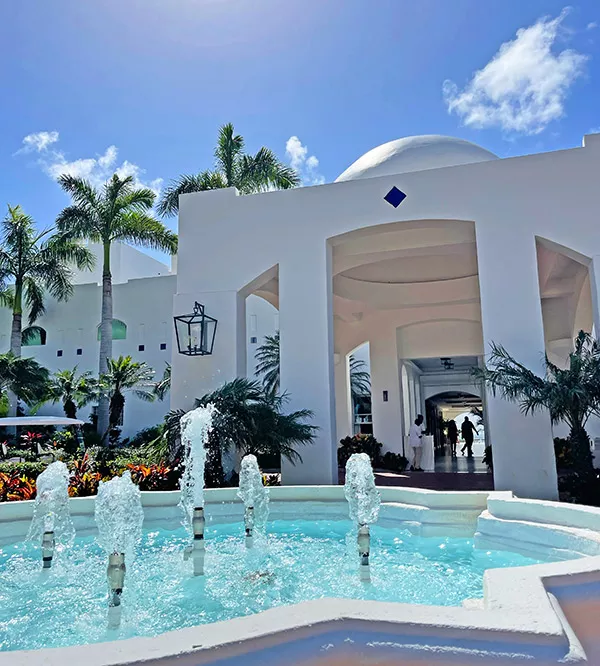 Arriving at Aurora is like coming home. It is a credit to the Aurora family. Each person has been integral in the resort's transformation. With pure enthusiasm to assist and share the beauty of the re-imagined resort, at Aurora you are in loving hands.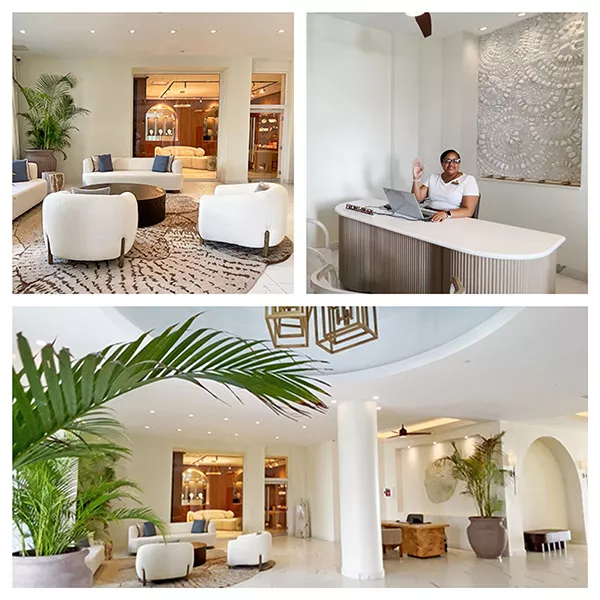 The lobby itself has been completely re-designed. The motif is tropical, contemporary luxury. A discreet check-in area sits to your right with a plush sitting area to your left.
Outside, spanning the width of the main house, Aurora's terrace is expansive. It is dotted with luxurious loungers, oh-so-comfortable and cute swinging egg chairs and private cabanas complete with billowing curtains.
It is the ultimate spot for a mid-morning snooze before diving into Aurora-blue.
---
The Suite Life
When it comes to the "suite" life, Aurora delivers with a number of plush options...
Villas boast extraordinary space and extra privacy. The Resort Suites have exceptional views. And the Beach Suites? Those are our personal favorites.
The beachfront buildings sit right on the sweep of Rendezvous Bay. Here, the sights and sounds of the Caribbean Sea surround you.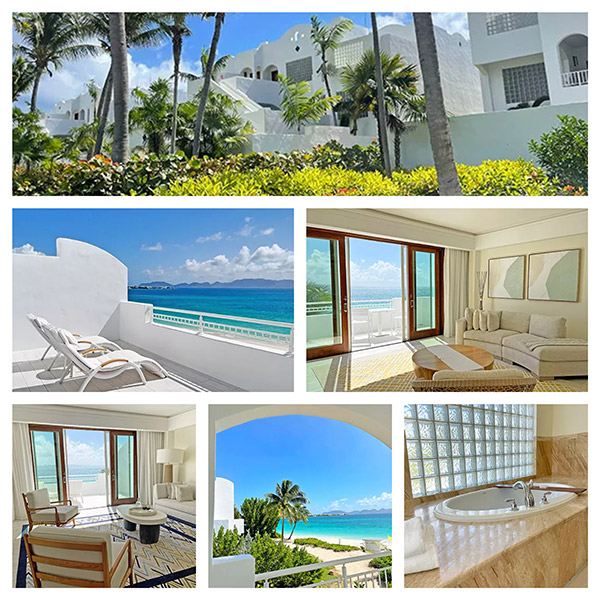 They are the brightest hotel room suites in Anguilla with the most breathtaking views. The rooms catch the sun, filling them with natural light and endless views of Caribbean blue.
All the while, central air conditioning keeps you cool. (I recommend, though, leaving the doors open to hear the soothing sounds of the sea.)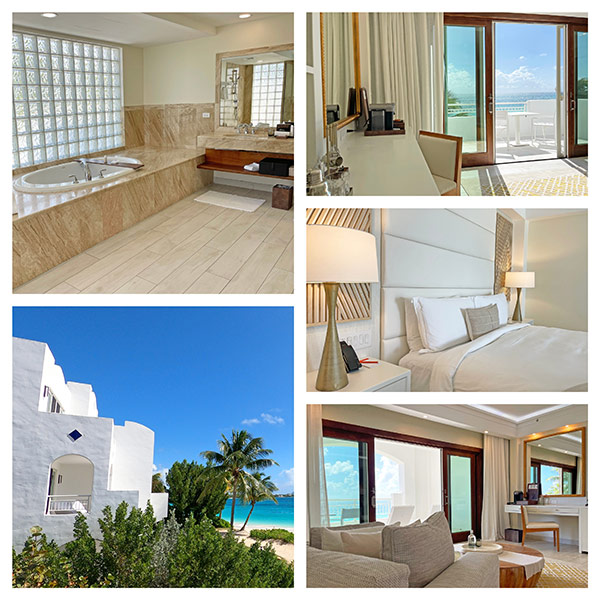 Suites feature a variety of luxurious amenities including full bar of high-end liqueurs and wine, chic beach bags, robes and slippers and did we mention the ensuite bathrooms? They are sumptuous.
Oversized, they feature deep sink tub, walk-in shower and double vanity. The one bedroom suite's ensuite even expands into an outdoor shower with solarium.
Click here for a full look inside Aurora Anguilla.
Click here for our video tour of Aurora Anguilla.
More on Aurora's Suites
---
Beaching & Lunching
Back outside, it is all easy access to Rendezvous Bay.
Rendezvous Bay has been voted the Caribbean's #1 beach time and time again. A half mile stretch of powdery-fine white sand gives way to the turquoise Caribbean Sea.
If it is entertainment you seek, Aurora is in good company. Two of Anguilla's most popular beach bars, The Sunshine Shack and Bankie Banx's Dune Preserve, are just a short beach stroll away.
Laze the day away on your Aurora lounge chair (cocktails are served to your beach chair and water is complimentary), snooze on the resort's floating sun deck or grab lunch!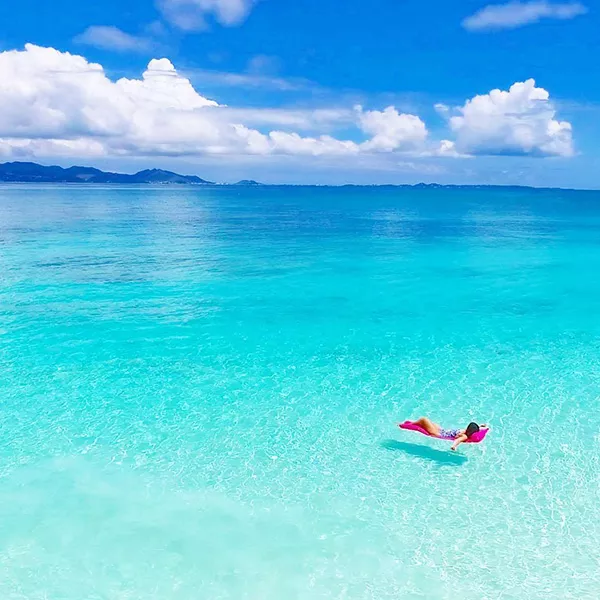 ---
Exceptional Beach Eats
When it comes to dining, we must give a nod to CuisinArt. CuisinArt was known for their dedication to excellent eating. They set the standard for resort dining region-wide.
Aurora carries that torch today with a host of exquisite restaurants. The property has even re-instated the beloved hydroponic gardens. Dining simply doesn't get fresher than at Aurora!
Favorite lunch spots include...
The Aurora experience doesn't end there. The resort boasts the best spa in the Caribbean as well as Anguilla's only golf course, which happens to be one of the top courses in the region...
---
World-Class Golf
If Anguilla is Tranquility Wrapped in Blue, Aurora International Golf Club is an oasis of green wrapped by desert.
Forbes calls it "The Hidden Gem of the Caribbean," Caribbean Journal has labeled it one of the region's best, and Robb Report refers to its first hole as "The Caribbean's answer to the 18th at Pebble Beach."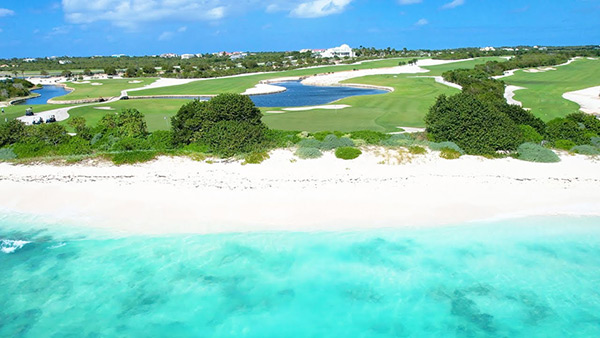 A PGA course, it is breathtaking. It ranks among the top 10 golf courses Caribbean-wide! In pristine condition, with sweeping views and a clubhouse that serves gourmet cuisine, it's not hard to see why Aurora International Golf Club makes the mark.
Greg Norman designed, 7,000+ yards of 18 manicured holes stretch along the south shore of Anguilla, gazing out to vistas of the Caribbean Sea and St. Martin's majestic mountains.
For golf fanatics, the course features a Golf Academy complete with the Trackman system and world-class instruction with Director of Instruction, Tom Stickney. A Top 100 Teacher as ranked by Golf Magazine, Tom is internationally recognized for his expertise.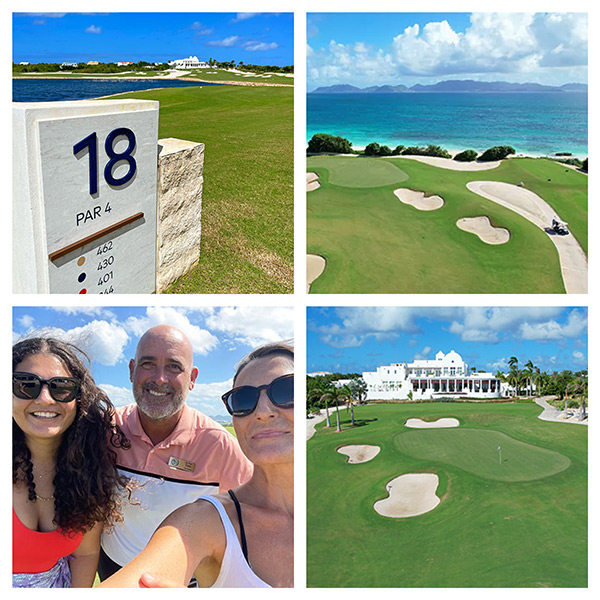 If you are looking to elevate your entire game, there is no better person to turn to!
Click here for our tour of Aurora International Golf Club with Director of Instruction, Tom Stickney.
Click here for our article about Anguilla golf.
More on Aurora International Golf Club
Special Golf Tip: What goes hand-in-hand with a day of golf? An outstanding post-golf lunch.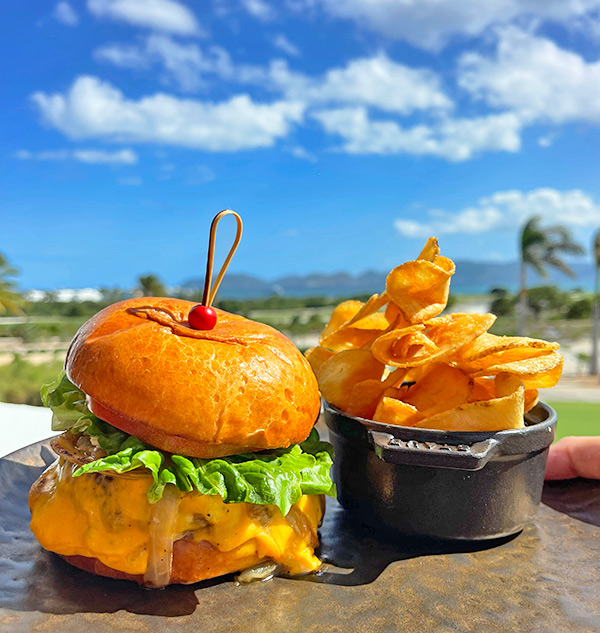 D Richard's Club House sure delivers! This elegant restaurant serves one of the island's best burgers with an up-close view of Hole 18.
More on D Richard's for lunch here.
---
Decadent Dining
When the sun goes down, Aurora "wows" all over again with a plethora of fine-dining options.
Chef's Table serves creative Caribbean-Mediterranean cuisine, Marella is loved for its hand-made pastas, D Richard's has the finest cuts of steak and then there's our favorite...
Tokyo Bay.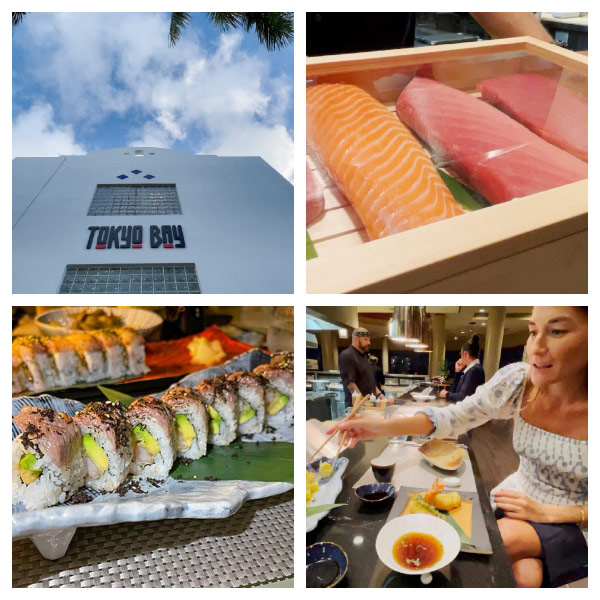 When it comes to Japanese cuisine, we are fervent fans.
Super soft pieces of nigiri, innovative rolls, Japanese appetizers like gyoza and tempura, these dishes rank as some of our all time favorites.
We breathed a deep sigh of relief when we heard that Tokyo Bay was re-opening under Aurora Anguilla.
Then? We breathed an even deeper sigh of relief when heard that a familiar face would be leading the team...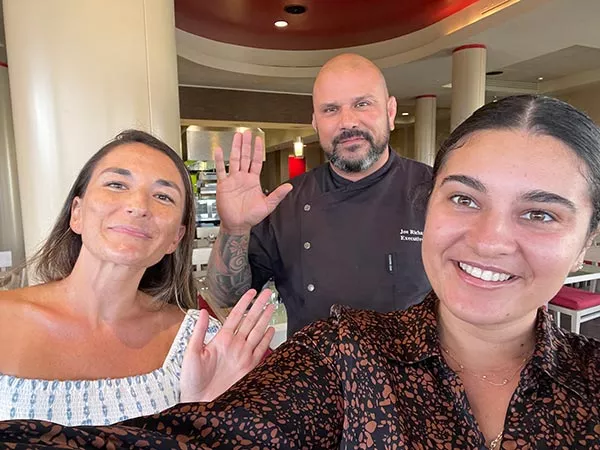 Executive Chef Joe Richardson brought Tokyo Bay to record highs when he ran the restaurant under CuisinArt Golf Resort & Spa back in the day.
When Aurora took over and planned to re-open the iconic restaurant in 2022, there was no better man for the job.
It is with a heart full of love and belly full of hunger that we say a resounding, "Welcome back, Chef Joe!"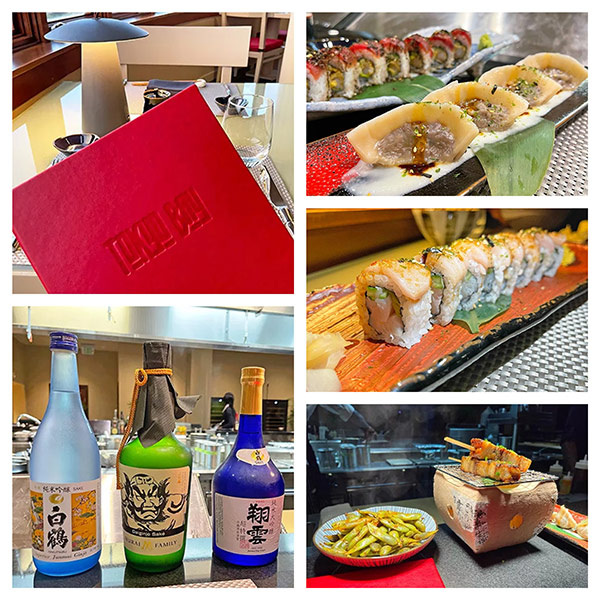 Prepare for a world of flavor with Chef Joe's NEW menu.
Click here for a video look inside Tokyo Bay with Chef Joe.
Click here for our article on Tokyo Bay.
---
Nightlife
After an exceptional meal, Aurora keeps the good vibes alive with excellent entertainment.
Aurora Anguilla has built a one of a kind amphitheater for concerts.
Open to the Caribbean night sky, with a cooling sea breeze blowing through, nights out at Aurora's grand stadium are pure delight.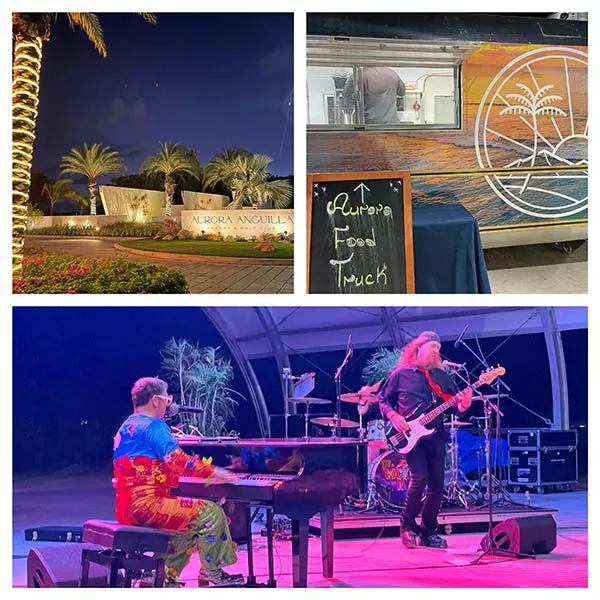 The concert venue features terrific drinks, gourmet food truck (we love the nachos!) and even box seats.
You can expect performances by widely loved groups, including The Rocket Man Show, Landslide and The Ultimate Eagles Tribute Band. These bands know how to entertain! From the music, to the crowd work, these visiting guests always impress.
Click here for a video taste of the experience.
For Aurora's upcoming concerts, click here.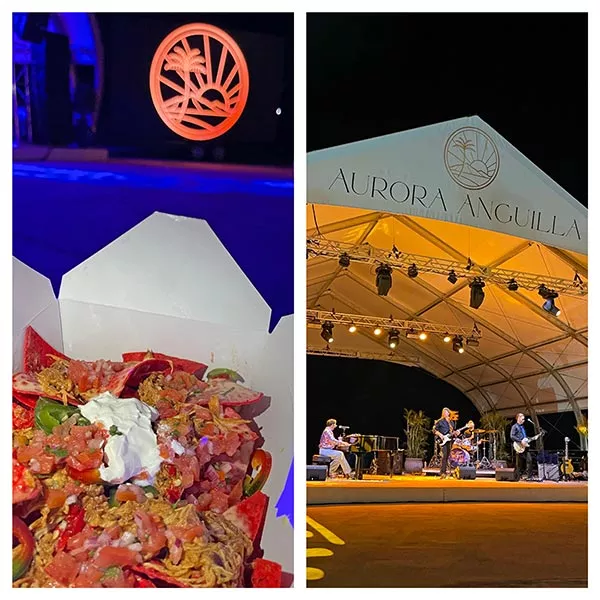 ---
Flights to Anguilla
Last but not least, Aurora makes getting to Anguilla easier than ever. The property boasts its very own fleet of jets. Departing from White Plains, New York and Fort Lauderdale, Florida, getting to Anguilla is a breeze aboard Aurora.
Photos: Aurora Anguilla
With hot meals, white glove service, and overly spacious leg room, this is the most relaxing way to get to the island.
More on flying to Anguilla with Aurora here.
---
Final Thoughts on Aurora Anguilla
A huge congratulations are in order for the Aurora Anguilla team. They have done an impressive job, modernizing and re-imagining one of Anguilla's most important resorts.
As you move through the property, you can feel the sense of accomplishment. Old time friends and familiar faces wave hello, smiling from ear to ear, excited to share the Aurora experience.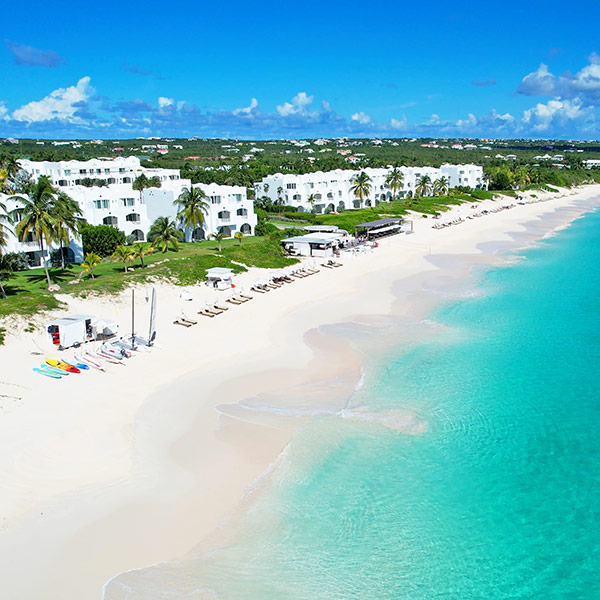 They aren't the only ones beaming. We are over the moon happy to see our "favorite" glistening again, upgraded, overhauled and exuding a sophisticated feel of tropical zen.
One of Anguilla's most grand properties, Aurora Anguilla surpasses expectations.
For More on Aurora & To Book Your Stay...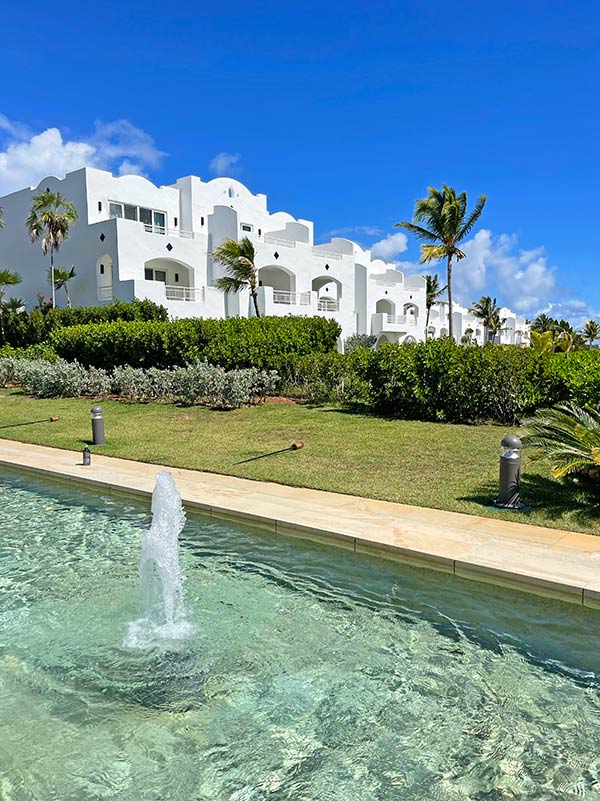 A huge thank you to Aurora Anguilla for their support in making Anguilla-Beaches.com possible.
One of our all-time favorite hotels, we are honored 🤗💗🏝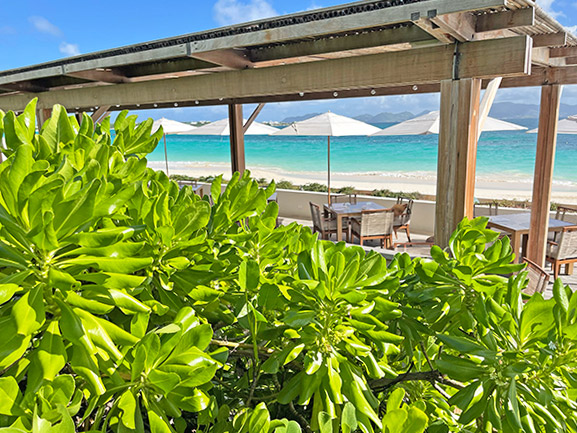 ---
The Aurora team has been hard at work on lots of exciting developments. Stay tuned for those updates.
Until then, click here to book your stay 💗🏝
Sea you at Aurora Anguilla!
Nori & Louise
---
Anguilla-Beaches.com
---