---
Combing Anguilla's Beaches for the Best
Anguilla Beach Lovers brings you a fresh dose of "Tranquility Wrapped in Blue" every month.
If you like this newsletter,, please do a friend a favor and "pay it forward."
If a friend did forward this to you and if you like what you read, please subscribe by visiting...
---
Issue #147, May 30, 2022
Happy Anguilla Day 🥳✨💖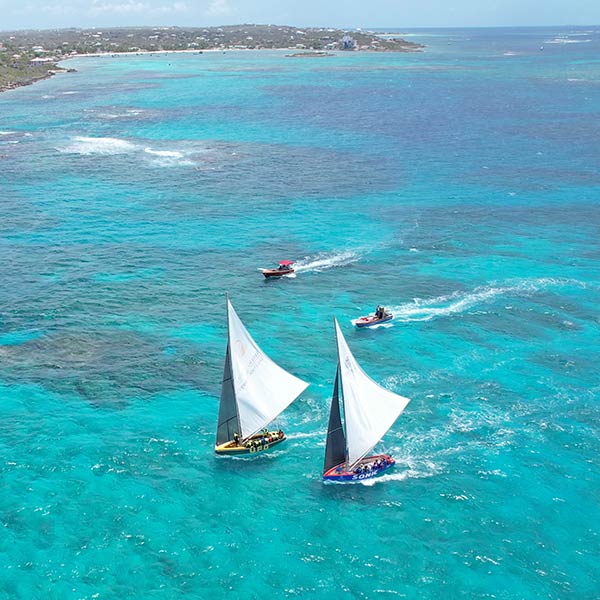 Sails up, we are excited to say that today's sail boat race is in full swing!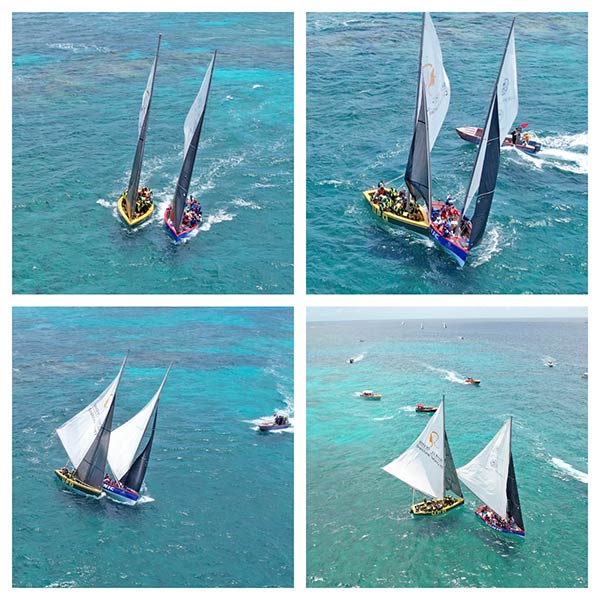 A big shout out to Louise for these dramatic shots of UFO and Sonic out by Captain's Ridge today. Click here for a video clip of the action 😱🏝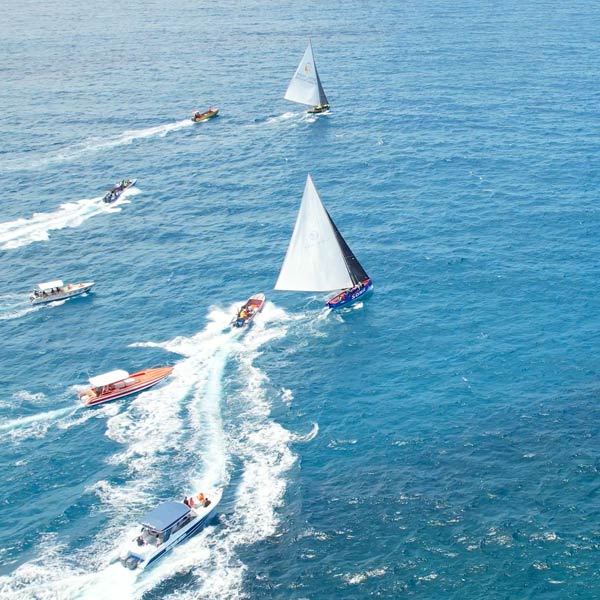 After a day of drama on the high seas and an afternoon of sail-ebrations?
Let's take a zenful Beach Escape...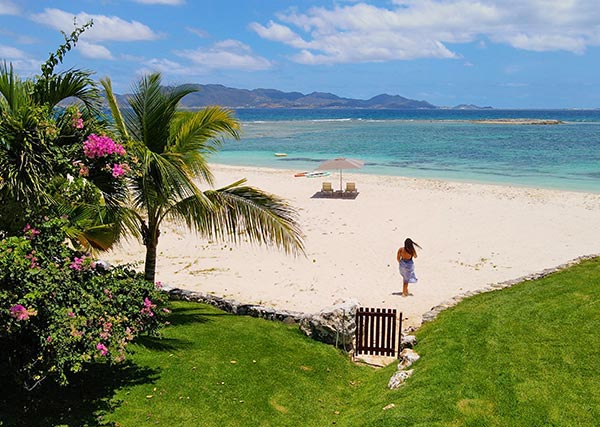 Today's destination for beach relaxation? Sandy Point.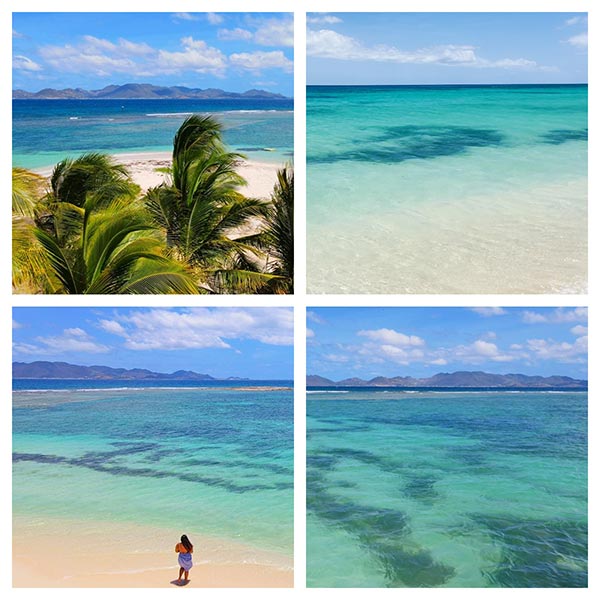 This stretch of sand affectionally called Sandy Point sits on the island's southern side, gazing out to breathtaking St. Martin.
It has long held a special spot in our family's hearts. Back in the day, my Dad and I would spend many afternoons sitting right on the beautiful "point of sand" that jets out towards St. Martin.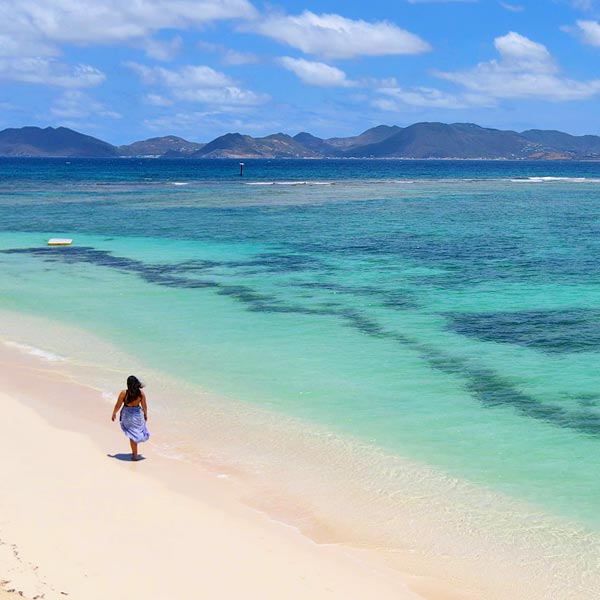 NEW Anguilla Beach Vlog: Click here to relax with us on Sandy Point beach.
Sandy Point is home to one of our favorite villas, Beach Escape Villa.
You can't beat this villa's beachfront location, opening directly onto the sand.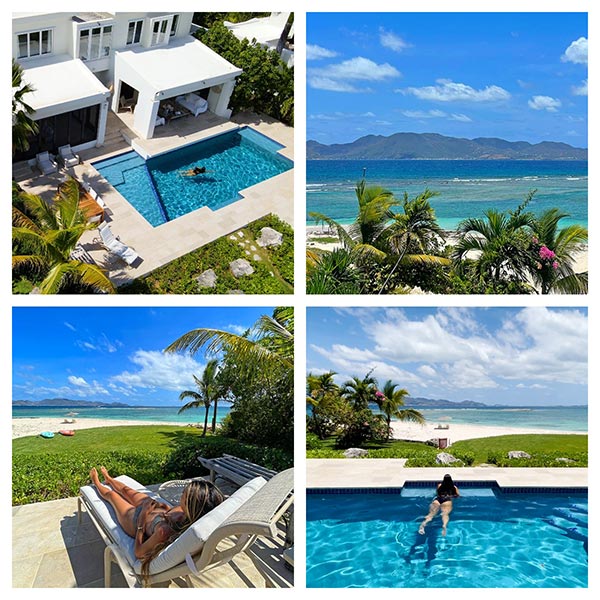 Beach Escape takes full advantage of its setting with beach chairs, umbrellas, a grassy front lawn overlooking the Caribbean Sea and even beach service.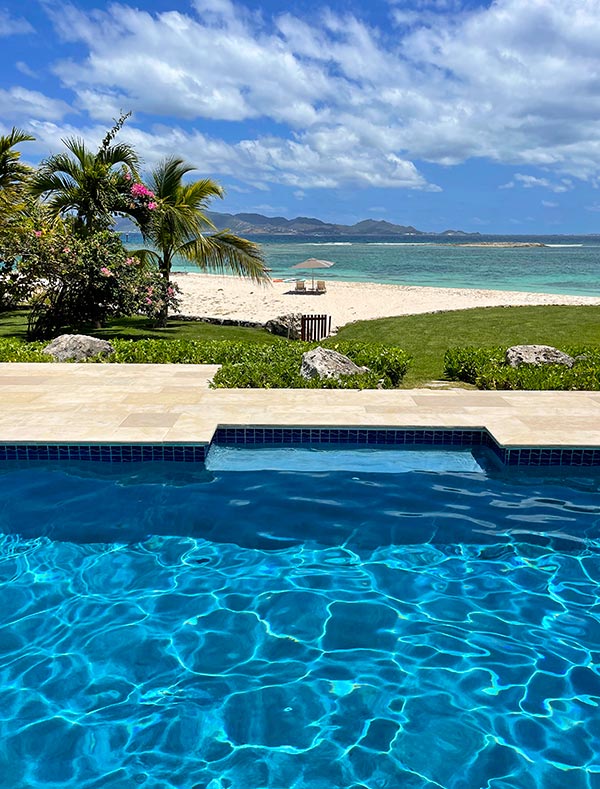 Beyond its location and beach amenities, Beach Escape is one of the most comfortable and user-friendly villas in Anguilla.
Five bedrooms, plush media room, modern kitchen with outdoor cooking options and indoor and outdoor dining and lounging spaces span out over the villa's two buildings.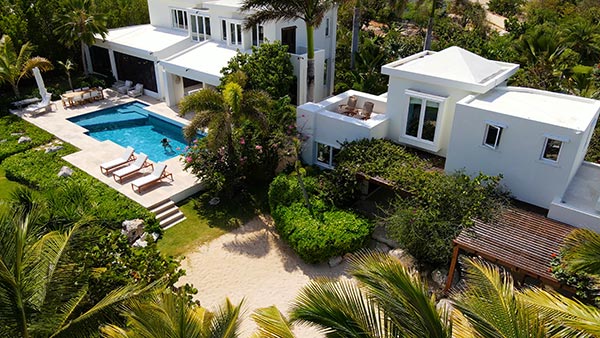 Two heavenly master suites lay in the villa's main house, with two additional master suites and a twin room in the guest house.
The layout makes it an ideal choice for families and friends traveling together.
NEWLY renovated Beach Escape is an ideal choice for a summer beach escape!
More on Beach Escape Villa
Book Your Beach Escape
---
What else is new?...
NEW Anguilla Card Partner: Uchu at Belmond Cap Juluca
Uchu's setting has forever been a favorite for its elegance and its views of Maunday's Bay.
Step inside this refined restaurant and you are whisked into an old fashioned dream. Belmond excels in blending vintage charm with modern luxury. Uchu is no exception.
To match the scene, Belmond Cap Juluca takes Uchu's cuisine to new heights with a rich Peruvian menu, designed and executed to perfection by Chef Cesar Landeo.
To prepare your tastebuds for a culinary trip to South America, begin with a classic Peruvian cocktail...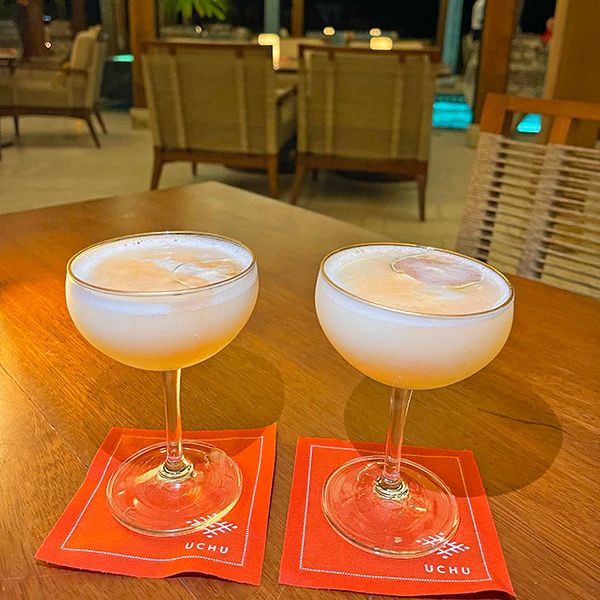 The Pisco Sour was invented in Lima in the 1920s. This classic cocktail is made with Pisco, lime, bitters and silky egg whites. Timeless for a reason, the hint of sour in this stiff drink ignites your tastebuds.
Pisco Sour in-hand, prepare to dive into the world of fine Peruvian dining.
Think: A variety of ceviches, Tiradito, sumptuous fish dishes and steaks, and one of the island's top crème brûlées!
For a full read on Uchu, click here.
Uchu is an Anguilla Card Partner. Save 10% at Uchu when you use your Anguilla Card.
---
NEW Anguilla Card Partner: Coral Beach Bar at Quintessence
One of Anguilla's most posh hotels, Quintessence brings luxury lunching to Long Bay with their beachfront outpost, Coral Beach Bar.
If you know Quintessence, you know the Relais & Chateaux property exudes a refined grandeur. It is, naturally, no surprise that their beach bar would capture the same posh opulence.
Intimate and exuding an exclusive feel, Coral Beach Bar is perhaps the tiniest most upscale beach bar in the Caribbean. Your senses fall in love with the mix of lush greenery, blue sky and blue sea that surround you here.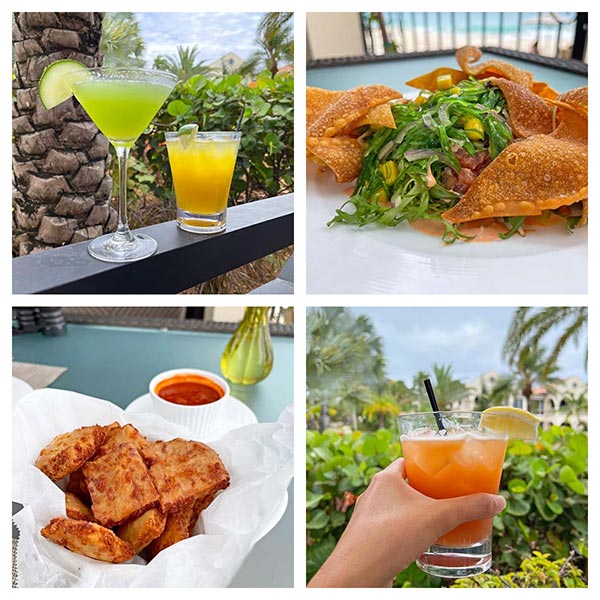 First things first at any beach bar? Cocktails!
Coral Beach Bar's cocktails are some of the best cocktails we've had yet. They are just the right blend of potent and punchy, sweet yet light.
For lunch, don't miss Q's Multi Cheese Johnny Cake and the extra-addictive tuna tartare!
For a full read on Coral Beach Bar, click here.
Coral Beach Bar is an Anguilla Card Partner. Save 10% at Coral Beach Bar when you use your Anguilla Card.
---
Thank You, Anguilla Card Holder, Morgan
A huge thank you to Anguilla Card Holder, Morgan for her very kind words about the Anguilla Card!
Hi Nori,


We just returned on Saturday evening from Anguilla. It was so beautiful! I wanted to share that we used the Anguilla Card for our transfer from St. Maarten on Calypso Charters, with Rum & Reel for an 8 hour boat day, Celeste for breakfast, at Sandy Island, Garvey's Beach Shack, and Petals Boutique.

We saved at least $400 - probably more! Amazing!

Thank you for putting together such a wonderful program! 

Best,
Morgan
We are so delighted you found such great savings with our Anguilla Card Partners, Morgan! Thank you for your note 🤗💗🏝
To get your Anguilla Card and save 10% on your trip, click here.
---
Planning The Best Anguilla Vacation
Ahhh, Anguilla vacations...
Endless beaching on the most pristine stretches of sand, exquisite meals at the best beachfront restaurants, sipping the juiciest rum punches, soaking up vibrant sunset after vibrant sunset...
Over the years, we have received many inquiries about planning the best Anguilla vacation.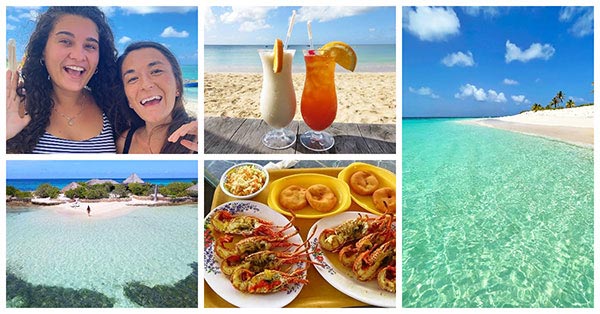 "Cap Juluca or Four Seasons?"
"What are the must-visit secret beaches?"
"Where is THE top spot for sunset?"
"Who makes the #1 must try rum punch?"
"From sun up to sun down, what should our daily itinerary be?"
Planning the perfect Anguilla vacation, honeymoon, wedding or event can be a daunting task!
We are here to help :-)
Our Services
Our NEW Anguilla vacation planning package includes...
A one-on-one 30 minute call
A written summary after our call, complete with contact information for services, hotels, villas, etc. discussed
Click here to let the vacation planning begin 🌞
---
Off-Season Rates Are ON at Arawak Beach Club
Off season rates are on at Arawak!
Photo: Arawak Beach Club
Set at the water's edge in scenic Island Harbour, Arawak Beach Club is one of Anguilla's most iconic hotels. Painted tropical colors that catch the eye, the hotel's cheerful atmosphere has always been one of our family's favorites.
The hotel is famous for its spacious suites, tropical grounds and excellent rates.
Photo: Arawak Beach Club
New owners, Judd & Mindie Burdon have restored the historic property and are pushing it levels higher. From top-to-bottom room renovations, adding a brand new bar, and with a host of excellent amenities...
Arawak is back and better than ever!
Tip: Be sure to book well ahead. Arawak Beach Club has become one of the most popular hotels on the island!
To book your stay at Arawak Beach Club, look inside their 4 beautiful suites here...
Arawak Beach Club is an Anguilla Card Partner. Save 10% at Arawak Beach Club when you use your Anguilla Card.
---
NEW Anguilla YouTube: Scrub Island Adventure with Rum & Reel
When it comes to Anguilla adventuring, look no further than Rum & Reel Charters. One of our favorite groups to explore Anguilla with, their Scrub Island Adventure has long been calling our name.
Scrub Island is, undoubtedly, one of the most mysterious and mystical uninhabited offshore Anguilla cays.
Think: Some of the roughest waters in Anguilla, rolling desert landscapes straight out of a sci-fi film, a calm nursery for baby sharks and sea turtles, a plane wreck shrouded in mystery and one of the most breathtaking beaches in the whole Caribbean.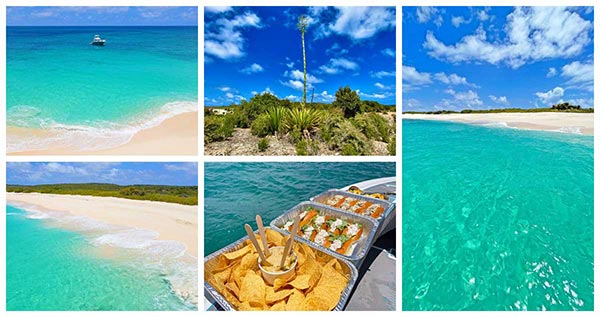 Rum & Reel offers an excursion that covers it all!
Who could pass on such an adventure? :-)
NEW Vlog: For a video look at our day with Rum & Reel Charters, click here.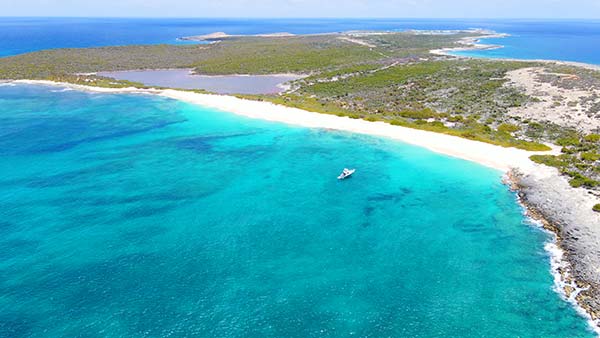 Truly one of Anguilla's great adventures, a trip to Scrub Island with Rum & Reel is a must do. From the hike, to the two spectacular beaches, to the folklore, mystery, good eats, drinks and warm company of the Rum & Reel family, it's one of Anguilla's best excursions.
For a full read on our Scrub Island adventure and to book your trip, click here.
Rum & Reel is an Anguilla Card Partner. Save 10% with Rum & Reel when you use your Anguilla Card.
---
Live on Meads Bay
Live on Meads Bay? Yes, please!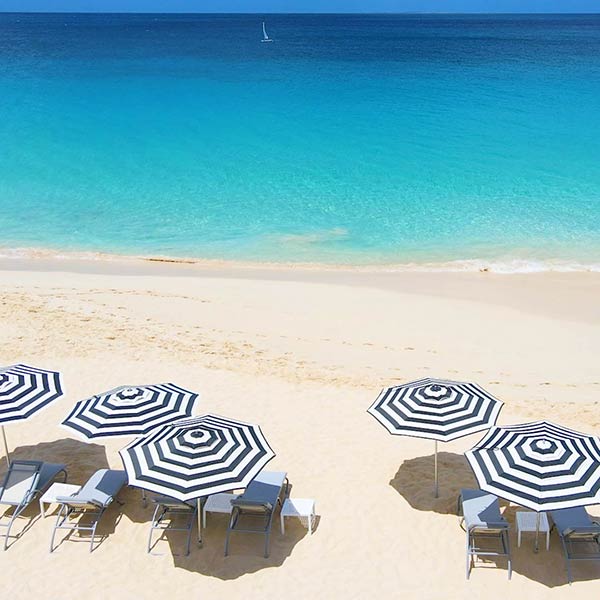 Walking the finest sands in the Caribbean...
Swimming in those aquamarine seas...
Dining at the island's top eateries...
How could life get any better?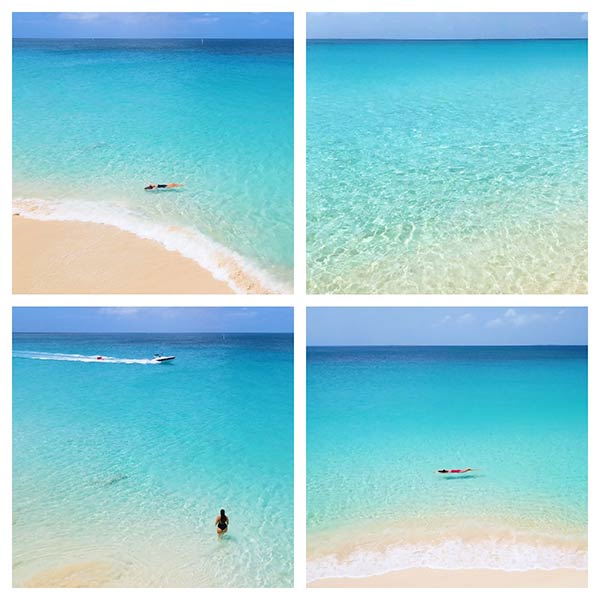 Join us here for an interview with Yancy Bonner, a condo owner at luxurious Tranquility Beach Anguilla on Meads Bay.
Beyond a comfortable layout and the most beautiful design elements, Tranquility Beach's units are turn-key and boast all of the comforts of home.
Yep, these condos tick all of the Anguilla real estate boxes!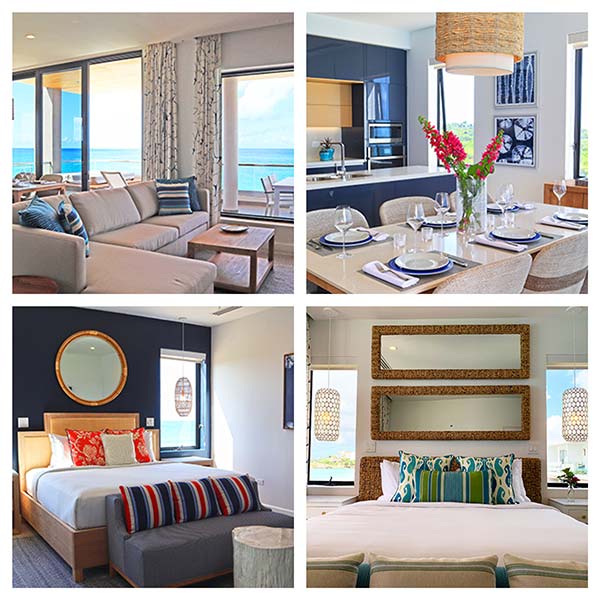 It is no surprise that these Anguilla condos have been selling fast!
For more information on Tranquility Beach Anguilla, visit...
---
A Taste of Sunset Lounge
Since its opening in 2009, Four Seasons' Sunset Lounge has been Anguilla's "it" spot. A destination for sunset, it is also the place to see and be seen long after the sun goes down.
A successful blend of modern-cool and elegant sophistication, Sunset Lounge's design is one of a kind in the Caribbean.
Indeed, indulging in libations and light bites of trendy cuisine never looks and feels so good as it does at Sunset Lounge!
The creativity of the Four Seasoned team of mixologists and bar-tenders is on full display in Sunset Lounge's cocktail menu. There is no short supply of innovative and inspired drinks.
Going hand-in-hand with the chic setting is a dining menu rich in Asian flavor.
Click here for a full taste of Sunset Lounge.
---
Longing For Long Bay
Ahhh, Long Bay. This beach is the epitome of Anguilla luxury.
True to its name, Long Bay is a long stretch of powdery-fine sand. Here, waters glisten in a cool gradient of blue, capturing every shade imaginable.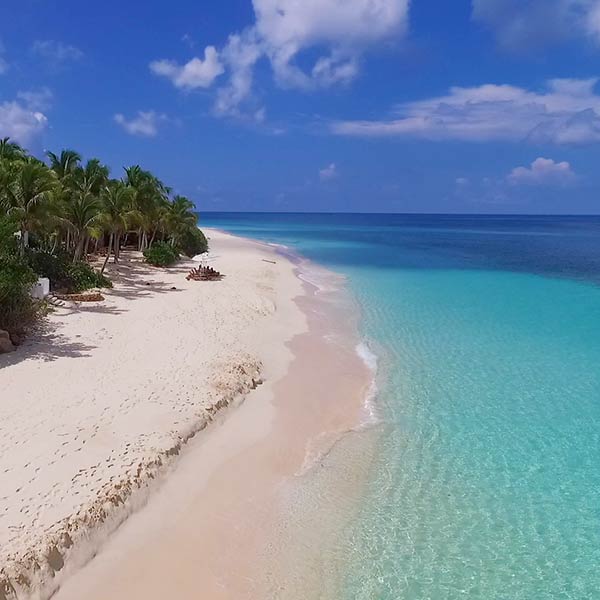 This impressive beach is set just next to famous Meads Bay. Unlike Meads, however, you won't often find another soul on this beach.
There are no big hotels or restaurants here. The buildings that call this beach home are some of the most high end private villas in the entire Caribbean.
Indeed, Long Bay exudes a special sense of privacy and exclusivity.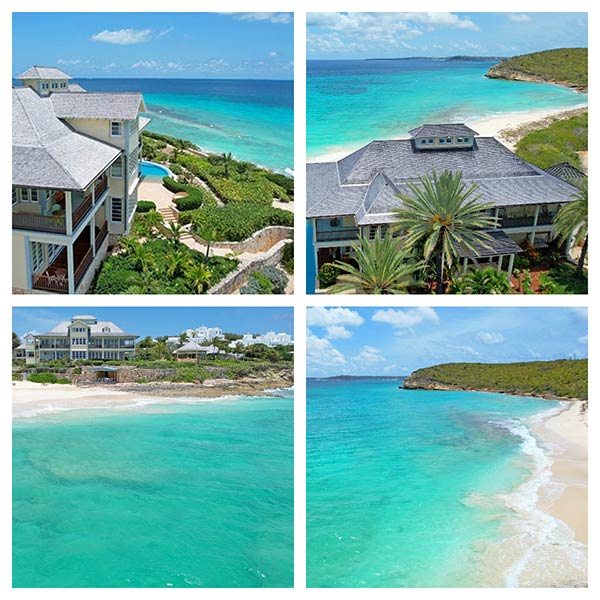 Two of the most impressive villas on the beach?
First, Santosha Villa Estate.
A 37,000 square foot West Indian-style estate, Santosha is of a bygone era.
Its design is classic Caribbean, immaculately executed.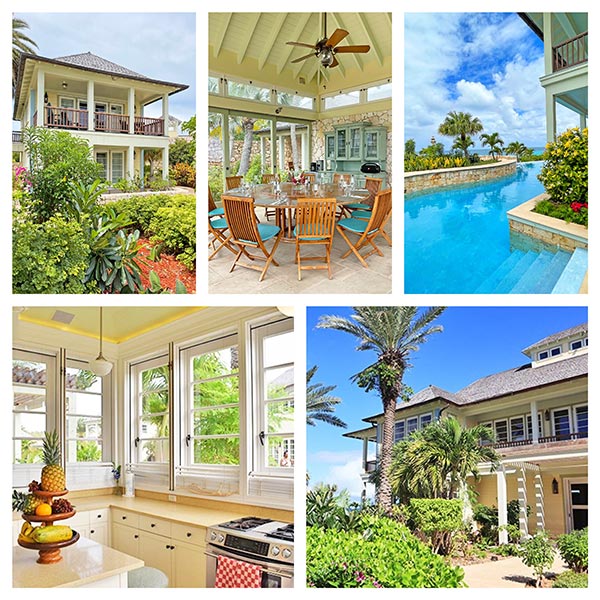 A marked sense of relaxed sophistication washes over you as you walk through the nine bedroom property. Every piece and part of this estate has been carefully designed.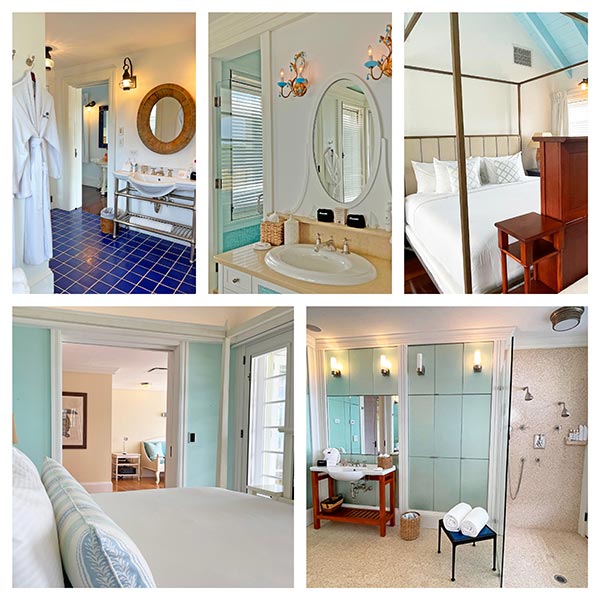 Next door, sister property Long Bay Villas takes your breath away all over again.
The estate's three stark-white villas tier down the lush hillside that slopes up from pristine and exclusive Long Bay beach. Each villa's unique setting emphasizes a different perspective of "Long Bay Blue."
From Sky Villa...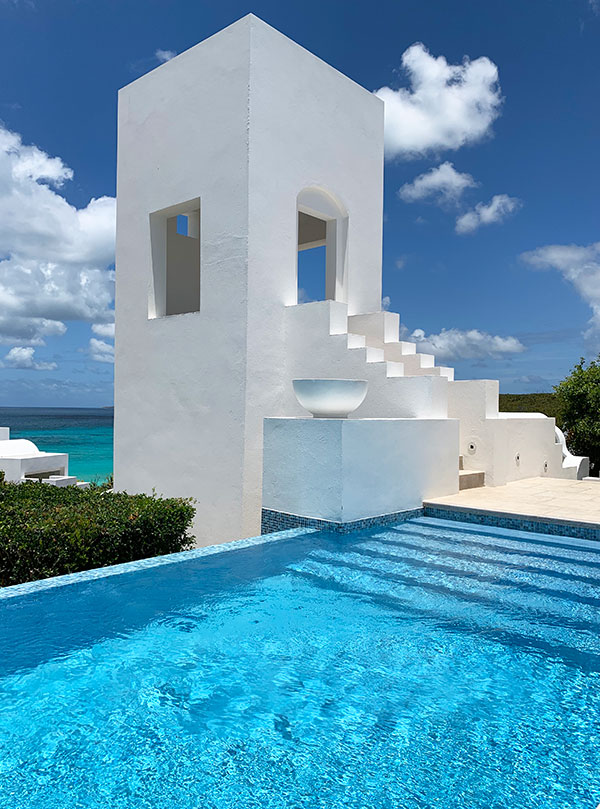 To Sea Villa...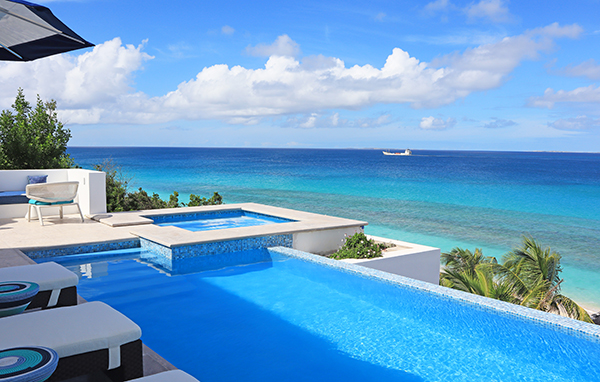 To Sand Villa...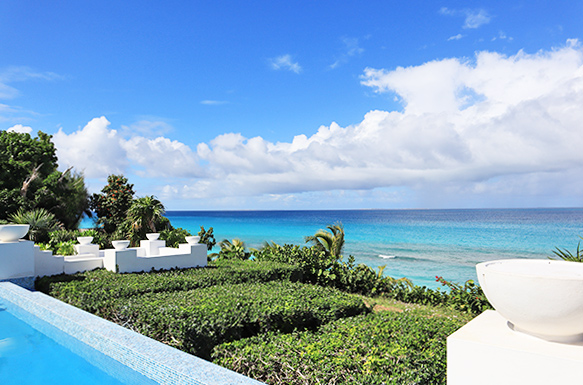 It's not hard to see why this property was featured on Netflix's show, "The World's Most Amazing Vacation Rentals."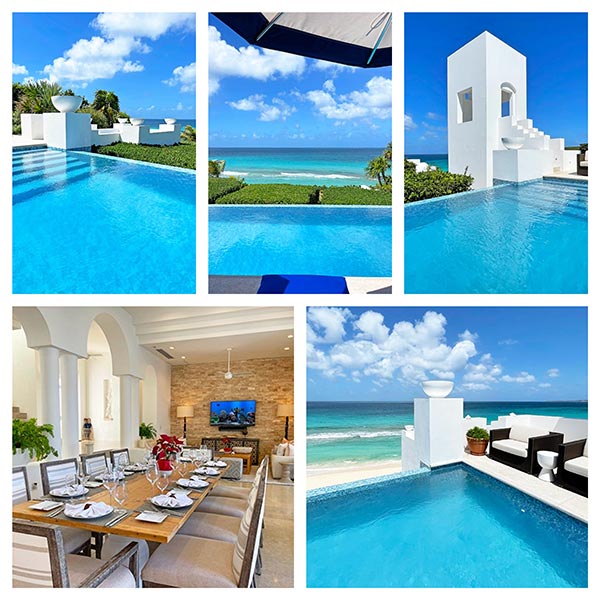 For more on Long Bay Villas...
For more on Santosha Villa Estate...
---
Beach With Us!
Back by popular demand are our beach livestreams.
Join us here every Saturday at 2pm ET for a live look at some of our favorite Anguilla beaches.
Sit back, relax and soak up Anguilla blue, or ask us anything you'd like about the island that is so near and dear to all of our hearts.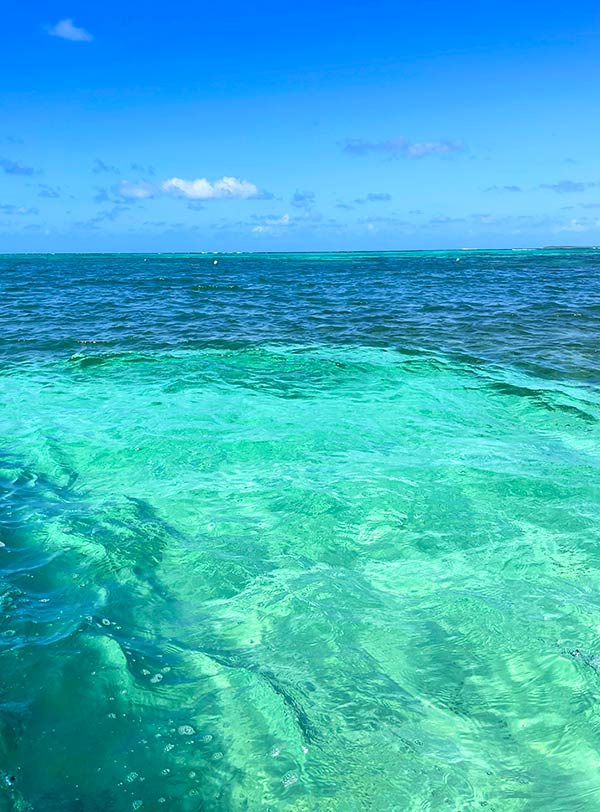 ---
High Value Villa Rental From Island Dream Properties
Our good friend, Jackie Pascher of Island Dream Properties has a beautiful high-value Shoal Bay rental!
Welcome to: Tamarind Villa...
Photos: Orrett H. Wynter
Just a five minute drive from Shoal Bay East, Tamarind Villa is a dream!
The five bedroom villa boasts large rooms and comfortable settings. Its size and layout makes it a perfect place for large families and friends to sit back, relax and enjoy the bluuuetiful views of the Atlantic Ocean.
Complete with open concept living area, dining area, kitchen and a dazzling pool, Tamarind Villa is a top pick for a getaway with friends and family.
Rates start at ~$630/night.
Step inside Tamarind Villa here.
---
Thinking of a Much Longer-Term Getaway?
Jackie has a fantastic listing!
Sweet Return Villa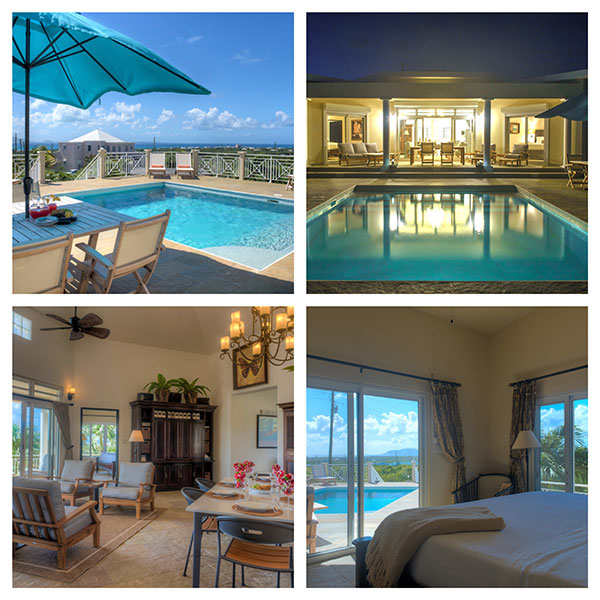 Sweet Return Villa sits beautifully on the elevated Isaac's Cliff in the Long Bay area of Anguilla's west end.
From its perch you have spectacular vistas of St. Martin and a cooling cross breeze.
There are plenty of areas for enjoying the natural beauty! This 3 bedroom villa features a modern kitchen, living area and plenty of outdoor living and dining spaces.
At $950,000, it is a high value listing. More here.
---
---
That's all for now.
If you are planning a trip to Anguilla, get your Anguilla Card here!
We can't wait to SEA you on the beach 💗🏝
With lots of warming Anguilla sunshine,
Nori & Louise
---
Anguilla-Beaches.com
---