---
Combing Anguilla's Beaches for the Best
Anguilla Beach Lovers brings you a fresh dose of "Tranquility Wrapped in Blue" every month.
If you like this newsletter,, please do a friend a favor and "pay it forward."
If a friend did forward this to you and if you like what you read, please subscribe by visiting...
---
Issue #151, October 27, 2022
Basking in the blues of Maunday's Bay...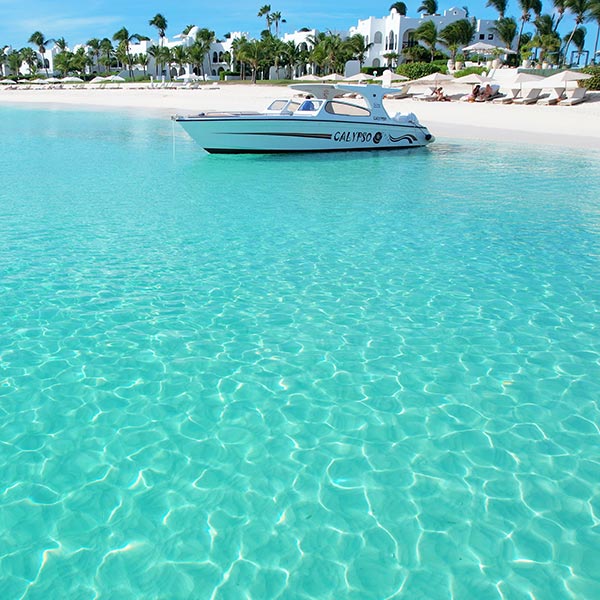 Meandering down the beach to Cap Shack for a tasty lunch day...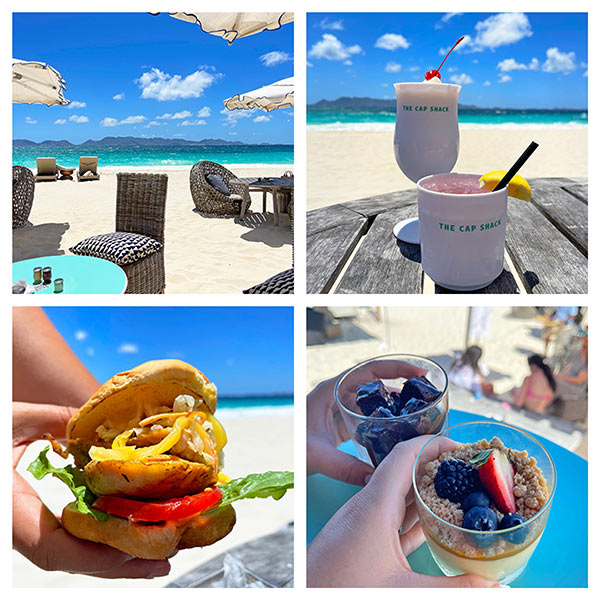 Soothing soaks on Shoal Bay East...
Followed by potent Olas drinks...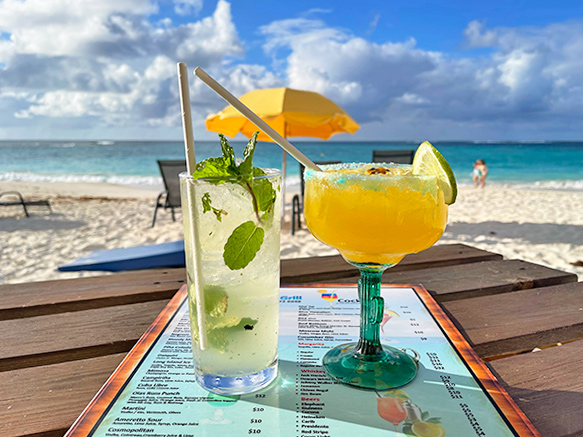 Fun, sun and yums are in the air here in Anguilla!
As October comes to a close, hotels and restaurants are opening again, gearing up for the season ahead. We can't wait to sea you here this winter 🤗💗🏝
Until then...
What's new since last time?
---
NEW Anguilla Card Partner: Villas at Sheriva
Stepping foot into Sheriva is stepping into luxury.
Sheriva is made up of three ultra-luxury villas: Villa Mystique, Harmony and Infinity. Set 30 seconds from Maunday's Bay, their location is exceptional, their concept unique. The property blends the best of luxury Anguilla villa living with upscale hotel amenities. The result? A "luxury Anguilla villa hotel."
Today, we take you on a tour of Villa Infinity. This 14,000 square feet villa has three floors, multiple pools, master suites and ensuites, kitchens and dining and living areas.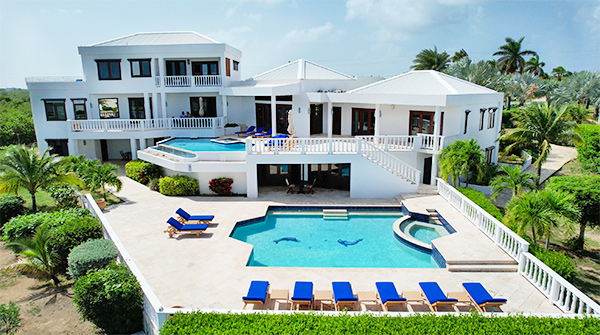 Inside the grand white walls and across the strong, beautiful tiles, the first thought that comes to mind is, "Now this is spacious."
Sheriva's villas are grand. In fact, Sheriva's villas are the largest on island by square footage!
The main floor is the villa's largest, with one pool, three bedrooms, an office, living space, a dining room and kitchen.
The living area, tiered down by a few steps, is impressive. Comfortable, colorful, Caribbean-like couches offer views out to St. Martin, the sea and the stunning pool area. If you prefer to switch your gaze to the television, a huge flatscreen is there, too.
With the pool just beyond the living area, the space is optimized for indoor-outdoor living. During the day, you have the conveniences of the kitchen and television just steps away from the pool...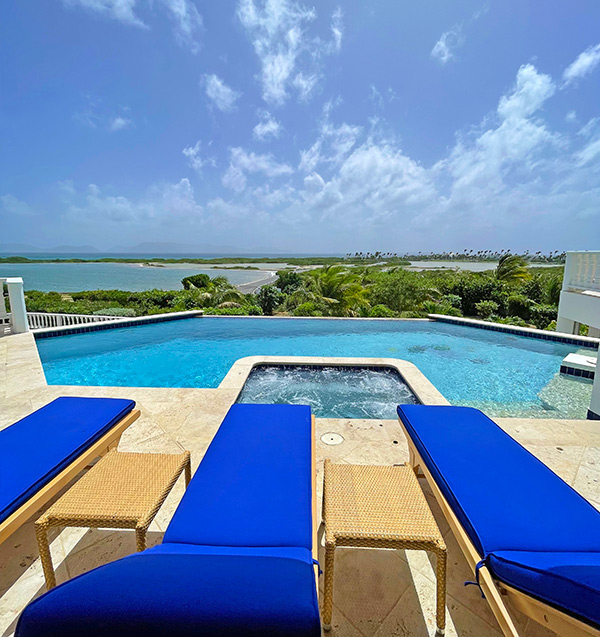 At night, the trades blow through, keeping you cool. Or, you can seal it all up and turn on the a/c.
To the west of the villa lies the crown jewel of Infinity...
The Master Bedroom
With the finest linens and views out to sea, it is indeed luxurious!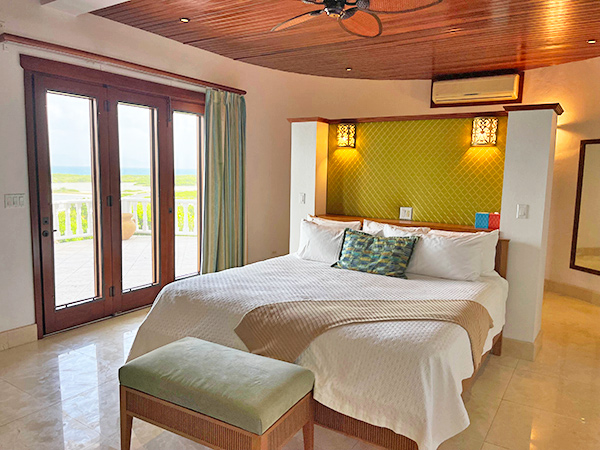 The best is yet to come...
THE Bathroom
The master bedroom's master bathroom beats any I have ever seen. From its spaciousness, to its amenities, to its finishings, it is luxurious in every way.
For example, that bathtub? It isn't any regular bathtub. It is a negative edge tub, with marble finishings and jet streams!
Now, to the top floor where the views are wide and expansive...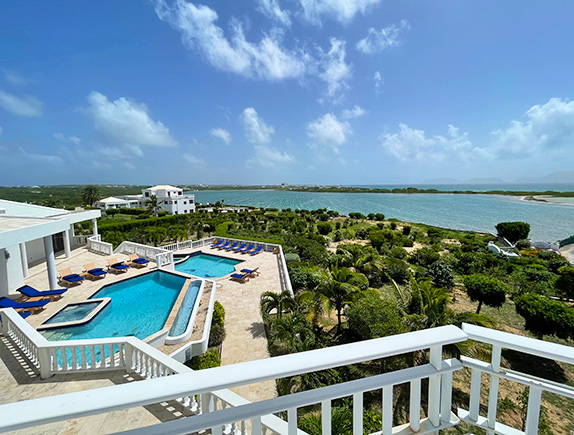 Which islands can you see from the villa's huge upstairs deck?
First, St. Martin. We always say that here in Anguilla, we have the better side of the deal when it comes to scenery. Gazing out to the majestic mountains of the French half of St. Martin inspires dreams of far-reaching, exotic travels.
Second, Saba. One of the perks to staying out on the west end of Anguilla is the view of Saba, an island in the middle of the sea that is pure volcanic rock.
Back inside, a large, junior-suite style bedroom takes full advantage of this setting.
In addition to having its own spacious bathroom and sitting area, there is a small kitchen with microwave, coffee maker, sink, counter space and a mini-fridge!
The most jaw dropping views can be found in the master bathroom...
Can you believe the view from the shower?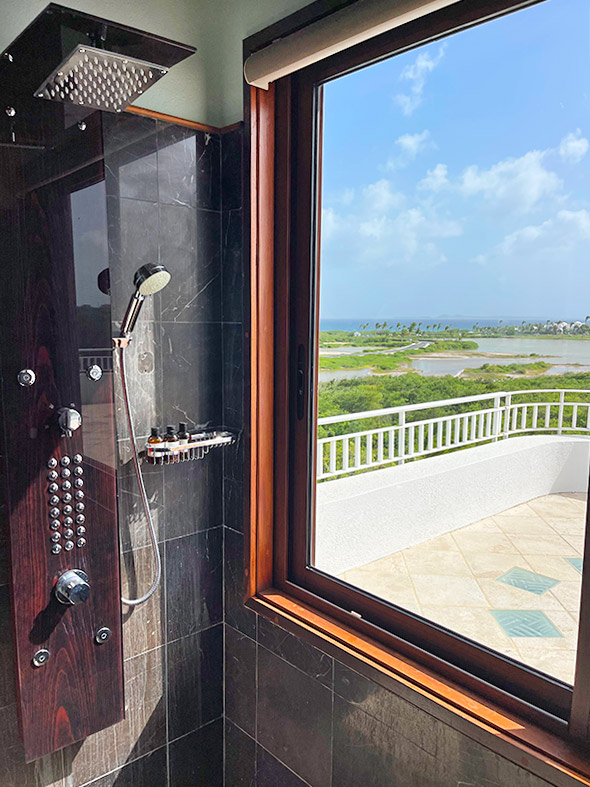 Lastly, Infinity's ground floor, which opens onto the villa's main pool with a jacuzzi...
The ground floor blows you away all over again. It features a kitchen and living room all its own, complete with a dining space and an entertainment room!
There are also four bedrooms and four bathrooms on this floor.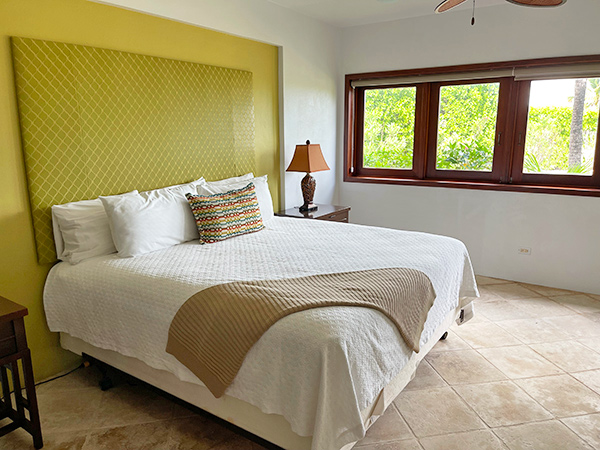 While Sheriva is defined by its extraordinary villas and breathtaking views, it's known for so providing so much more than a (very luxe!) pillow to rest your head...
What else is included?
Access to the game room (located in their office pavilion ... a favorite for kids on vacation)
Golf carts (to drive down to the beach at Maunday's Bay, 2 minutes away)
Daily continental breakfast
Laundry
Concierge services
Most unique of all?
As a guest of Sheriva you have all of the perks and privileges of staying at Cap Juluca! You can sign for meals, drinks, spa treatments, water sports, and tennis lessons. You can also use the resort's gym, beach chairs, and umbrellas all with bottled water daily.
Beyond the added amenities, you can't think Sheriva without thinking quality service. Warm, friendly, professional and around the clock, the experience Sheriva delivers is full of love and care. From meeting you at your point of arrival in Anguilla, to daily housekeeping, to final good-byes. Sheriva's long list of returning guests is a testament to their warm service.
Take a full look inside Sheriva here.
Sheriva is holding the following high value offer exclusively for Anguilla Card Holders through December 1st, 2022:
Save 12% on your booking
AND receive a complimentary SUV for the duration of your stay!
To book your stay at Sheriva...
Email: info@sheriva.com
Tel.: 264-498-9898 or 954-237-5713
Sheriva is an Anguilla Card Partner. Save 10% at Sheriva when you use your Anguilla Card.
---
NEW Anguilla Hotspot: Tipsy Turtle
Set in Anguilla's West End, Tipsy Turtle has become a mainstay of Anguilla nightlife.
Owned and operated by the son of Jacquie Ruan, renowned owner of Ripples, Jason Chapman brings Ripples' English pub atmosphere and eats to the West End of Anguilla!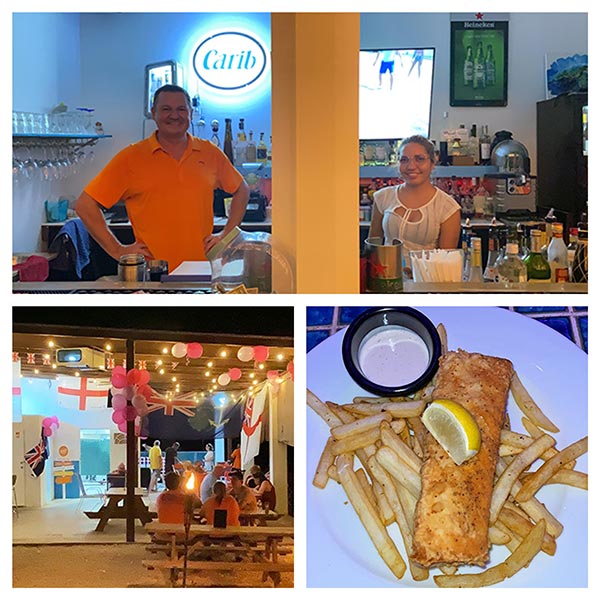 Drop in for a mouthwatering 14oz ribeye or flakey-moist fish & chips, or grab a drink at the bar and prepare to dance the night away!
Tipsy Turtle has built a solid reputation for tasty bites and hopping nightlife.
For the full scoop on Tipsy Turtle, click here.
Tipsy Turtle is an Anguilla Card Partner. Save 10% at Tipsy Turtle when you use your Anguilla Card.
---
Save The Date: Waves Re-Opens November 19th
Mark your calendars! The loyally loved beach bar previously located on Meads Bay...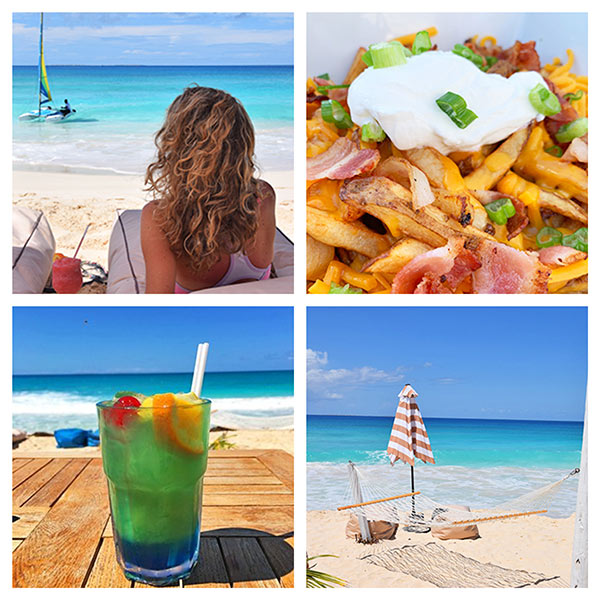 ... will be re-opening in Sandy Ground on November 19th.
Soon to be sharing the coastline with favorites like Roy's, Elvis', Johnno's and Lit Lounge, Waves will be in great company.
Save the date and come celebrate with the Waves family on November 19th!
---
Tranquility Beach Anguilla Wins TripAdvisor's 2022 Travelers' Choice Award
A huge congratulations to Tranquility Beach Anguilla! The luxury boutique hotel has won TripAdvisor's 2022 Travelers' Choice Award for Hotels 🥳
It is no surprise when you consider their modern, contemporary suites...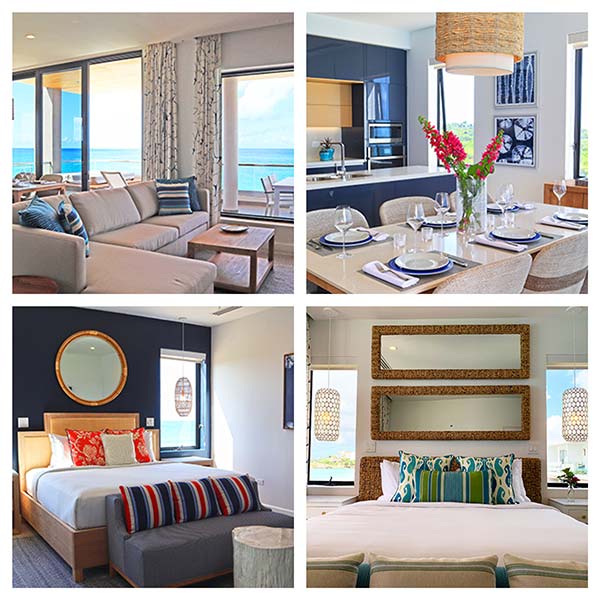 Their coveted location right in the middle of Meads Bay beach...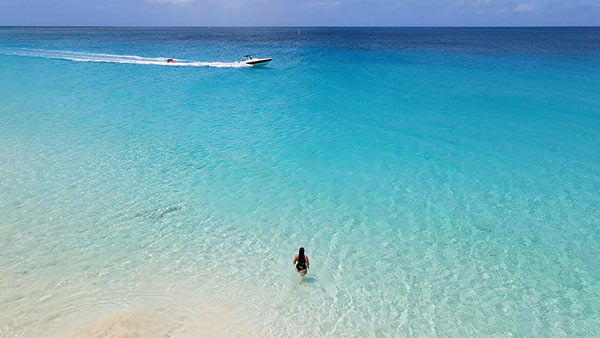 And their impeccable service!
A special nod goes out to award-winning architectural designer and land developer Ian 'Sugar-George' Edwards of Sunset Homes Anguilla. He sure has knocked it out of the park with Tranquility Beach Anguilla.
Read more on Sunset Homes and their developments here.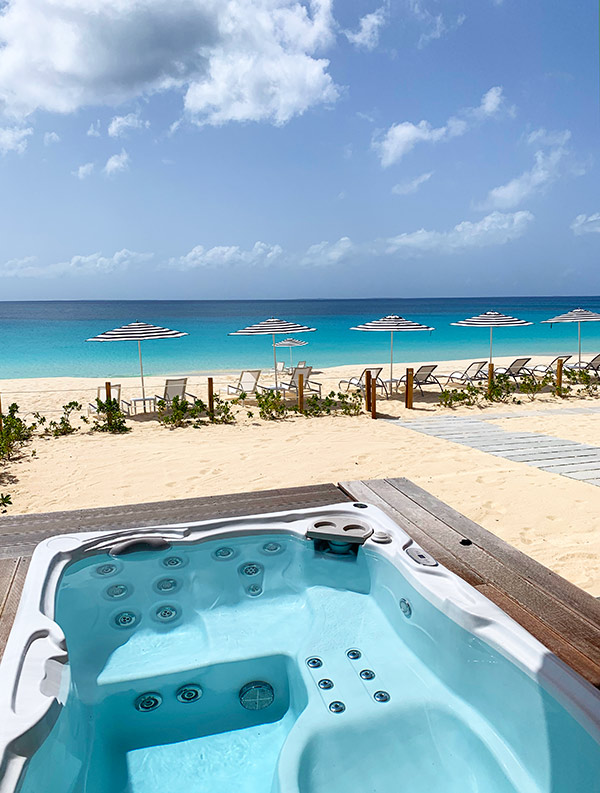 October Special Extended: Tranquility Beach Anguilla has extended their 15% off October special. Now, save 15% when you book this month and stay before November 18, 2022 in one of their spectacular penthouse villas!
To take advantage of Tranquility Beach Anguilla's special...
---
A Winter Beach Escape
Today's destination for beach relaxation? Sandy Point.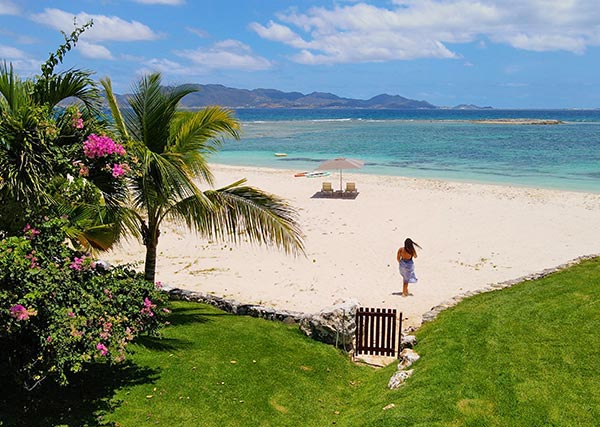 This stretch of sand affectionally called Sandy Point sits on the island's southern side, gazing out to breathtaking St. Martin.
It has long held a special spot in our family's hearts. Back in the day, my Dad and I would spend many afternoons sitting right on the beautiful "point of sand" that jets out towards St. Martin.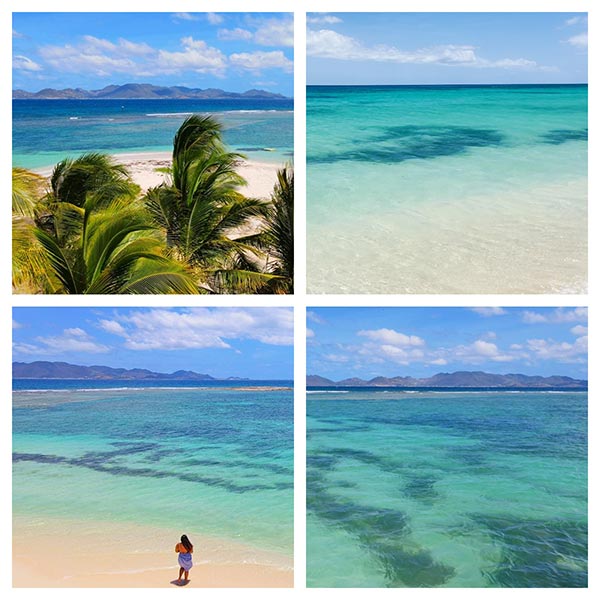 Sandy Point is home to one of our favorite villas, Beach Escape Villa.
You can't beat this villa's beachfront location, opening directly onto the sand.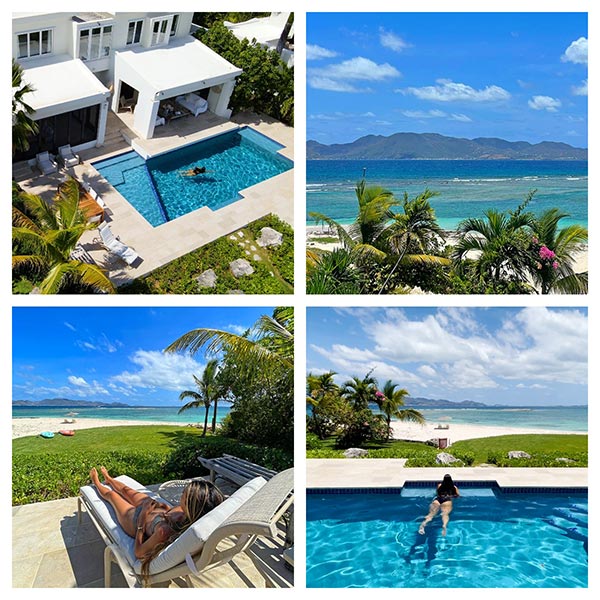 Beyond its location and beach amenities, Beach Escape is one of the most comfortable and user-friendly villas in Anguilla.
Five bedrooms, plush media room, modern kitchen with outdoor cooking options and indoor and outdoor dining and lounging spaces span out over the villa's two buildings.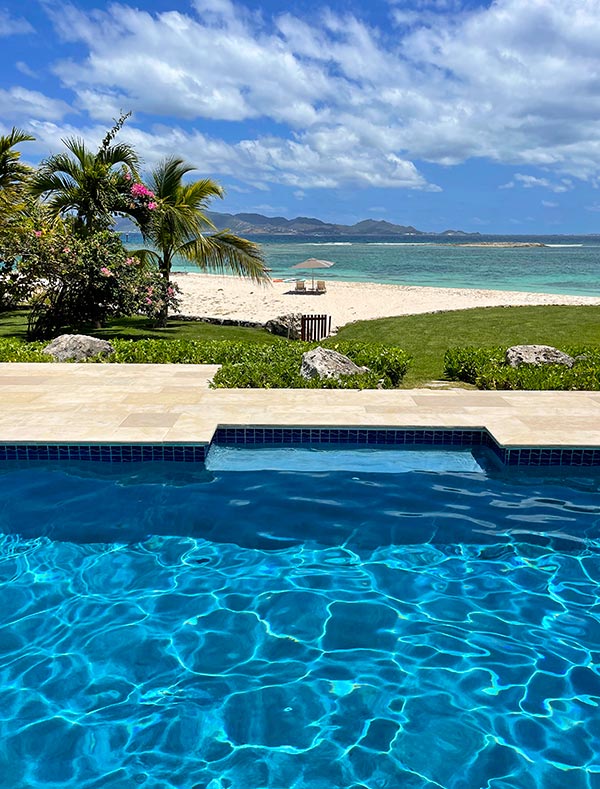 Two heavenly master suites lay in the villa's main house, with two additional master suites and a twin room in the guest house.
The layout makes it an ideal choice for families and friends traveling together.
NEWLY renovated Beach Escape is an ideal choice for a winter beach escape!
More on Beach Escape Villa
Book Your Beach Escape
---
Sunshine Shack is BACK!
We are so excited to announce that Garvey's beloved Sunshine Shack has re-opened for the season.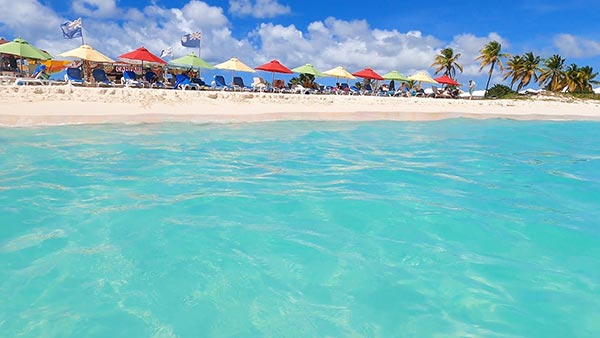 We are always dreaming of Garvey's BBQ, drinks and views of RendezBLUE...
Garvey is open Wednesday-Monday from 10:30am for lunch. Lunch service starts around 12:30pm. (Tip: Be sure to place your lunch order when you arrive!)
To relax with us at Garvey's, click here for our Sunshine Shack YouTube video.
Garvey's Sunshine Shack is an Anguilla Card Partner. Save 10% at Garvey's when you use your Anguilla Card.
---
Blue Therapy
Nothing soothes like Anguilla blue...
Long Bay beach is one of Anguilla's little known "big beauties." True to its name, Long Bay is a long stretch of powdery-fine sand. Here, waters glisten in a cool gradient of blue, capturing every shade imaginable.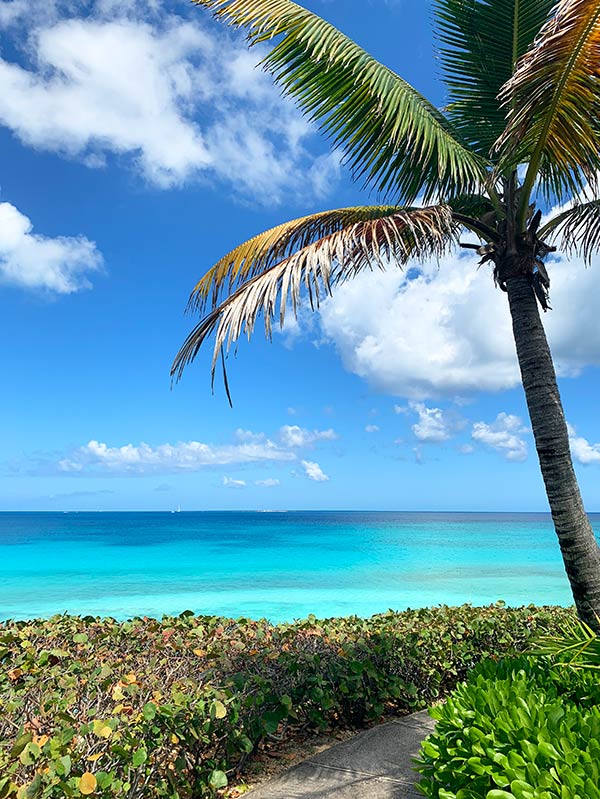 This impressive beach is set just next to famous Meads Bay. Unlike Meads, however, you won't often find another soul on this beach. Long Bay is where to be for total peace and tranquility.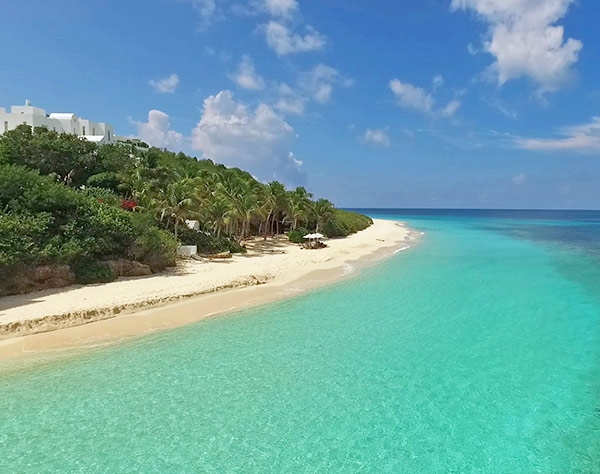 For transcendental tranquility? Check into either of Long Bay's two ultra luxury villas, Long Bay Villas and Santosha Villa Estate.
Set on the lush hillside that slopes up from Long Bay beach, Long Bay Villas is made up of three luxury villas.
Sky Villa...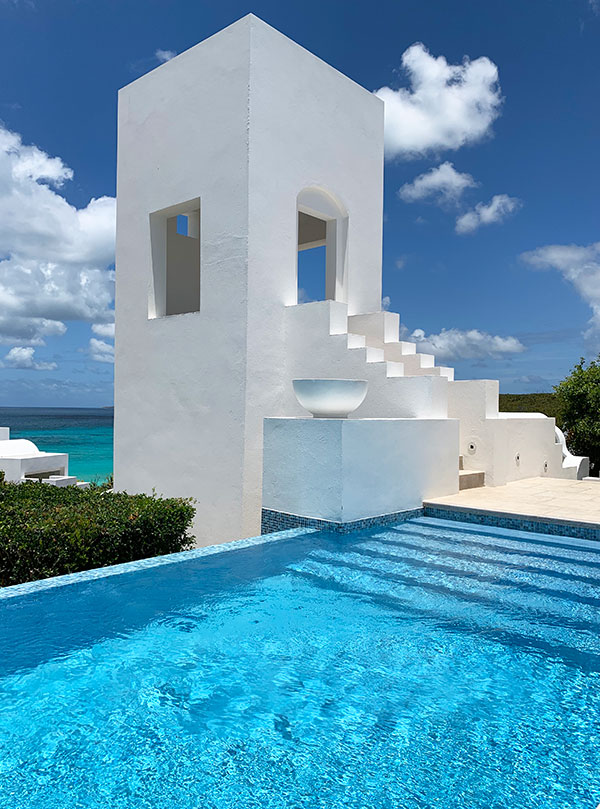 Sea Villa...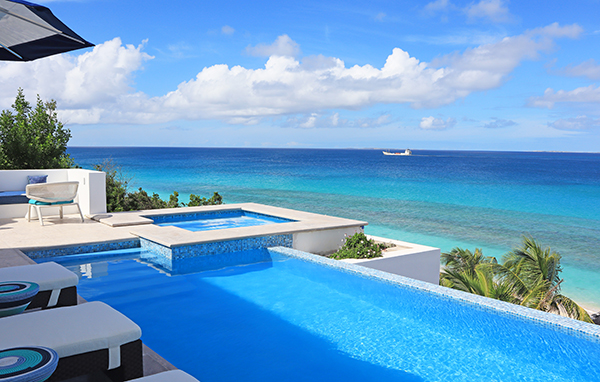 Sand Villa...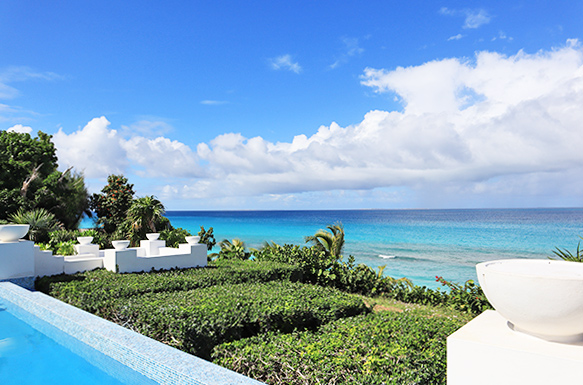 Each deliver a unique and breathtaking view of Long Bay blue.
Next door, Long Bay Villas' sister property, Santosha Villa Estate, delivers an even more exclusive feeling of Tranquility Wrapped in Blue.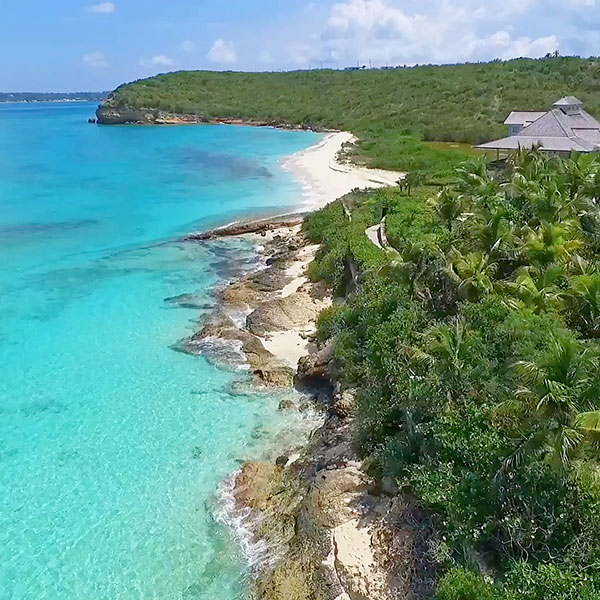 This part of the beach (photo above), is a separate part of Long Bay. It is a soothing escape, an oasis all its own.
With enigmatic cliffside all the way to the east, and surrounded by crystal clear waters, the setting is utterly peaceful.
Long Bay Villas' & Santosha's therapeutic effect doesn't stop at the beach.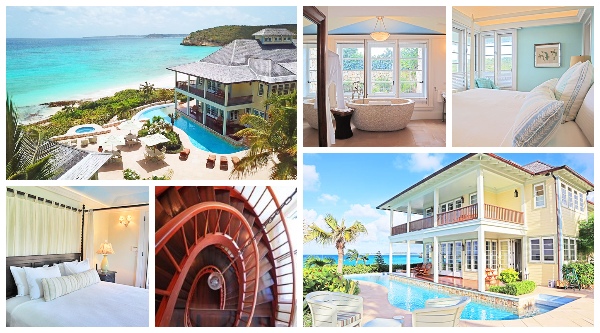 Long Bay Villas and Santosha bring true meaning to the term "blue therapy" with options of...
Yoga on the terrace
Paddle-boarding and kayaking
Massages and/or facials right on the beach
It doesn't get more rejuvenating than this!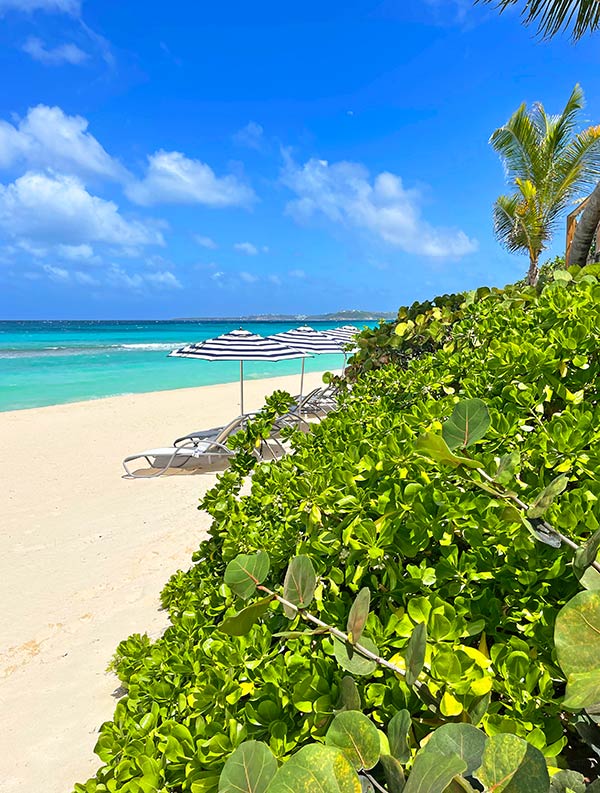 For more on Long Bay Villas...
More on Santosha Villa Estate
---
Happening This Weekend: AnguillArts' Paint Party
Bringing painting parties to the beach, AnguillArts is one of the best ways to enjoy leisurely days in Anguilla.
Settle into a seat by the sea, grab your beverage of choice and let Karen show you the way to create your OWN Anguilla keepsake!
AnguillaArts' is back for the season! Their next paint party on the beach?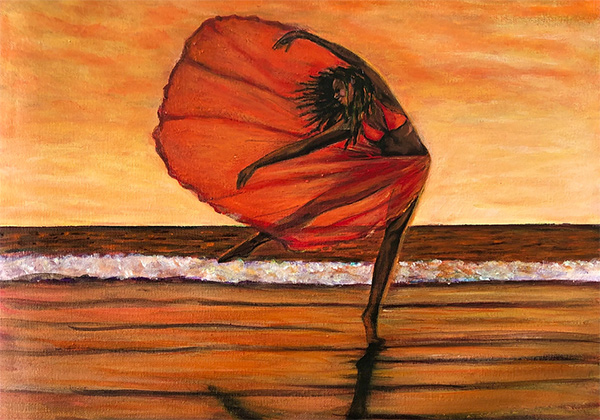 29th of October, 10:30am – 1:00pm at Anguilla Great House.
AnguillArts is an Anguilla Card Partner. Save 10% at AnguillArts when you use your Anguilla Card.
---
Thinking of a Much Longer-Term Getaway?
Our good friend, Jackie Pascher of Island Dream Properties has terrific, high-value real estate listings!
Step Inside: Sweet Return Villa
Sweet Return Villa sits perched on one of Anguilla's highest vantage points with unforgettable views of Anguilla and the Aurora Anguilla Golf Course.
Just minutes away from Rendezvous Bay, its location is ideal.
Inside, the 3 bedroom, 3 bathroom property offers nothing but the best in contemporary luxury. The main villa houses two air-conditioned master bedrooms with ensuite bathrooms. The third bedroom is located in a private garden.
The villa is complete with modern kitchen and living areas, comfortable furnishings and large windows to capture the breathtaking views and tropical breezes!
Sweet Return Villa is listed at $950,000.
Click here for full details on the property.
---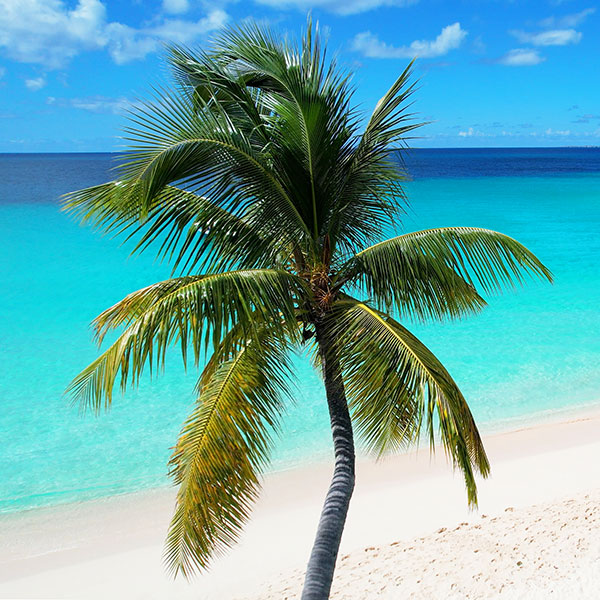 ---
That's all for October!
If you enjoy this newsletter and our Anguilla videos, please spread the word about us on TripAdvisor.
If you are planning a trip to Anguilla, get your Anguilla Card here!
We can't wait to SEA you on the beach this winter 💗🏝
With lots of warming Anguilla sunshine,
Nori & Louise
---
Anguilla-Beaches.com
---