Combing Anguilla's Beaches for the Best
Anguilla Beach Lovers brings you the latest additions to one family's experiences of the "best of all things Anguillian."

If you like this e-zine, please do a friend and me a big favor and "pay it forward."

If a friend did forward this to you and if you like what you read, please subscribe by visiting...
---
Issue #072, July 7th, 2013
June and (most of) July are the calm before the craziest, most exciting time of year in Anguilla...
Two weeks of festivities and celebrations, Carnival is the island's biggest holiday marked with pageants, competitions, parades, parties and boat races. It all begins July 27th and lasts until August 12th, with the biggest day being August Monday (August 5th this year).
On that day, boats from around Anguilla and across the Caribbean moor side by side, lining the entire length of Sandy Ground's normally sleepy shores, and usually a few rows deep. If you are in the Caribbean in August, don't miss August Monday in Anguilla. There's nothing quite like it!
Until then, things are quiet as everyone prepares for Carnival.
Let's take a look at what we got up to this past month...
---
Special Memories
Each day started with a spectacular sunrise...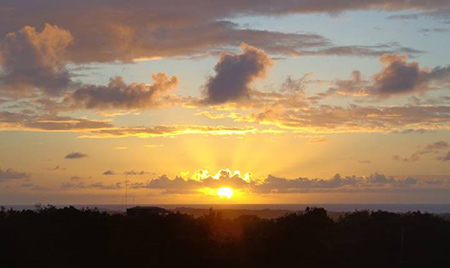 We caught up on our summer reading. My Mom particularly enjoyed Guy Tirondola's The Accidental Don...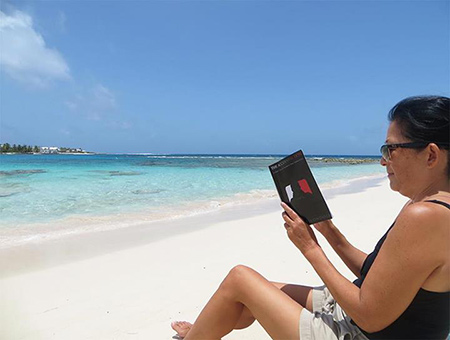 We took in the beauty of the in-full-bloom Flamboyants...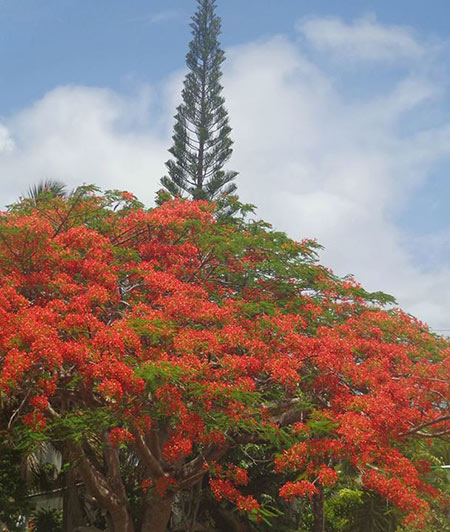 Next door in St. Martin, we found good surf and fun surfers to learn with...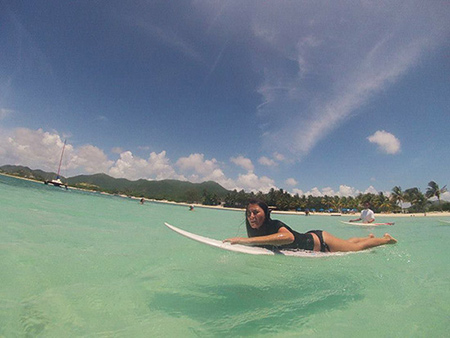 We walked Shoal Bay East's magical "Point"...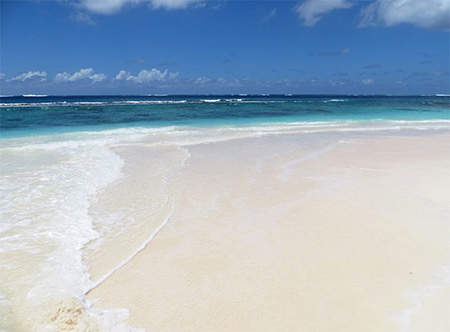 My Dad and I zipped around Anguilla's seas with Freedom Rentals. Full report coming soon!...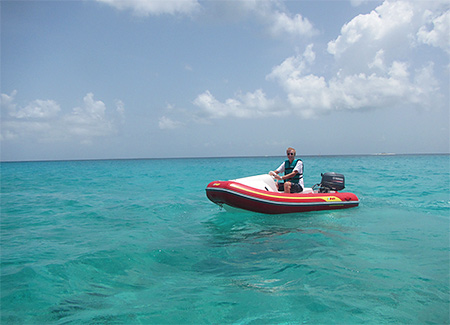 We enjoyed laid-back dinners at da'Vida's Bayside Grill. I'm excited to say that until the end of August dinner and tapas will be served at the Bayside Grill! The setting is really unmatched...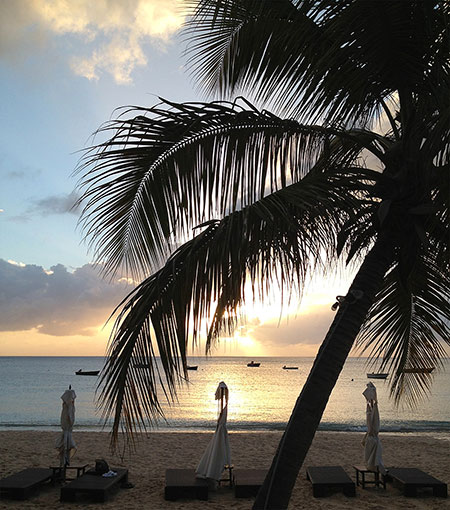 Finally, we said good-night to the day over many tropical sunsets...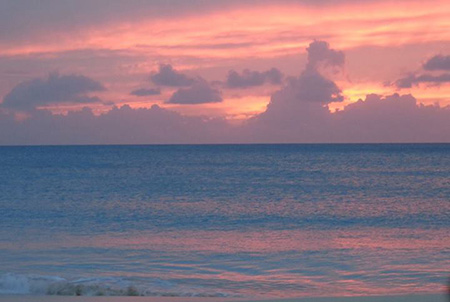 For more Anguilla photos, visit our Facebook page here. Feel free to share your photos too by posting them to our page. We will re-post the super special ones for all Anguilla lovers to see! :-)
---
What Else Is New?
North Shore Itinerary This itinerary explores the middle of the island's North Shore, highlighting terrific locally-run restaurants, historic points, hikes and less-frequented beaches. Note: If you are planning on using these Google map-based itineraries in real-time with your mobile phone or iPad, use the iPad. Google is still working out the kinks for mobile, but the experience on iPad is flawless. Happy exploring!

Favorite Beach Restaurants Laidback, beachside dining is one thing that makes Anguilla truly unique, and one thing I particularly miss when dining anywhere else. The breeze blowing through the trees, the sound of the sea, the feeling of total bliss and utter calm... this pages features Anguilla's restaurants that are by the sea.

SXM Surf Explorer When the waters go flat in Anguilla (which is the case almost all year!), where do you go for surfing? Just next door in French St. Martin, of course! There, you will find easy breaks and an excellent, dedicated surf teacher, Franck Rigal. If you've ever thought about learning to surf, I highly recommend taking the quick 20 minute boat to St. Martin and learning with Franck. On glassy seas, surrounded by mountains, and with top-notch instruction, the experience is indelibly marked in my memory!
---
The Best Caribbean Island?
The genuinely warm and friendly people, the endless sunny weather, the pristine beaches, the seaside restaurants...
Anguilla is my favorite Caribbean for so many reasons!
Is Anguilla your favorite, too?
If it is, click here, scroll to the bottom of the page and hit "Like!" :-)
---
Tequila Sunrise Villa Update
Tequila Sunrise Villa just gets sweeter and sweeter!
A stay here now includes EXCLUSIVE gym access (3x/week) and 10% off of all spa treatments (excluding beauty/salon) at the luxurious CuisinArt Golf Resort & Spa!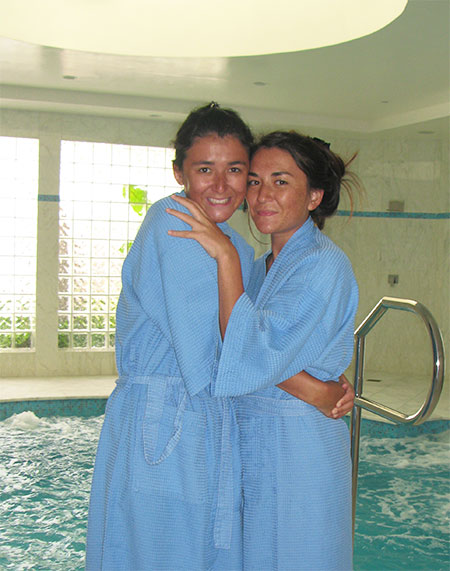 CuisinArt's spa is really the best on the island, offering the widest variety of massages and treatments. I highly recommend taking any package that includes use of their Healing Waters Pool. Bubbly and hot, it is completely relaxing (photographed above).
For more info on Tequila Sunrise Villa's special feature, click here.
---
Gregory Smith's Stay
Last year we held an exciting photo contest, Picture Anguilla. The prize? A 6 night stay at Carimar Beach Club right on Meads Bay's sandy shores, and dinners at 5 star restaurants, including Straw Hat, Mango's, Blanchards and da'Vida.
With 245 entries and 500 truly special photos submitted, choosing a winner was no easy task. Who was (after much deliberation!) chosen? Mr. Gregory Smith with his stunning "3 Views of the Same Sea."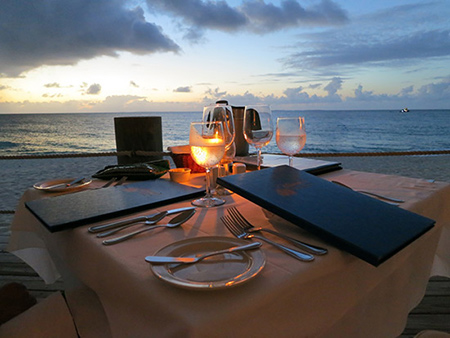 Gregory recently claimed his prize and wrote in about his stay. Thank you so much, Gregory for sharing your experience, and for more of your spectacular photos, too. :-)
Click here for the trip report.
That's all for this month.
Next time we talk we will be in full Carnival swing over here. Stay tuned for plenty of vibrant photos from this fun festival!
Wishing you a warm and happy summer,
Nori
Anguilla Beaches Home Page
---