Anguilla Itineraries...
The Middle of The North Shore
Jump to the full itinerary map.
Anguilla's north shore is marked by high-cliffs and crystal clear open seas. Along the middle of that coast line there are plenty of picture-perfect coves, cliffs and caves. Amidst all of the natural beauty, there are several tasty Anguillian-run restaurants and rich historical sites. Let's get going!...
Part 1: The Must-See's
This Anguilla itinerary starts at Tasty's...
A colorful house on the side of the road, this high-end restaurant serves refined Anguillian cuisine. It is run by the famous Chef Dale Carty. Anguillian born, he has studied at prestigious culinary schools in France and today runs Tasty's along with a successful catering business. His breakfast is one of the best, and certainly THE most unique, on the island...
The Caribbean Sampler

Try the "Caribbean Sampler." True to its name, it includes Johnny cakes, fried fish, saltfish, plantain, eggs and fresh fruit. It comes with your choice of bush tea or coffee. Take the bush tea! It's an Anguillian favorite. For $15, it's a high-value meal.
With fuel in your belly, hop back in your car, heading west towards Back Street, one of the most scenic roads in Anguilla. Follow the map below for directions. This small, one-way street runs "in back" of many hotels and restaurants. It overlooks charming Sandy Ground village, the working harbor of Road Bay and the off-island cay, Sandy Island...
The View From BackStreet

If you're on a leisurely drive, park in Irie Life's parking lot, step out and take some photos at the cliff's railing. We must have 100 photos snapped from this overlook. When met with such stunning scenery, how can you not take a photo?
Before moving on, stop in at Irie Life. Funky and cool, this shop sells the most unique souvenirs and has a terrific selection of fun Anguilla t-shirts.
Now for stop #3...
Sandy Ground

After gazing at Sandy Ground from above, it's time to get your feet on the ground, or, sand!
Sandy Ground is historic, being one of the island's main ports. Many classic Caribbean homes and restaurants and bars line the main street. My favorite house here is Sir Emile Gumbs', former Chief Minister, white wooden home, located across the street from Johnno's parking lot. You can't miss it!
Walk the beach, step onto the boardwalk, talk to the friendly locals, take it all in! Be sure to stroll to the Pumphouse, too.
Pumphouse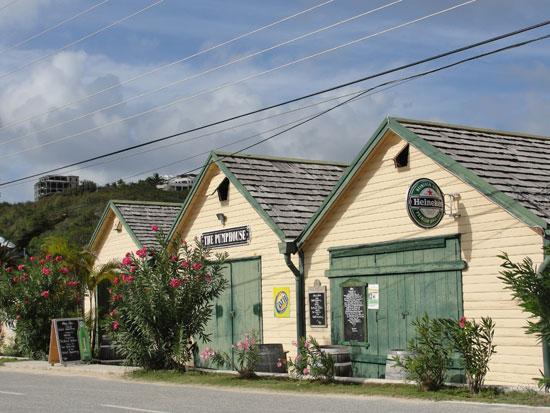 Special Note: As you head towards Pumphouse from Johnno's, you will see a small hotel and grocery called Syd Ann's. Stop in here if you plan on going to Little Bay later in this itinerary, or doing the Get Adventurous part of this itinerary. Pick up water and snacks here.
A historic site, the refining and finishing of salt used to take place at Pumphouse. The salt industry lasted for over 300 years in Anguilla. Today, Pumphouse is the most frequented watering hole on the island. My sister and I spent many a-night here with our good friend Laurie Gumbs, who owns and runs the bar. Come back at night for tasty bar food, drinks and lively music!
If you're sticking to the "Must-See's," from here head to Crocus Bay and catch the boat to the remote and idyllic Little Bay with Calvin ($15). He will drop you off and pick you up here. After a few hours of relaxing, wind the day down at da'Vida over mouthwatering Asian-Caribbean tapas. It's always a special way to end the day!
If you want to keep exploring, continue to the "Get Adventurous" itinerary...
Part 2: For The Adventurous
The hike to Anguilla's Iguana Cave is stop #1!
About a half hour trek there and a half hour trek back, the hike to Iguana Cave takes you through Anguilla's only rain forest, alongside rows of tall cacti. The journey out sure does feel like an Indiana Jones adventure! The destination? A limestone cave home to many bats, a giant skylight and tree, but not a single iguana. ;-)
Just follow the path, and always stay to the right. It's not rigorous, but be sure to bring water and proper footwear. (See map below for exact location.)
Hiking to Iguana Cave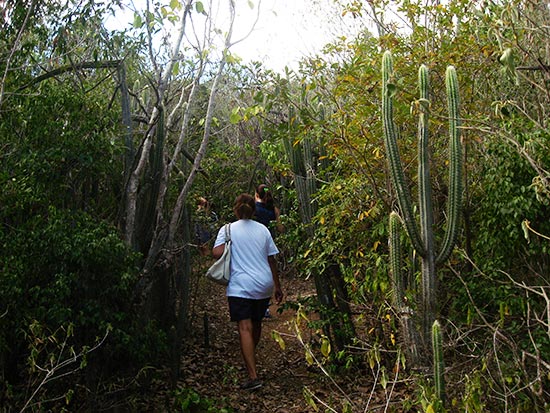 Hot and sweaty, after hiking through the jungle there's nothing better than jumping into the sea. Either take a dip here at Katouche, or jump back into the car and head to...
Limestone Bay

Note: As you're driving out to Limestone Bay from Katouche Bay/Iguana Cave, you will pass two historic sites. One is on your right, before you hit Lloyd's. In ruins, this site is Anguilla's Old Court House (with a jail downstairs), located on the highest point of the island. The second is the Red Cross located at the end of the road, just across from Lloyd's. This was Anguilla's first hospital.
Limestone Bay is special. Somehow, its waters shine a shade of turquoise so intensely blue and its sand sparkles bright. The entire beach was once empty. Back in the day, you would only ever see a few families here fishing off the rocks. Today two large homes sit on the bay's eastern rocks, but it continues to retain its beauty.
Last stop, and THE spot for a dip in the sea?...
Little Bay

My Mom climbing down the cliff

Little Bay is a gem of a beach.
Surrounded by high cliffs on 3 sides and water on the other, it's an exotic treasure straight from a movie.
You can only reach this beach via boat or by scaling down cliffside with the help of a rope that's fixed there.
The rope is safe but check it to make sure it is properly anchored. Note: The climb back up can be a bit tiring on return trip.
If you're feeling adventurous, take the rope. If not, head to Crocus Bay and catch a ride to Little Bay with Calvin for $15.
Once your feet hit touch Little Bay's sand, you'll know what to do! Lay out your beach towel, sun, jump in the sea and snorkel (don't forget your mask!).
Now? There's only one thing left to do...
Enjoy the last rays of the day! There's no better place to do so than at da'Vida, owned by our good friends Vida and Clyde Richardson and David Lloyd.
Either grab a late lunch at their Bayside Grill, or plan to arrive in time for sunset tapas in their elegant dining room. I highly recommend the tapas. Shrimp dumplings in a coconut broth, lobster spring rolls, sesame-crusted tuna, it's all delicious and the setting is impossible to beat for sunset...
Crocus Bay Sunsets

A serene end to an action-packed day!
Click here for the map-based itinerary, or click the image below....
Note to mobile users: These maps don't display well on smartphones yet, but work beautifully on tablets! I will keep you posted as Google de-bugs these maps and optimizes them for phones. :-)
Did you like this itinerary? Anything you would change about it? Add to it? Please leave your comments and any travel tips in the Facebook box below. :-)