Combing Anguilla's Beaches for the Best
Anguilla Beach Lovers brings you the latest additions to one family's experiences of the "best of all things Anguillian."

If you like this e-zine, please do a friend and me a big favor and "pay it forward."

If a friend did forward this to you and if you like what you read, please subscribe by visiting...
---
Issue #075, November 10th, 2013
It's hard to believe that November 1st has already come and gone.
November truly marks the beginning of the new season in Anguilla. You know it's "that time of the year" again when the temperatures drop (a cool 80-85 degrees instead of 85-90 ;-) ) and all of the restaurants and hotels begin to re-open their doors.
With much buzz about villas and hotel rooms being sold out, and with new special spots set to open shortly (AXA Seafood House and Didier Van's new Le Bar to name just 2), it's going to be a terrific season!
Before moving into winter, let's take a fond look on Fall so far...
---
Fall Memories
We lazed on the tranquil beaches (and had them all to ourselves!)...
Over, and over, and over... ;-)
We ventured out to and explored wild Dog Island with the Anguilla National Trust, marveling at the magnificent Frigates...
The kids dressed up and trick-or-treated down on Sandy Ground, and we dressed up too, partying into the night at Pumphouse's annual Halloween party...
We gazed at the sensational shorebreaks that came with a strong November North Swell...
Finally, we enjoyed many a pink and purple sunset...
---
What else is new?...
Sea Pro Charters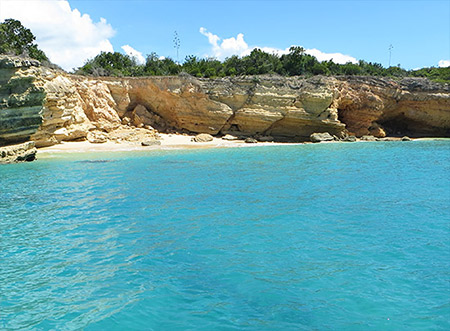 Owned and operated by the genuinely generous, warm and friendly Captain Wayne Richardson and First Mate Terrell Hughes, Sea Pro Charters is one of the latest luxury charters to come on the scene in Anguilla.
Former Captain and First Mate for Cap Juluca's boats, Wayne and Terrell are true "sea pros." We spent an afternoon on the water with them, exploring Anguilla's hidden coves and exotic beaches. Cruising along the northwest coast, swimming at Prickly Pear and Sandy Island (they supplied snorkeling gear and even a SeaDoo scooter!), diving off the rock at Little Bay (click here for first person POV video footage!), the rum punch and good times flowed!
My sister, who was thousands of miles away in NYC, even joined us. YES, Sea Pro's boat is WIFI enabled. 5 miles offshore on a remote cay, and I could still be in touch with Yuki. Too cool.
See you again soon, Terrell and Wayne!
(Special Note: If you take 5 charters with Sea Pro, you get a free, open-bar sunset cruise!)
---
Roy's Bayside Grill For Breakfast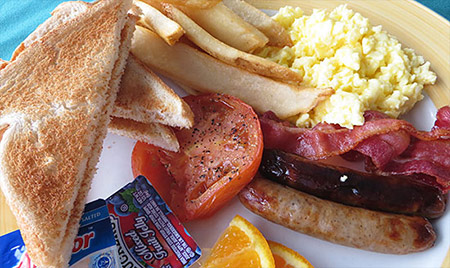 The fish & chips, the Sunday roast, the steak kebabs... Roy's Bayside Grill is one of our favorites for so many delicious reasons. Now, there's one more.
Breakfast!
Starting at 8AM, this season they are serving breakfast (one of the only spots where you can get breakfast by the beach!). The menu features a variety of daily specials (ex., apple cinnamon donuts, bacon-chive cream cheese bagels) and classic dishes (ex., full English breakfast, pancakes), all perfectly prepared.
So centrally located, and all at a reasonable price, this will quickly become one of our go-to breakfast spots!
More on Roy's for breakfast here.
---
St. Martin Dining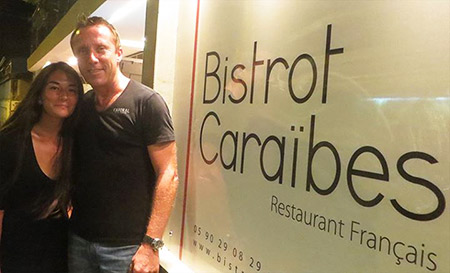 While things were quiet here in Anguilla in October, my Mom and I took the 20 minute ferry over and spent a couple of days next door in St. Martin, staying at Hotel L'Esplanade in Grand Case. Just down the street from the hotel we discovered Bistrot Caraibes, one of the best French restaurants on the island.
Amidst Grand Case's cool French-Caribbean vibe, owners Thibault and Amaury Meziere (pictured above) have crafted the ultimate dining experience. They blend laidback-cozy with refined, upscale, modern. The menu is diverse, with something for everyone, from homemade Norwegian smoked salmon, to garlicy escargots, to roasted lamb with creamy garlic mashed potatoes, to lobster thermidor. And, in French fashion, it's all good.
With an acute attention to service, from start to finish, this is French dining at its finest!
More on Bistrot Caraibes here.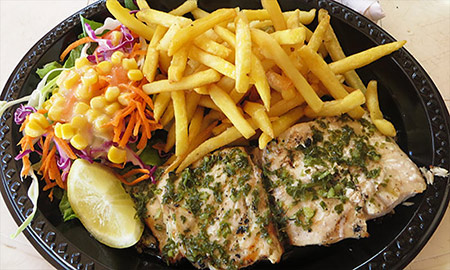 After a surfing lesson with SXM Surf Explorer, we also checked out Tropical Wave restaurant. Right on Galion beach (conveniently located where the surfing lesson takes place), this sandy little eatery serves up tasty food (the Mahi Mahi is excellent!) at a very reasonable price. They also rent beach chairs and sports equipment.
If you're planning on learning to surf this winter, a post-surf meal at Tropical Wave makes a terrific end to the day.
---
More News!
Before we wrap up, I want to say thank you again to everyone who donated to our Bright Lights Fund. Our first ever fundraiser (which we will now be holding annually!), it was a true success. Thank YOU for making it all possible and for helping us raise over $16,000! A million thanks from Kumakie Parris, this year's Bright Light Award recipient, too.
That's all for this month.
We've been hard at work on a few new projects that will be released in the next week or two. I can't wait to share them with you :-)
Stay tuned & talk to you soon,
Nori
Anguilla Beaches Home Page
---