Mornings at Roy's Bayside Grill...
Breakfast on the Beach
Walking the beach. Sipping coffee. Dining on toast and eggs. When I think of best ways to begin the day, these are the first things that come to mind.
When I heard that Roy's Bayside Grill started serving breakfast, my day immediately brightened. "Check, check, check!" Not just one, but breakfast at Roy's would hit all three of my "top starts to a day," and in a most serene environment no less.
With my loyal breakfast companion (my Mom) at my side we headed down to Sandy Ground...
Morning View at Sandy Ground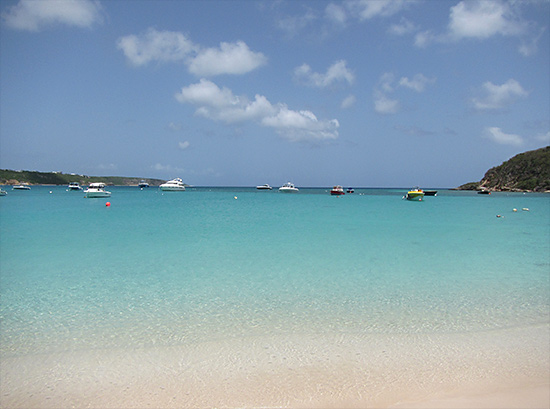 Settling Into The Morning
Mornings in Sandy Ground are so sweet. The neighborhood just beginning to stir, there is a certain sense of peace and quiet here early in the day. Immersed in that calm, watching the gentle waves of Road Bay lap at the sand, the setting is soothing.
Mandy, Roy's wife, welcomed us. My Mom loves Mandy. They chatted and caught up for a bit while I chose our table. We had arrived right at opening time (8am), so we had our pick.

Our favorite seats are right at the restaurant's edge.
Here, you get a front row view of the boats moored in the harbor.
Scenic, indeed!
Truly a British pub on the beach, the atmosphere here is laidback and not pretentious. We always feel right at home at Roy's. We easily settled into the relaxed morning.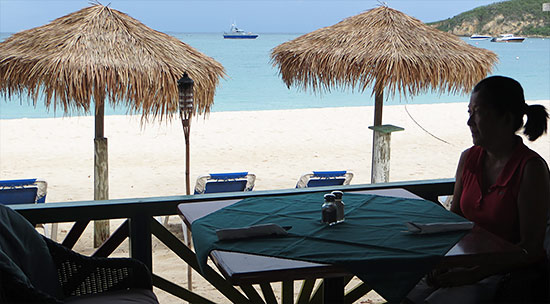 As we took our seats, Mandy's son-in-law Patrick popped over. He told us a little bit about how they came to serve breakfast. Sandy Ground being Anguilla's main port, sailor after sailor showed up at Roy's Bayside Grill early in the morning asking, "any chance you do breakfast?" Patrick would say, "Not really, but we can whip up some steak and eggs!" They were a hit. The rest is history...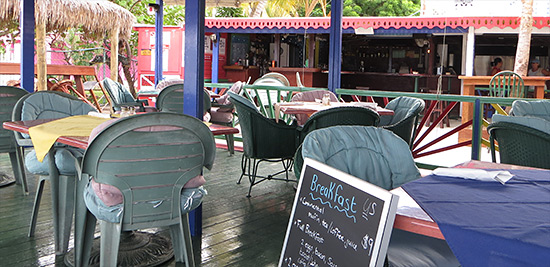 What's For Breakfast?
First up, coffee.
I was impressed by the variety of their coffee offerings.
Cappuccino, espresso, mocha and caramel iced coffee (hard to find in Anguilla)!
I hadn't seen a cappuccino on a breakfast menu in Anguilla in years.
There was no resisting it!
They also have breakfast cocktails, including staples like Bloody Marys and those that are champagne-based.
Morning Cappuccino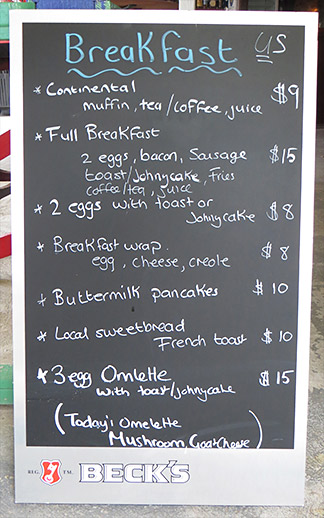 Want to eat light? Or completely famished?
Their menu has something for everyone.
The full English breakfast caught our eye.
Patrick mentioned that as they grow their breakfast menu, they will be importing English ham from the BVI's for this dish.
In addition to what's on the regular menu, there are a number of specials and baked goods made fresh everyday.
Banana walnut muffins and apple cinnamon donuts are just two tasty sweet treats that they're known to serve.
As far as specials go, a friend of mine was lucky enough to try their bagel with homemade chive and bacon cream cheese.
Being a Montreal native who subsequently spent 3 years living in New York, I admittedly have an unrelenting obsession with bagels. I was beyond jealous to have missed this AXA bagel!
That day, it was a toss up between the full breakfast and the goat cheese omelet. Being at a British-style pub, the English breakfast won. It comes with orange juice and your choice of johnny cake or toast. Wanting to keep everything in the English vein, I went with the toast. My Mom wanted to sample the johnny cake.
Orders placed, we enjoyed the tranquility of the morning and sipped our coffee. The environment is just right for breakfast on the beach, not rushed, frantic, loud or hectic.
In good time, our food arrived.
The Full Breakfast with Johnny Cake

When our kind waitress placed our plates on the table, I was blown away. How would I ever make it through all of this food? Bacon and sausage and 2 eggs and toast and fruit and home fries, and all for only $15. Talk about value!
The Full English Breakfast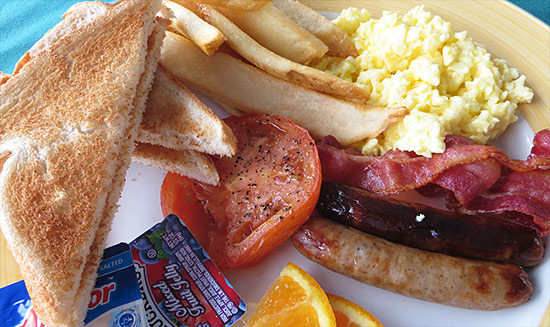 Everything was cooked to perfection. The fried tomato was an especially fun touch. My favorite part of the meal were, without a doubt, the home fries. Thick-cut steak fries, they were fluffy on the inside and crisp on the outside.
Toast and eggs (and everything else!) devoured, coffee cups empty, the only thing left to do now was walk Sandy Ground's sleepy morning stretch of sand. And, naturally, repeat tomorrow. ;-)
See you again soon, Roy!