Tropical Wave...
Post-Surf Dining at Galion Beach, St. Martin
The only thing I enjoy more than surfing is post-surf dining. After a few hours of serious physical exertion, paddling, paddling, paddling and catching waves, unwinding over a terrific meal and a couple of drinks is the perfect way to end the day.
On surf afternoons at Galion's reef break (located a short boat ride away from the beach) with SXM Surf Explorer, the top spot to kick back and enjoy the happy calm of a post-surf afternoon is Tropical Wave, a beachy eatery right on the smooth sands of Galion beach.
Tropical Wave on the Beach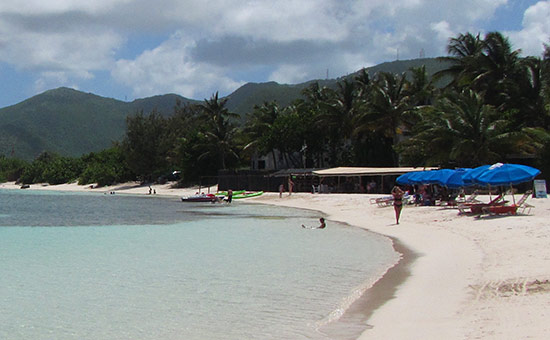 Surrounded by lush mountains, and with a glistening, still bay right at your finger tips, the location is something out of a postcard...
The Setting
St. Martin's Galion beach is a quieter, more "local" beach where many residents come to cool off and enjoy these inviting turquoise waters.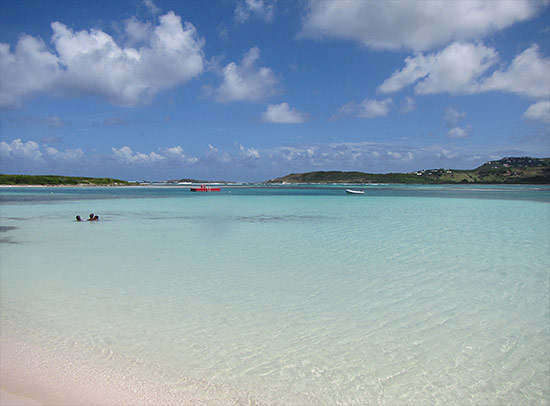 The sand stretches for about a half a mile. Calm and tranquil, the bay (protected by a large reef) is perfect for floating. The water is crystal clear with a sandy bottom that turns to grassy moss as you venture further out. The beach slopes gently, so it's good for those who don't know how to swim. There are a few floating platforms, too, for diving.
Tropical Wave has this azure-soaked paradise all to itself, being the only bar/restaurant on the beach...
Feet in the sand, it's hard to beat this view!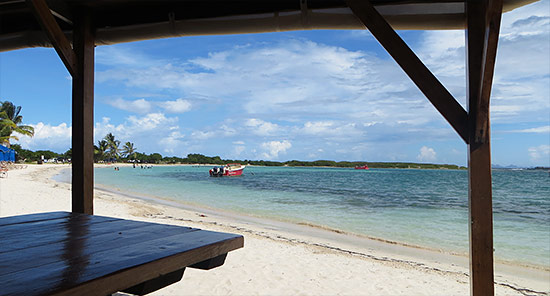 Open to the sea, the wind and the sand, the restaurant is relaxed, putting you right at ease. All salty and sandy after surfing out on Galion's reef break, it's the perfect venue for taking a little breather and drying off before heading home to Anguilla.
Location aside, what makes Tropical Wave so cool?
The People
Tropical Wave is owned by the very cool Pat Turner. An American born in Brazil, he's been living in St. Martin since the '70s. An integral part of Galion, he was here long before Tropical Wave opened its doors as a restaurant in the '90s, back when Le Galion Hotel was on the beach. The hotel is no more, but Tropical Wave, its food and its beach amenities (lots of sports equipment, beach chairs, umbrellas, etc.), lives on.
The other person you will meet while hanging out at Tropical Wave is Fred Coupin. Originally from Guadeloupe, Fred now calls St. Martin home. He returns to Guadeloupe from time to time, where he insists they have the best beaches in the Caribbean, even better than Anguilla. "I'll see it when I believe it," I've told him jokingly. Sweet and smooth, he is so accommodating and makes sure you're well taken care of. It's always a joy to see Fred.
Not overbearing or pushy, and never pretentious, Pat and Fred really have cultivated a vibe that's just right for a laid-back beach restaurant.
The Menu
Pat's menu is broken down into meals, snacks, sandwiches and salads. All are reasonably priced (ex., the grilled mahi mahi is only ~13 euros). In terms of bigger meals, there is mahi mahi, steak, BBQ ribs and chicken creole. It is served with your choice of fries/rice/baked potato and a side of salad.
The Mahi Mahi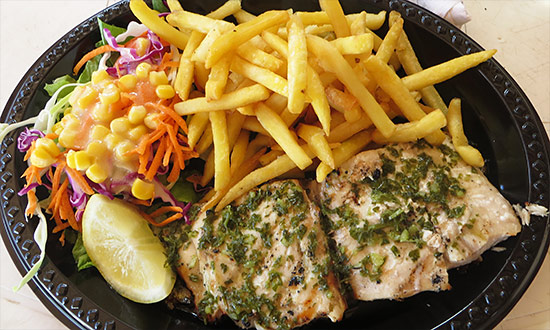 Snacks include lighter fare such as fries, chicken nuggets and hot dogs. The sandwich choices are ham and cheese, cheese, tuna and grilled chicken. They have a variety of burgers, too, including an 8oz, a cheese burger, a veggie burger and a grilled chicken burger. Salad options include tuna, grilled chicken, shrimp, smoked salmon toast and chef salad.
The Steak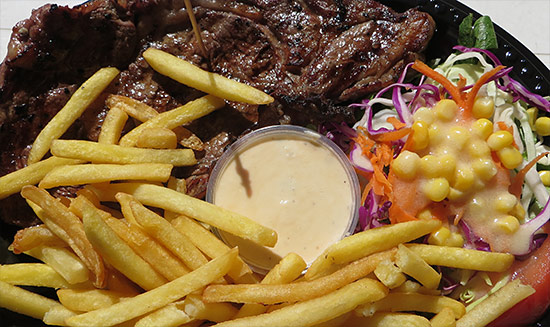 Generally starving after surfing, everything sounds so good. Luckily, Pat has made choosing easy. "The Mahi Mahi is excellent," he casually mentioned as he overheard me contemplating the menu on my first visit to Tropical Wave. The one rule I've learned in dining is never ignore the owner's recommendation.
And, just as he said, it was excellent. Fresh, moist, with just a gentle amount of oil and herbs and a touch of squeezed lemon, the taste was refreshing, not heavy. The fries are truly French fries, and the salad strikes a perfect balance between dressing and crunch.
The Shrimp Special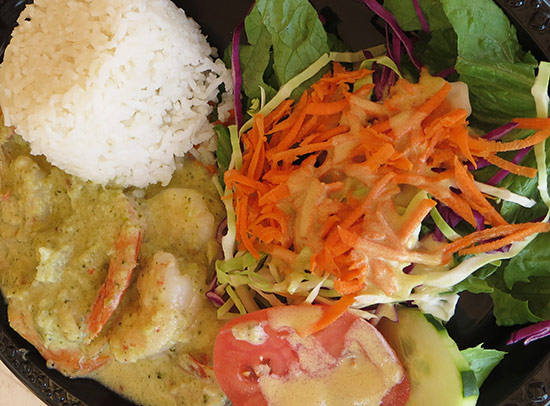 In addition to their regular menu, they always have a special of the day. My Mom has had both their steak and broccoli shrimp specials. Both were well prepared, the shrimp being her personal favorite at Tropical Wave. In a creamy sauce, served with "real" white rice (she takes her rice seriously!), she oooooh-ed and ahhhh-ed over every bite.
They serve lunch from 12-3:30pm. But, they do serve drinks earlier.
If you're looking for that perfect post-surf meal spot, or if your friends are surfing and you would rather hang out at the beach (for very reasonable rates Tropical Wave offers all kinds of equipment - surf boards, snorkeling gear, paddle boats, beach chairs, umbrellas (5 euro for the day), floats and even kayaks), or if you're just in the mood for a more relaxed, low-key beach day in St. Martin, don't overlook Tropical Wave!