Caribbean Dining...
Anguilla's Local Flavor Restaurants
By: Kristin Bourne
Anguilla is loved and visited for so many reasons.
The beaches and the people usually rank highly as reasons, as they are nearly impossible to duplicate elsewhere.
Anguilla is also loved for its quality and selection in dining.
Local scene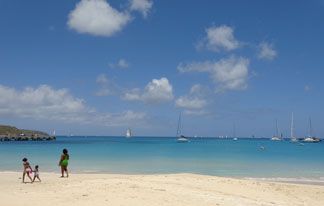 Other Caribbean destinations may have nice dining too but Anguilla's variety stands out.
Caribbean dining, specifically Anguilla dining, can range from roadside BBQ's to a 5-star French restaurant. Anguilla is known more for the latter end of the scale.
As people vary, so do their tastes.
A positive of Anguilla is that it offers many dining categories: Mexican, Italian, French, Mediterranean, American, Chinese, Seafood/Sushi, Bakery, Pub and plenty of Fusion.
Something for everyone.
Prices go from a juicy, large BBQ chicken at $4 US to $50+ US entrees from some of the high end restaurants.
Local food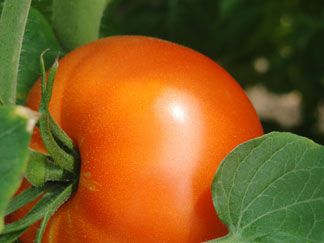 I had a friend who visited me in Anguilla whose palette did not like to pampered with flavor, but instead blandness. That friend historically is not willing to try new things short of a new dipping sauce for a chicken finger.
This type of eater is manageable in Anguilla, no problem... there are burgers, grilled chicken, hot dogs and plenty of safe options in the grocery stores to cover those who have a little fear of taste exploration.
Conversely, my Aunt and a family friend visited and they were ready to soak up all of the good food they could get, with a focus on local flavor: curried goat, red snapper, crayfish, pumpkin, coconut, fungi, johnnycakes...
Ah ha! Now those are more adventurous spirits.
So what satisfies the tastebuds of a person who likes to take advantage of their geographical location and taste fresh and local ingredients from where they are visiting?
What I'd call "Anguilla's Local Flavor Restaurants!"
Here's the top Anguilla Local Flavor Restaurants along with the recommended entree from each.
1) E's Oven
Grilled Crayfish served with a Garlic Butter Sauce $34 US
I haven't tasted anything but favorable things here at E's Oven... even their well-priced $10 US lunch of baked chicken and accompaniments is delicious.
As you may have read here: I've in fact, enjoyed my food aloud at E's Oven Bar & Restaurant!
While the chicken and fish entrees from E's Oven have been excellent and use fully the local spices and flavors to get your senses livened up, I must recommend their crayfish for a reason...
Out of the crayfish I've had, which is local to Anguilla, it is some of the best.
Fresh. Grilled properly and not over-flavored.
The texture and taste is just right and the entree is served with rice and peas and vegetables.
It's also a value if you compare size, taste, and amount to other prices on the island.
Don't go to E's Oven only for the crayfish, like I said, other entrees are just as nice!
Do choose it if you're a lover of crayfish and need to get your fix or if want to try it for the first time. E's Oven will present you with a nice serving of 'how it should be'.
...plus, E's Oven gives you an amuse-bouche!
E's Oven's Crayfish with a Garlic Butter Sauce

2) Tasty's
Coconut Crusted Filet with a Spicy Banana Rum Sauce with Sauteed Local Vegetables $26 US
Long-standing and loyally followed Tasty's Restaurant has a smörgåsbord of local flavors to select from.
Chef Dale Carty offers a nice variety of seafood and local flavors in addition to traditional options like a sirloin of Black Angus or a Teriyaki Chicken Breast.
I find that Dale has a way with Caribbean-flavored sauces - they are special. Pick a dish, any dish with a sauce using, for example; banana, rum, curry, or pumpkin and you're not going to go wrong.
I love his "Tasty's Shrimp in a Coconut Curry Sauce, but if you're not in the mood for that rich-ness, stick with a lighter fish dish...
The coconut crusted filet of fish with the spicy banana rum sauce has been on the menu for a while now. Likely for a reason. It is tasty!
The menu is labeled as "fish filet" because the type of fish varies depending on what fresh fish Dale has received for the day. Most often it seems the fish is parrotfish, but if you care or are curious you can always ask in advance.
If you are looking for a really nice variety of Caribbean dining and are checking fresh local fish off of your list each day, Tasty's should be on the agenda, for certain.
Tasty's Cococnut Crusted Fish in a Banana Rum Sauce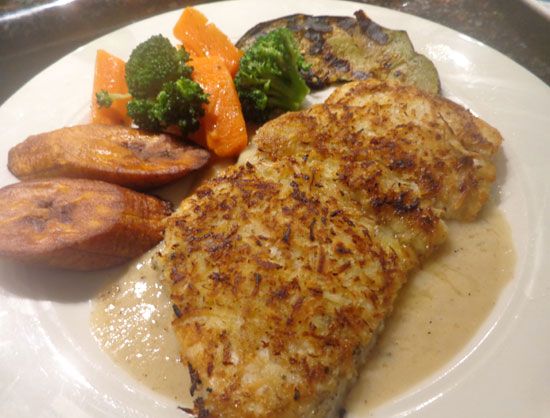 3) Andy's
Grilled Fish $16 US
Yes, that's all the menu says... 'grilled fish'.
If you are fortunate enough to choose the 'grilled fish' based on that simple description you'll be so pleasantly surprised when it arrives topped with a hearty creole sauce, mashed potatoes (some of the BEST),vegetables and salad.
If you're curious of the type of fish, like Tasty's, Chef Andy's fish depends on what he has on hand. The grilled fish at Andy's is typically grouper - a local fish.
Andy is another chef who really prepares fish very well.
While Andy's feels a little "less gourmet" than its counterparts aforementioned, the food is still just as generous to the tastebuds...
Always cooked well. Always a perfect temperature. Based on my experience there.
As noted in the more detailed page on Andy's Restaurant, he makes some of the best mashed potatoes I've ever had. My grandmother and Andy have that skill in common!
If you try the Grilled Fish you usually get to choose your starch (rice and peas, mashed potatoes), I recommend the mashed potatoes hands down.
While every plate I've had at Andy's has been a good one. Given the goal of taking advantage of your geography and local freshness with Caribbean flavor.. go with his fish.
Simple choices make for a stress-free vacation... When you desire a simple, healthy serving of fresh fish and vegetables, Andy's is the place to take yourself to!
Andy's Grilled Fish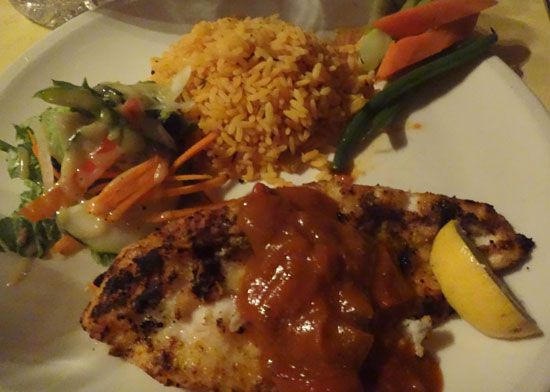 On that stress-free note, here's additional tips:
Happy solo-dining at the Tasty's Restaurant bar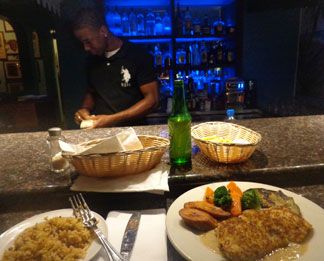 Dining solo?
Of the 3 restaurants that are the topic at hand... Tasty's and E's Oven both have a warm and friendly bar area, should you not feel inclined to sit at a table.
Don't eat seafood?
Here's recommendations from the Top 3 Local Spots above for those who don't eat seafood:
1) E's Oven Roasted Half-A-Chicken $14 US
2) Tasty's Grilled Pork Tenderloin with guava sauce $23 US
3) Stir Fry Vegetable Steak Pasta $18 US
Enjoy and feel free to share your favorite Caribbean dishes in the "comments" section at the bottom of this page :-)
---
ARCHIVES:

Gone But Not Forgotten - Zara's

Since this page was written, Zara's has closed, but I still dream of Chef's outstanding cuisine...

Garlic Crusted Snapper with purple cabbage, red onion, served with Key Lime Buerre Blanc sauce. $26 US

If you've read in more depth about Zara's Restaurant, here then you know that you are likely not to go wrong with any of the entrees from the talented Chef Shamash.

Once being enlightened to Zara's, my frequency during the open and operating months felt like I was borderline stalking.

I truly did not eat anything that tasted anything less than amazing.

The clear winner for an entree is the Garlic Crusted Snapper however, I haven't tasted every single entree option at any restaurant, but that's a fun goal!

Therefore, I can't speak to Zara's crayfish, which seems to be as popular as the Garlic Crusted Snapper.

I can easily assume it is amazing - just note the description, "Shamash lemon, mojo sauce". Perfect!

I can speak to what I would call a close runner up to the Garlic Crusted Snapper and that is the Spicy Fish wrapped in a banana leaf with spiced ginger tamarind sauce. It's also $26 US and has a completely different taste profile but is every bit the succulent, full-flavored fish entree too.

If I had to give Chef Shamash only one compliment it would be his ability with a fish entree. He manages to bring you an amazing flavor without masking the fish itself.

Every entree that I can report on from Zara's would make a decision very difficult each and every future visit...

Do I go with what I know and love? Hmmm, but I love so many things. Or do I try something new because it's likely to be terrific... but what if it's not?"

I think any of us who appreciate good food have been in that debate with ourselves. Not a real problem, but a good one to have!

To that, I thank Shamash and his expertise, skills, and for the love he puts in to what he does. His track record points toward everything on the menu being a winner.

Chef Shamash's Garlic Crusted Snapper with a Key Lime Buerre Blanc Sauce