Combing Anguilla's Beaches for the Best
Anguilla Beach Lovers brings you the latest additions to one family's experiences of the "best of all things Anguillian."

If you like this e-zine, please do a friend and me a big favor and "pay it forward."

If a friend did forward this to you and if you like what you read, please subscribe by visiting...
---
Issue #080, April 14, 2014
Temperatures are in the 60s up in the northeast United States, ice is thawing in Canada and boat racing season is about to begin here in Anguilla...
It's official.
Spring has sprung! :-)
And there is so much to look forward to this month.
Before taking a look at what's new, let's look back on April so far and March...
---
What Did We Get Up To This Month?
First, we marveled at a NEW sight (to our eyes), this natural beauty...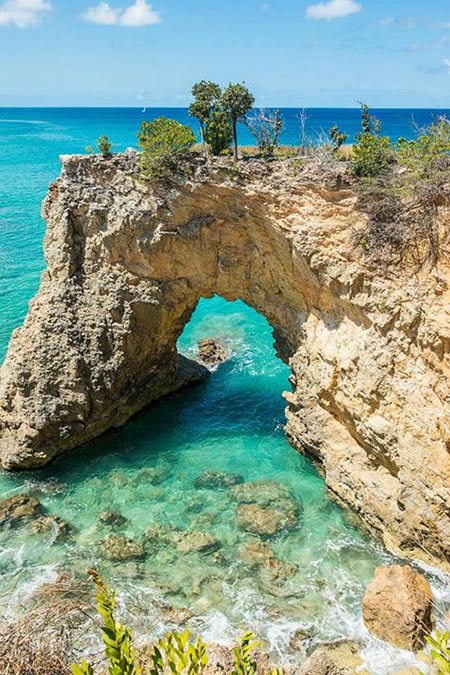 Thank you to Bob Magee for sending in that photo!
Our senses were heightened again when a friendly Manta Ray played in front of Carimar Beach Club...
Naturally, we walked Anguilla's smooth sands...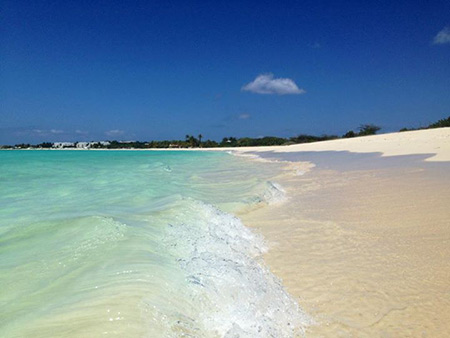 We munched on curry chicken spring rolls at the NEW Cha Cha San...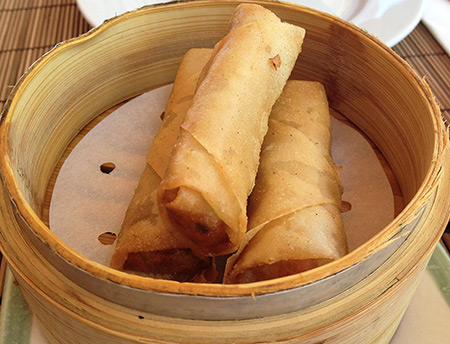 Savannah Bay set up to give us a few fun rides on its turquoise waves...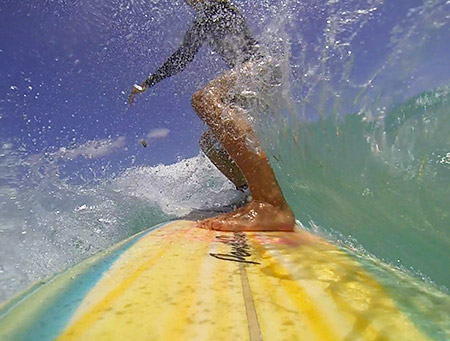 And we closed many a night over pizza and a glass of Chianti at Blue Bar, inside the beautiful CeBlue...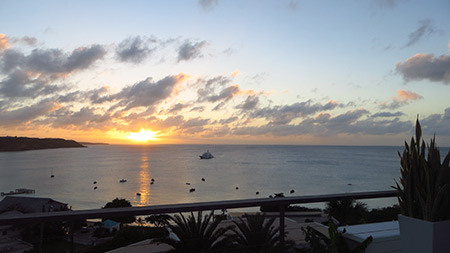 ---
The Anguilla Card
I'm excited to announce that we have welcomed several NEW Partners to the Anguilla Card, including...
1) Cha Cha San
A NEW restaurant, expert chef and owner Ken Lin has brought TRUE Chinese food to Anguilla.
The atmosphere blends Asian influence with Caribbean ambiance. The menu? It boasts classic dishes such as General Tso's and Seafood Chow Mein, all equally outstanding!
2) Bird of Paradise Villa
One of the most affordable villas for its category, Bird of Paradise inspires dreams of far-reaching lands, so exotic and luxurious.
They are also offering a romantic special. What's included?
Airfare from USA (up to $1400)
Romantic dinner prepared by Chef with Rum Punch and Champagne
Rental Car
Boat and Captain for 1/2 Day
Daily Housekeeping and Private concierge
Surprise Wedding Gift and Bvlgari Amentieis
Complimentary WiFi and Phone
Stay May 1-November 14, with a minimum 7 day booking, and the Romance Package is $1,899/night +10$ tax +10% service.
Book before May 1, and save 10% more when using your Anguilla Card.
3) Trans Anguilla Airways
Anguilla's only British-certified airline, Trans Anguilla Airways flies to several Caribbean islands. They offer private charters to these islands and affordable, scheduled weekly flights to St. Barths.
A delightful trip over, save 5% on this scheduled flight and 10% on all charters with Trans Anguilla!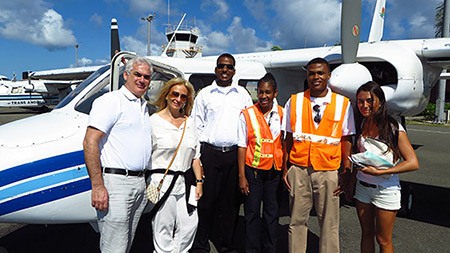 4) A NEW Category of Partners: Off The Beaten Path, including Partners Hungry's and Mikey of Gumbsy's Bar
Highlighting lesser-known gems in Anguilla, we've started a new category of Partners, "Off The Beaten Path!" Our first two Partners include...
Hungry's Food Van is a must-visit just to talk with owner Irad, a fun and friendly man. While Irad is the perfect host, Papi is a terrific chef, serving up tasty quesadillas, soups and creamy pastas.
Mikey Fabian, of Gumbsy's Bar is a fisherman and an expert chef. He'll catch you a lobster, grill it up and have it ready and waiting for you when you arrive, all for only $30. He does a mean snapper, makes tasty Johnny cakes and coleslaw, too!
More on the Anguilla Card here.
---
Tasty Spotlight
First, A Burger has opened their second location. This one is set in the heart of Anguilla, in The Valley. Their NEW breakfast menu is outstanding.
Do NOT miss their Johnny cakes with Nutella!...
Tip: These sell out fast. Call ahead or go early.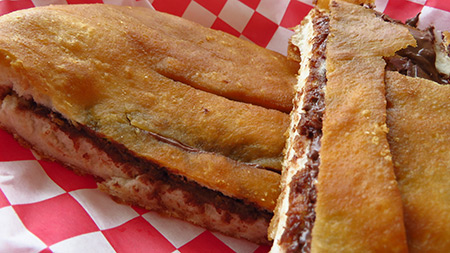 Second, my Dad has found one of his favorite steak sandwiches at Ferry Boat Inn.
Grilled to perfection with peppers and onions, served on a crusty, French baguette, and served with a side of Christian's famous hand-cut steak fries, it's perfect in every way.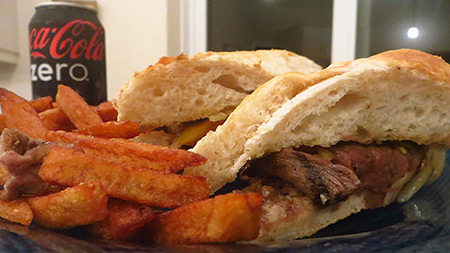 Lastly, my Mom and I enjoyed a delightful lunch at one of the most peaceful spots on the island, Hibernia.
From presentation to taste, Mary-Pat and Raoul get it right. If you're in the mood for something light, I recommend the sashimi plate. It includes lobster with ginger, wahoo, tuna and smoked conch.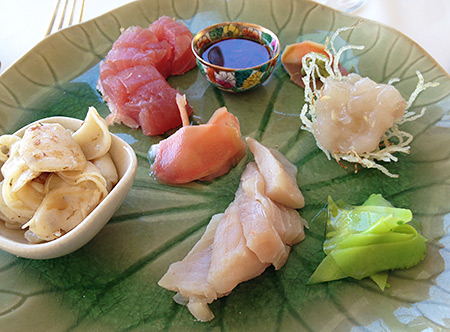 And, there is no better rum raisin ice cream in the world than Hibernia's. Soaked in aged rum, it is rich and divine.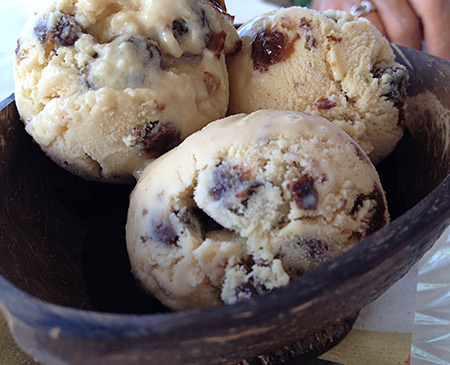 ---
Upcoming Events
Festival Del Mar THIS weekend! One of the most exciting events of the season, these two days in Island Harbour (Saturday and Sunday), the whole community comes out for boat racing, swim races, dancing, music and tasty, fresh seafood.

Hibernia Fundraiser Friday 25th April, Hibernia is holding their annual fundraiser for the orphanage and primary school they take care of in Myanmar. The menu includes chilled almond soup with lobster and brioche, nems filled with conch and vegetables, pan-grilled tuna coated with coconut and lemongrass with malar noodles and a thai curry sauce, and caramelised eggplant topped with aloe and candied tropical fruit ice cream.

Anguilla Regatta May 9,10, 11 down in Sandy Ground, boats come from around the Caribbean to participate in Anguilla's regatta. All proceeds are donated directly to the Anguilla Youth Sailing Club. An excellent cause and a lot of fun. If you're in town, drop on by Sandy Ground to join in the festivities!
Anguilla Open at CuisinArt Golf Club June 27-June 29 stay & play for 2 nights - $915, 3 nights - $1165, four nights - $1415. These rates are based on double occupancy in a beachfront junior suite and include practice round Friday, round one Saturday, round 2 Sunday, entry fee, tee gift, beverage cart, continental breakfast at Cafe Med during stay, opening reception at the Club House, lunch Saturday and Sunday, awards reception Sunday.
---
Carimar's NEW Rooms
Carimar has upgraded their rooms!
Fresh and tropical, they are looking better than ever.
---
Specials!
1) Little Butterfly Villa's Lit Talk Anguilla Package
With Lit Fest coming up here in Anguilla, Little Harbour is offering a packaged tailored to this wonderful event...
Private one bedroom luxury apartment, located on Anguilla B.W.I, looking out onto the brilliant turquoise waters of the Caribbean Sea and the majestic mountains of neighboring St. Martin. Perfect for the solo traveler or a couple.
5 nights stay in Luxury Private One Bedroom Apartment
Welcome Fruit and Wine basket
Welcome breakfast stock
Private Chef Gourmet Service of Traditional West Indian Breakfast for two on first morning
Two Complimentary Literary Mementos of Anguilla by Anguillian Authors
1 day housekeeping/laundry service
Concierge service
Rates: Any 5 nights between May 20 - 30, 2014, US$1,599 inclusive of tax and service
2) Tasty Special at Tequila Sunrise Villa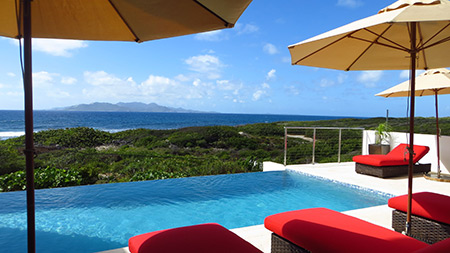 Throughout the month of April, high-value luxury villa Tequila Sunrise Villa is offering a 10% discount on all in-villa chef services (on new reservations only).
Days lounging by the pool, relaxing inside the spacious, breezy, villa... the only thing that could make that better? Expertly prepared food served in-house, all at your convenience!
Rates this month start at $900/night +10% tax +10% service. and include...
Unlimited Patron Silver
Beach access
Daily turn-down service and housekeeping
Continental breakfast
To book, contact owner Joel Globus direct here: joel@tequilasunrisevilla.com
---
What Else Is New?
Leonardo DiCaprio in Anguilla Leonardo DiCaprio meets Anguilla. He, Tobey Maguire and friends visited Prickly Pear and Sandy Island. Our paths crossed.
RealEstate.ai RealEstate.ai is taking Anguilla real estate online! From affordable parcels of land to comfortable cottages, with Vince Cate's new system of doing real estate in Anguilla, more properties are now available for viewing on the Net.

Cha Cha San Owner and Chef, Ken Lin has brought true Chinese food to Anguilla. Think dumplings, spring rolls, udon, chow mein, General Tso's chicken, sweet and sour pork and green tea ice cream. With his NEW spot, Cha Cha San, our family is in Pan Asian-dining heaven!

The NEW SandBar SandBar has changed ownership. A little more upscale now, the food and views are still terrific as ever.
Nature Garden Vacation Apartments This vacation unit was created with you in mind... Basically as an alternative to resorts, but more importantly, to offer you a home away from home.

Patsys Seaside Villas A short walk from Blowing Point, Patys's Seaside Villas is an economical and convenient option when choosing a cheap Anguilla hotel. The rooms here are comfortable, and the hotel boasts hospitable service and terrific views of the Caribbean Sea and St. Martin.
Ferry Boat Inn, a Caribbean Lover's Dream Anguilla-Beaches.com reader, Joe Silbert shares why he LOVES Ferry Boat Inn.
Trans Anguilla Airways to St. Barths From walking the European-style Gustavia to lounging at the luxurious Nikki Beach in St. Jean, St. Barths is a must-visit. Now, getting to St. Barths is easier and smoother than ever with Trans Anguilla Airways!
Win Air Has stopped ALL flights to Anguilla (to/from both San Juan and St. Maarten) due to economic constraints. We will keep you posted if they resume service.
Surf AXA A NEW surf business in Anguilla owned by brothers Akio and Ravi Lloyd, get in touch with them for a lesson, to rent boards or insider knowledge of the best spots.
Ferry Boat Inn Is NOW doing Friday Curry Nights! We will be stopping by this week. Review coming soon.
---
Finally, The "Special Project"
Last month we announced that we would be soon releasing a "special project." I'm excited to say that it's here :-)
I won't spoil the surprise and will just post this photo as a little teaser...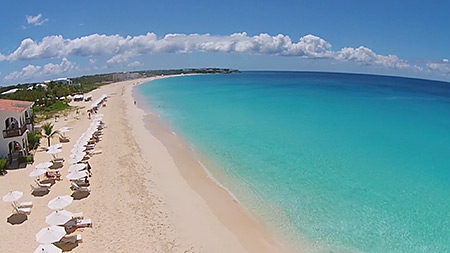 For the full project, click here.
I hope you enjoy it!
That's a wrap for this month.
Sending you warm wishes for a happy Spring,
Nori
Anguilla Beaches Home Page
---